North Carolina is home to a new tiny house barn conversion.
The elegant tiny house has been built with comfort in mind. The living space has a chaise lounge, TV for entertainment and a loft that has the sleeping quarters. The sleeping area comes with a queen-size bed.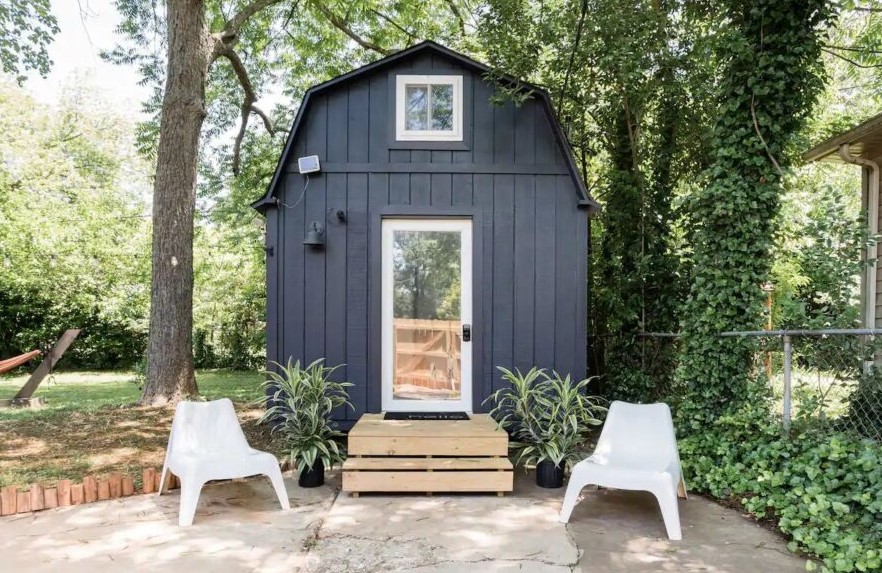 Stunning Black Exterior with White Accents
This barn inspired tiny house is painted all black with white trim. The color combination gives a simplistic and modern look, while also inviting you to see the stunning insides.
The colors also make the tiny house blend seamlessly with the background.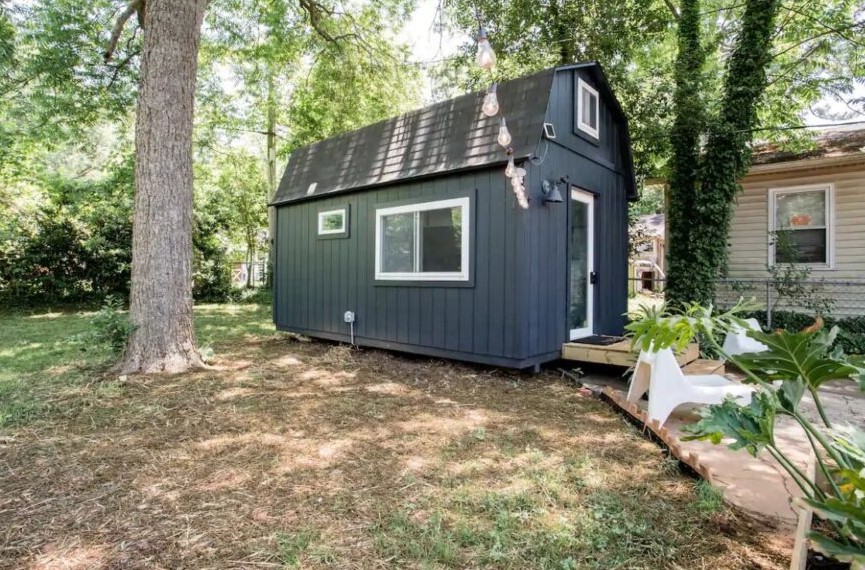 White Living Area With Chaise Lounge
The living area is painted white. The space has various conform items that include a comfy couch, television for entertainment.
The living area gets a lot of natural light from the doors and windows. The openings also give a view of the surrounding and are immersive.
The natural light is complemented by other lighting fixtures such a ceiling mounted bulb and stand alone lamps. Blinds are also included for privacy.
Also, it is adorned by plants and air conditioning to keep the air crisp.
Read: 12 Tips To Declutter Your Tiny House Bathroom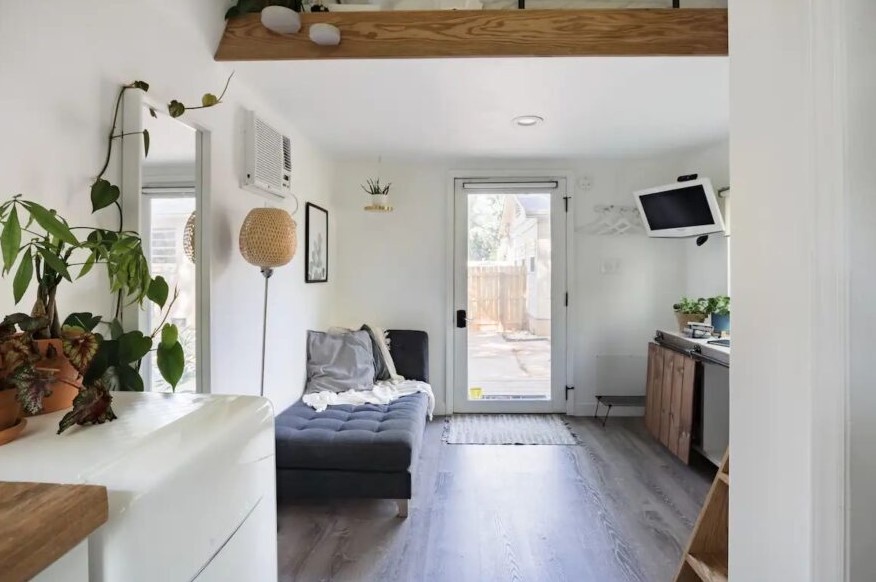 Rustic and Simplistic Kitchenette
The tiny house also has a simple kitchenette.
The kitchen area is well-built with wooden countertops and shelves for utensils.
Additionally, it is fitted with modern cooking electronics such as a functioning oven and cook top, microwave, and a mini-fridge to keep things fresh.
Again, house plants are available for aesthetics and fresh air.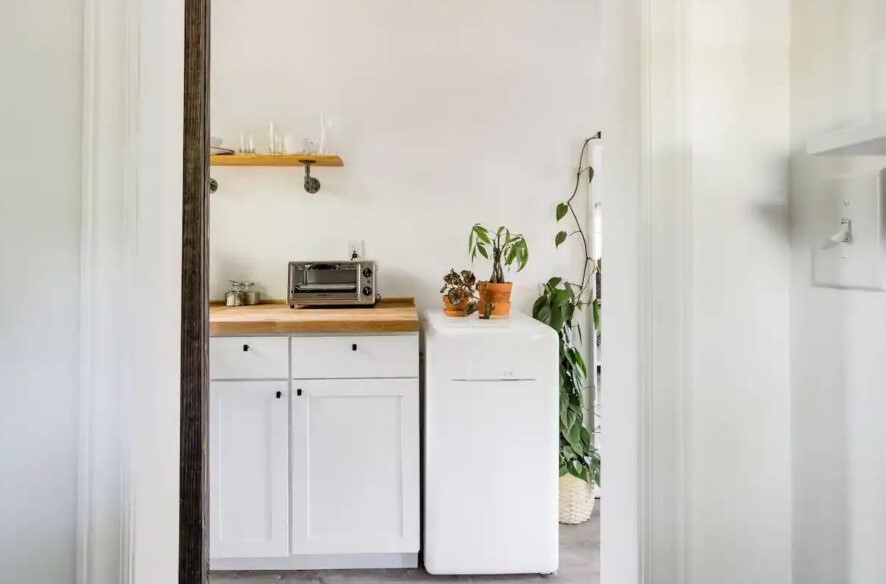 The Loft and Its Ladder
The loft is accessible by using the ladder.
The ladder is sturdy enough for when someone wants to climb up for a shut eye or have some privacy.
The loft is the bedroom that has a queen bed, which can fit up-to 4 people comfortably.
Additionally, there is an inbuilt window that brings in plenty of natural light and gives access to a stunning view for those stay-in-bed days.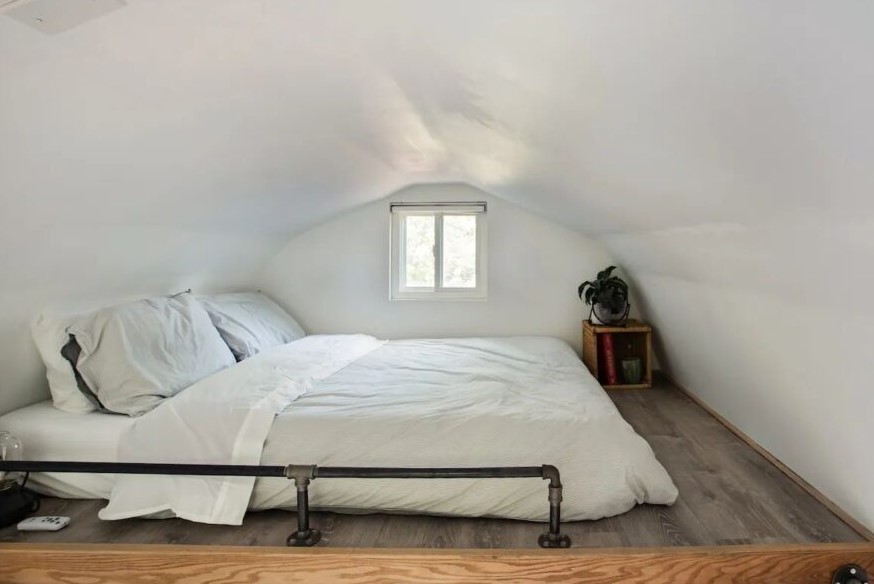 The Backyard and Hammock
Despite being designed to occupy tiny spaces, the property has a backyard that has many features.
The vast backyard has plants, a hammock and even a basketball net. If you are tired on the gorgeous indoors, you can use this space to unwind or hangout while reading a book.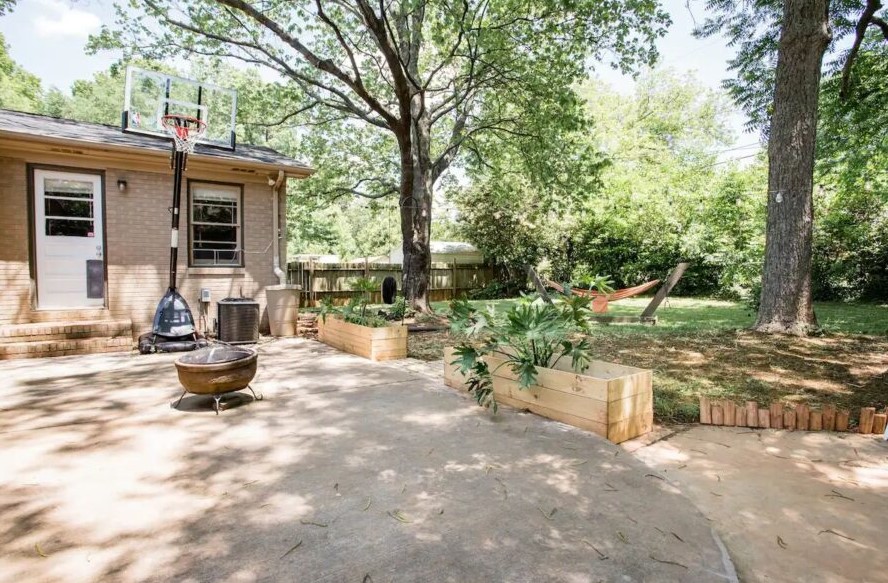 The entire property forms a good getaway and has all the necessary amenities to ensure comfort.
Here are some more photos of this magical tiny house located in Charlotte, North Carolina.
The property is available on Airbnb.