Embrace the challenge of transforming tiny kitchens into stylish, efficient, and cozy spaces.
Our expert tips guide you through the art of maximizing every inch, infusing functionality and elegance into the heart of your miniature home.
Dive into our top 20 decor tips to revolutionize your small kitchen space and discover how compact living can lead to creative and inspiring interior design solutions.
If you enjoy this one, you might want to check out these 15 Multifunctional Furniture Ideas for Small Living Areas
Key Takeaways
Maximize vertical space: Utilize walls for storage and decoration.
Choose multi-functional furniture: Invest in pieces that serve more than one purpose.
Embrace light and neutral colors: Create an illusion of a larger space.
Incorporate open shelving: A stylish and practical storage solution.
Focus on lighting: Enhance the kitchen's ambiance and functionality.
Innovative Storage Solutions: Discover how vertical space utilization and smart cabinetry can revolutionize storage in tiny kitchens.
Smart Appliance Selection: Get insights on choosing appliances that are both space-efficient and high in functionality.
Personal Touches: Learn how adding personal decor elements can make your tiny kitchen uniquely yours.
Sustainable Choices: Find out how eco-friendly and sustainable options can be incorporated into your tiny kitchen design.
---
1. Vertical Space Utilization: Transforming Tiny Kitchens with Smart Storage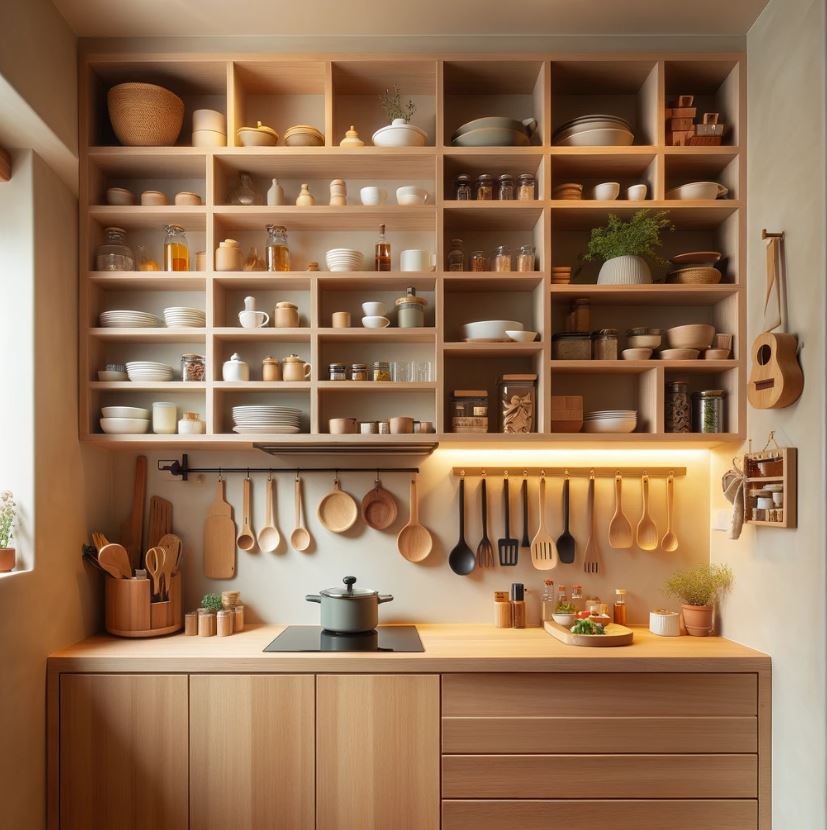 Think Upwards for Storage
In tiny kitchens, the walls are your best friend. Install floating shelves or hanging racks to store dishes, spices, and utensils. This not only saves precious counter space but also adds a decorative element to your kitchen.
Magnetic Appeal
Consider a magnetic wall-mounted knife strip. It's a sleek, space-saving solution that keeps your knives organized and easily accessible.
Pot Racks for Ceiling
Don't forget the ceiling! A hanging pot rack can be both a stylistic and practical addition, giving you easy access to your cookware while saving cabinet space.
---
2. Multi-Functional Furniture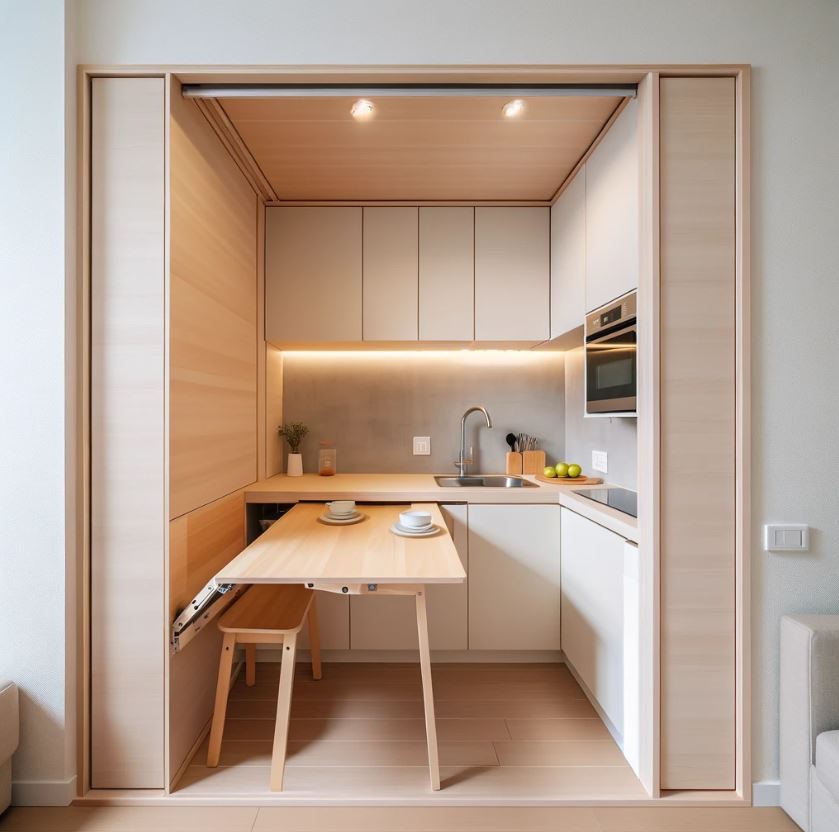 Foldable Dining Solutions
Opt for a fold-down table or a convertible dining area that can tuck away when not in use. This versatility is essential in a tiny kitchen.
Stools Over Chairs
Choose stools that can slide under the counter. This provides seating without taking up extra space when not in use.
Mobile Kitchen Island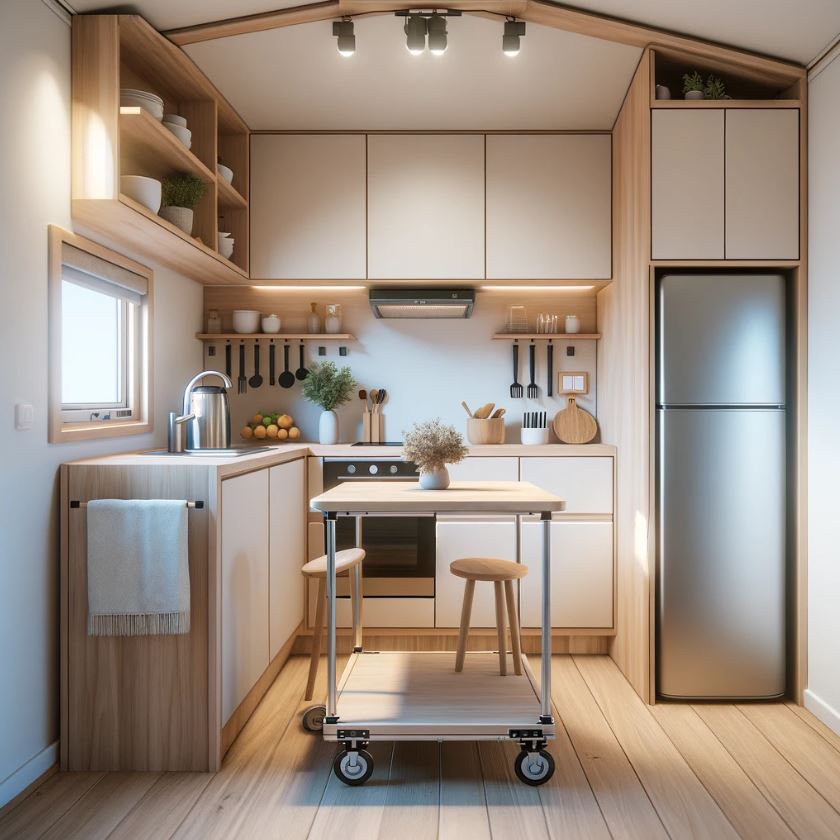 A mobile island can serve as a prep area, dining table, and storage unit. Its mobility allows you to rearrange the space as needed.
---
3. Transforming Tiny Kitchens by Embracing Light and Neutral Colors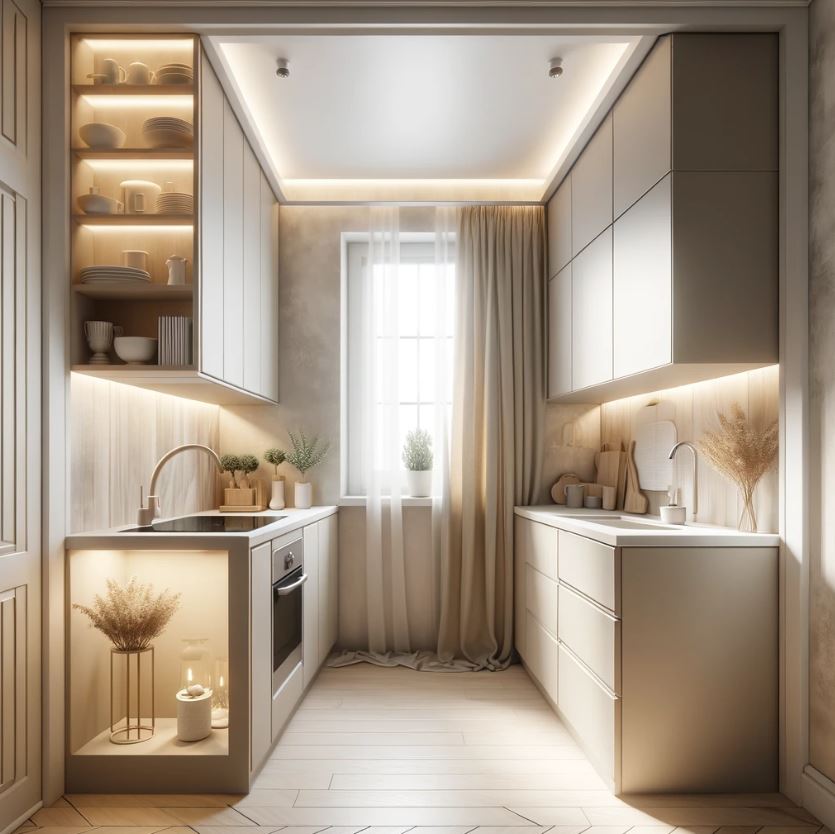 Create Spacious Illusions
Use light and neutral colors for walls and cabinets. These hues reflect light, making the kitchen appear larger and more open.
Contrast with Accessories
Add depth by using darker or vibrant colors for accessories and appliances, creating a visually appealing contrast.
Consistent Color Palette
Maintain a consistent color palette throughout the kitchen to ensure visual continuity and a sense of spaciousness.
---
4. Open Shelving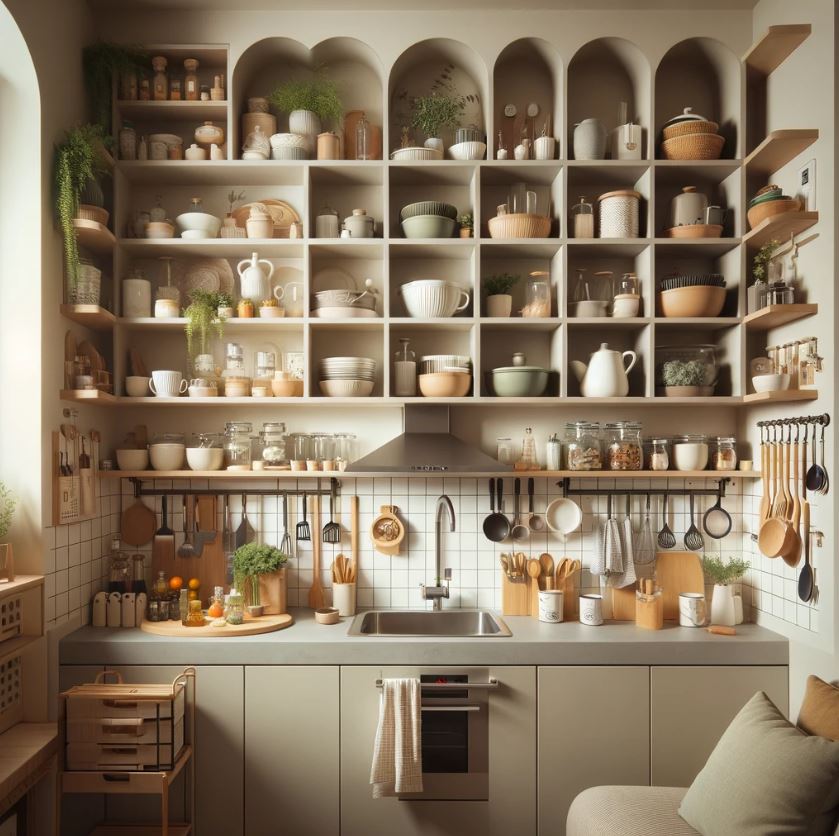 Display with Style
Replace upper cabinets with open shelving. This will open up the space and allow you to display your favorite dishes or kitchen accessories.
Decorative Storage Containers
Use stylish containers and baskets on open shelves for an organized and aesthetically pleasing look.
Plants and Herbs
Incorporate small plants or herb gardens on shelves. They add a fresh and lively touch to your tiny kitchen.
---
5. Focus on Lighting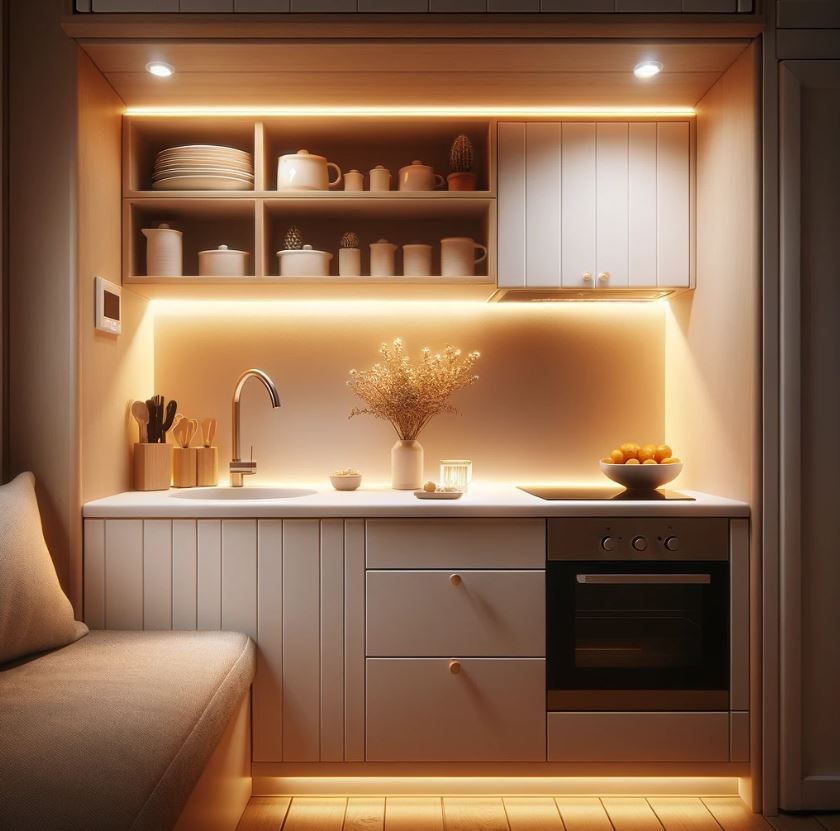 Under-Cabinet Lights
Install under-cabinet lighting to brighten up countertops and enhance the kitchen's functionality.
Pendant Lights
Hang pendant lights over your dining area or kitchen island. They provide focused lighting and add a design element to the space.
Natural Light
Maximize natural light by using light window treatments or strategically placing mirrors to reflect light.
---
6. Strategic Color Pops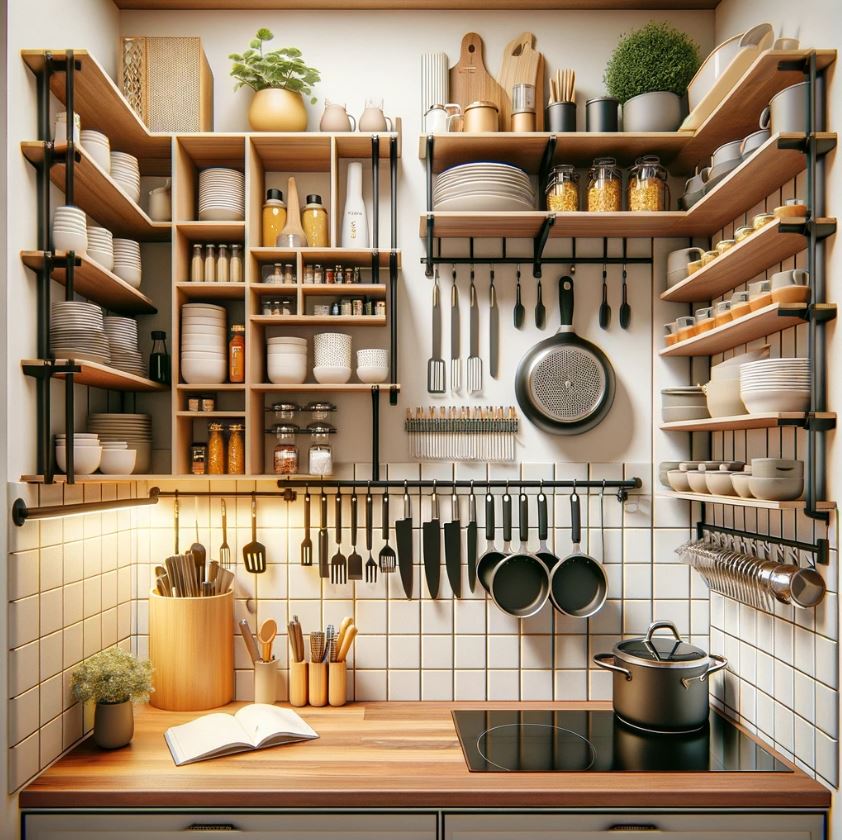 Bold Backsplash
Install a backsplash with bold colors or patterns. This creates a focal point and adds personality without overwhelming the space.
Colorful Appliances
Choose small appliances in bright colors to inject vibrancy and character into your kitchen decor.
Accent Wall
Consider one accent wall with a bold color or wallpaper to add depth and interest to your tiny kitchen.
---
7. Innovative Cabinet Solutions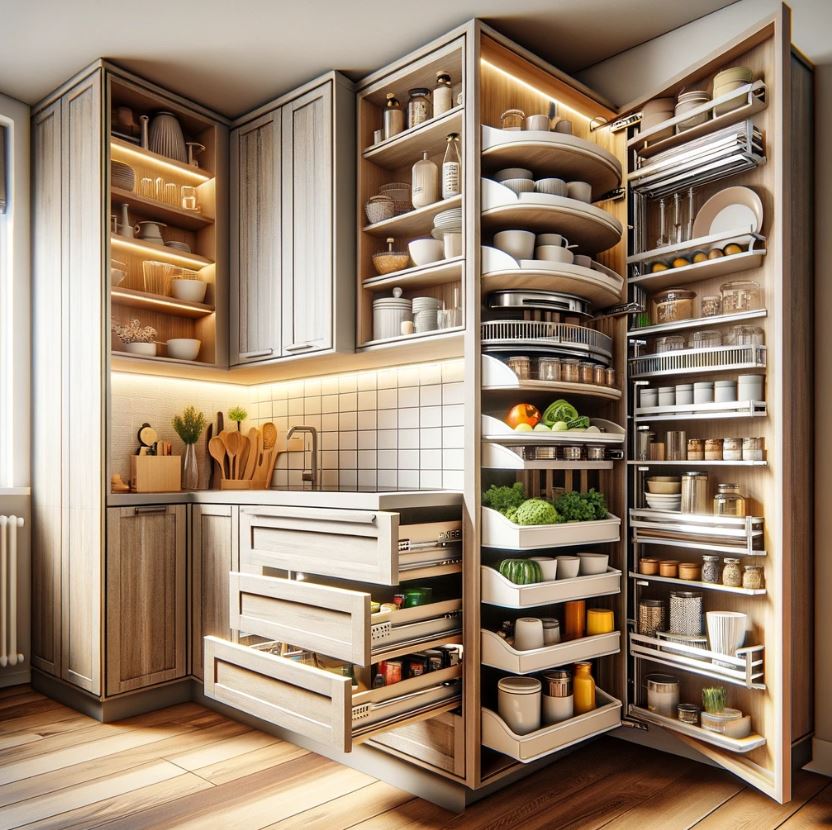 Toe-Kick Drawers
Utilize the toe-kick area under your cabinets for extra storage. These hidden drawers can store less frequently used items.
Pull-Out Cabinets
Incorporate pull-out cabinets to maximize storage and accessibility, especially for spices and small containers.
Corner Cabinets
Install carousel shelves in corner cabinets to fully utilize these often-underused spaces.
---
8. Smart Appliance Choices for Transforming Tiny Kitchens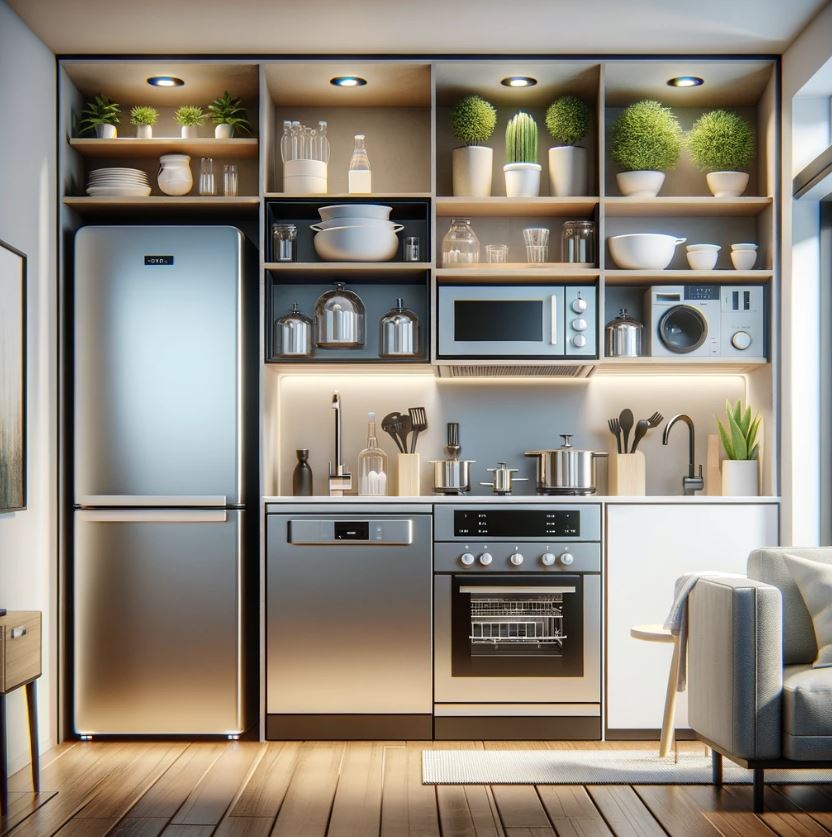 Compact Dishwasher
Opt for a compact or drawer dishwasher to save space while maintaining functionality.
Multi-Functional Cookers
Invest in multi-functional appliances like a pressure cooker that can serve multiple cooking purposes.
Mini Refrigerators
Consider a mini or under-counter refrigerator to free up floor space while keeping essentials within reach.
---
9. Wall-Mounted Accessories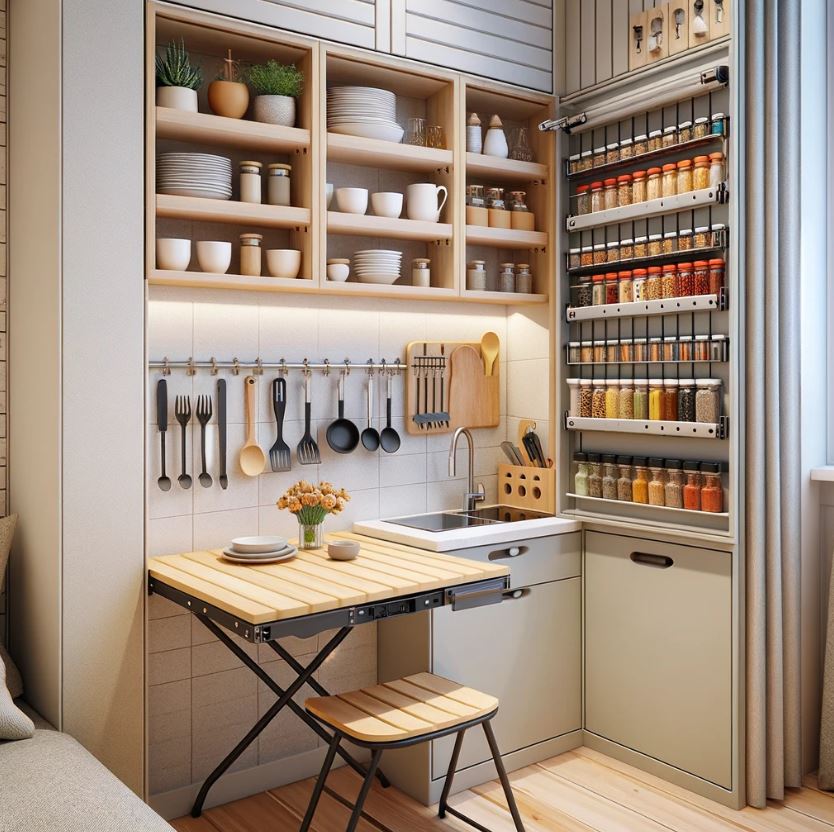 Foldable Wall-Mounted Tables
Use foldable wall-mounted tables or counters that can be folded away when not needed.
Wall-Mounted Spice Racks
Install wall-mounted spice racks to keep seasonings organized and accessible without taking up counter space.
Wall-Mounted Utensil Holder
A wall-mounted utensil holder can keep your most-used tools at hand, saving drawer and counter space.
---
10. Glass Door Cabinets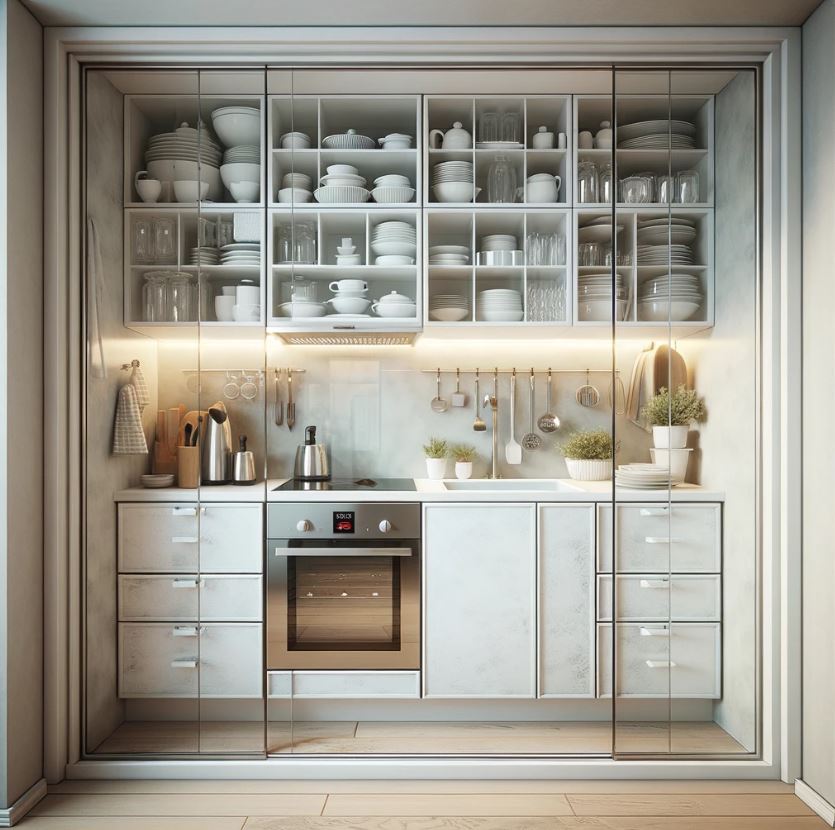 Transparency and Depth
Use cabinets with glass doors to create a sense of depth and openness. They allow you to display your items neatly.
Mirrored Backing
Consider mirrored backs in glass-door cabinets to enhance the sense of space and reflect light.
Frosted Glass Options
If you prefer less visibility, frosted glass is an elegant alternative that still lightens the visual weight of cabinetry.
---
11. Sleek Hardware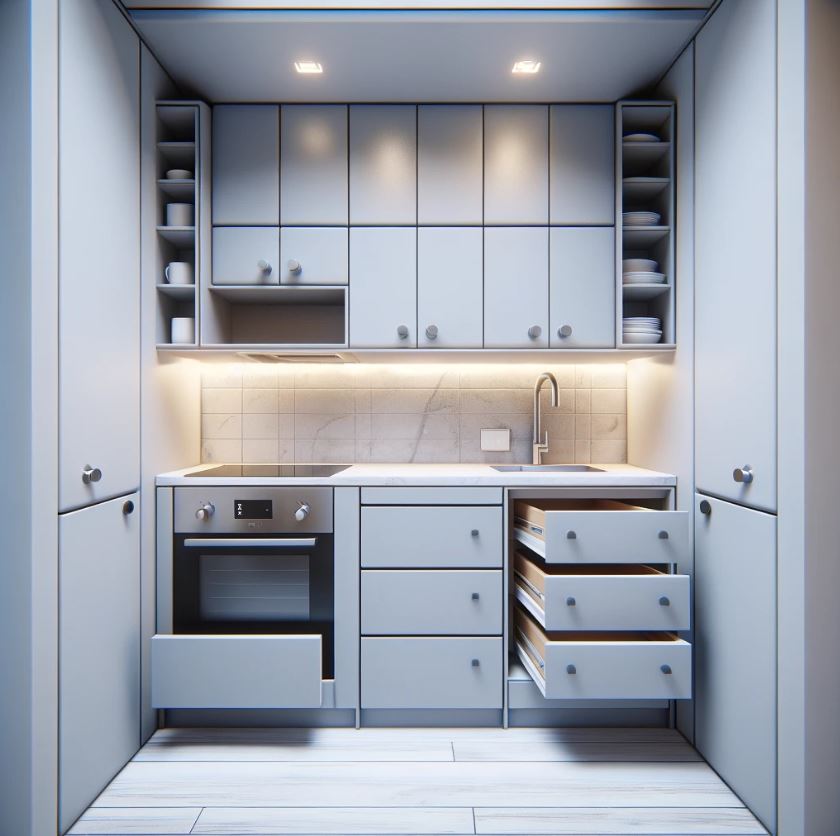 Minimalist Handles
Choose sleek, minimalist handles or knobs for your cabinets and drawers. This reduces visual clutter and modernizes your kitchen's look.
Touch-Latch Cabinets
Consider touch-latch cabinets that open with a push. They offer a cleaner look without external hardware.
Integrated Handles
Use cabinetry with integrated handles for a seamless, streamlined appearance.
---
12. Under-Sink Organization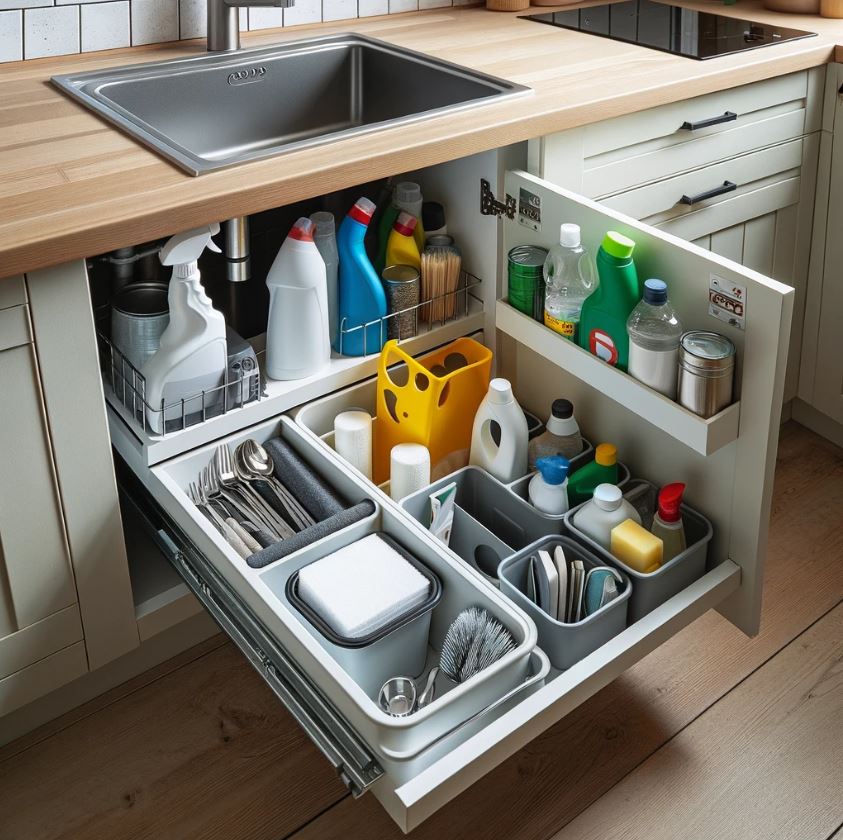 Pull-Out Trash and Recycling Bins
Install pull-out bins under the sink for trash and recycling to save floor space and keep waste hidden.
Cleaning Supply Organizers
Use organizers for cleaning supplies, maximizing under-sink storage and keeping essentials tidy and accessible.
Sink Drawer Conversion
Convert the false drawer under your sink into a functional storage space for sponges and cleaning tools.
---
13. Efficient Use of Drawer Space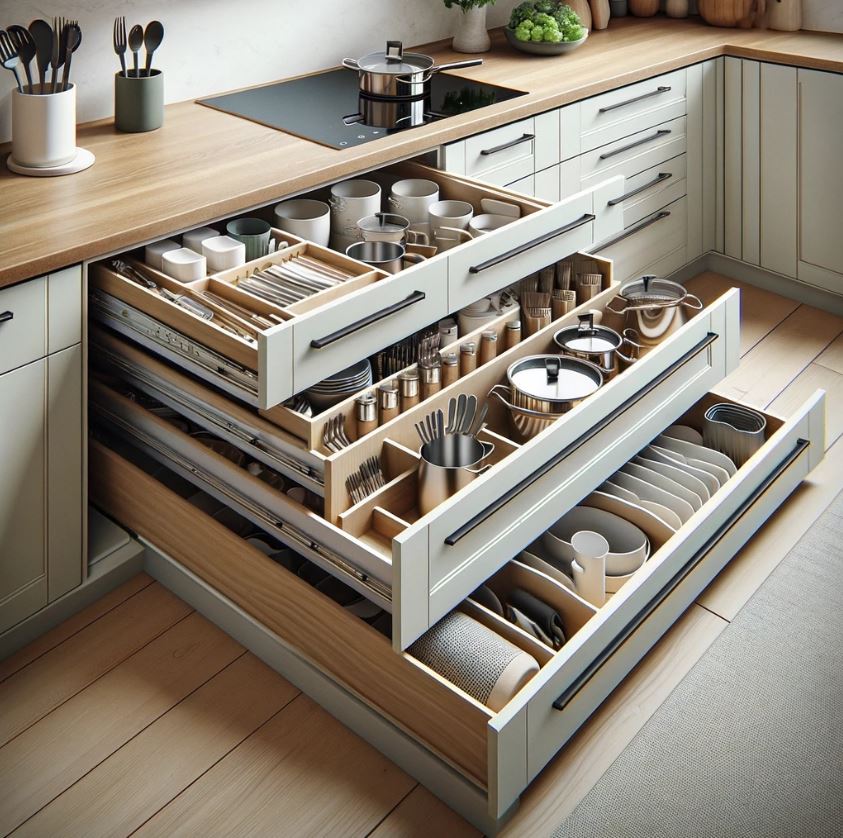 Drawer Dividers
Use adjustable drawer dividers to keep utensils and small items organized.
Deep Drawer Utilization
Opt for deep drawers for pots and pans to save cabinet space and keep these bulky items accessible.
Incorporate hidden drawer inserts for additional layered storage within larger drawers.
---
14. Innovative Seating Options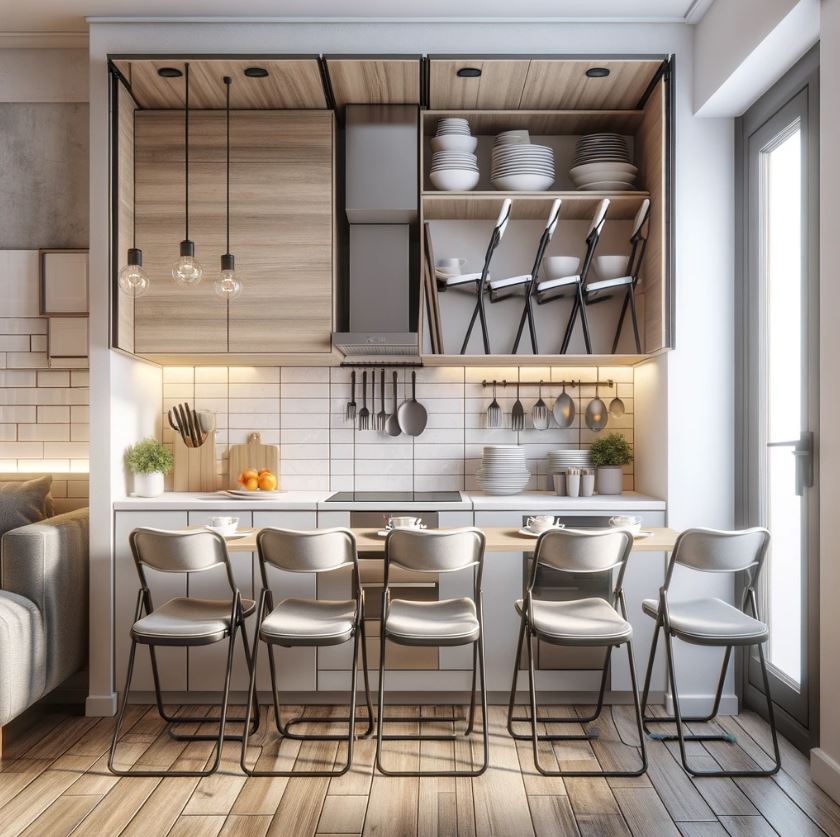 Wall-Mounted Folding Chairs
Consider wall-mounted folding chairs that can be stowed away when not in use, maximizing floor space.
Nesting Chairs
Use nesting chairs that can be stacked or stored under each other when not needed.
Multi-Use Ottoman Seats
Opt for ottomans that can serve as seating, storage, and even as a small table surface.
---
15. Smart Technology Integration
Compact Smart Home Devices
Incorporate compact smart home devices like voice-controlled assistants that take up minimal space.
Integrated Charging Stations
Create a designated charging station in a drawer or cabinet to keep countertops clear.
Space-Saving Smart Appliances
Look for smart appliances designed for small spaces, offering high functionality without occupying much room.
---
16. Use of Mirrors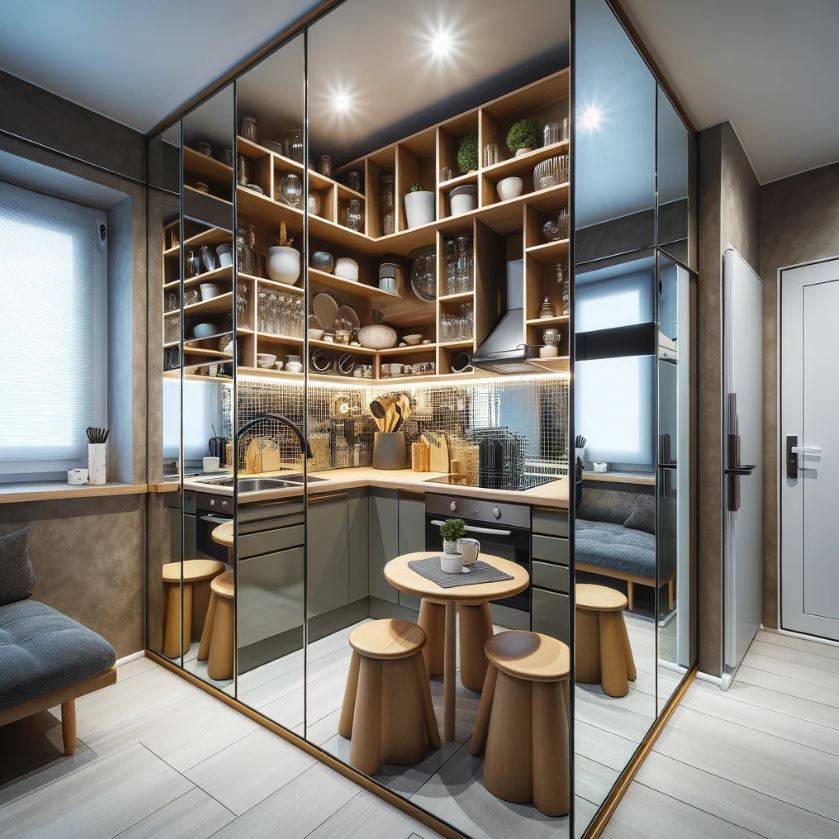 Reflective Surfaces
Place mirrors strategically to reflect light and create an illusion of more space.
Mirrored Backsplashes
Consider a mirrored backsplash to visually expand the kitchen and enhance light distribution.
Decorative Mirrors
Use decorative mirrors as wall art to add style while amplifying light and space.
---
17. Creative Ceiling Treatments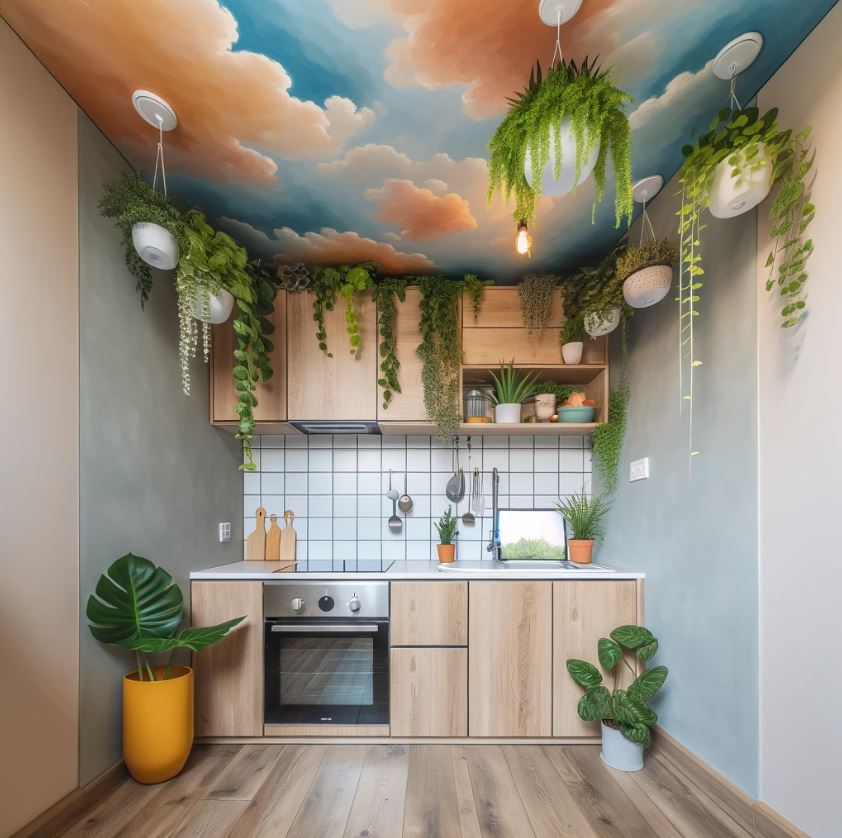 Painted Ceilings
Paint the ceiling a light color to draw the eye upwards and make the space feel larger.
Hanging Plants
Suspend plants from the ceiling to add greenery without using counter or shelf space.
Ceiling-Mounted Racks
Use ceiling-mounted racks for hanging utensils or decor, utilizing vertical space effectively.
---
18. Flooring Choices
Large Format Tiles
Install
large format tiles to create a sense of expansiveness in your tiny kitchen.
Bright Colored Rugs
Use bright or patterned rugs to add warmth and character while delineating different areas in the kitchen.
Consistent Flooring
Continue the same flooring into adjacent spaces to create a seamless transition and a feeling of openness.
---
19. Flexible Lighting Options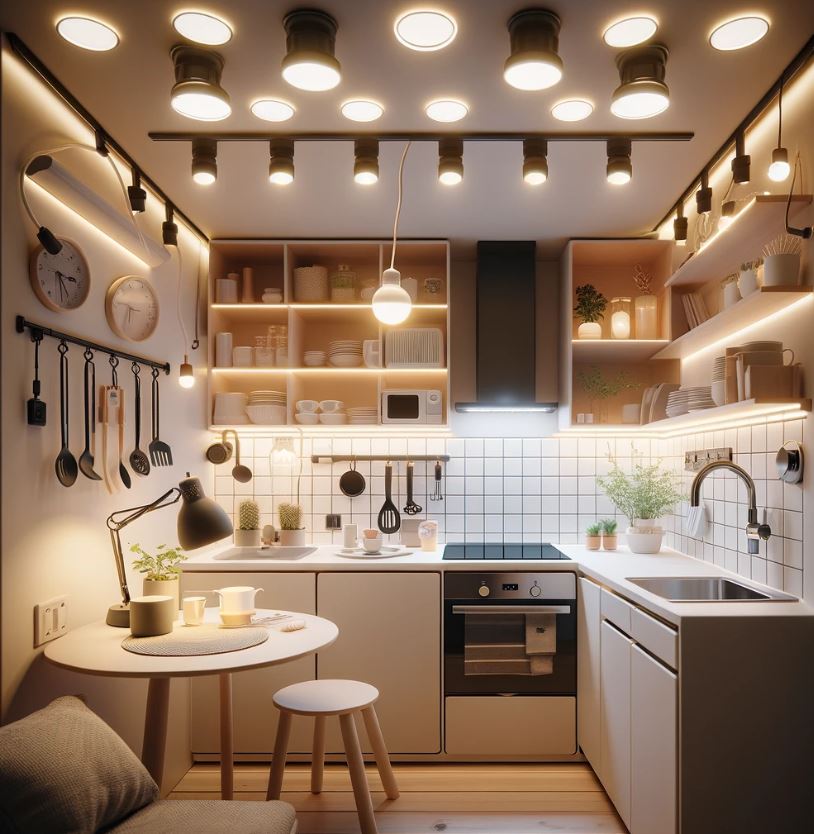 Dimmable Lights
Install dimmable lights to adjust the ambiance and functionality of your kitchen space.
Battery-Operated LEDs
Use battery-operated LED lights in areas that need extra lighting, like inside cabinets or in dark corners.
Clip-On Lamps
Consider clip-on lamps for targeted lighting that can be easily moved and adjusted.
---
20. Personalized Decor Touches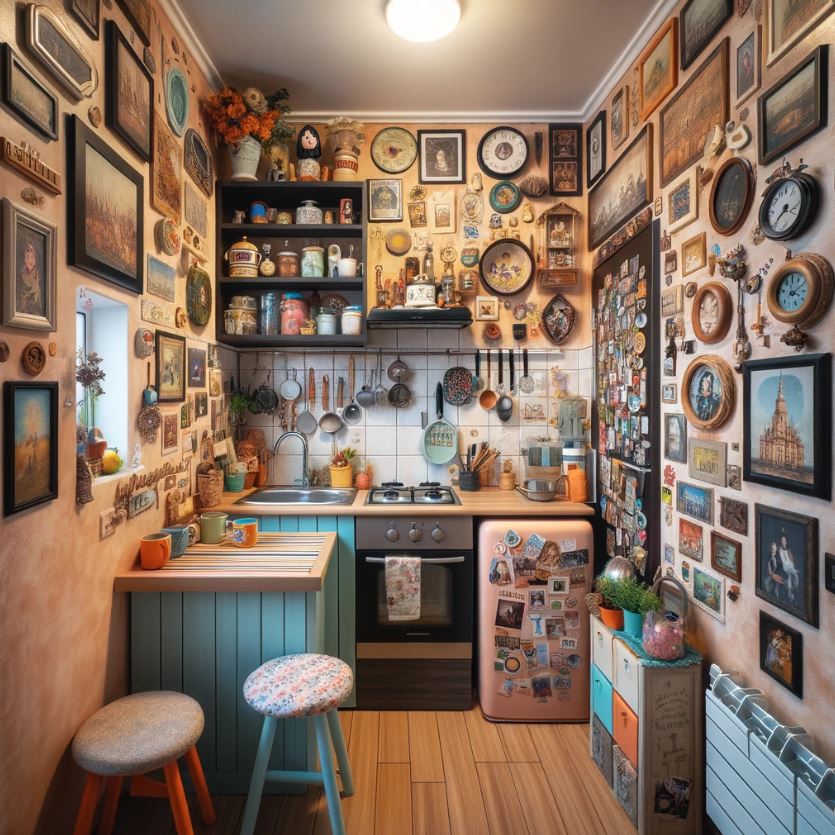 Artwork and Photos
Display your favorite artwork or photographs to personalize the space and add visual interest.
Unique Knick-Knacks
Incorporate unique knick-knacks or collectibles in moderation to reflect your personality without cluttering.
Thematic Decor Elements
Choose a theme for your kitchen decor, such as vintage, modern, or rustic, and select pieces that align with this style.
---
With these 20 decor tips, your tiny kitchen can become a functional, stylish, and enjoyable space, perfectly suited to your tiny house living.
For more insights and ideas, don't forget to explore these 50 clever design ideas for your small kitchen space.
Remember, creativity and innovation are key to making the most of your small kitchen space!
FAQs
Q: How can I make my tiny kitchen look bigger?
A: Opt for light colors, open shelving, and maximize natural light. These elements create an illusion of a larger space.
Q: What are the best storage solutions for small kitchens?
A: Utilize vertical space with wall-mounted shelves and racks, and invest in multi-functional furniture that offers additional storage.
Q: Can I add decorative elements without cluttering the space?
A: Yes, choose decorative items that also serve a practical purpose, like stylish containers or magnetic strips for knives.
---
By following these 20 decor tips, you can transform your tiny kitchen into a stylish, functional, and enjoyable space.
For more insights on tiny house living and decor, check out these 100+ Boho Décor Ideas for Your Tiny House or Small Space
Remember, a small space doesn't mean sacrificing style or functionality—it's an opportunity to get creative with your decor!