In today's world, house space has become a very valuable commodity. As more and more people move into big cities, the supply of adequate, affordable housing has taken a hit.
The price per square foot continues to rise, hence the urgency to utilize every inch.
Coupled with the growing trend to downsize into tiny homes, studio apartments or other small houses, more and more people are seeking ways to make the best use of their small space.
This limited square footage should not be a deterrent to creating functional, efficient and beautiful spaces.
At the heart of every home is the kitchen, and a lot of clever tricks can be employed here to give you the best experience when preparing meals for yourself and your loved ones.
Creativity, organization and smart design can be used to transform even the most compact kitchen into a charming cooking space.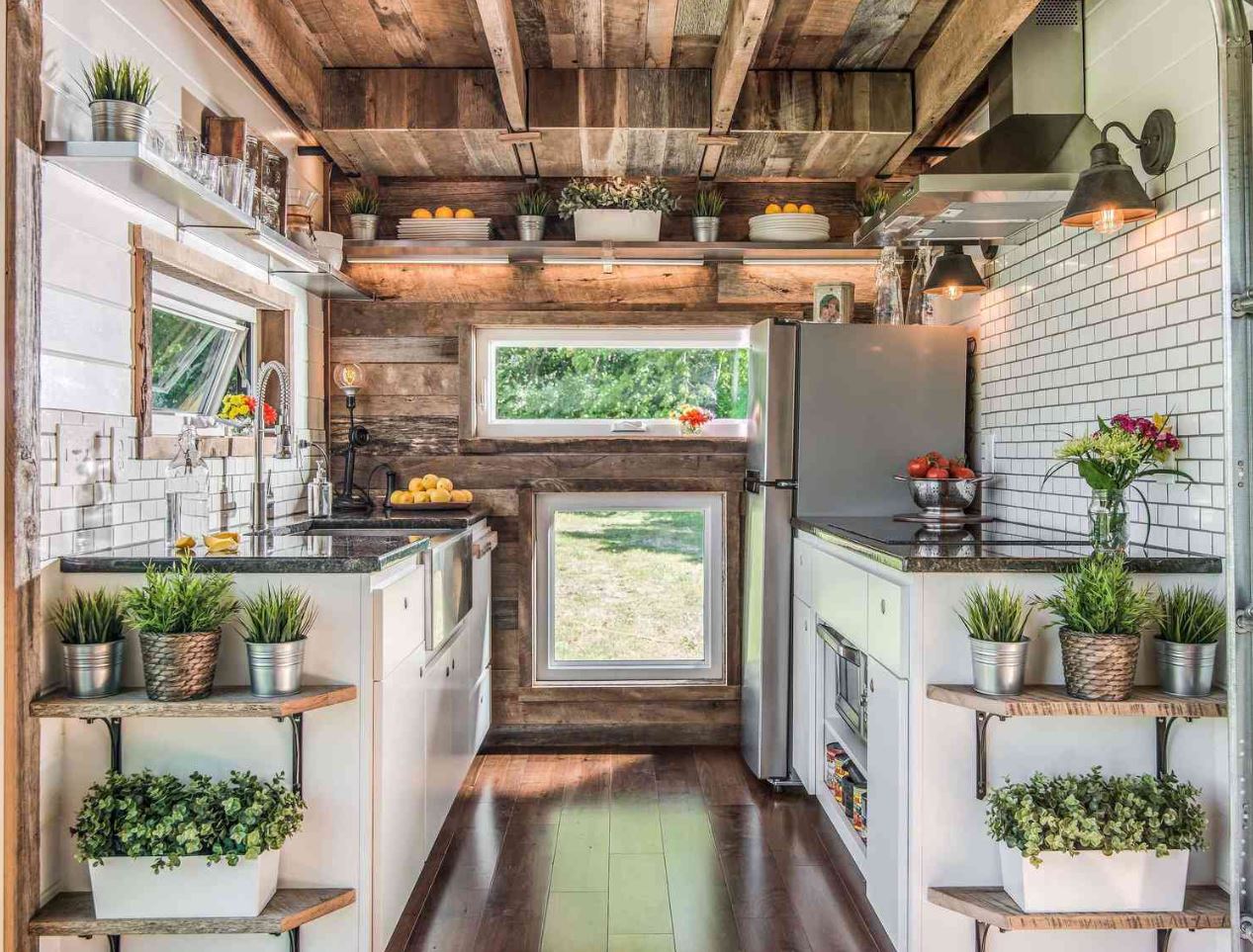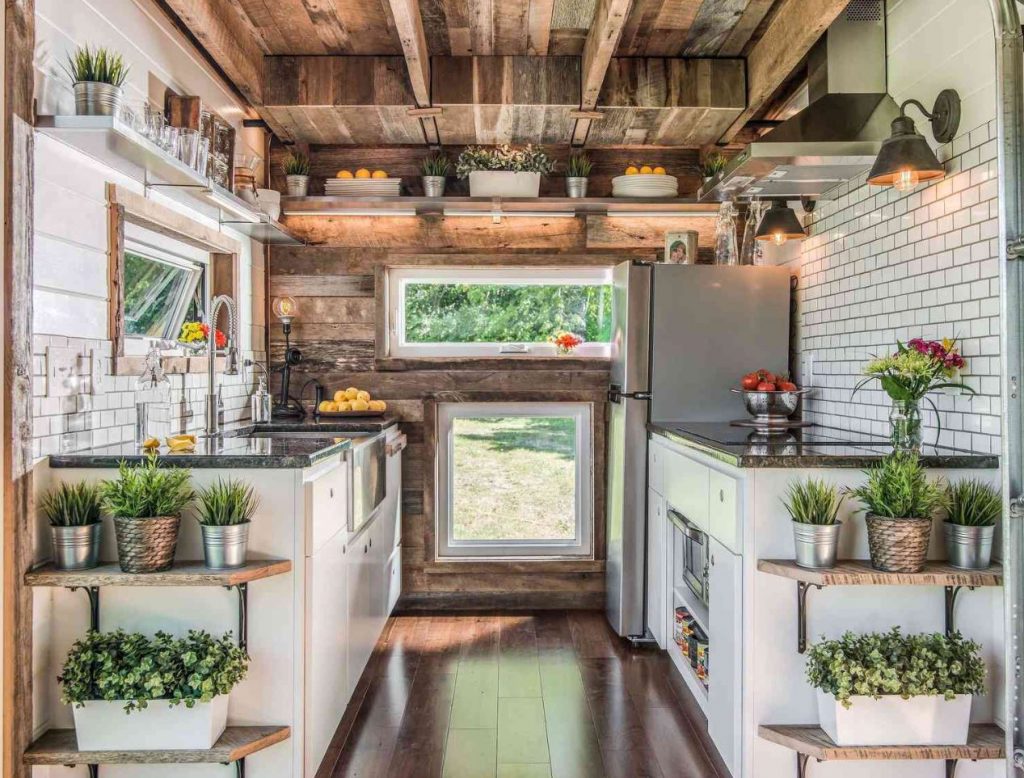 In this guide, we explore some of the ideas you can borrow for your small kitchen, to make it not only functional, but aesthetically pleasing too.
1. Embrace Minimalism
The whole concept of tiny homes can trace its roots to the minimalism movement. In the kitchen especially, less is often more.
Taking the minimalist approach when designing your small kitchen will transform the tiny space to feel less cluttered, more open and generally bigger than it is.
If you're just starting out the tiny living lifestyle with a brand new house, this is relatively easy to accomplish. If you're remodeling your small kitchen, there will be some extra hoops, but it is doable and the results will be satisfying.
Minimalism is first and foremost a mindset. You may crave better organization all day, but at the end of the day, you'll have to make a conscious decision to own less.
The logic is simple, if you only own that which is necessary, you can better take advantage of every inch of the space, and still leave lots of room to move around.
Here are some examples of clean, minimal small kitchen spaces.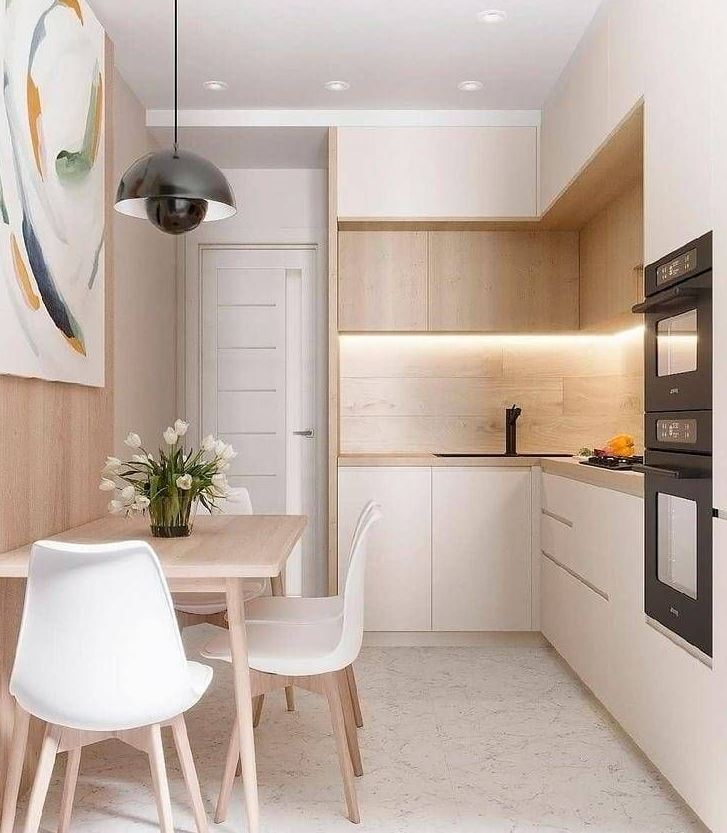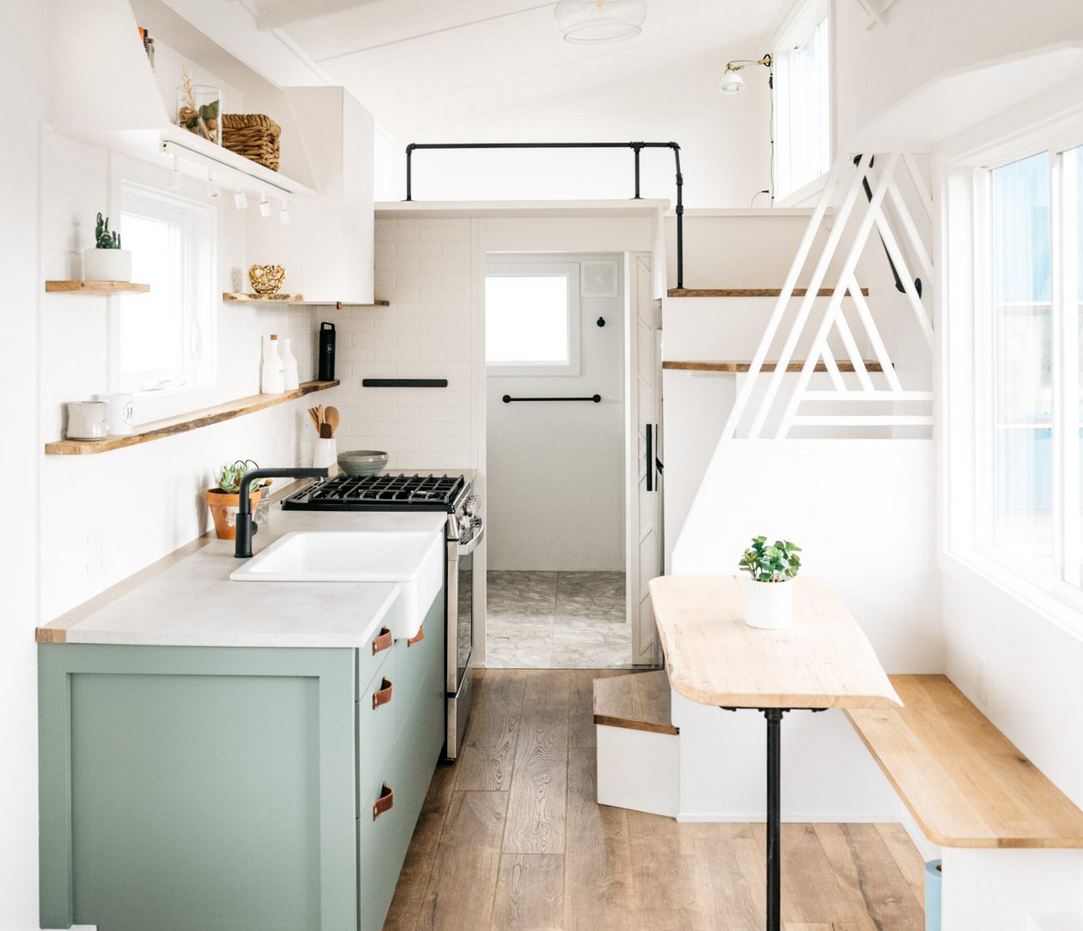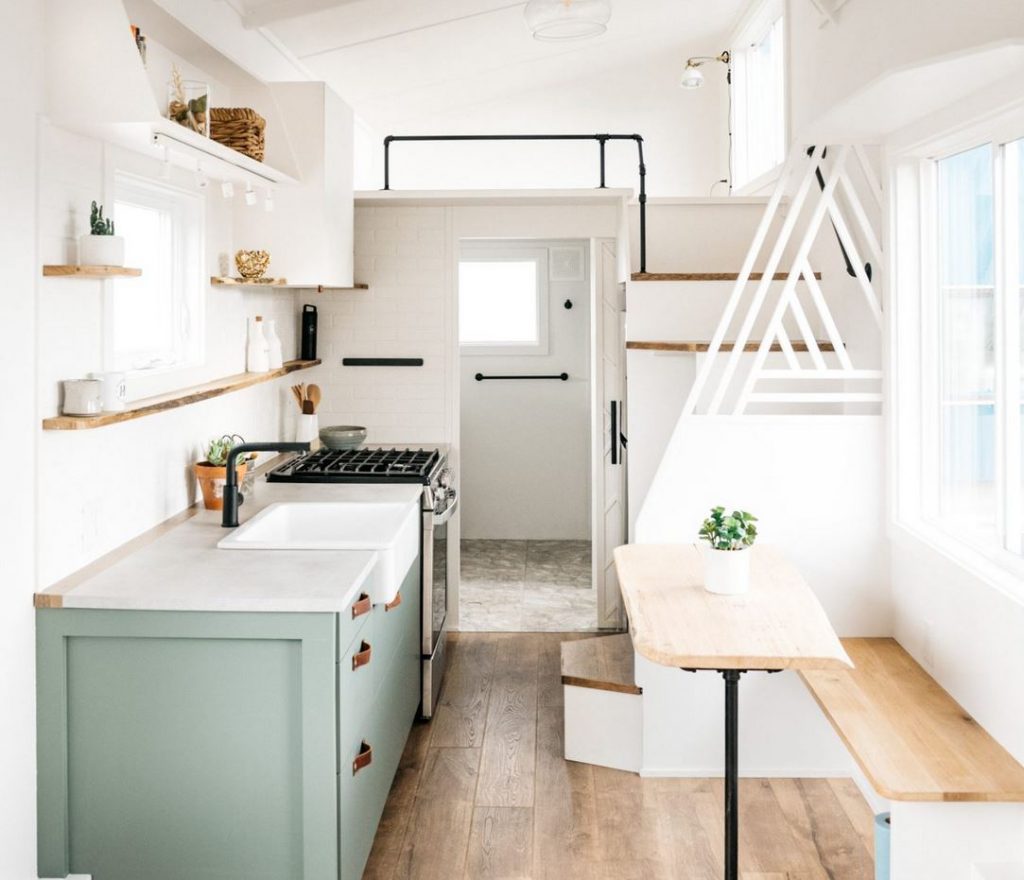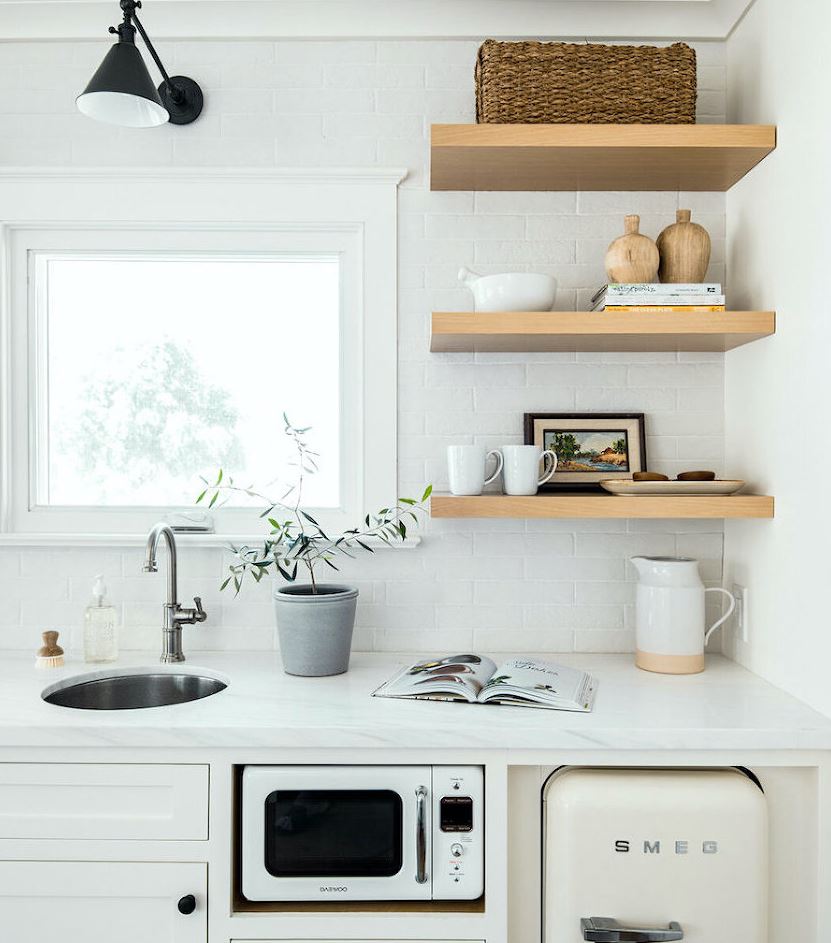 We've written extensively on how to embrace minimalism in your tiny house, like this article on tips to declutter your small bathroom.
But in a nutshell, here's how to commence your minimalism journey.
Get rid of what you don't use: Going through your belongings, you'll be surprised how much junk, rarely used items or never used items you've actually got. Start by making a list of frequently used kitchen items, rarely used but essential items, and items that you neither used, nor need in the foreseeable future. Get rid of them either by donating, holding a backyard sale, or trashing them. Remember, the enemy of minimalism is attachment.
Reflect on your values: As you begin your minimalism journey, pay close attention to your values and priorities, and the aspects/items that bring you joy and fulfillment. Only retain those ones.
One-in, One-out: This is self explanatory. For every new item you bring into your small kitchen space, commit to removing at least one existing item. This is a bedrock principle in minimalism, and lack of adherence is what got you all cluttered in the first place. While it may not be always possible, push yourself hard to make it happen.
Practice mindful consumption: Most American kitchens are full of food that's not consumed, a lot of it ending up in the landfill. Embracing minimalism means you have to start watching what you bring home. Frequent trips to the grocery store instead of one big trip, say monthly, is not only good for your house, but for the environment in general.
Tidy up regularly: It is inevitable that things will eventually add up. As a minimalist you don't want that. Regular tidying up of your small kitchen space preserves the lifestyle, and should be an ongoing commitment.
2. Adopt Clever Storage Solutions for Your Small Kitchen Space
Storage and kitchen design go hand in hand. As we have seen, the minimalist way to design your kitchen is to make it appear open and spacious, while still having space to accommodate all your kitchen equipment and items.
We have entire articles dedicated to wall storage ideas for a small space or tiny home, which you may want to read first.
When approaching storage for a small kitchen space, it is proper to first have an idea of how many items you'll have, so you can plan accordingly.
This goes back to the earlier point of getting rid of what you rarely or never use. There is no need to have 7 pots and 4 pans, if you only use 2 of them. The same goes for plates, silverware and more.
Retain the bare minimum, and suddenly lots of storage options will open up.
Let's look at some clever storage ideas for your small kitchen space.
i). Use Multifunctional Furniture
In a small kitchen, every furniture piece should be utilized for more than one purpose. For example, there is no reason why an island can't double as both a food preparation area and a dining table.
This rustic and stylish kitchen utilizes a free-standing island that not only fits right in, but looks amazing in the process.
The open space underneath flows with the openness theme. This island/table can easily accommodate up to 4 people.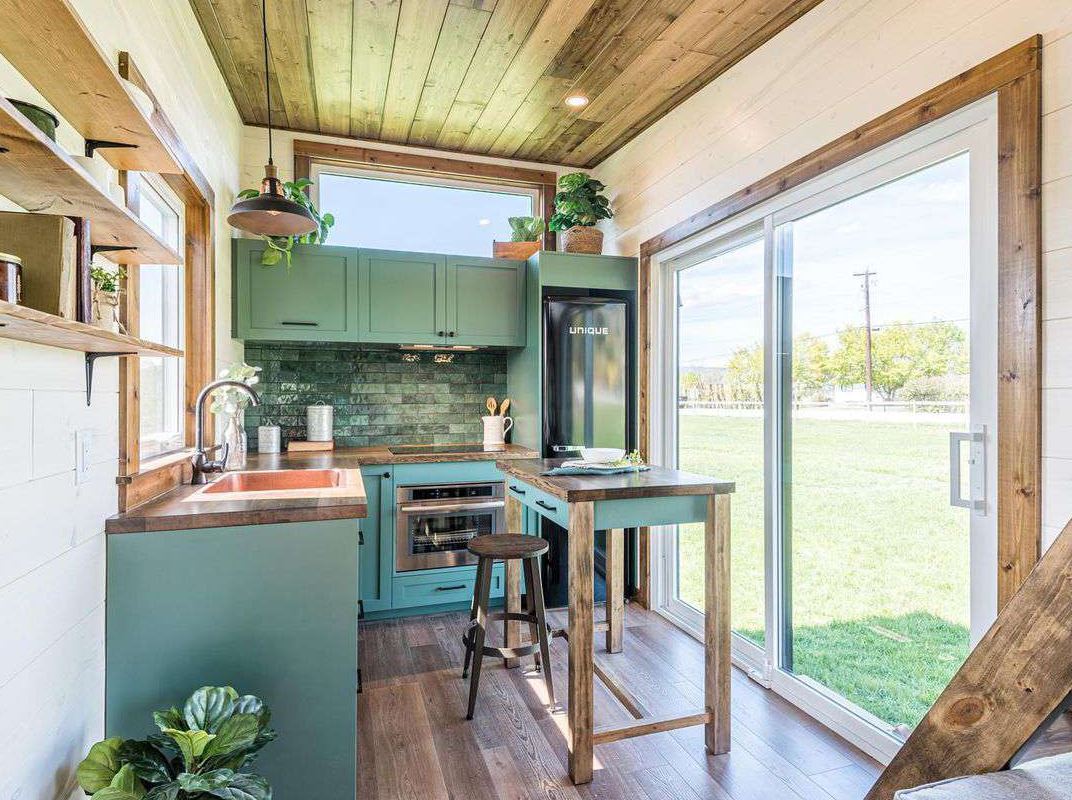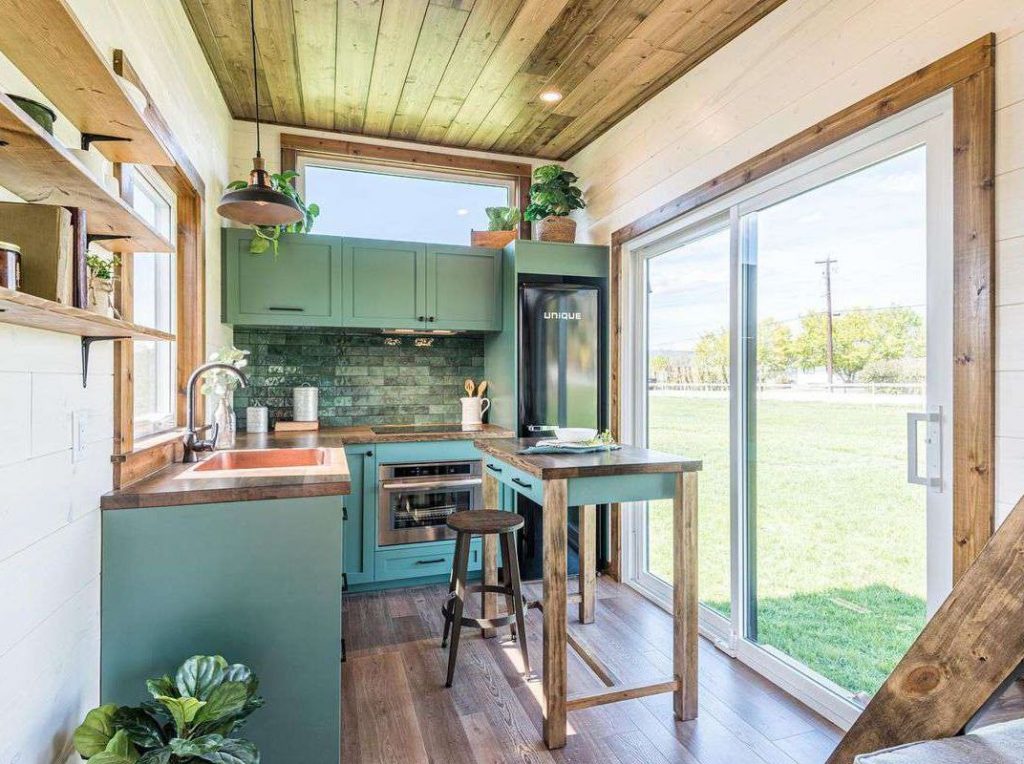 Here's another beautiful example of a dual-purpose countertop island in a small kitchen.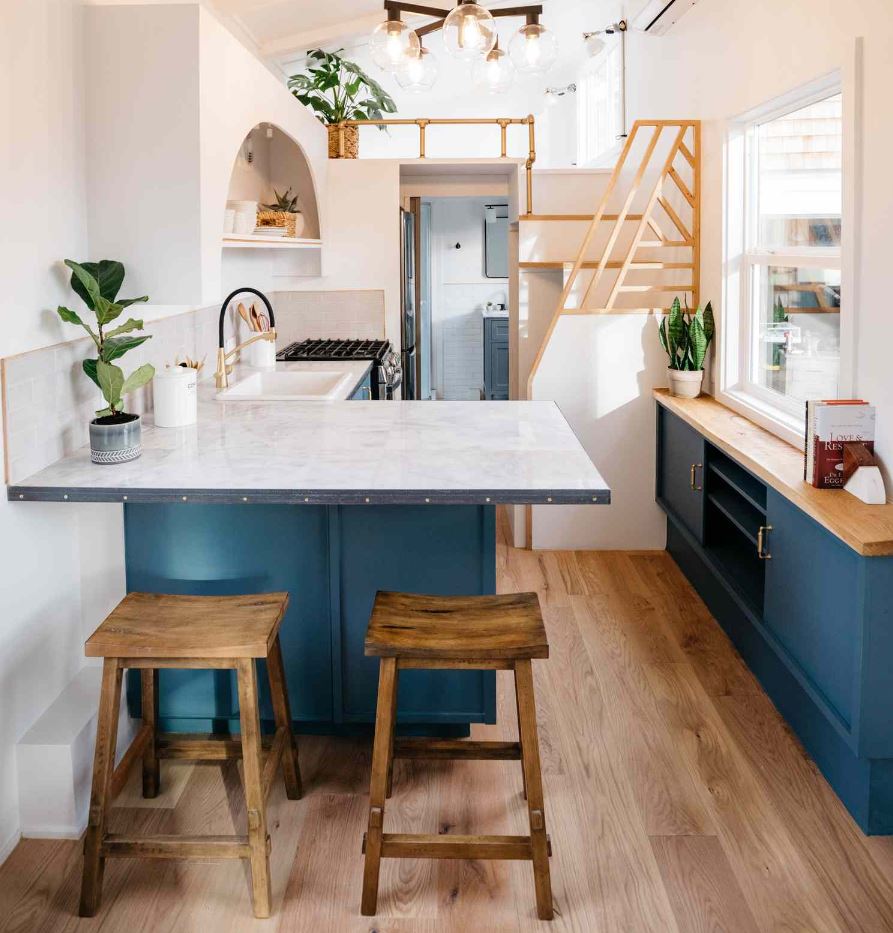 Alternatively, you can opt for an island that also serves as a storage space, on top of being a meal preparation and dining area.
There are many examples that have either open compartments, or cabinet spaces.
Here's one that is not only thoughtfully designed, but is super practical. The fact that it has wheels makes it incredibly practical in a small kitchen space. It means you can move it around when the working space gets tight, or adjust its position during meal time.
I'm totally in love with it.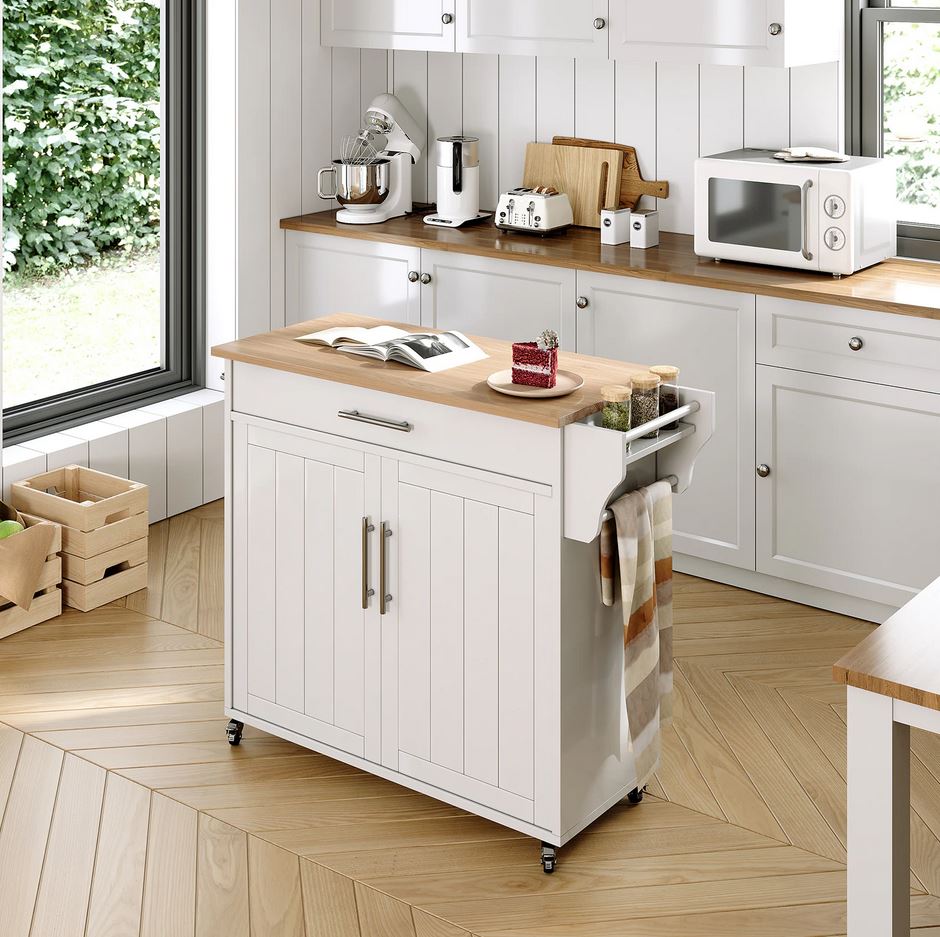 This next one caught my eye, because it has stylishly integrated a small pantry space, but at the same time left a section of the island open, thus providing comfortable leg room. It would be a great addition to any tiny house kitchen.
The piece is a Boahaus Rennes Kitchen Island with a countertop 36-inch deep x 36 inches wide. It goes for $282.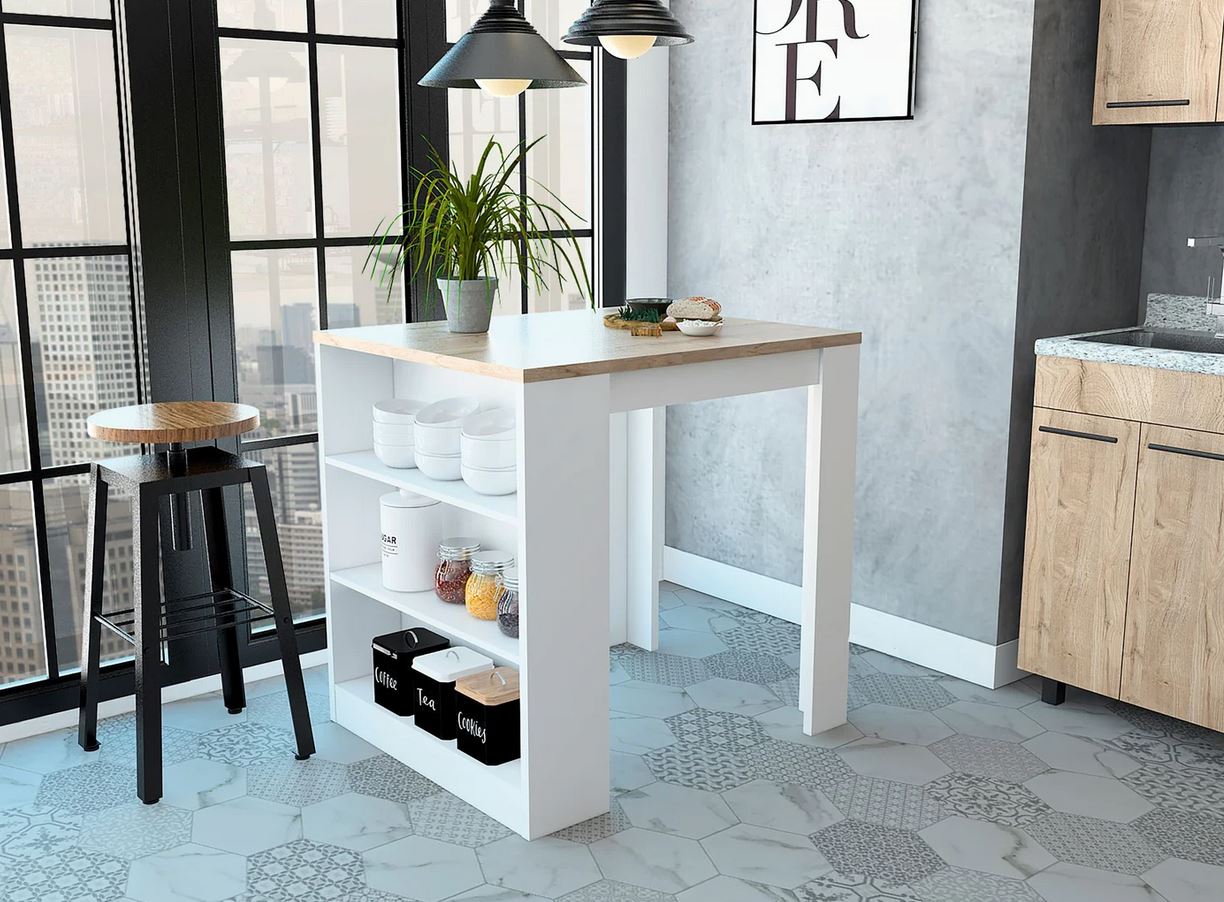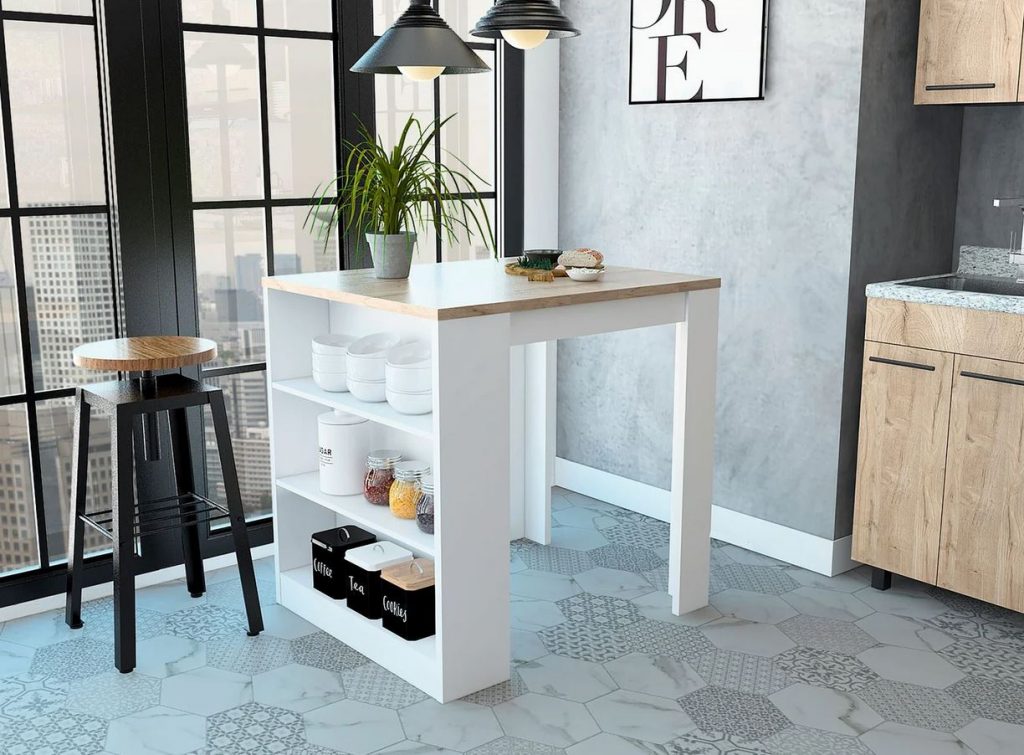 It also comes in black if that suits your taste better.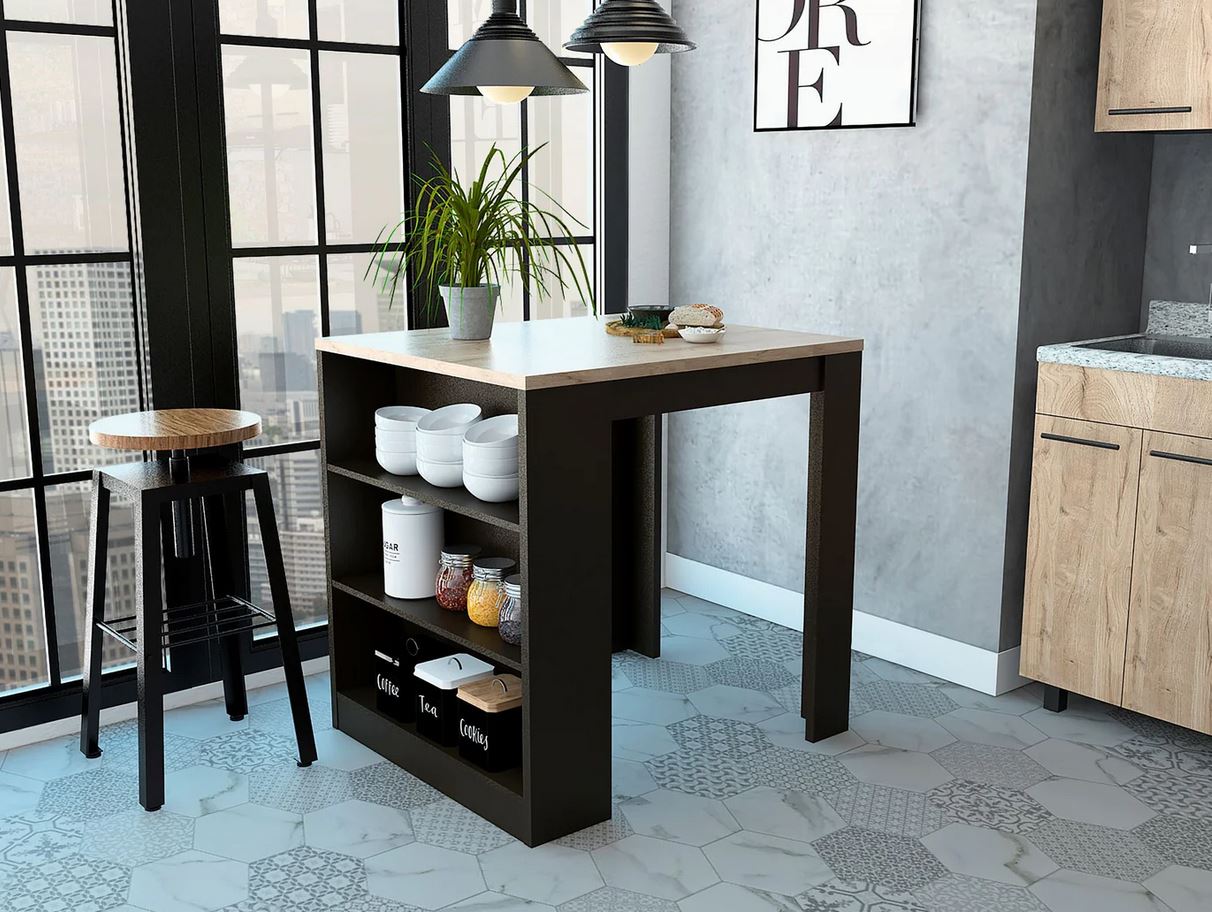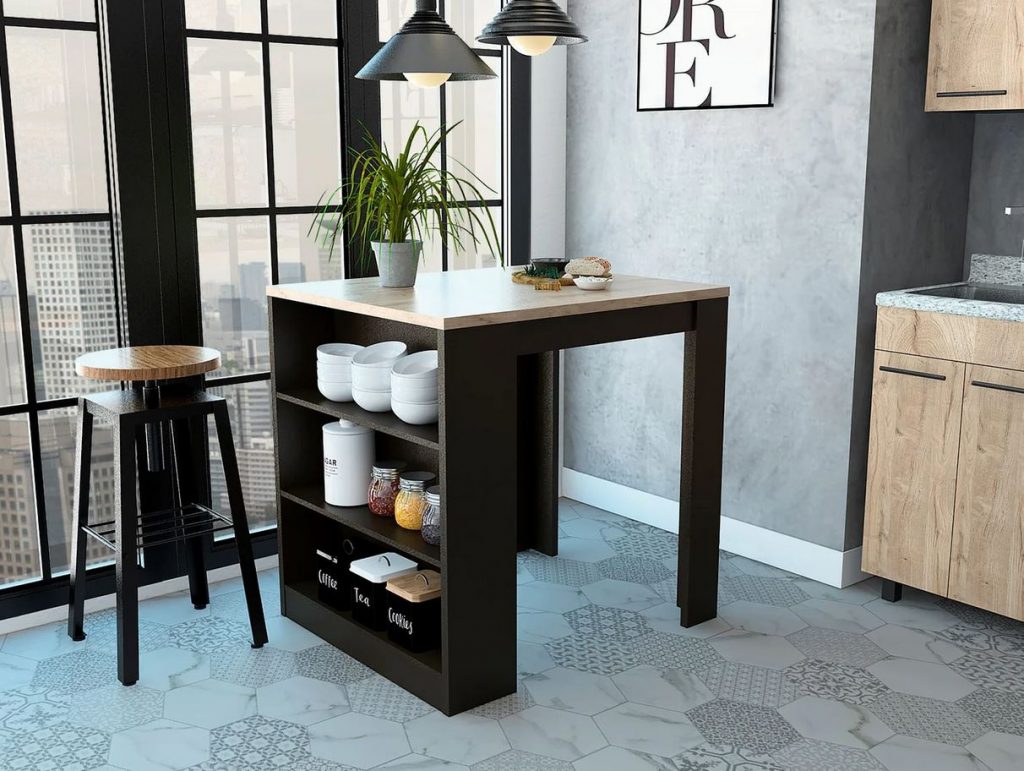 Here are a few other interesting concepts for a multifunctional small kitchen table islands.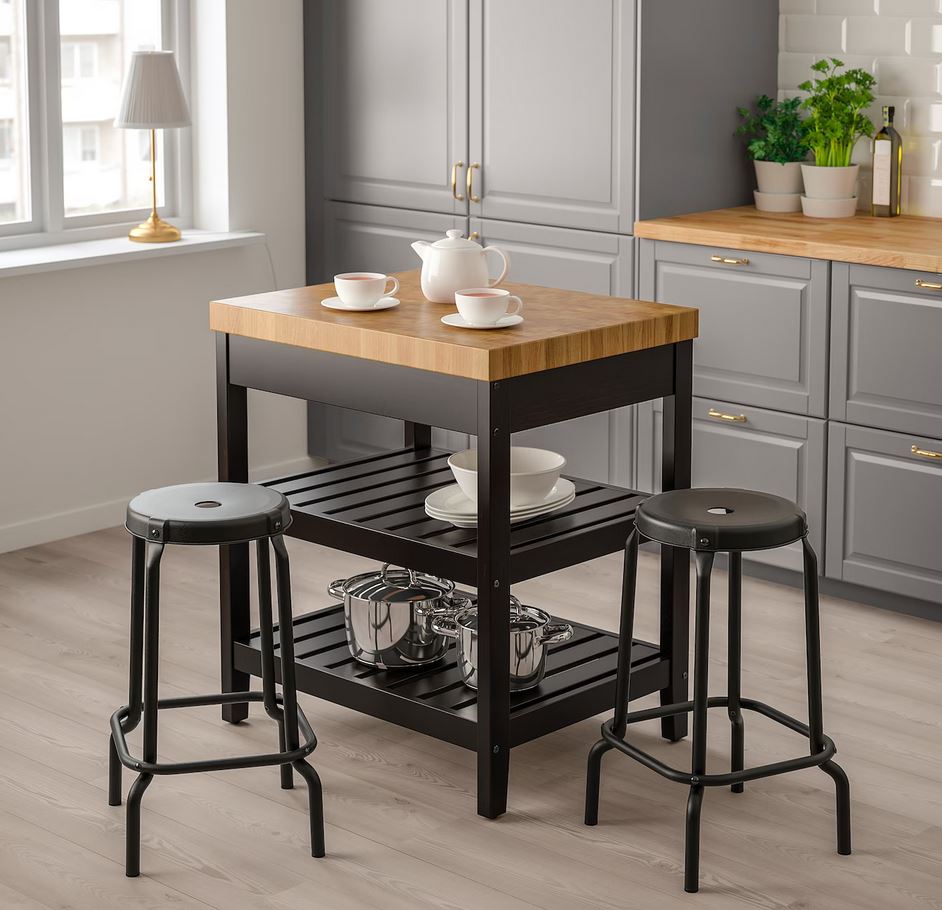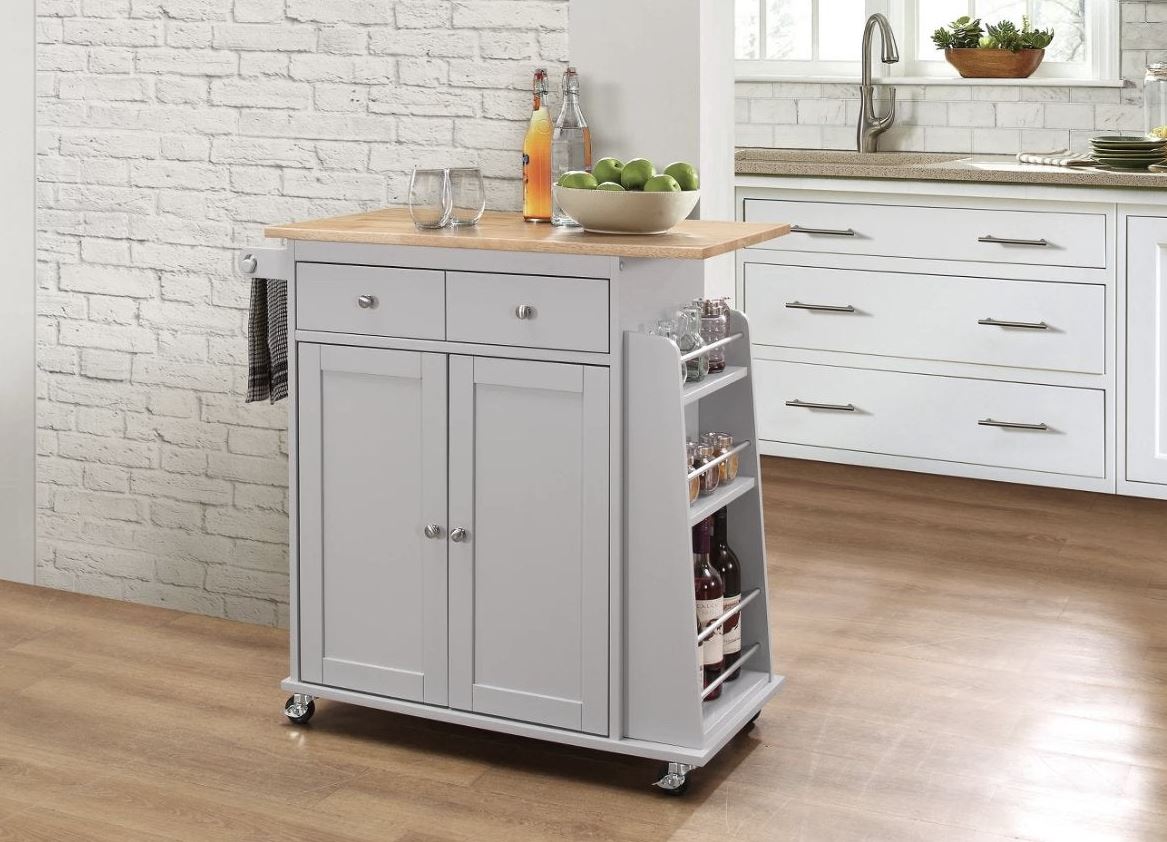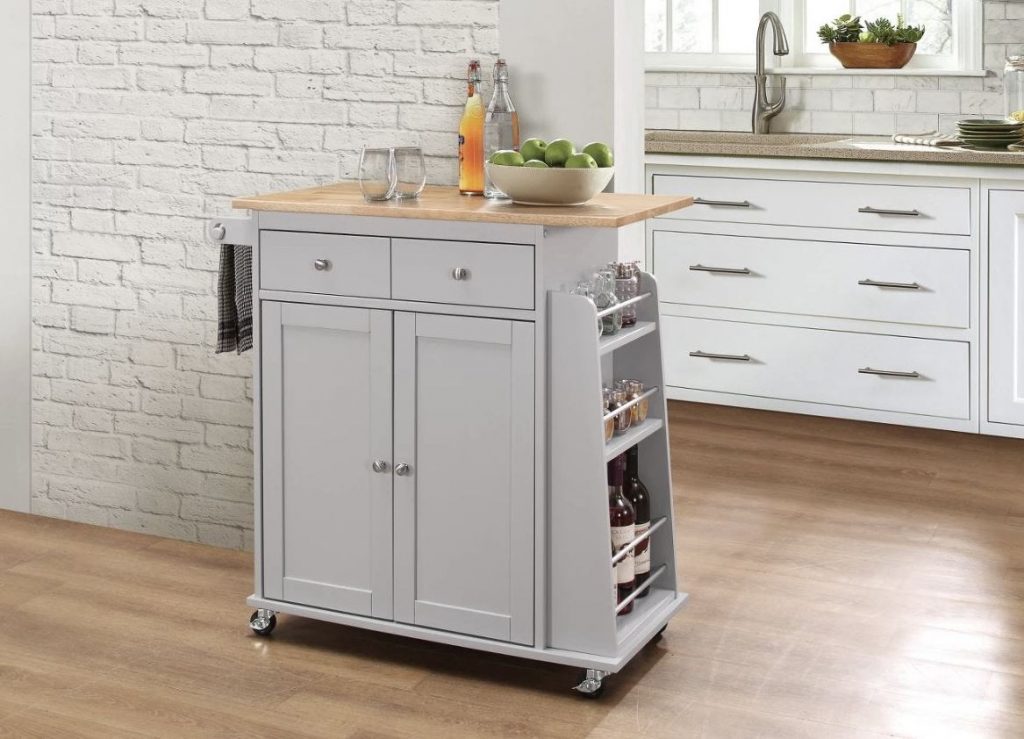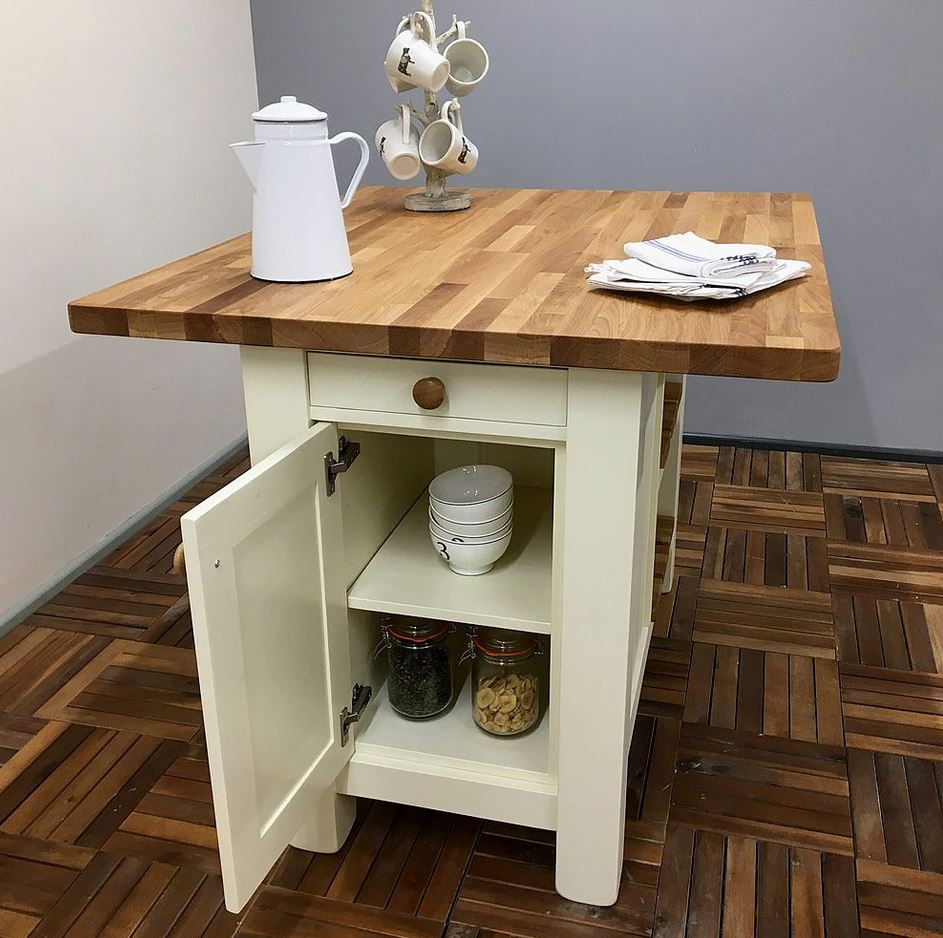 ii). Adopt Open Shelving
Open shelving are excellent for small kitchen spaces. They not only act as storage spaces, but also create a sense of openness.
Open shelves in a tiny kitchen can also compliment the overall home décor, especially when coupled with carefully curated display of dishes, glassware, cookbooks or plants. They are perfect to express your personality.
Just be careful not to fill it with unnecessary junk.
Also, unlike closed cabinets, open shelves demand constant aesthetic mainteinance, which inevitably avoids clutter.
Here are a few that a totally love.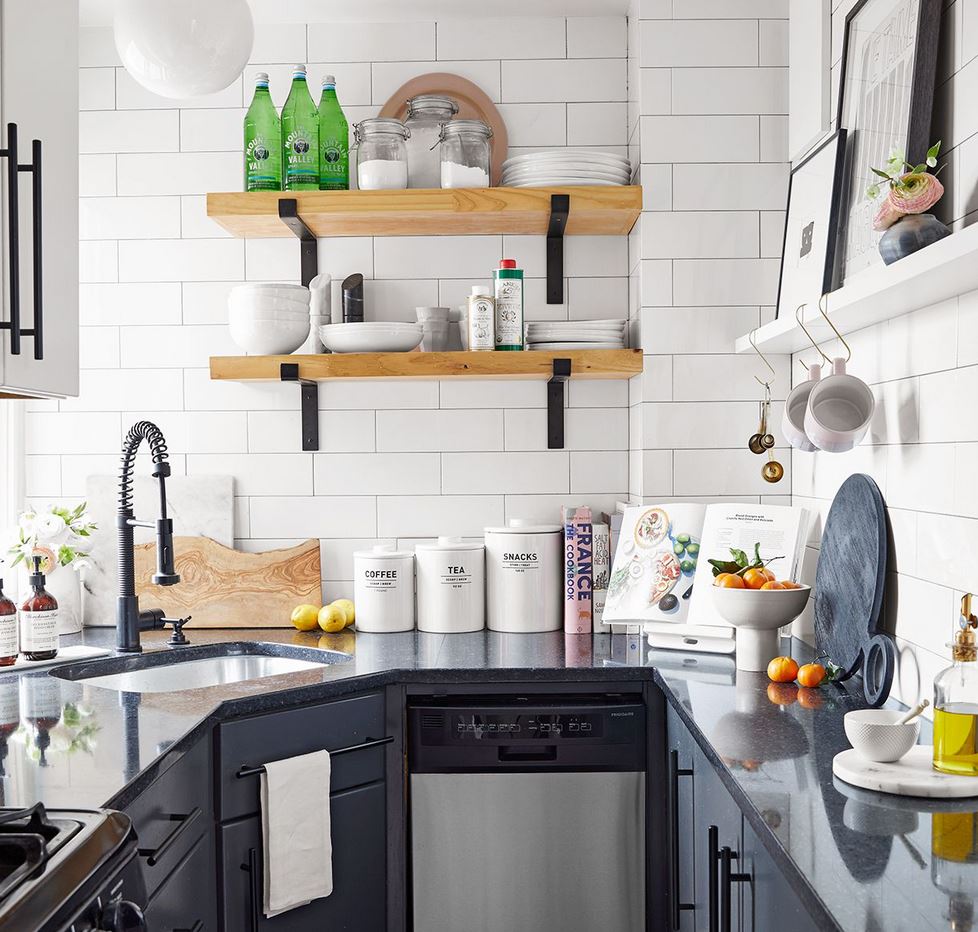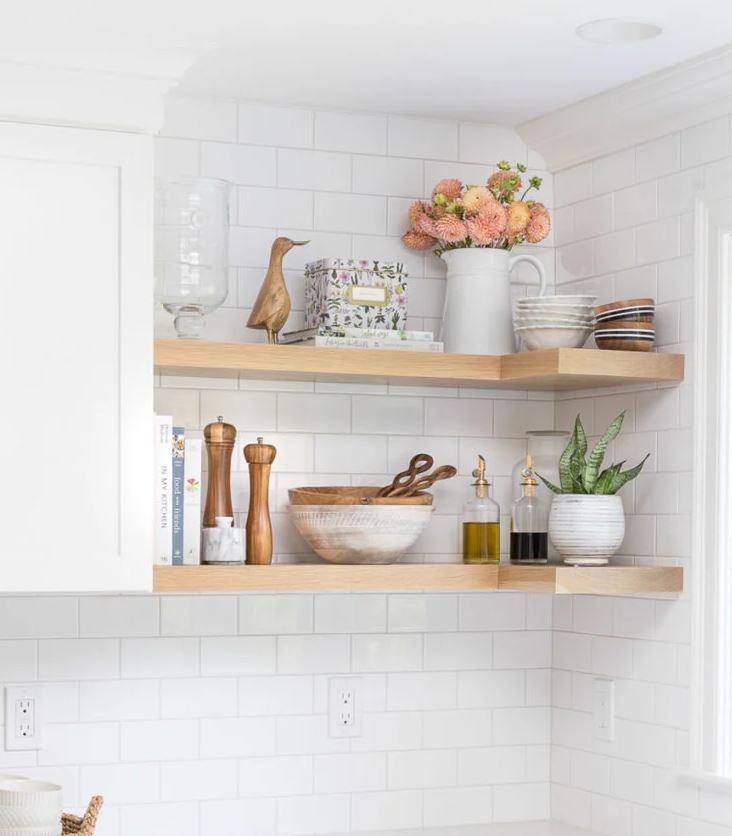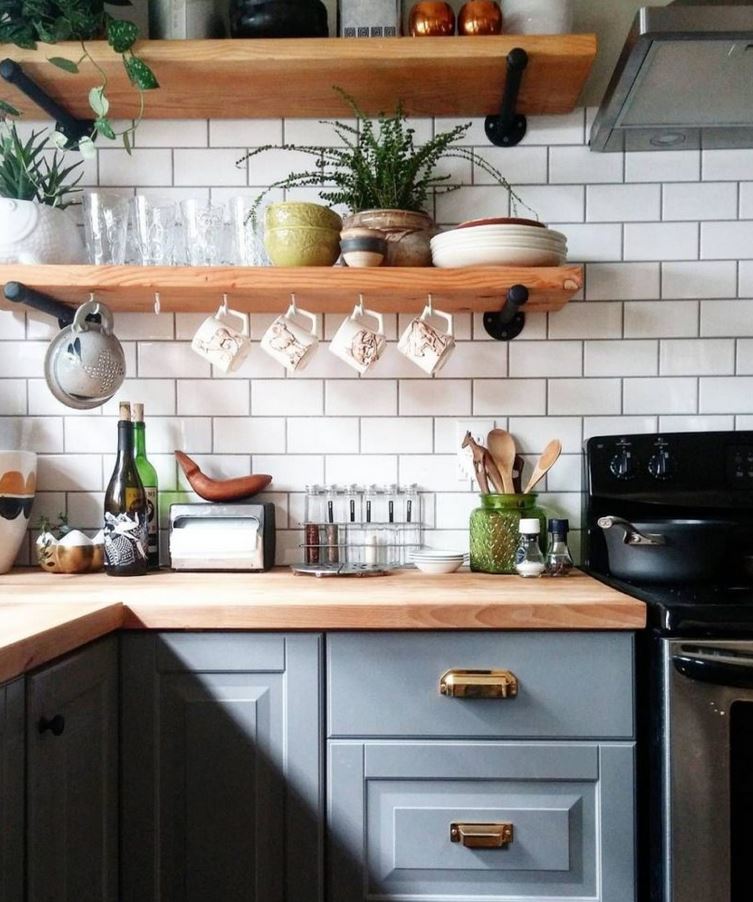 iii). Install a Lazy Susan in Your Small Kitchen Space
Having a Lazy Susan when your kitchen is short on space is extremely helpful. For the uninitiated, a Lazy Susan is a rotating tray placed within a cabinet, often in corners, to make items stored more accessible.
It is perfect for things like spices, jars or even cutlery. Lazy Susans are great because more often than not, corner spaces are left to go to waste, something that we want to avoid in a tiny kitchen.
You can grab one for under 50 bucks from Amazon or Ebay.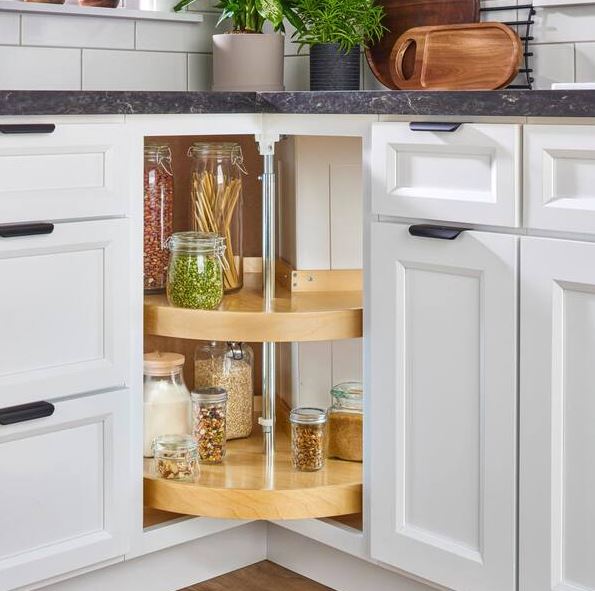 iv) Use vertical Pull-out cabinets
Vertical pull-out cabinets can come in handy in a small kitchen. They provide tons of extra storage space, with the advantage of being hidden most of the time.
Unlike traditional cabinets, vertical pull-outs can occupy very tight spaces that would otherwise remain unused.
Pull-out cabinets can be as tall as the ceiling height, or as short as you want them to be. They are perfect to store spices, cooking oil and dry foods.
Here are some beautiful ideas you can borrow.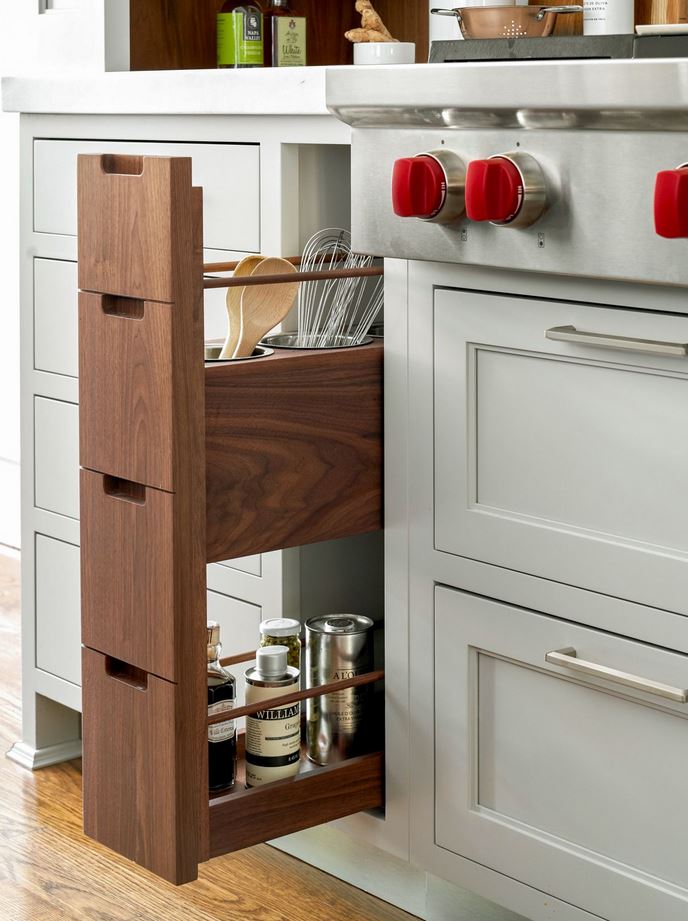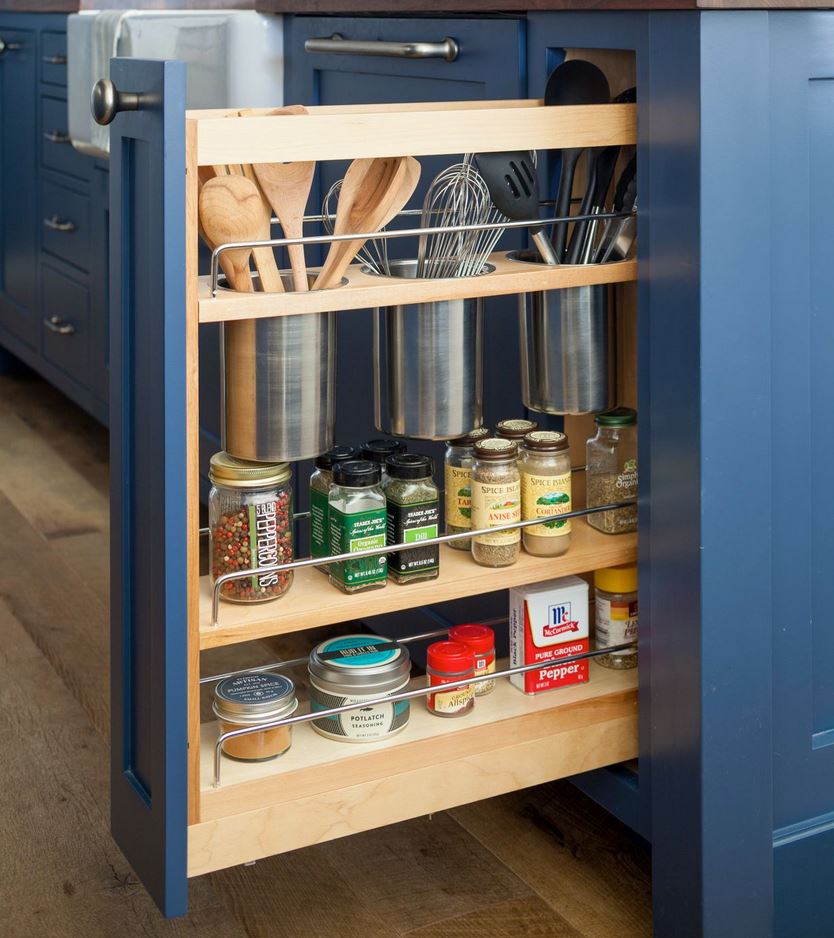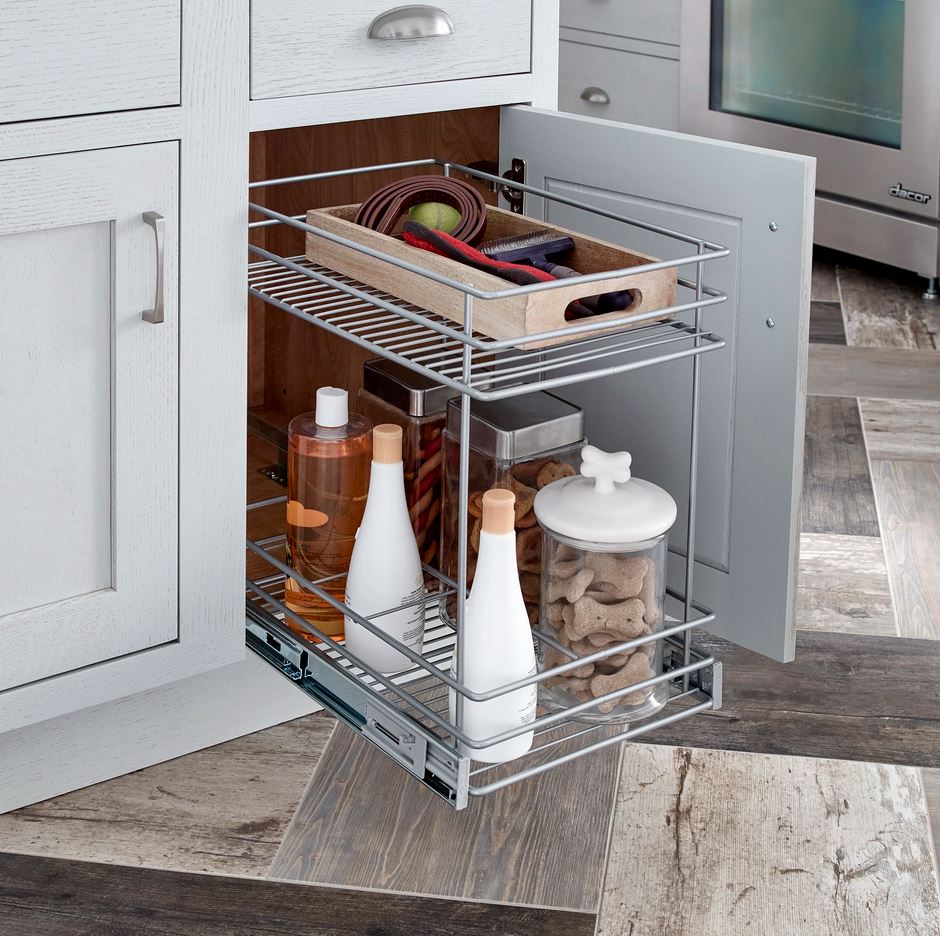 v) Hang Pots, Mugs and Pans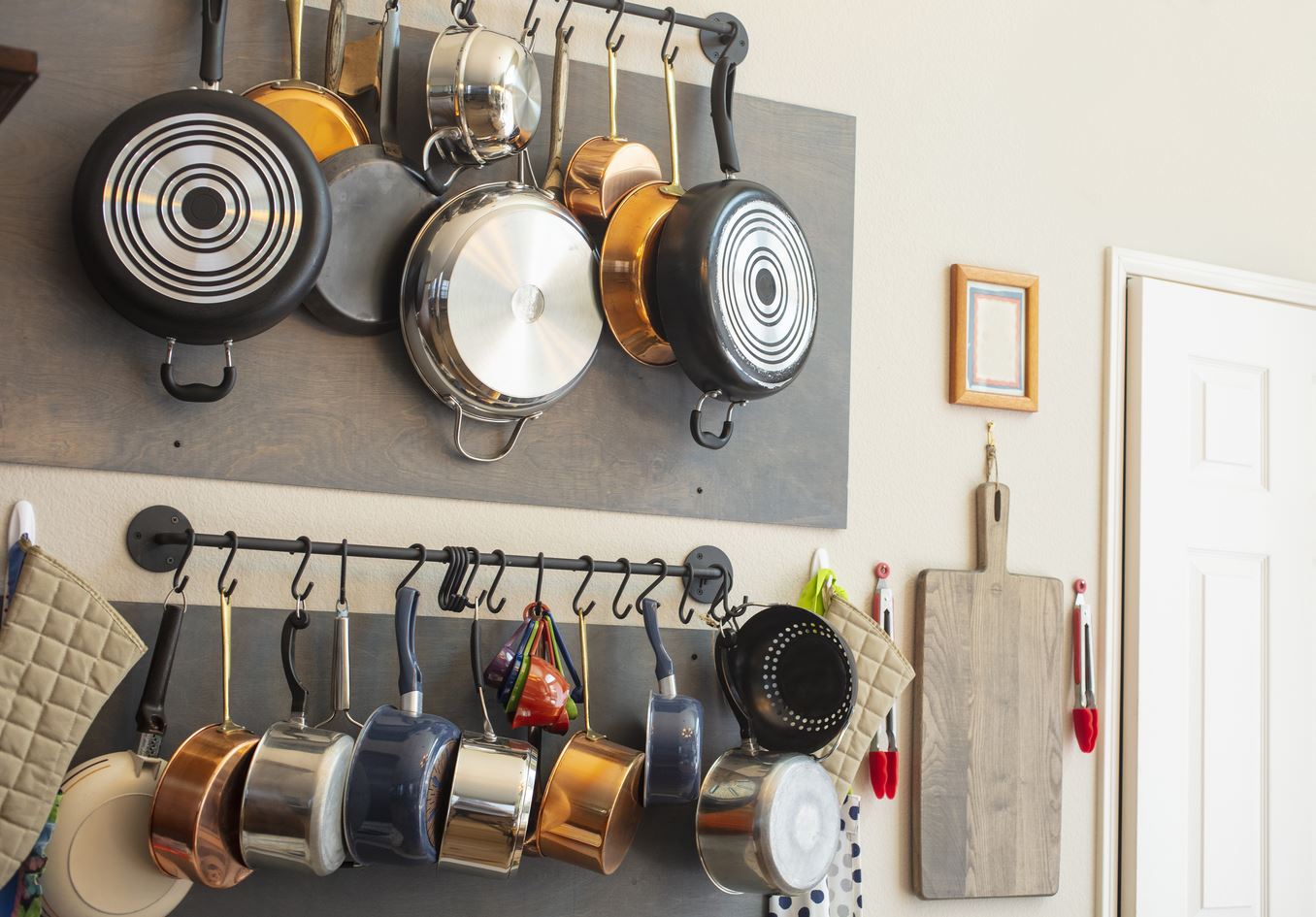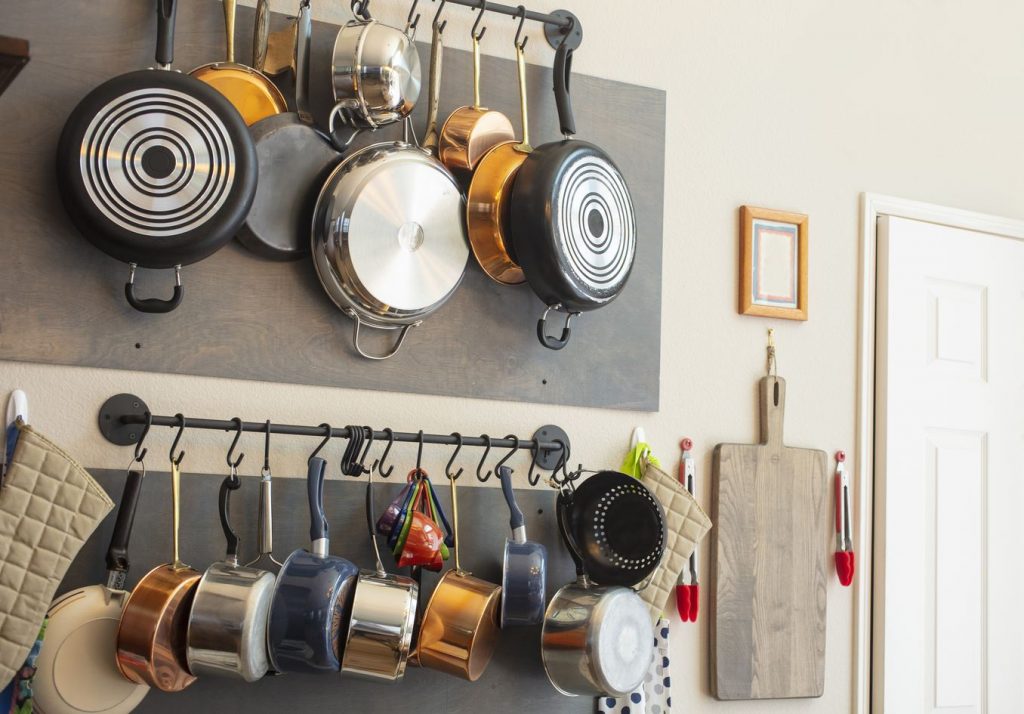 Hanging your pots, mugs and pans is a highly effective space-saving solution. By utilizing the vertical space, you end up maximizing storage without cluttering the countertops and the rest of the kitchen.
Here are a few reasons why you should adopt this design technique in your small kitchen space.
Maximizes the kitchen space: Hanging items frees up valuable countertop space for other uses.
Easily accessible: Hanging items are easily accessible during meal preparations, and can actually encourage you to cook more.
Improves your décor: Hanging pots and pans adds visual interest, serving as a decorative element in your small kitchen. They can act as functional pieces of art.
Inspires creativity: Having the pots and pans always visible and accessible can inspire you to experiment with different recipes and techniques.
Reduces noise: Stacking and moving around pans and pots in cabinets tends to make a lot of noise. Hanging them makes your kitchen a quieter and nicer place.
Easy maintenance: Unlike cookware stacked in cabinets, exposed hung cookware tends to stay drier, reducing likelihood of mold, odors or rust.
There are many solutions for hanging your cookware, from rods to hooks. Here are some beautiful examples you can copy today.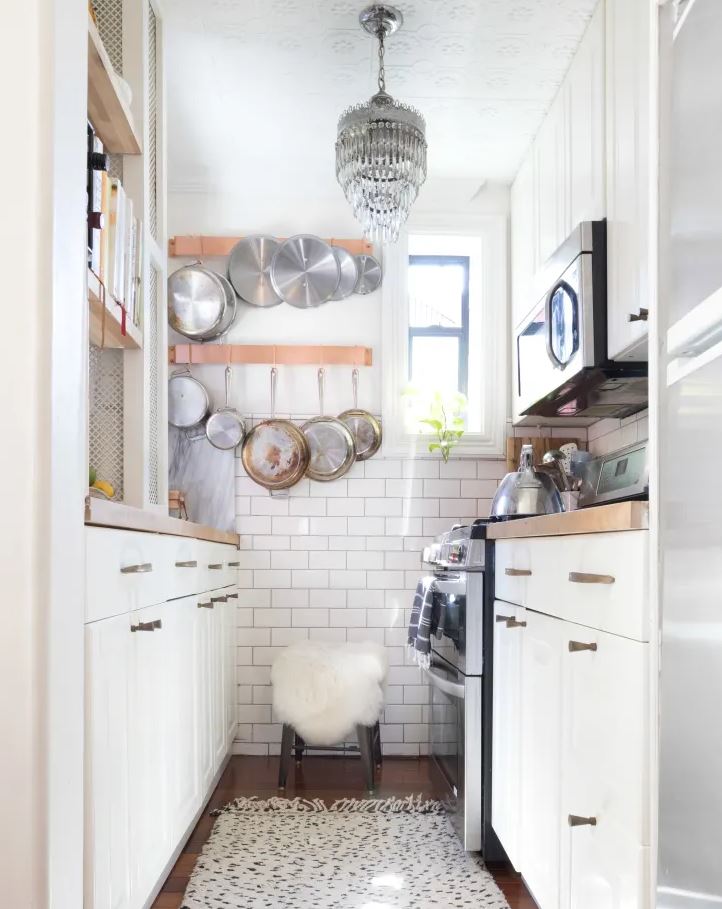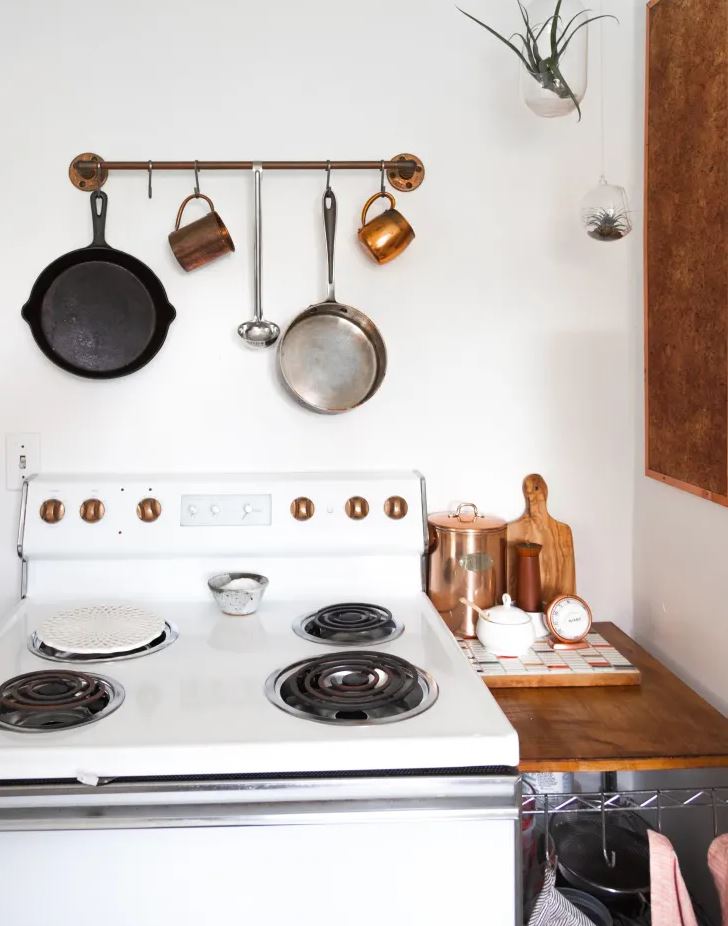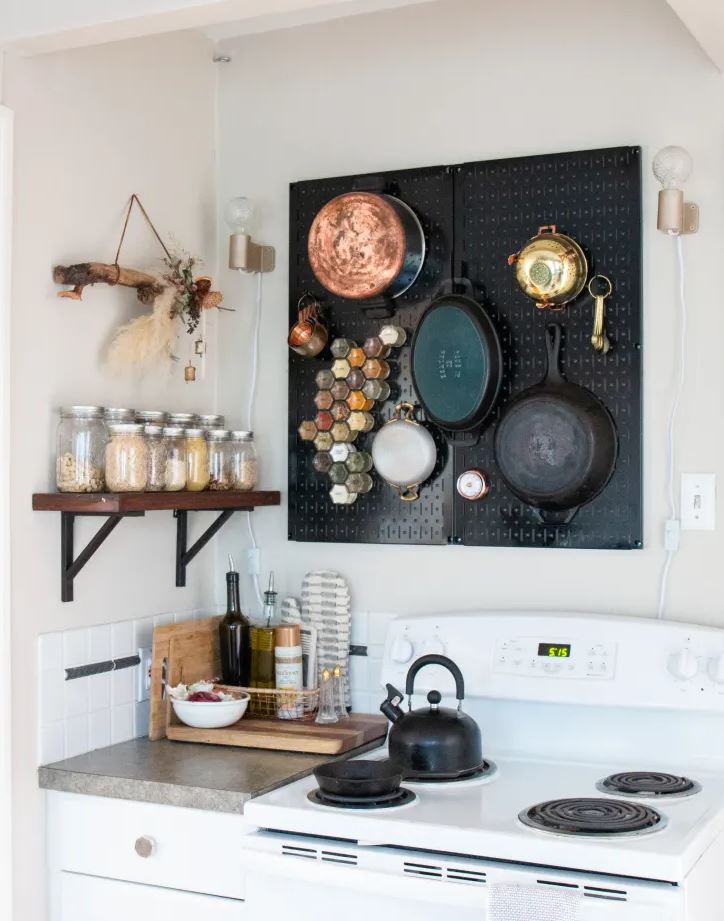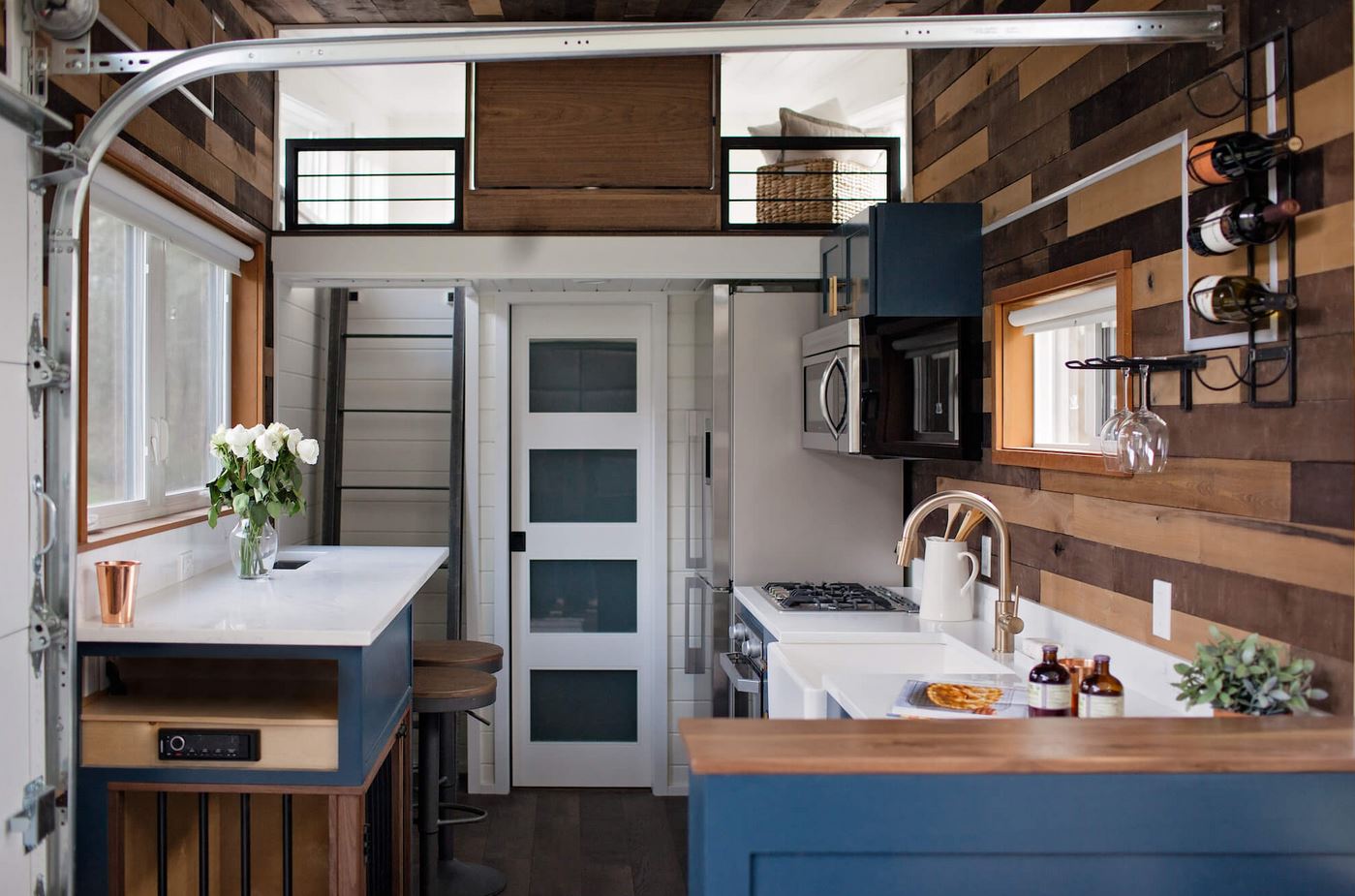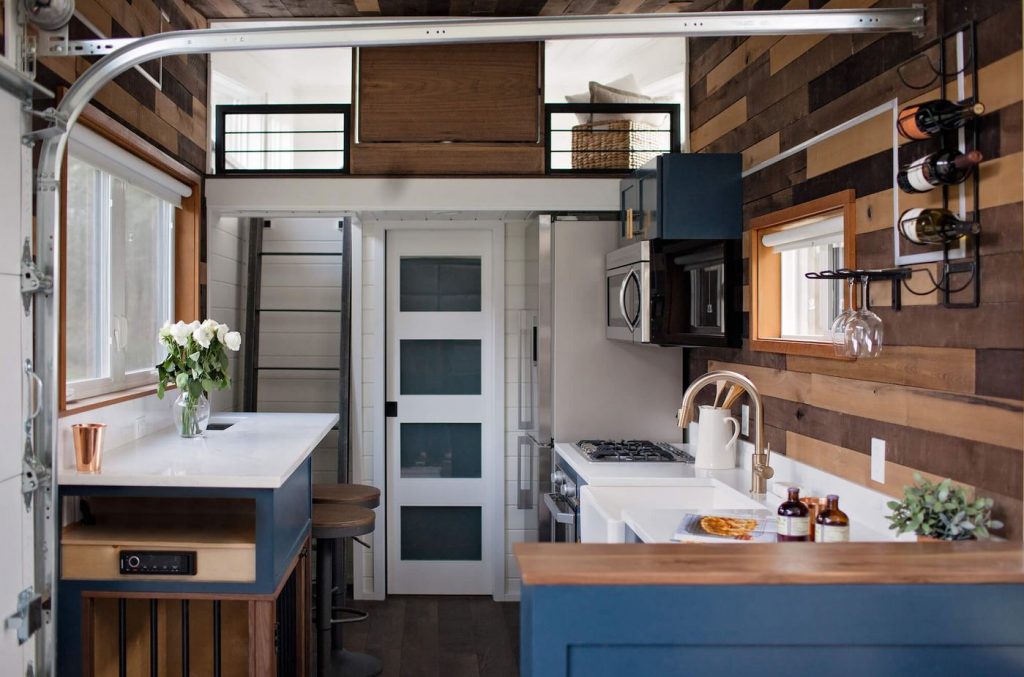 3. Beautiful and Functional Lighting
The temptation to overdo lighting is real, but in a small kitchen, you should be careful not to overwhelm the space.
First and foremost, it is paramount that you design the space with lots of natural light. Big windows will beat artificial lights every time.
Of course in some cases it is not possible to remodel the kitchen to allow more sunlight. In those cases, here are some guiding principles to follow when selecting the perfect lights for your kitchen.
Consider your ceiling height: If your kitchen ceiling height is low, recessed lighting may be your best option. For higher ceilings, pendant lights or chandeliers can be great.
Adopt layered lighting: Integrate different lighting styles, for example:

Ambient lighting for even distribution – ceiling-mounted lighting
Accent lighting to add depth and to highlight things of visual interest like artwork or open shelves.
Task lighting for focused illumination eg. under-cabinet lighting.

Fixture styles: The light fixtures should complement the overall design of your kitchen, and house in general. If your style is modern, go with modern fixtures, if industrial, go with industrial light fixtures.
Brightness control: Opt for light fixtures with dimmer switches. They'll give you flexibility when trying to create the right ambiance for different occasions.
Here are some examples of small kitchen lighting done properly.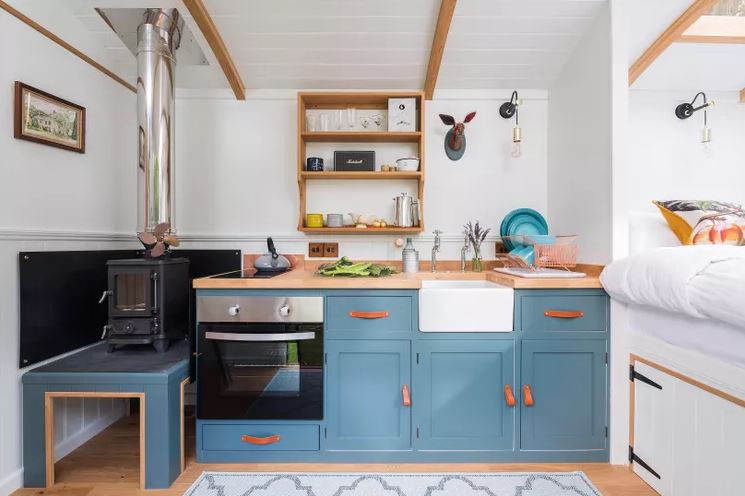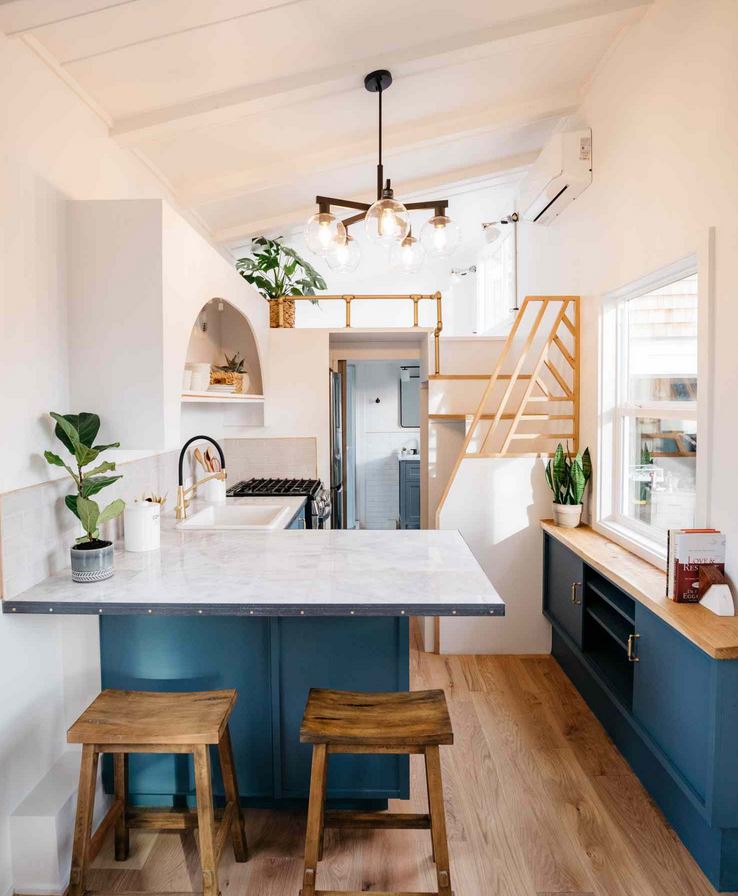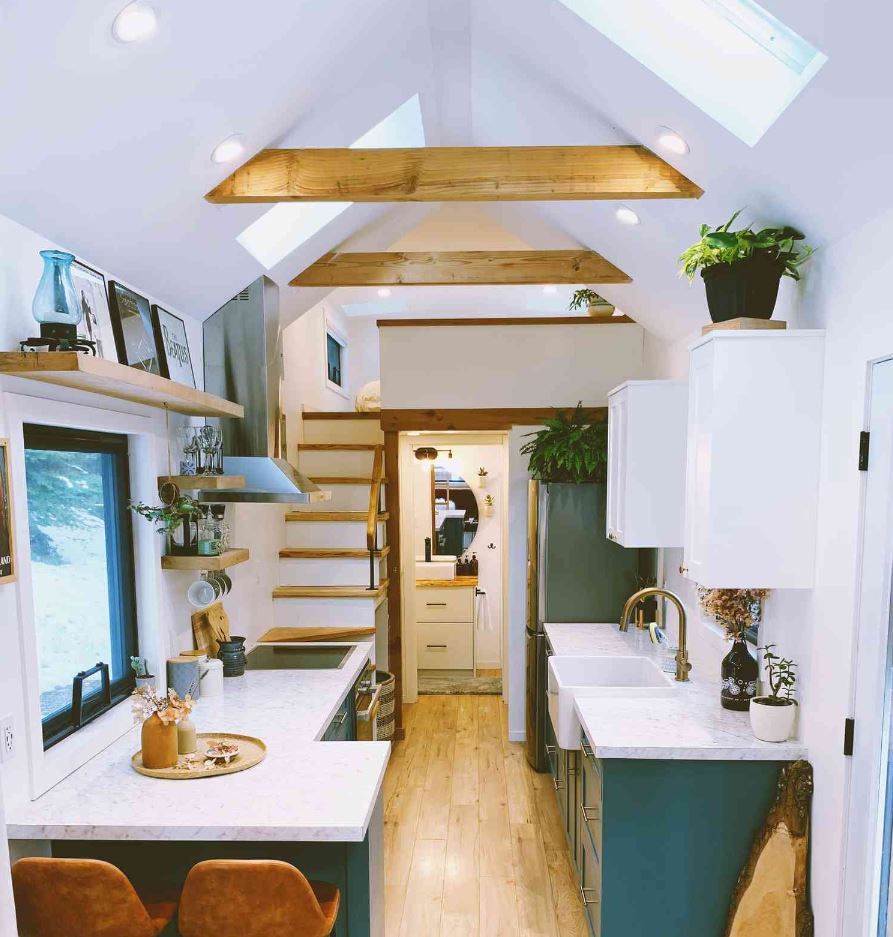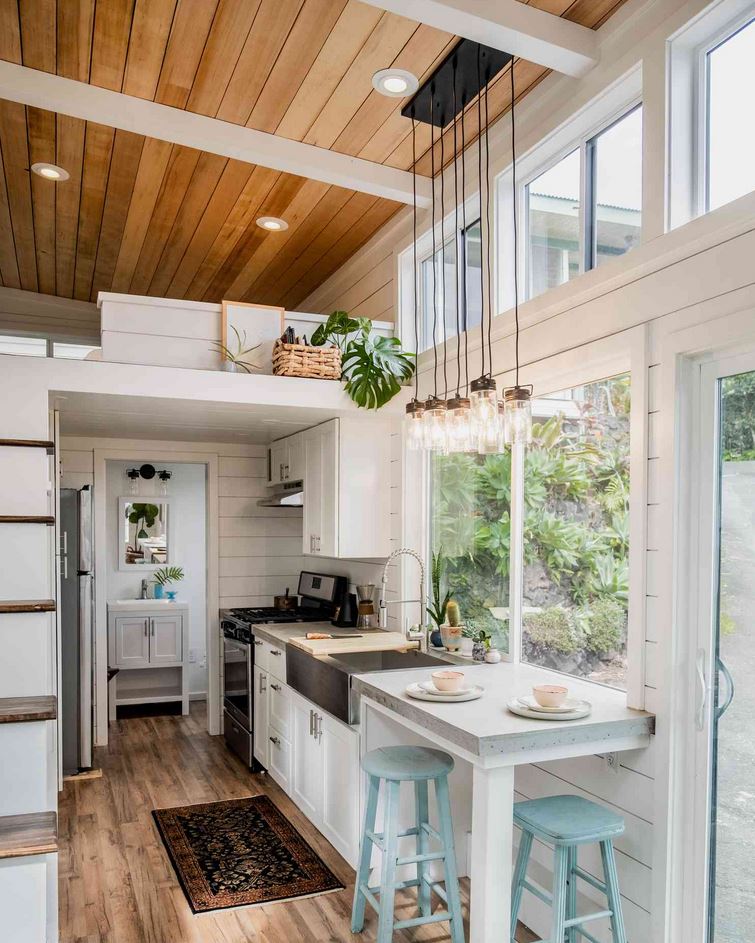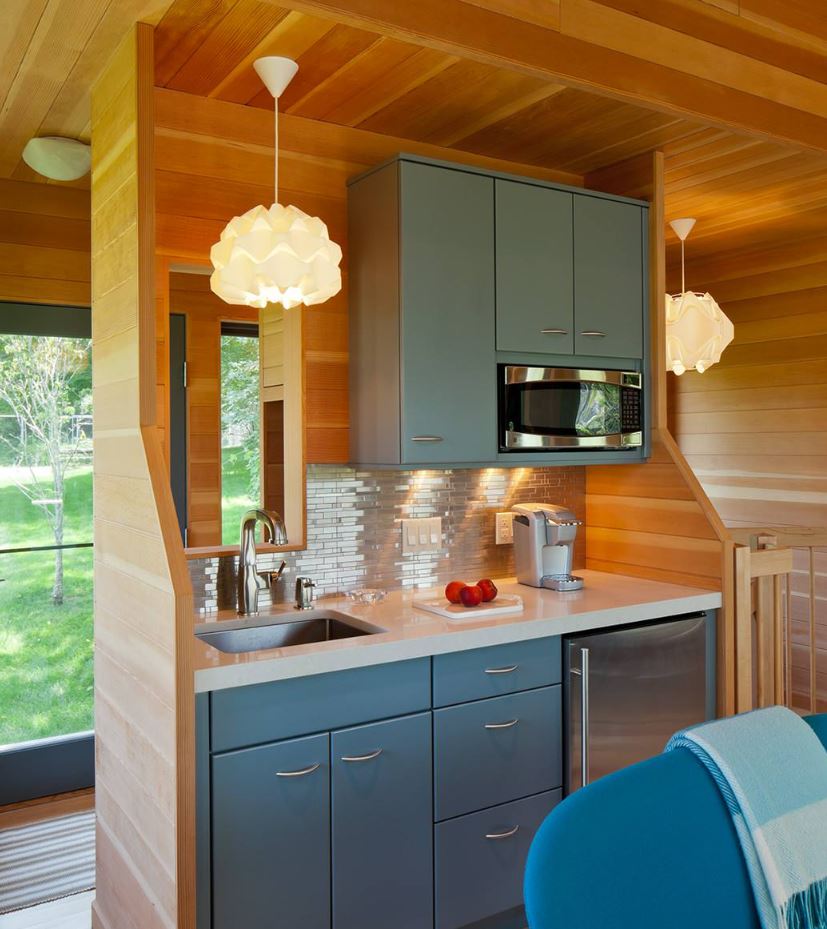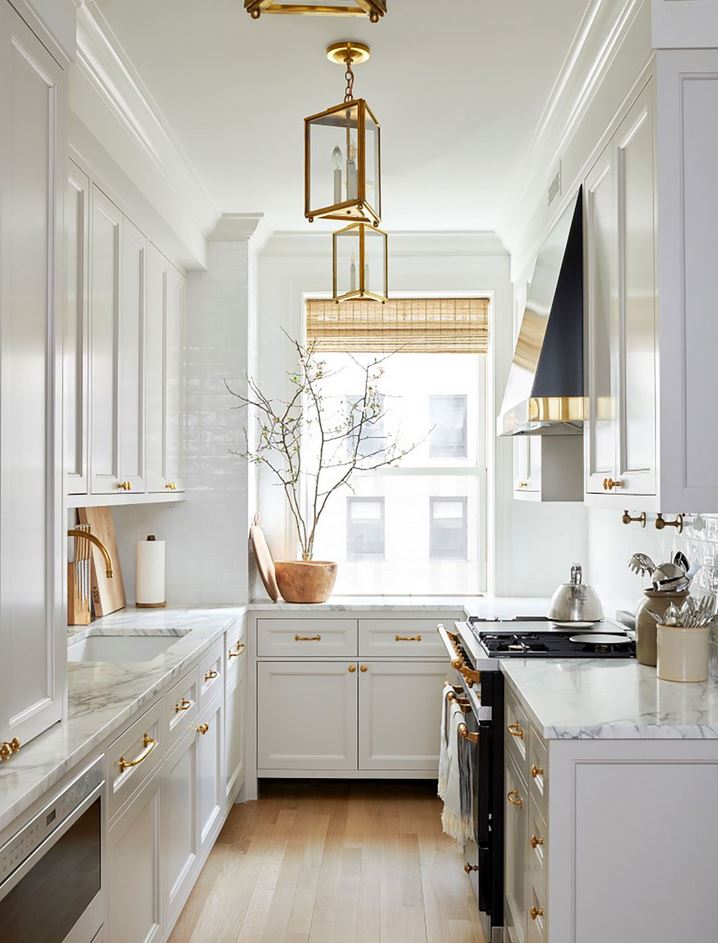 4. Play Around With Colors
Having a small kitchen space is no reason to not express your creativity. A simple touch of color can breathe new life into your compact space, creating an inviting and functional atmosphere.
Preferences will of course vary from person to person. Some want a vibrant and shouting color that resonates with their personality, while others go for the opposite.
Choose a dominant color that not only resonates with your vision for the kitchen, but also flows well with the rest of the living space.
If what you're going for is a feeling of spaciousness and airiness, the best colors will be light and neutral tones like whites, soft pastels and creams. This is basically the Scandinavian inspired option.
You might be interested in these Scandinavian inspired studio apartments.
Here are 3 examples of Scandinavian-themed tiny house kitchens.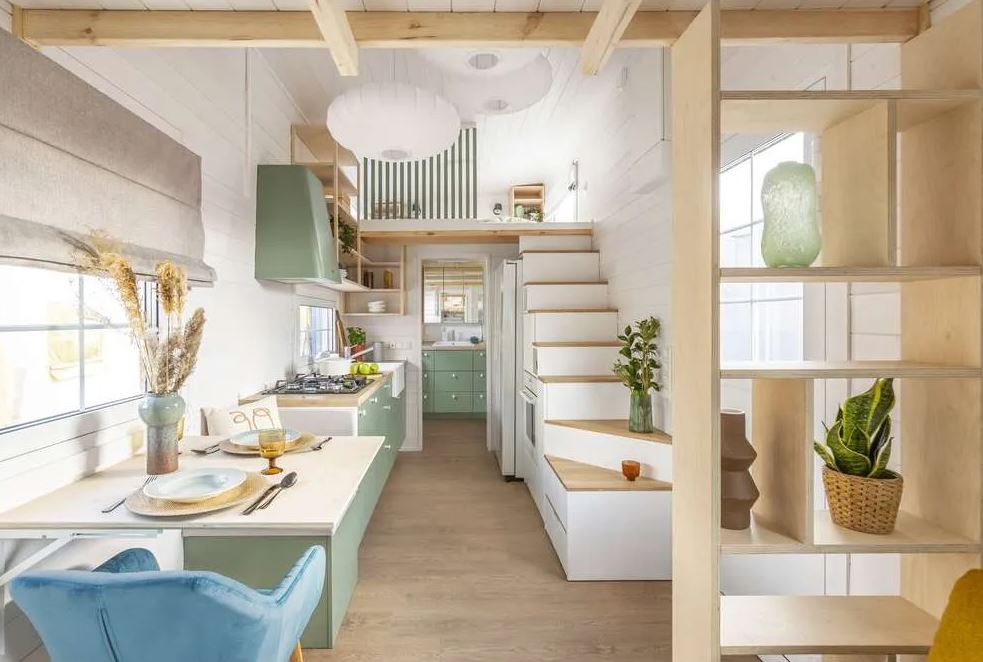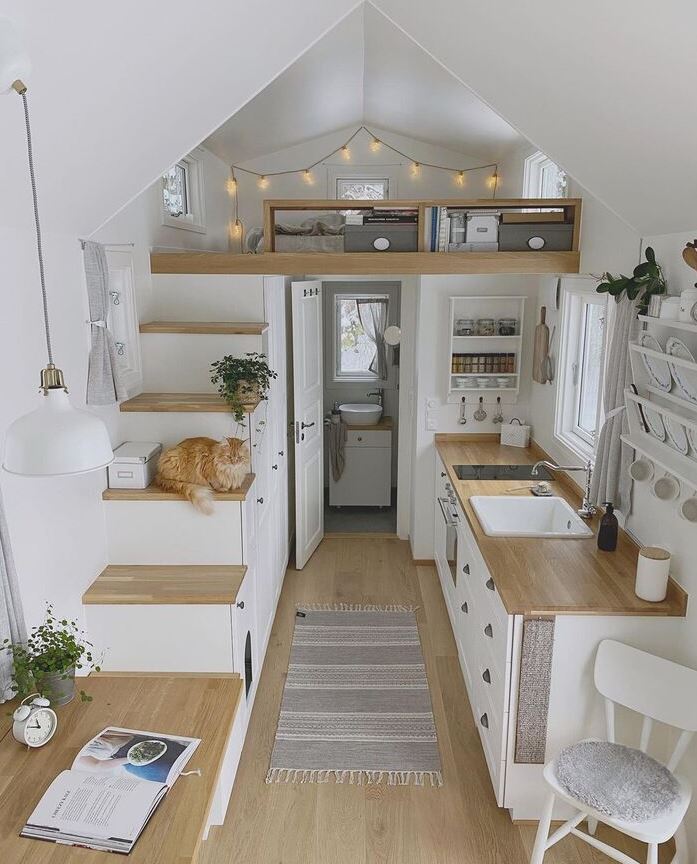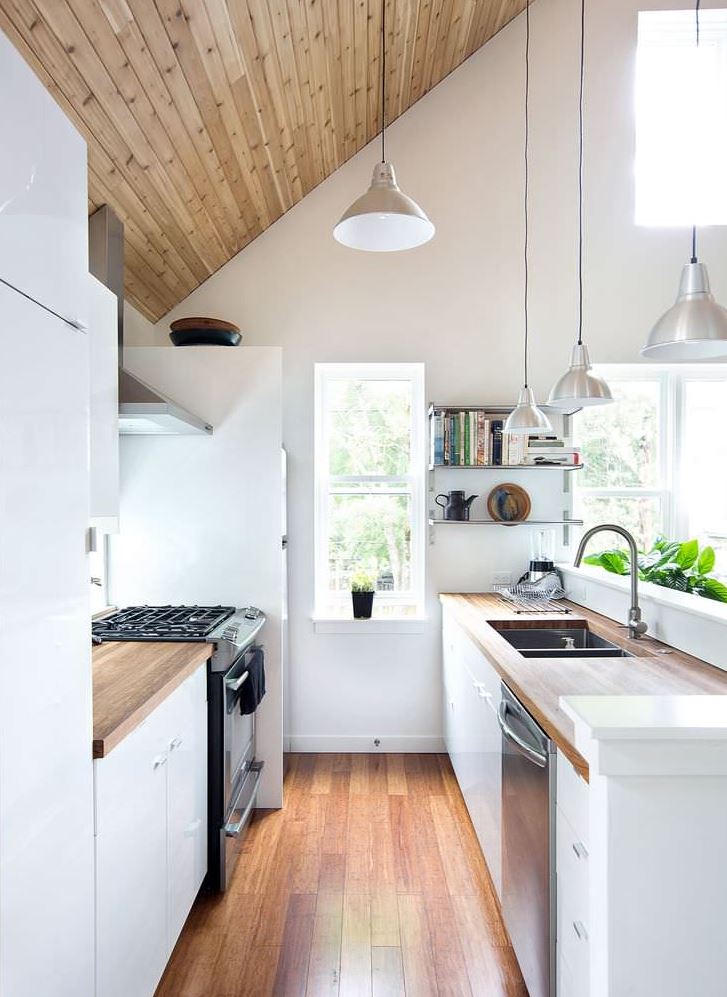 You can also choose to be bold and go with colors that add warmth and character to your kitchen.
Bold and saturated colors like deep blues and reds can do the trick. Overly colorful kitchens are not for everyone, but they certainly grab all attention.
Check out these examples.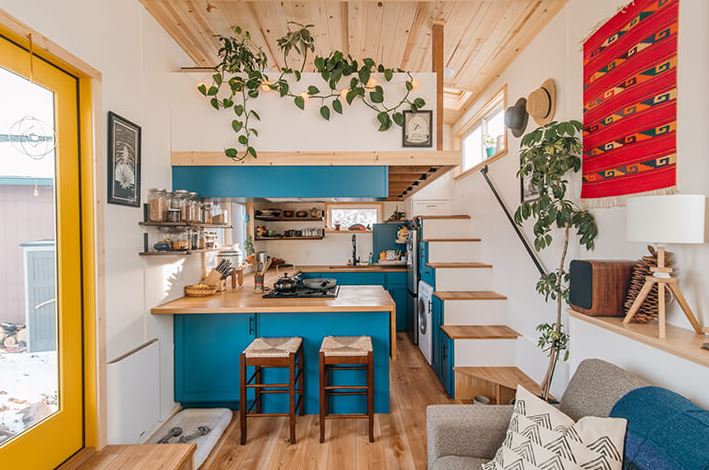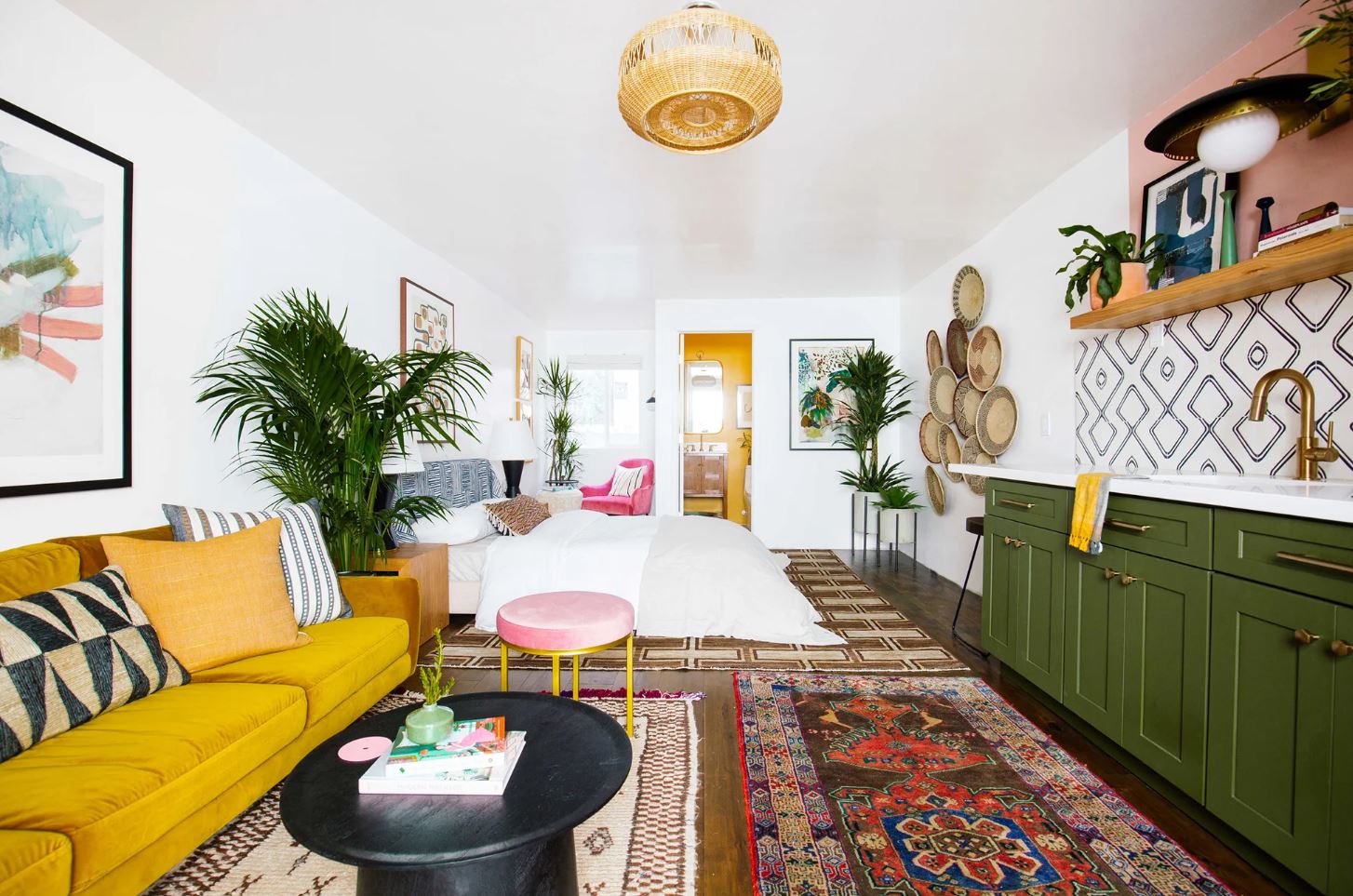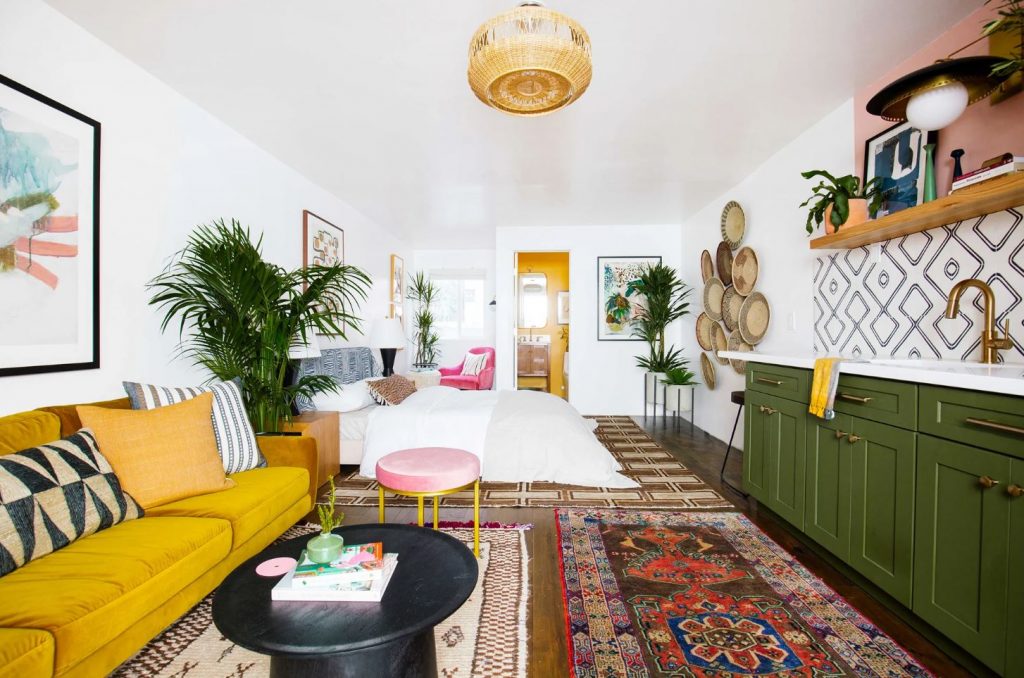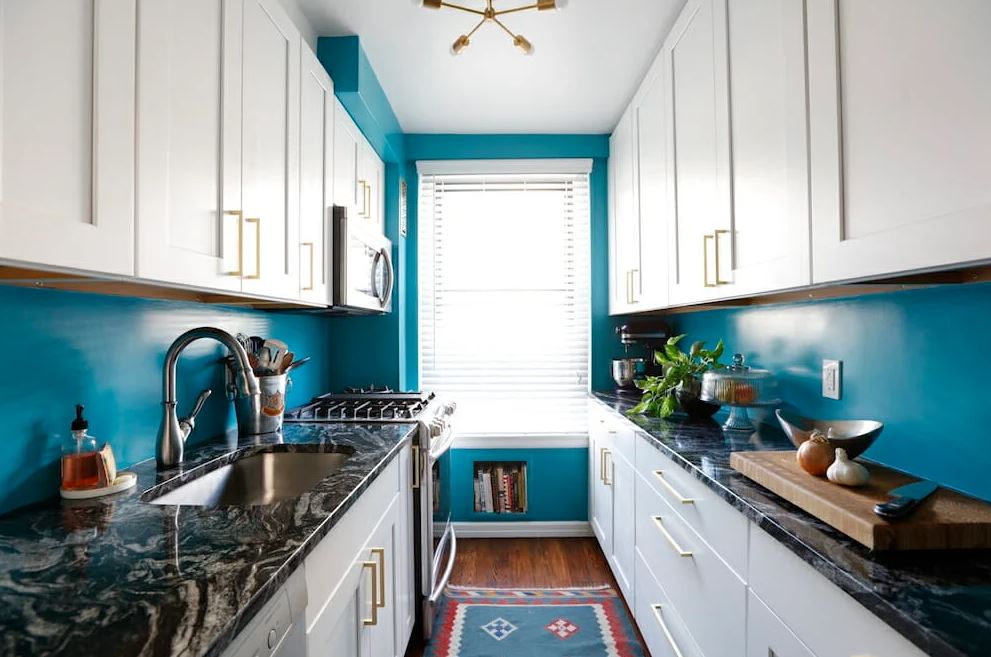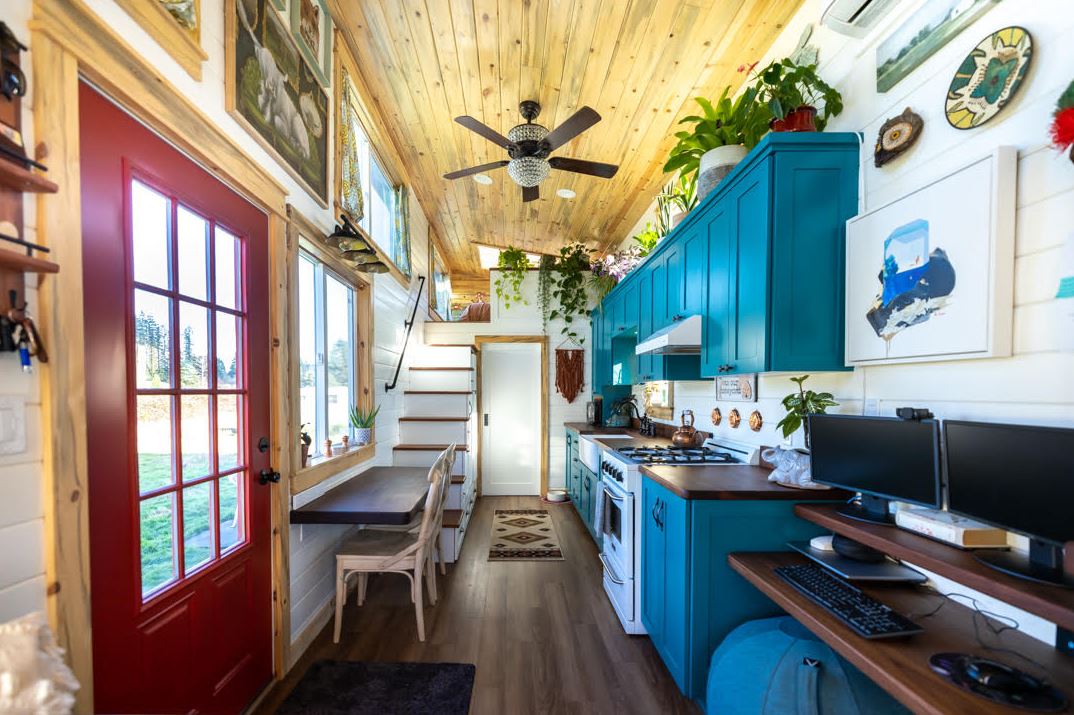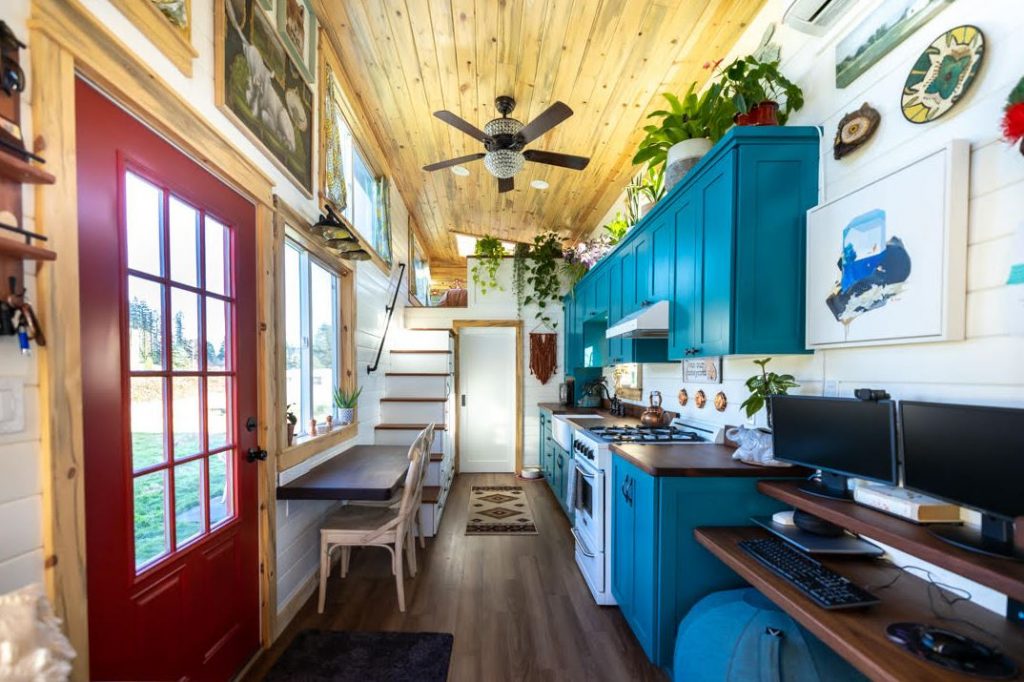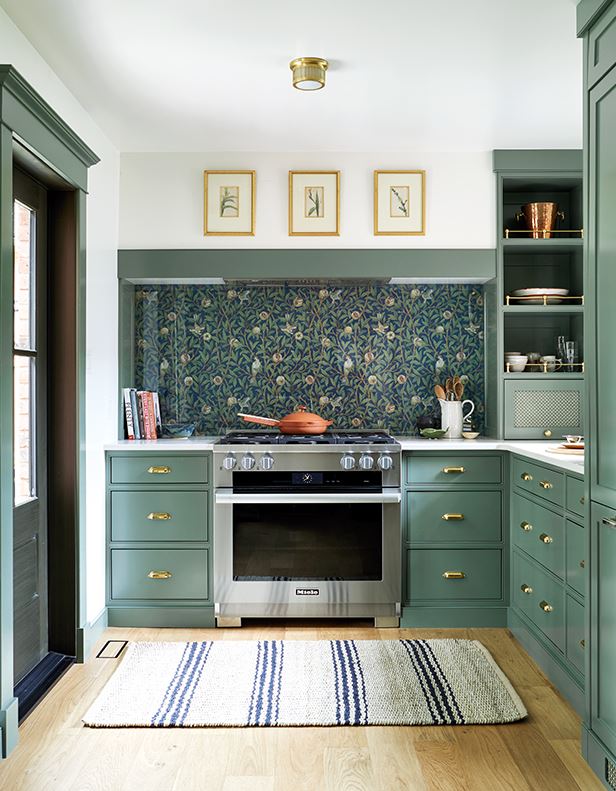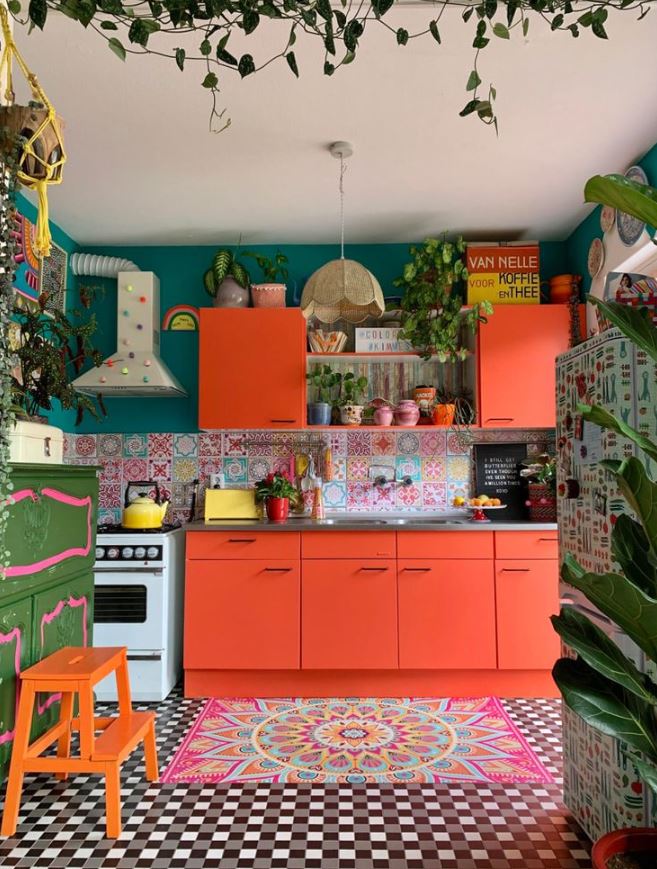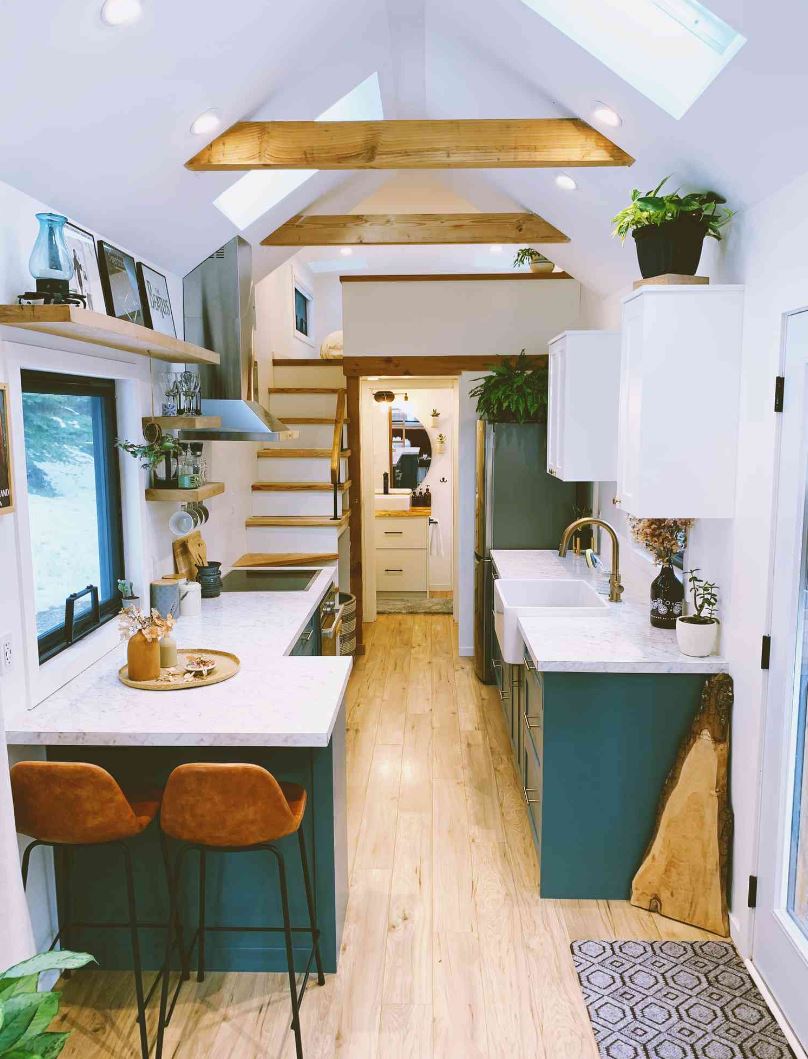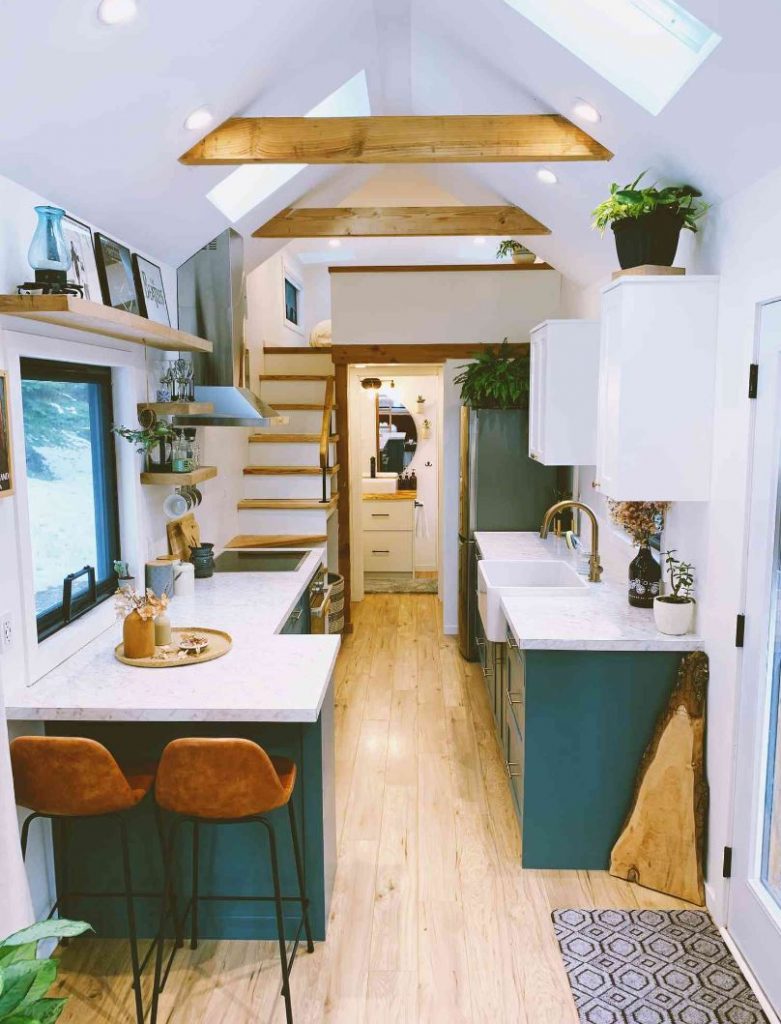 Here are a few other things you can do to improve your small kitchen space, just by playing around with color.
Utilize patterns: Instead of plain walls, opt for wallpapers or tiles with geometric patterns, stripes or other intricated designs. This adds character into your kitchen.
Use accent colors: These are meant to add visual interests to your décor, through highlighting specific areas of interest. For example, the backsplash or the cabinet handles.
Incorporate natural elements: Elements such as exposed brick are a good way of adding warmth and texture to your kitchen.
5. Be Bold With The Tiles
If what you're looking for is rejuvenating your small kitchen space, the choice of tiles can work wonders.
On top of injecting character into the kitchen, tiles with beautiful or unusual designs create visual depth and interest, drawing the eye.
Essentially, the tiles become the focal point of the room, capturing the attention of everyone who steps in.
There are virtually unlimited designs to choose from, from contrasting patterns to subtle hues.
When done skillfully, the tiles make the room appear larger through a trick of the eye.
Tiles will make your small kitchen visually appealing, impacting your mood and emotions significantly. On top of that, when used on the backsplash, they serve a practical purpose.
Their durability and resistant to stains, heat and moisture makes them especially appropriate for the kitchen, especially on the backsplash like this one.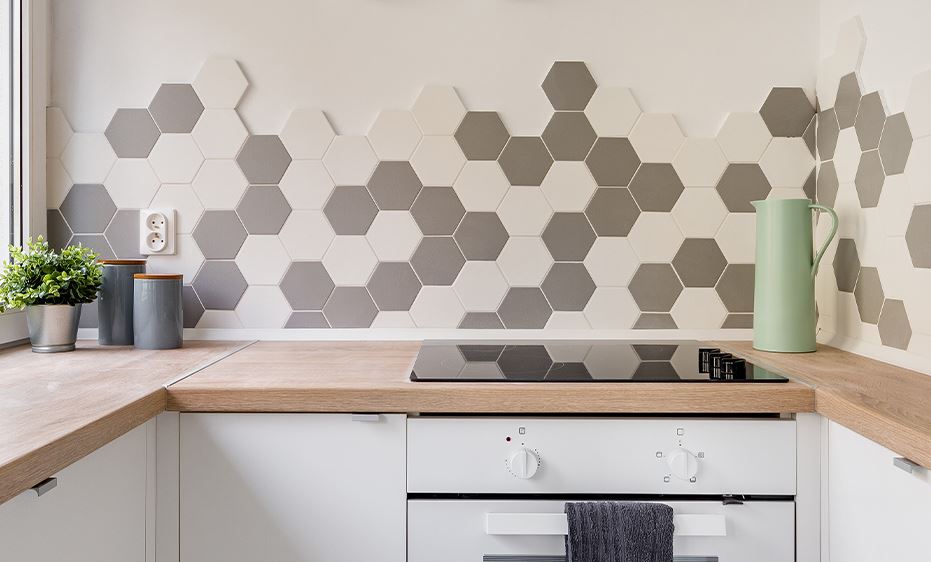 Or this one.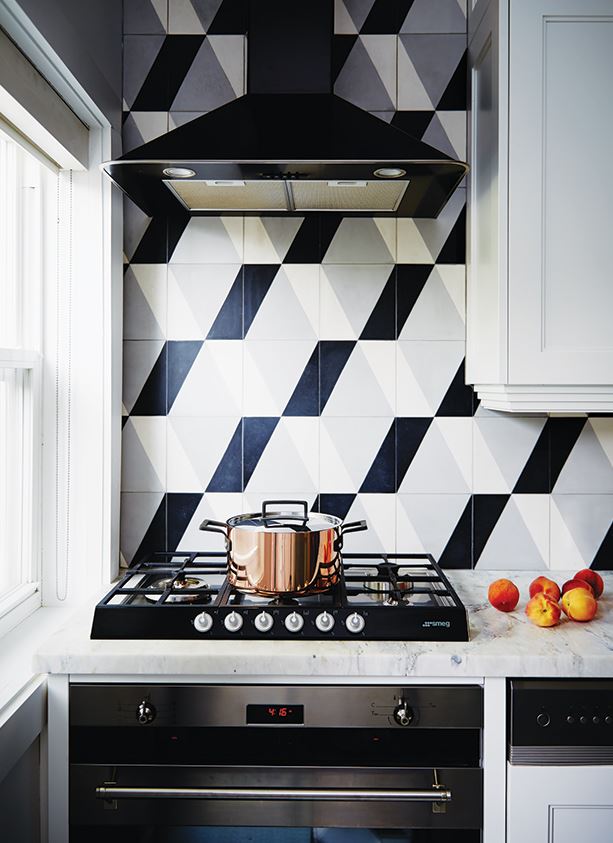 They also look great on the floor.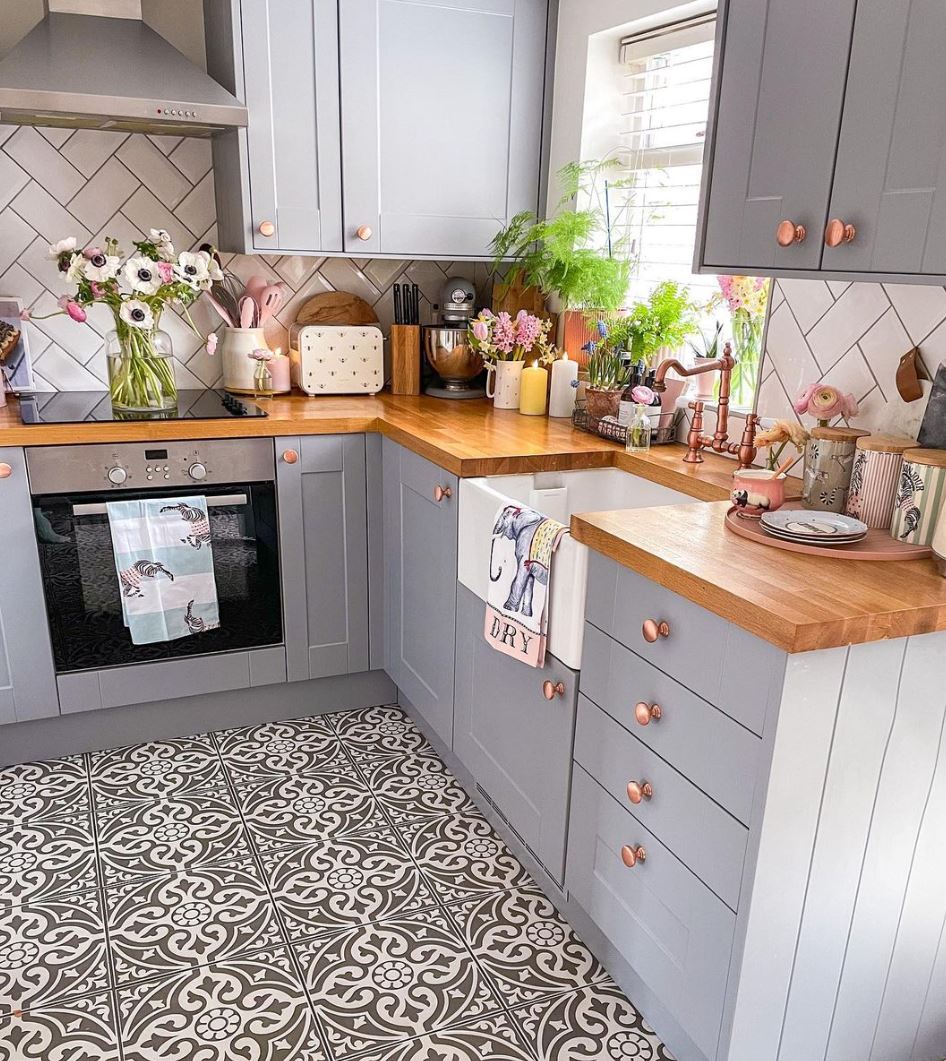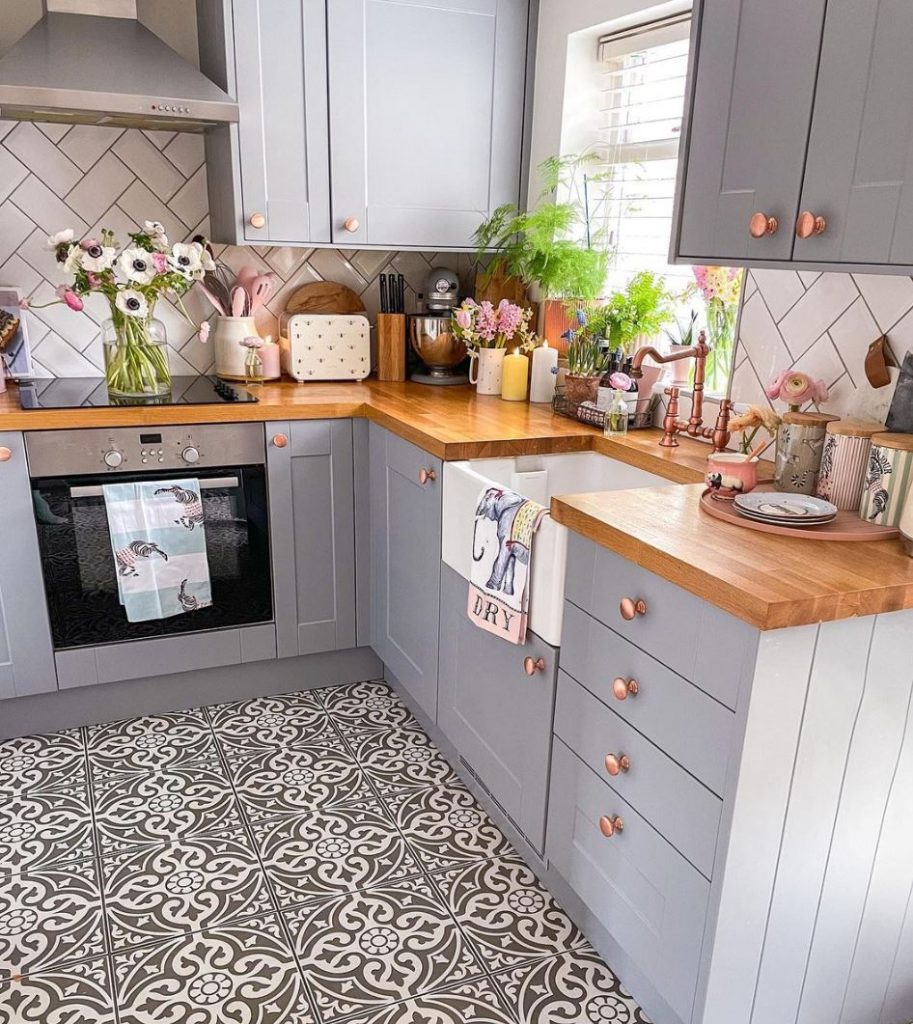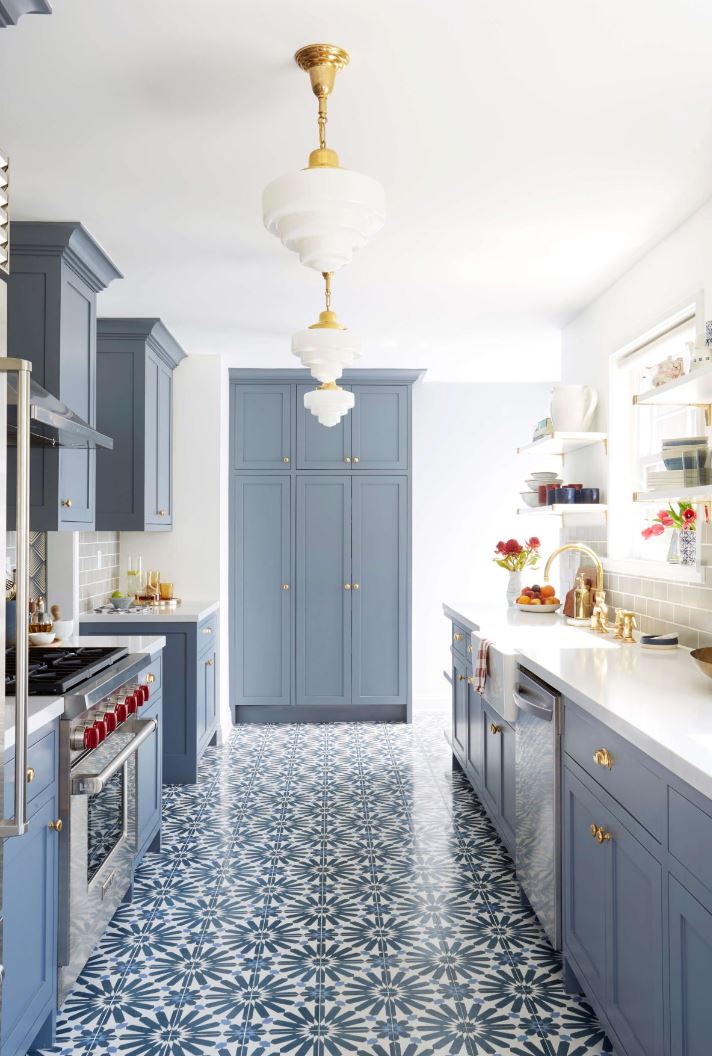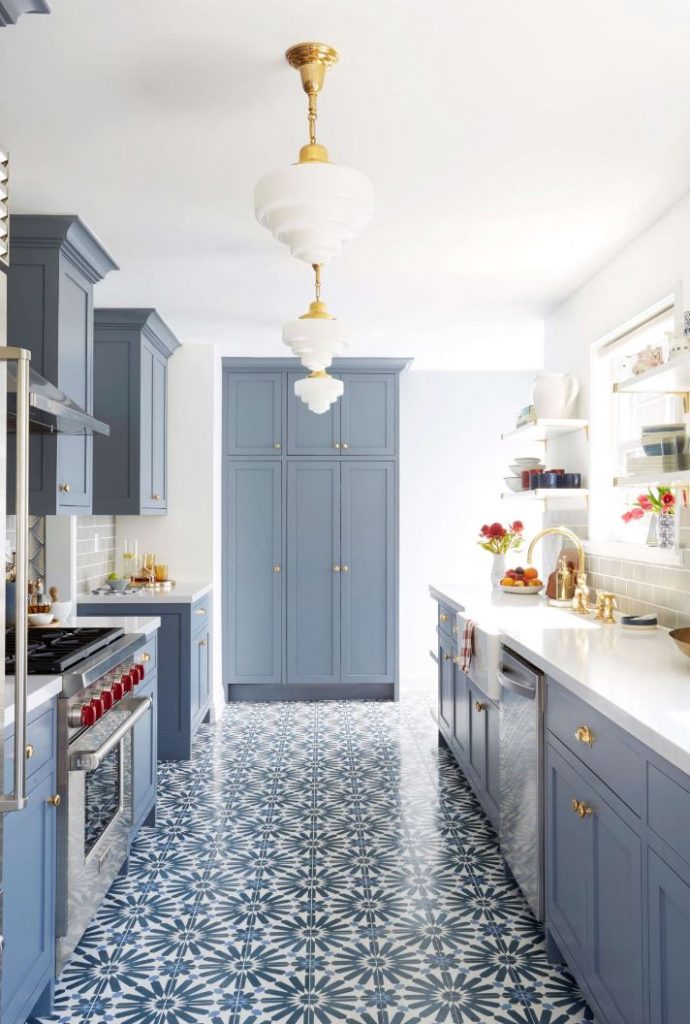 6. Add a Runner Rug
Generally, kitchens are associated with cold, hard floors and surfaces. Adding a runner rug can bring warmth and style.
The runner brings in a soft and cozy element, transforming the small kitchen space into a more comfortable place to stand on and work in. This can come in handy for those who spend hours prepping and cooking.
A runner can also act as a visual separator of different zones, particularly in an open concept kitchen.
Another benefit of having a runner rug is the noise reduction. Echoes are common in kitchens due to the hard surfaces, but a rug can absorb most of the sound. And not to mention if you drop pots and pans, the noise reduction will be significant.
Finally, a runner rug, or any type of rug will protect the flooring. The kitchen is a busy place, and the floor takes the most beating.
From wear and tear, to spills and stains.. runner rugs can act as the shield. Because let's face it, it's easier disposing off a rug than ripping out the floor.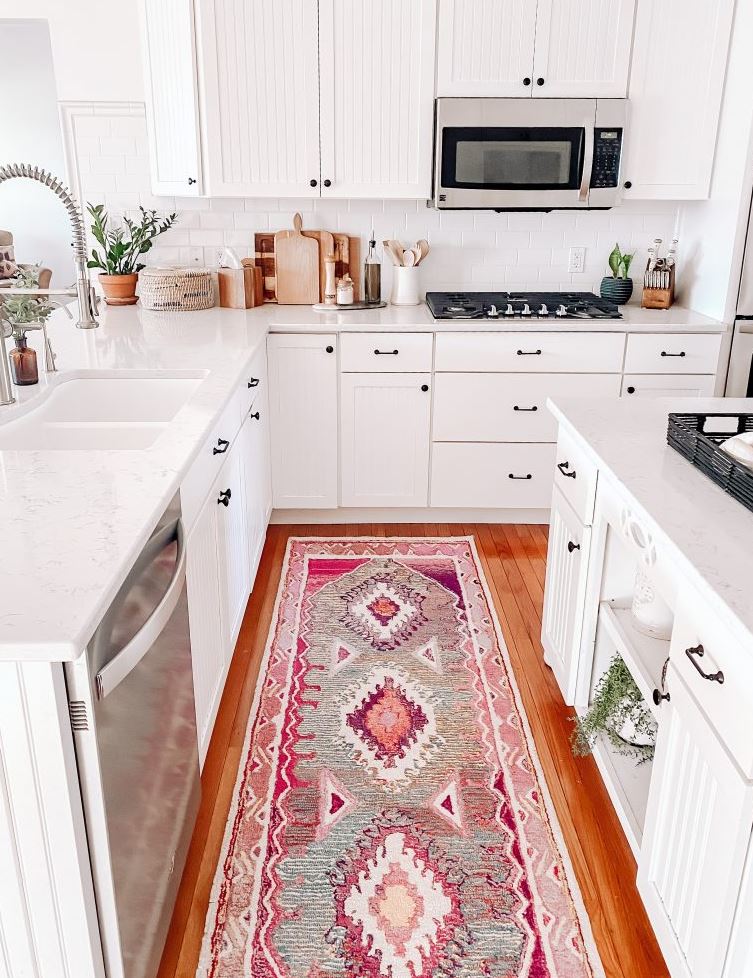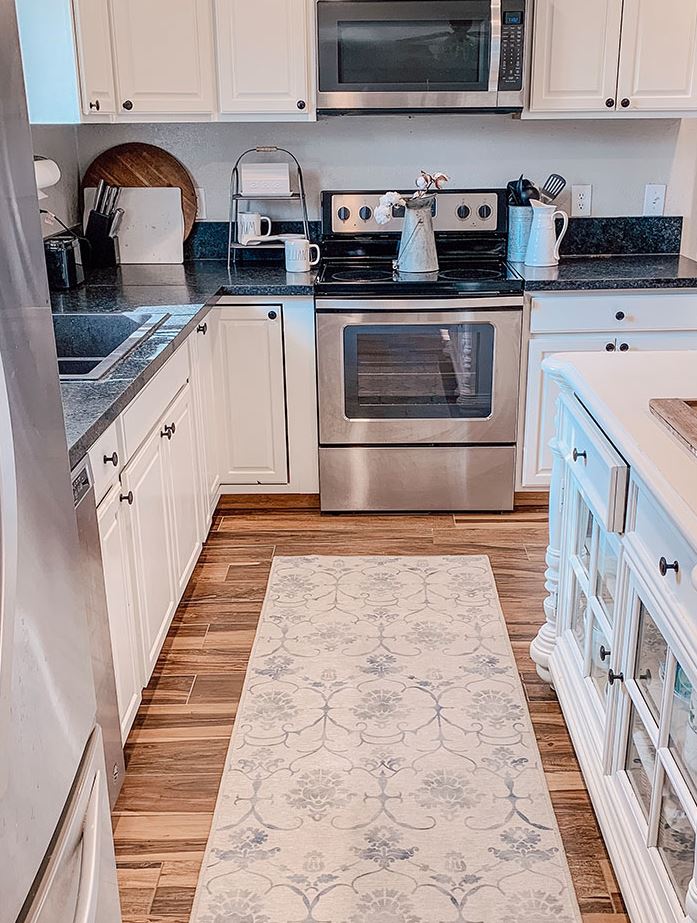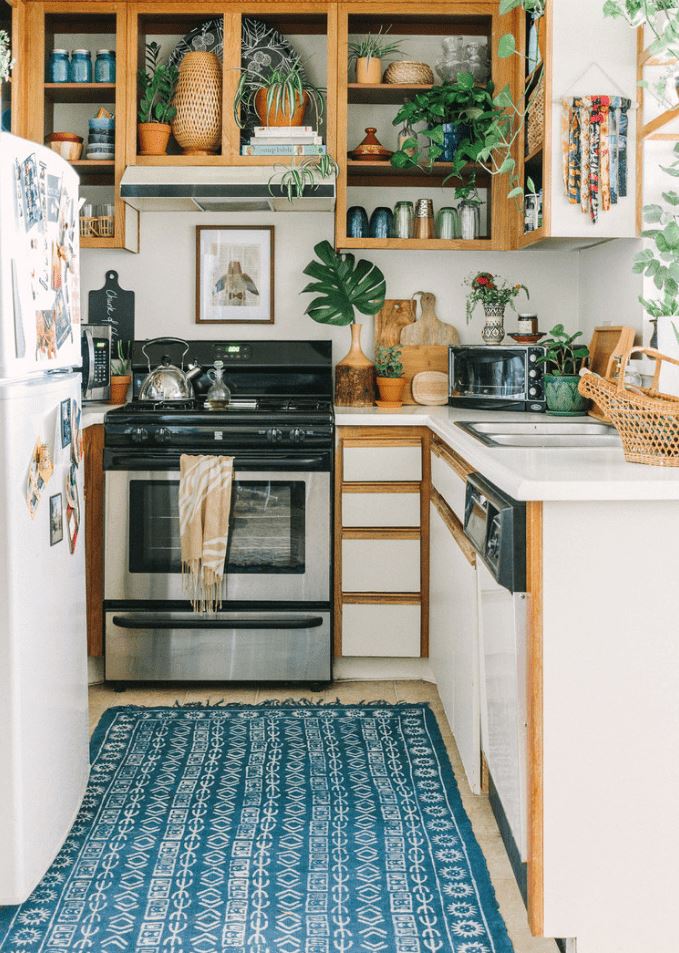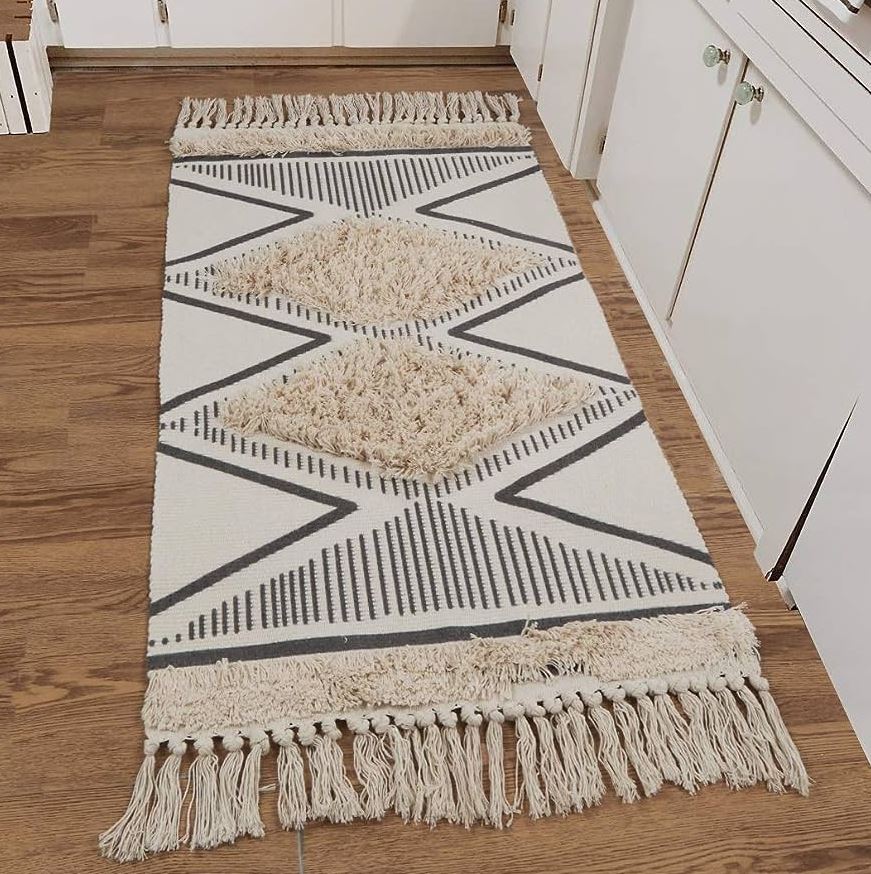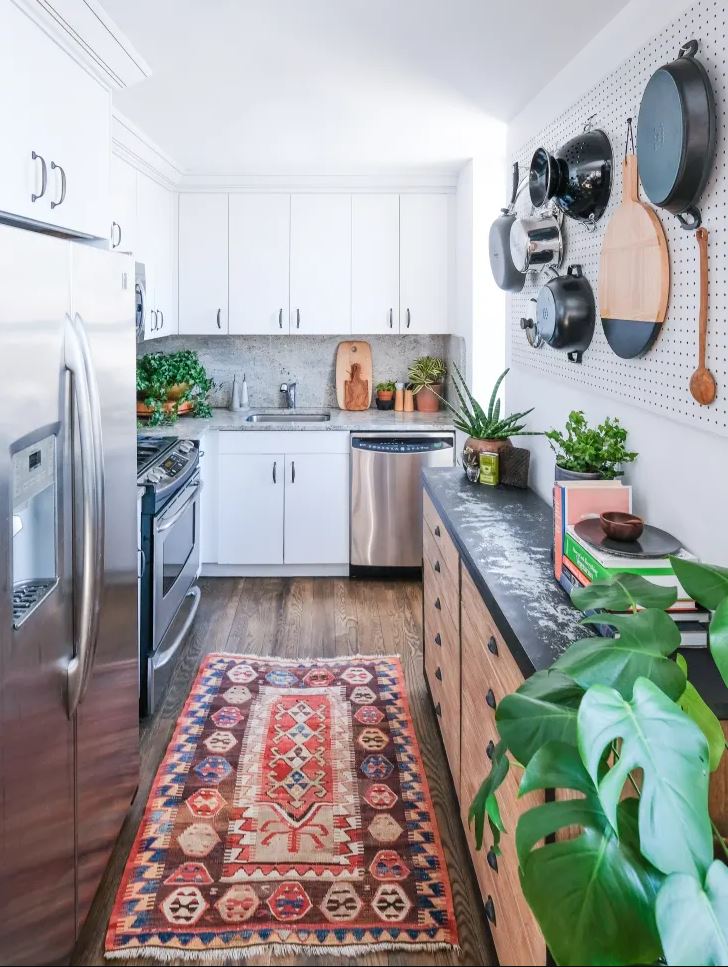 If you found this guide hepful, kindly consider signing up for our newsletter. I promise, we won't spam you.
Also, check out our tips on how to declutter your tiny house bathroom.