A key reason most people opt to downsize is to have their homes feel more cozy. Contrary to popular beliefs, a tiny house does not automatically translate into a cozy home.
Cozy means that the house gives a feeling of comfort, warmth and pleasant relaxation. This can be accomplished in both a tiny house and a large one.
However, most modern architecture, especially the open designs, tend to exude a cold vibe, more like a museum or gallery. As much as such designs look good on camera, they are not very liveable by any stretch of the imagination.
While a tiny house itself is not a guarantee of coziness, it takes you halfway there, just by offering you less space.
There are however more steps you can take to ensure your tiny house is as cozy as it can possibly be.
Below we look at 8 tips.
Have a comfy couch
If there is one thing that can immediately describe the coziness, it is the type of couch that you have.
There is no denying that those Scandanivian-style, minimalist couches look amazing, but if you want some warmth in your tiny house, you might need to reconsider.
It is true that most standard couch sizes will not fit in your tiny house. But there are many options for custom fittings.
If you are the type that spends hours upon hours watching TV on your couch on cold nights, this is one step you don't want to skip.
You may tick every other 'coziness' box, but the couch can easily break the deal.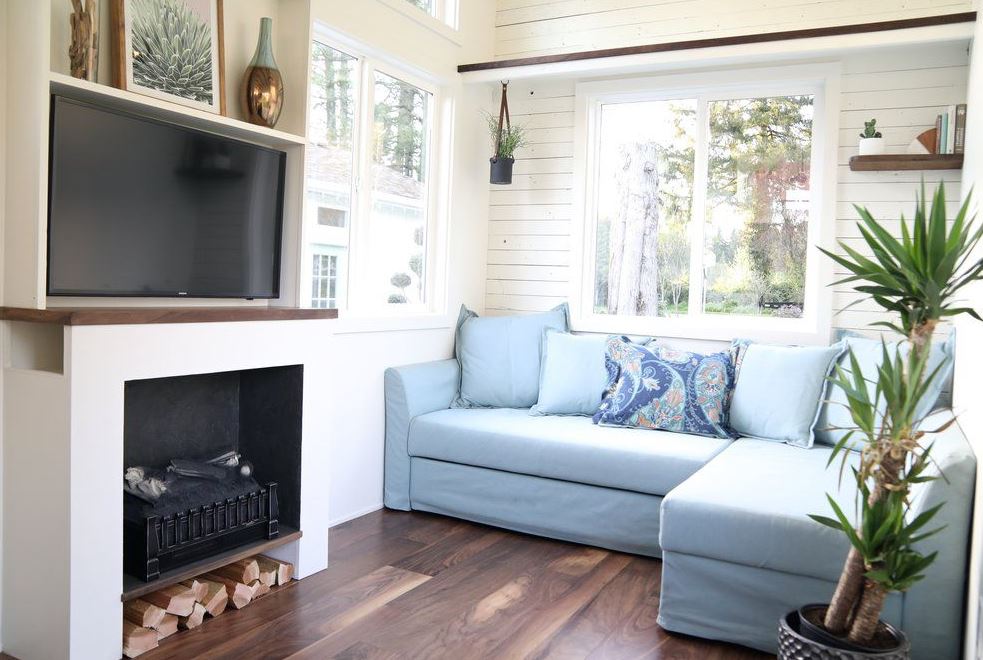 Use plenty of pillows
You can never go wrong with pillows.They compliment your couch well, and add texture and personality to the home.
They come in many shapes and form, but ensure they are in the 'cozy colors and tones'.
The material they are made from matters; cotton or linen for warm weather and wool for winters. Silk and velvet are great for something in-between.
Read: This Tiny House in Hawaii is Both Cozy and Functional
Use soft rugs
Having soft rugs in your tiny house or any other house for that matter is one of the surest way to add some instant coziness. They bring warmth to the floor naturally, and could even help reduce the heating bill.
Interior designers long ago realized that not only are rugs functional, but are pleasant to look at. You simply cannot go wrong, and you can't have too many of them.
When shopping for rugs, you should consider the softness and the quality. Rugs made of wool and other animal skins may be good looking, but they are more prone to shedding. That can be an issue in a small space, but if the production quality is high, this might not be a problem.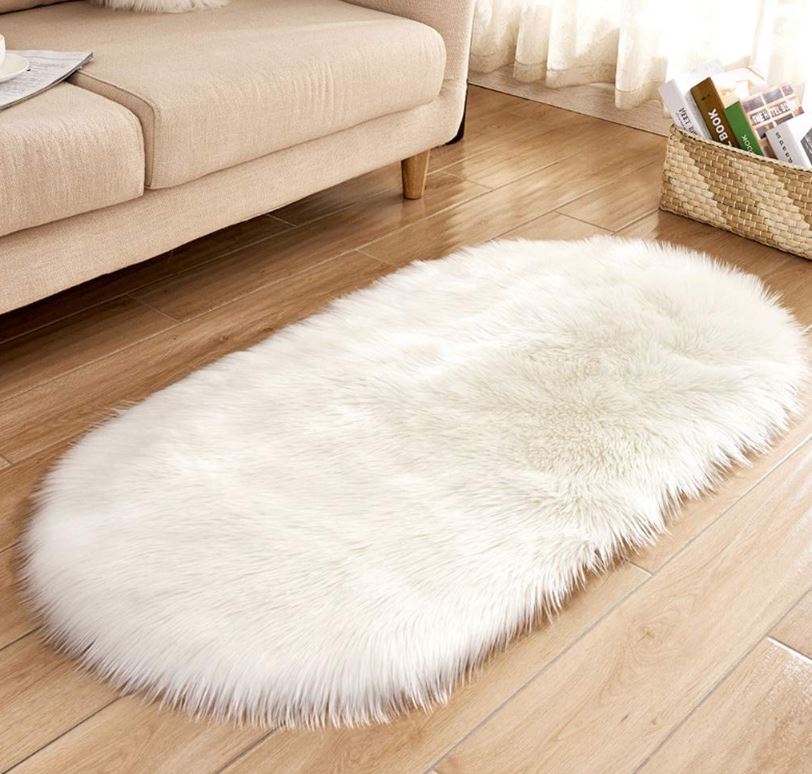 A quality animal skin rug is so soft and fluffy, that you might end up making it your sofa.
Cotton rugs are also soft and a great option for your small space, with the added benefit that they will not shed. Consider the washability when making the purchase.
If price is an issue, you can also consider rugs made of synthetic materials like olefin or polyester. They may not scream luxury, but you'd be surprised by how well they fair versus more expensive options.
Use throw blankets
Throw blankets are great in providing you with actual heat, especially in a cold night. Once you get a hold of one, you simply feel at home.
Like the rugs, you have many options when it comes to material.
Cotton will give you some comfortable, breathable and lightweight blankets; the kind that can be used in any weather. They are also really easy to clean.
Wool on the other hand would be perfect for cold climates in that it is heavy and warm. It is still however breathable.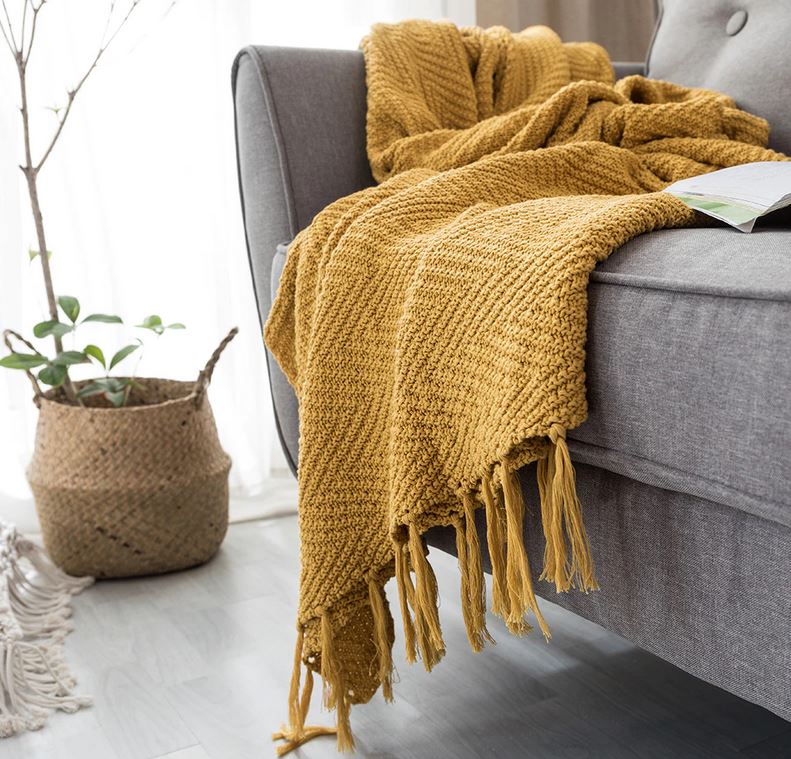 A more affordable option may be fleece, which is a synthetic fiber. It is very soft to the touch, but not very breathable, which means you will often find yourself sweating.
However, it is easy to clean and quite durable.
Have wooden finishes
Wood is recognized as a material that is almost guaranteed to tranform your home into a cozy living place.
Tiny houses are already overwhelmingly built from wood, but it is what the occupant sees on the inside that matters.
Wooden features may be incorporated in the structural design of the house, or introduced later for pure aesthetics.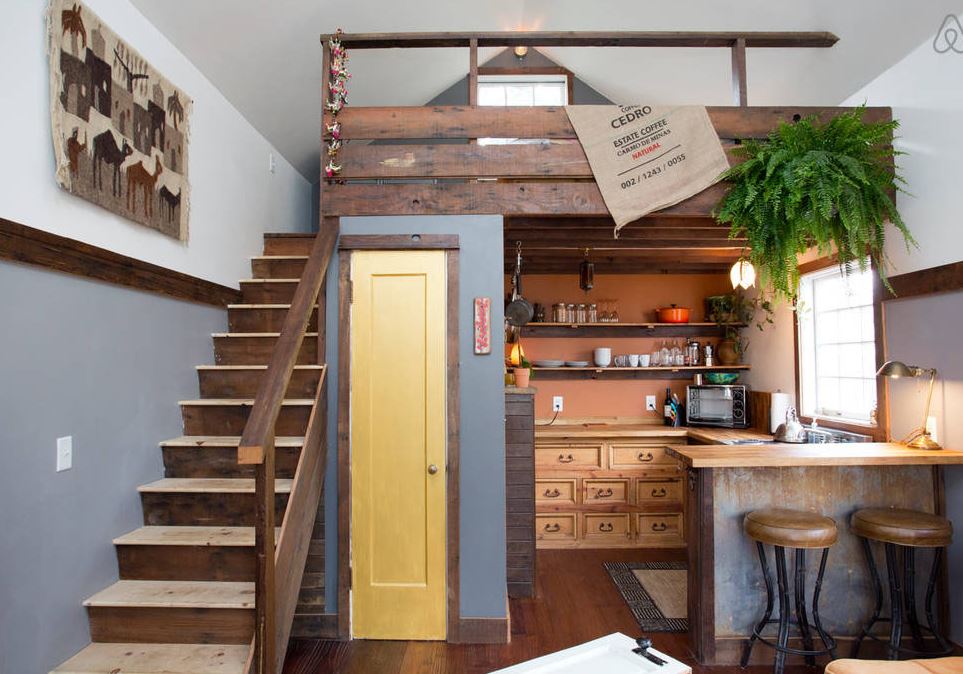 These can be features like wooden panels, ceiling beams, wooden cabinets and other visible storage areas etc.
The material itself is important, but so is the color and the warmth associated with that brown. Therefore, it would not serve the same purpose if you painted your panels light blue for example.
In the same breath, where having wood finishes is out of the question, you can incorporate finishes that mimic the look and texture of wood. That will have a similar effect.
Use neutral colors
To achieve coziness, the choice of color is extremely important. The so called 'cozy colors' tend to be neutral such as beige, gray, cream, brown, white and black.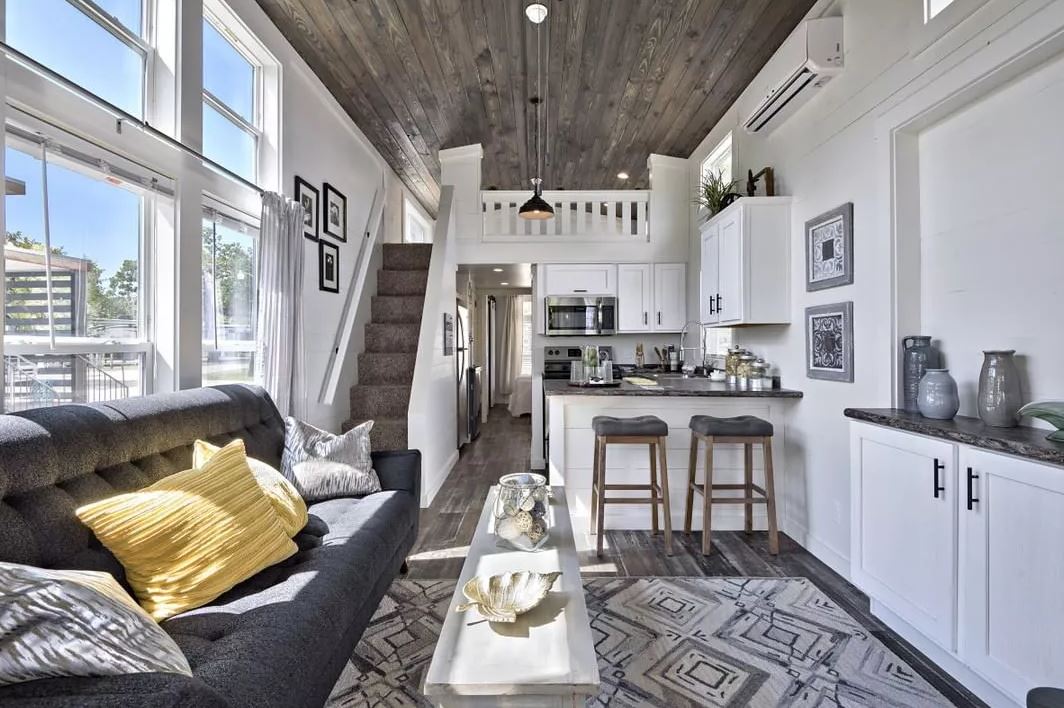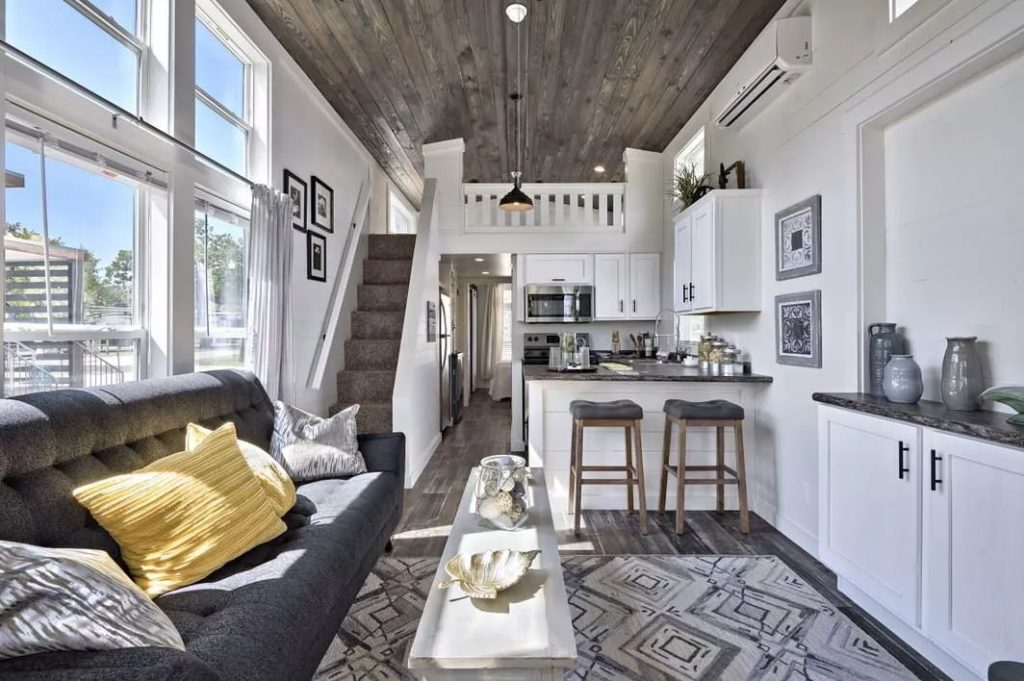 Choose a color theme and roll with it, right from the furniture to the rugs to the throw blankets.
You can have different color themes for different rooms, but for the overall coziness of the tiny house, ensure that you pick these 'cozy colors' all around.
The colors you choose for your walls, floor and other fittings will dictate the colors for the couch, rugs etc.
Use the correct lighting
Light goes a long way in transforming your tiny house into one cozy home. Too much bright light in a room is good for many reasons, but warmth and coziness are not some of them.
You need to have a way to regulate the amount getting into your rooms, and the angles. Blinds or curtains can accomplish this quite well, but ensure that they follow the neutral color theme of the house.
When night falls, dump the white light for the yellow/orange light which is warmer.
If you are worried for the environment, there are many LED options that can be adjusted to the right temperature, and some of them are even smart in other ways such as scheduling.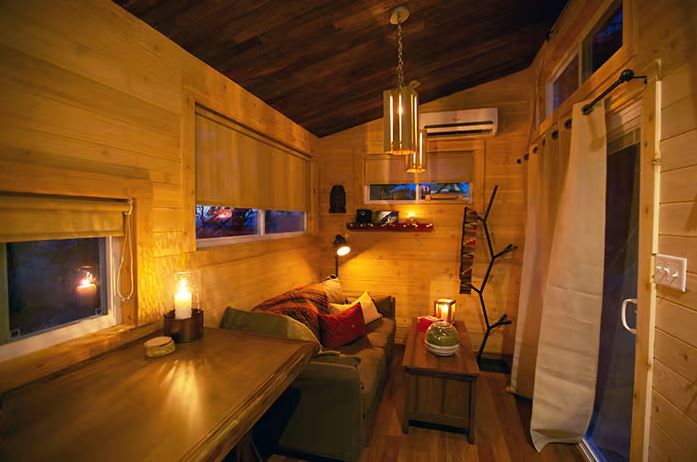 Having your light source on a table lamp, standing lamp or wall will also go a long way in adding to the cozy feeling, as opposed to having them directly overhead.
Have house plants
House plants are a great addition to any house, and help in transforming any room into a cozy space.
The 'plant parenthood' movement has blossomed in recent years, particularly due to social media platforms like Instagram and Pinterest, where influencers share their picture-perfect rooms for the whole world to see.
As a result of this interest, you are never a few miles away from house plants for sale. Be they succulents, ferns, snake plants etc.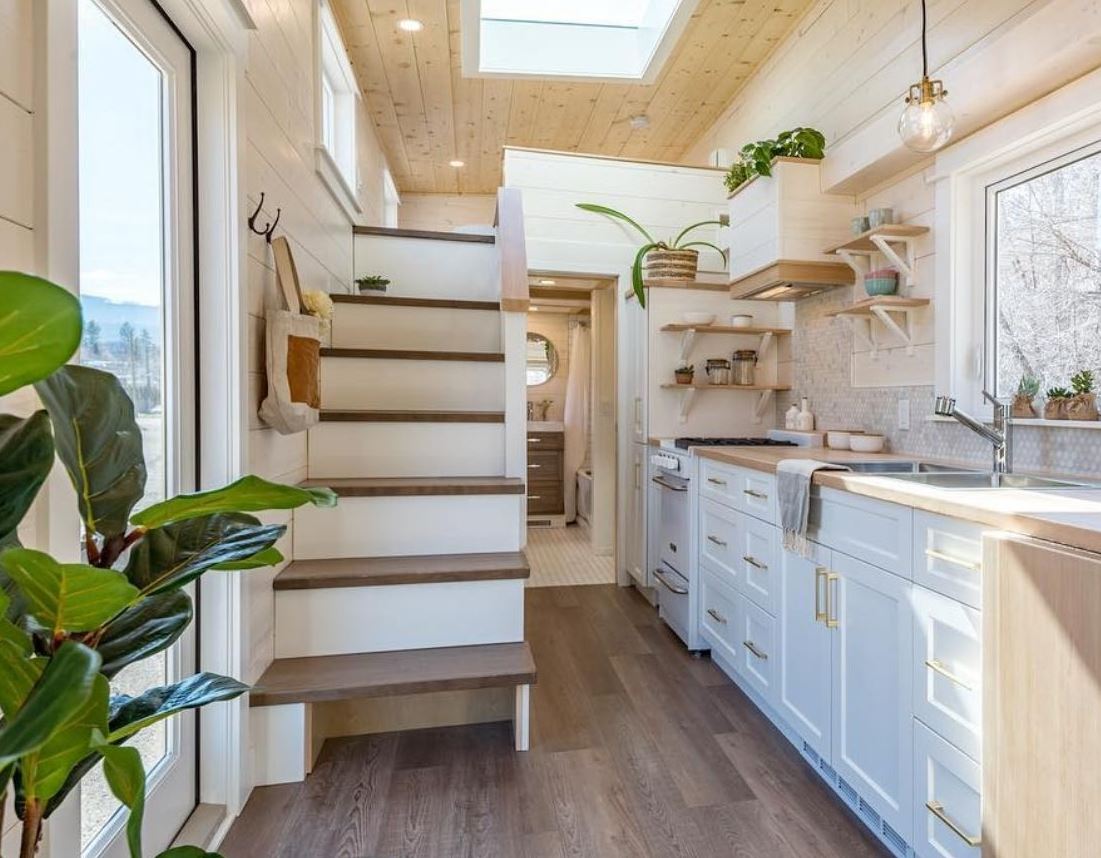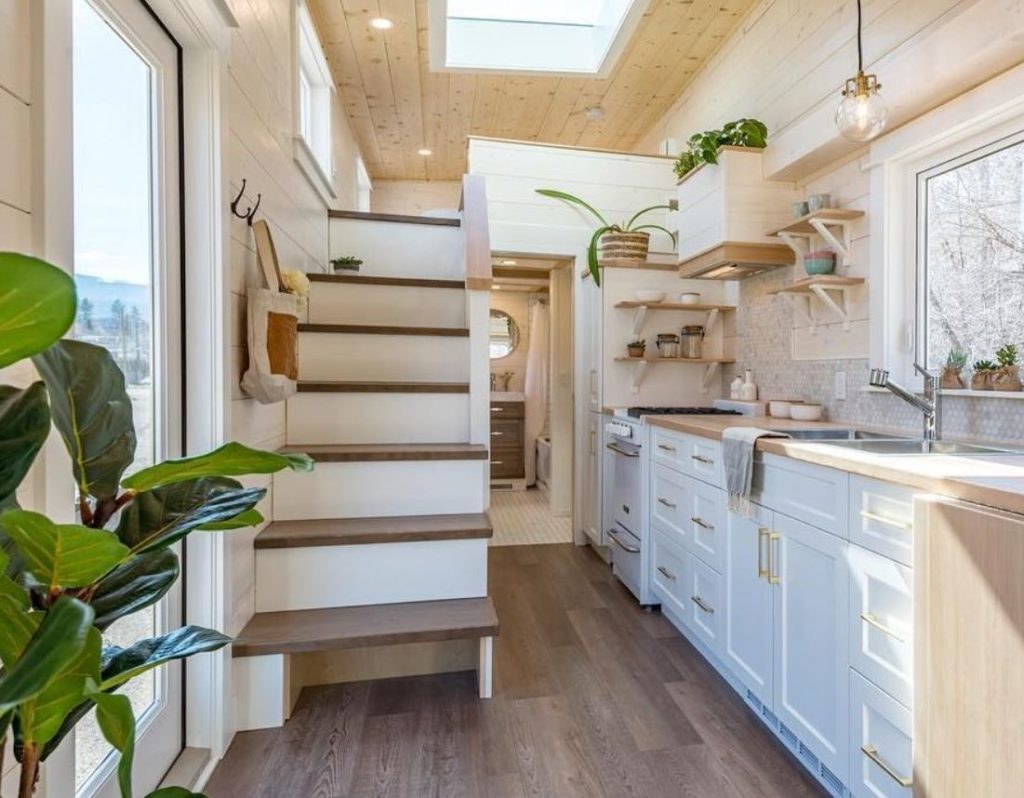 On top of their sheer beauty, indoor plants come with many other benefits, including reducing your stress levels, and improving the quality of air.
Like pets, house plants will need constant care specific to their species.
As the owner of a tiny house, you may think that you are restricted to the small varieties. However, medium and huge plants can also look great too in your small space.
Also consider hanging or creeping plants.
Now read: Do Tiny Homes Appreciate in Value?