Scandinavian style is all the rave in the tiny home community.
With an emphasis on simplicity, minimalism and functionality, Scandinavian design is a natural ally to the downsizing movement. From the clean lines to the uncluttered interrious, it's great for maximizing on the samll space.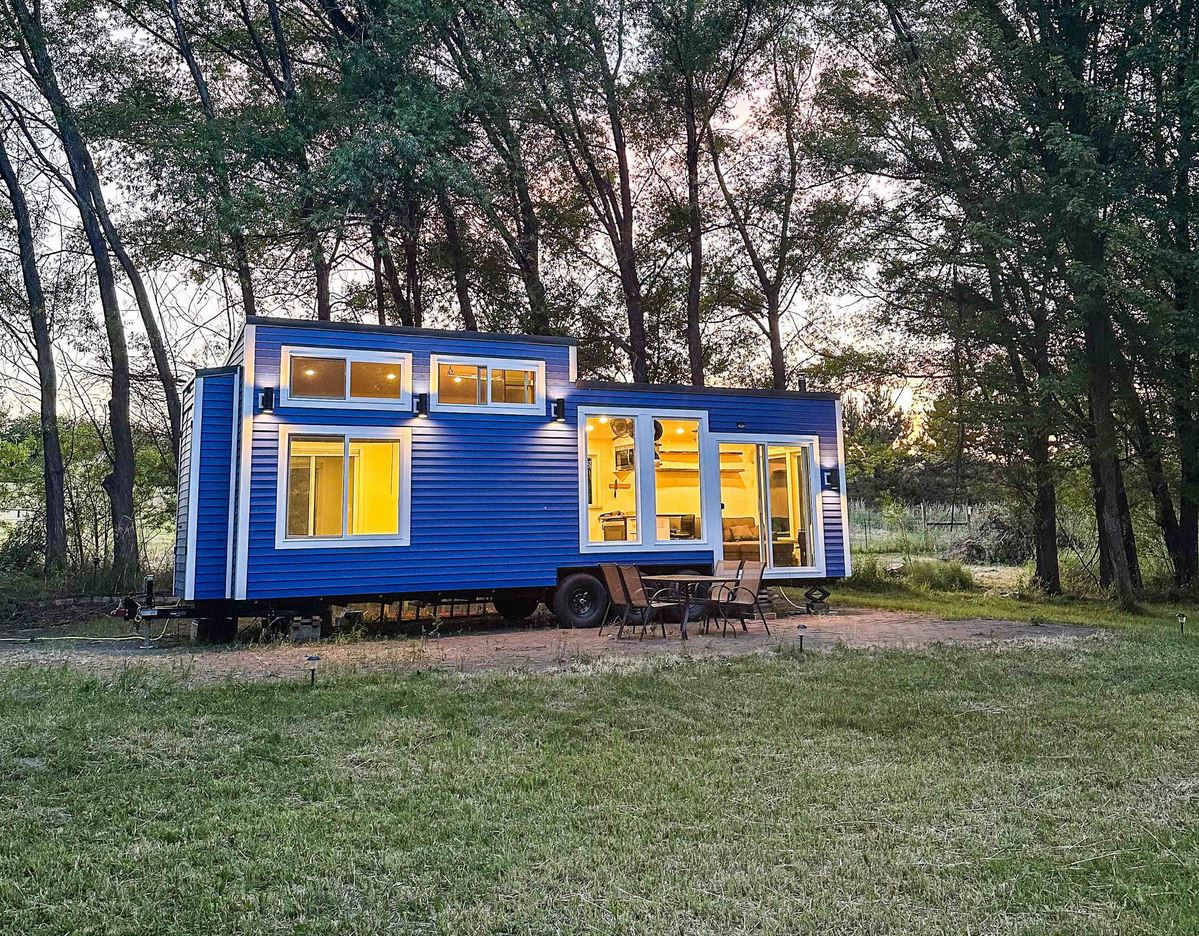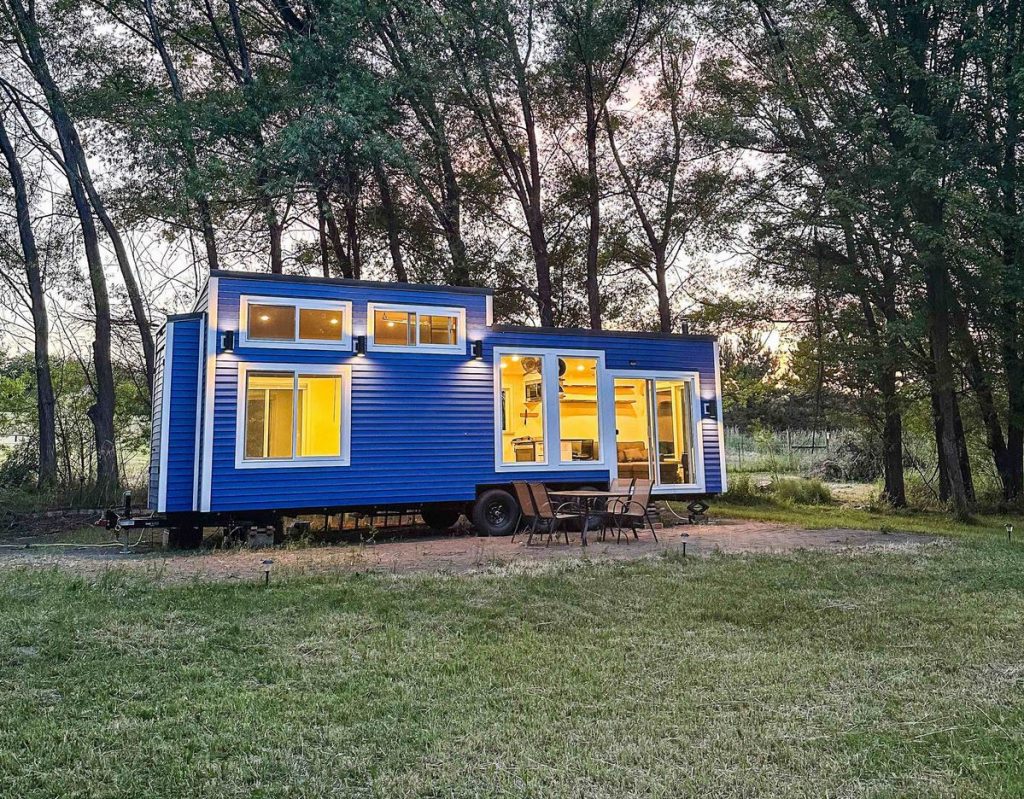 Tiny house builder BjarneBuilds is back with another banger. A georgous 30 ft long Scandinavian themed tiny house.
At $162,000, the mobile house is not cheap, but the Oregon-based builder hopes you'll be convinced by the luxury features on offer.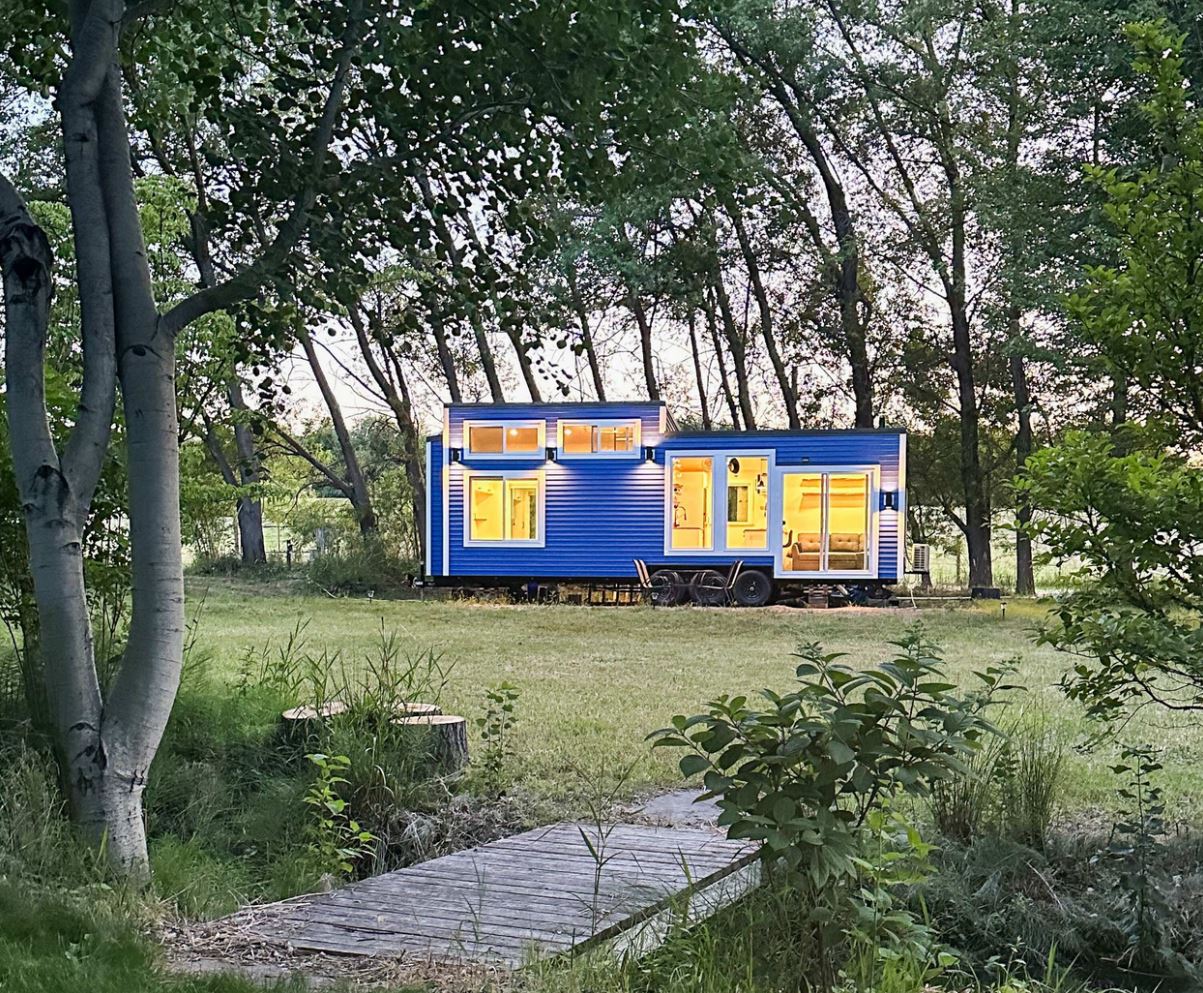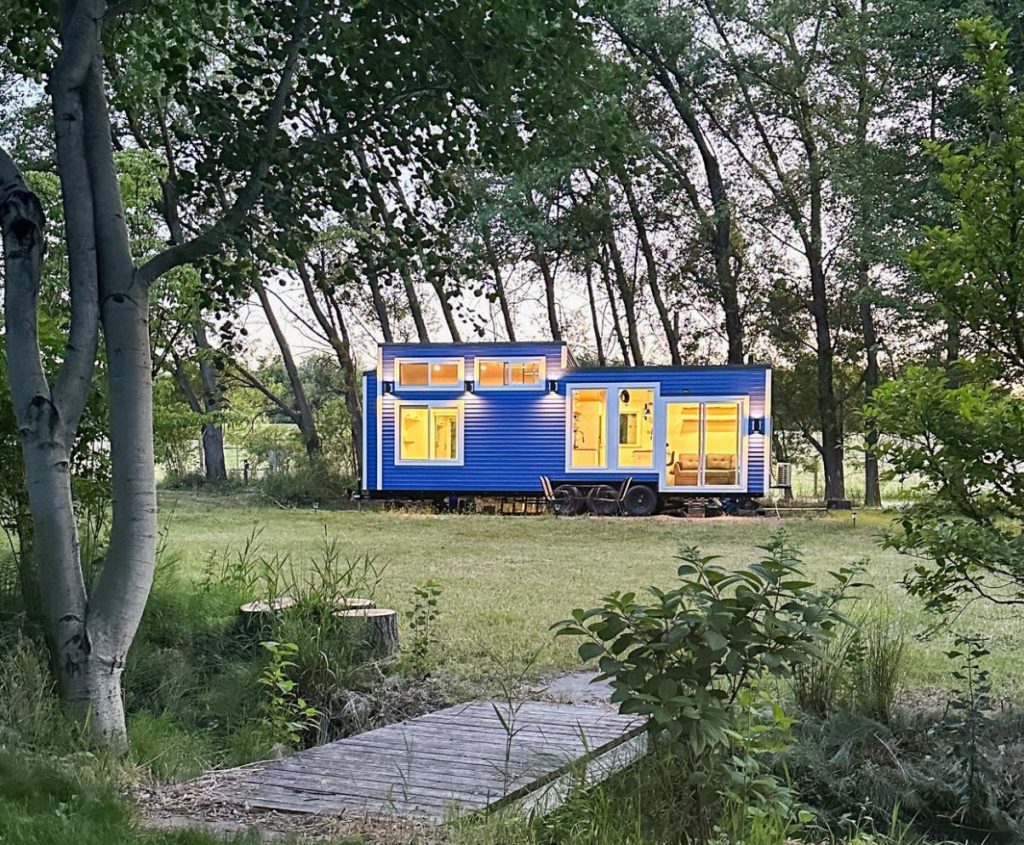 The tiny house on wheels is spray-painted blue on the exterior walls and white around the windows.
According to the builder, the metal roof comes with 20 years warranty.
In front of the house is a solar security light with motion sensor.
The tiny house is 13.8ft high and 8.4 ft wide, meaning you'll not require a special driving permit to transport it on American roads.
The trailer is a 3 axle Iron Eagle Trailer, certified for highways and freeways.
For insulation, the builder went with Havelock Wool. And the floor used is Pergo.
The mobile home comes with a gray water system but no black water tank.
Here's the video tour.
Now let's have a look at its interior.
Living Room
In the living room, you'll find an AC and Heater with remote,12,000 BTU mini split. Very efficient for those hot summers and cold winters.
You also get a wood stove, floating shelves and an office/dining table that drops down electronically from the ceiling. The projector and projector screen is also included.
For those nights when you're hosting friends, the sofa folds out into a double bed.
You'll certainly appreciate the large floor to ceiling windows that flood the entire living room with natural light.
However if you need even more light, the entire house is fitted with dimmable LED lights in the ceiling of every room. You'll also not run out of plugs for both appliances and even USB C cables.
Also read: 10 Beautiful Rugs That Will Transform Your Tiny House
The large sofa has storage underneath, and can also fold out into a double bed in case you have visitors over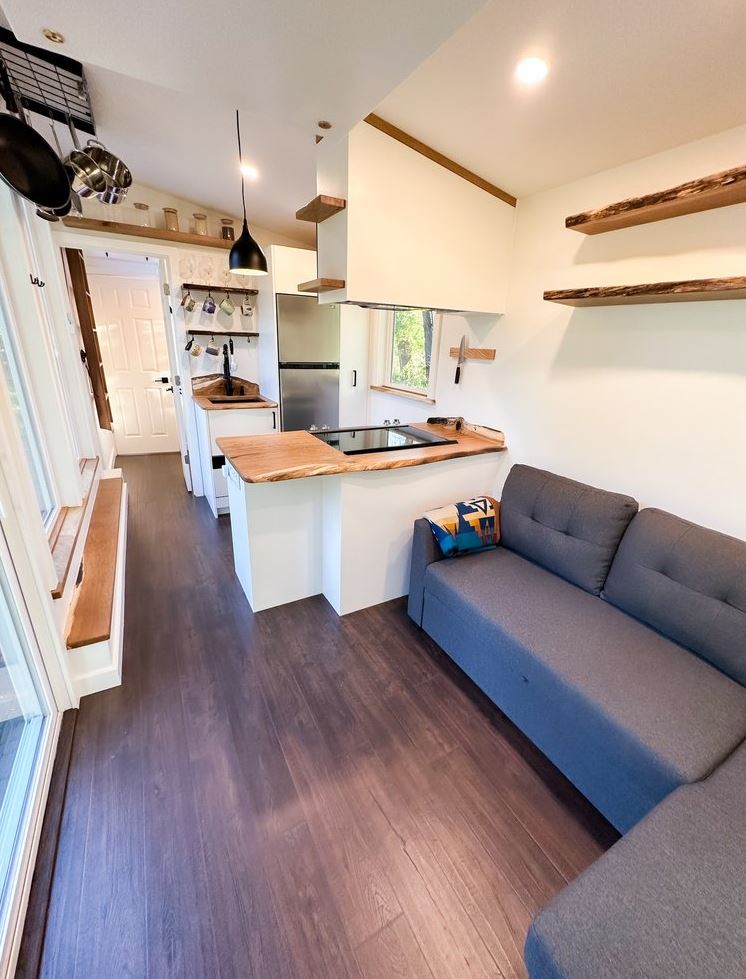 In the living room, you also find this wood stove made by Cubic Mini Wood Stoves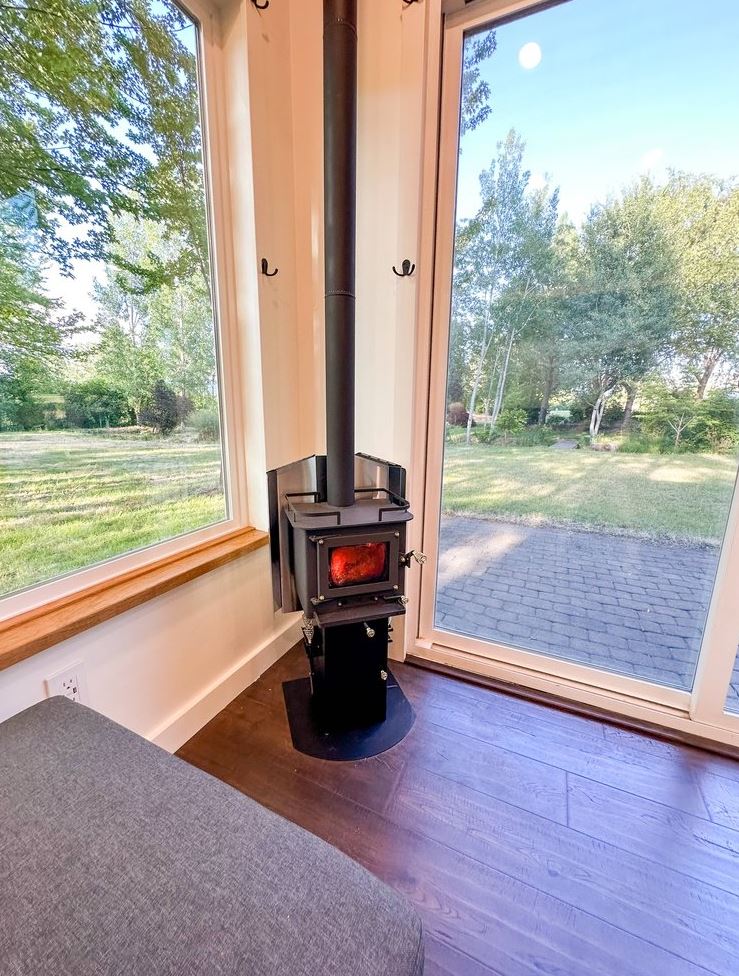 There are floating shelves made of white oak, to provide extra storage. These would be perfect for family photos, small house plants or other decorations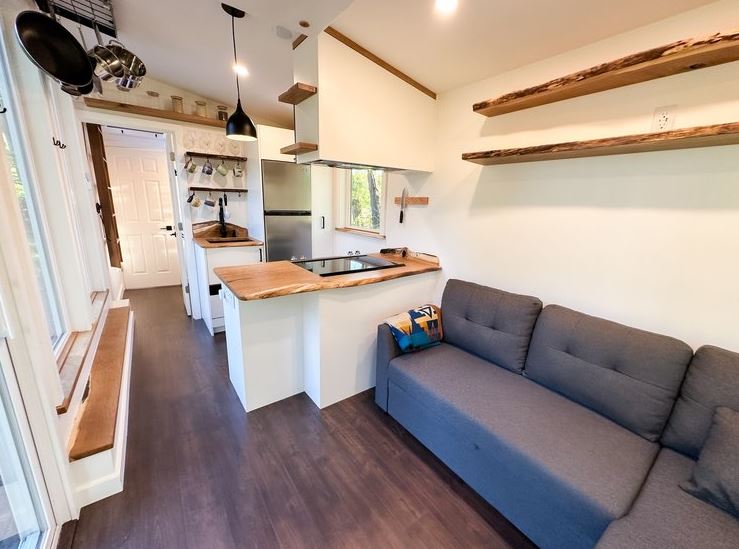 Hanging on the ceiling is a table that can either be used for work or for meals. It is supported by wires that drop down electronically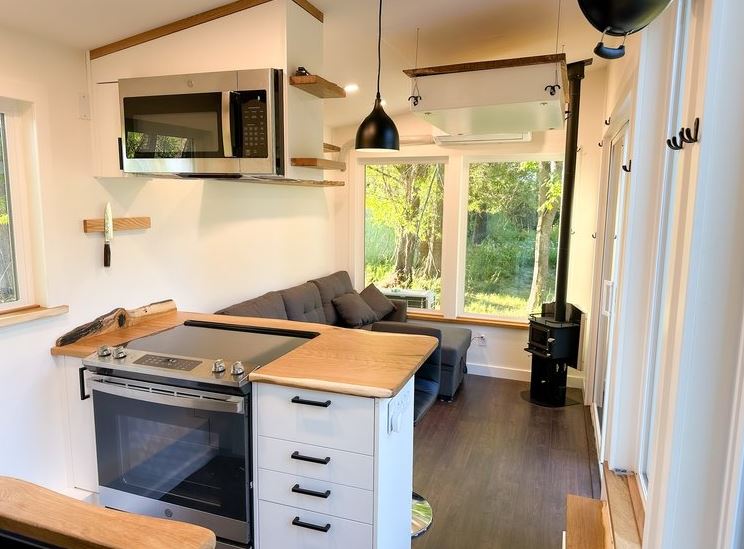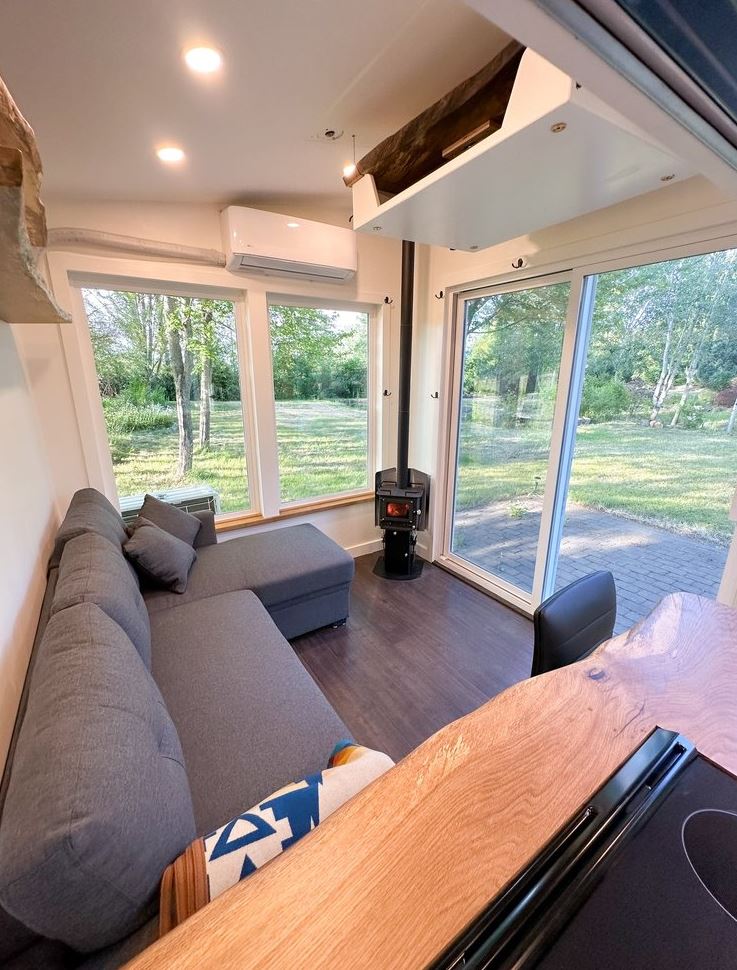 The hanging table can be used of many functions, including office work, meals or even as a TV mount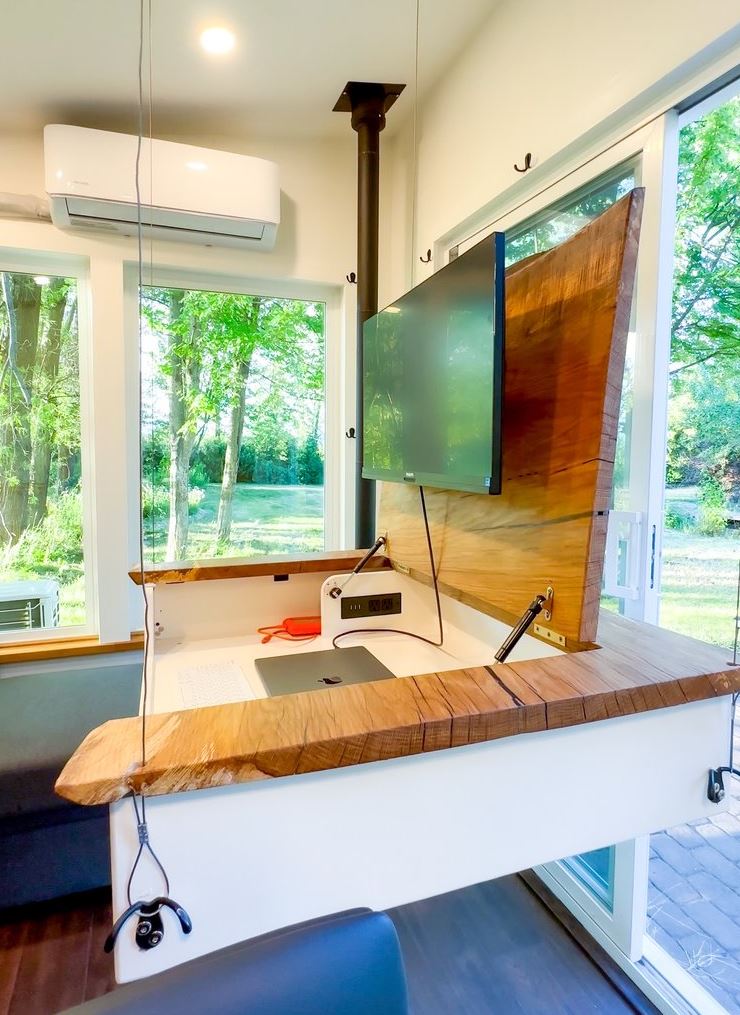 Kitchen
In the kitchen of this Scandinavian themed tiny house, you'll find high quality cabinets with countertops made from white oak.
The countertops are also live edge (unfinished edges), making them appear rustic.
You're also provided with a fridge/freezer, a 4 burdner electric coooktop and oven, a microwave, a hood vent, a small dishwasher and a 16"x18" undermount sink.
For even more storage, there are hanging racks in the ceiling.
We've written an entire guide on design ideas you can copy for your small kitchen space.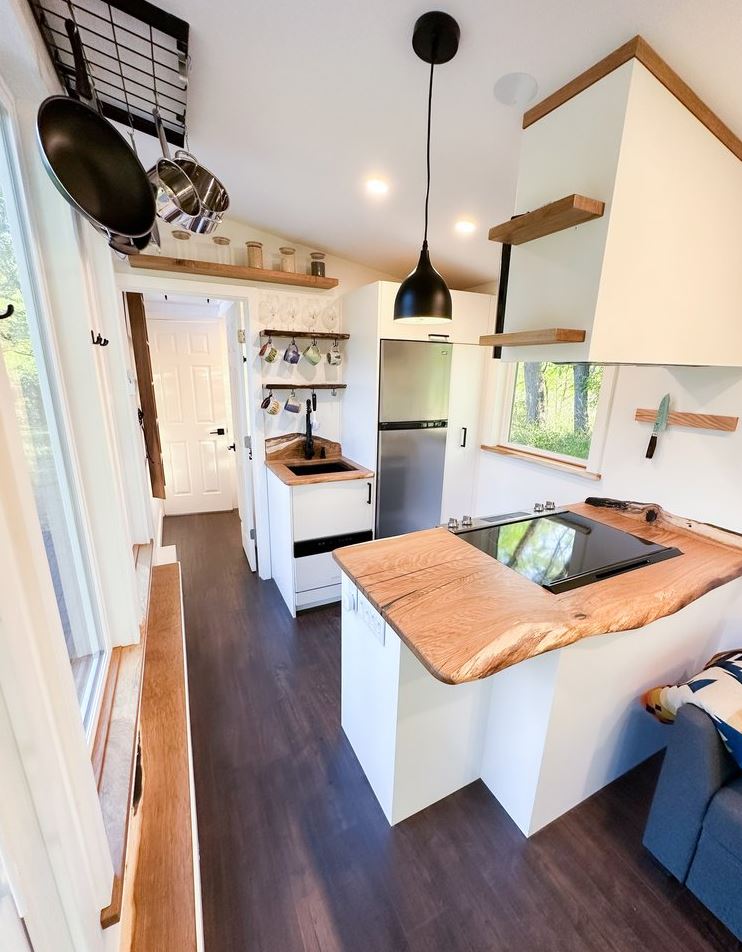 Also included is a fridge, microwave, hood extractor and dishwasher. The faucet comes with a sprayer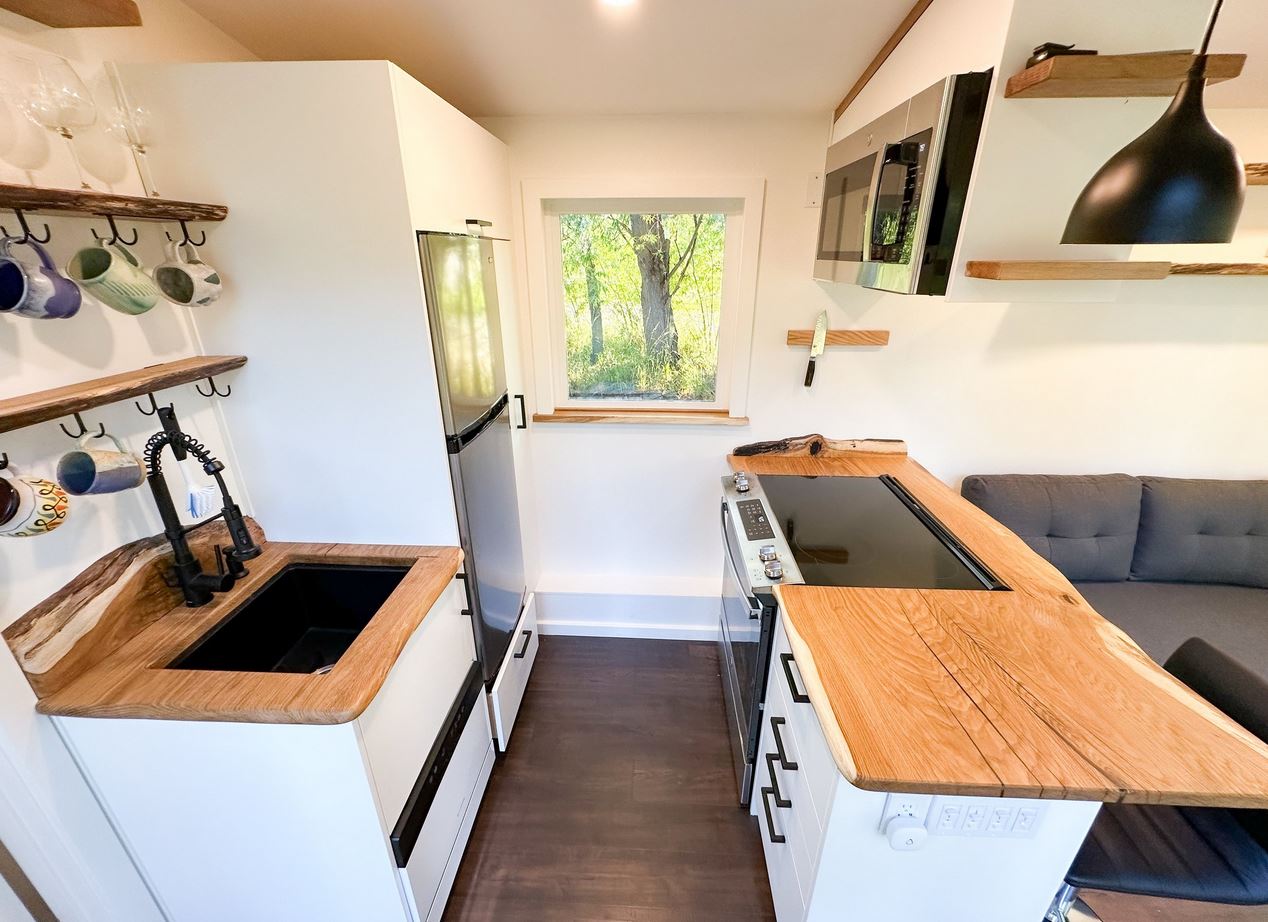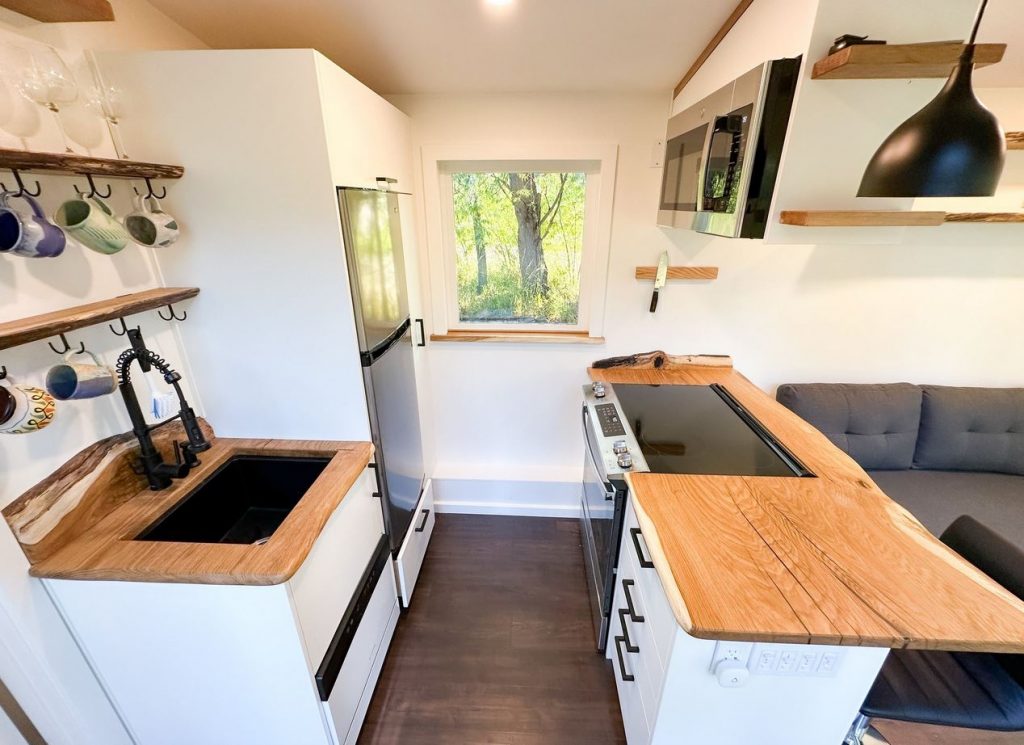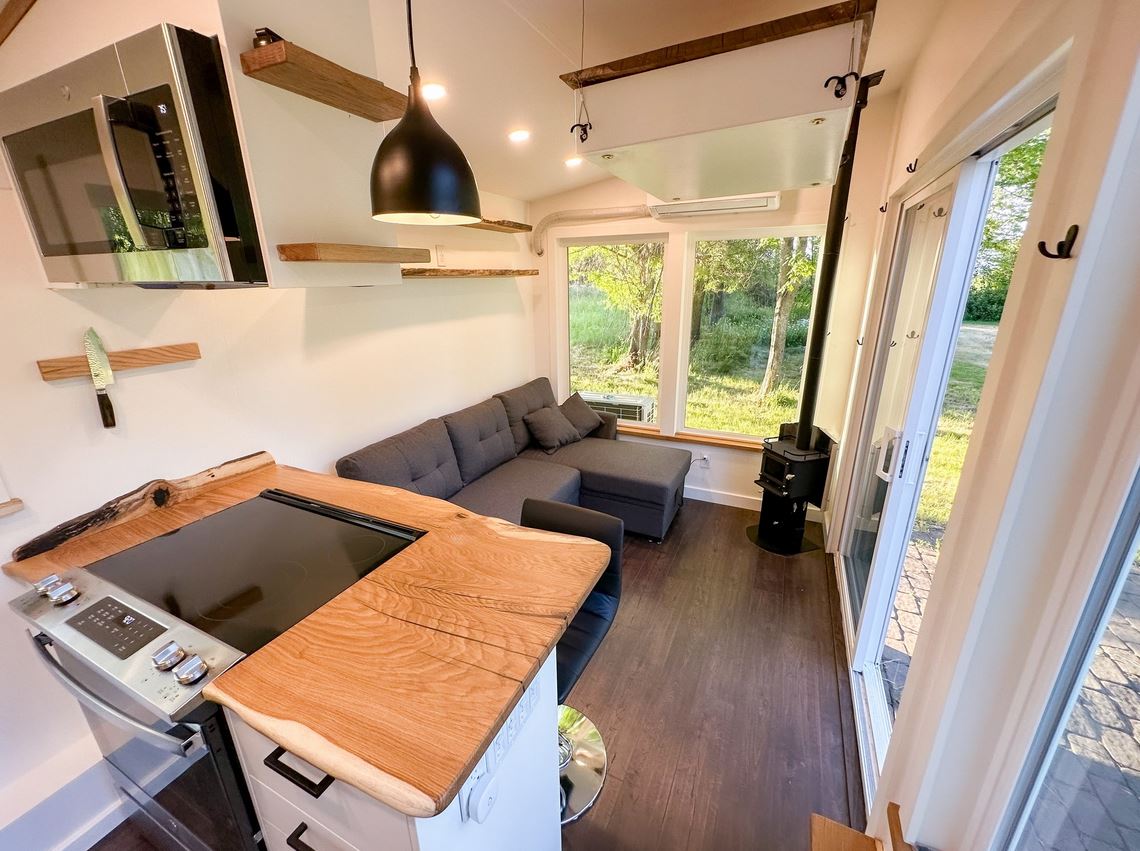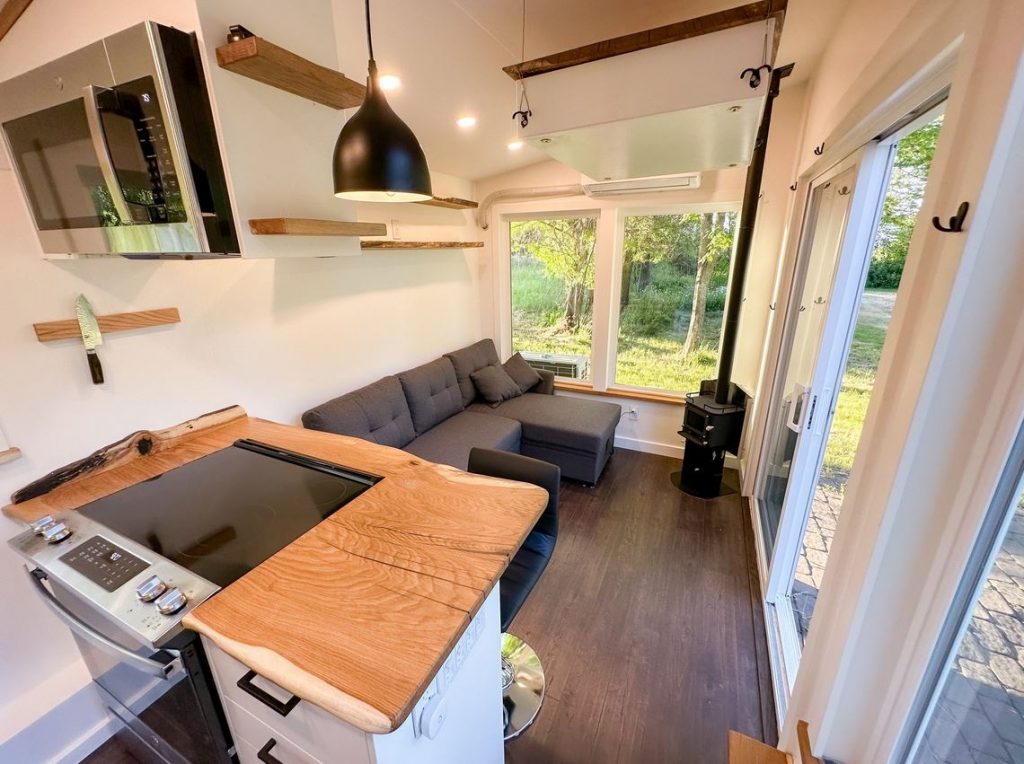 Floating shelves with underneath hooks to hang mugs, pots and pans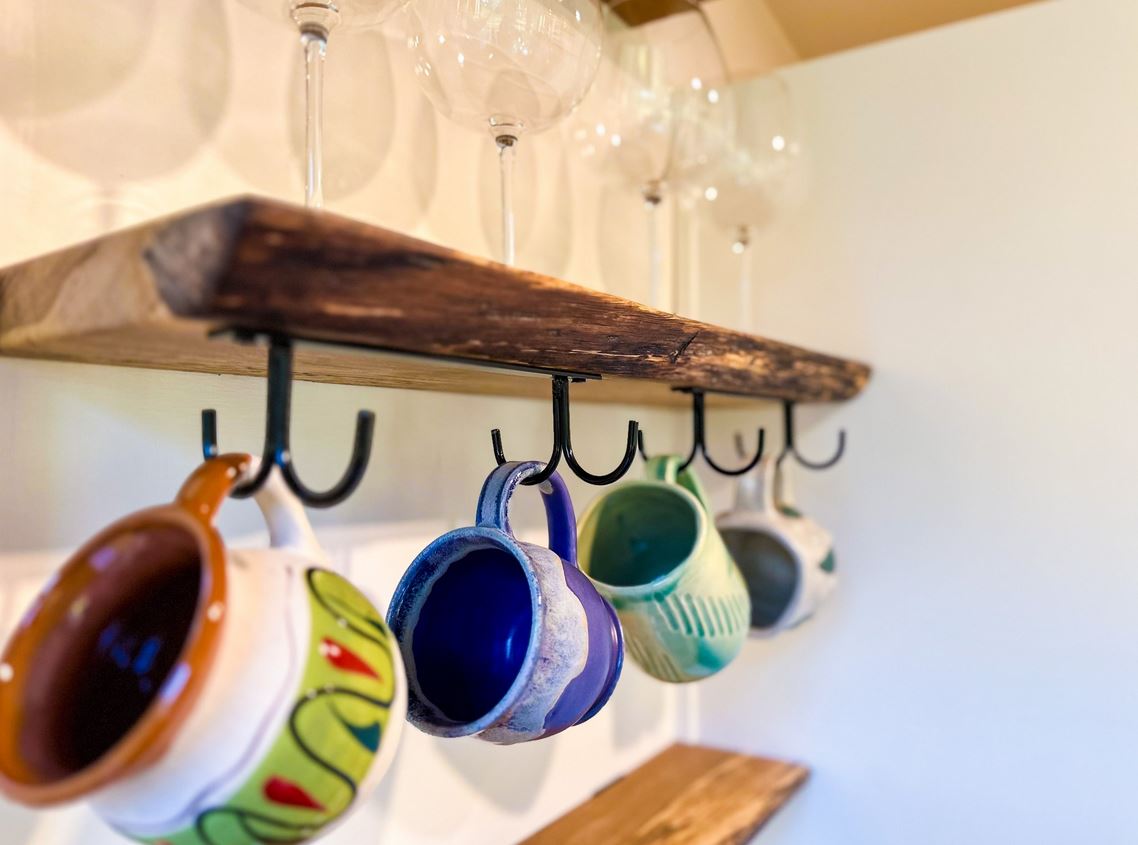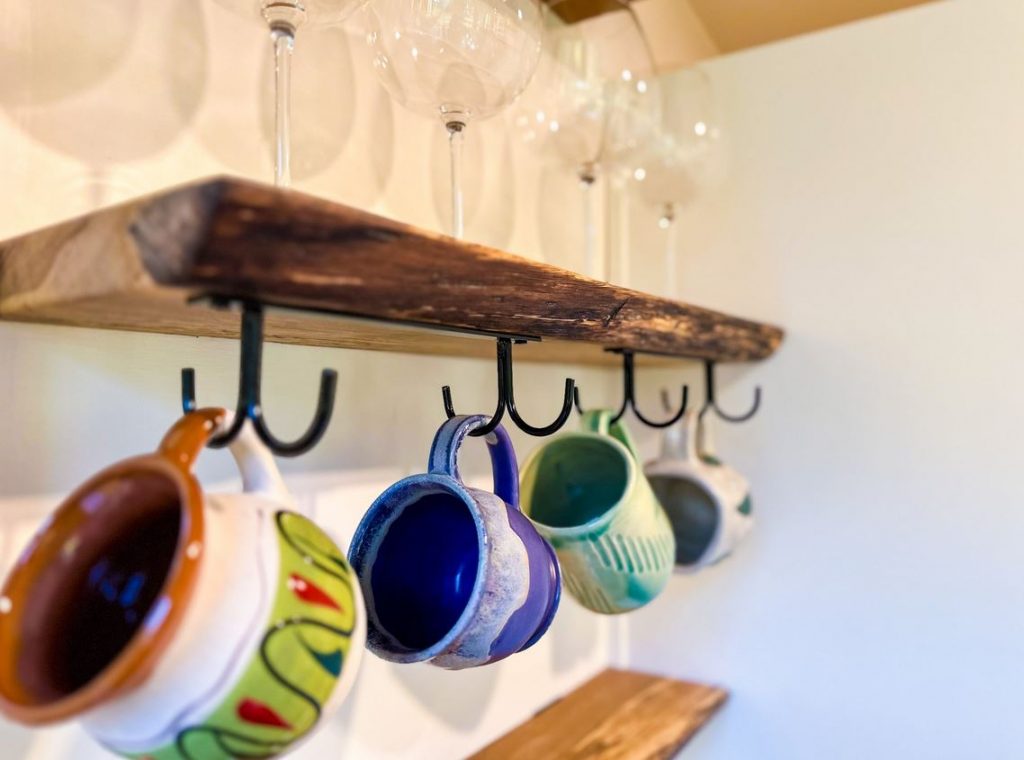 Bathroom
In the bathroom, you'll immediately fall in love with the hexagonal black tiles. It's always nice when the tiles show some character, and you'll never go wrong with oddly shaped ones.
The black tiles cover the wall of your bathtub – shower combo. And since this is a luxury tiny home, you of course get a waterfall shower.
There's a glass shower door that is also foldable.
The composting toilettet is made by Swedesh company Separett.
There's a black décor bathroom sink that goes well with the whites and other blacks. Right on top is a medicine cabinet with a mirror that also keeps up with the hexagonal theme.
And in case things get a bit heated up, there's a fan on the ceiling.
The bathroom comes with a bathtub/waterfall shower combo, with a glass folding door for easy access. The recessed lights are also a nice feature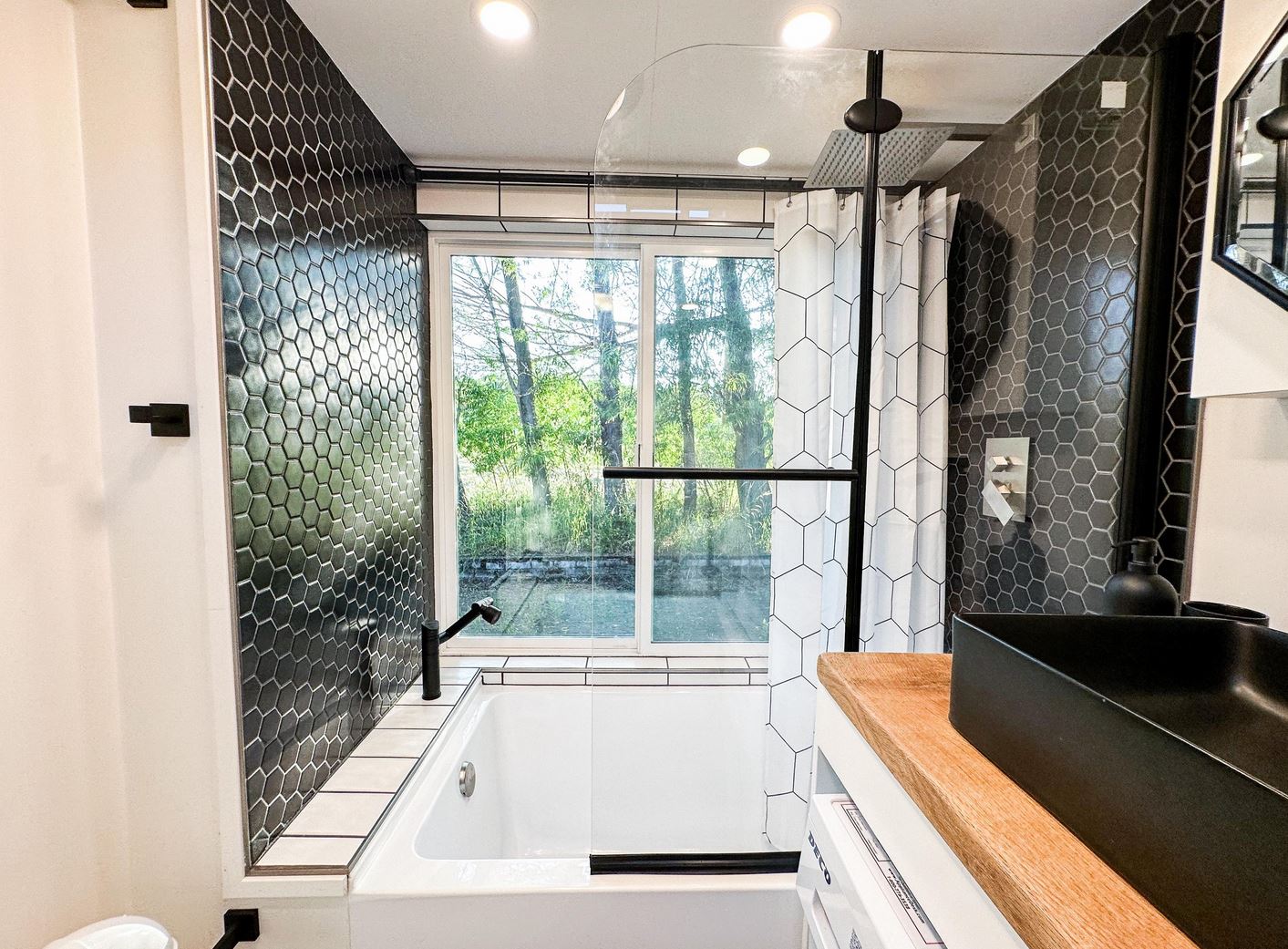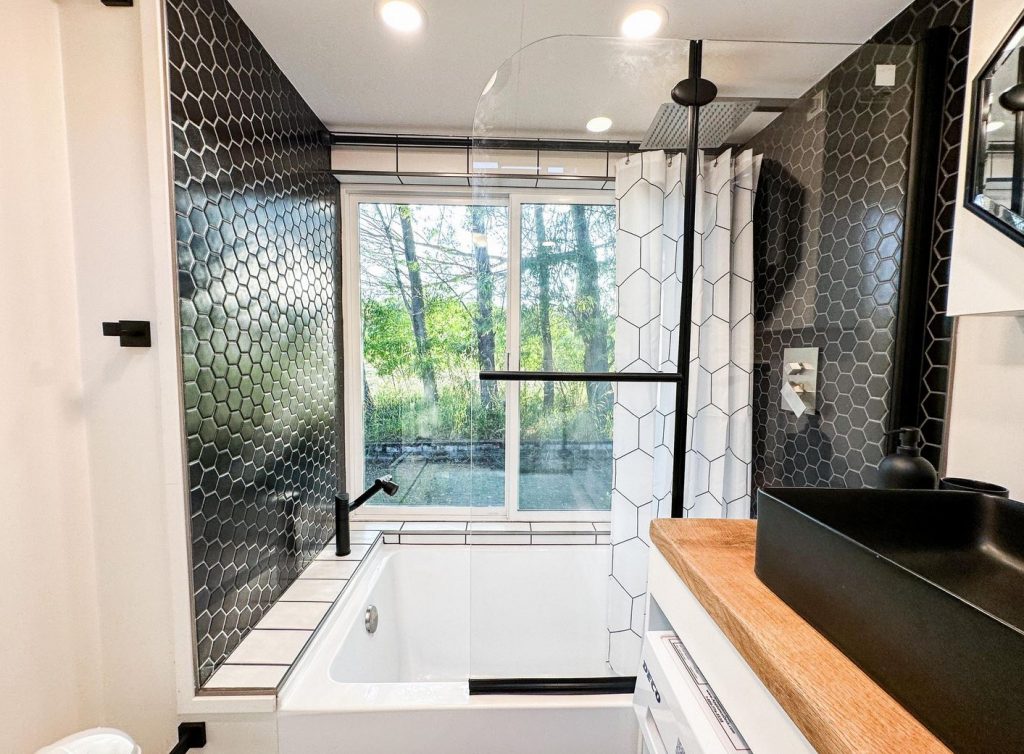 The washer/dryer combo is included, and so is a storage rack to hang your wet towels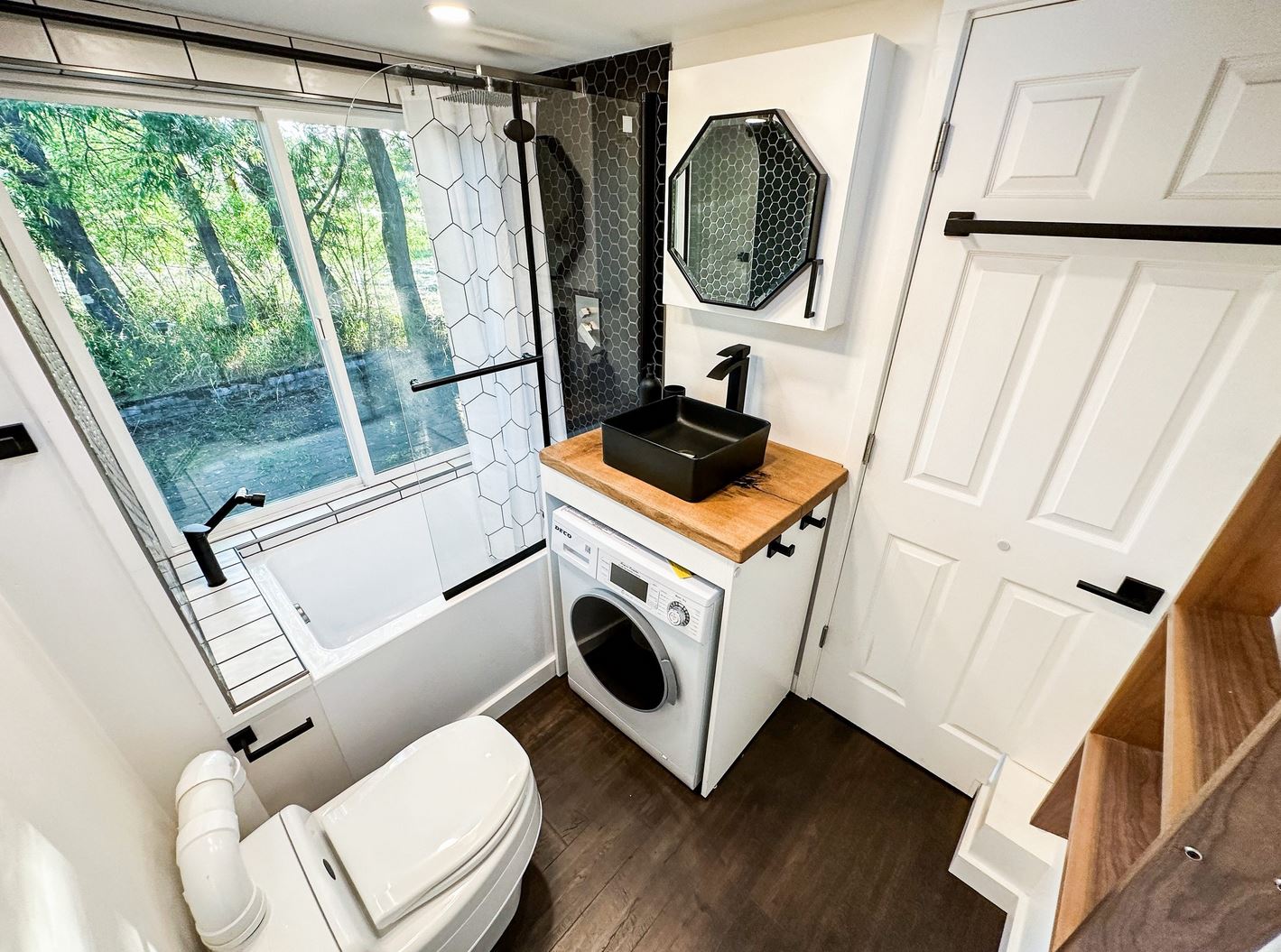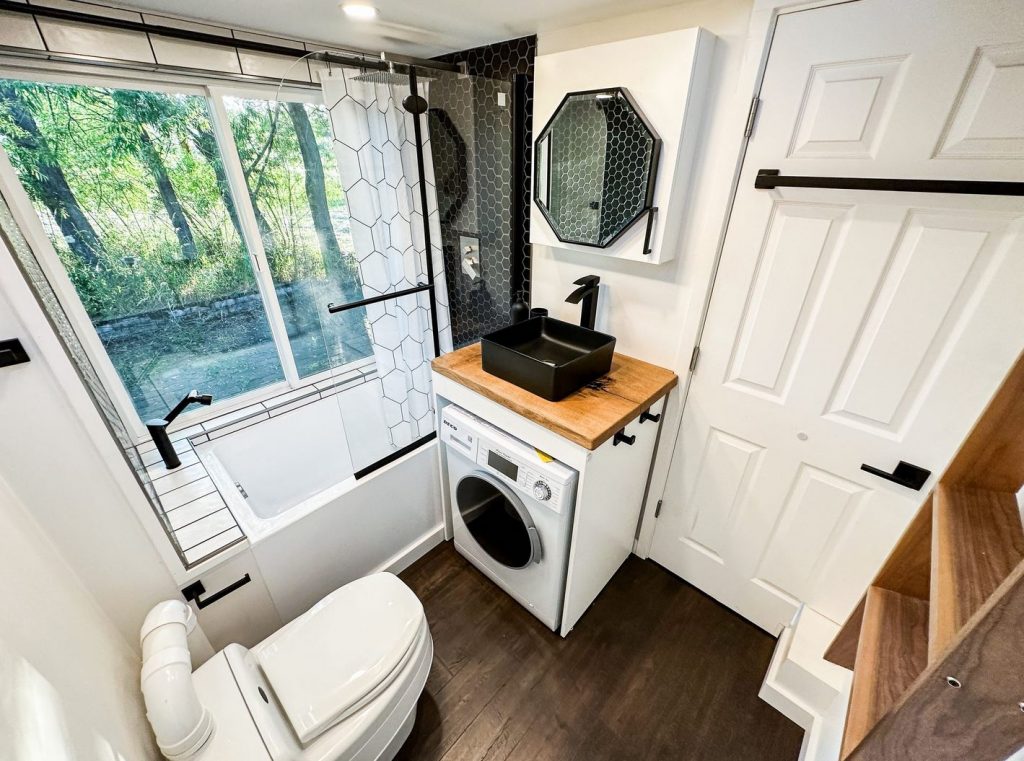 The black hexagonal tiles are a nice finish, and a great compliment to the black décor sink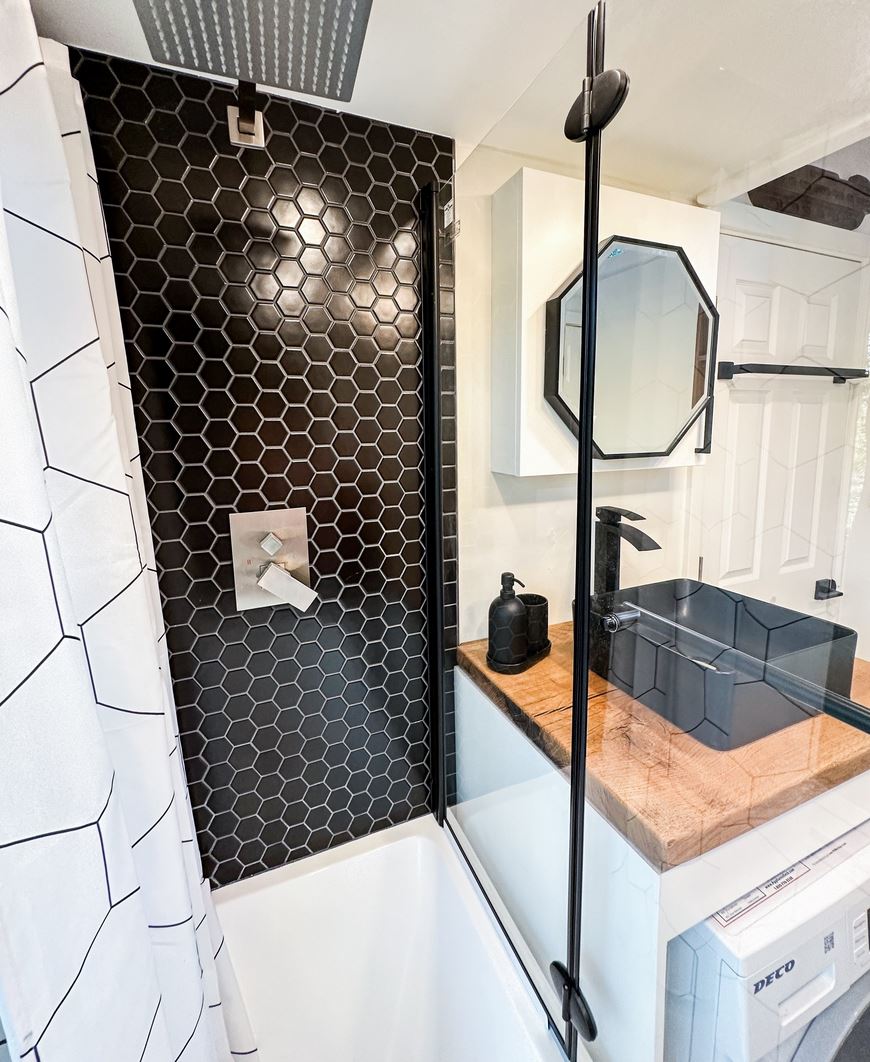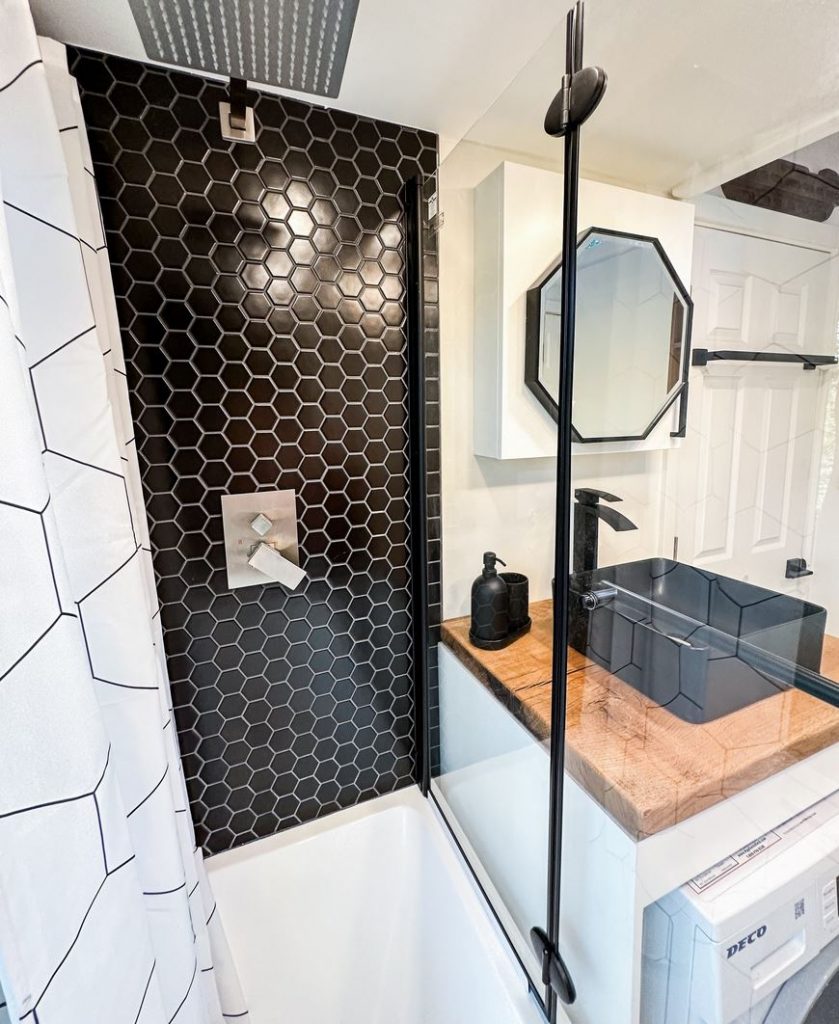 Bedroom
In the bedroom, you can expect a queen bed with underneath storage. There's also lots of cabinets all around the room, providing you tons of space for all your clothes and shoes.
On both sides are massive windows to soak in all the sunlight during the day, and blinds that give you privacy at night.
Between the bathroom and the bedroom is an extra closet space.
Tons of storage space underneath the queen bed.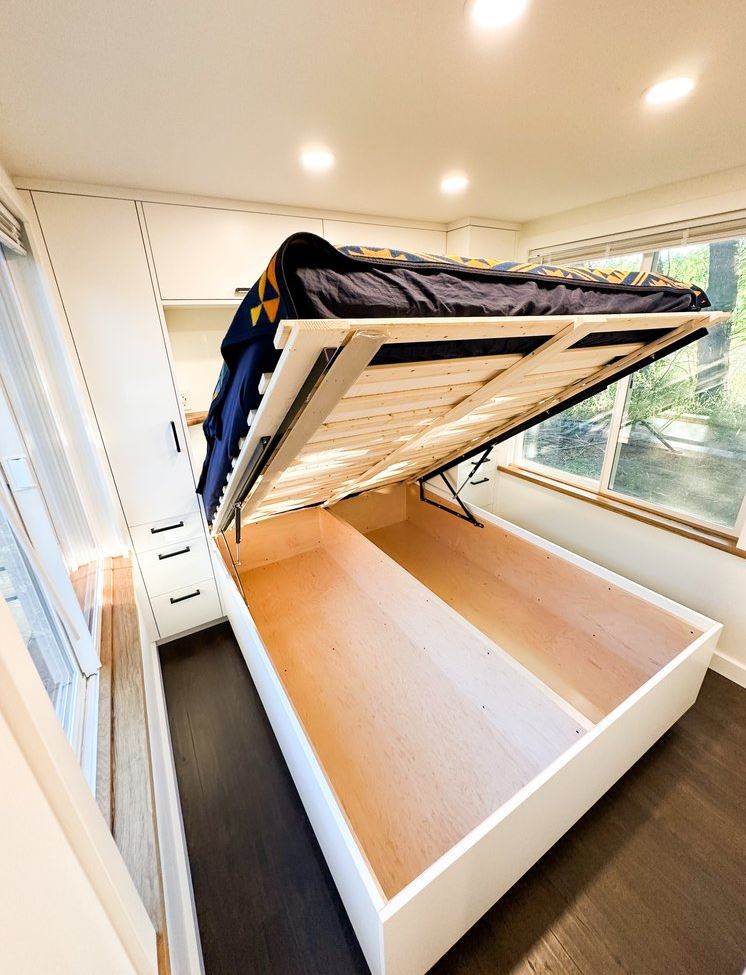 Around and above the bed, you'll find enough cabinets to store your clothes, shoes and other belongings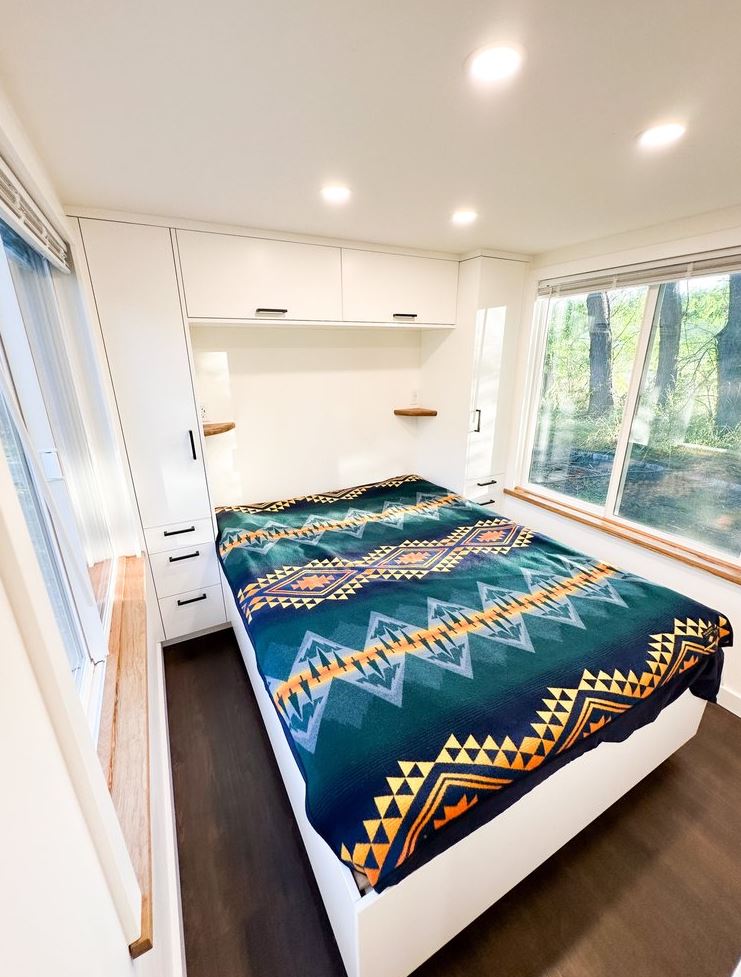 The large windows can be shut with blinds that are easy to pull down and up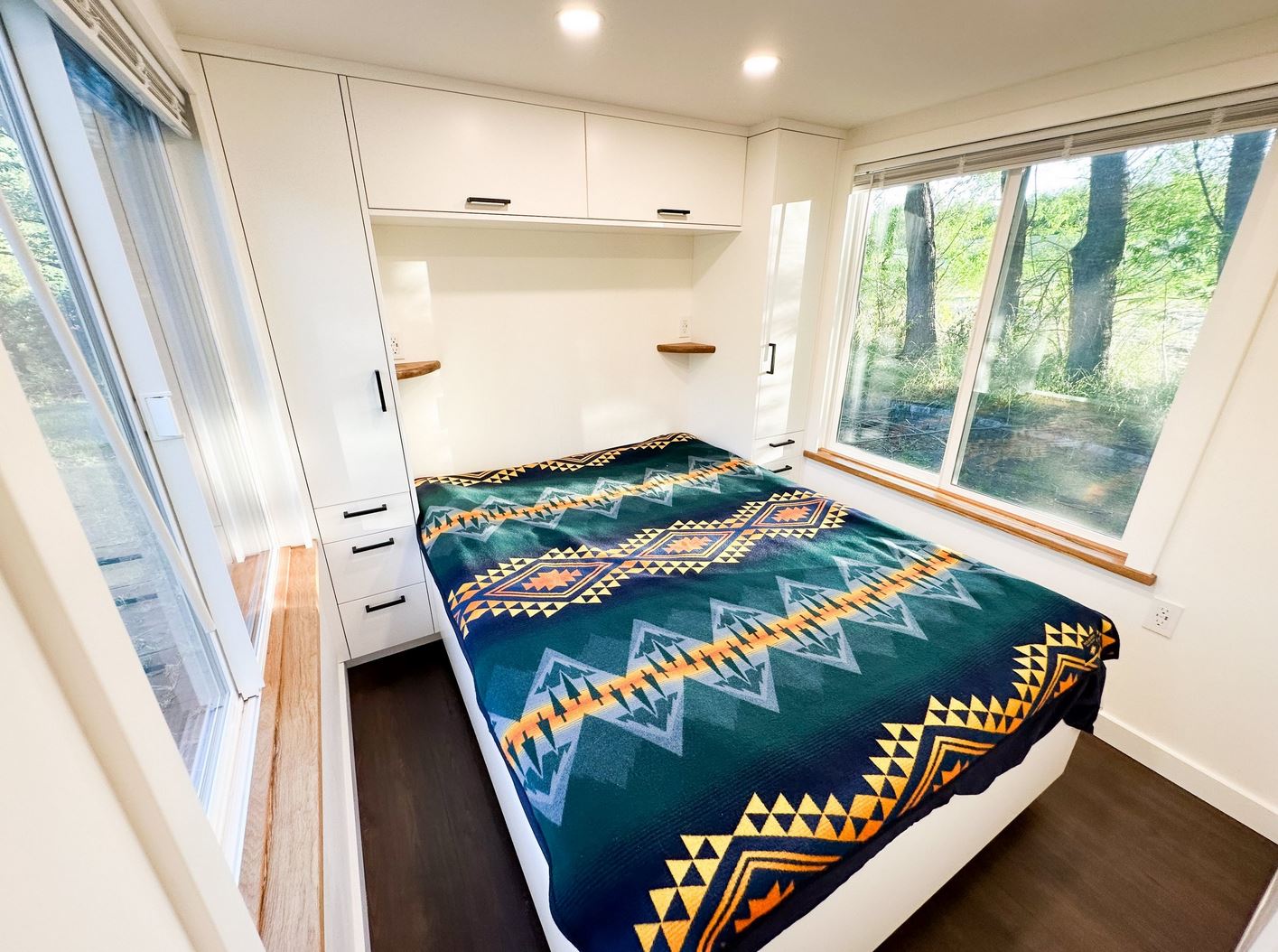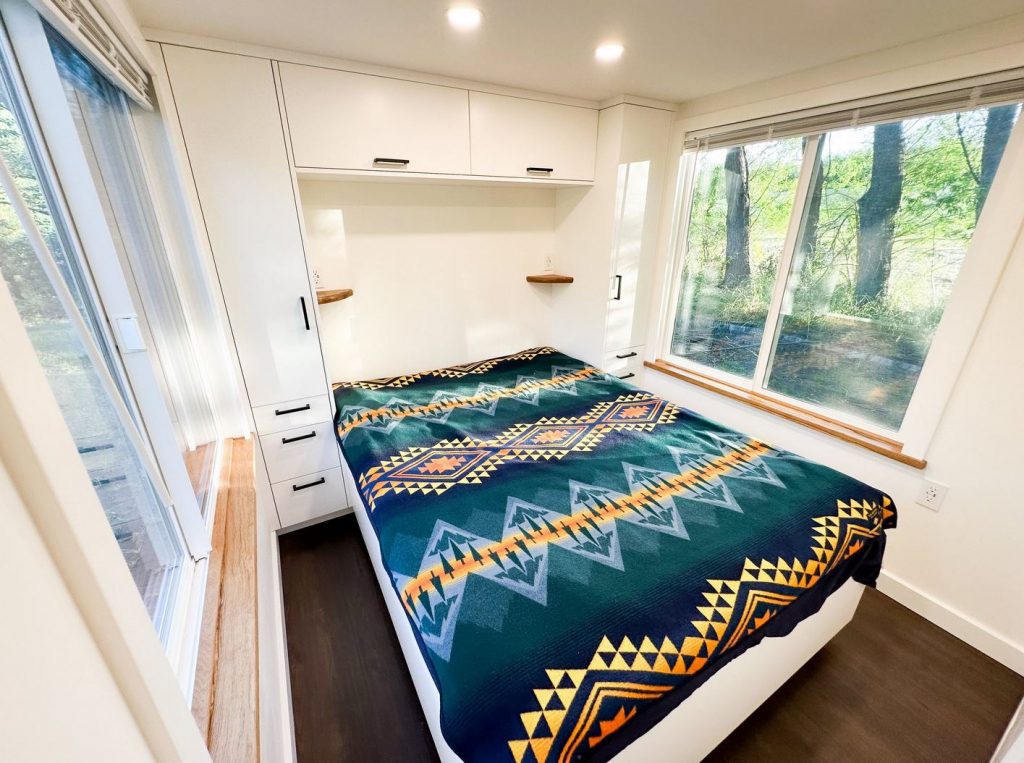 You'll find extra closet space in the wall separating the bathroom and the bedroom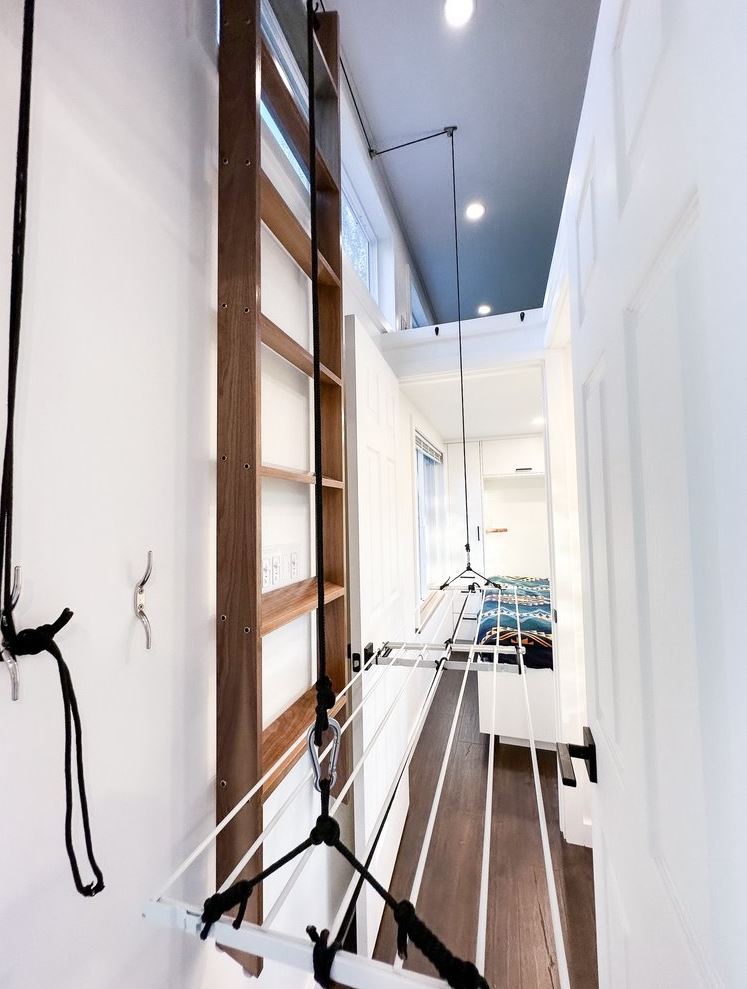 Loft
Accessible via a removable ladder is the loft. It is spacious enough for a guest bed, or can simply be used for storage.
Removable ladder on the hallway gives you access to the loft. There is also a laundry hanging rack, suspended on the ceiling using a pulley system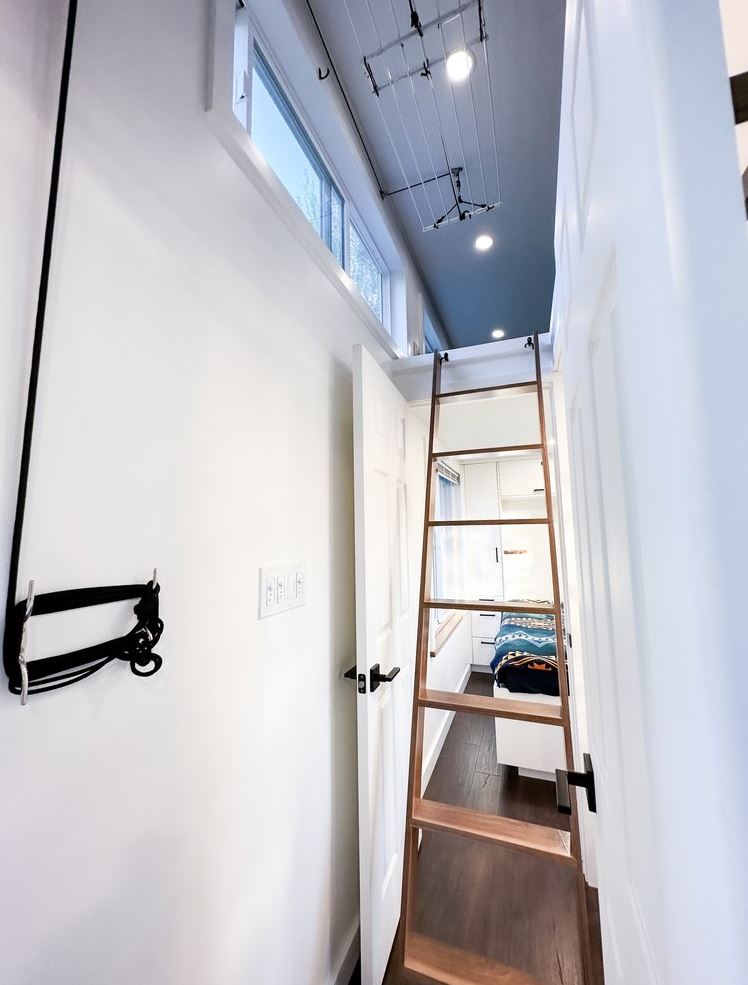 The loft is spacious enough for a guest bed, or can simply be used for storage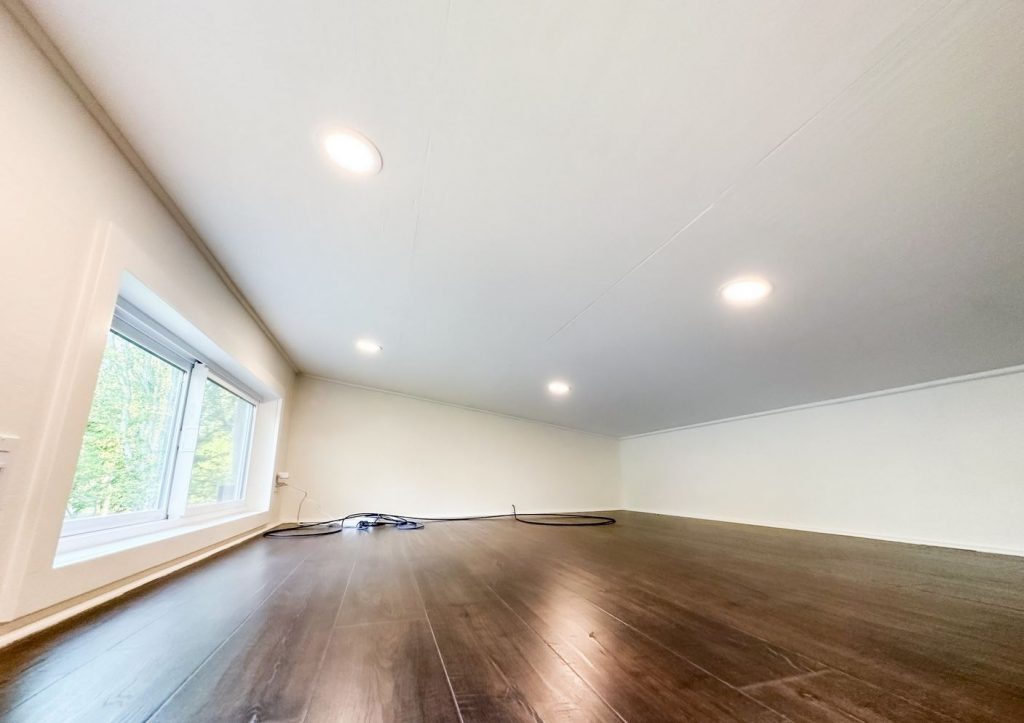 Now read: 8 Tips To Make Your Tiny House Cozy