Travis and Destoni are living a very enviable life. Some time back, they were deep in debt and despite working very hard felt like they were not making any progress. The couple decided to sell their house, buy a school bus and convert it into their new house.
Now they travel full time and enjoy every moment of their days. For work, they simply stop wherever they want and take seasonal jobs.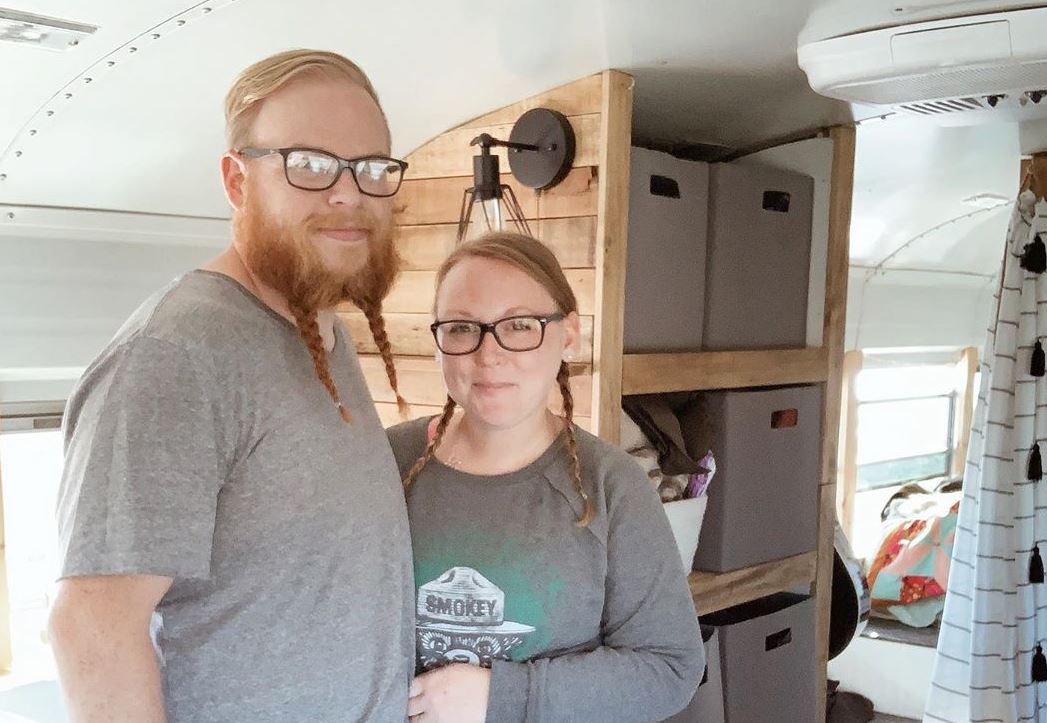 Travis and Destoni recently welcomed Tiny Home Tours to their home, where they showed them around and explained how they pulled it off.
The couple explained that they did the conversion themselves, only managing to work on it on weekends owing to their full time jobs. As a result, they were able to save on labor costs bringing the cost down to just $19,000.
Read: Where Can I Park My Tiny House on Wheels?
After selling their Florida home, they paid off their debt and built this new abode in what was previously a 66 passenger bus. They moved in and hit the road before everything was even in place.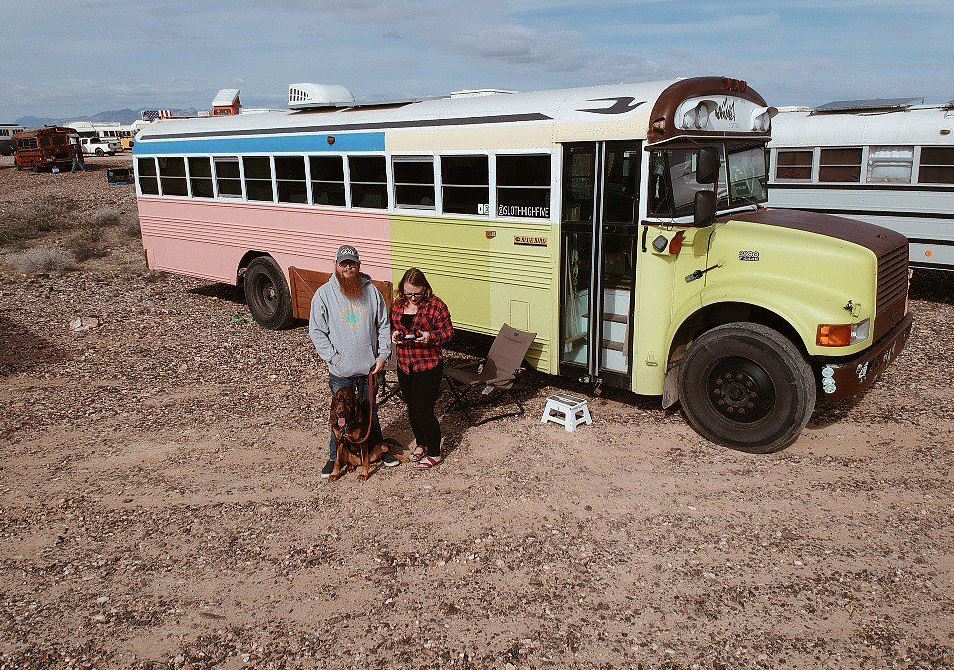 One year later, the couple is still finding themselves fitting out new things, but that has not prevented them from living a comfortable life. With no rent, mortgage or debt, they can afford to live on very little, but they still take resort or seasonal jobs in places they like. All along documenting their travels and life on their Instagram page Sloth high five.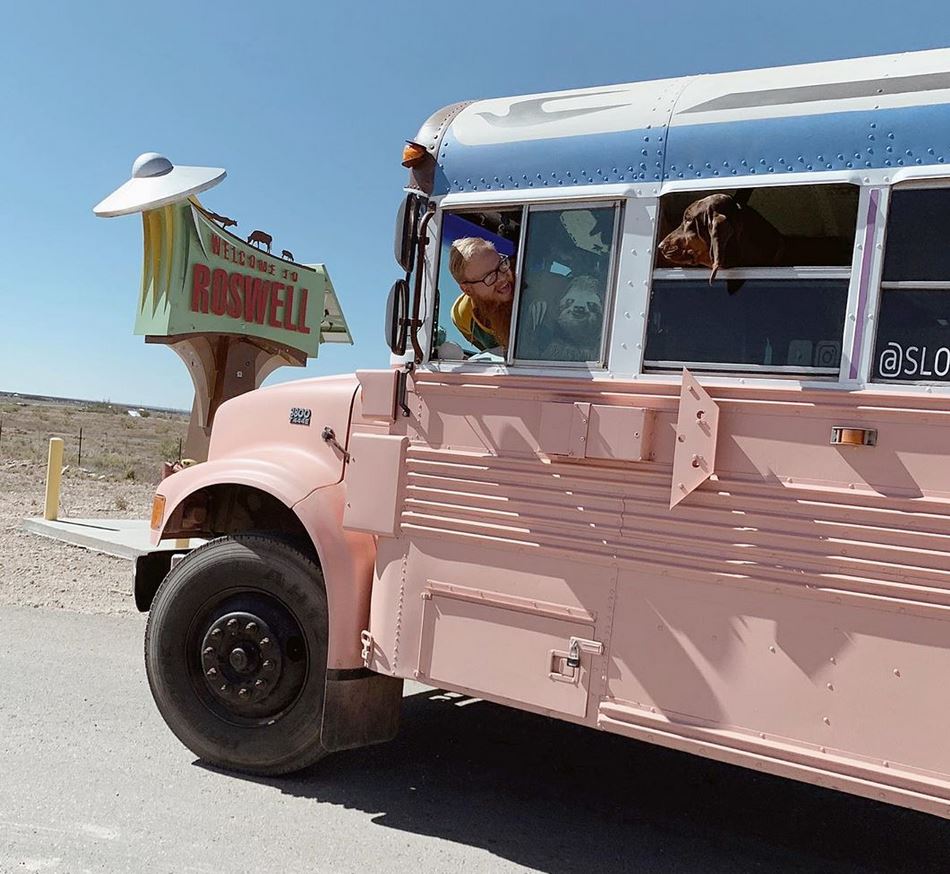 The off-grid champs showed Tiny Home Tours inside their house and how everything works.
Their home may be tiny, but it comes with everything you would expect of a normal house. The living space comes with a sofa, which they built themselves because they wanted to make it big enough for themselves and their two dogs. Underneath the sofa is an 8-battery pack that stores energy from their four 150 watt solar panels.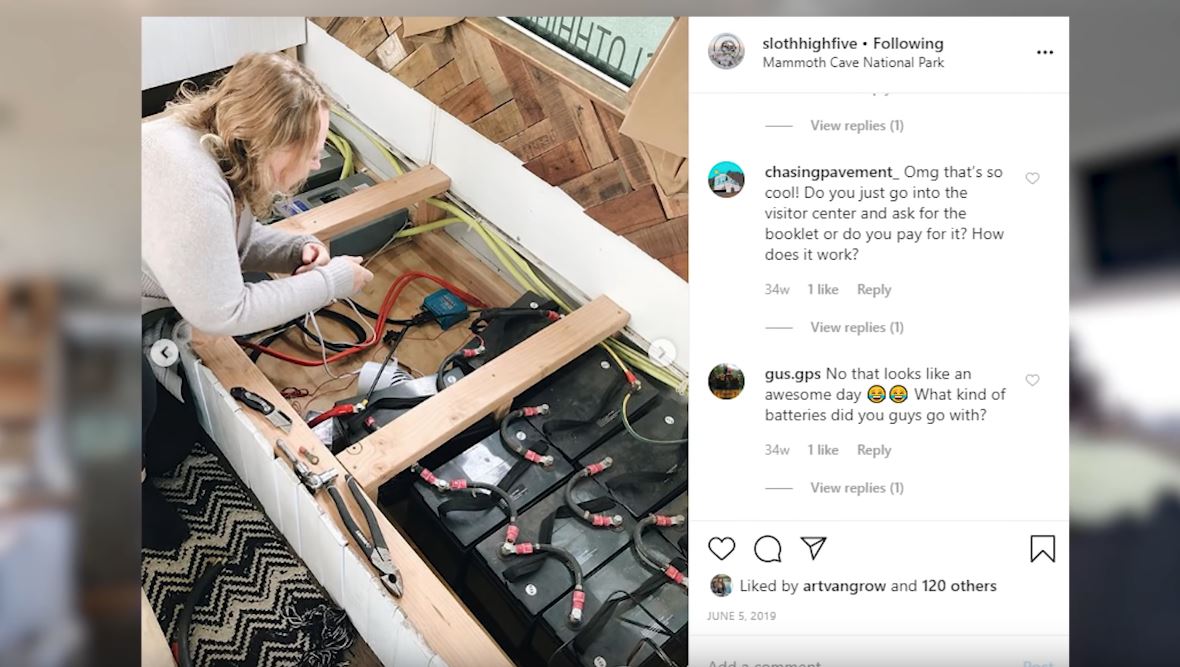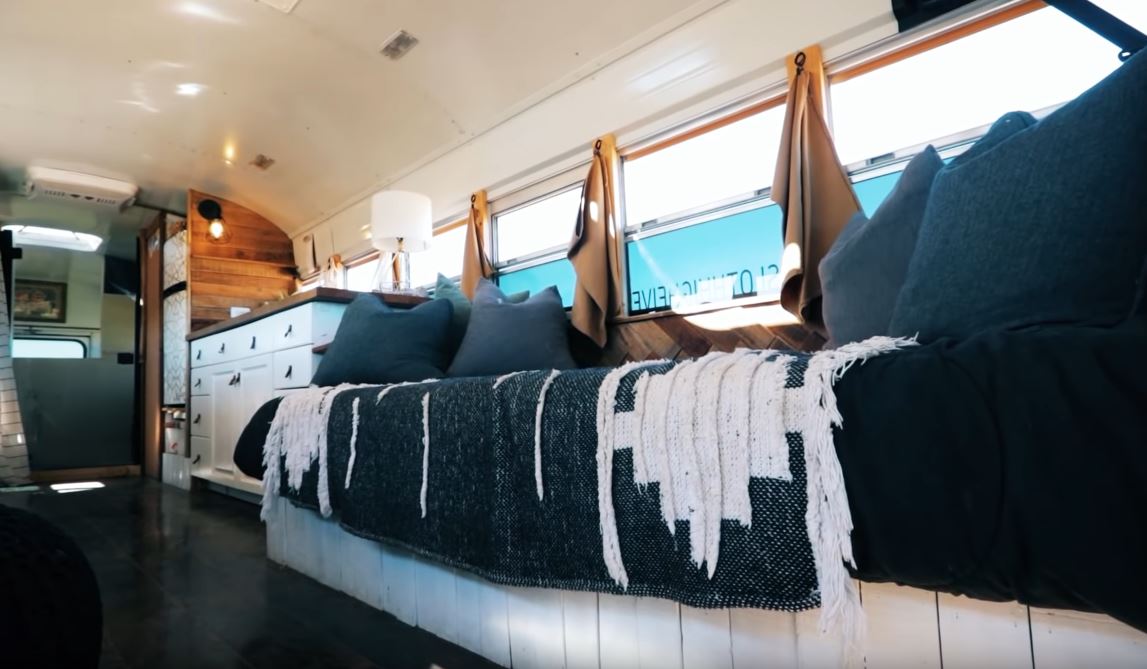 They wanted to feel as home as they possibly could, and part of that was not compromising on the size of TV. They somehow found space to fit in a 55 inch TV, and an Xbox to keep them entertained. When not in use, the TV is tucked away inside what looks like normal cabinetry.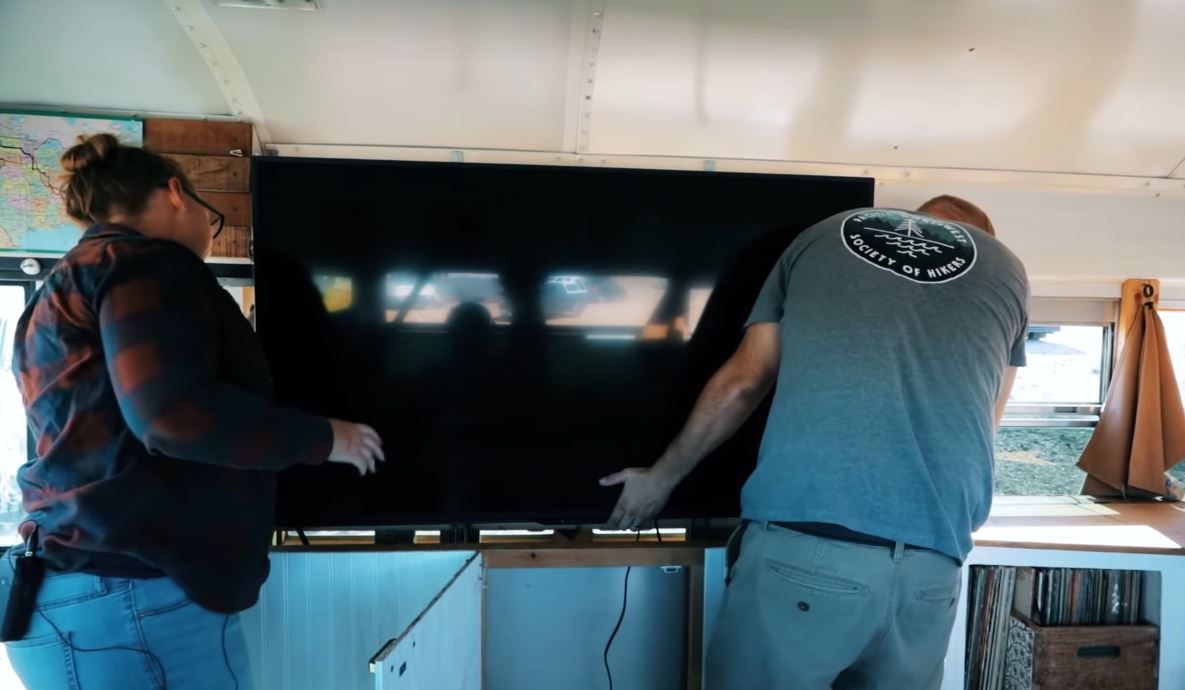 For the kitchen, the couple went with IKEA counter-top and sink. The cabinets came pre-built and they only had to install and re-paint them.
They have a 4-burner stove oven, a fridge and lots of storage spaces.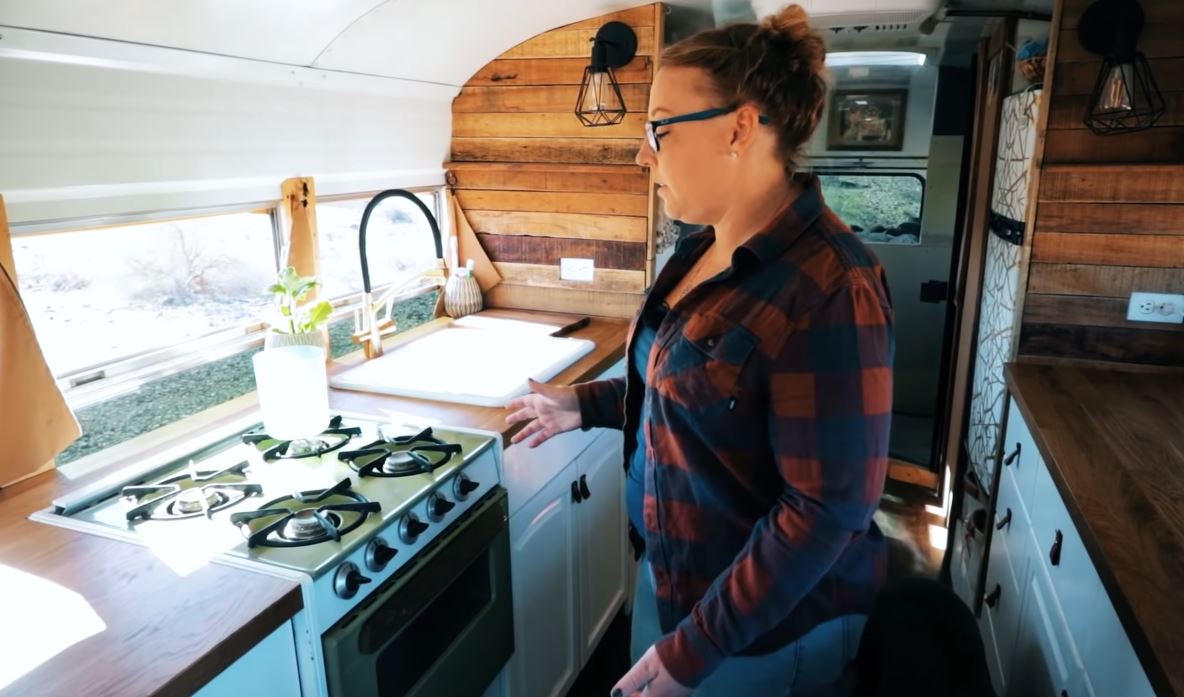 One of the bus underneath storage box now holds two propane tanks and a fuel delivery system. The other storage box holds all their building tools; saws, grinders etc.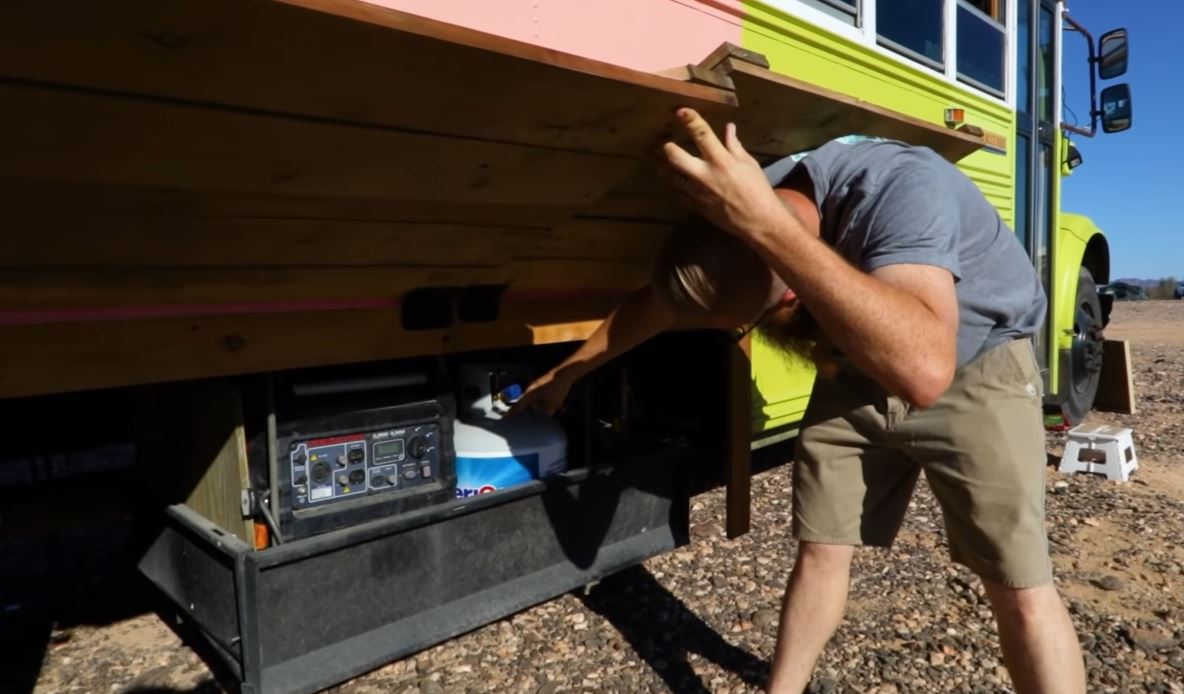 The back storage is their 'garage', oil storage etc. basically everything else that they didn't want inside.
Check out this tour of their school bus home.