Tiny houses often go with tiny windows. I mean, there isn't loads of wall space to fix them.
However, more modern designs are beginning to pop up with supersized glass windows. We have even seen tiny houses where entire walls are just glass doors or windows.
Australian tiny house builders Designer Eco Tiny Homes, have completed a stunning tiny house with a massive, dominating glass window.
Baptized The Lazy Duck, the house is just 7.2 meter (23 ft) long by 2.4 m (7.87 ft) wide – a commission work to be used as a weekend retreat in Southern Highlands, South West of Sydney.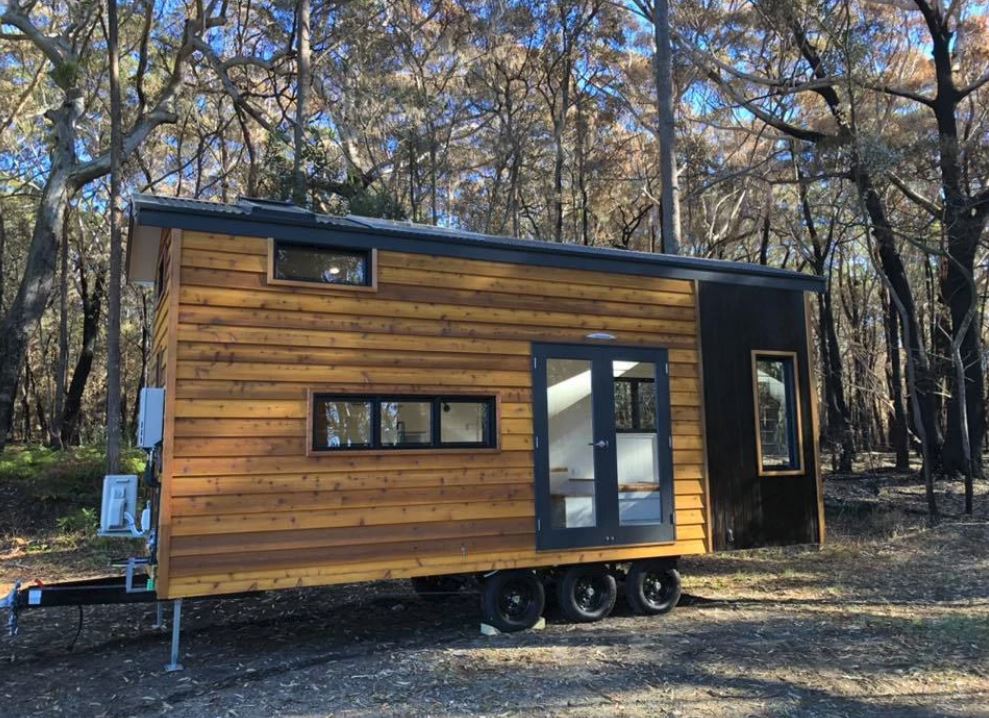 "We have four sizes essentially and every house is built to suit a particular client and their needs," Grant Emans, Director of Designer Eco Tiny Homes told New Atlas.
"The Lazy Duck was built for a client who has a two-acre property in the Southern Highlands and she wanted to showcase the views across a vineyard, thus the feature window. As a result, I think this is one of the nicest home's we've ever made."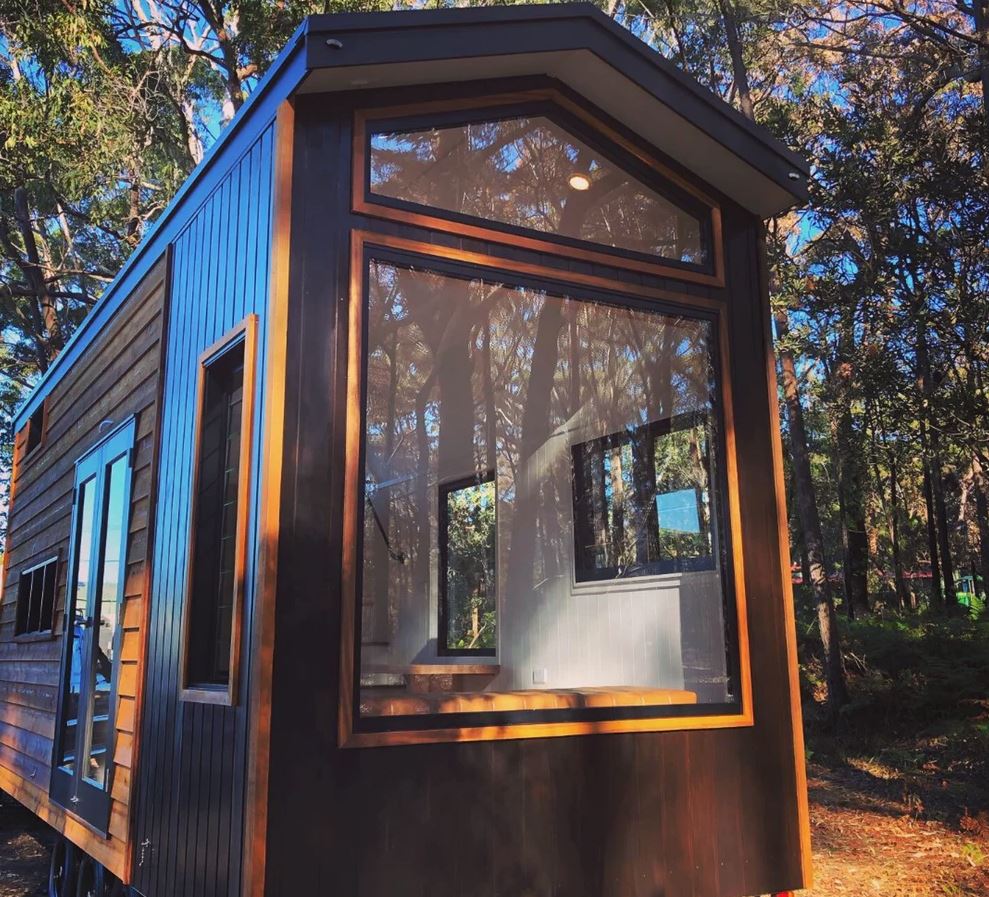 The large window wall dominates the entire structure, and it is easy to see that everything else was created and customized around it. It is basically two windows – a large square one and a small triangular one on top.
Double glazed glass was used, with a series of cross flow ventilation windows with louvers for good airflow.
Also read: This San Juan Tiny House With Elevator Bed Is Simply Breathtaking
"You're going to get a lot of heat gain or heat loss, especially in something this size," says Emans. "It can work well, but in a lot of cases it is too much heat loss and heat gain. If you're looking for a weekend escape its quite a dramatic feature, it's got a beautiful view and it's completely private. Most people stay in The Lazy Duck for two days only, so they can get away with it here."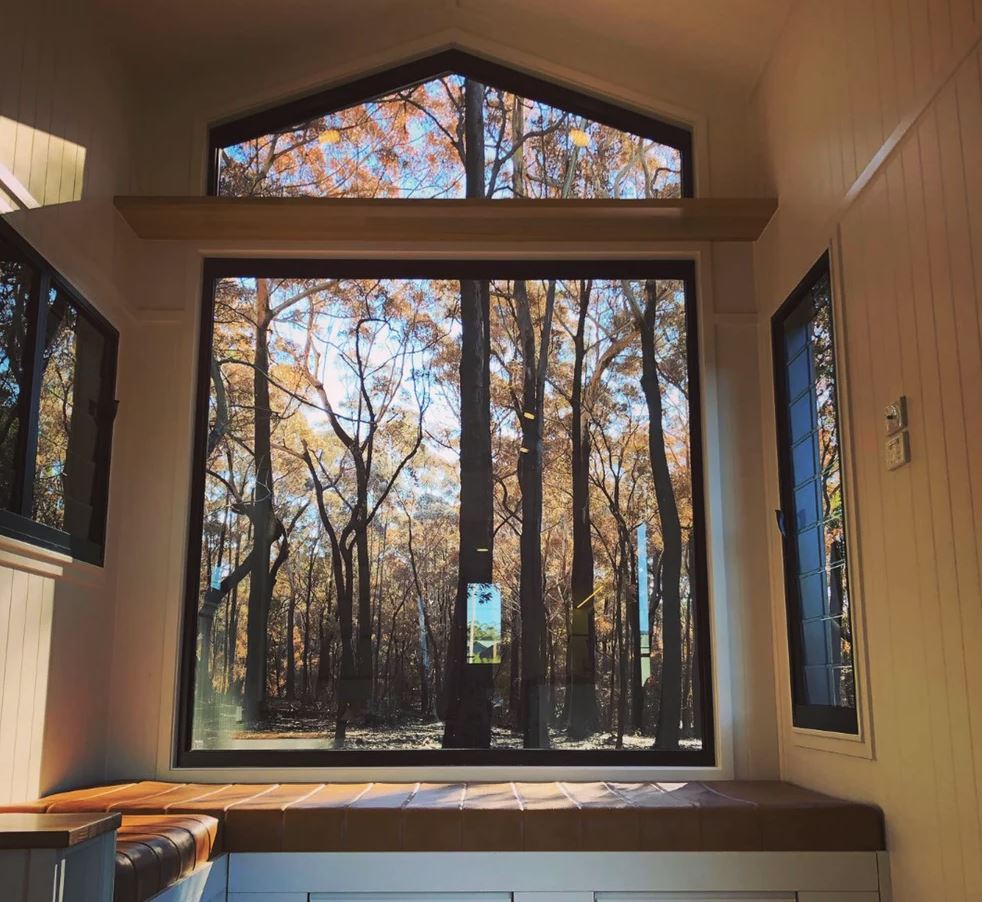 Cladding the Lazy Duck is locally-sourced cedar timber, apparently inspired by a bushfire that raged near Designer Eco Tiny Homes workshop.
"My favorite feature is probably the use of the two types of cedar on the external cladding," adds Emans.
"It's very dramatic it and reminded me of that really iconic Australian bush with the black burnt stumps and the trees in the background. We chose to use a rough horizontal cedar, with the smooth black Japan stained vertical cedar cladding on the back half, just to really make the back window with the triangle window at the top standout even more."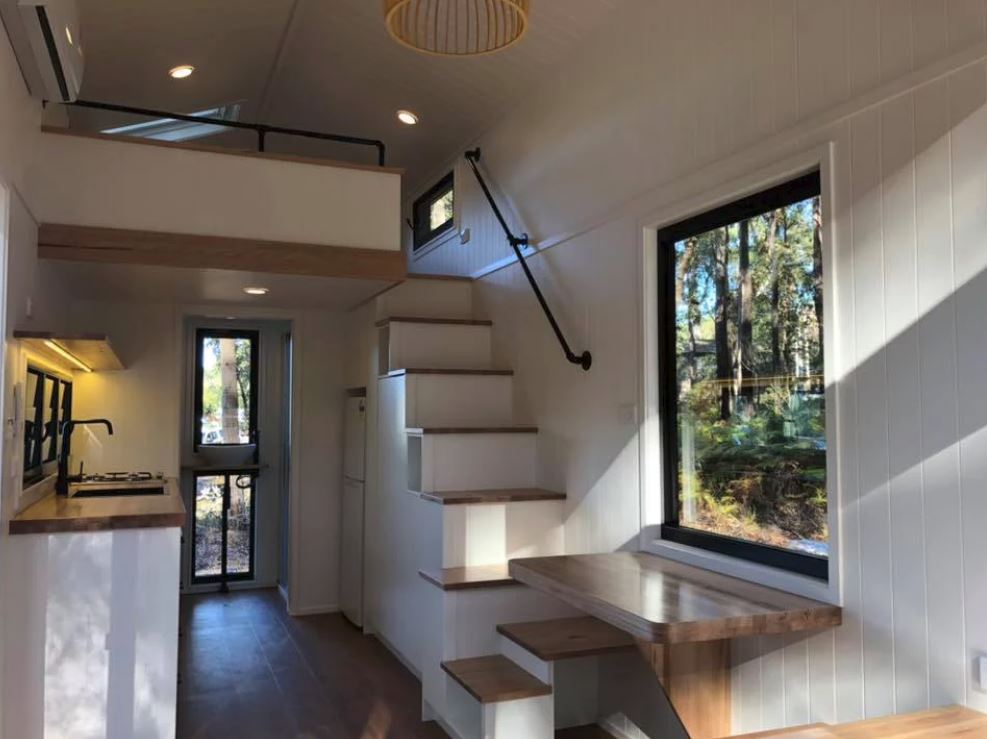 As is expected with the interior, you get a compact kitchen, full bathroom, elevated bedroom and lots of storage.
There is a dining area for two, and a lounge area below the large window, completed with a custom-built L-shaped sofa which can be converted into a double bed for guests. Meaning the entire tiny house can have 4 adults overnight.
Other features of the Lazy Duck tiny house are: double French doors that swing outward, a built-in two-seater dining table nestled under another large window, and a unique bathroom vanity.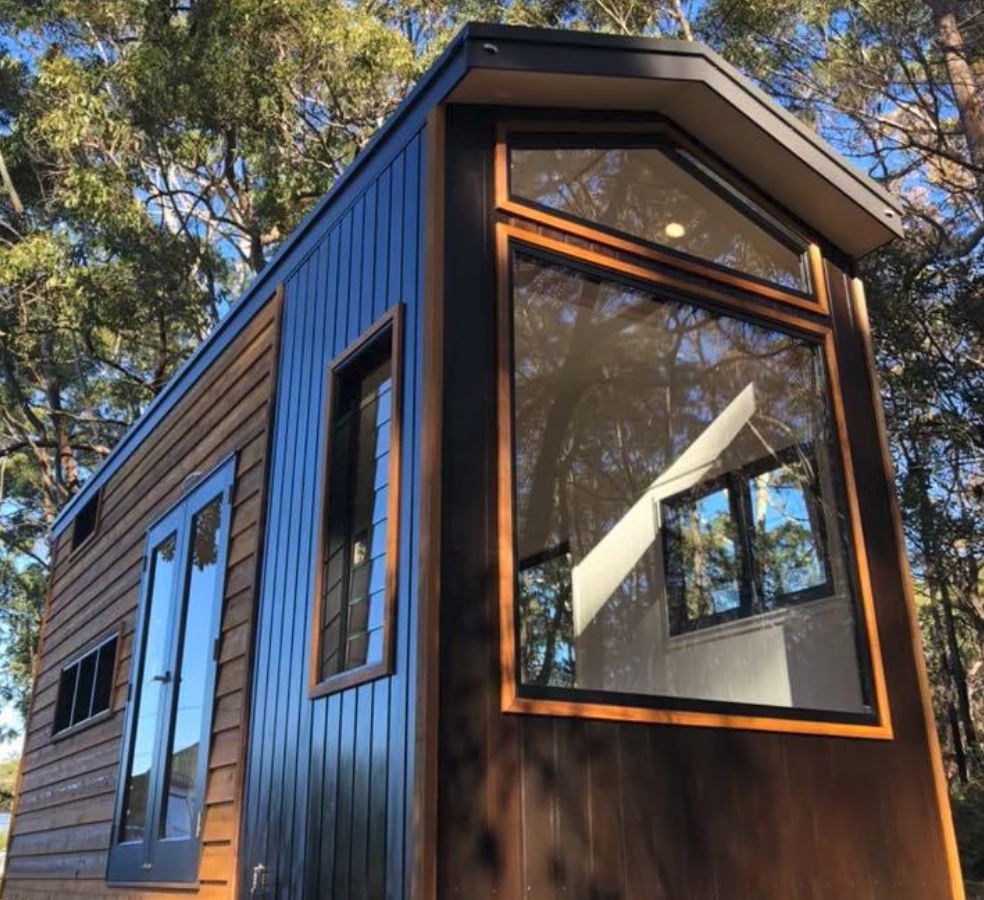 "This particular bathroom was very unique because the vanity is a one-of-a-kind," says Emans.
"I've never done it before and probably will never do it again. Well, we'll do it, we can make anything you want but it was a nightmare to build because we had to incorporate the plumbing into the window frame, which was very difficult.
But don't get me wrong, it looks great with strong black features and black pipe work, it was just very time consuming and expensive to make. Most of our clients are looking for sustainable living and a more economical approach to building their home."
The starting price for this tiny house is about US$60,500.