The Bohemian style of décor, more commonly known as 'boho', has been gaining popularity in recent years.
This design aesthetic is free-spirited, eclectic and artistic, an aspect that attracts those who seek to express themselves boldly.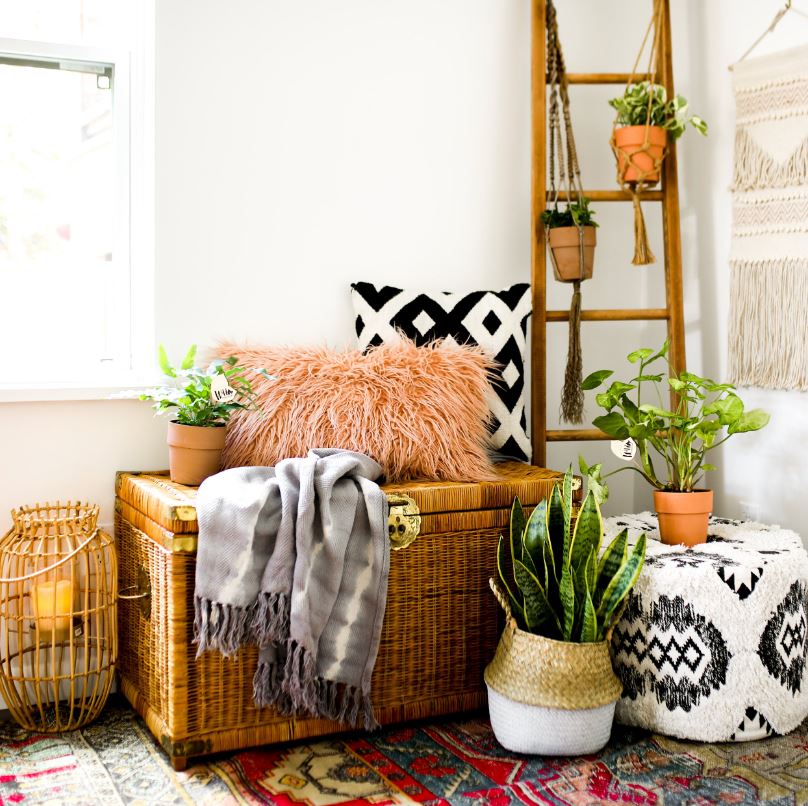 Make no mistake, in a world where Scandinavian minimalism is all the rave, Boho décor is not for everyone. It is more likely to attract hippies and aspiring hippies.
Boho décor can transform even the smallest of spaces into a vibrant and inviting haven. From the color schemes, to the furniture choices, and everything in between, boho décor embraces the unconventional.
Although it draws a lot from specific cultures such as Arabic and Caribbean, Boho décor is not restrictive, and the goal is to create a space that is not only visually stimulating, but one that also reflects your personality.
The term 'bohemian' typically refers to a group of unconventional artists who lived an alternative lifestyle in 19th century Europe.
In interior design, boho décor was shaped in the late 19th century Art Nouveau movement, but picked pace in the 1960s during the counterculture hippie movement.
People who choose to live in a tiny house other than a normal house, after for all intents and purposes unconventional. It is therefore no surprise that many tiny home owners are choosing a bohemian décor for their small spaces.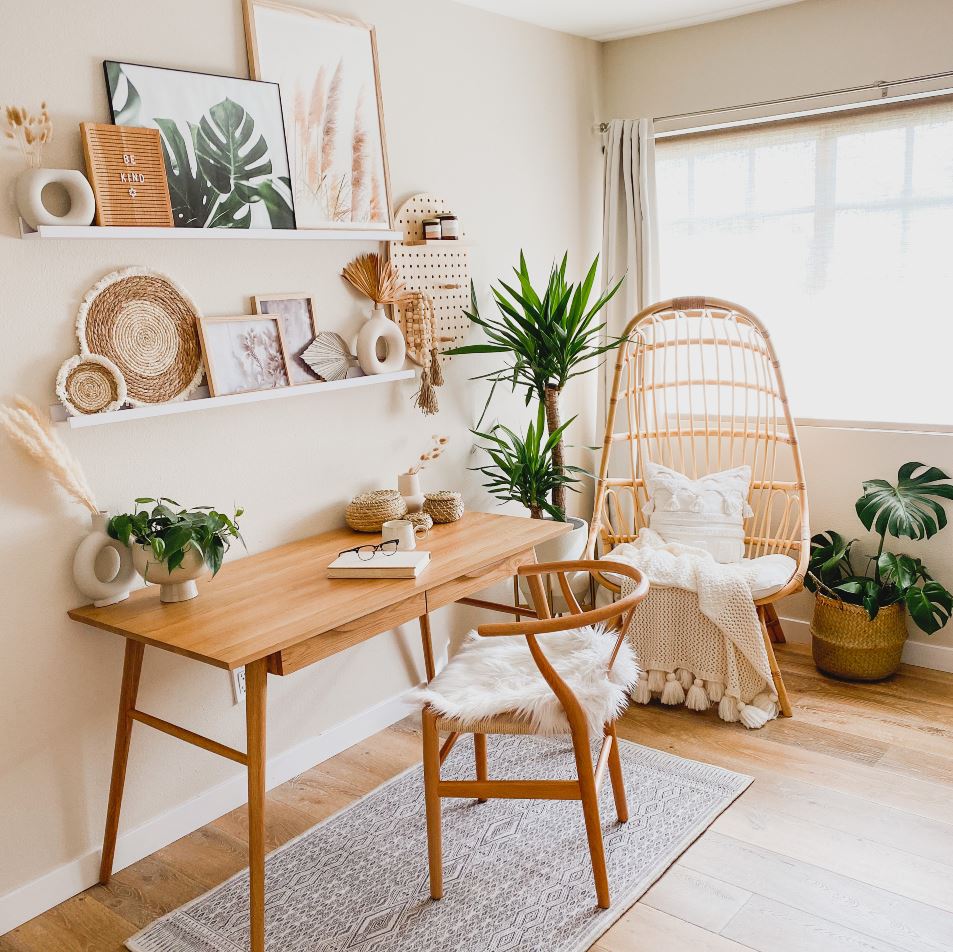 In this guide, we have over 100 boho decor ideas for your tiny house or small space.
we look at all the ways you can transform your tiny house, or for that matter a tiny space including a studio apartment, into a boho masterpiece.
If you find the article helpful, be sure to share it on Pinterest and other social media.
1. Choose Green & Brown Color Palettes and Patterns
At the heart of every boho decor, are the colors. Generally, the boho décor features rich and earthy color palettes, with warm hues, deep greens, rusty yellows and oranges.
While Scandinavian décor is big on neutral and light colors, boho is not afraid to through in some indigo or earthy red in there.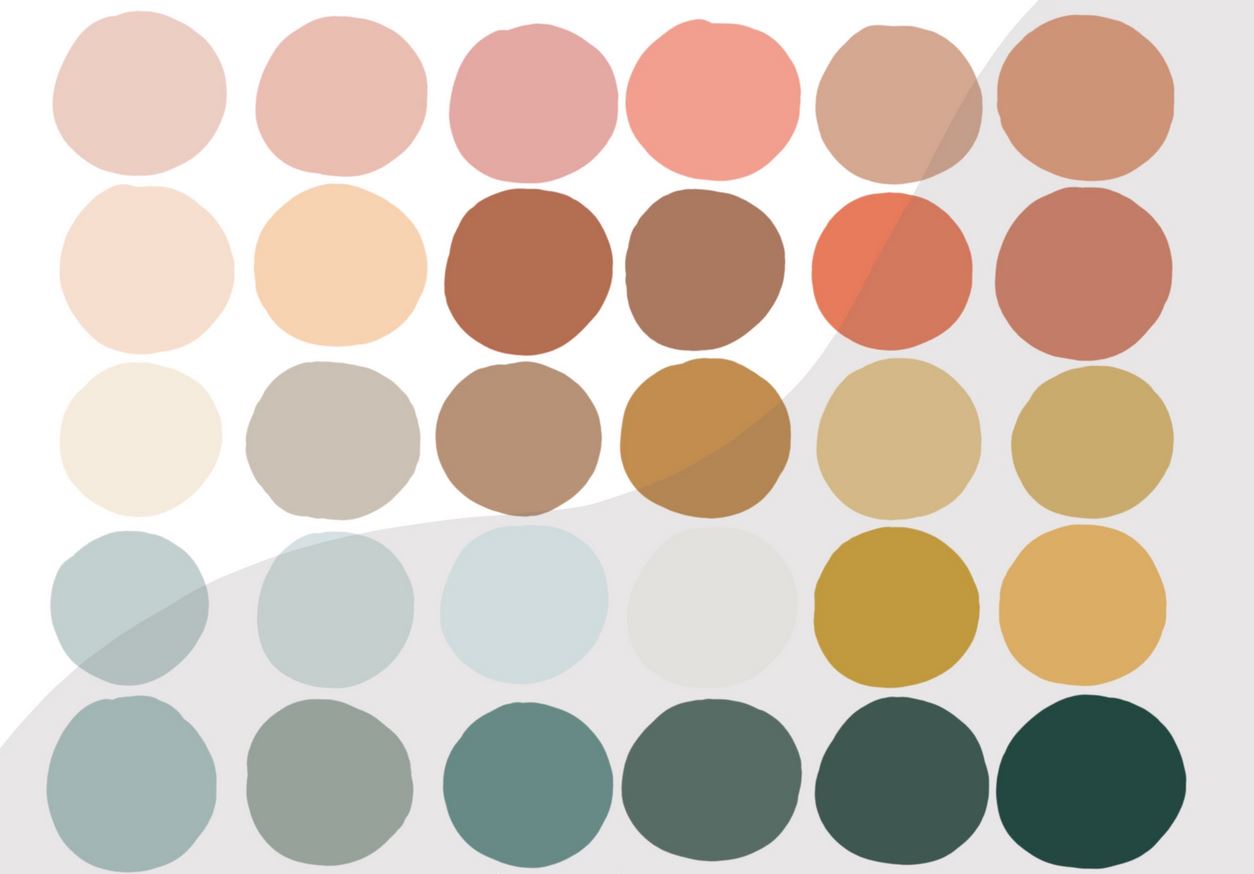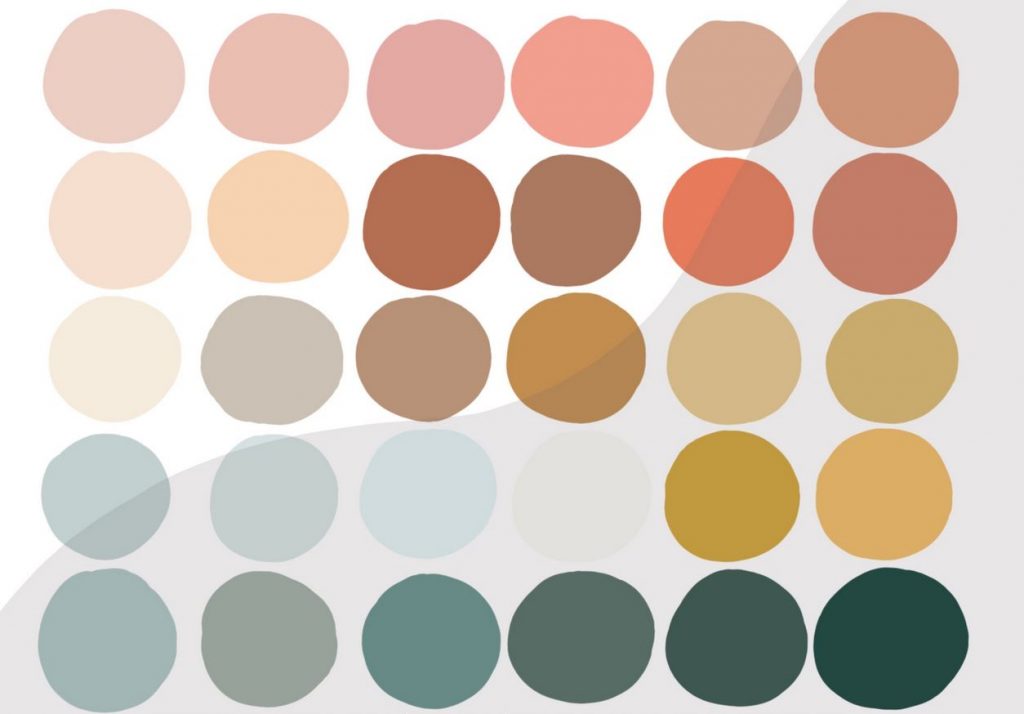 The point is not to hold back on your expressiveness. That's why you'll see all manner of color mixing, from tribal prints to floral wallpapers.
Overall, the palettes and patterns should have some kind of cohesion, that's why you should select those that share similar color tones and themes.
The theme should flow beautifully from the walls to the furniture.
Be bold and expressive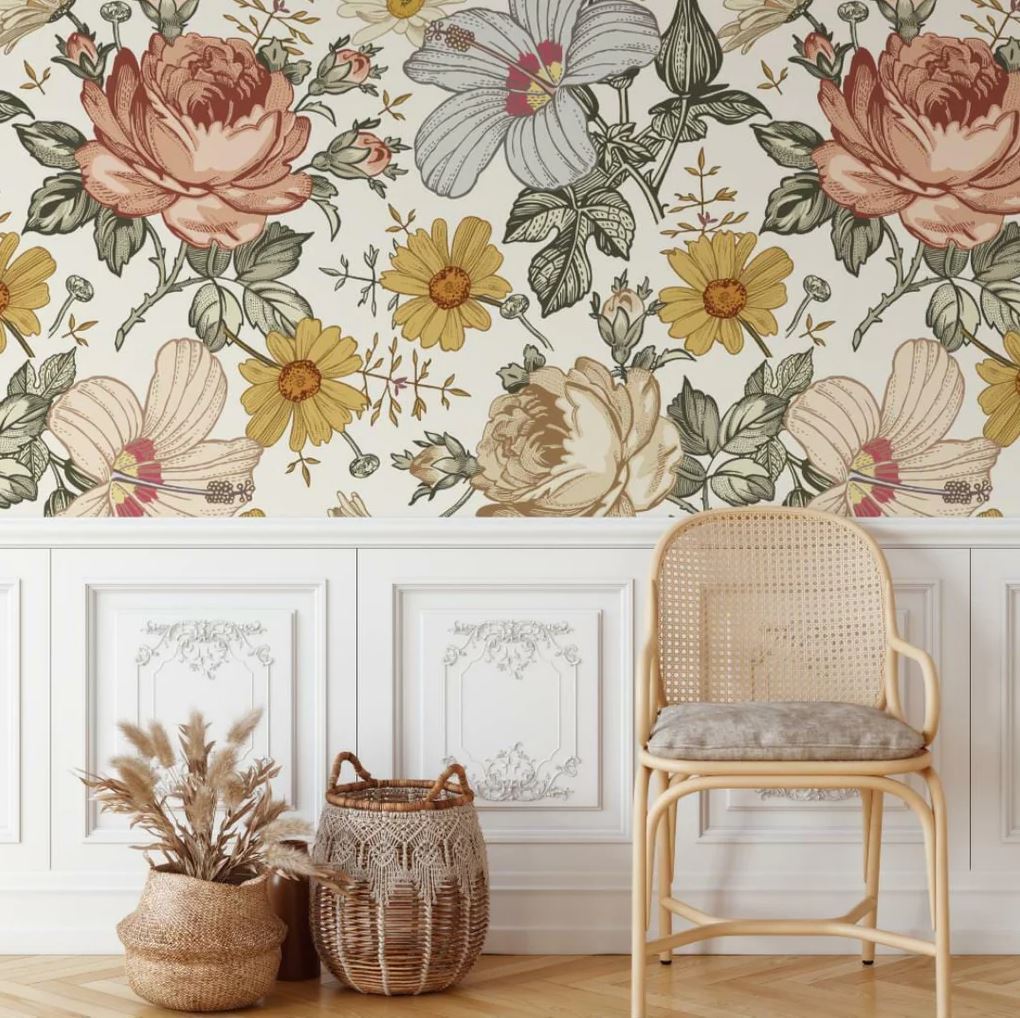 Go with a green floral wallpaper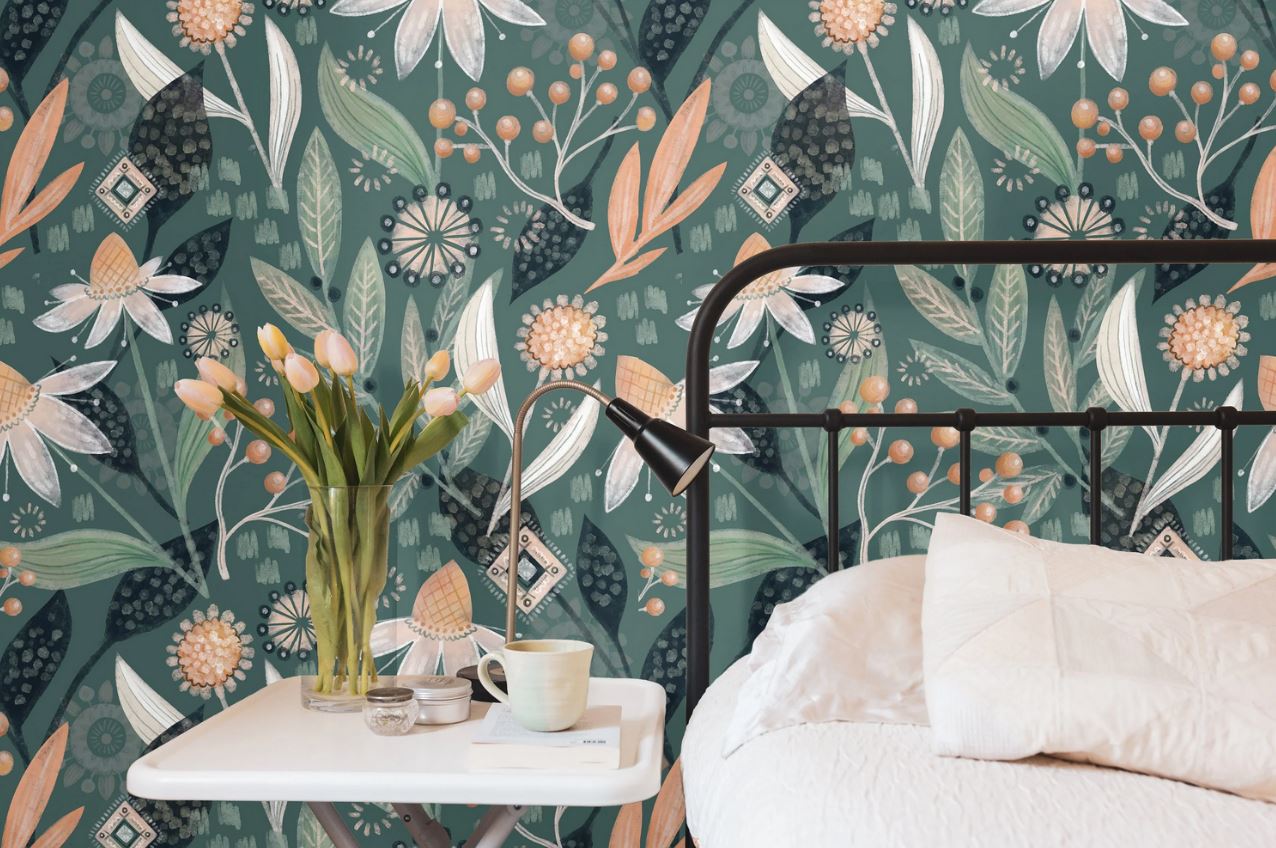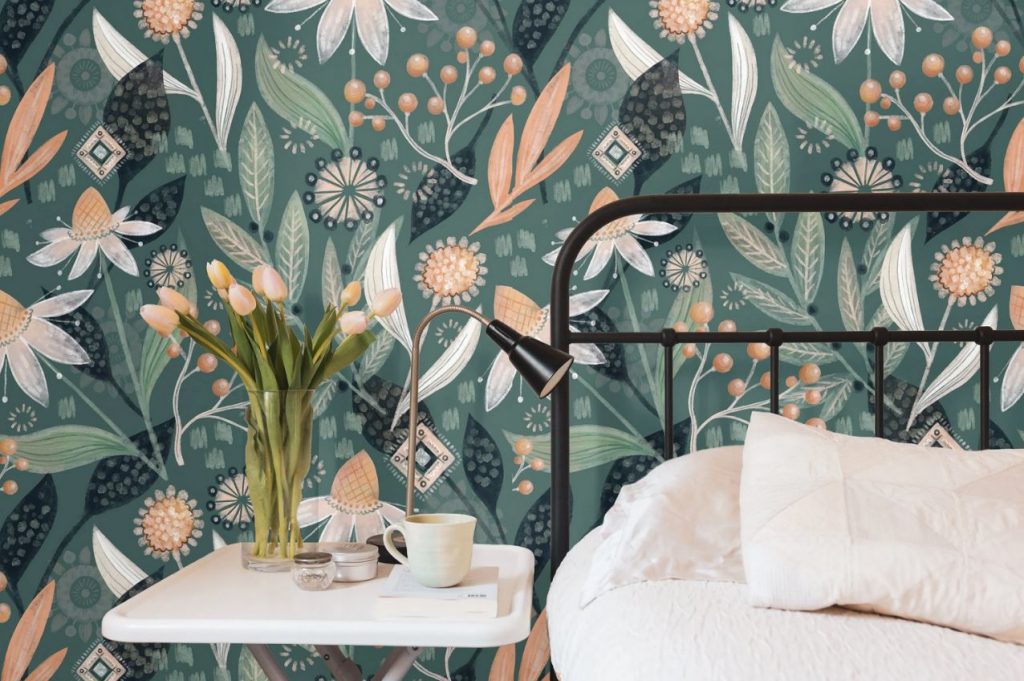 This green tropical leaf wallpaper mural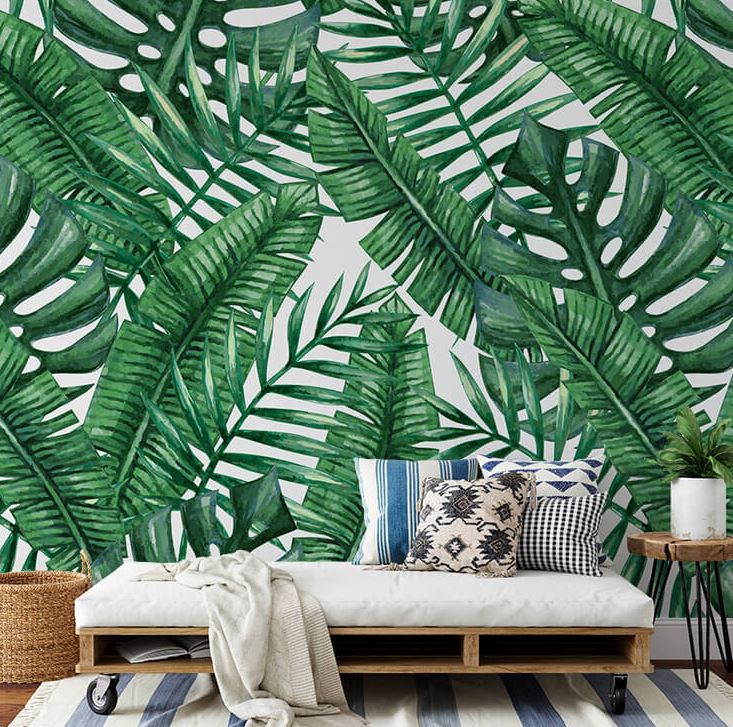 2. Subtle Boho Decor
Boho may be associated with chaotic beauty, but you may be surprised to hear that subtle boho exists.
It borrows some of the design aspects of bohemian, but makes it less overwhelming.
Instead of floral patterns or colorful wallpapers, a simple boho decor will opt for mostly plain walls. In most cases, the only things that shouts 'boho' are the knick-knacks on the floor, wall or ceiling.
If you're big on minimalism or Scandinavian décor, you can add just a hint of boho like these home owners.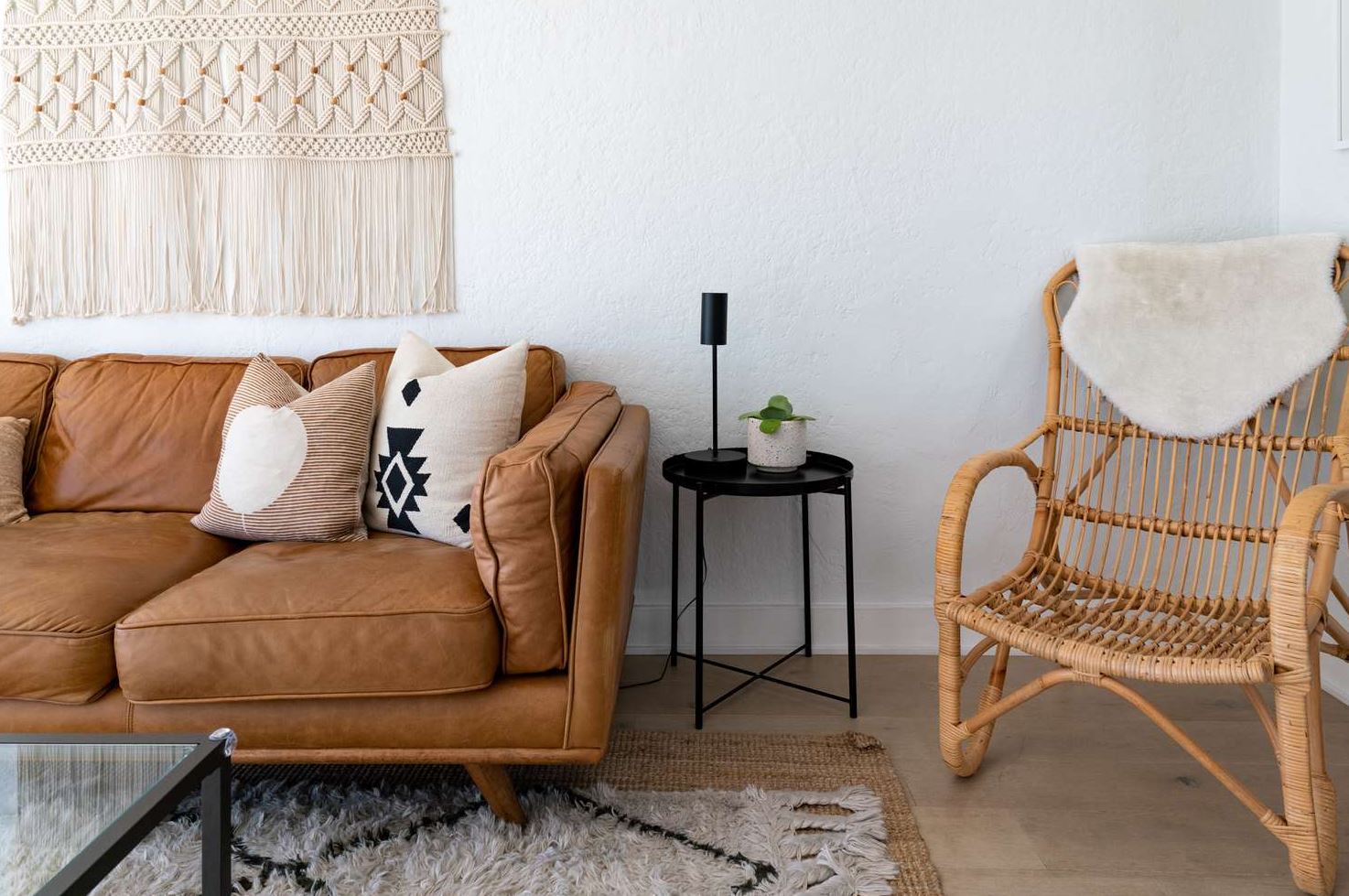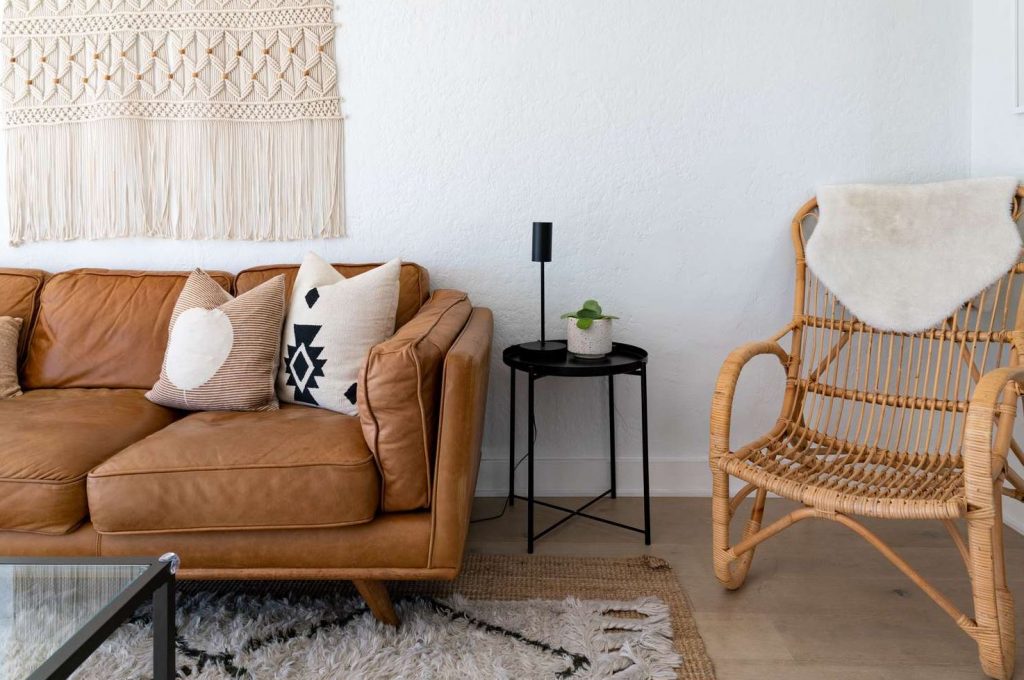 This bedroom could pass for any Scandinavian bedroom, if not for the signature boho features like the hanging macramé wall art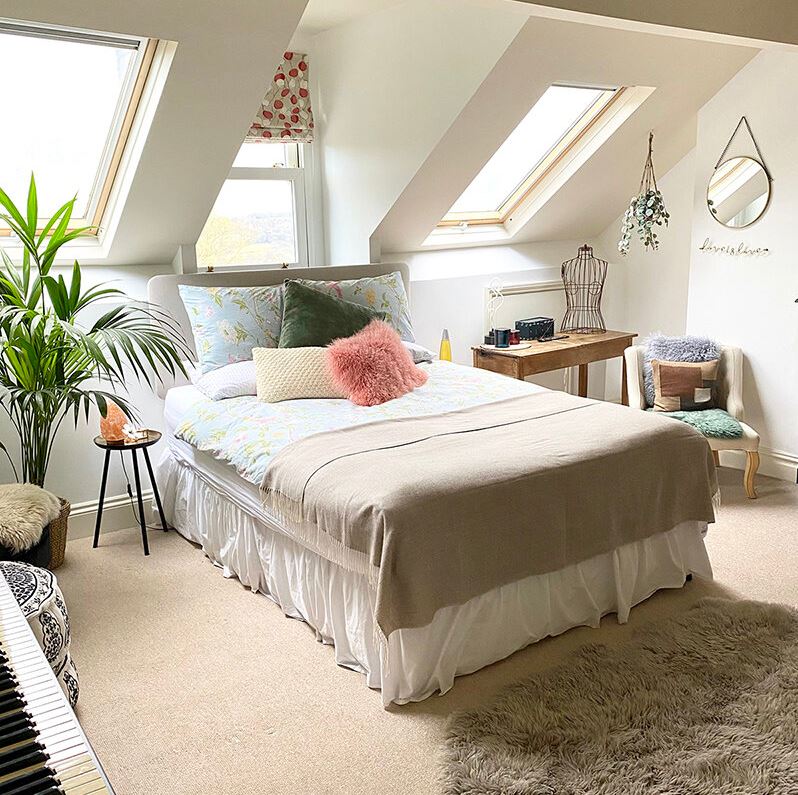 3. Neutral Colors Boho Style
Closely related to a subtle boho style, are a neutral decor.
It may seem counterproductive that a style associated with vibrant, 'in your face' colors and patterns can actually be tamed down.
Basically for neutral colors, we're talking of mostly white, brown, grey and black. Paint your tiny house or small space in these colors, adopt similar colored furniture, then add boho decorations, which could include wall art or rugs.
Here are two neutral-colored boho spaces that I absolutely adore.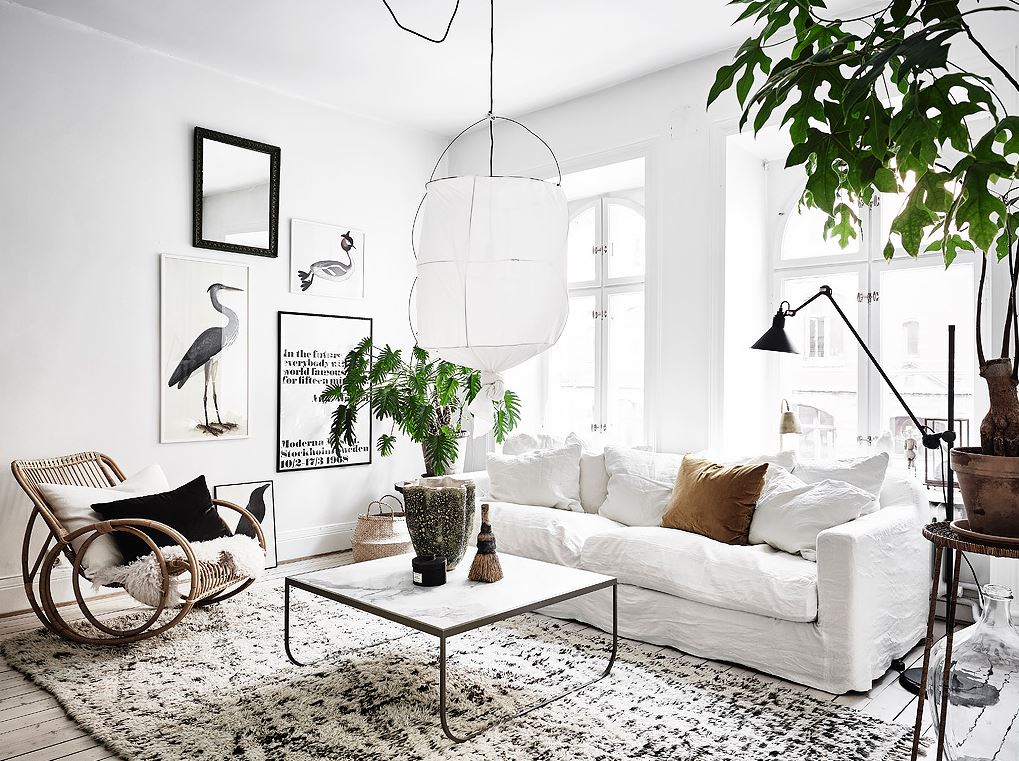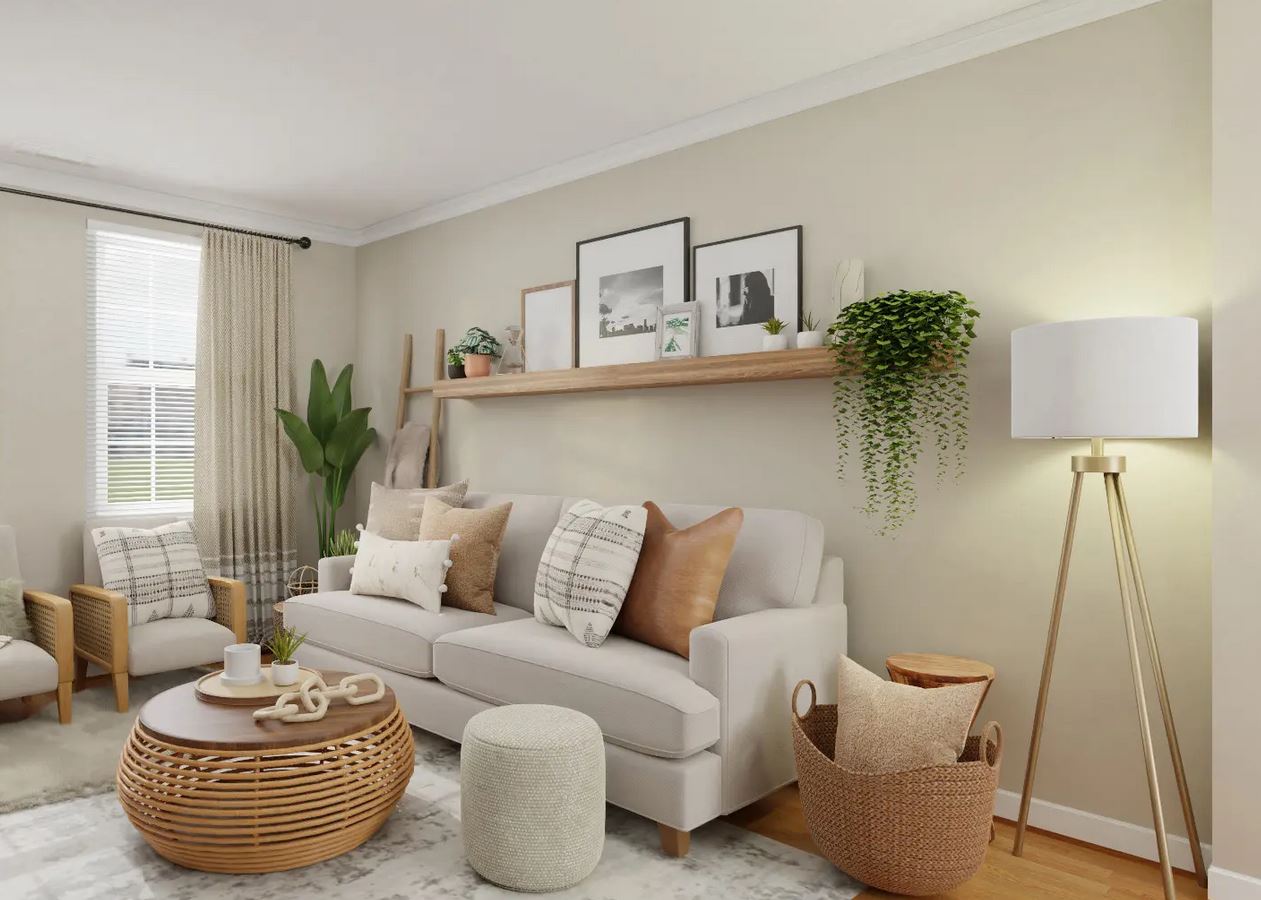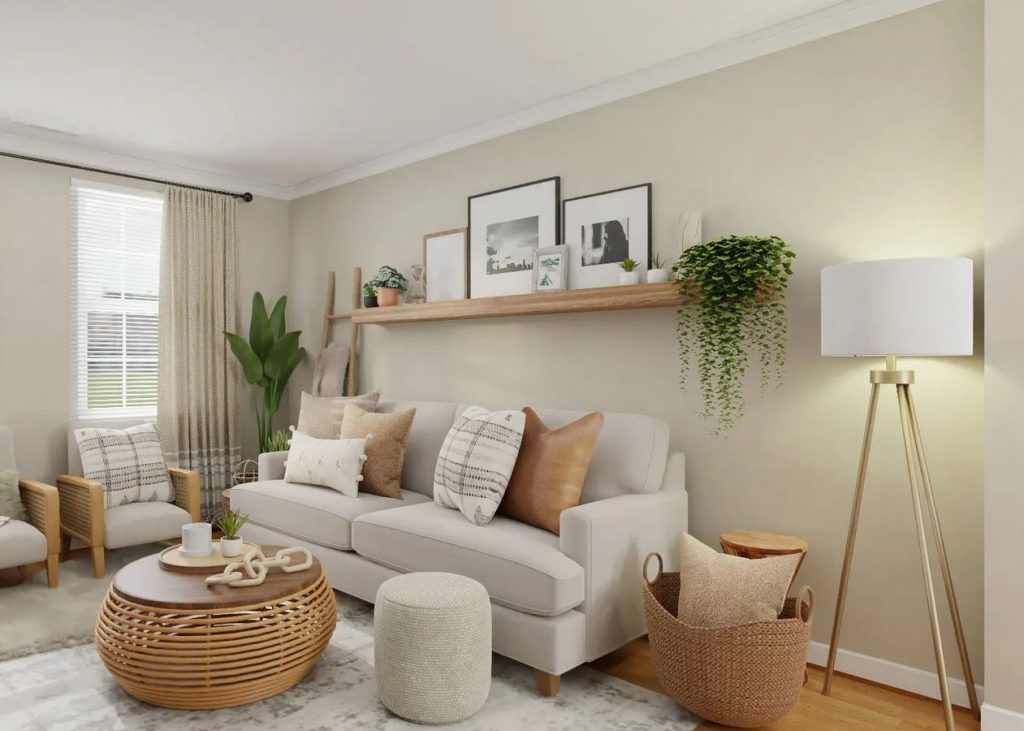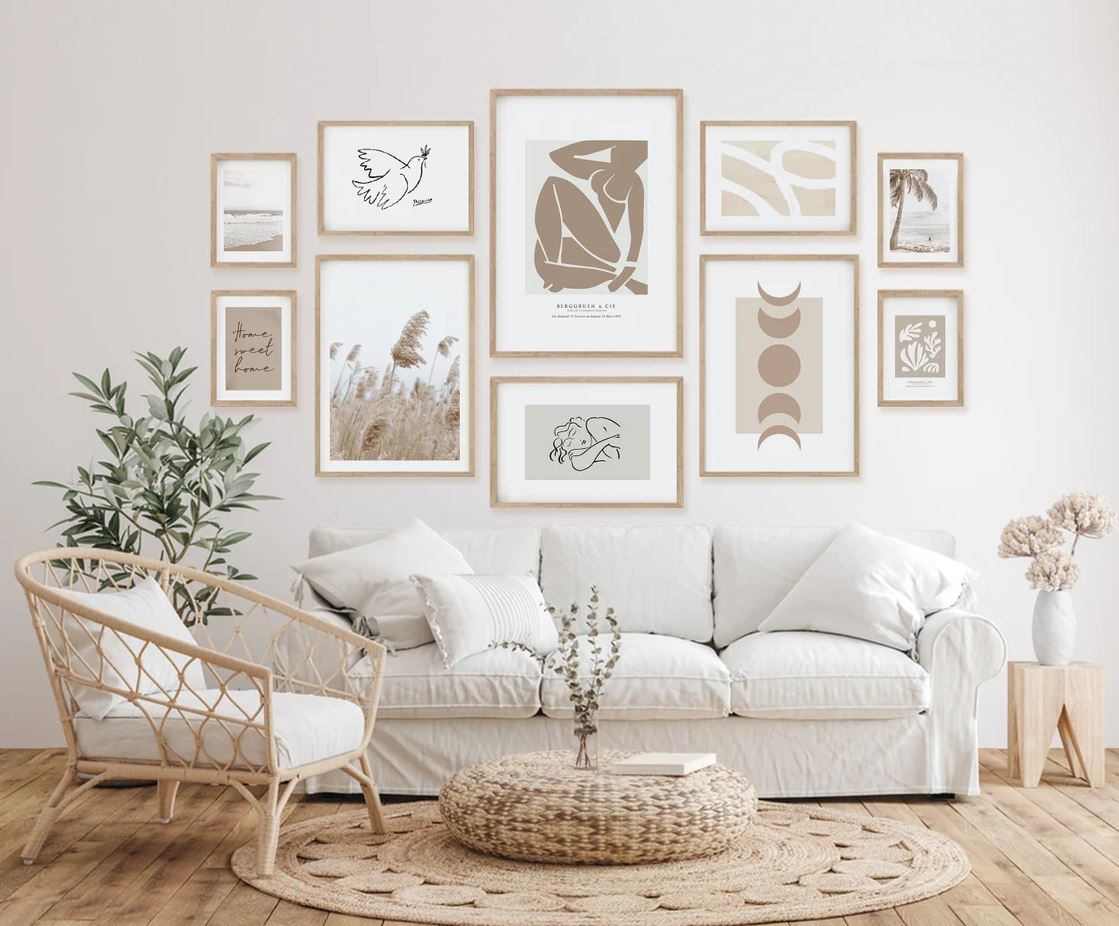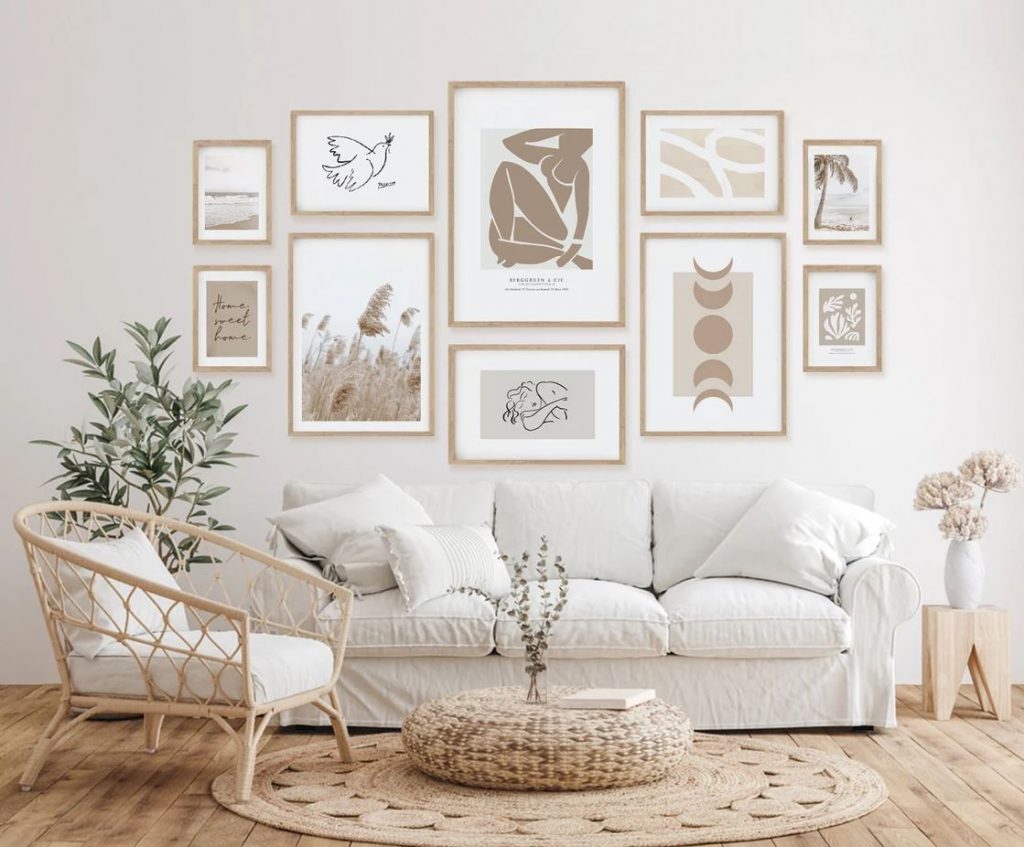 4. Go With Botanical Boho Prints
Opting for botanical prints in your boho is a simple way to enhance the overall aesthetics, while not breaking big bank.
Even without physical plants or flowers, botanical prints featuring leaves, plants or flowers bring the outdoors inside. They are perfect in creating that cool atmosphere.
They also provide points of visual interest, and are a great conversation starter.
You can incorporate botanical prints in you bedding, pillows, wallpaper, upholstery and more.
Having botanical prints in your small space is also an expression of your personality.
Beautiful botanical prints wall art in a living space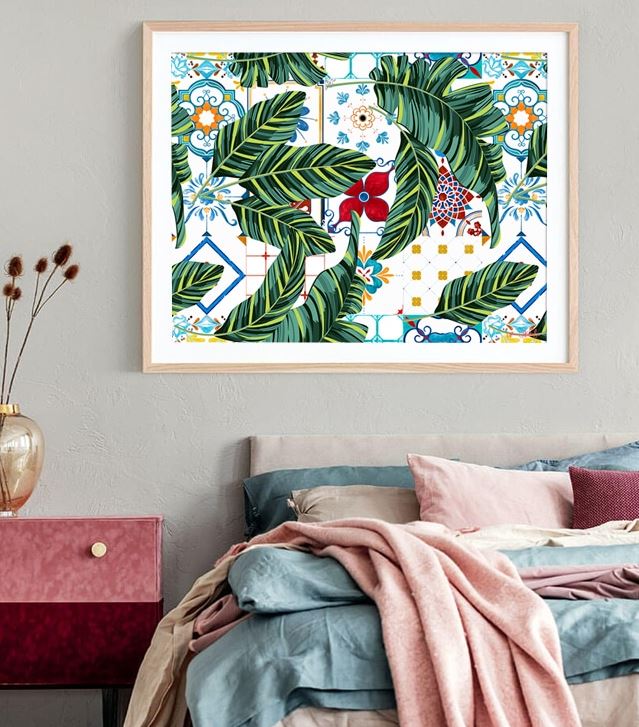 Botanical prints on throw pillows and upholstery are a great way to adopt boho decor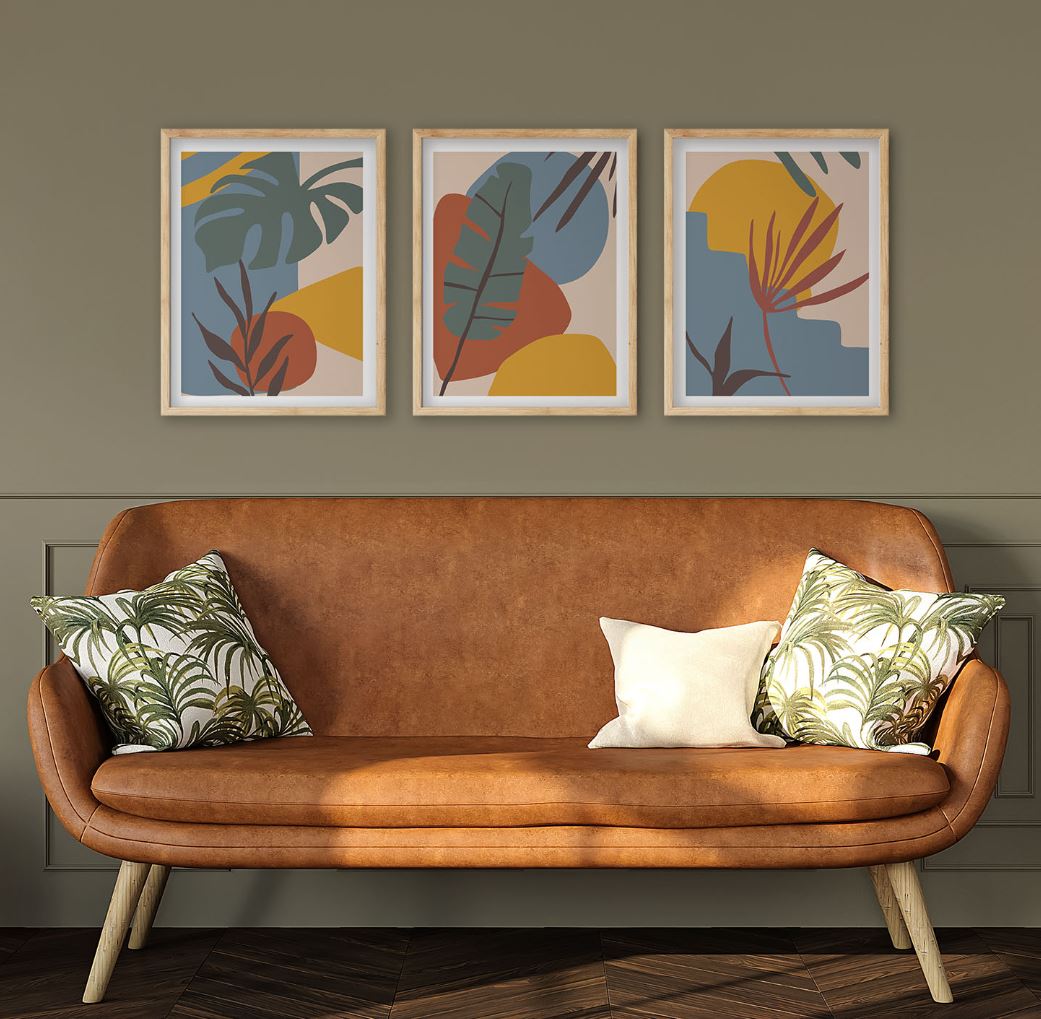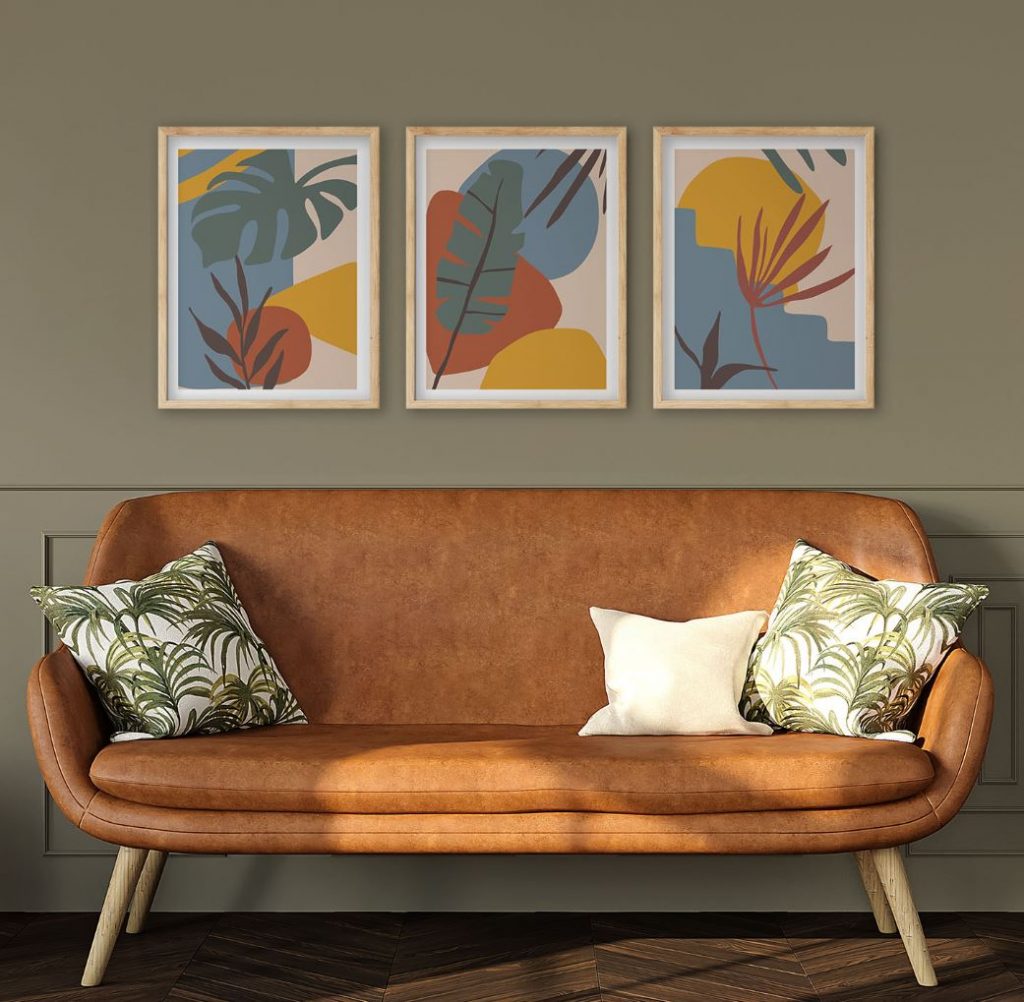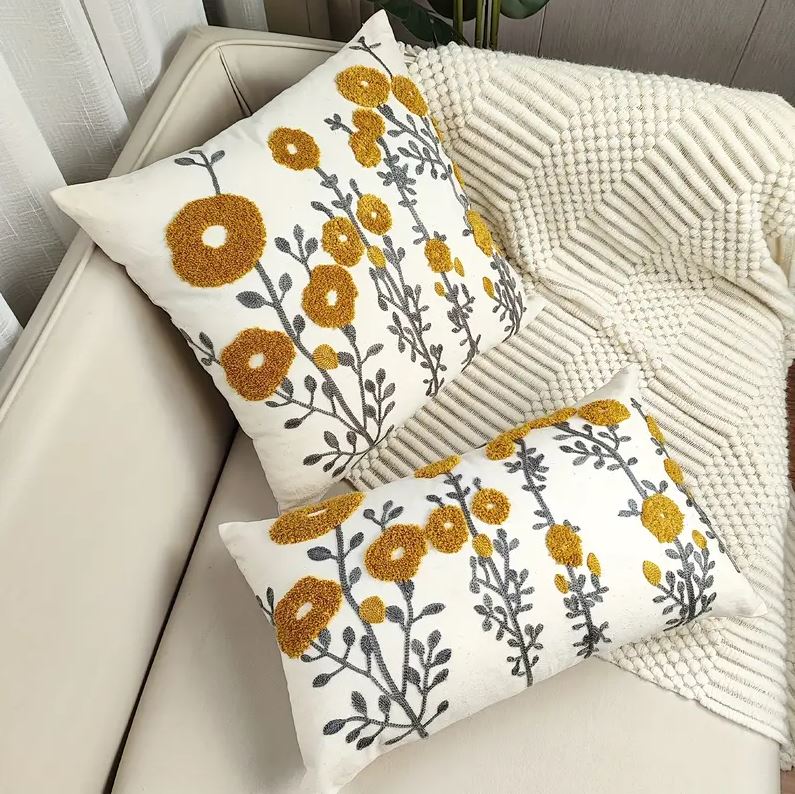 5. Choose Funky Wallpapers
If you want an even more vibrant small space, why not go for funky wallpapers. They add a touch of creativity and individuality, which is the whole essence of bohemian lifestyle.
Funky wallpapers are also excellent in infusing some contrast in the room, creating an even more lively environment.
Above all, they are statement tools and a point of interest to any guests you'll host in your tiny house or small space.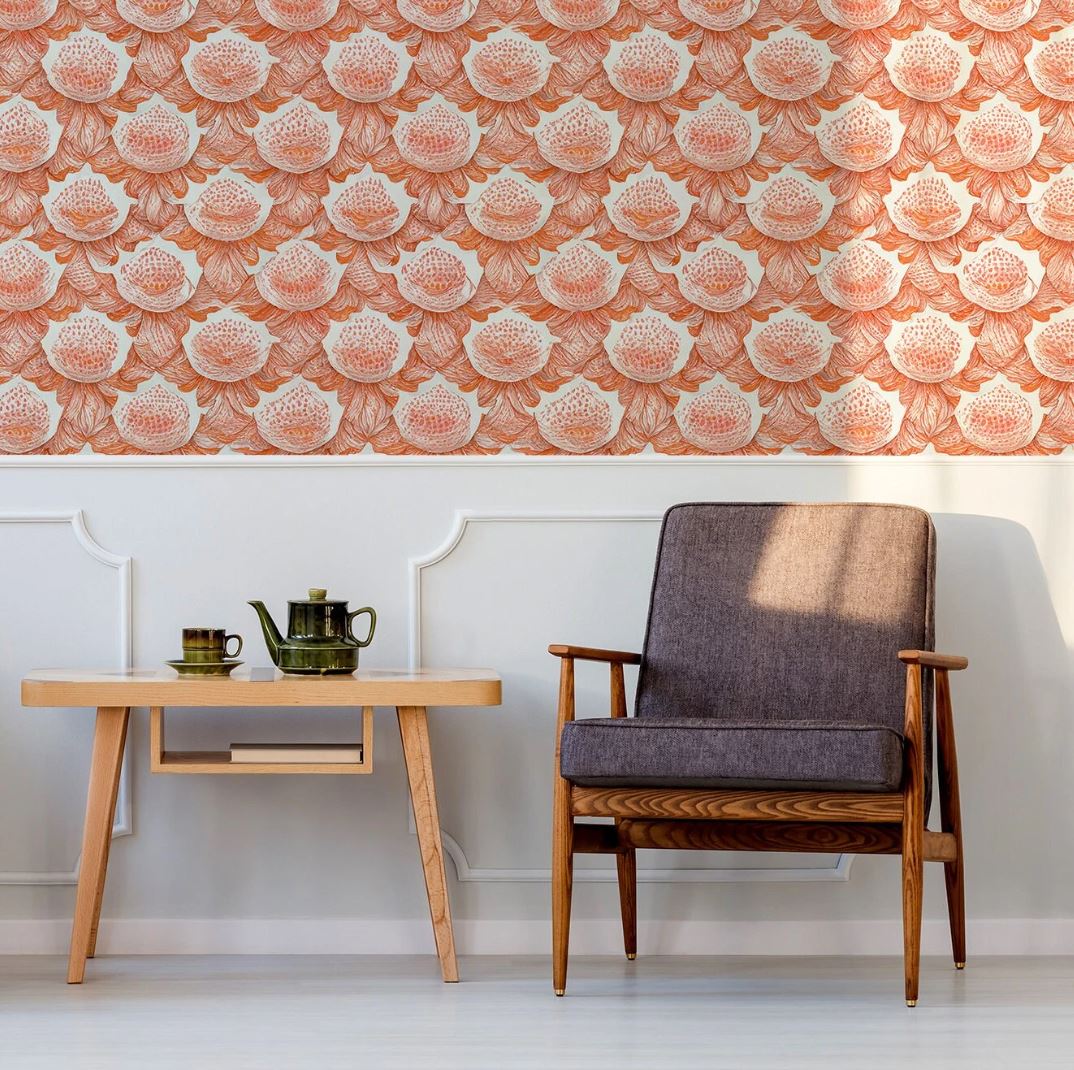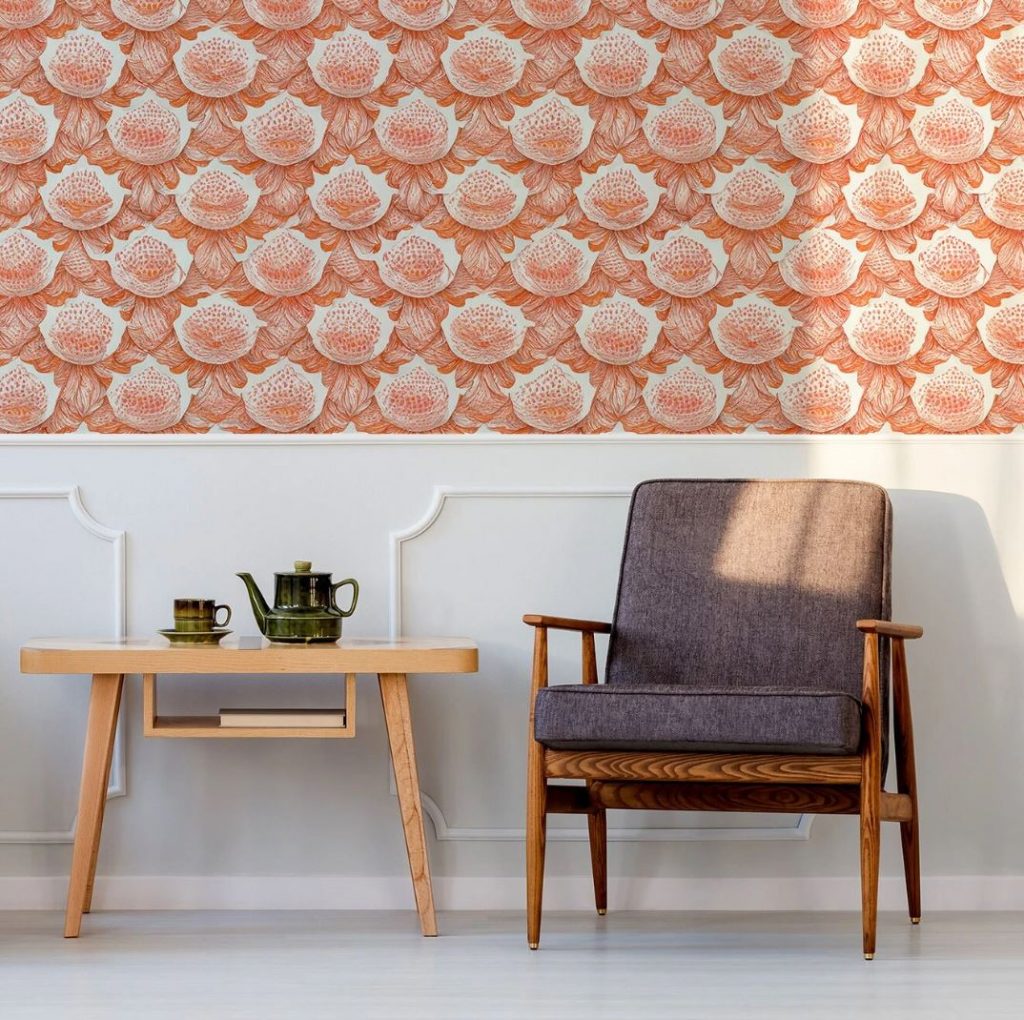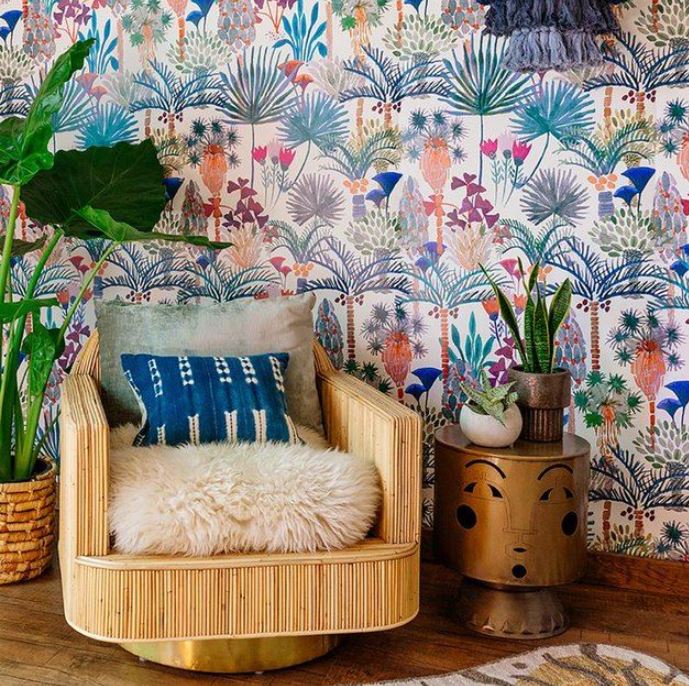 6. Adopt a Monochromatic Theme
Adopting a monochromatic color palette for your boho decor means adopting shades of a single color throughout your living space.
Monochromes add some form of subtle elegance and sophistication that is absent in other vibrant and shouting boho styles.
Most people find monochromes warm, cozy and inviting, and frankly less overwhelming.
It's all a personal choice, and here are some examples that you can copy from.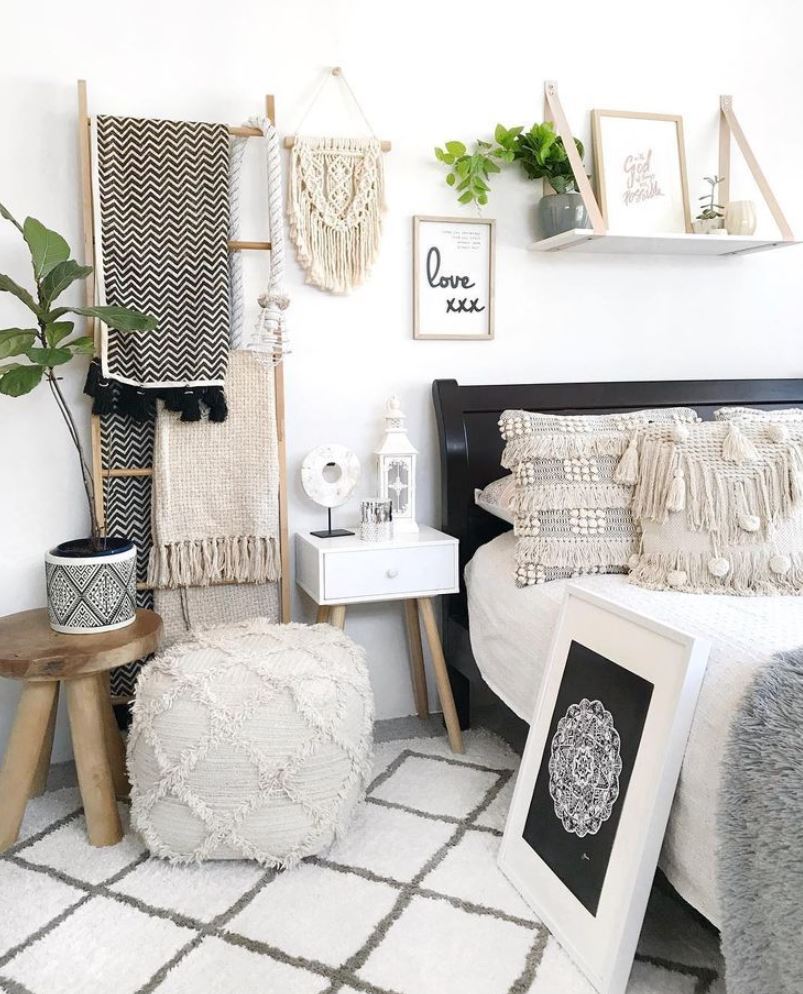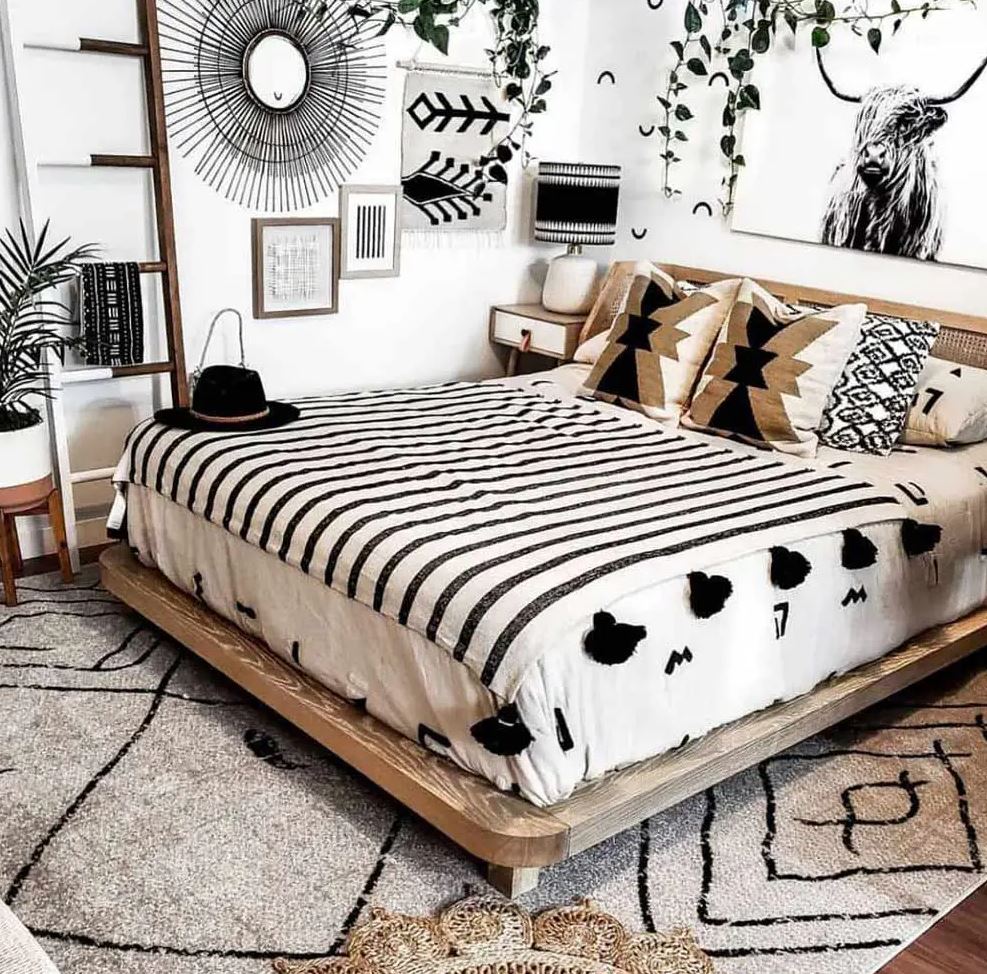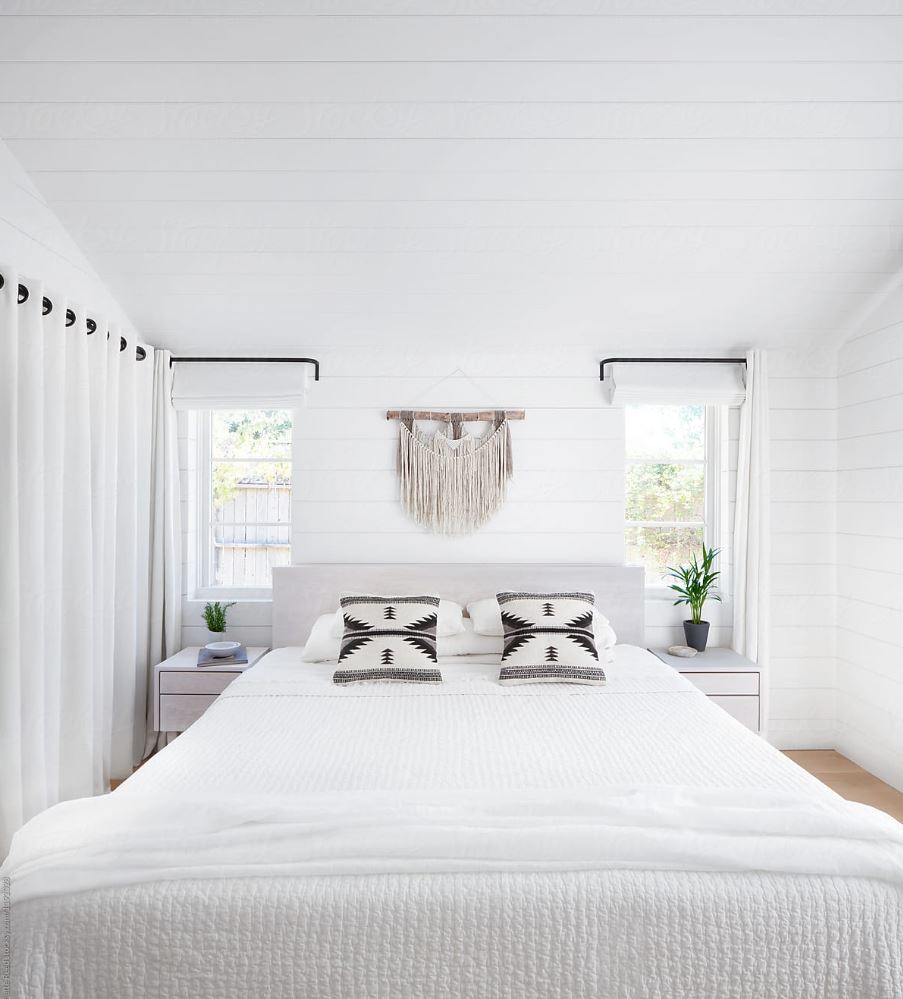 7. Add Natural Touches To Your Furnishing
Try and incorporate as many natural elements to your boho living space as possible. This can be anything from plants – to bring in the outdoors, to something as simple as your choice of furniture.
Brown, exposed wood furniture can be the centre pieces of your small boho living space.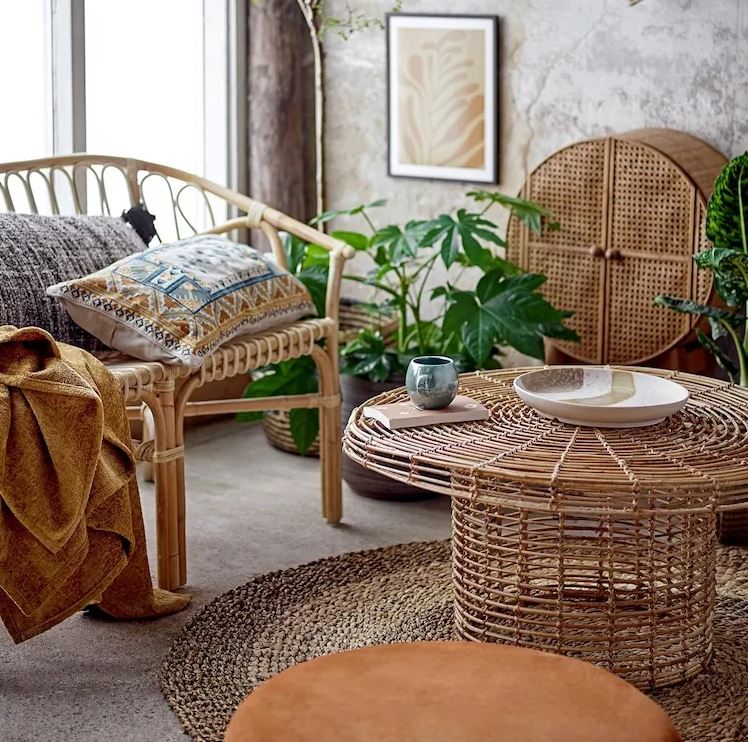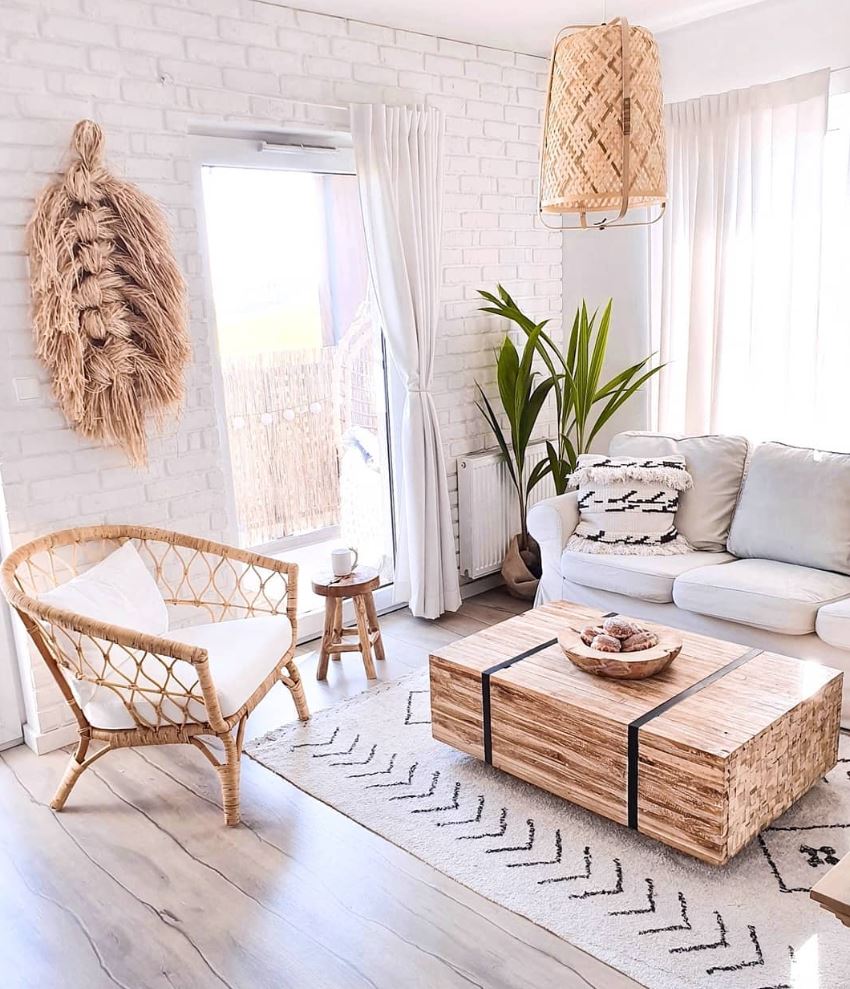 8. Go Bright and Colorful
On one extreme of the boho decor is bright, colorful and screaming finishing. You need to be a brave soul for this one, because you'll certainly be a topic of conversation beyond the walls of your tiny house.
With such a choice, it will be immediately apparent that you have a very expressive personality. This kind of decor will reflect on your adventurous spirit.
Experiment with various patterns and textures, and at the end of the day, you'll realize that there is no wrong way of doing it.
From the wallpaper, to the rugs, to the bedding.. your choices are unlimited.
Here are a few ideas.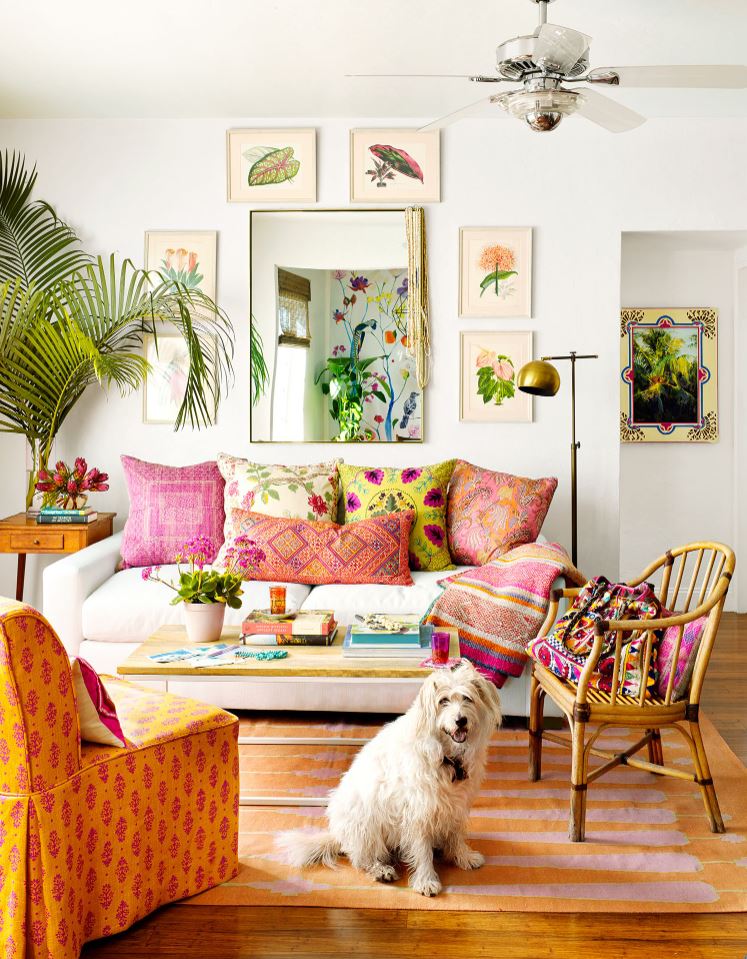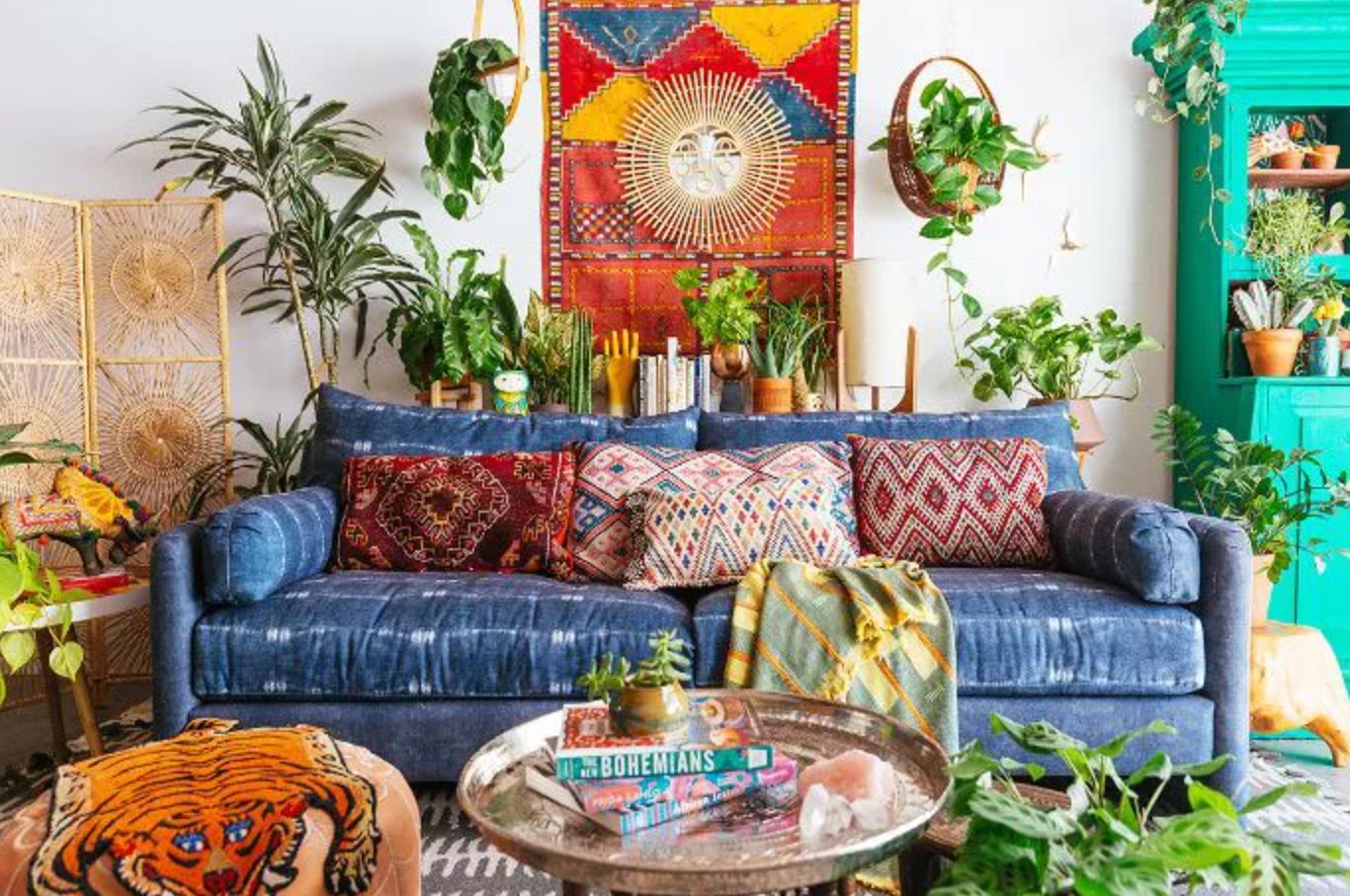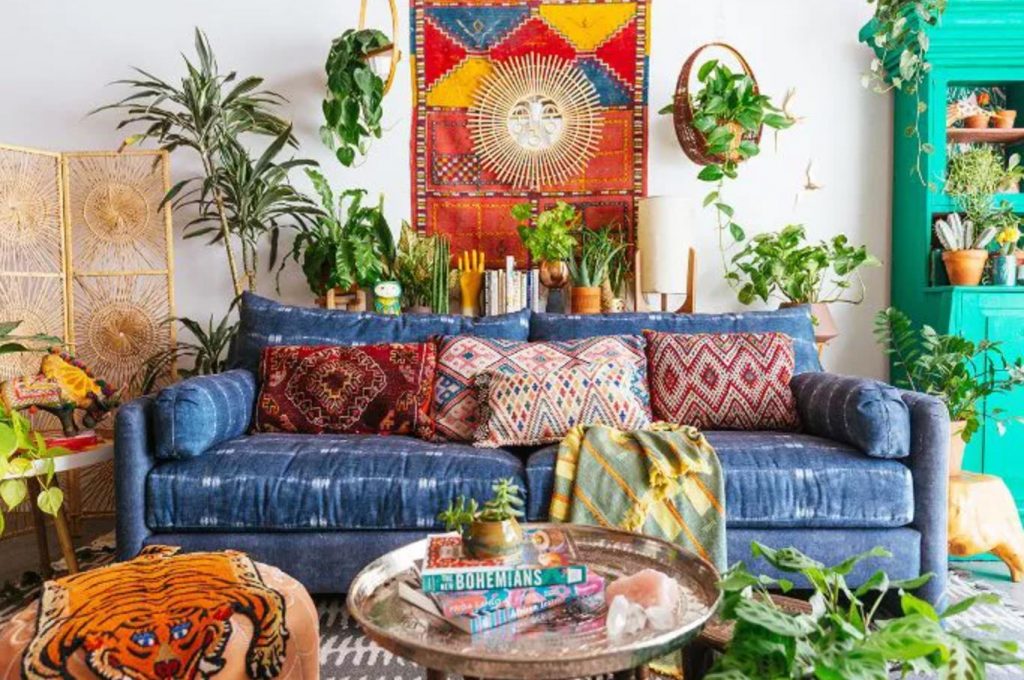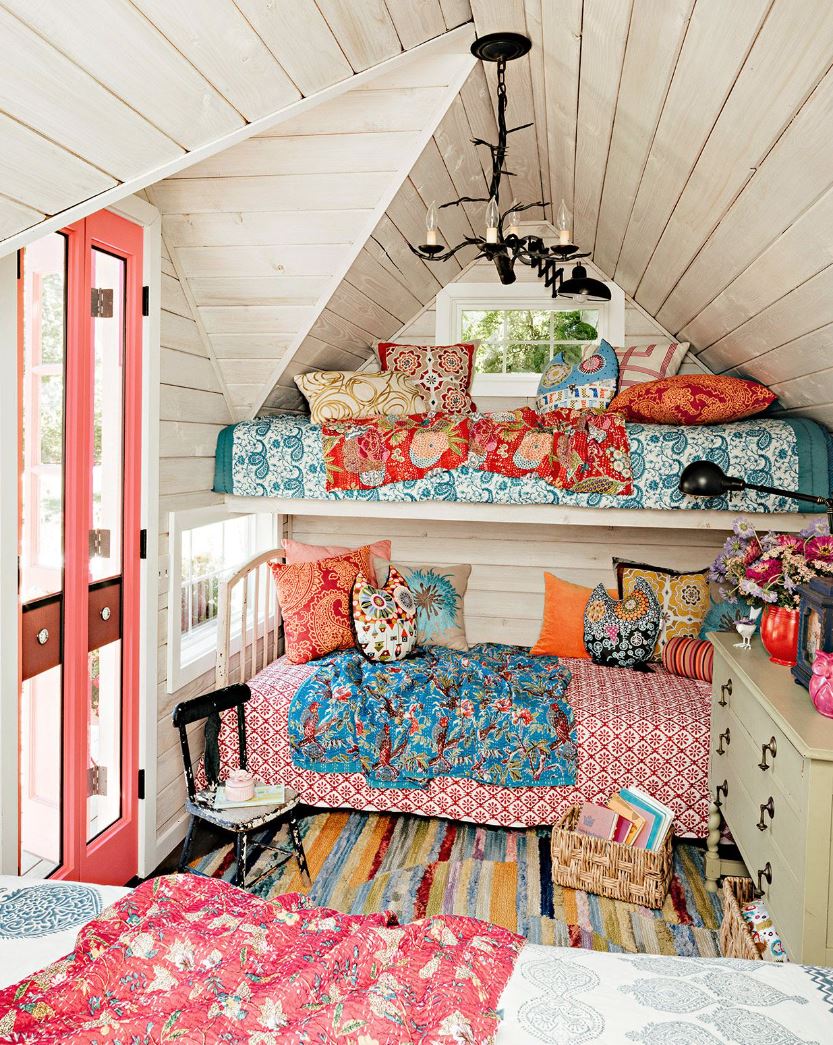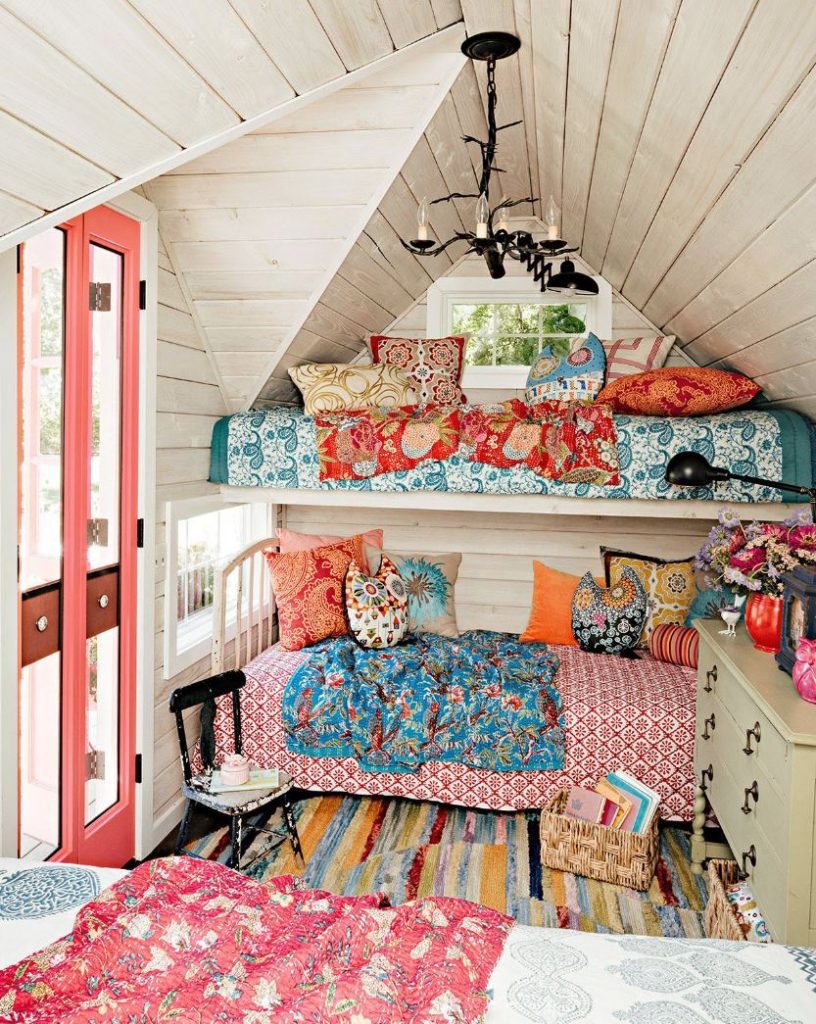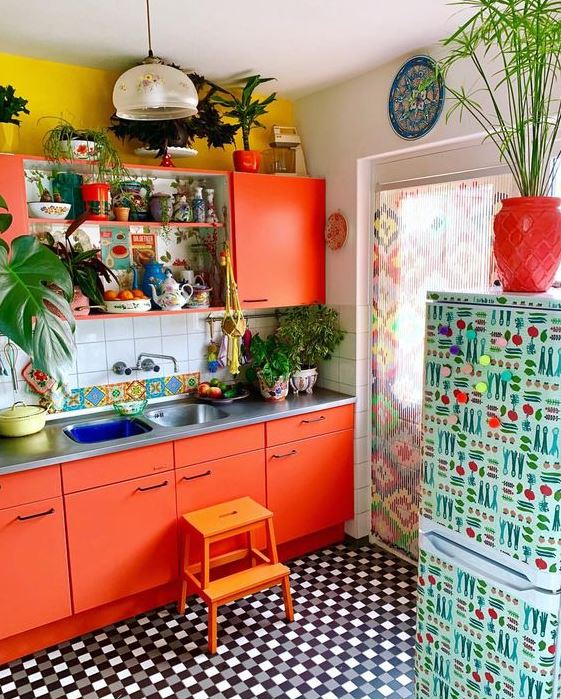 9. Go Dark With The Boho Decor
On the other extreme is moody and dark. While it may seem counter-productive to the bohemian movement on first glance, some creative people have been able to pull it off with stunning success.
Again, this will depend on your personality and your idea of a cozy living space.
Choosing a dark decor doesn't necessarily mean you can't add some colorful elements.
Check out these examples.
Use lots of dark tones, but don't forget elements of color like the plants and flowers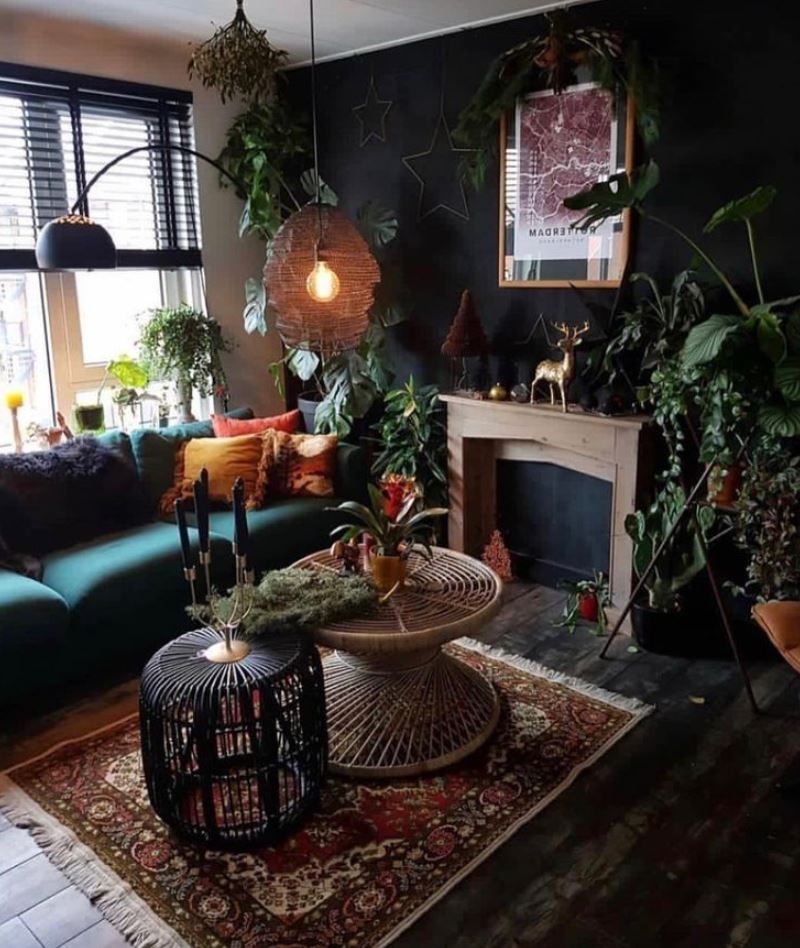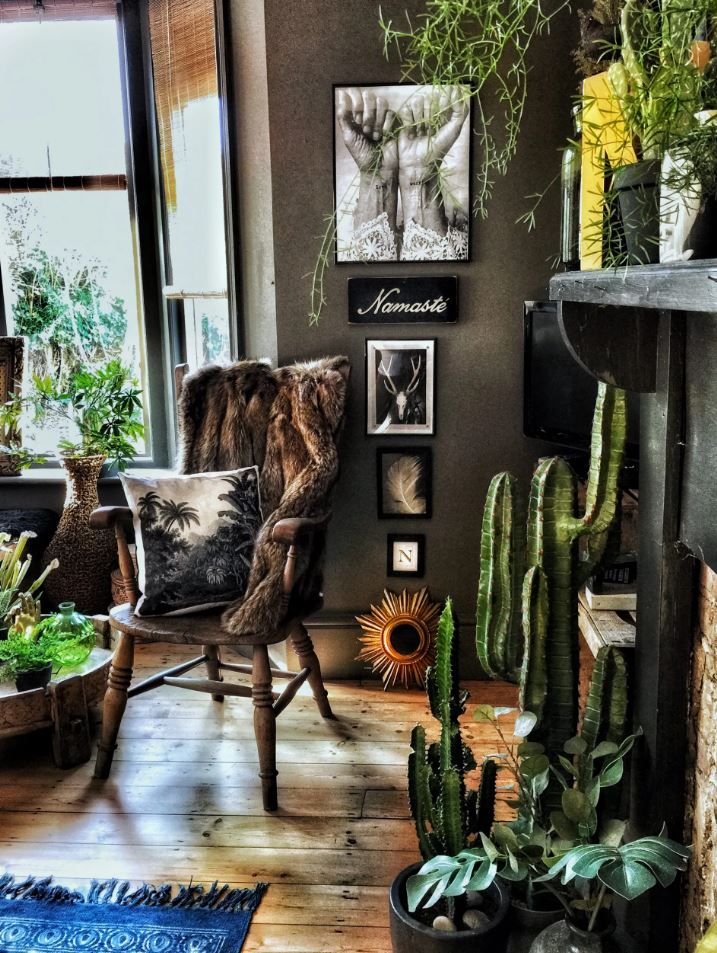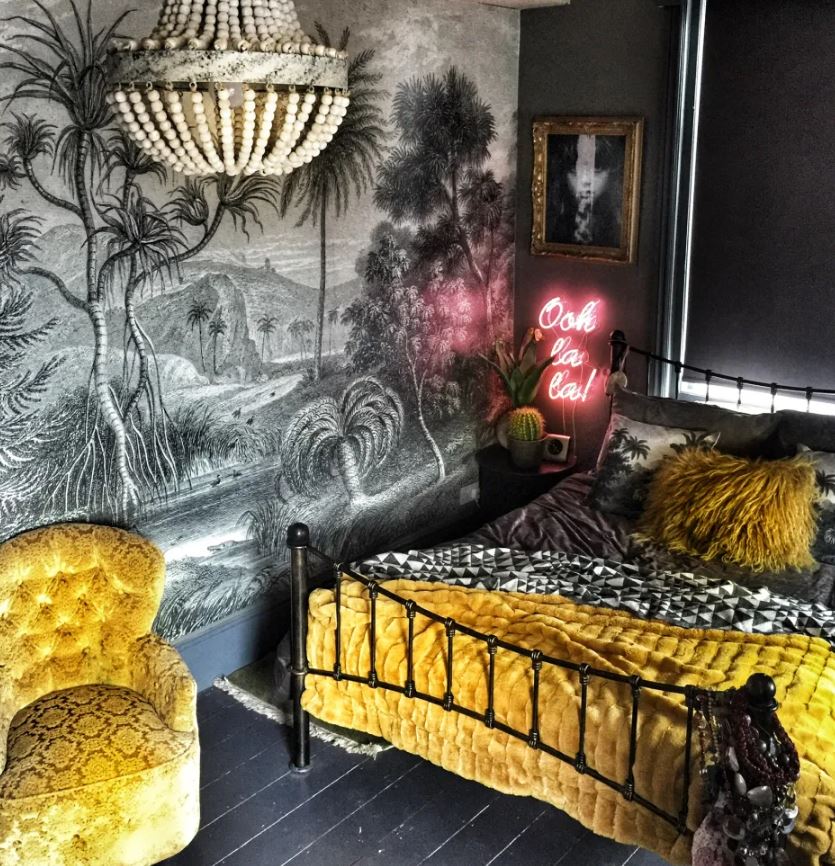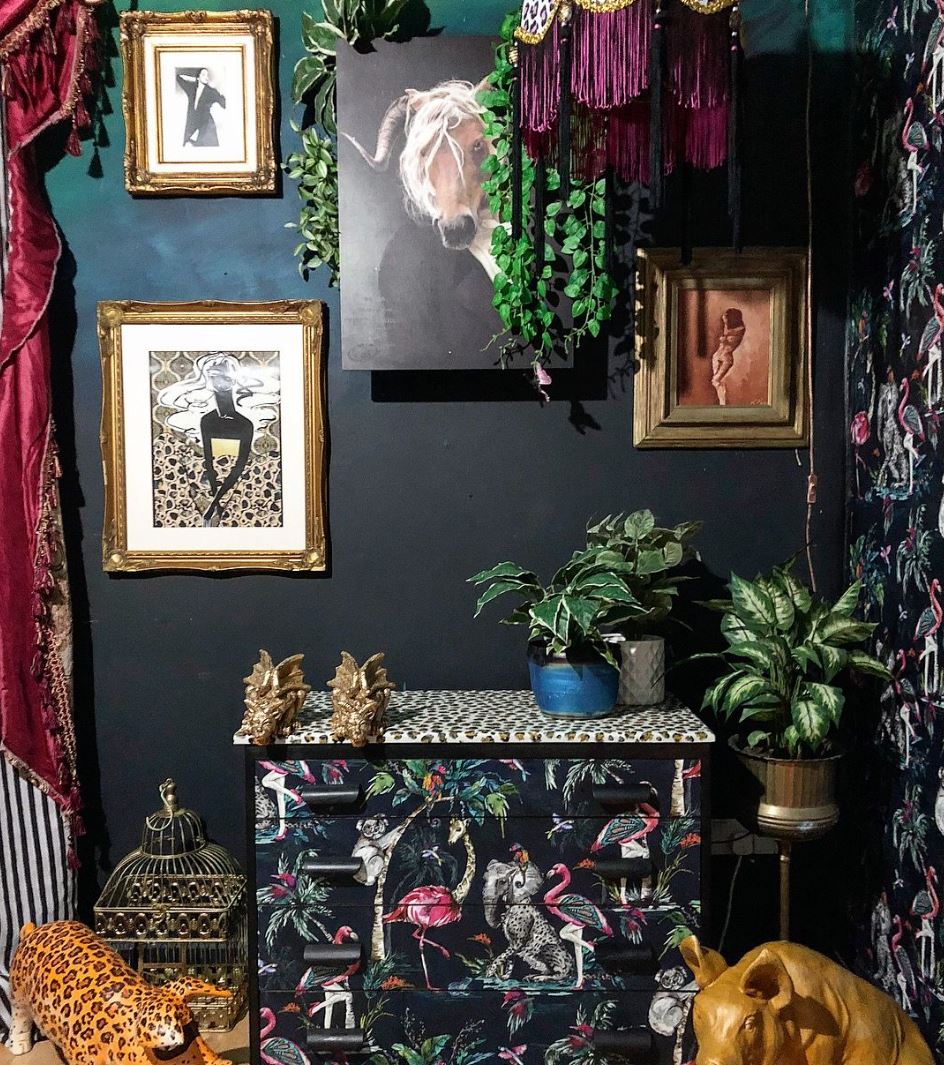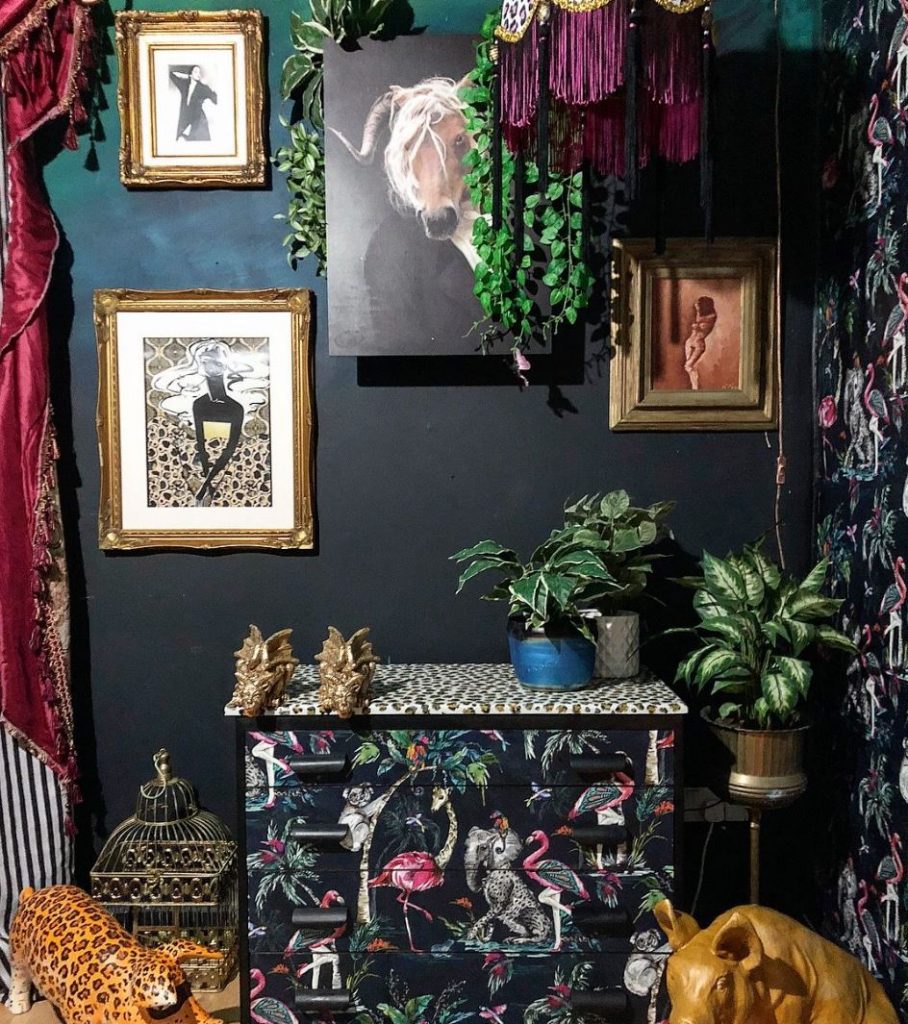 Even the kitchen can follow the same dark boho theme like this majestic one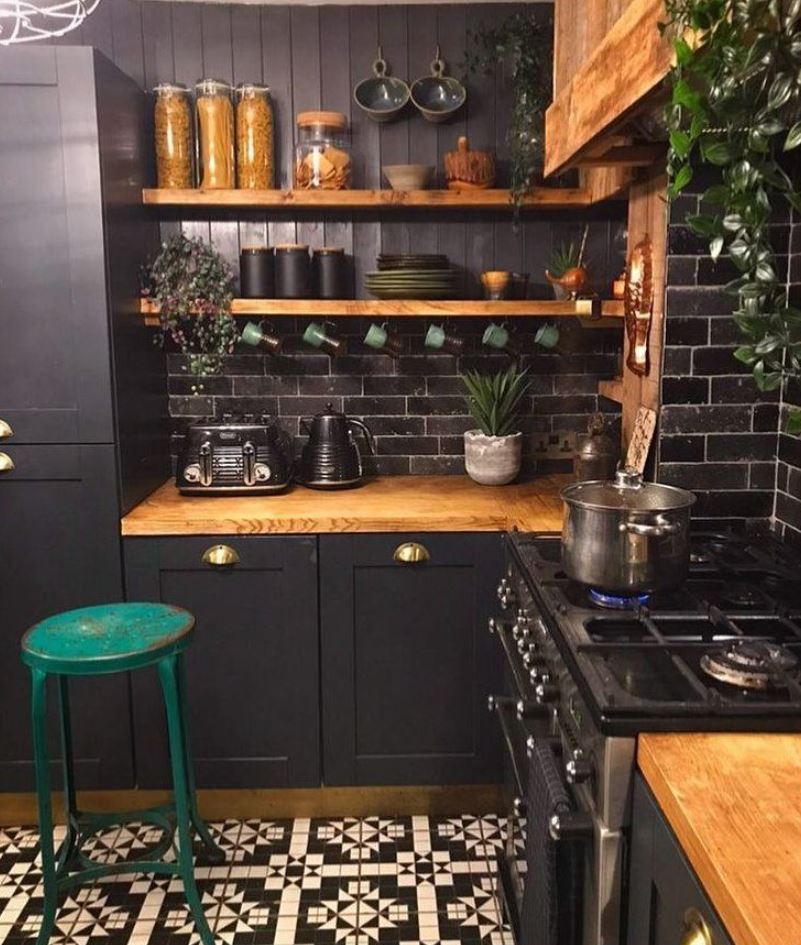 10. Have a Modern Take on Boho (boho-chic)
So you love all the boho basics, but you want to inject a contemporary take. Lots of people have done it stylishly, and you can too.
The advantage of taking this approach is that is retains the simplicity and minimalism that is essential in a small living space, while still allowing you to express yourself in boho knick-knacks.
The neutral bases provide a modern backdrop, while the boho elements bring in the style and traditional. It's a nice way of mixing old and new.
Taking a modern approach also allows you to select furniture more for their functionality and practicality, while not betraying the movement.
Here are some great ideas you can borrow.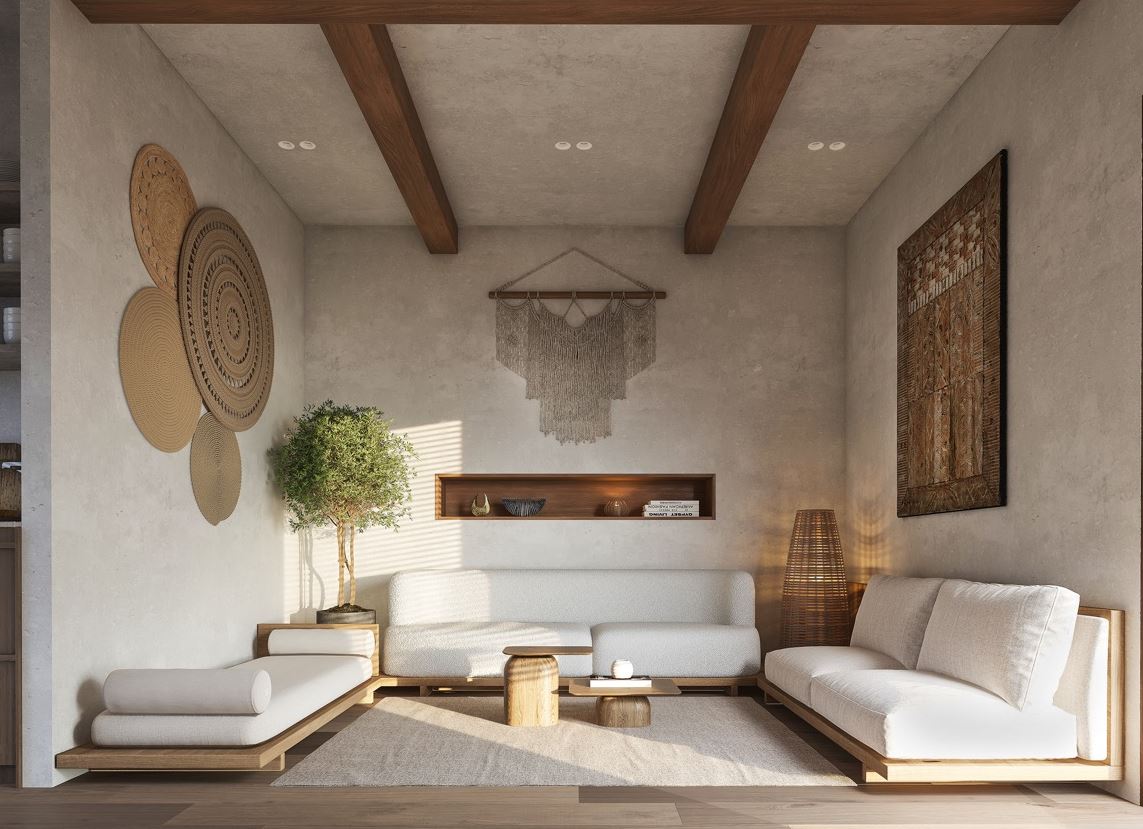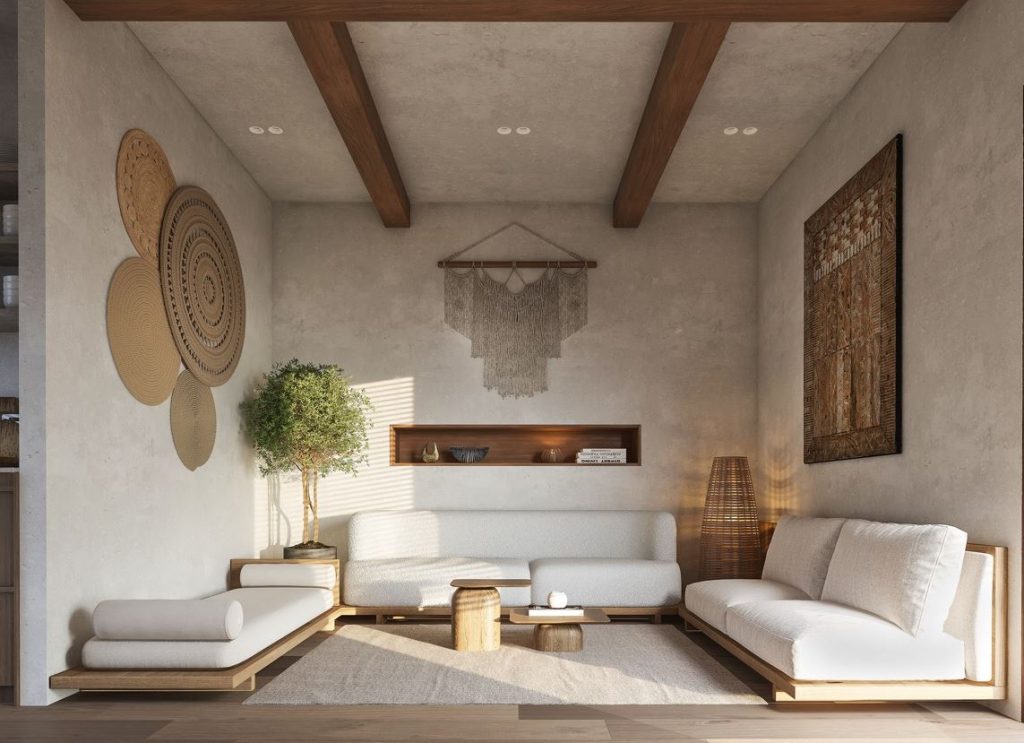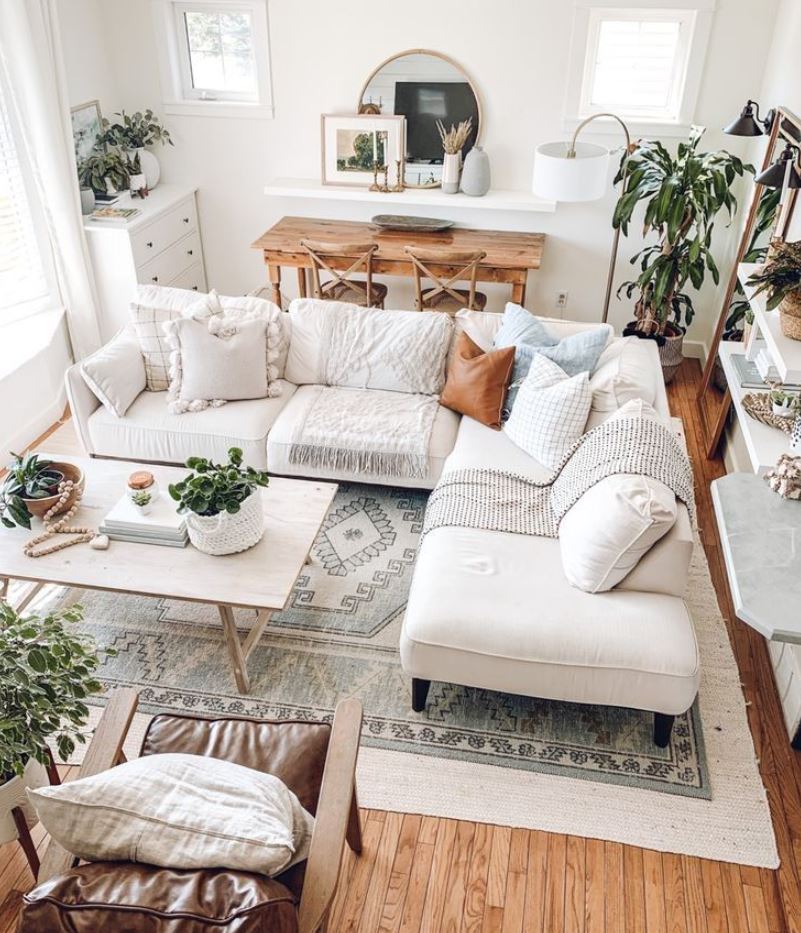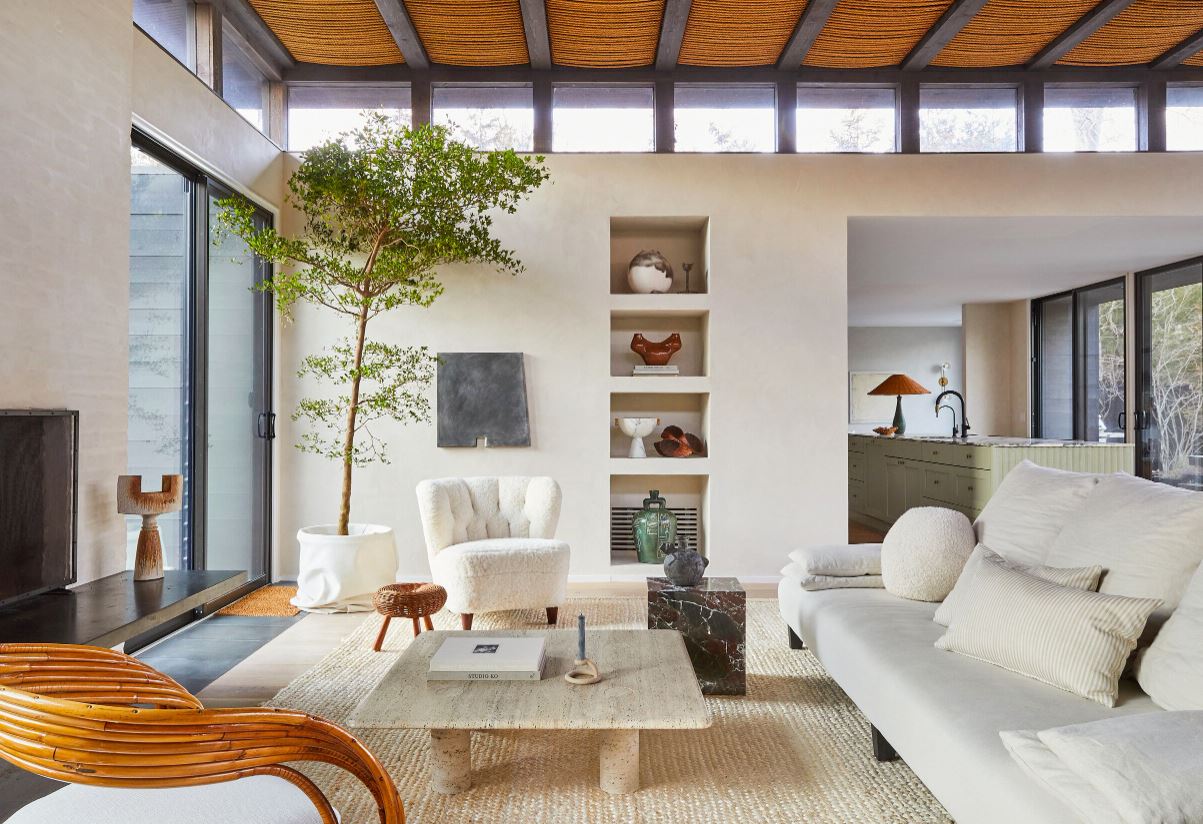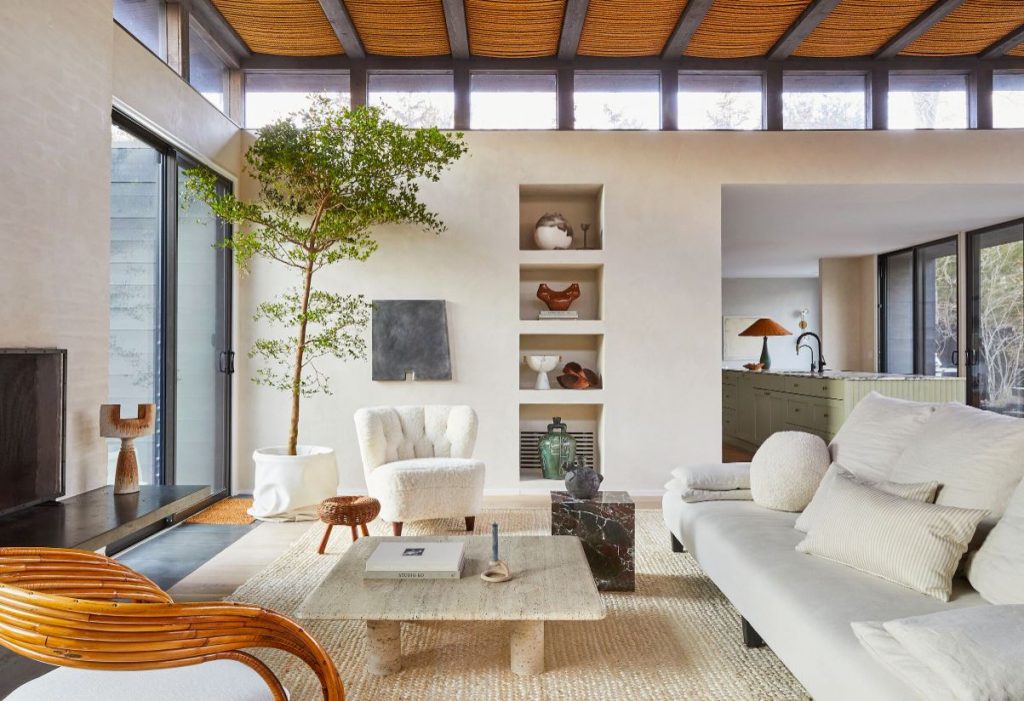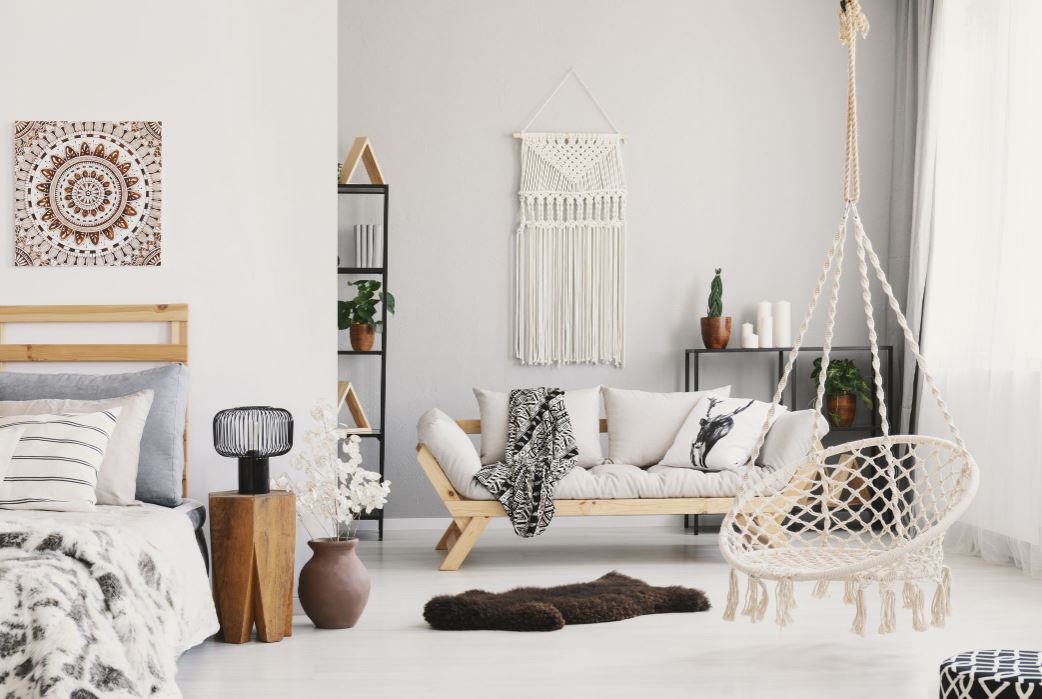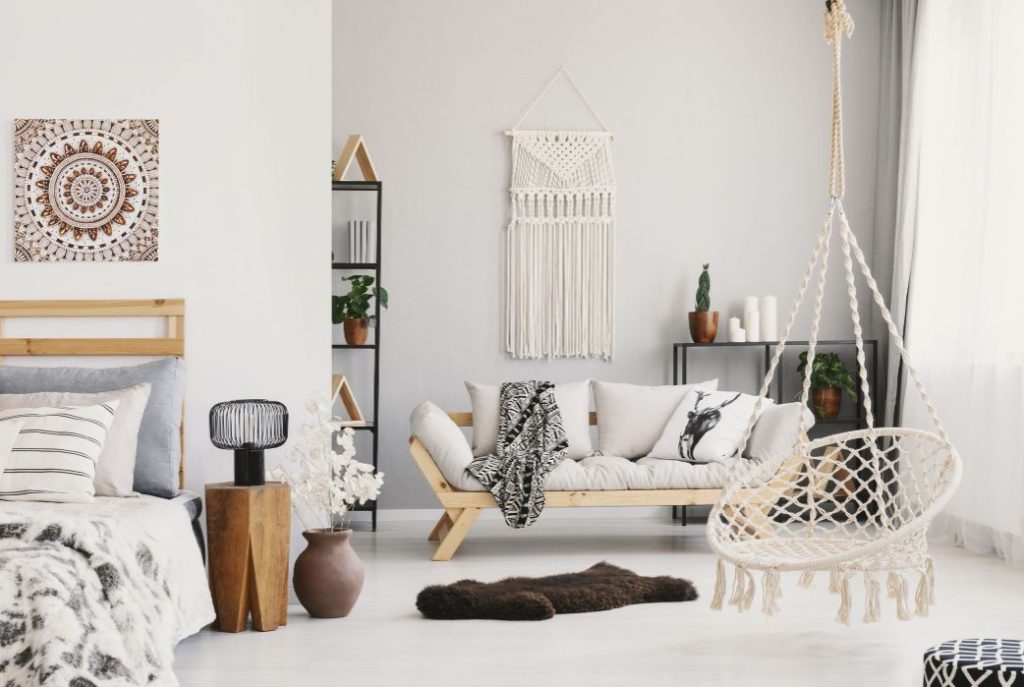 11. Use Tropical Elements
If your idea of small space is a nature paradise, adopting tropical accents for your boho decor is the way to go.
You can achieve this in various ways, including wall art, plants, pillows and more. If you're going with plants, opt for large leafy plants. Palms and ferns for example will be great additions to your tiny house of small living space.
Tropical elements will go a long way in providing those relaxed vibes and a laid-back atmosphere.
Here are some boho tropical decor ideas you can steal today and transform your living space.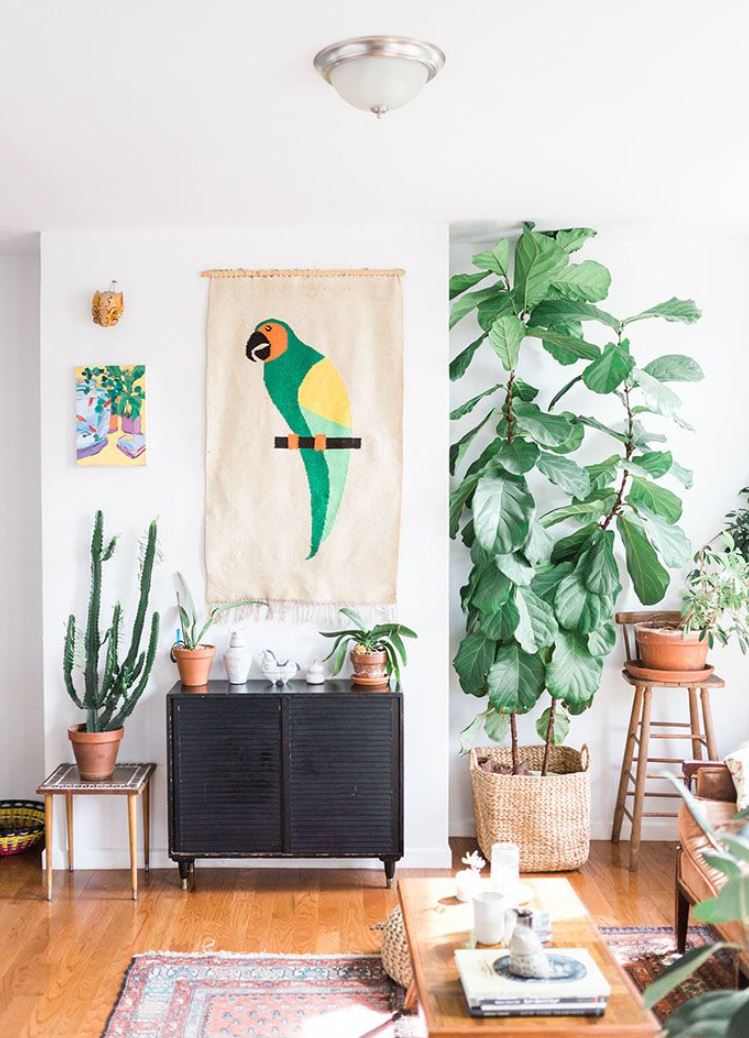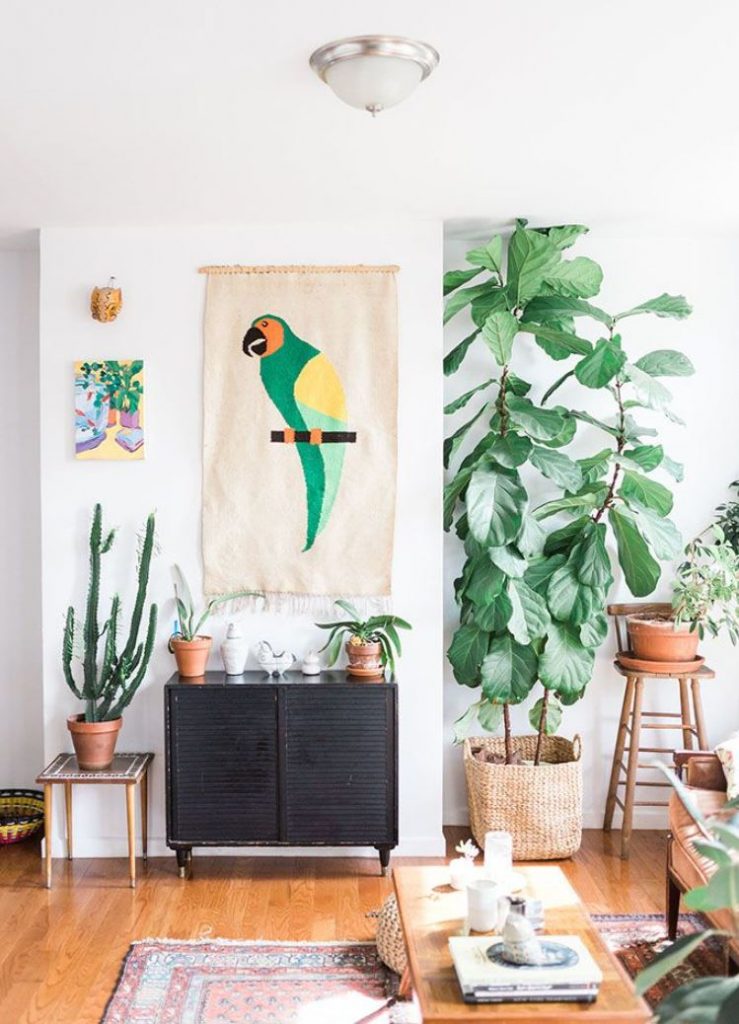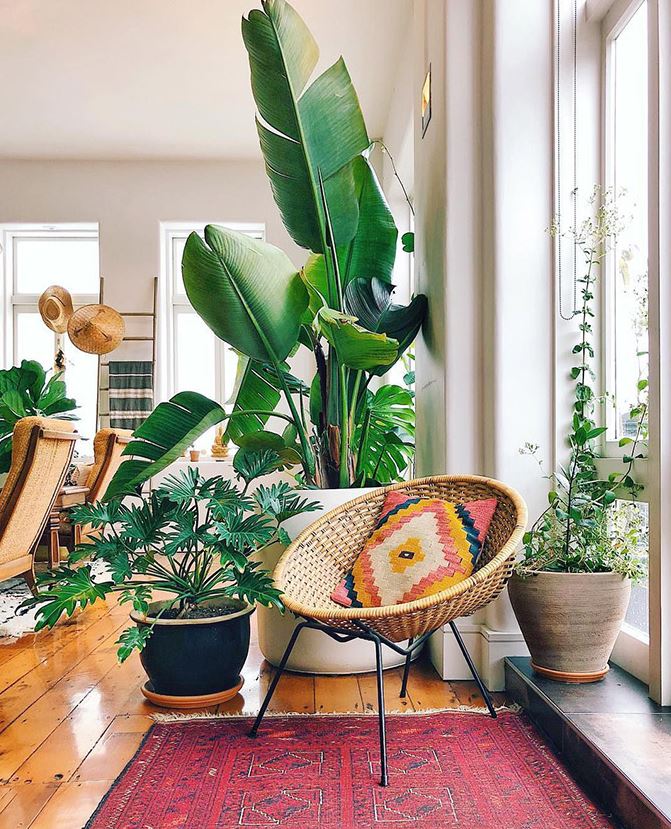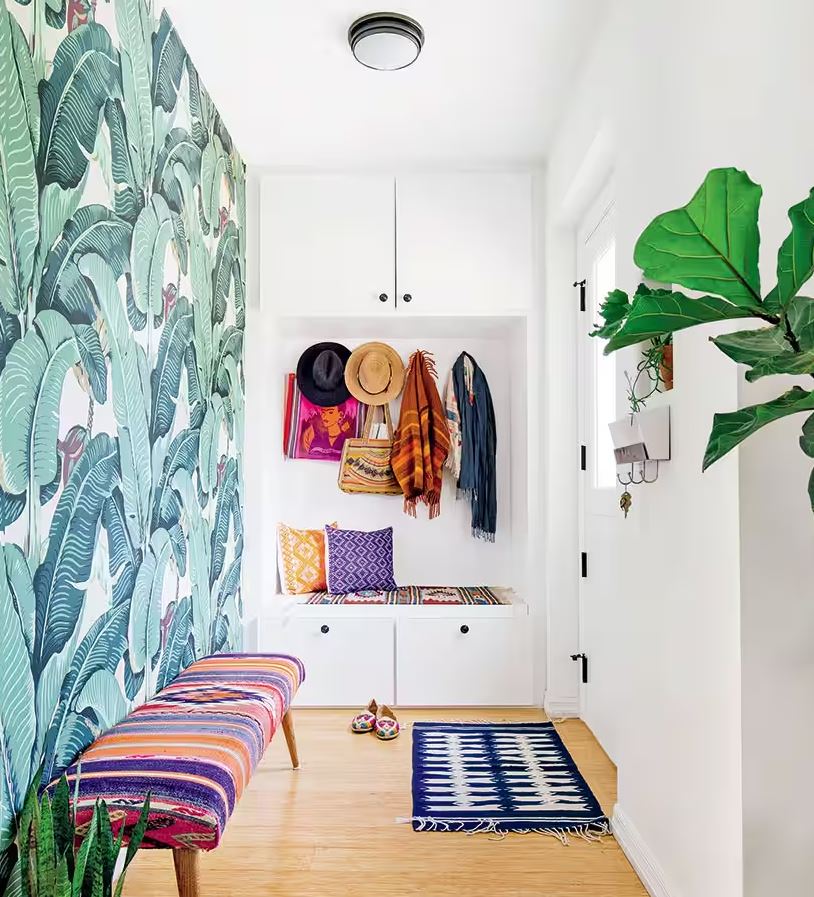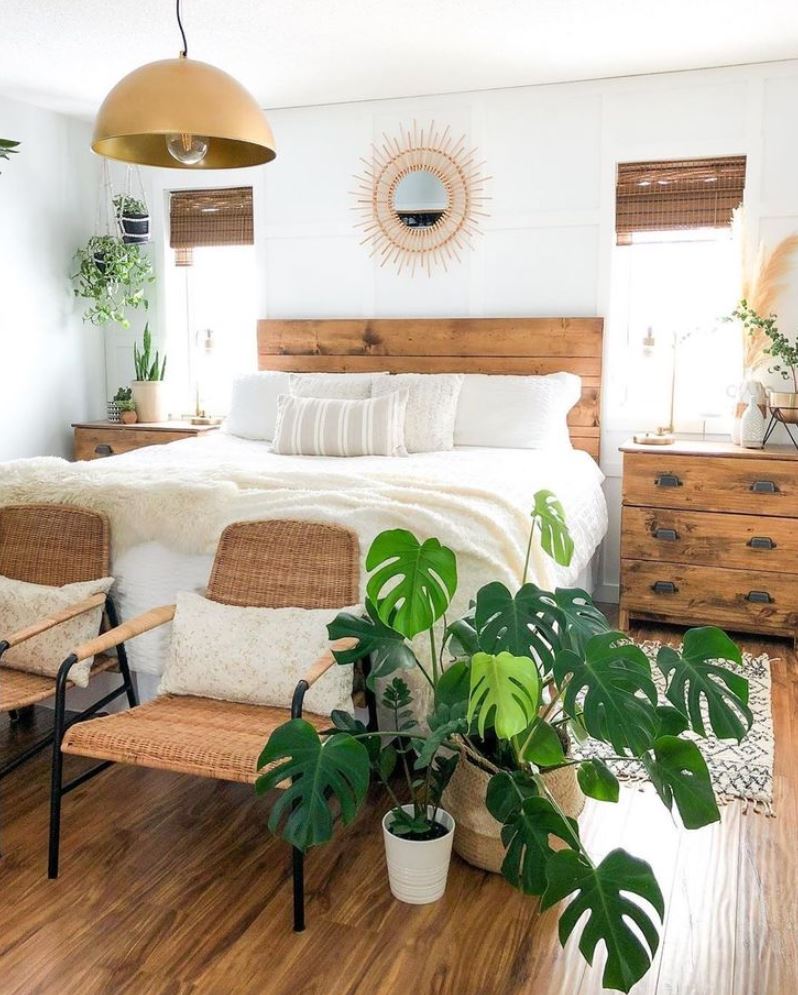 12. Minimalist Boho Decor
Yes, it is possible to go boho while still mainting your minimalist aesthetics. Consider it a subtle way of doing bohemian.
In a tiny home or small space, this can actually be a must-do, for obvioius reasons.
Here are a few ways you can achieve the boho-style with less.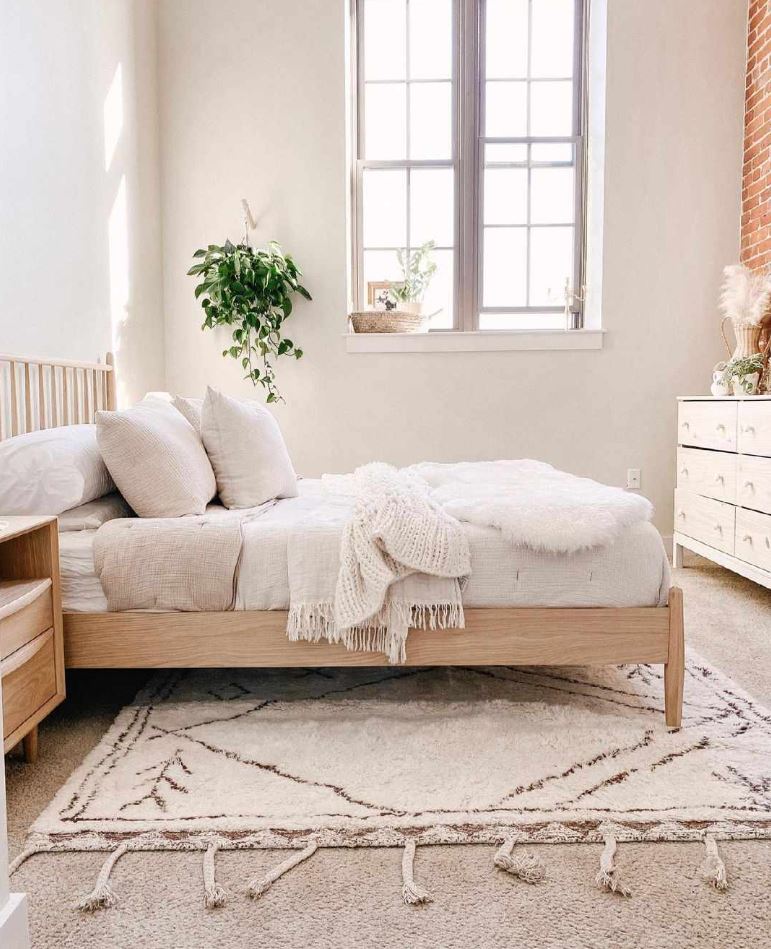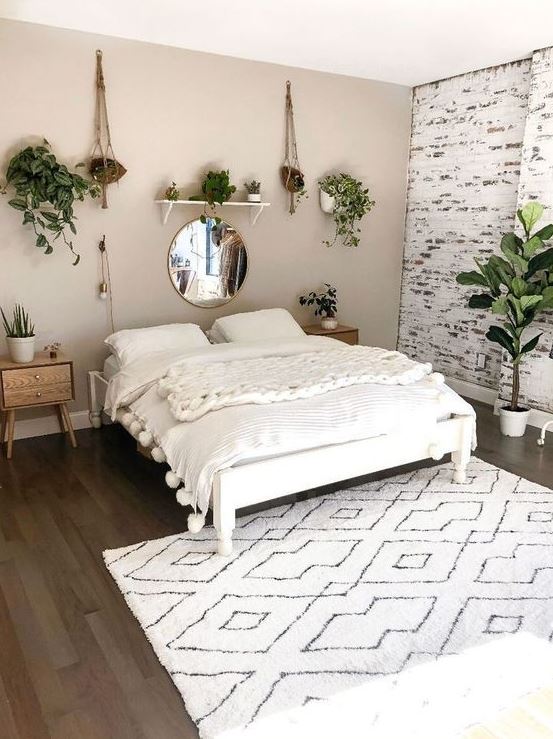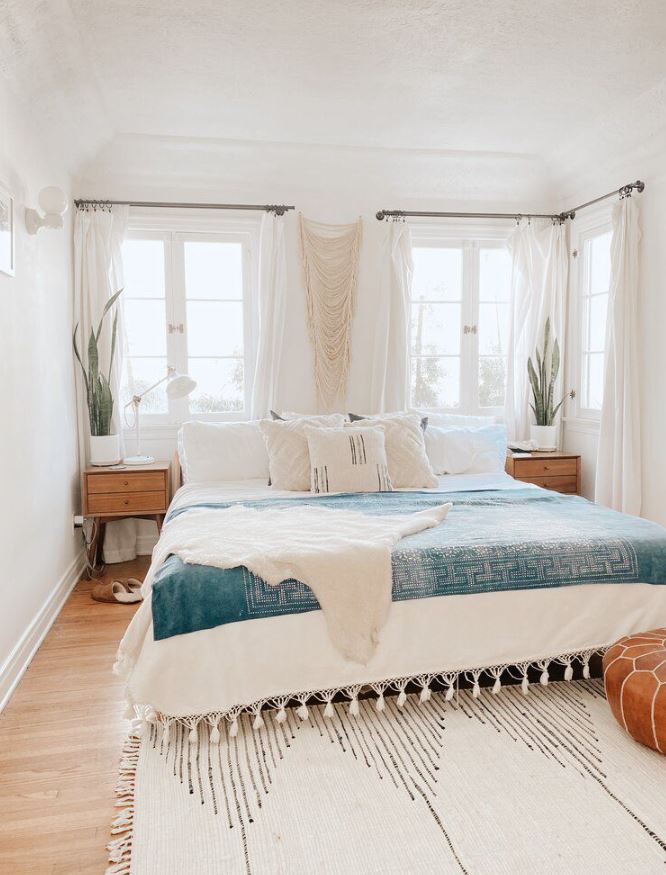 13. Coastal or Beach Boho Decor
If you're a lover of the beach, a costal boho decor is just for you. It allows you to bring your happy place indoors, and still transform the space into something that not only you love, but also your family and guests.
You can achieve this just by using the correct color tones, and even with wall art, beach elements like surging boards and more.
Here are some beautiful examples of a coastal/beach boho decor done right.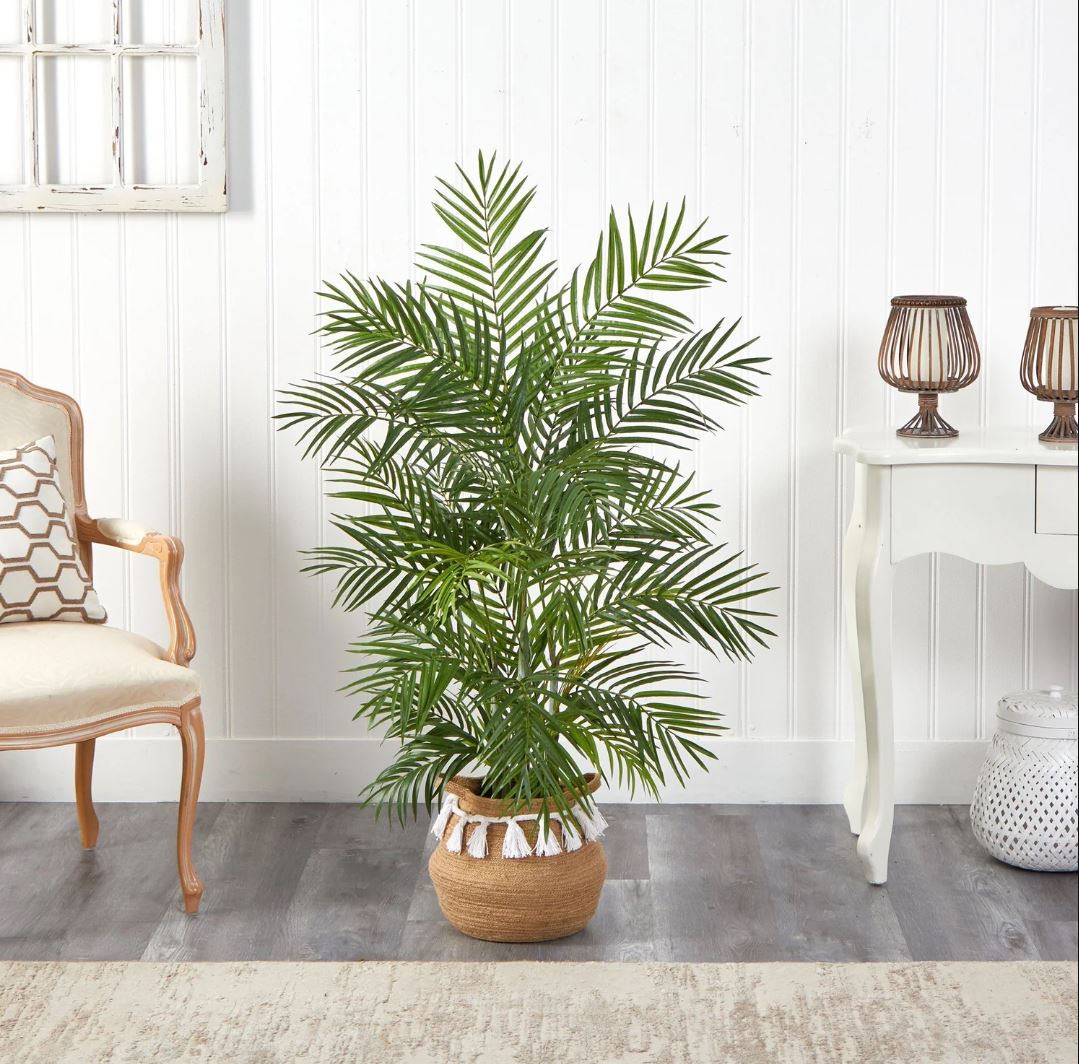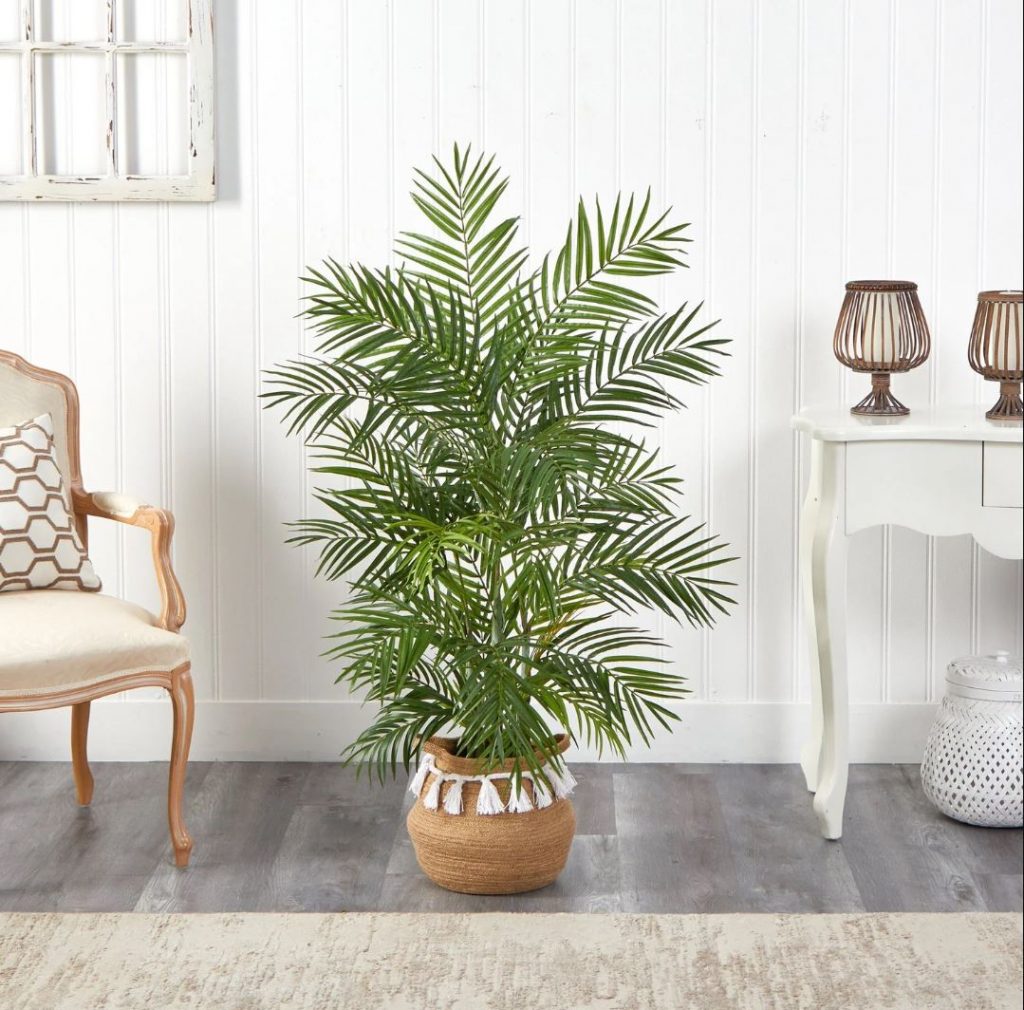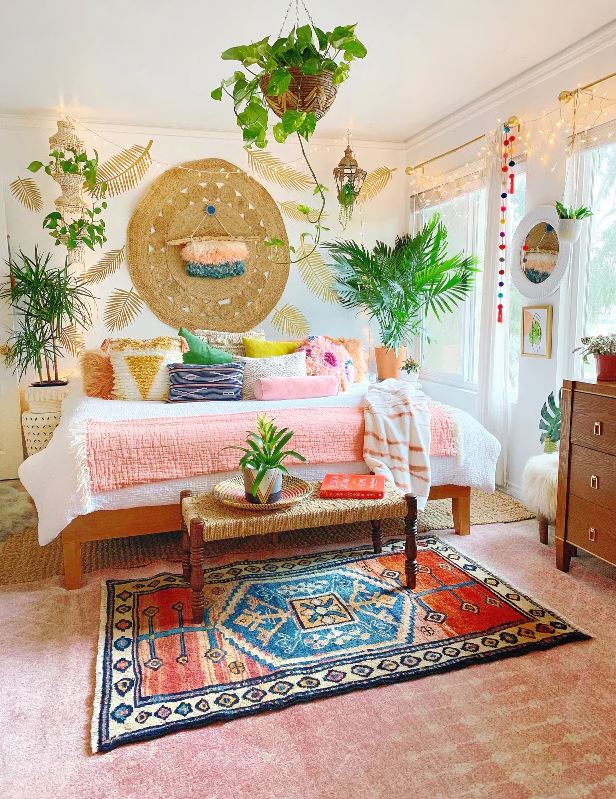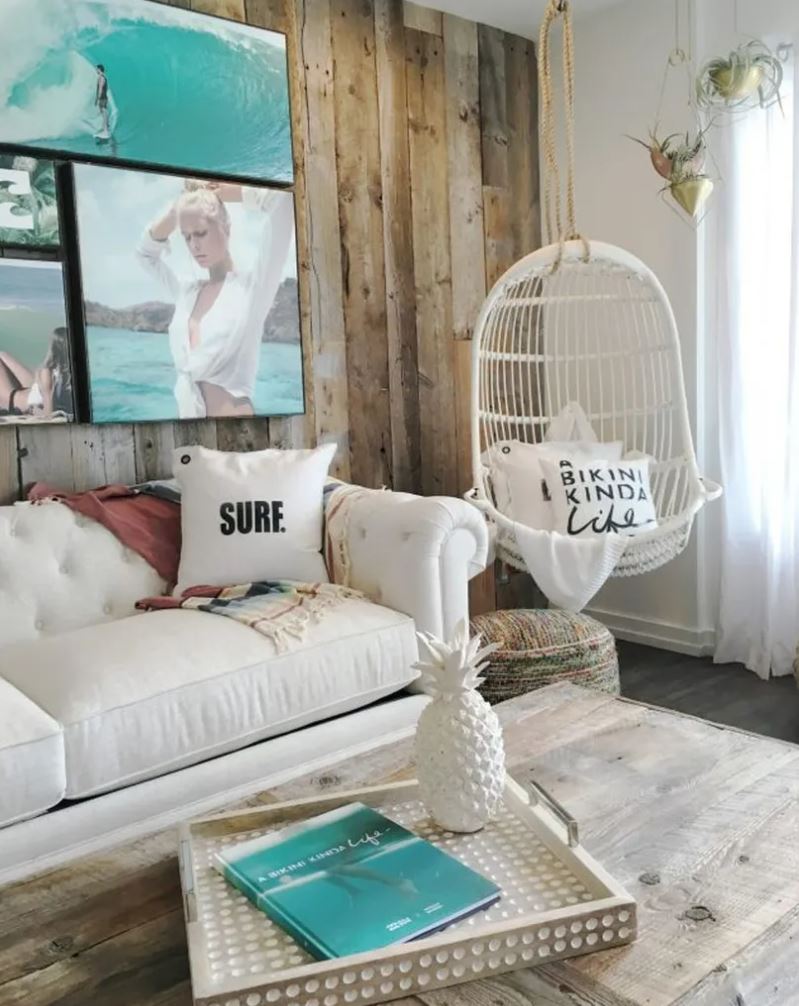 14. Use Complementary colors
There is no limit on the number of colors you can use to enhance your boho living space.
The good thing with this type of decor is that the rules are there to be broken.
While modern interior design emphasizes on whites, black or their shades, in a boho decor, nothing stops purple from going with gold for example. Or green with pink, or blue with orange.
Let your creativity loose and imagination wild, and see what you come up with.
Here are some design inspirations.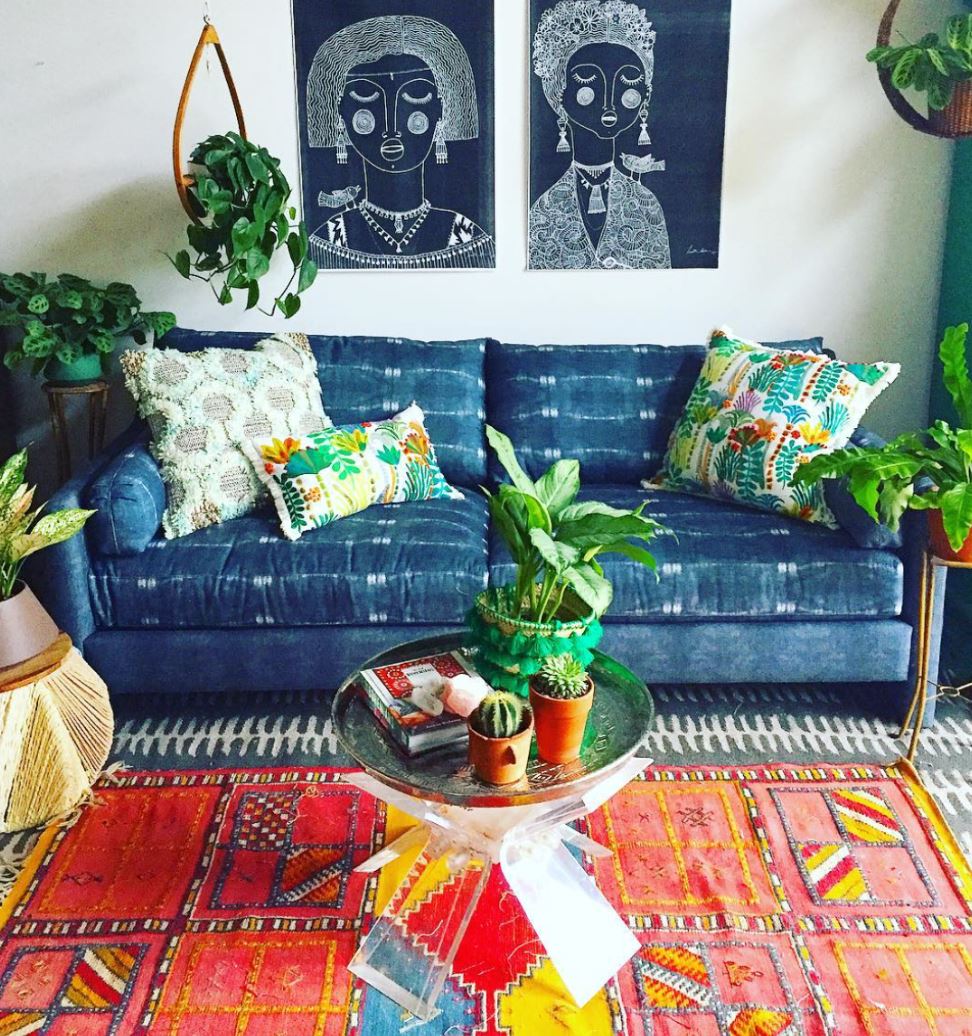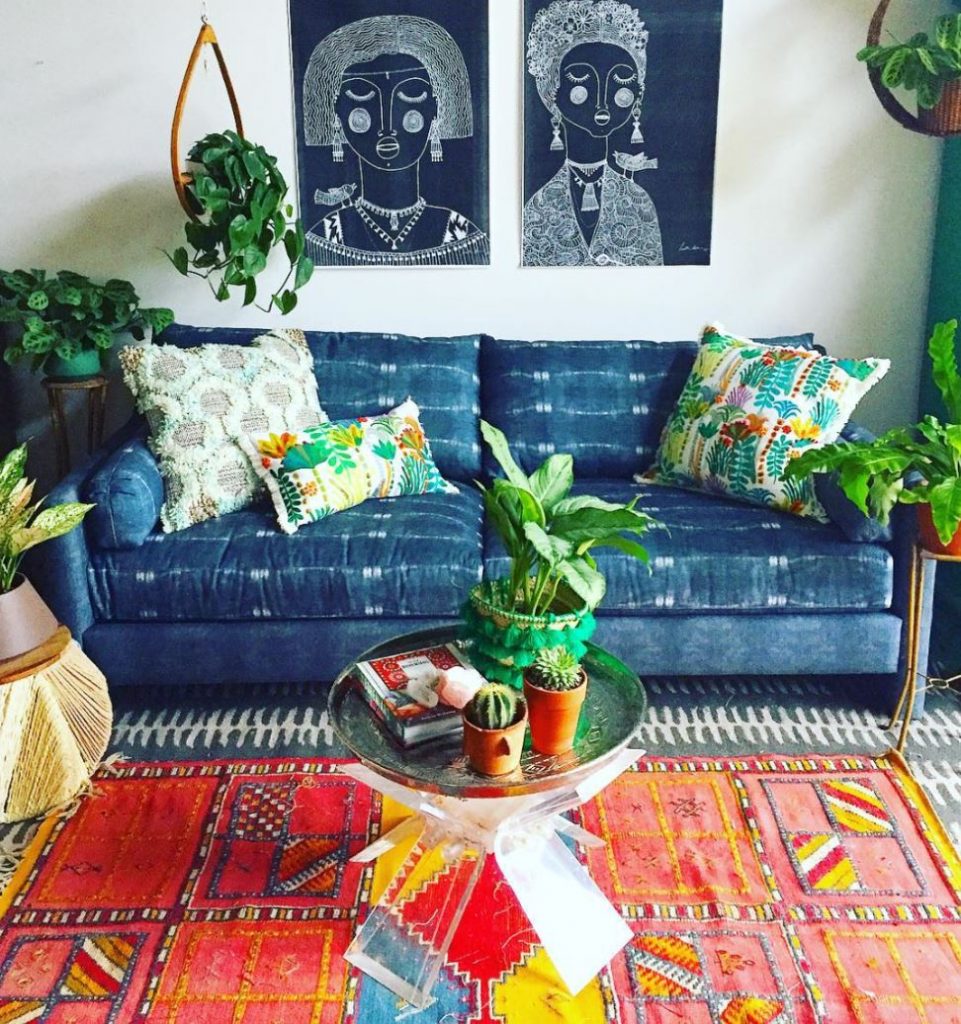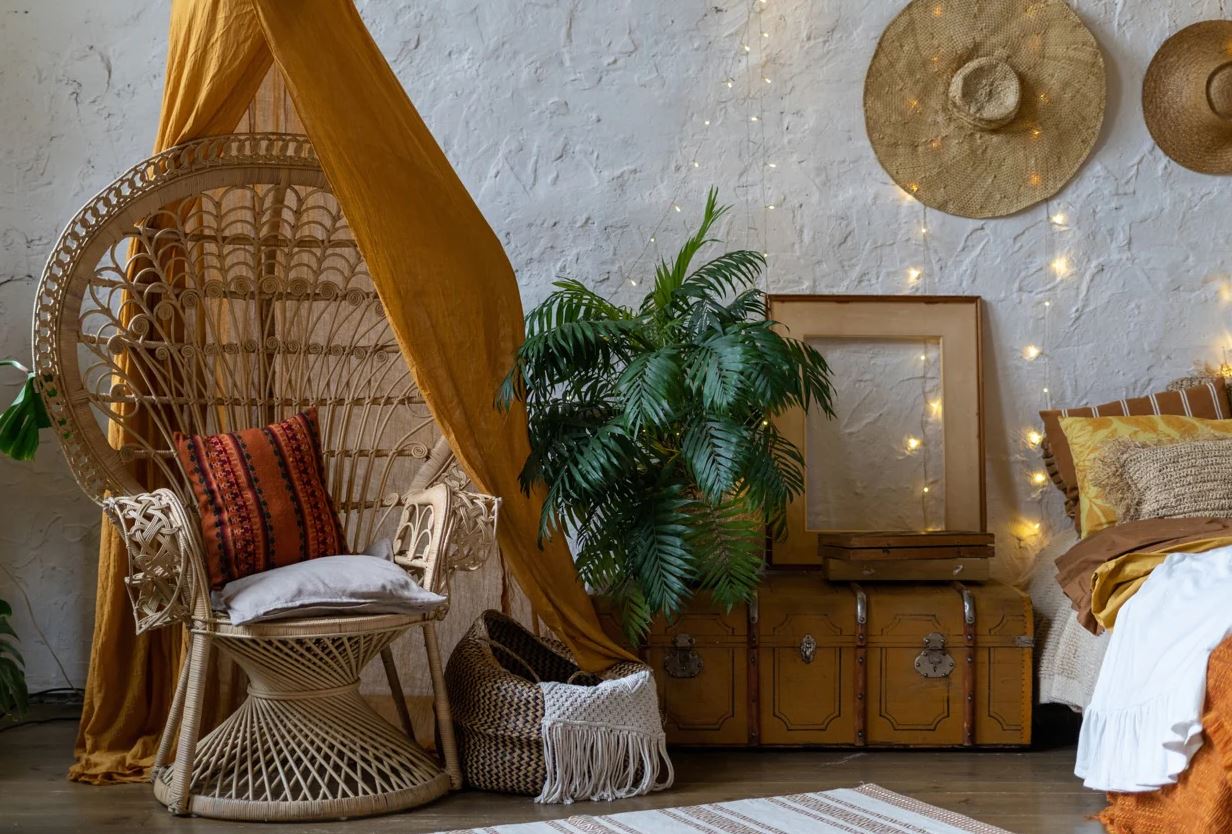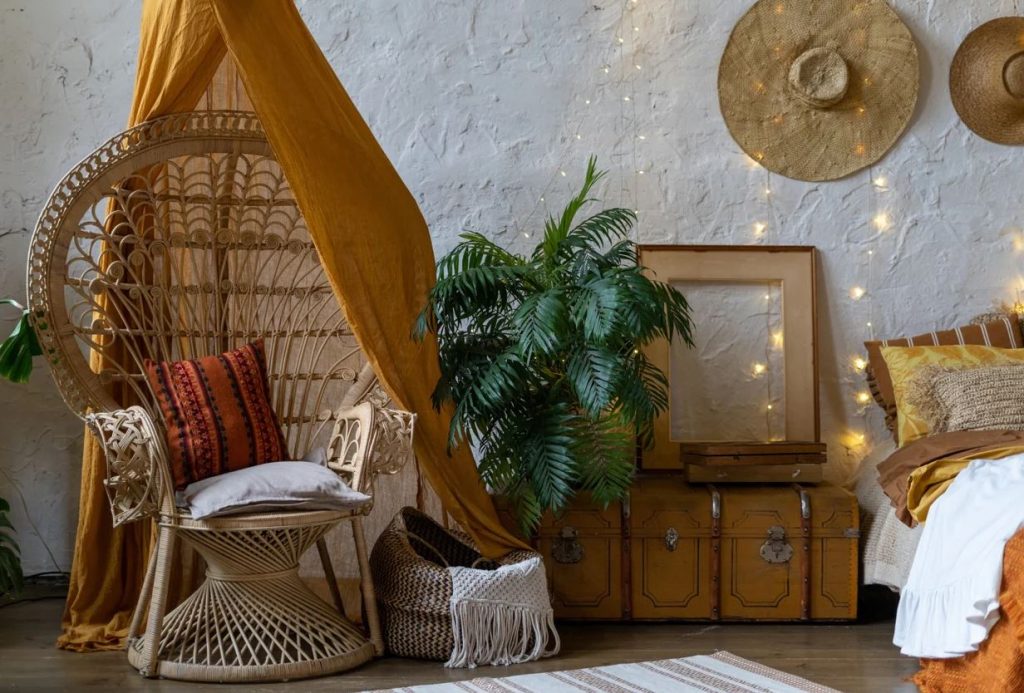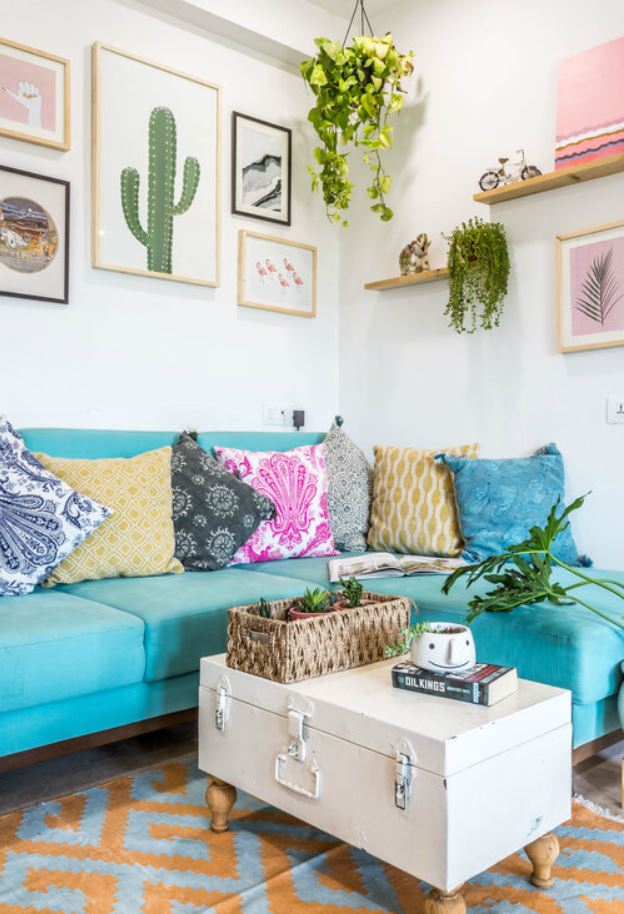 15. Adopt Earth Tones for you Boho Decor
Green, orange and brown are central to most boho-style interior design. They bring warmth to the space, and the natural colors generally make the room more inviting.
You can adopt earth tones in many ways, including from the paint or wallpaper, to decorative items like clay pots.
Use brown for your furniture and rugs, olive green for your upholstery, rusty orange for artwork and more.
Here are some beautiful earth tone boho design to inspire you today.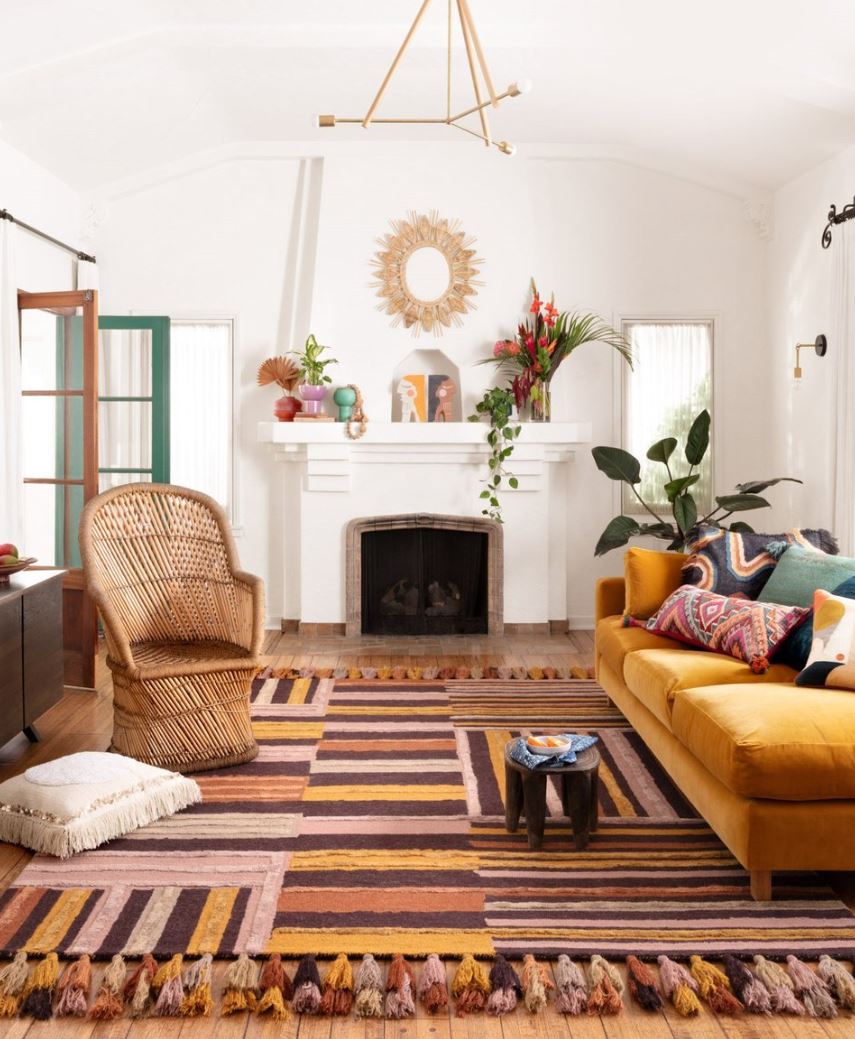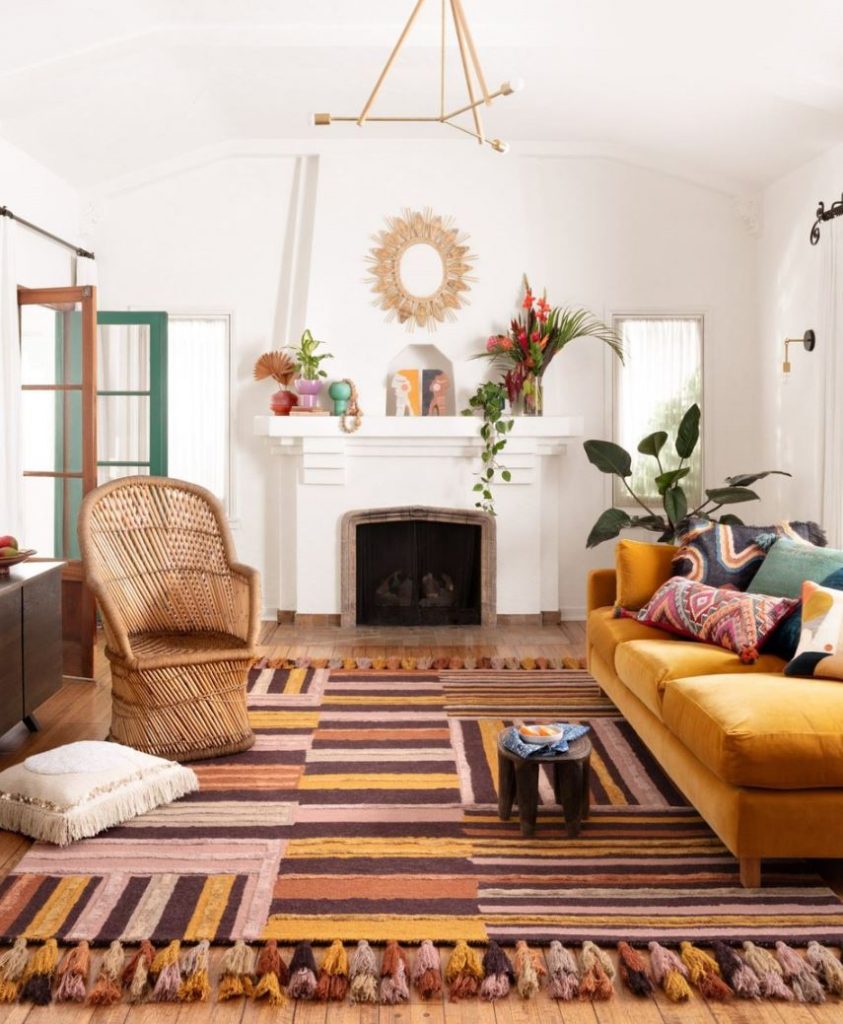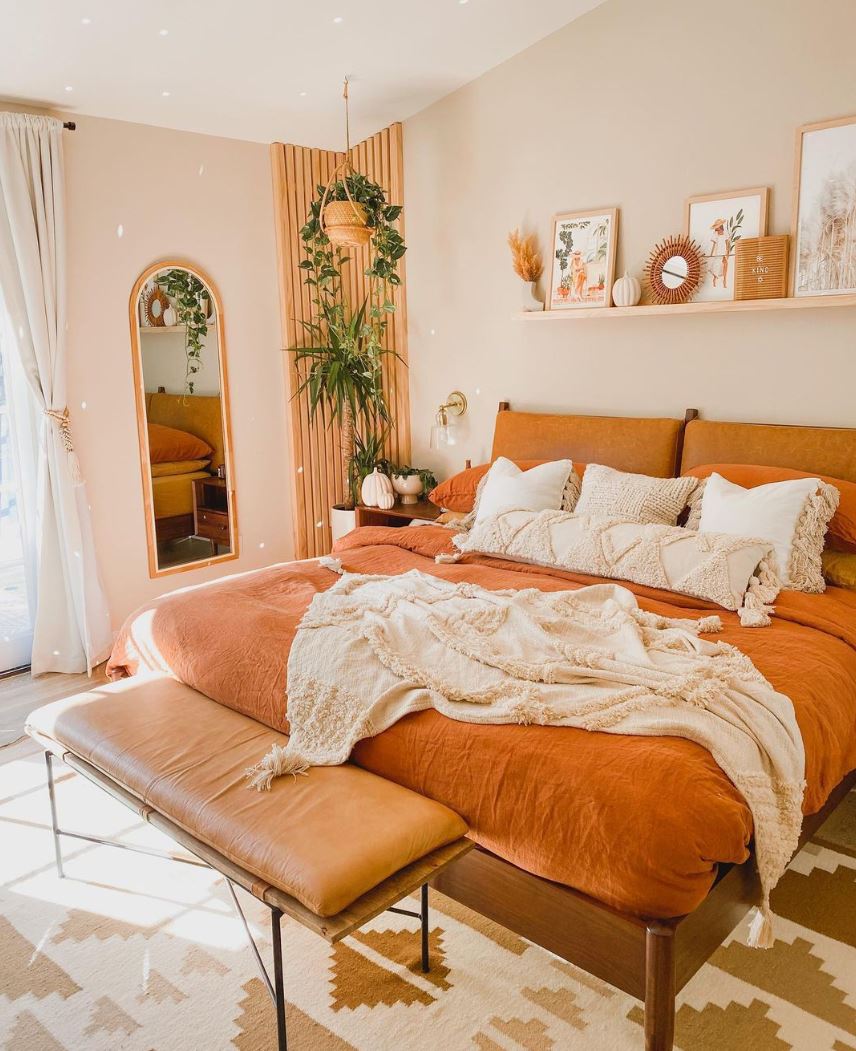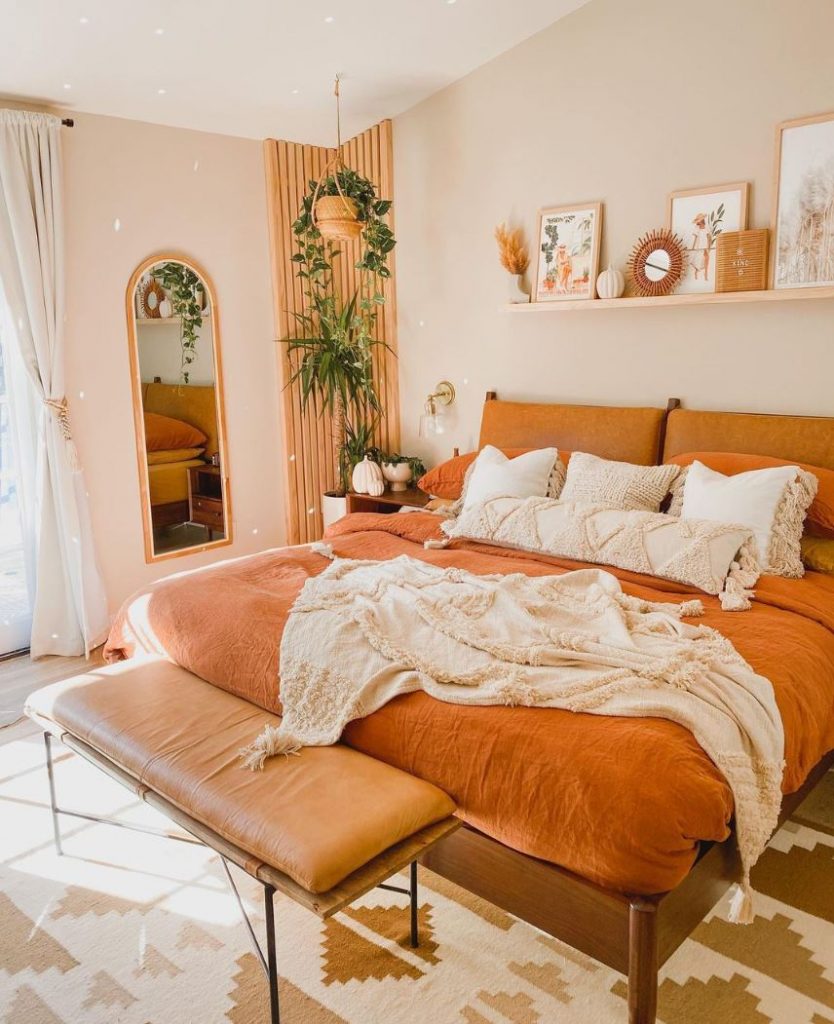 16. Try Pink Boho Decor
If you want to introduce some vibrancy and free-spirit, try bohemian with a pink twist. Use the various shades of pink on you accent wall, textiles, furniture, wall art, rugs and more.
Embrace a mix and match approach by combining pink with other boho elements like natural materials.
Here's how you can do it.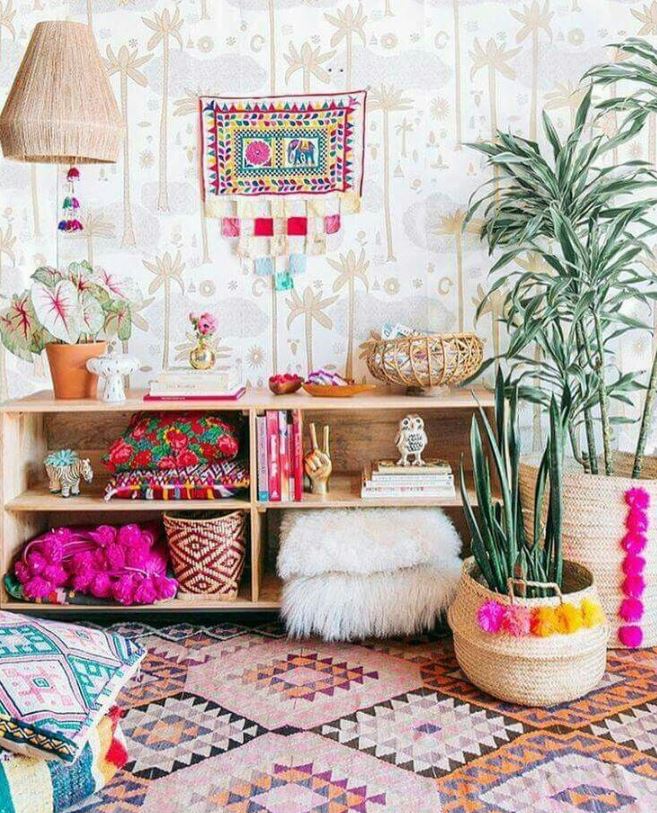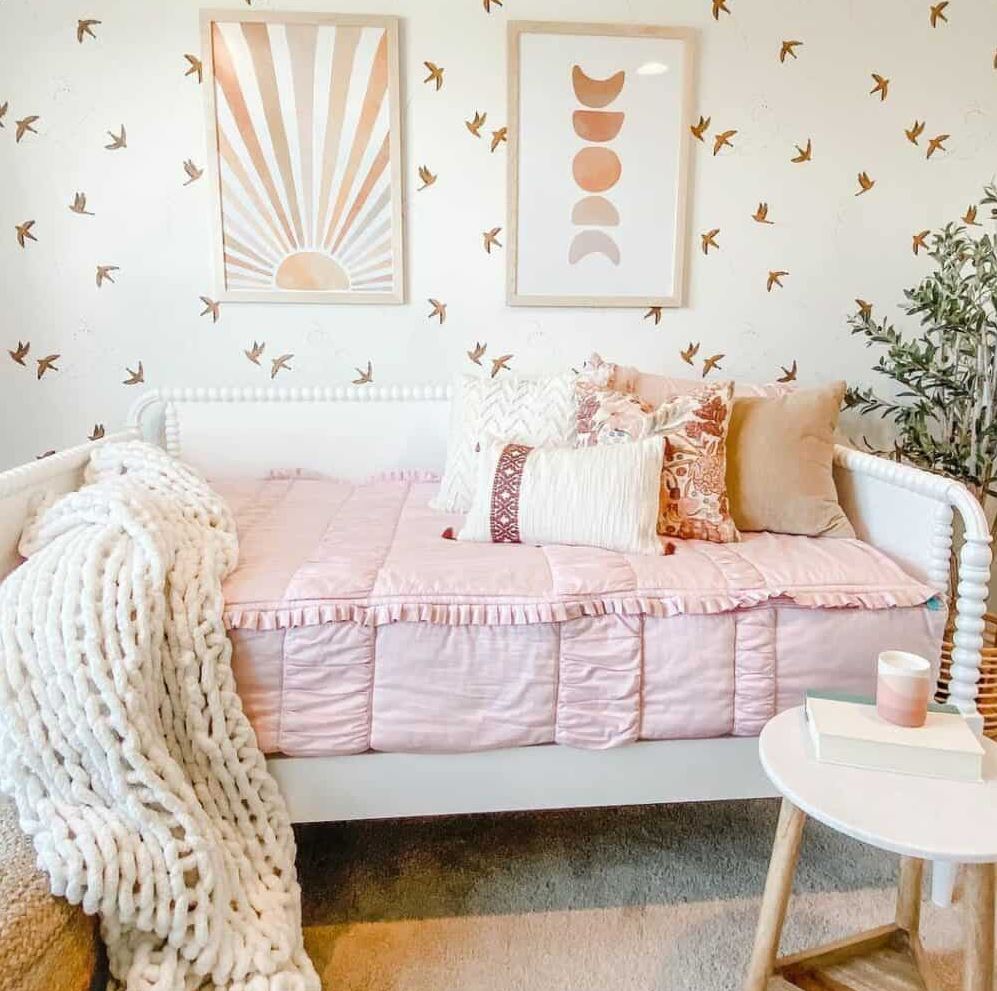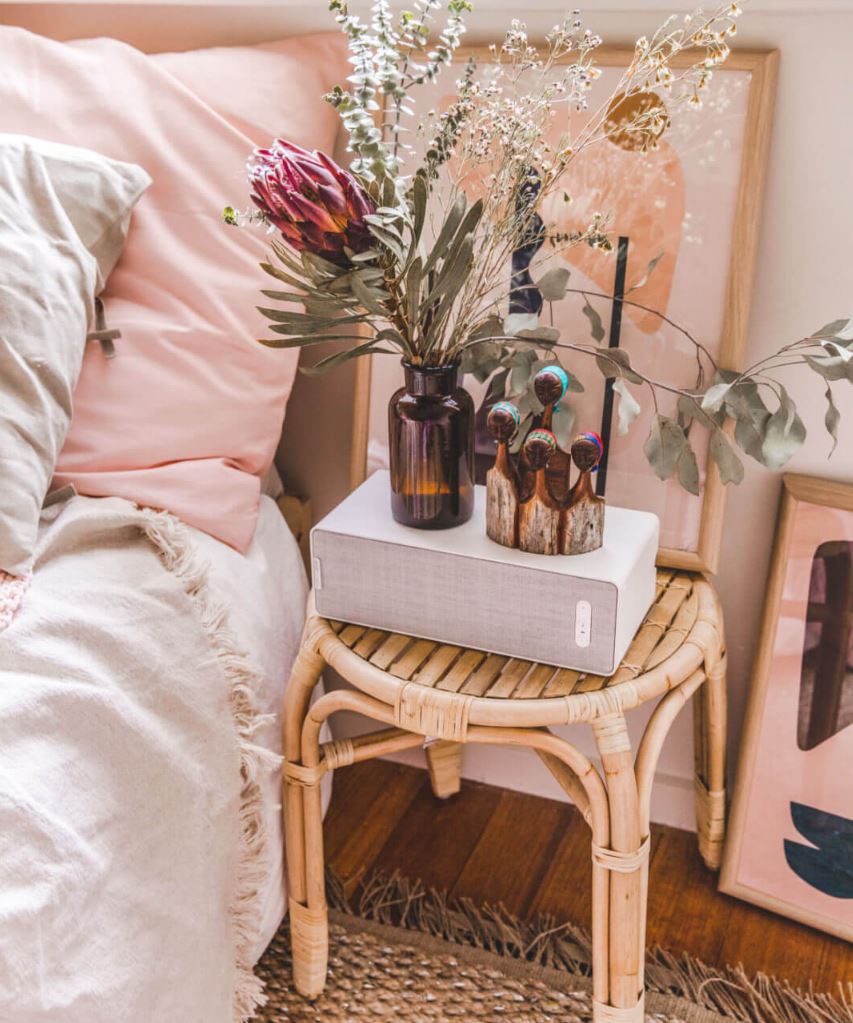 17. Incorporate Black Accents
Black accents, especially in a small bedroom, can create a stunning space.
Black gives you the contrast, the depth and above all, the sophistication. Choose black/dark beddings, furniture or rugs.
You can also have your entire wall as black, or add black elements to it. Accessorize the room with things like black lamps, candleholders and more.
Black wall hangings, especially with a white wall as the backdrop will do wonders. Finally, don't forget other bohemian elements like the plants.
Here are two examples you can borrow for your own small bedroom.
You can choose either subtle black accents and elements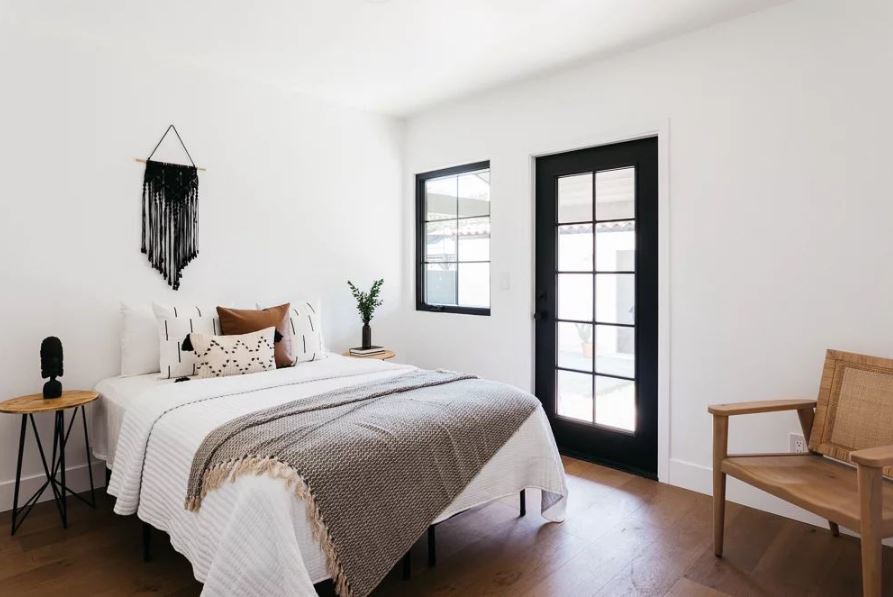 Or go extra with the blacks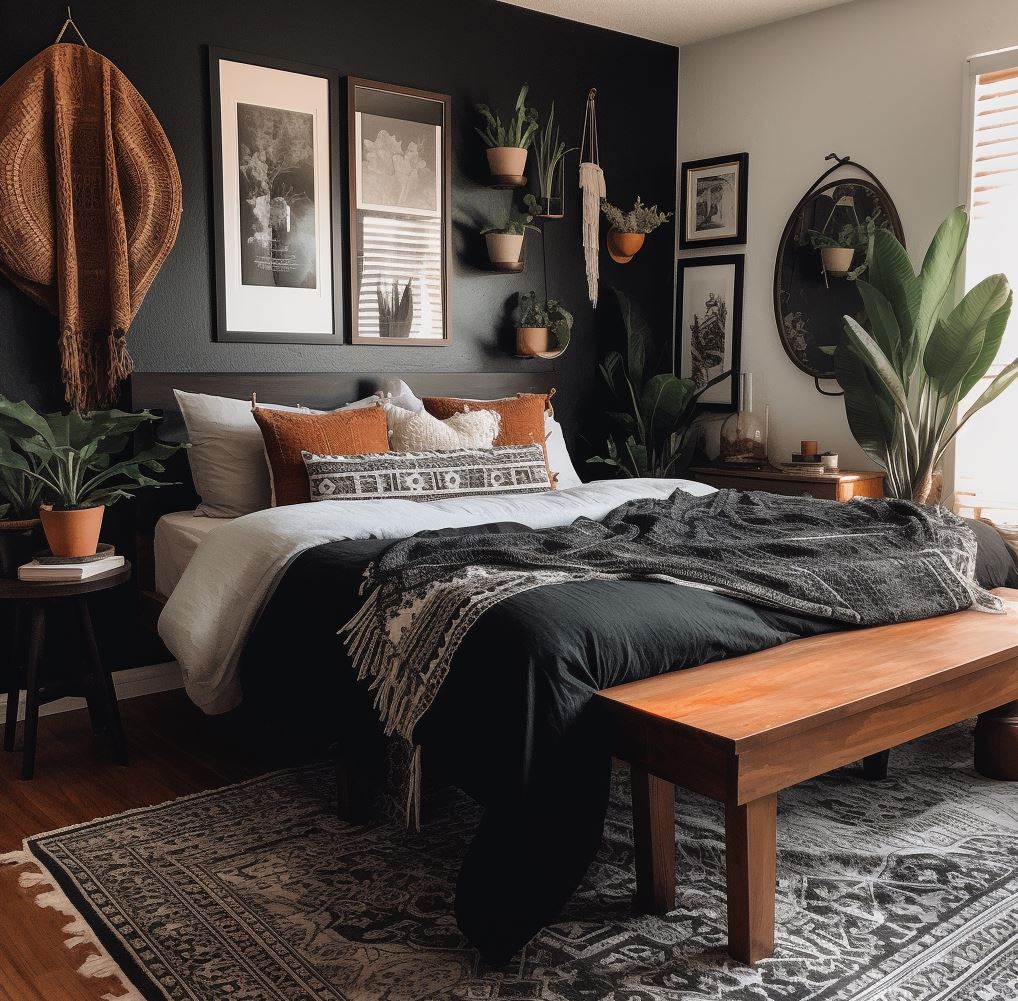 18. Romantic Boho Bedroom
A romantic boho decor brings together the free-spirited nature of boho, with soft, intimate elements.
You can do this by adding things like a canopy bed, opting for soft and muted color palettes, floral accents, vintage furniture and more.
An important aspect of a romantic boho style is of course the lighting. Use soft, but warm lighting to create a romantic ambiance.
Here are a few romantic boho ideas you can copy for your own small bedroom.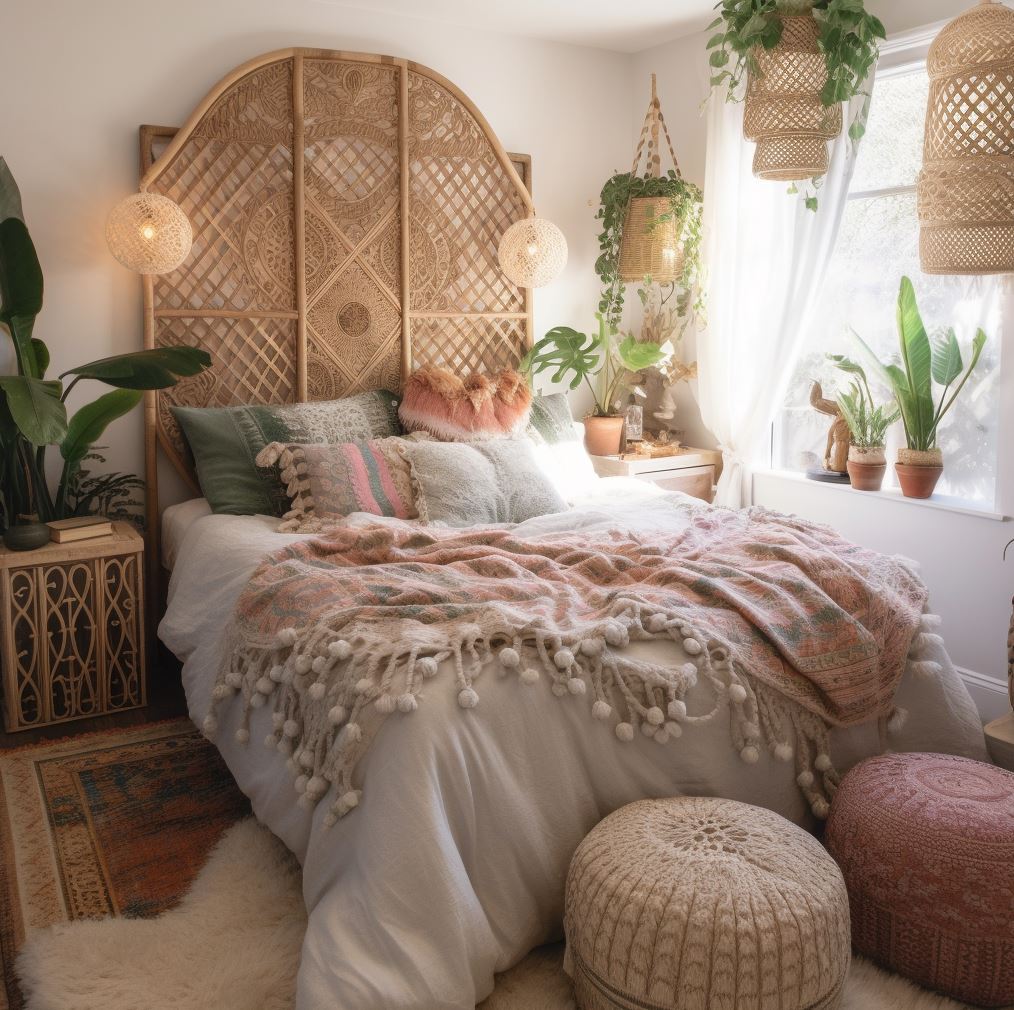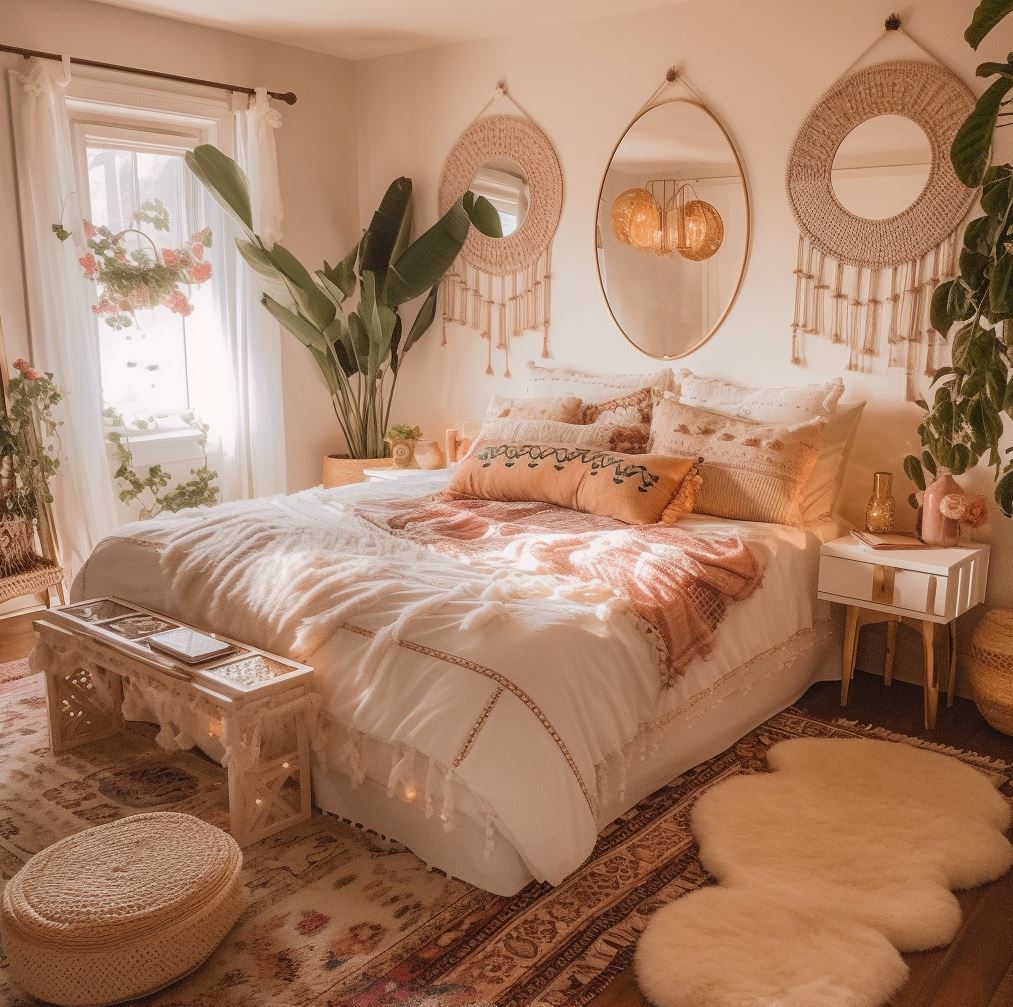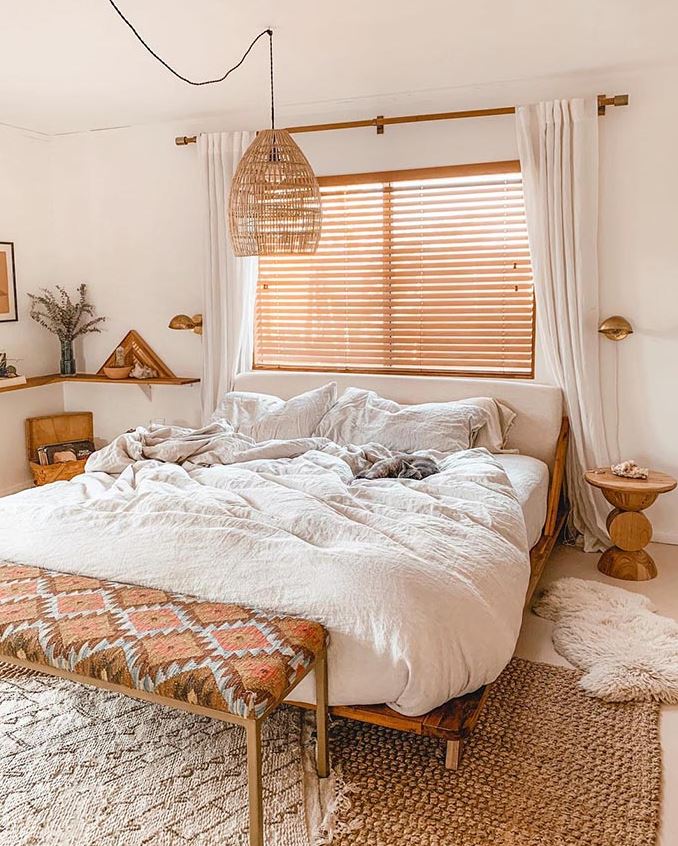 19. Furniture and Layout
Your furniture choice in a tiny house goes a long way in bringing out the boho lifestyle. This is the one area where you're literally spoilt for choice.
The layout also is critical, and you should opt for some kind of random placement, unlike the orderly, traditional way of arranging them.
Some of the aspects of boho furniture include:
Low seating: The room should have several low seating options like poufs and Moroccan-style ottomans.
Eclectic mix: Play around with the styles, and don't be shy to blend say, vintage and modern pieces.
Handcrafted furniture: We're talking of furniture like rattan chairs carved tables and more.
Canopy beds: Especially if you're going for a romantic vibe in your bedroom.
Worn finishes: Adding some worn/weathered finishes adds a touch of rustic – an aspect well loved in the boho community.
We cannot possible exhaust all possible boho furniture options, but here are a few that I saw and loved.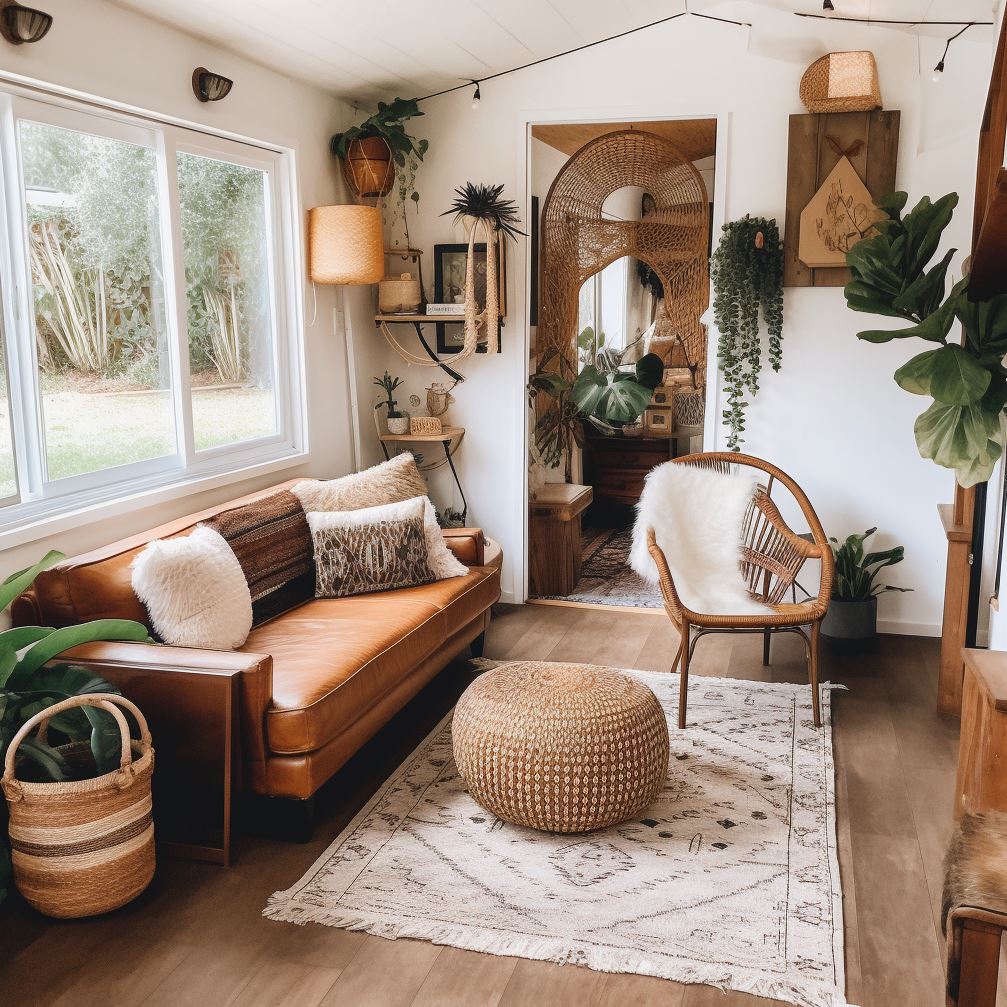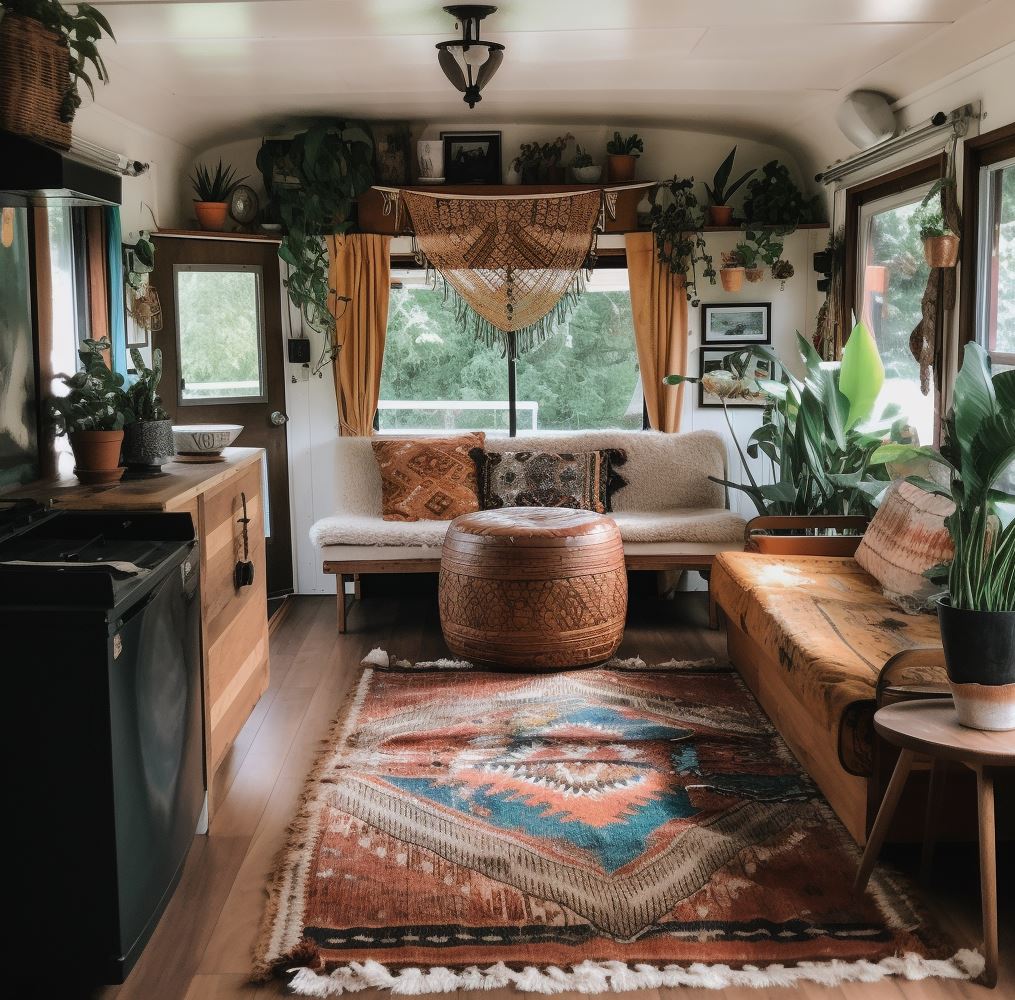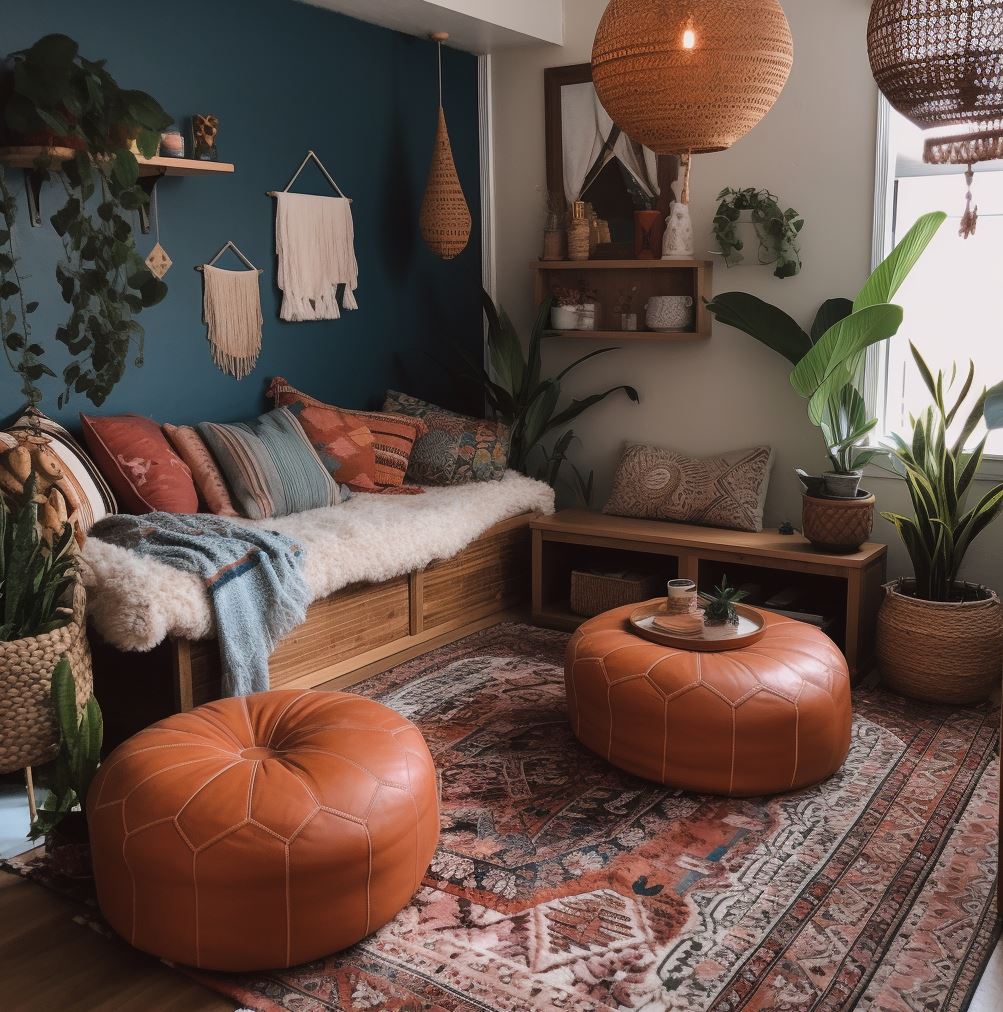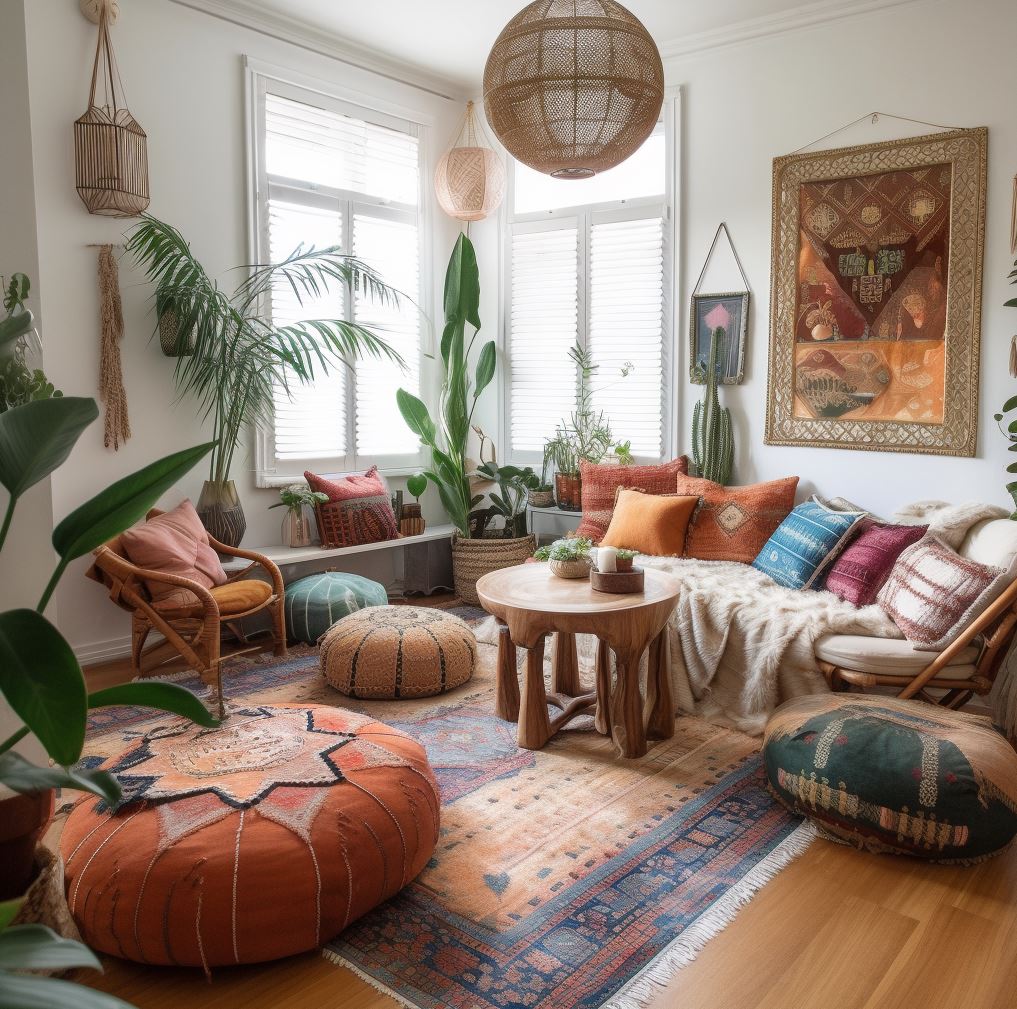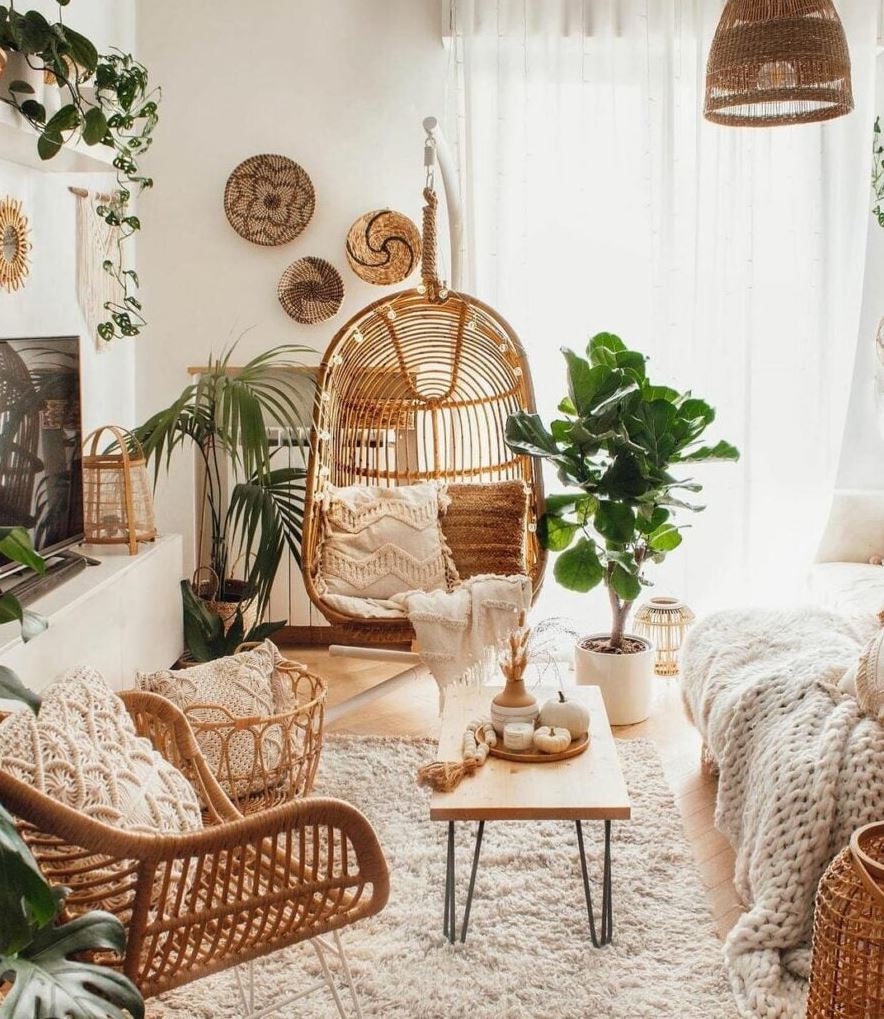 20. Incorporate Wood Mandala
Having some wood mandalas on your walls or ceiling is another simple but effective way of nailing the boho decor.
There are tons of options available online, especially on Etsy.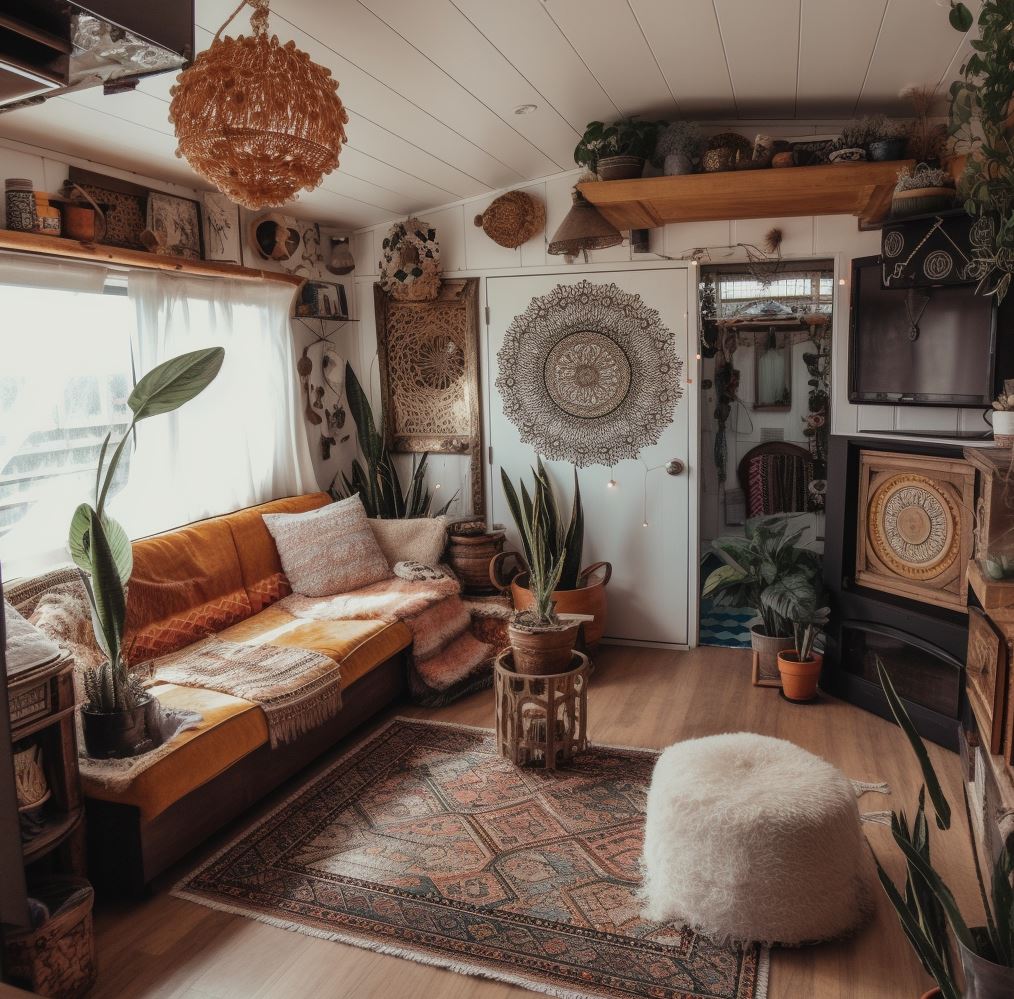 21. Use a Palette bed
A wood palette bed is a natural addition to any bedroom with a boho decor. The exposed wood and just the sheer rusticness of palettes makes it a great fit.
The good thing is it's actually pretty easy to make a palette bed as a DIY project. This means you can craft it to your exact personality.
Here are some palette bed ideas you can borrow for your boho bedroom.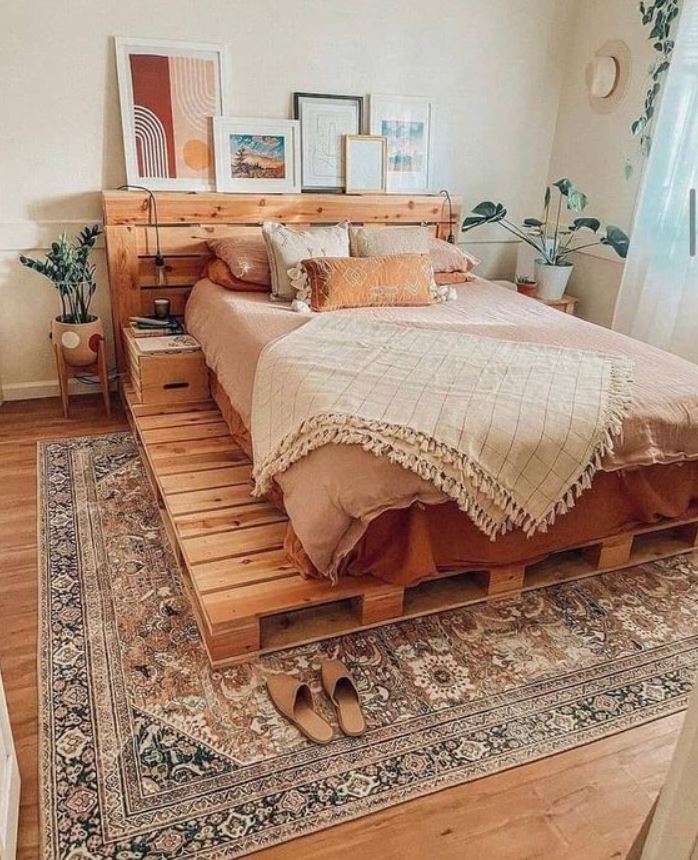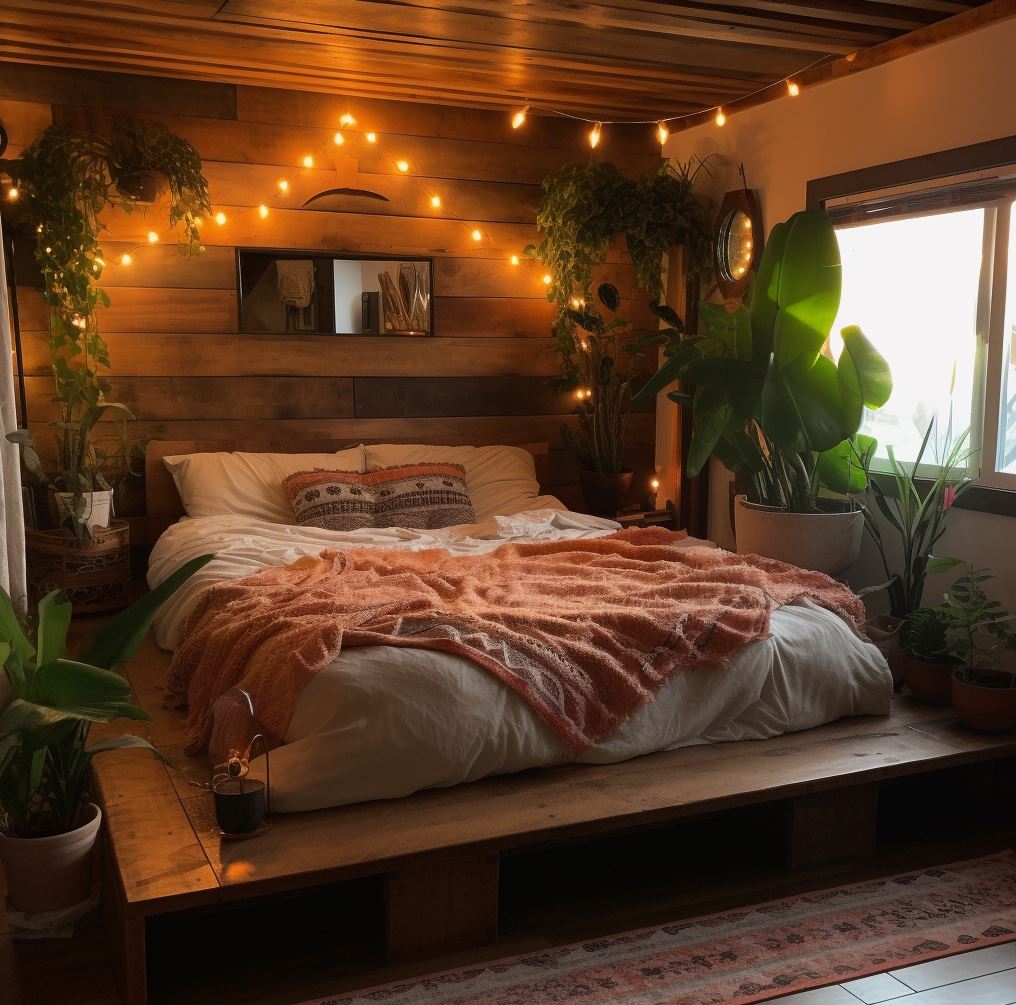 22. Have a Statement headboard
Bohemian lifestyle is all about being unconventional, eccentric and different. Why not put your energy on display by having a bed headboard that quite literally makes a statement.
The ideas are endless, and everything is on the table.
Here are some crazy ones.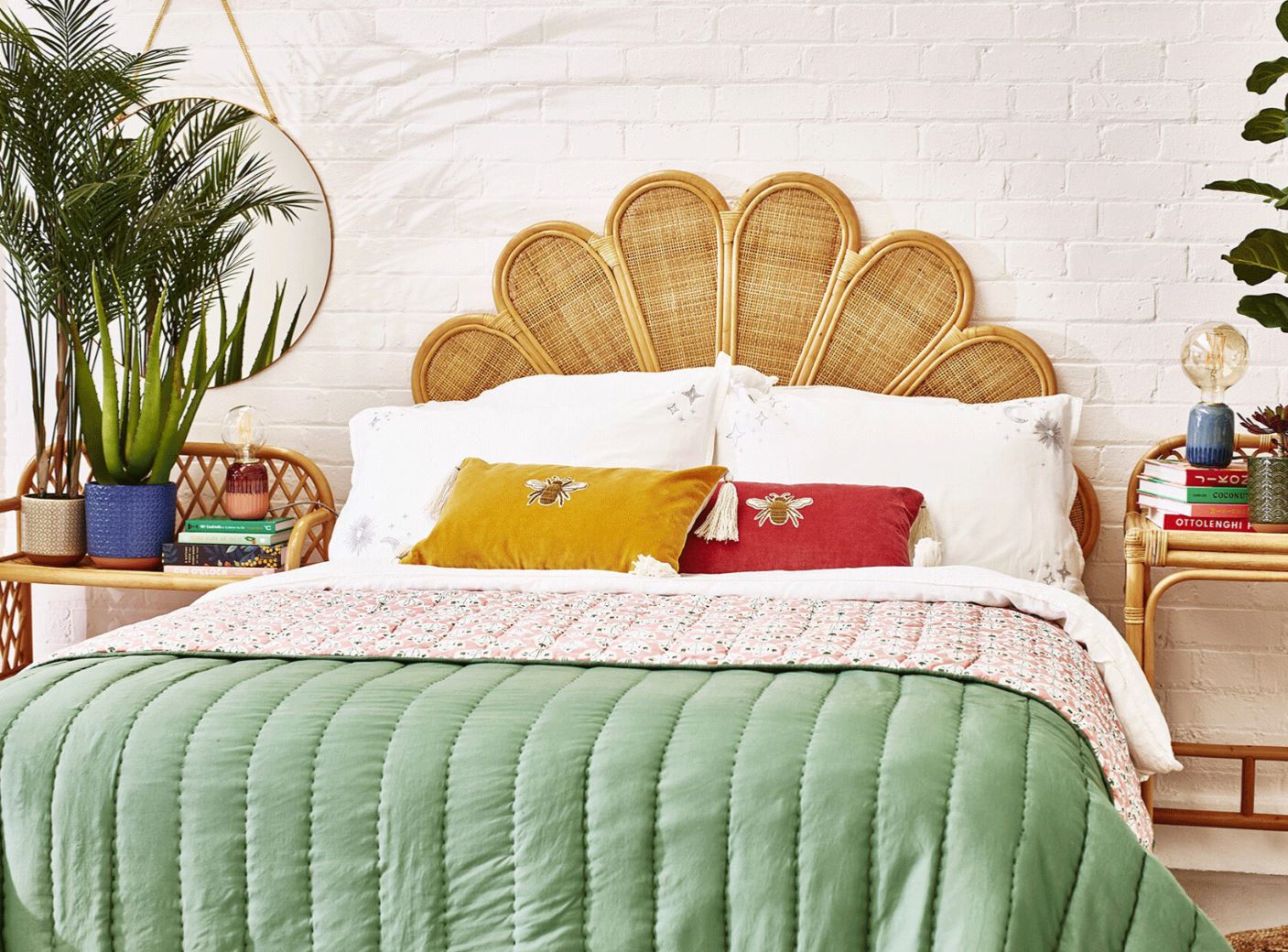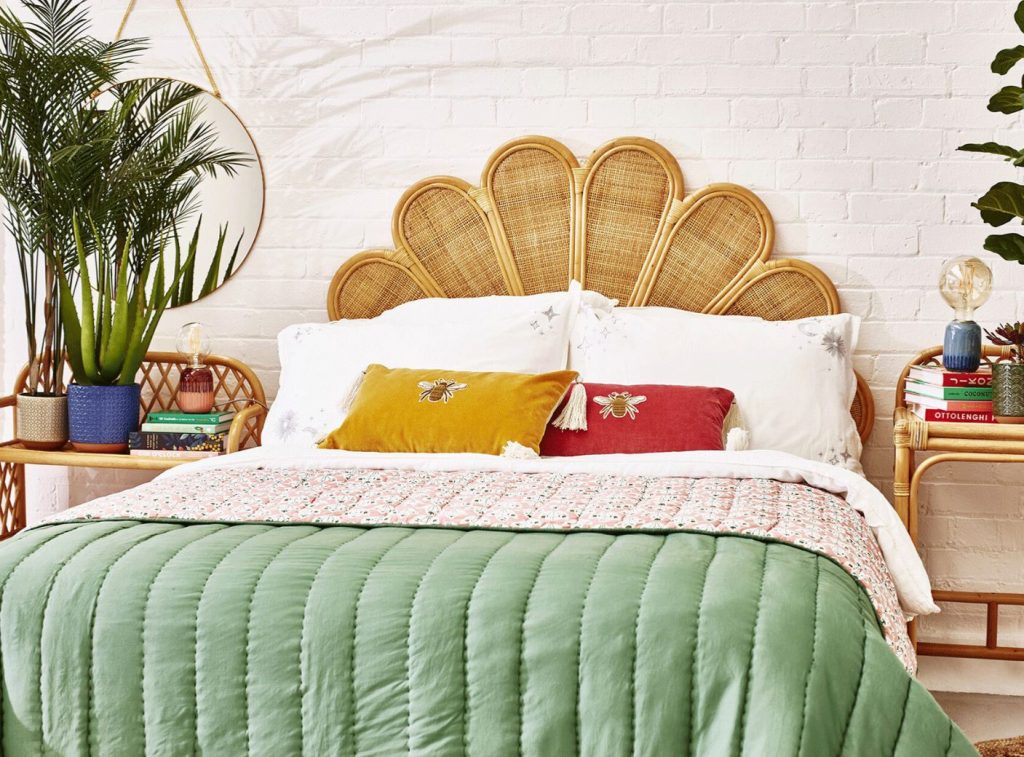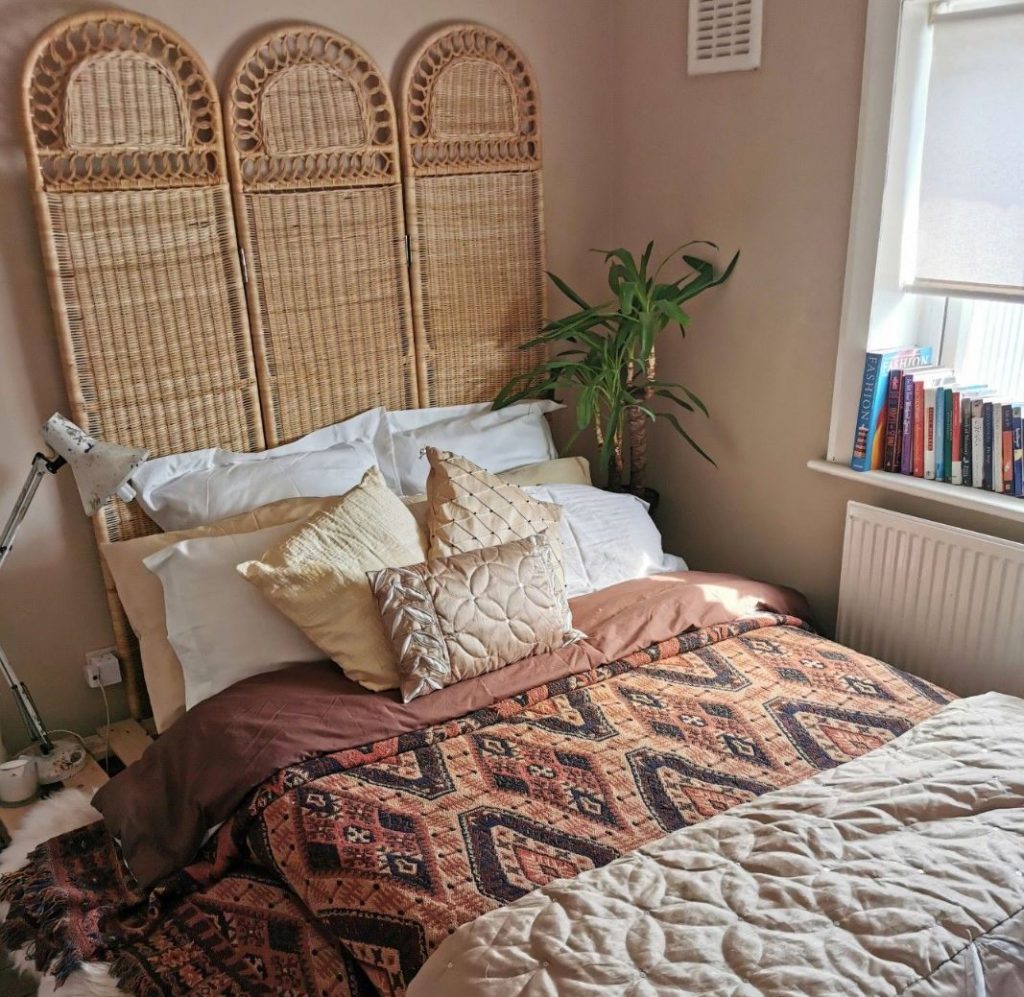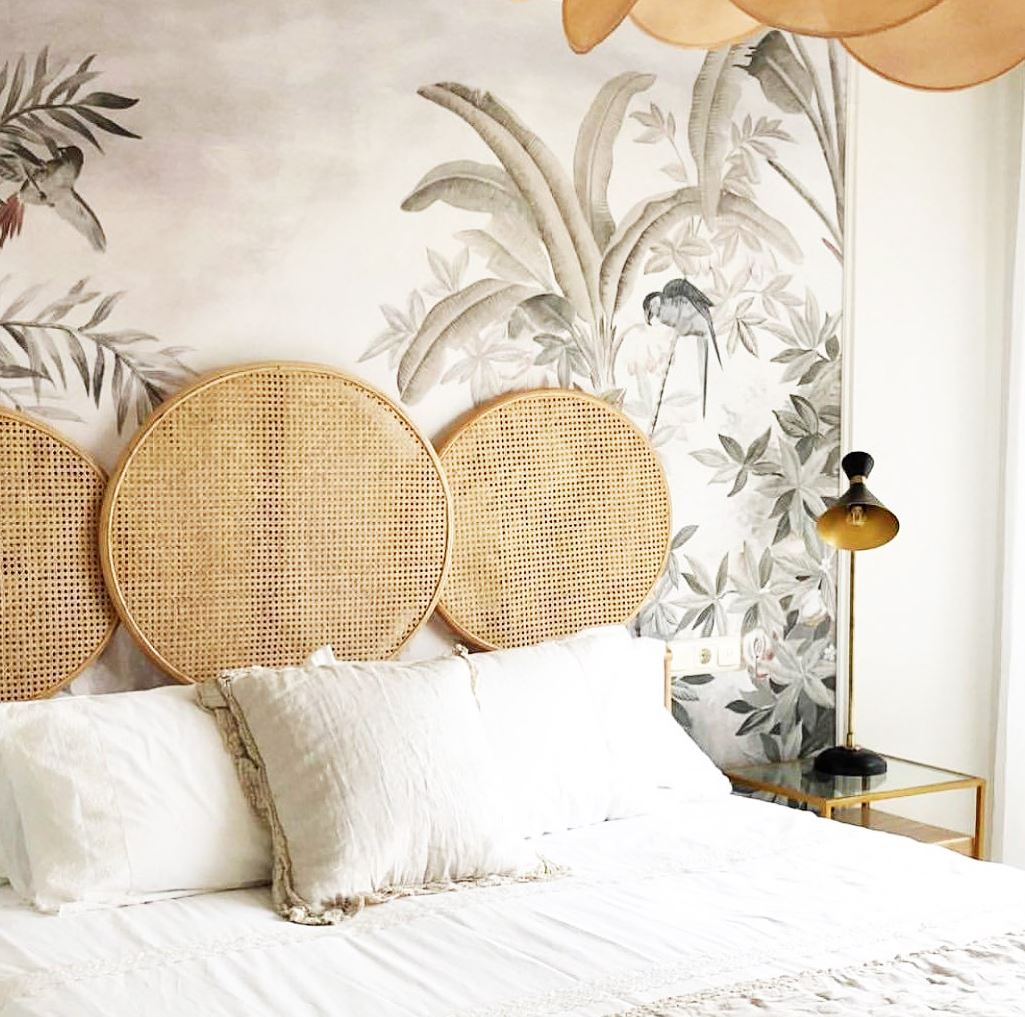 23. Use Bohemian bedding
Extend your free-spirited nature to the bedroom, and more specifically to the bedding.
Use bedsheets and duvets with vibrant, bold colors and patterns. Mix and play around with the textures too.
There are no wrong combinations, meaning every color can go with every color. Your limit is your imagination.
Here are some boho bedding ideas you can copy.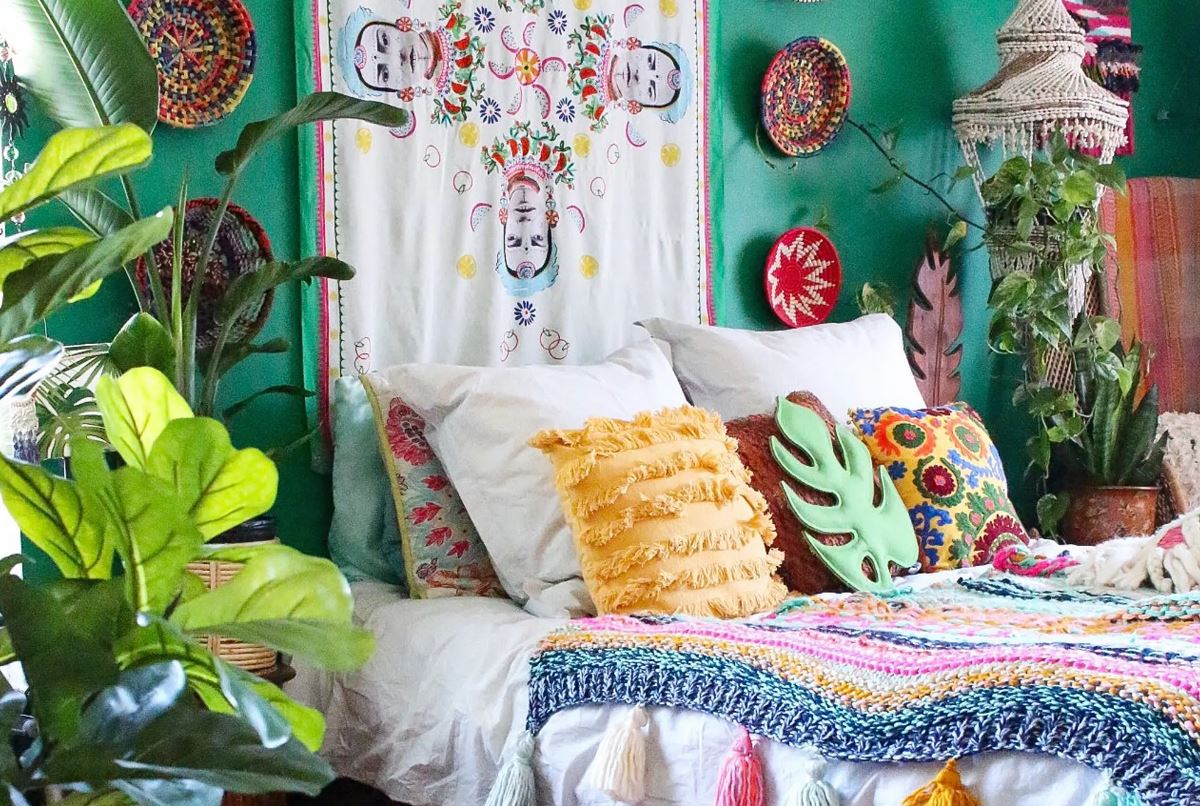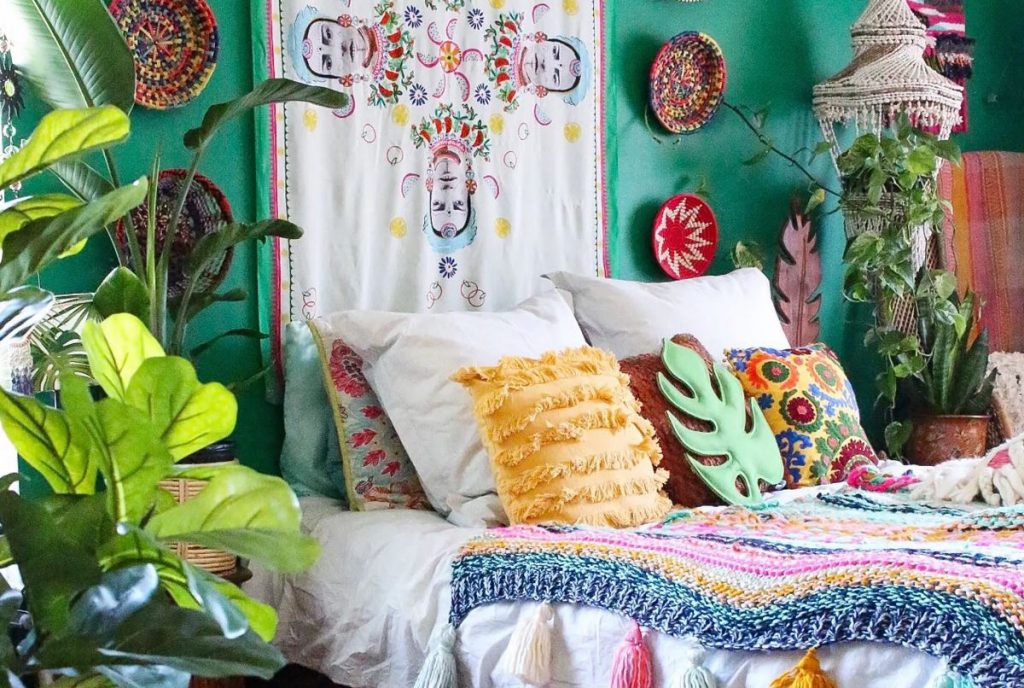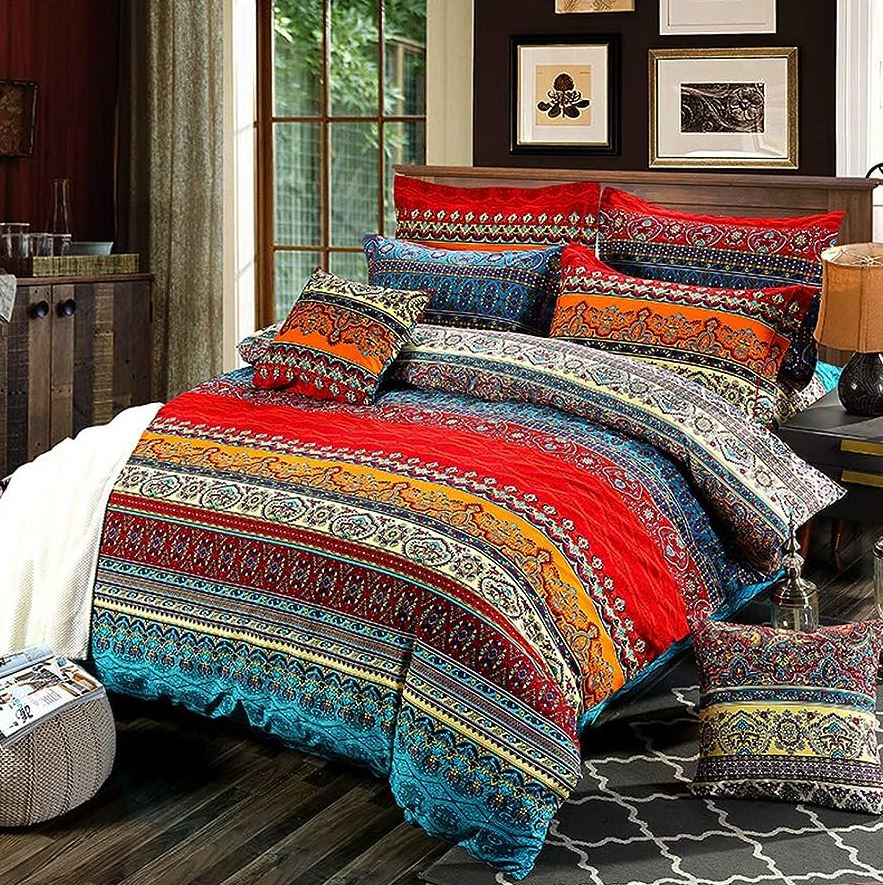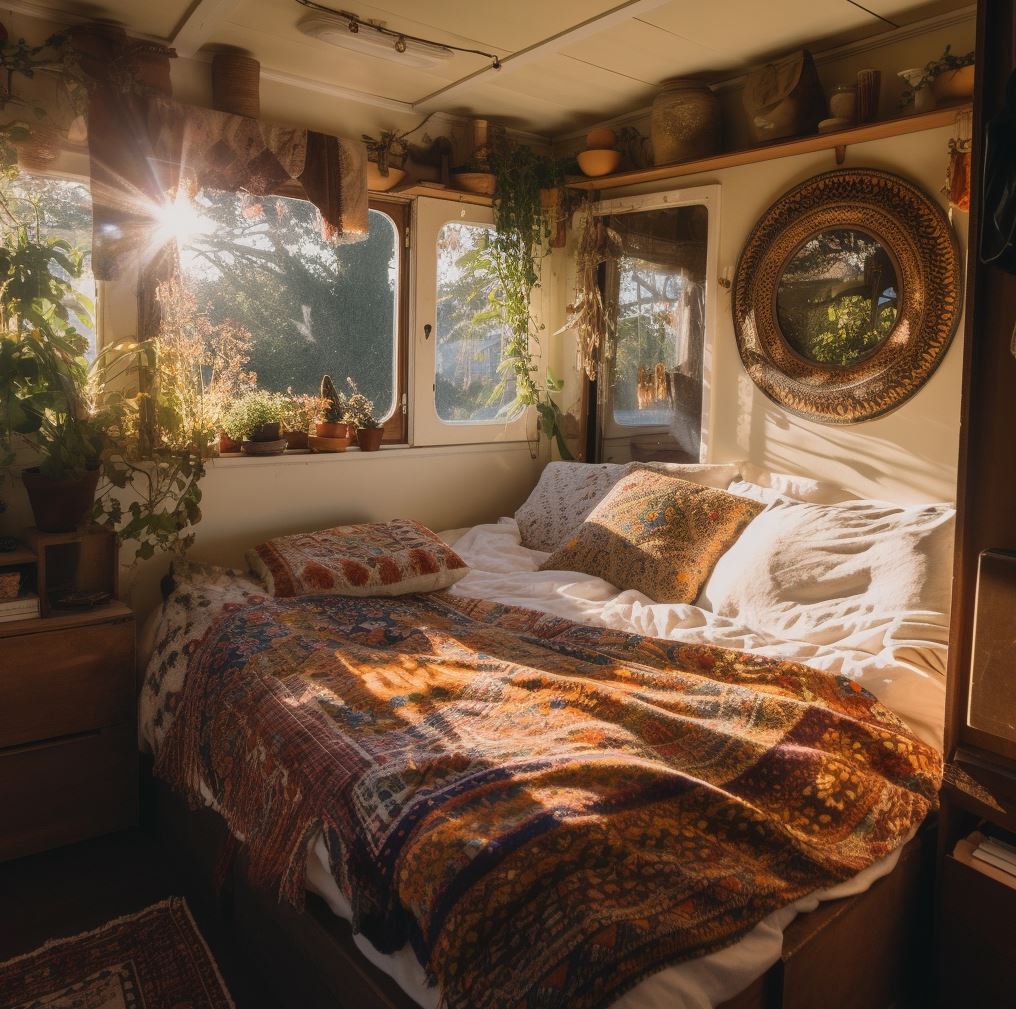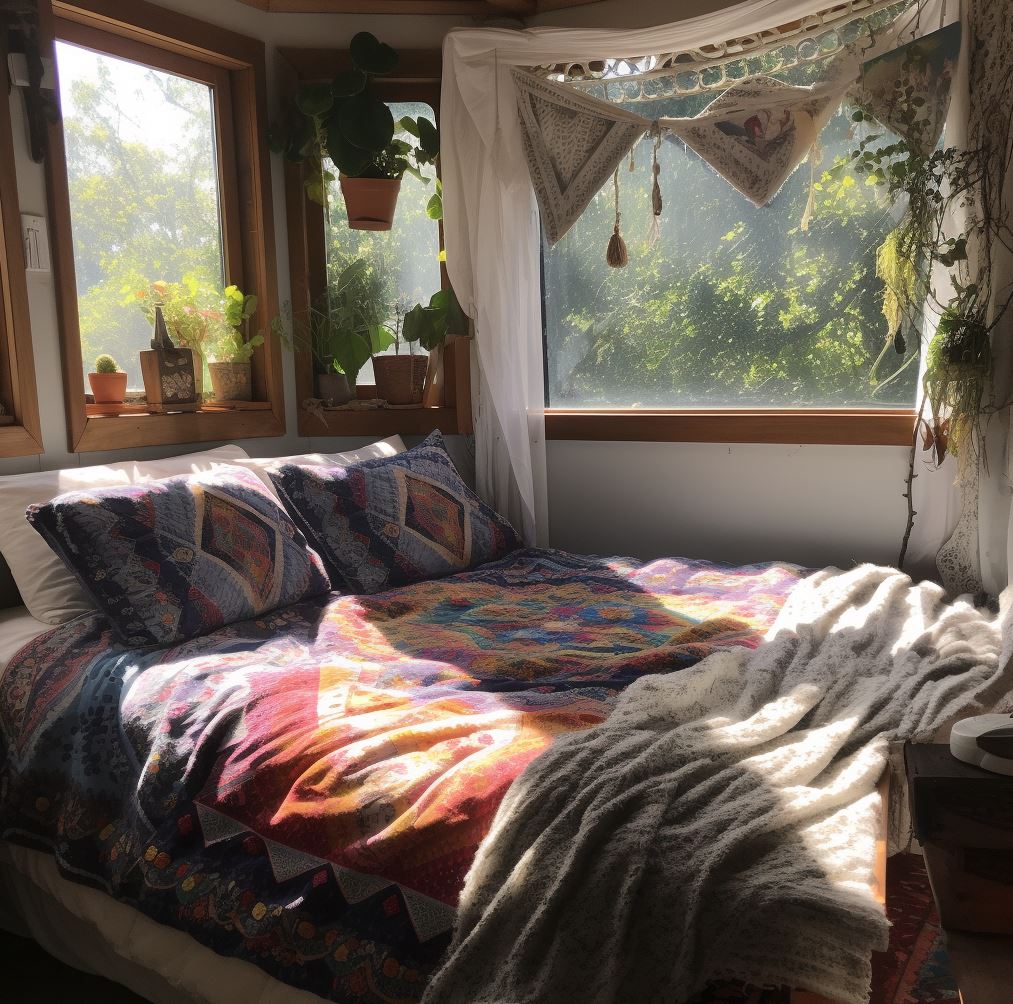 24. Adopt lots of Natural wood furniture
Natural wood is an integral part of bohemian decor. It brings warmth and an earthy, organic appeal.
Use natural wood for your coffee table. Choose the rustic type, with lots of unique details.
Having live edge furniture is also big in the boho space. Showcase the wood's natural beauty by maintaining irregular edges and organic shapes.
Export the same theme to your bedroom with bed frames with weathered finishes, wooden post canopy bed, etc.
Benches
Bamboo is also a top material in bohemian culture. Use it for chairs, headboards and more.
With natural wood, there are lots of DIY opportunities, from decor items to wall hangings to the furniture itself.
Here are a two examples.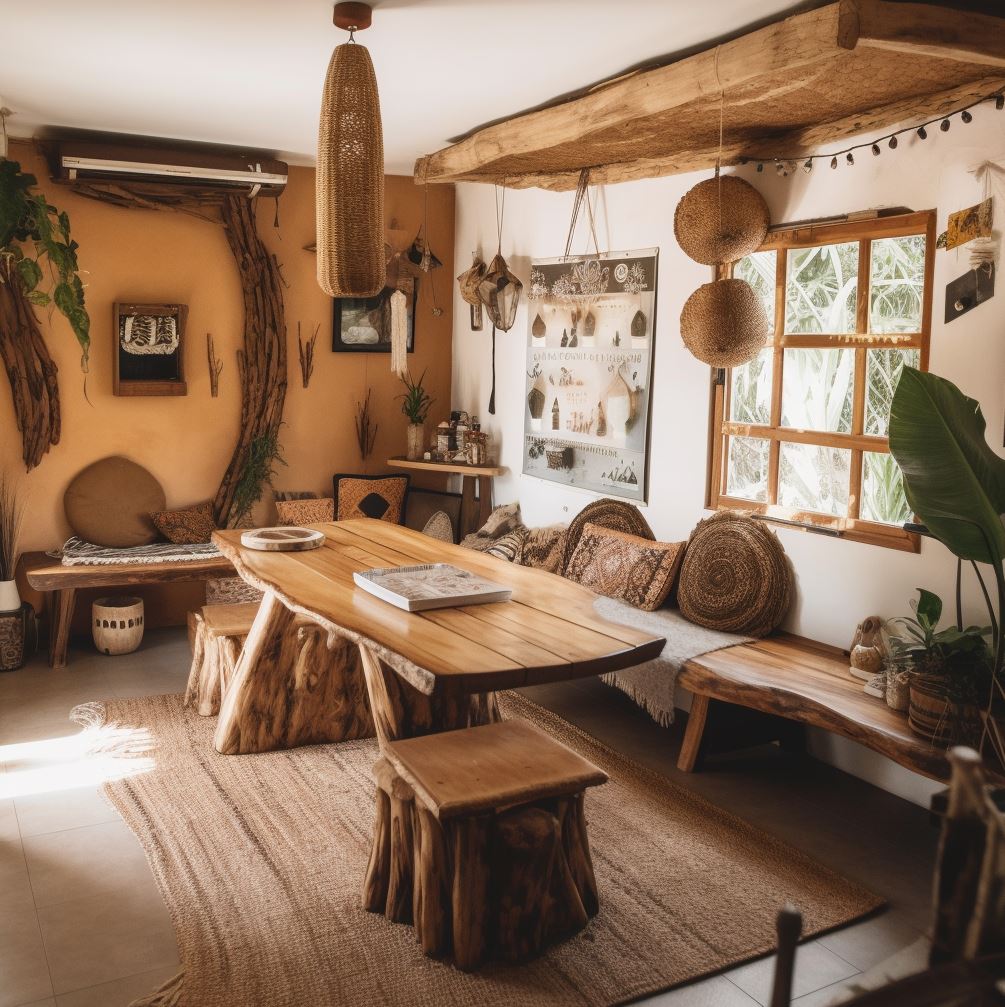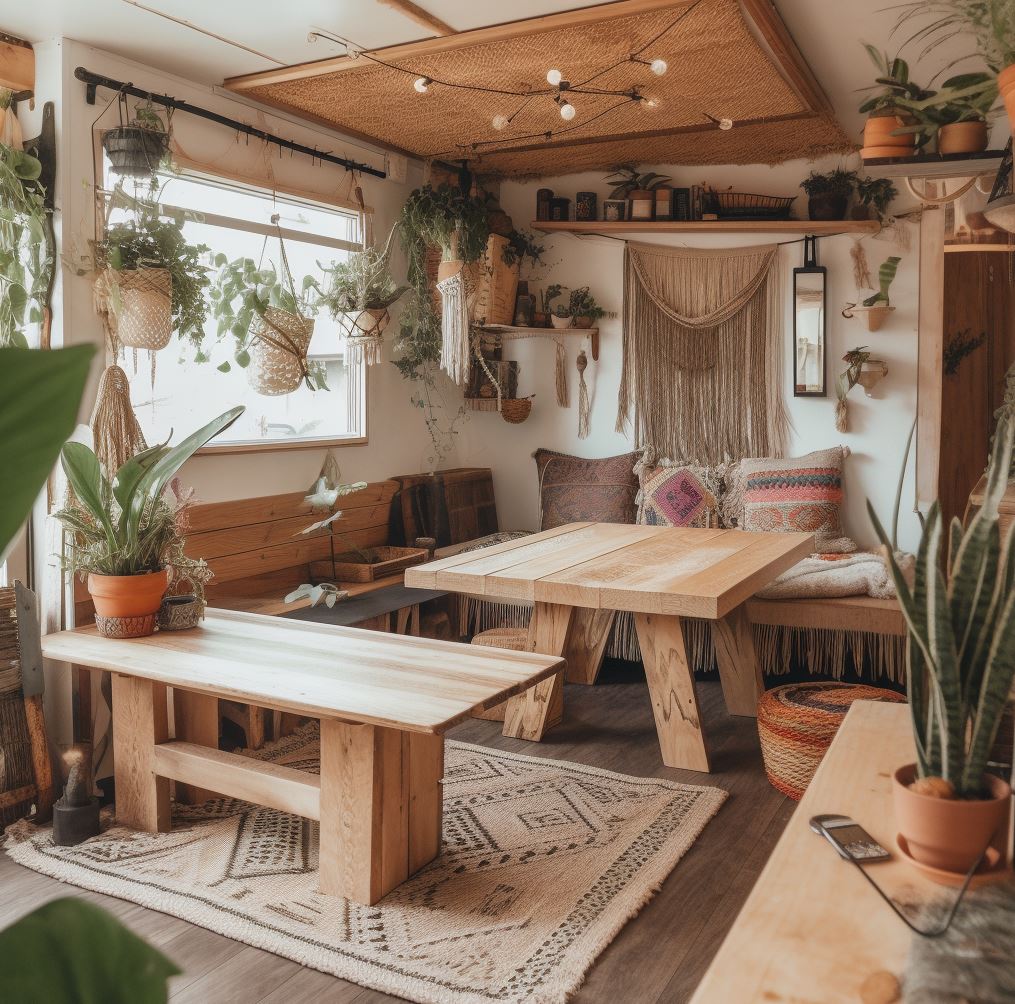 25. Embrace Handmade furniture
Handmade furniture go hand in hand with a boho lifestyle. It is the rejection of mass production that lead many to hunt for unique items, often made as single pieces.
This artisanal vibe is central to the boho decor. Always be on the look out for handcrafted furniture pieces and other unique elements for your space.
Websites like Etsy excel at this.
From macramé chairs, to Moroccan poufs, to wood and rope furniture… the options are endless.
Here are some examples you can pick for your own small living space.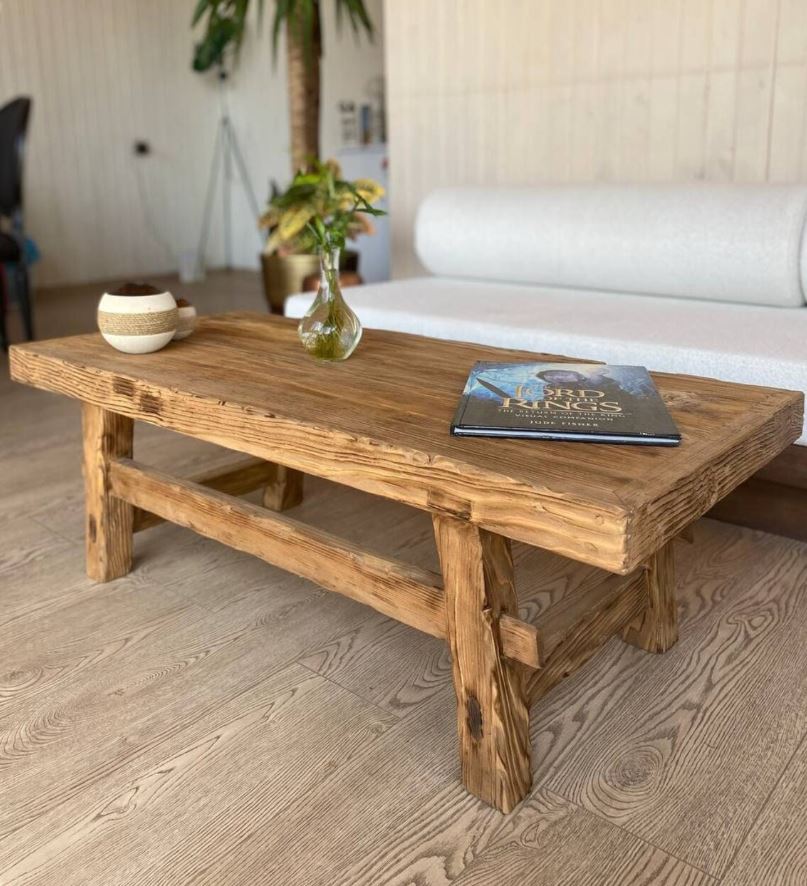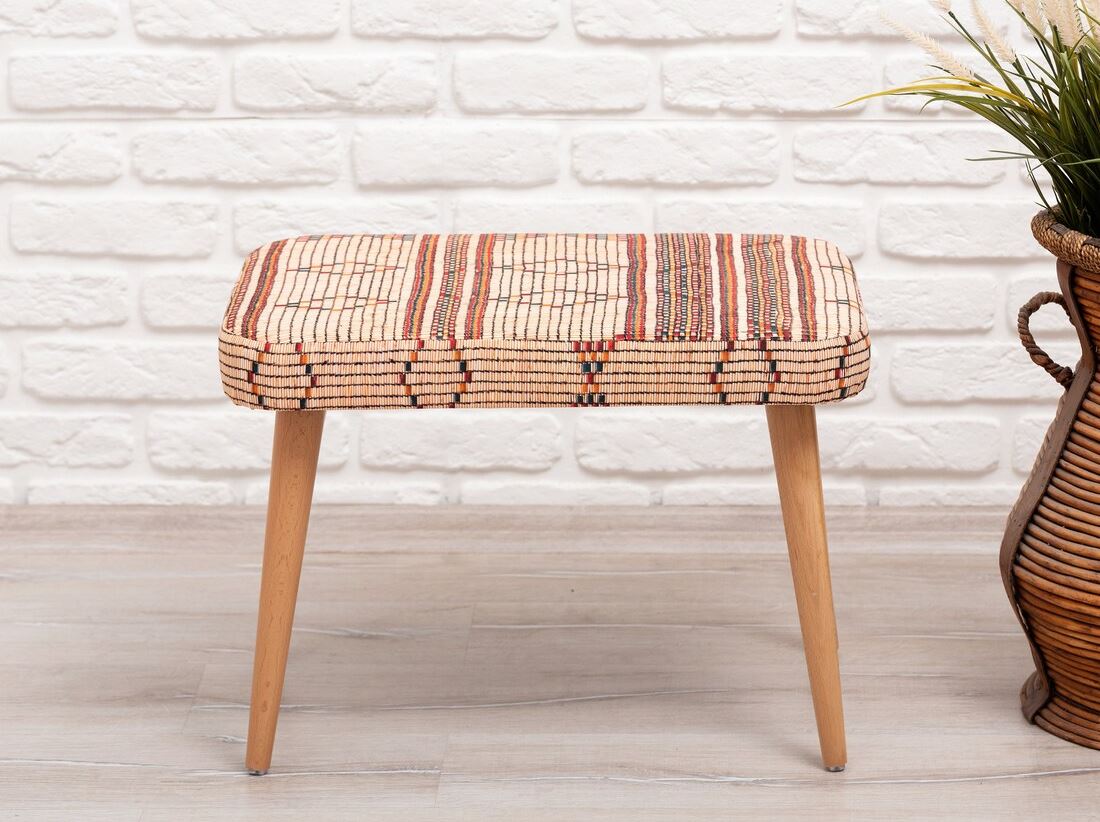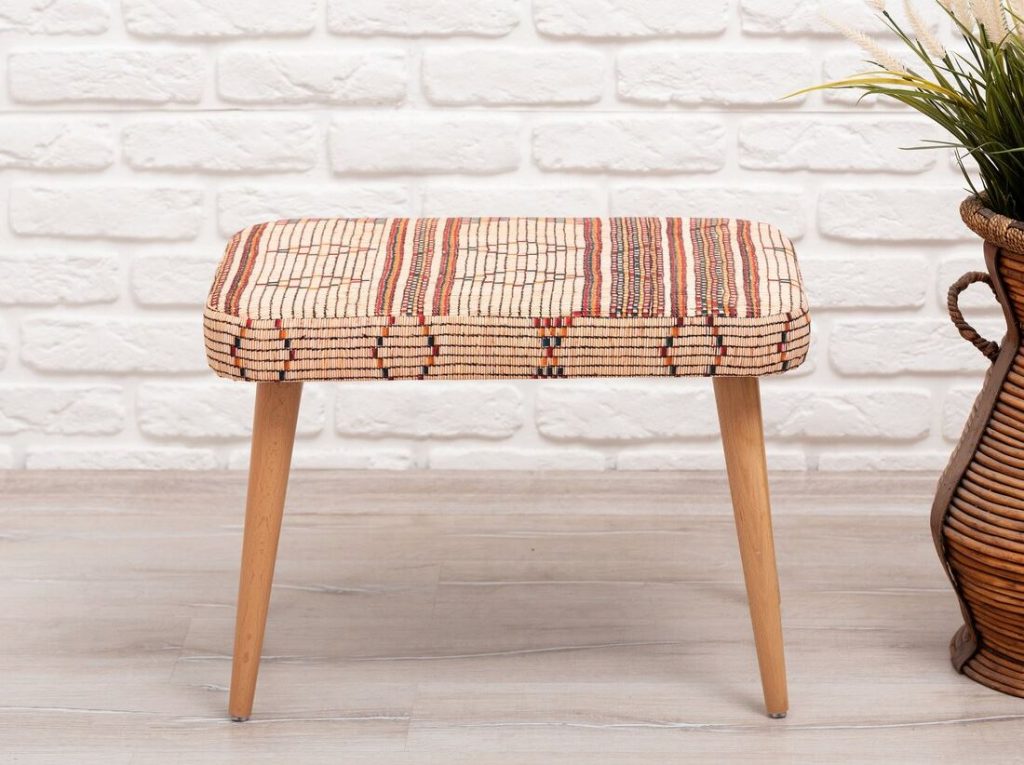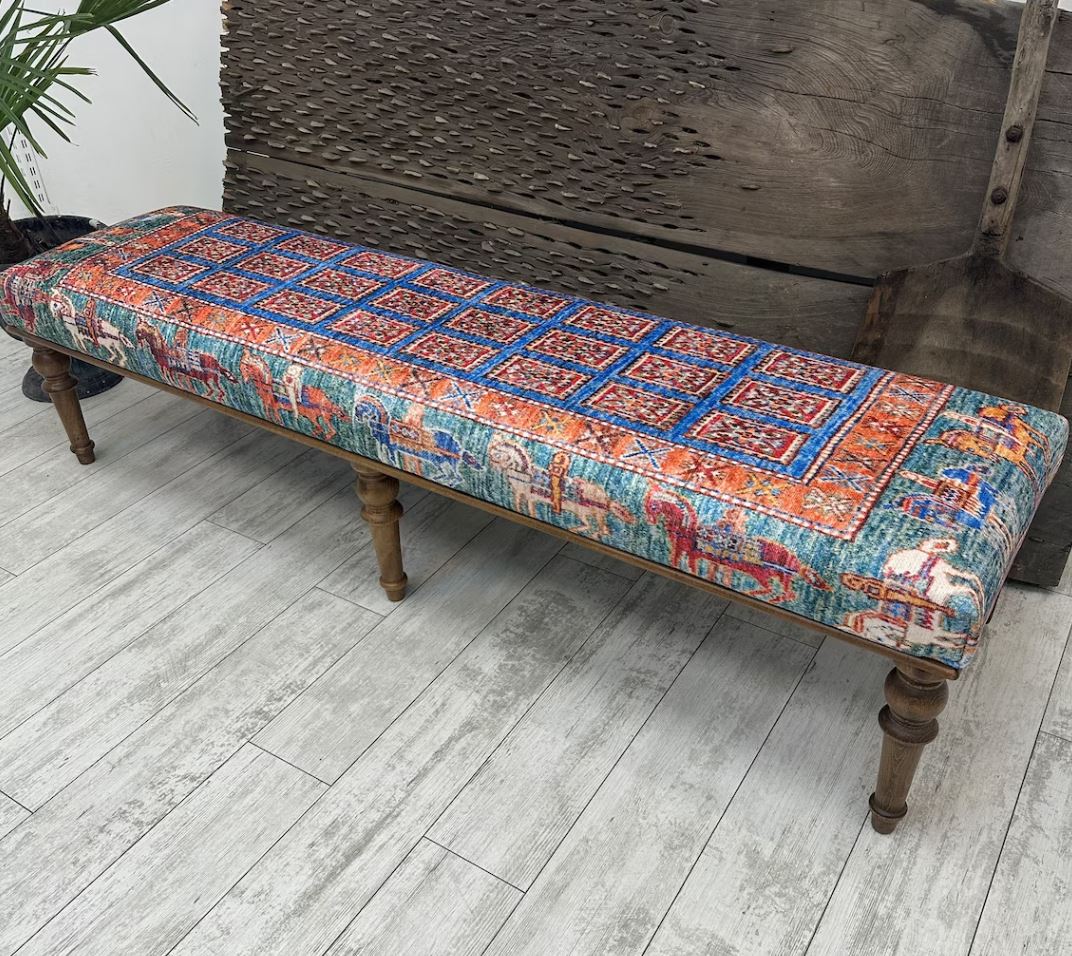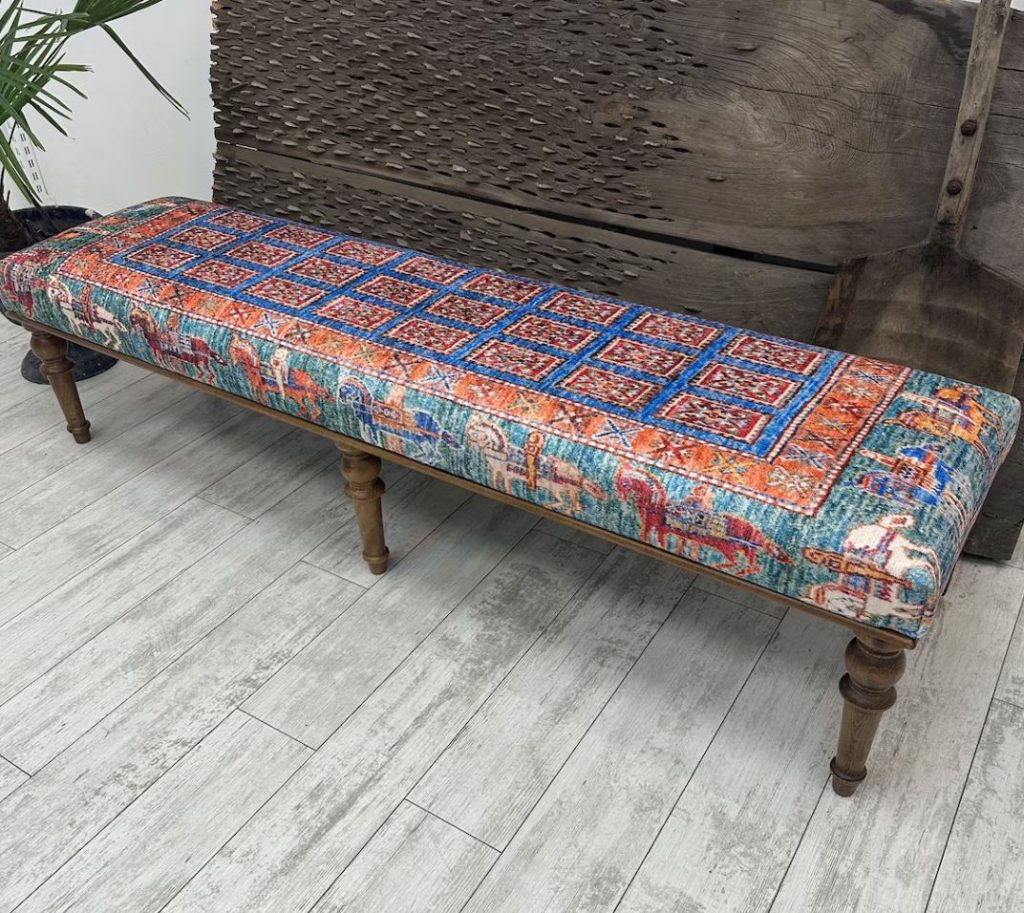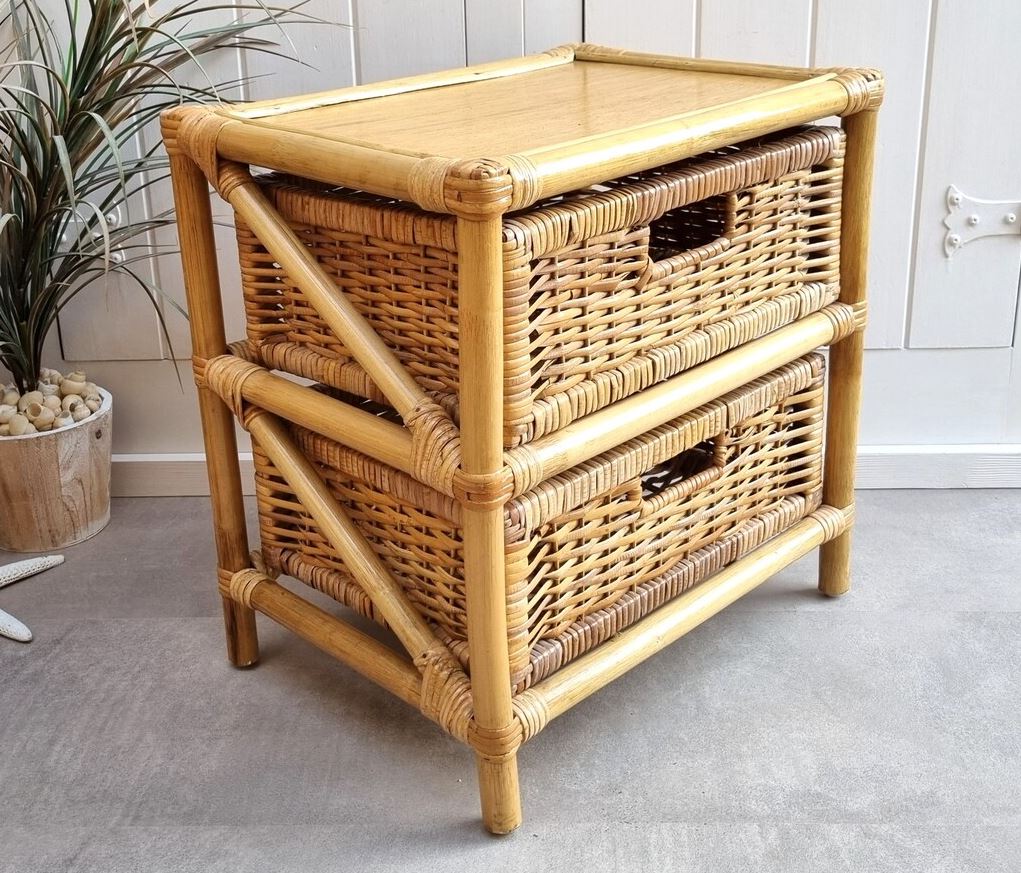 26. Use Reclaimed Materials
Utilize reclaimed natural materials for your build, to achieve that boho/rustic look.
For instance, this tiny house dubbed The Gypsy Mermaid used reclaimed wood to achieve bohemian features like the arched wood ceiling beams, the staircase rail, the dining table and even the pizza oven fireplace.
The tiny house features lots of other bohemian decor, but in a much subtle way than we've seen with others.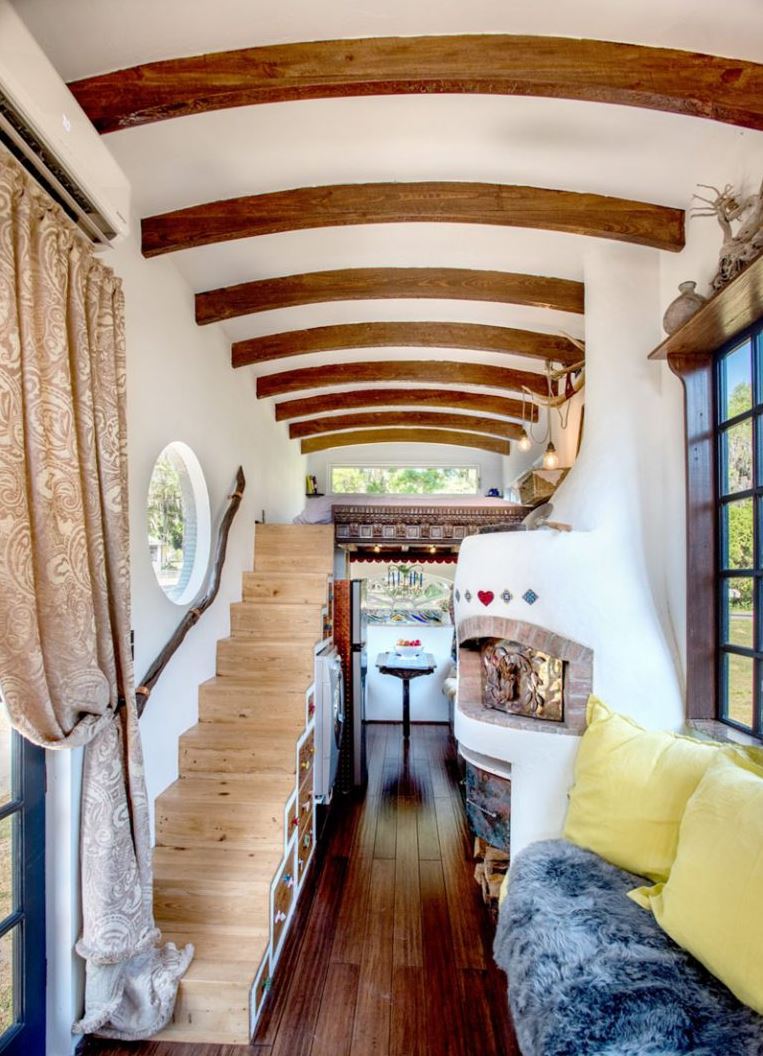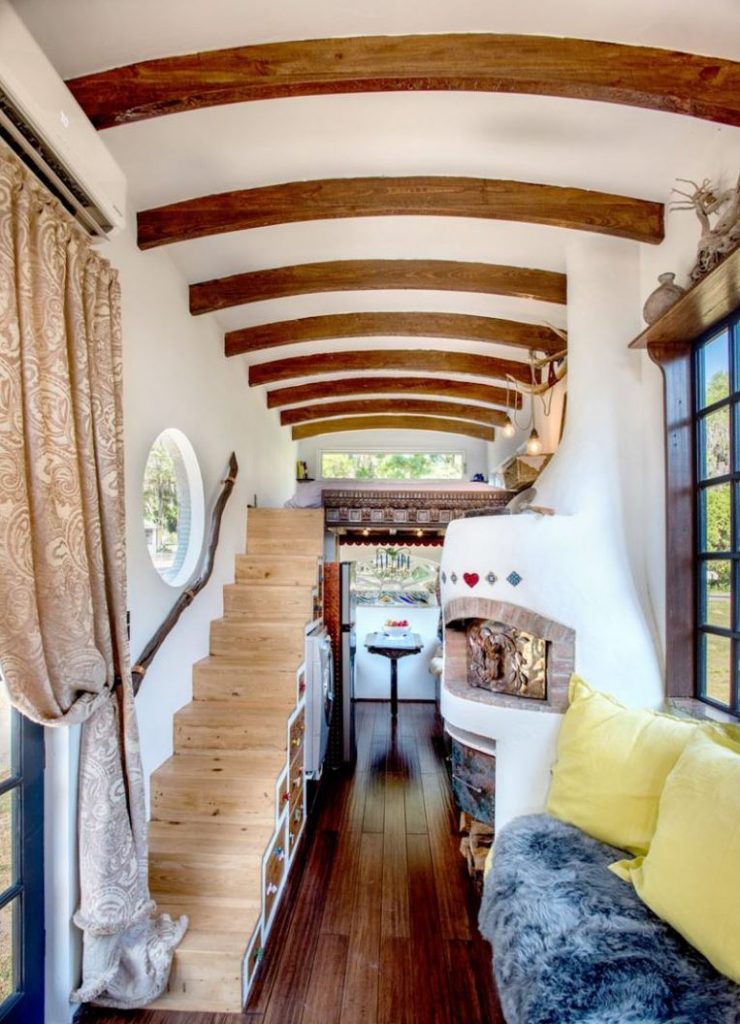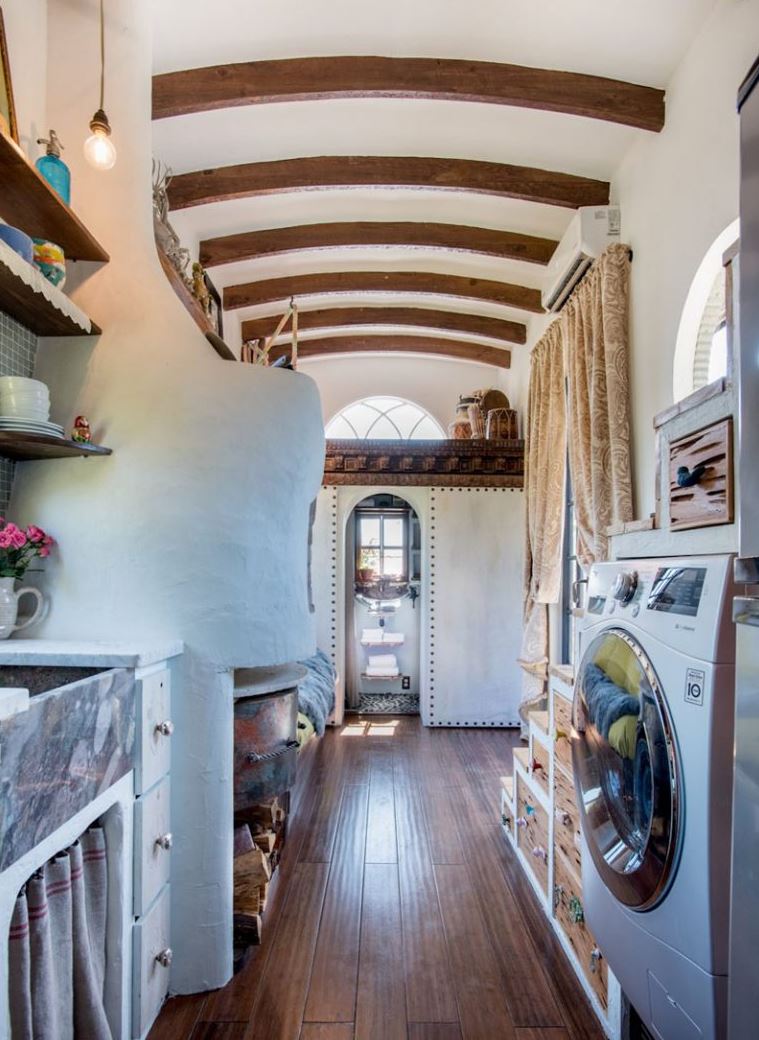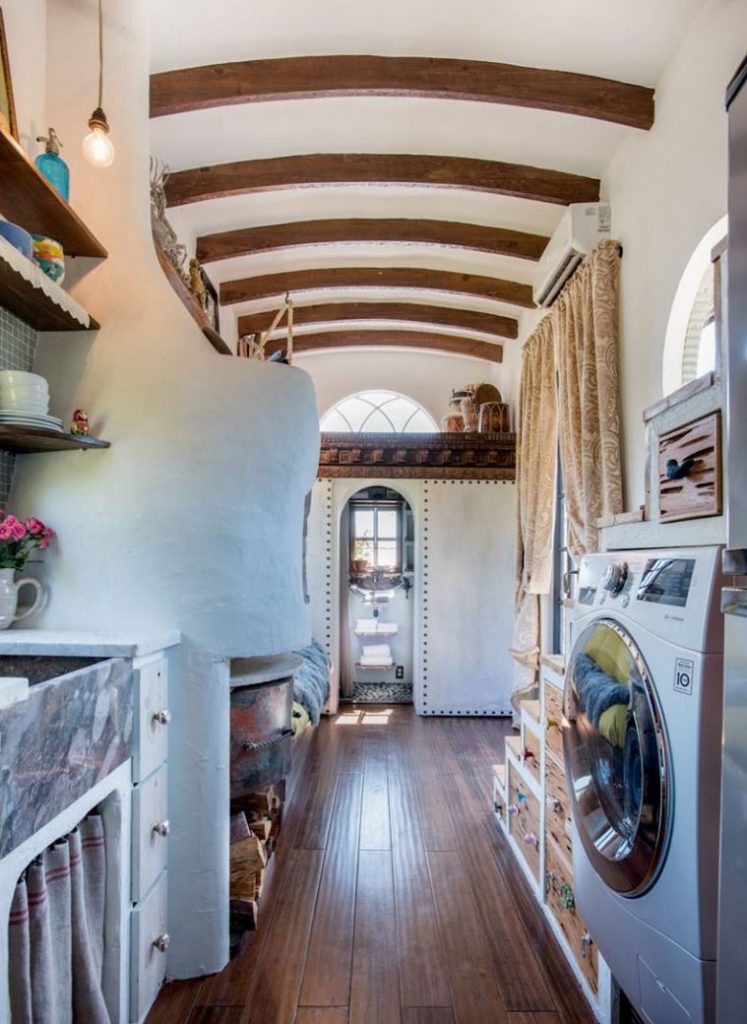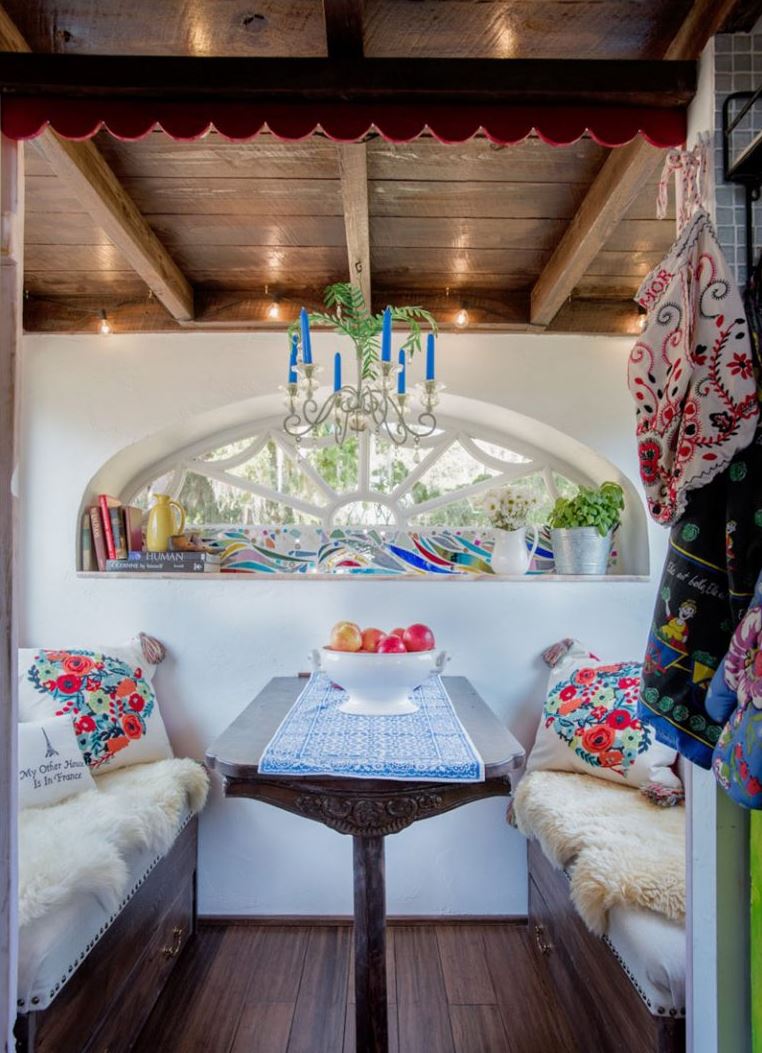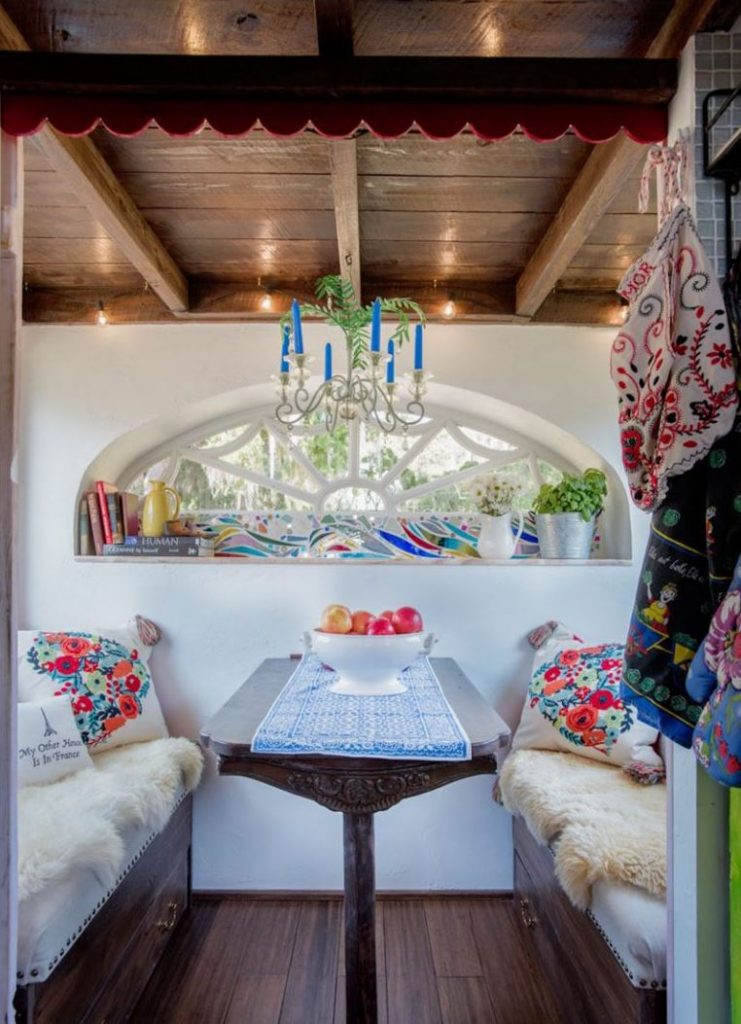 27. Hang Some Woven Wall Baskets
If you want to add some charm to your boho tiny house or small space, there's nothing better than woven wall baskets.
Mix and match different sizes, shapes and colors.
The baskets add a focal point and a visual interest point. They look great above your sofa or bed, and will certainly draw lots of attention.
You can go overboard with lots of baskets, but even a couple will totally transform the space.
Here are some ideas.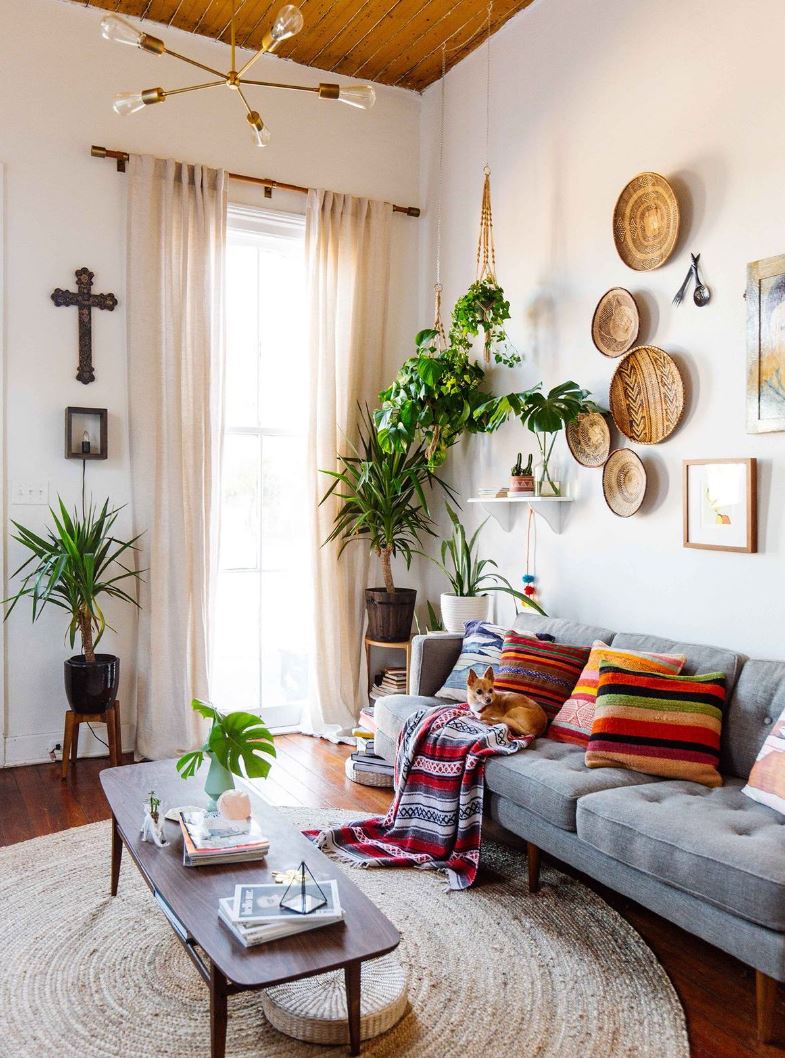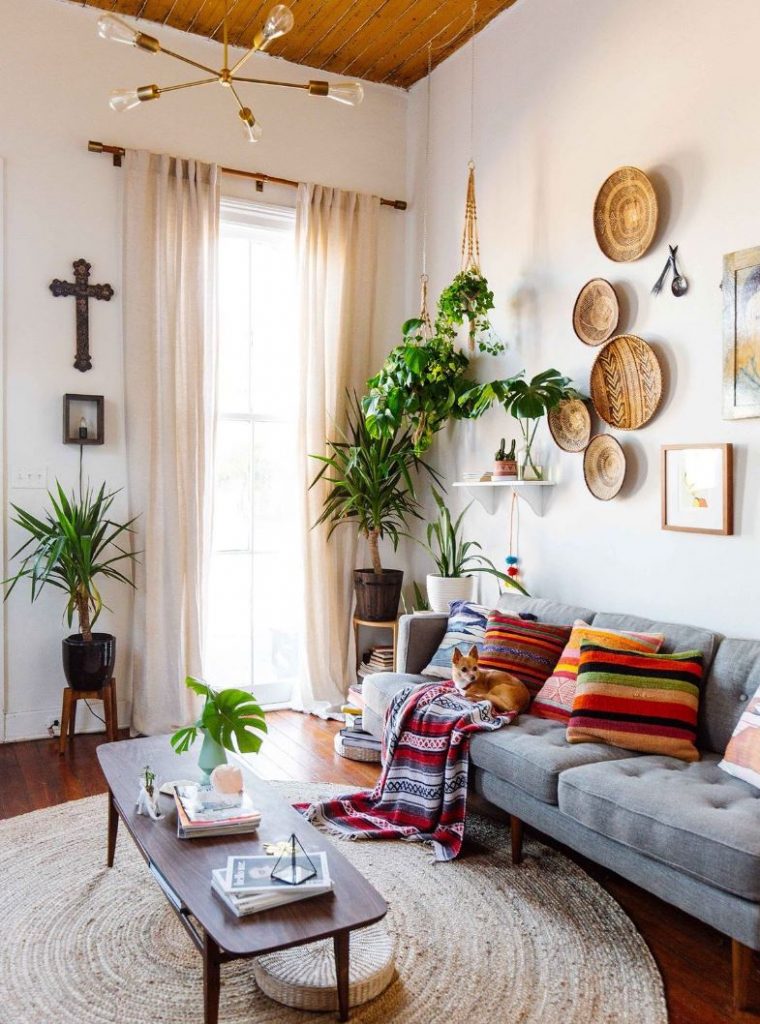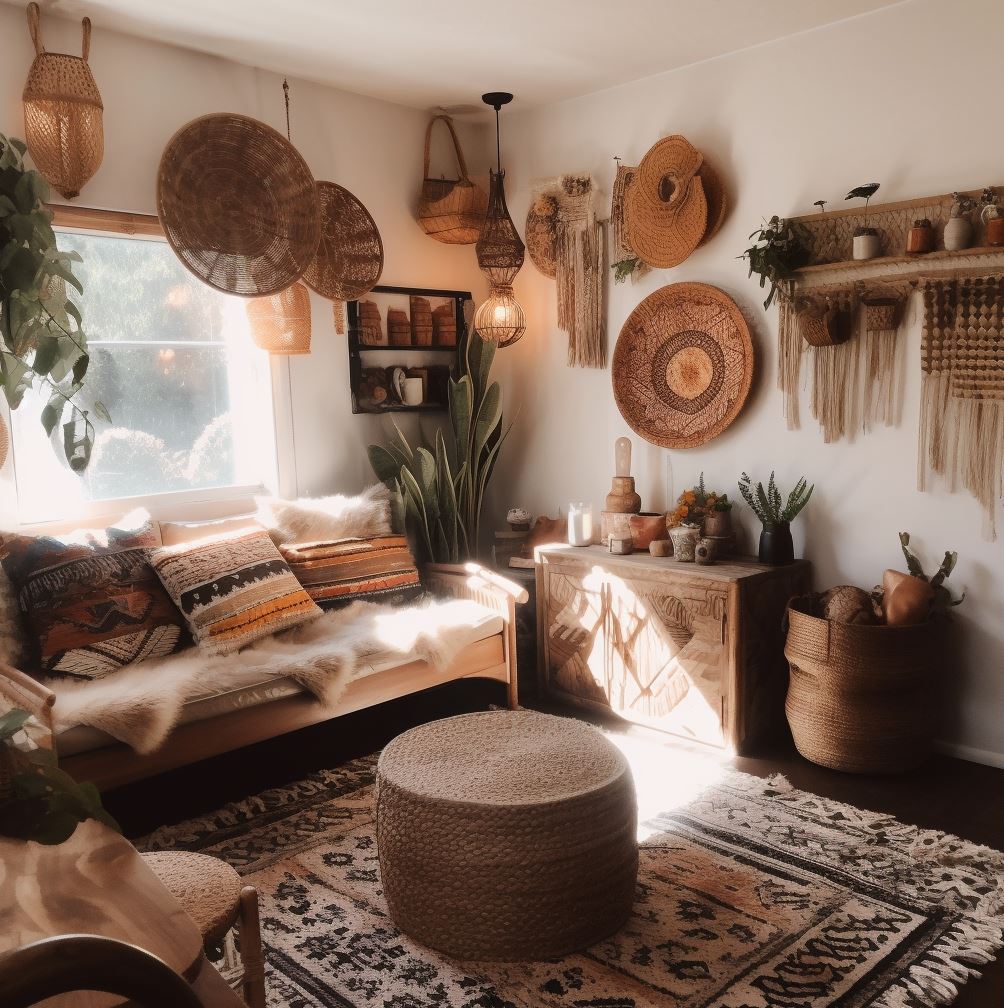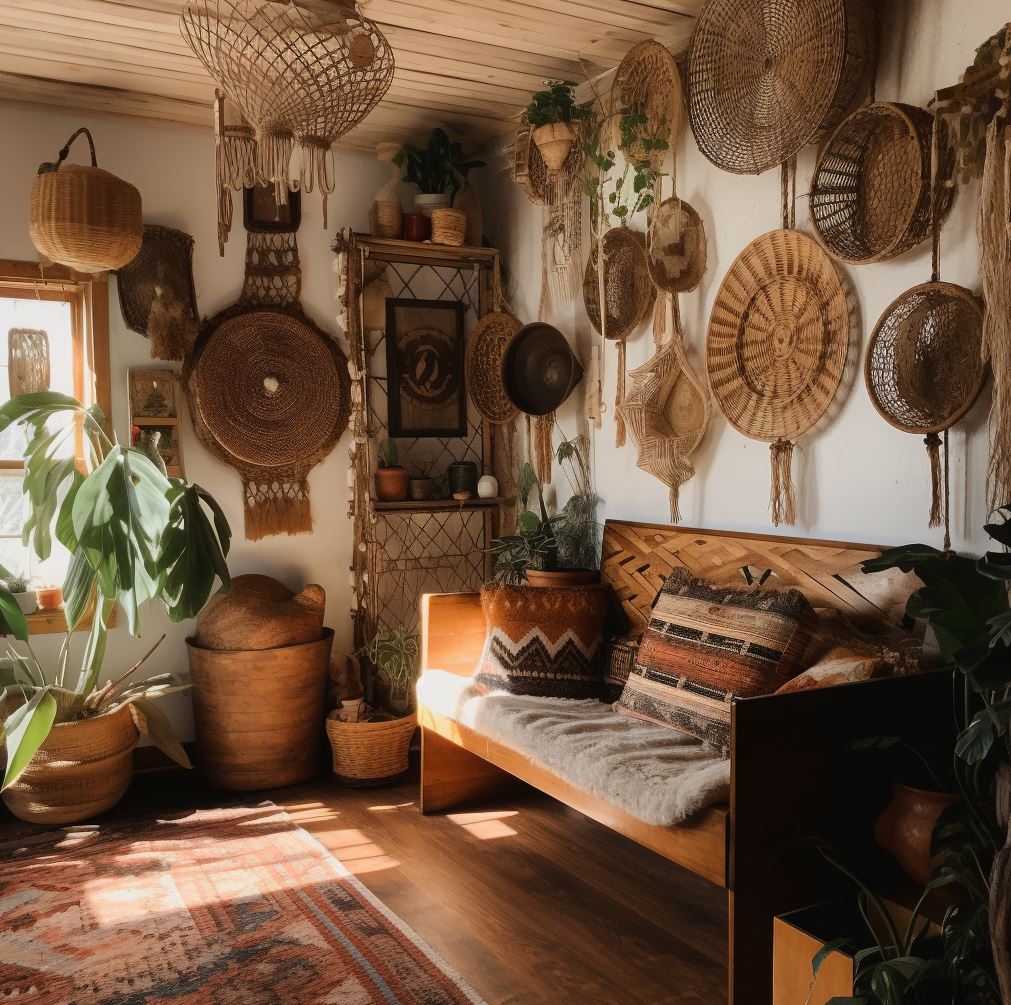 28. Plenty of Floor pillows and poufs
Not only do the floor pillows provide comfortable seating, but they are fantastic in adding that boho flair.
Go hard on vibrant colors and patterns.
Floor pillows are best arranged in a cluster, and are particularly good in the living space. They can also transform your bedroom, lounge or even a kids playroom.
Here are some beautiful ideas you can copy today.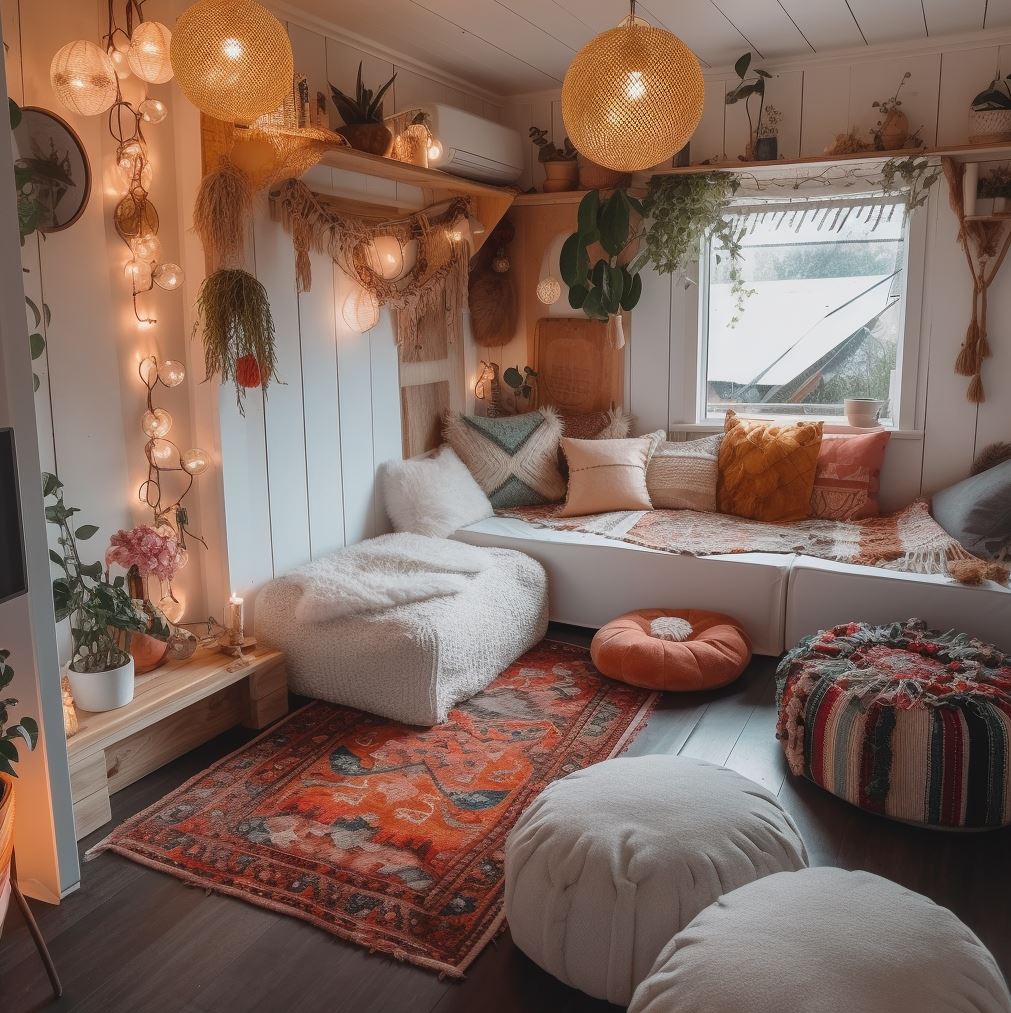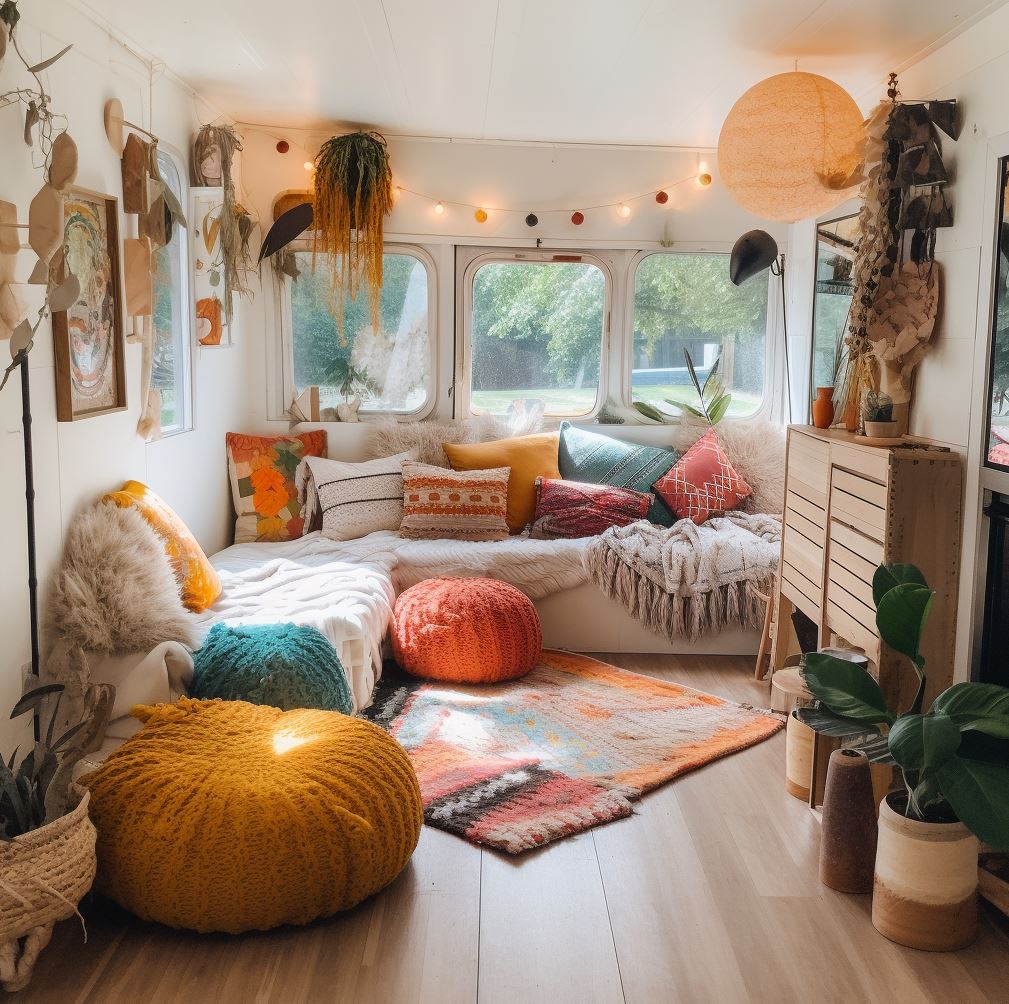 Floor pillow ideas for a bohemian decor 1
29. Embrace Colorful Throw Pillows
You can never go wrong with throw pillows, and the more colorful they are, the more the boho vibe.
Throw pillows are a fantastic way to express your personality. Mix and match every color you can think of, and don't be shy to pick different sizes either.
Here are some playful ideas for your tiny living room boho decor throw pillows.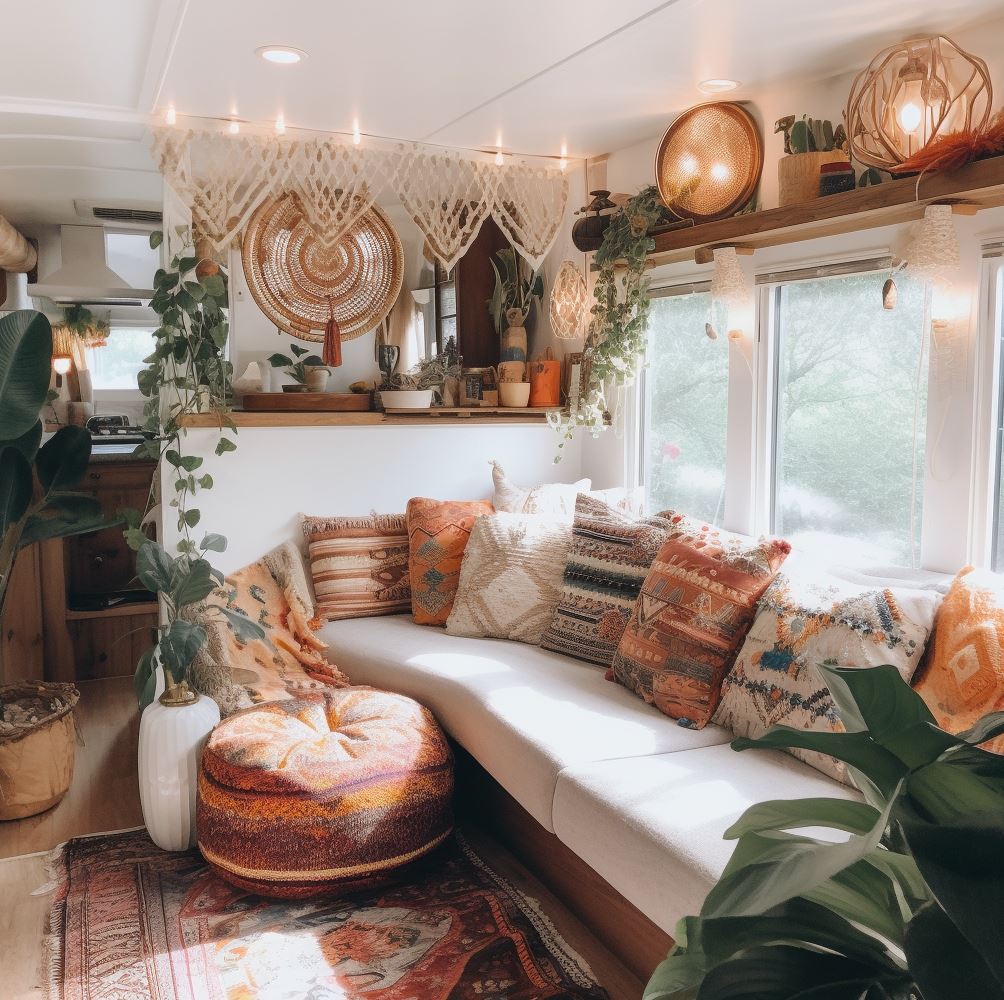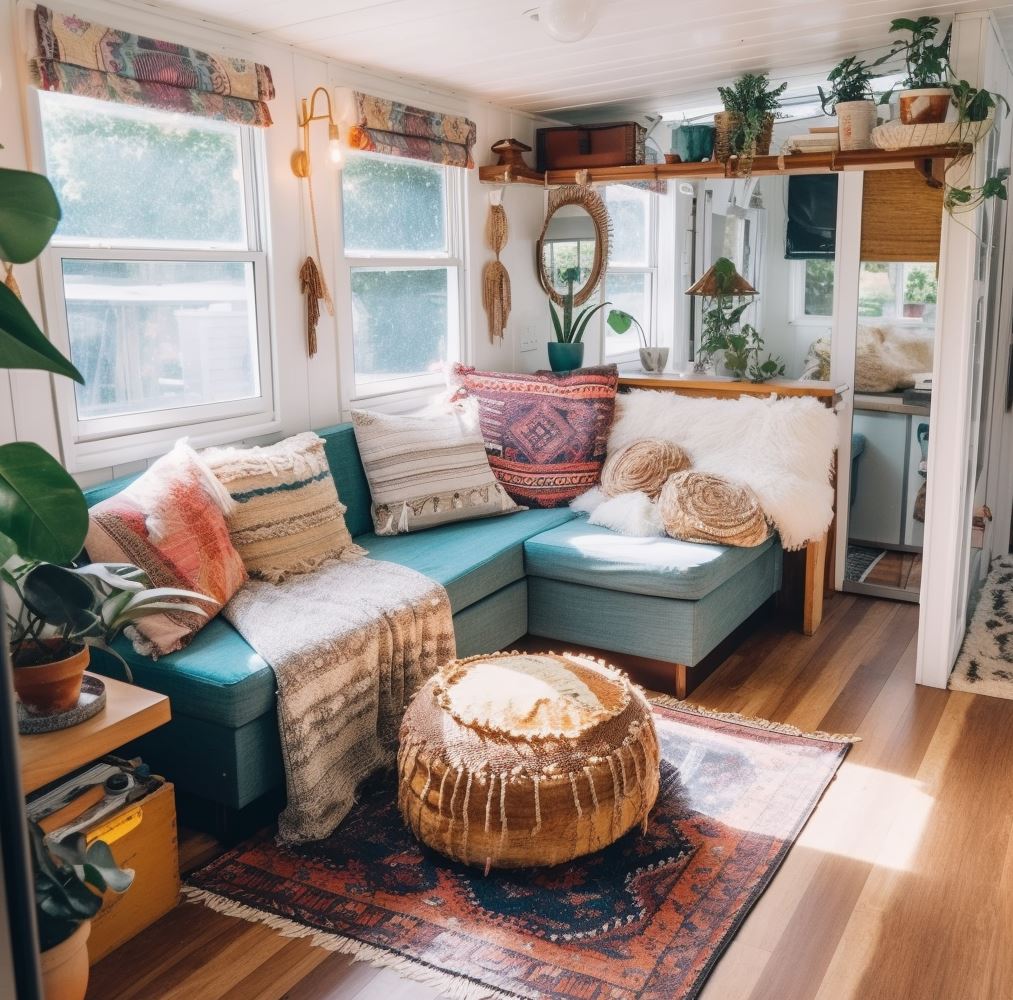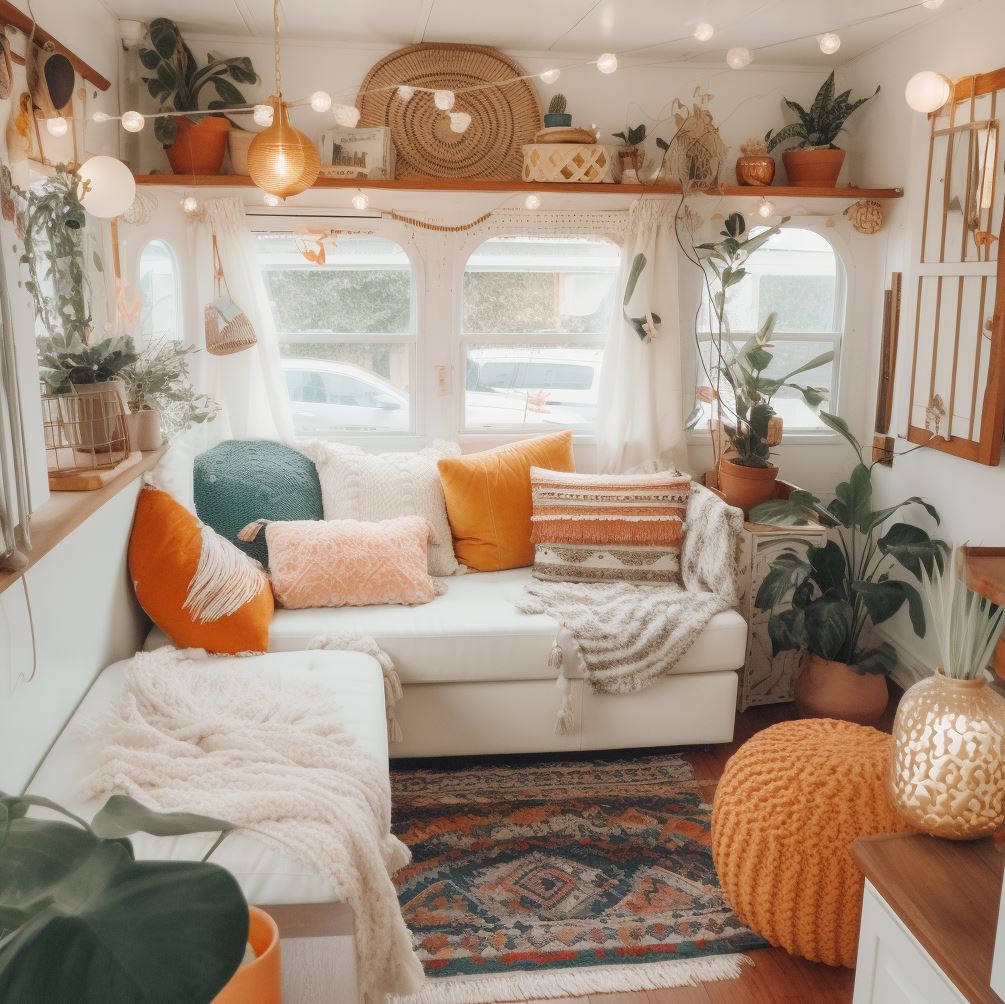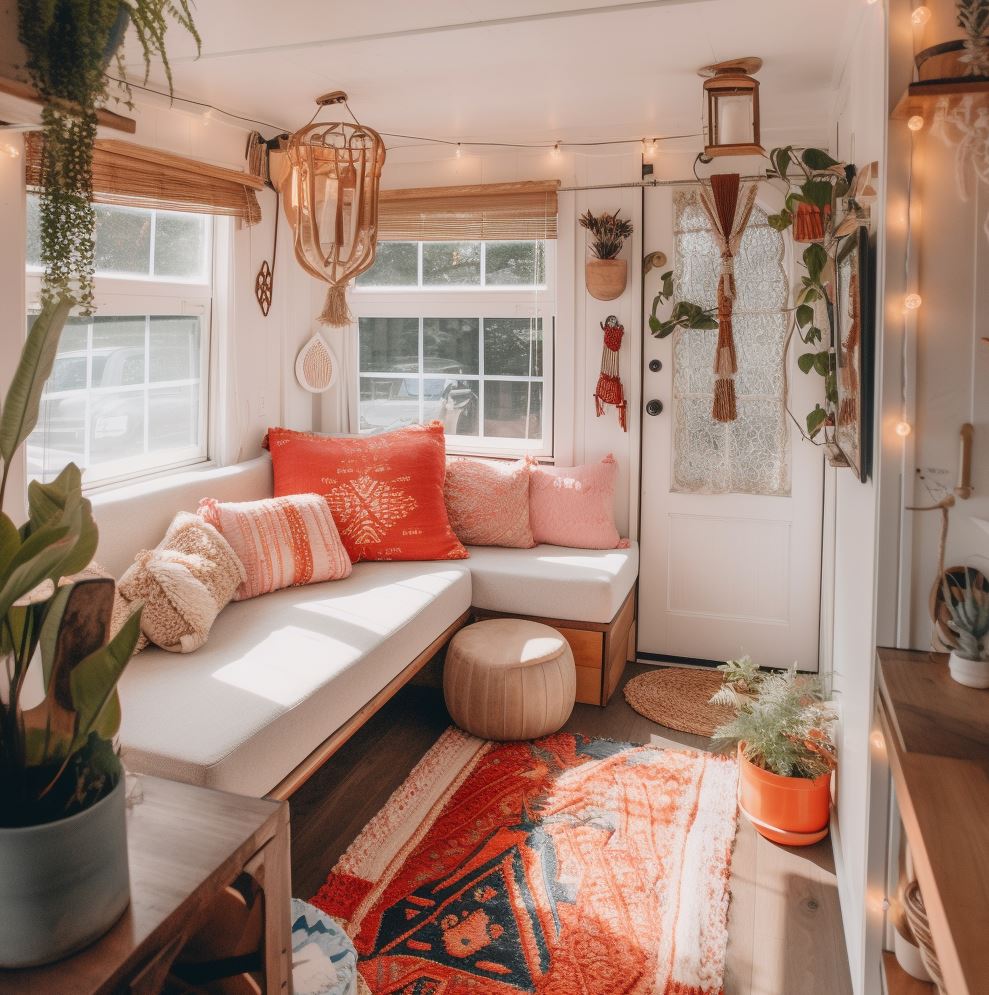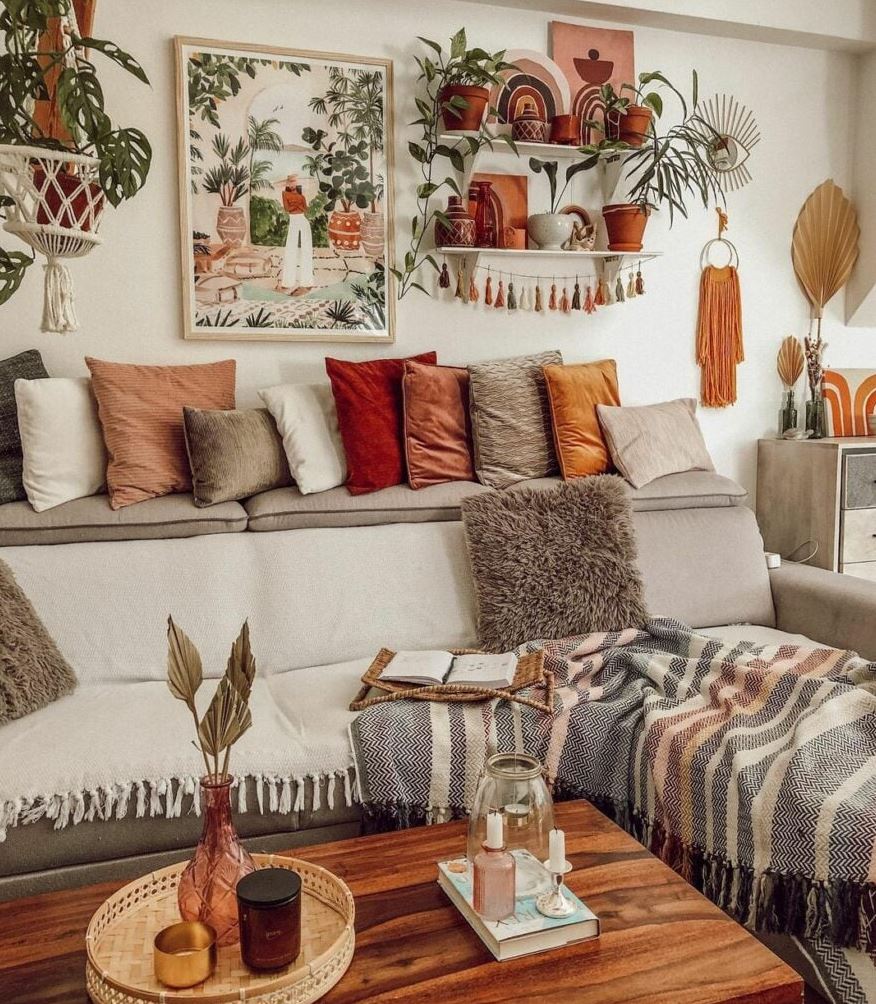 30. Decorate with Swing and string lights
When it comes to lighting up your boho living space, you are spoilt for choice. There are many ways you can choose to go, but I've found that swing or string lights give the best vibe.
When combined with other boho elements like plants, cushions and macramé Accessories, you get the perfect evening cozy vibe.
They transform the space into a whimsical, relaxed and magical setting, especially at night.
Check these ones out to see what I mean.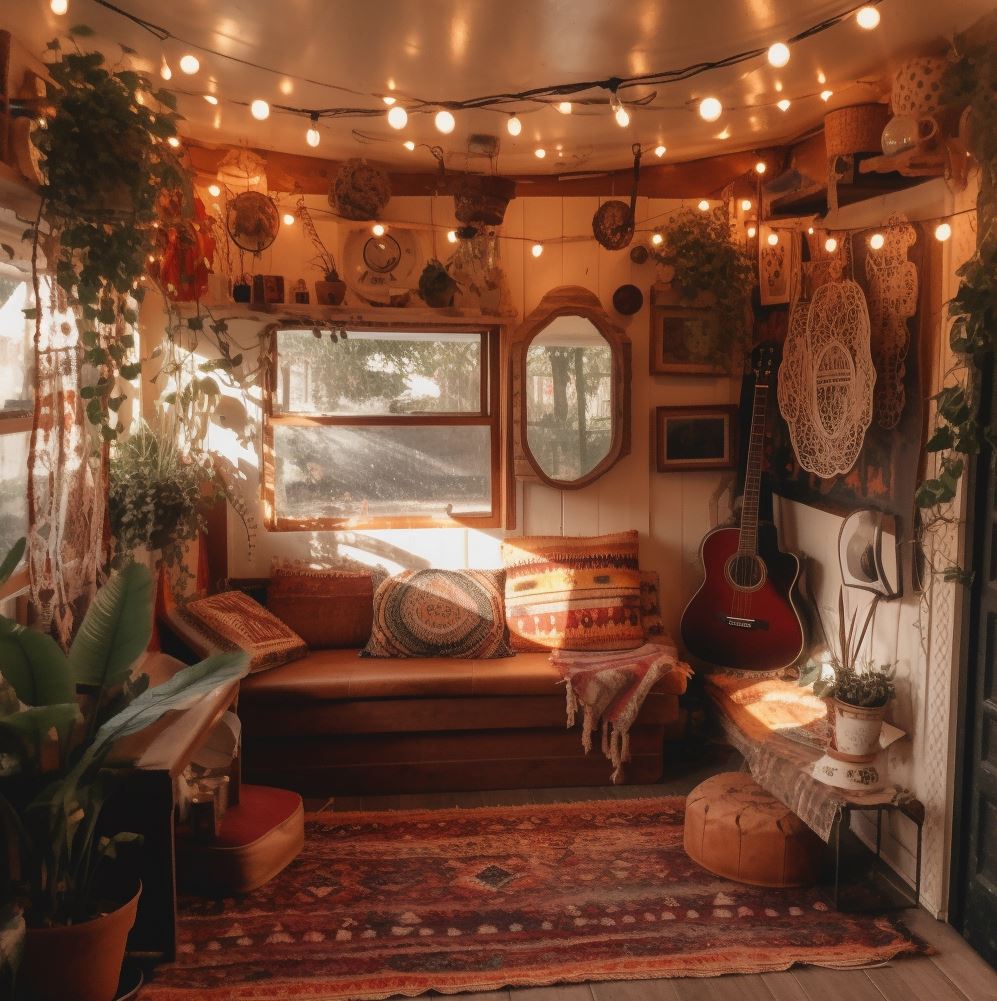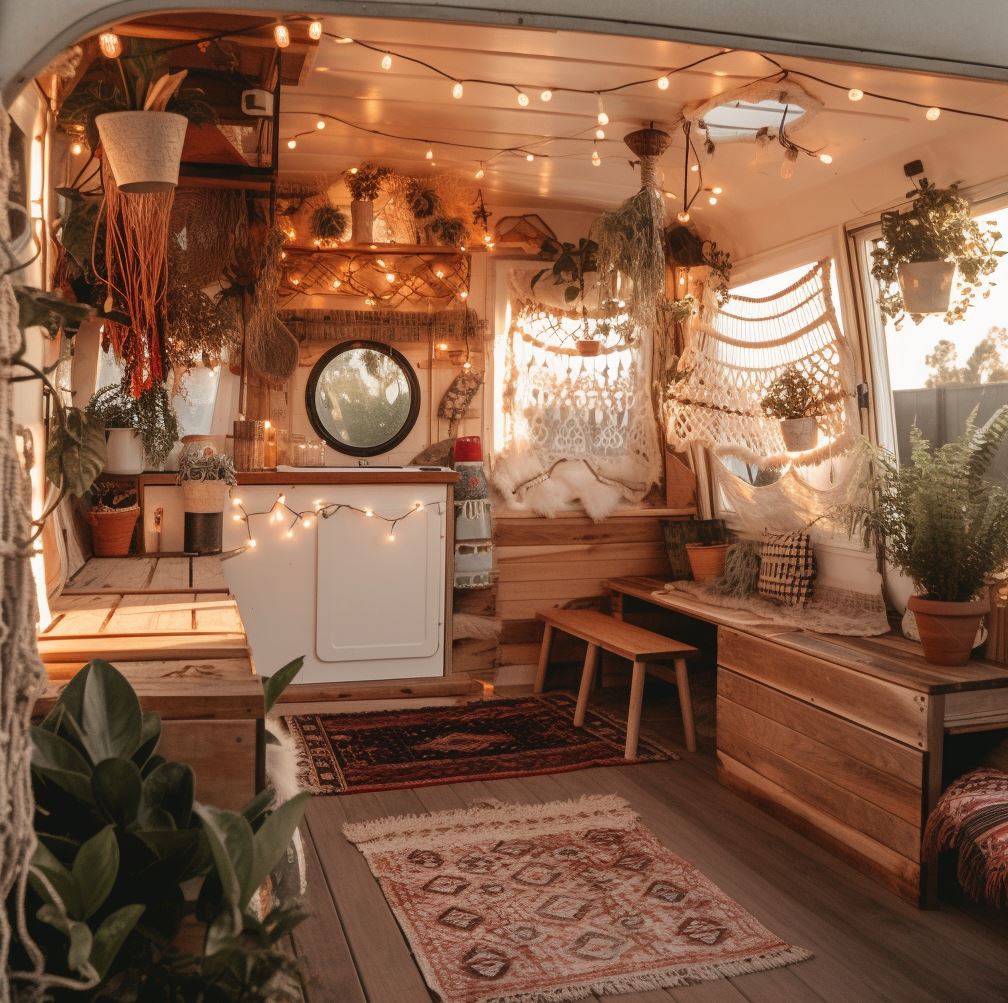 31. Transform Your Vintage trunk into Furniture
Make use of repurposed trunks to add some style to your boho-inspired living space or bedroom.
Remember, bohemian decor is big on vintage and repurposed items, and trunks can be both.
Trunks can be beautiful coffee tables, and not only offers space to hold your items on top, but can still be used for storage inside.
A repurposed trunk can also be a seat, a bedside table and more.
Here are some beautiful examples.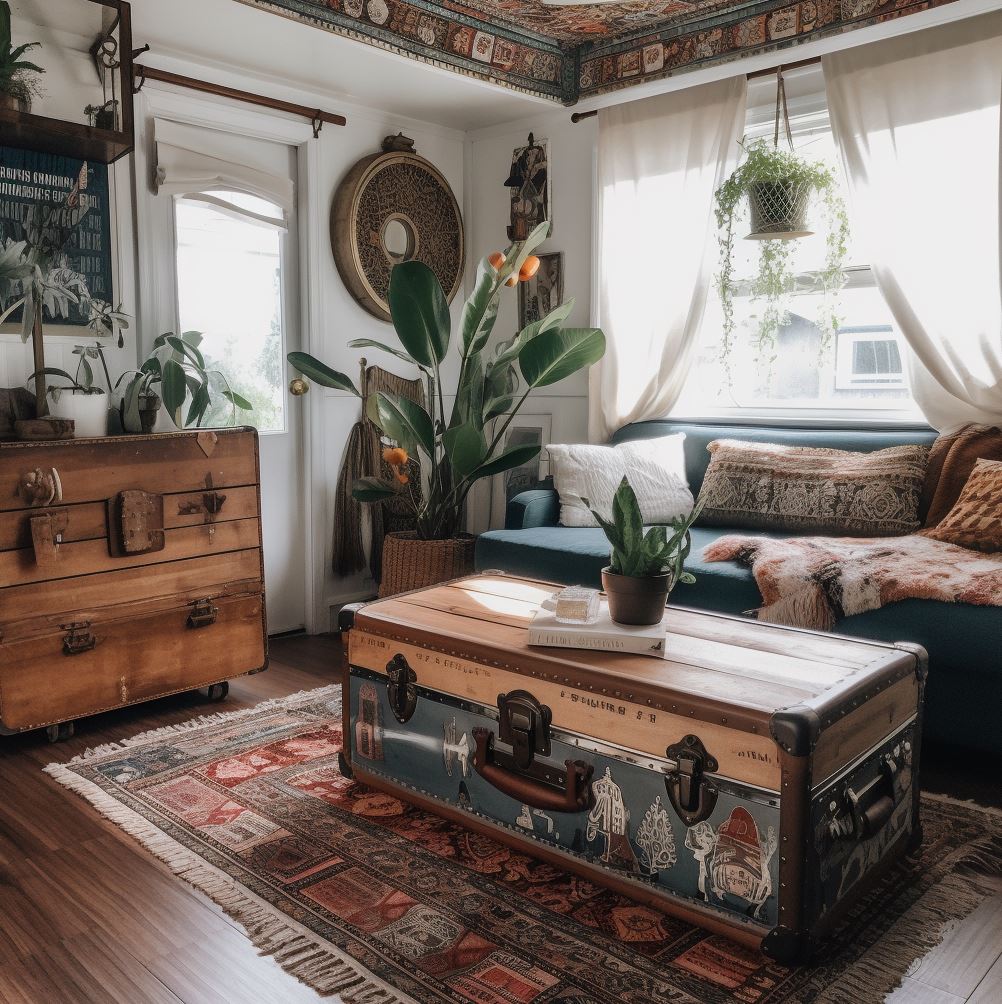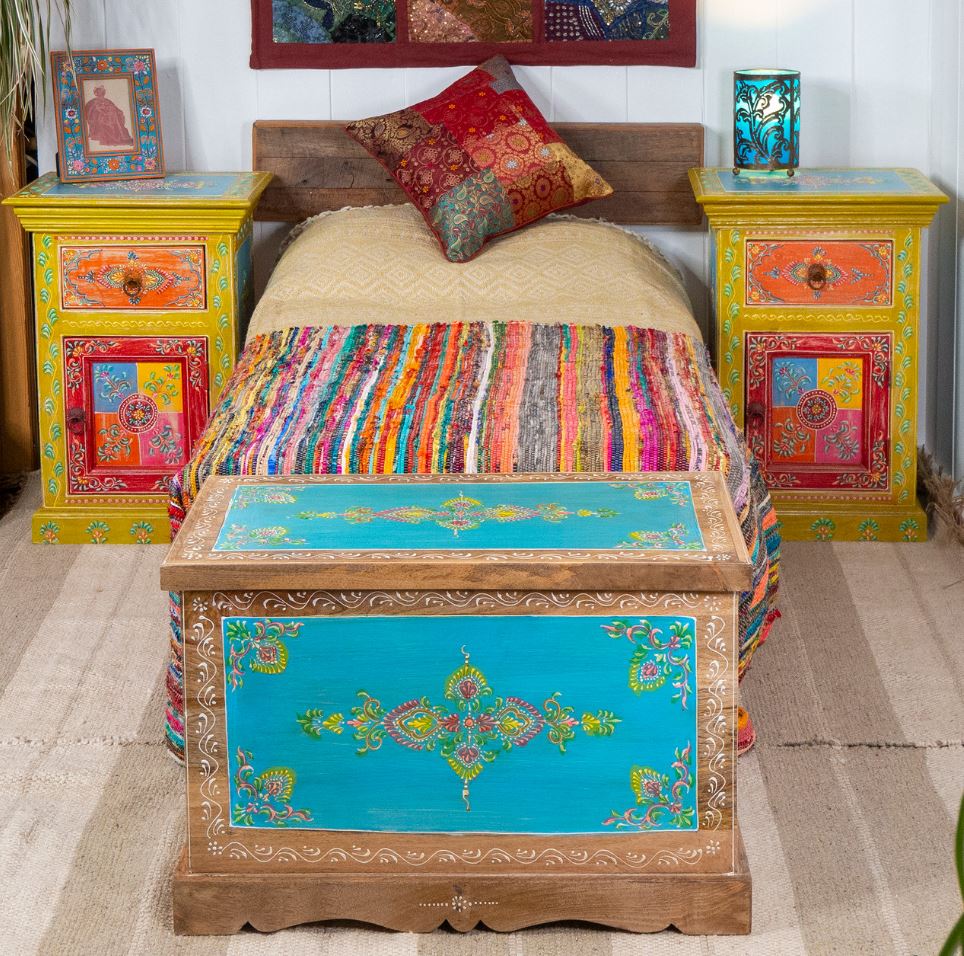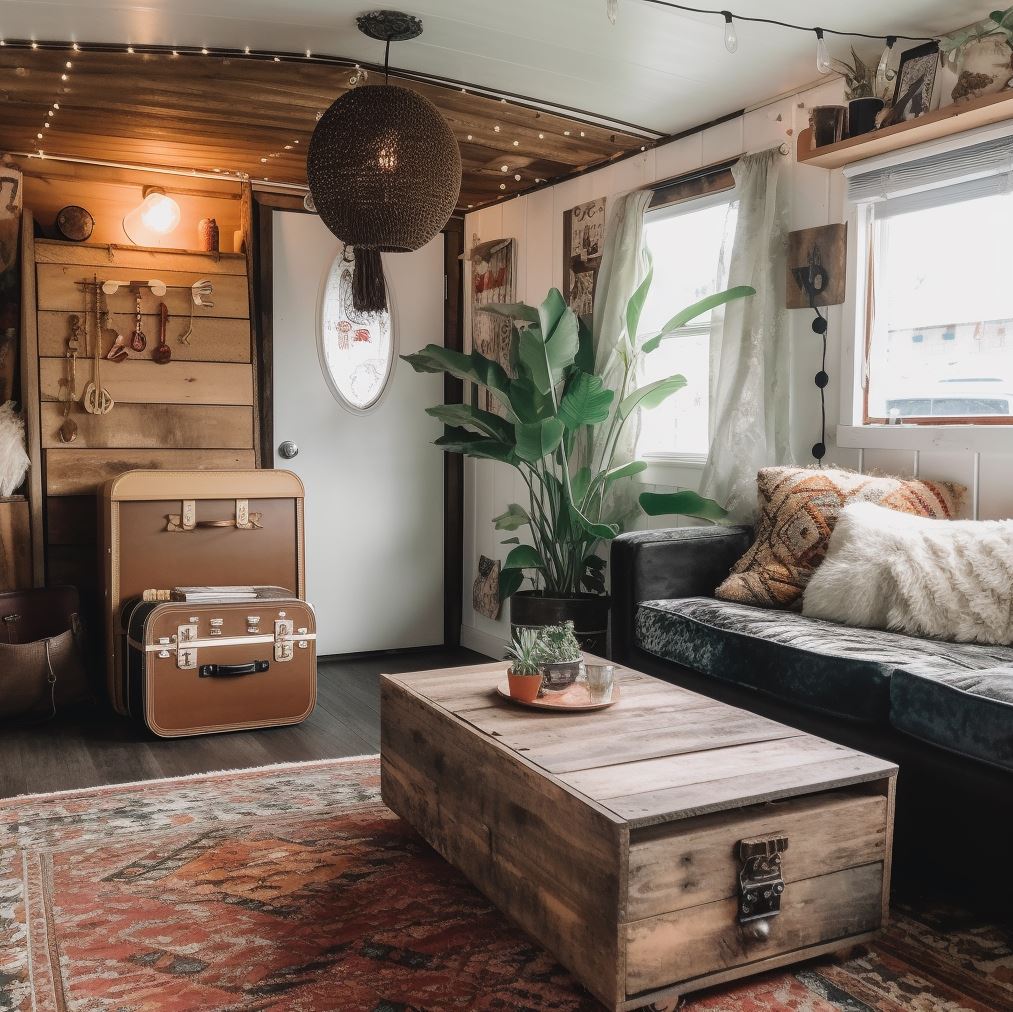 32. Candle Chandelier
Another way you can use lighting to bring your boho living space to life, is by adding some chandelier, perhaps a candle chandelier.
Check these ones out to see if this is something you would consider.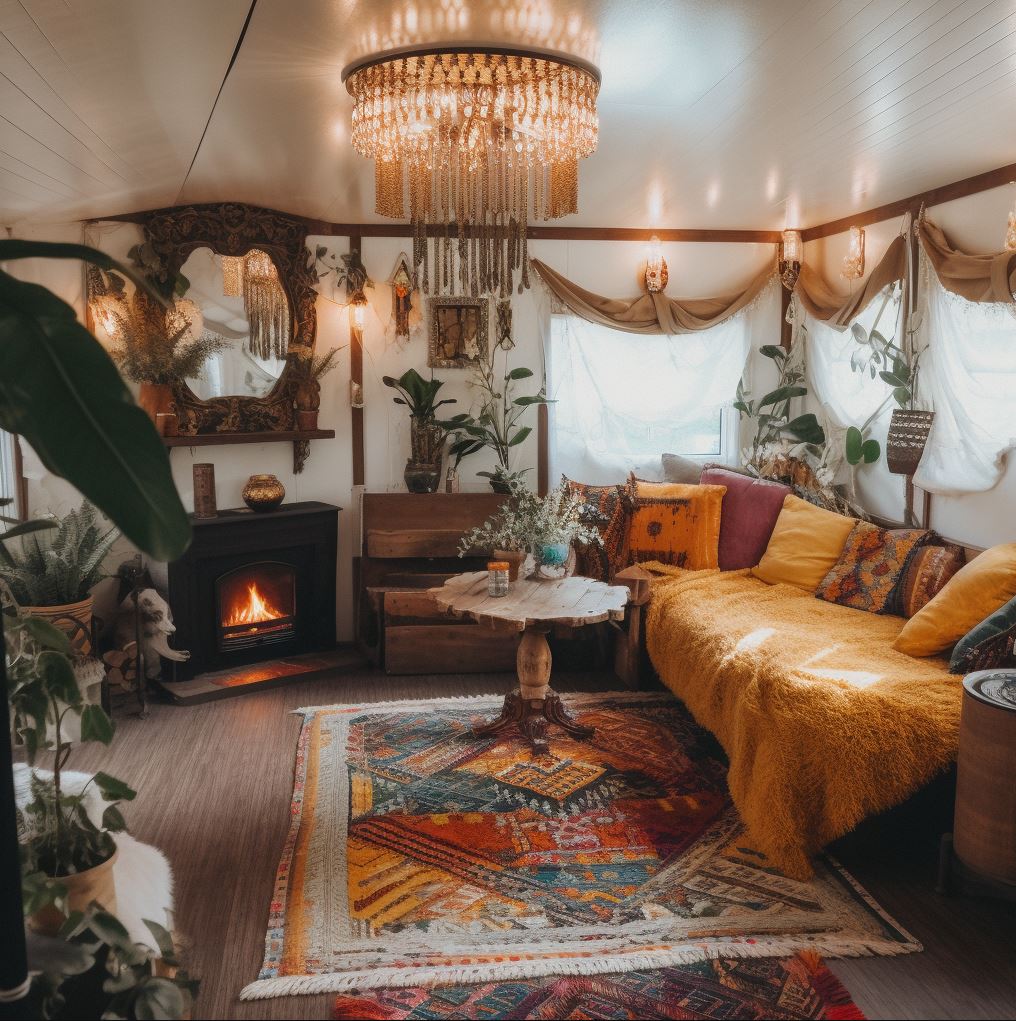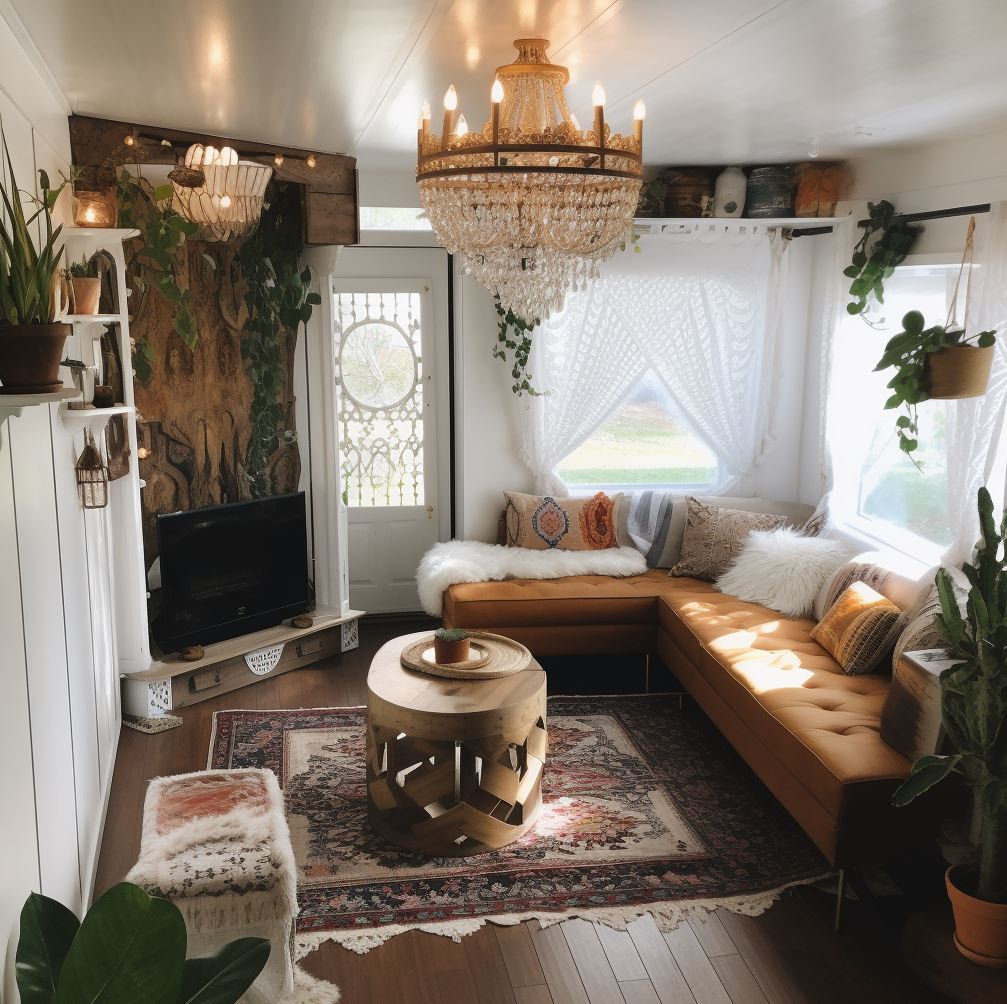 33. Psychedelic Rug
Bring back the 60s and 70s with an explosion of color by opting for a rug with psychedelic patterns.
This is without a doubt the epitome of free-spirit and the bohemian lifestyle.
Have a psychedelic rug in your living room, or bedroom, or frankly anywhere you wish. It will look great everywhere.
There are tons of psychedelic rugs on sites like Etsy, and many will not even set you back $100.
Check these examples out.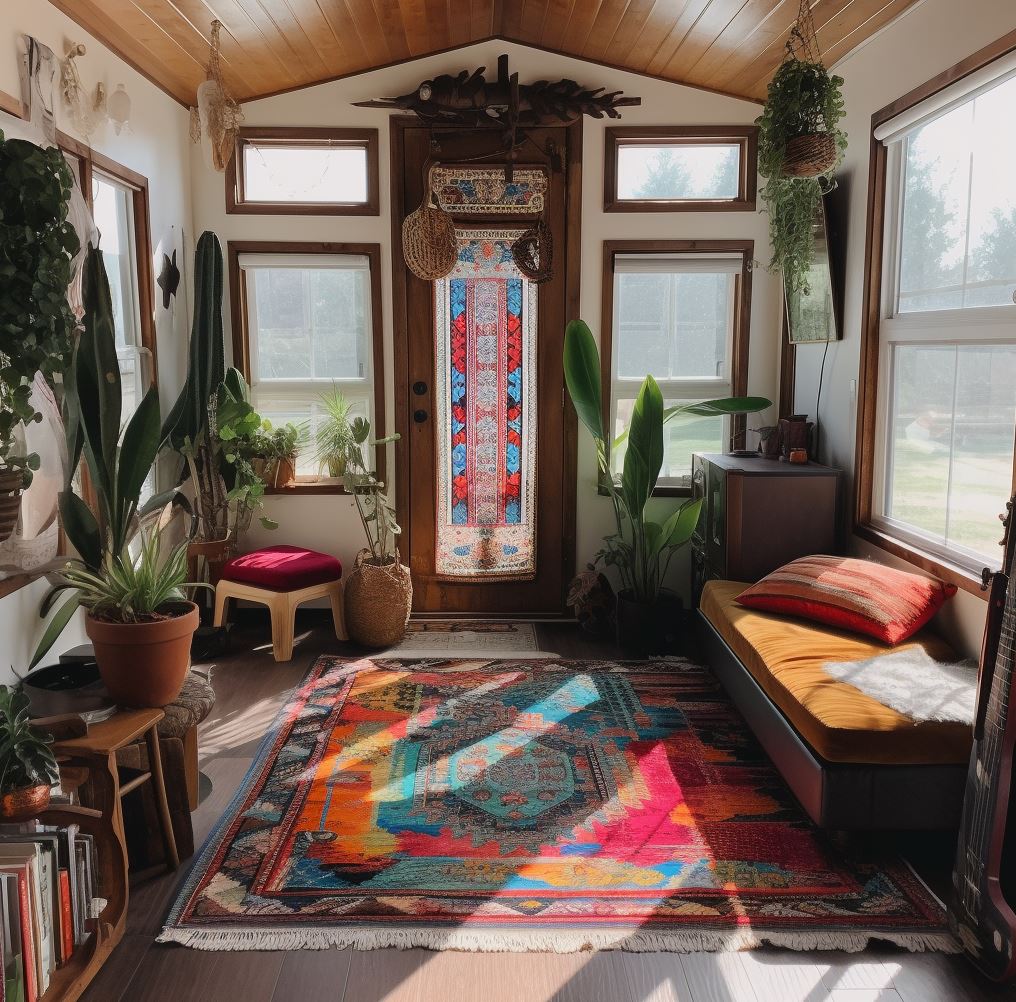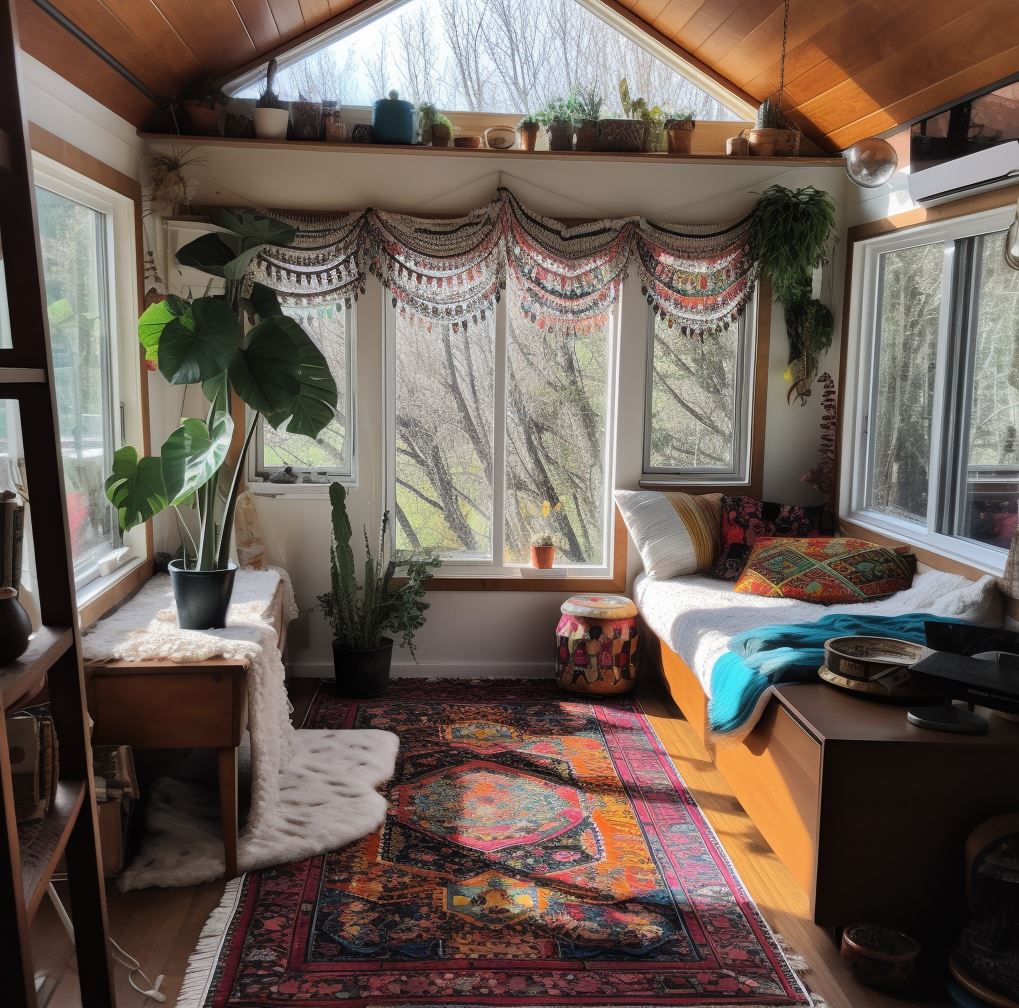 34. Moroccan Rug
Still on rugs, Moroccan rugs have a perfect for a boho decor. It's a match made in heaven.
Consider having one in your living space, like these examples.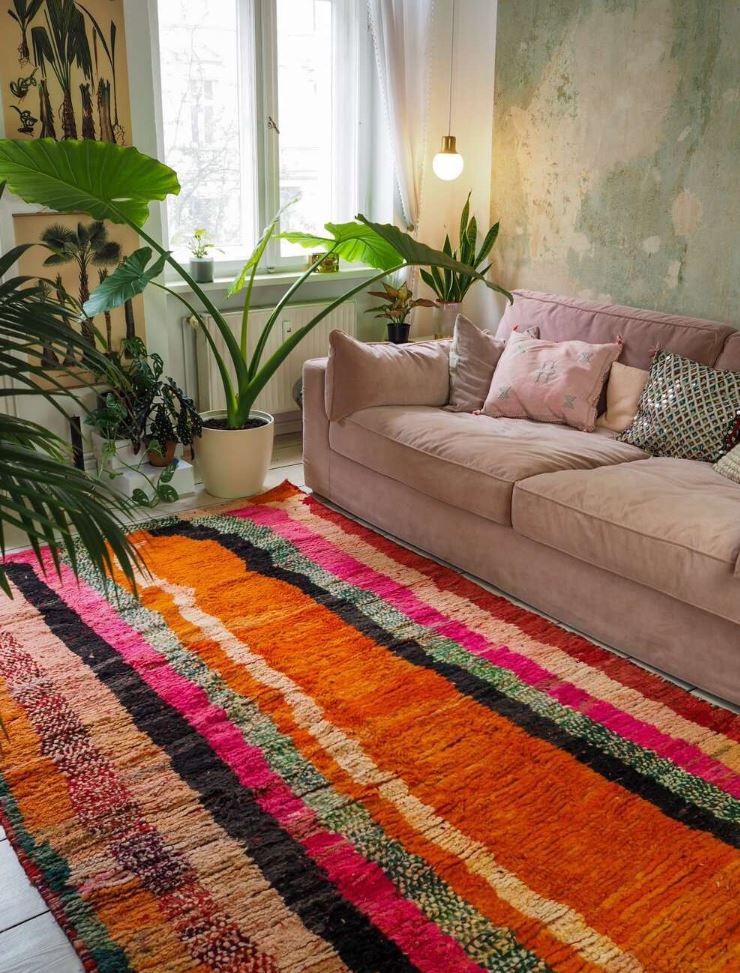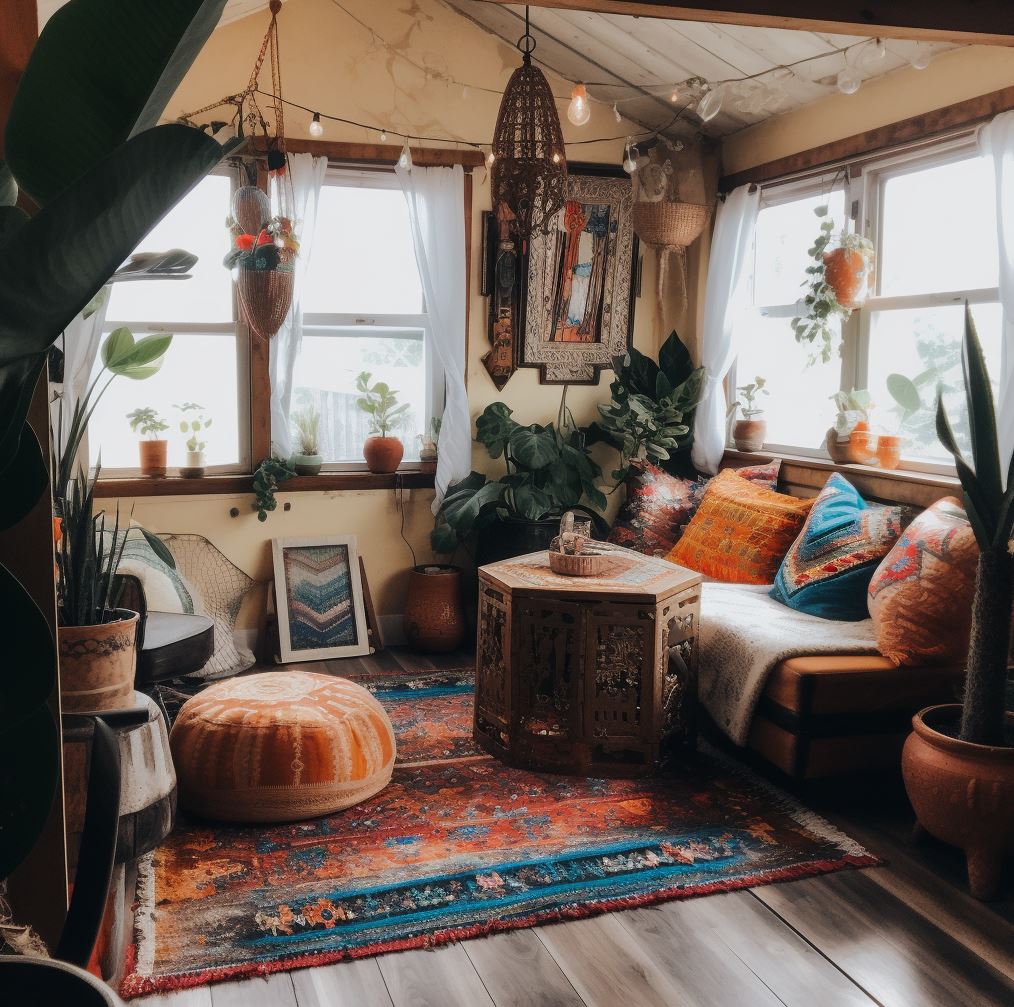 35. Jute Rug
Or if you're in the mood for more texture and warmth, you can consider a jute rug.
It's neutral and earthy tones provide a calming effect, which allows you to play with vibrant colors elsewhere in the room.
Jute rugs are great for your living room, dining area or bedroom.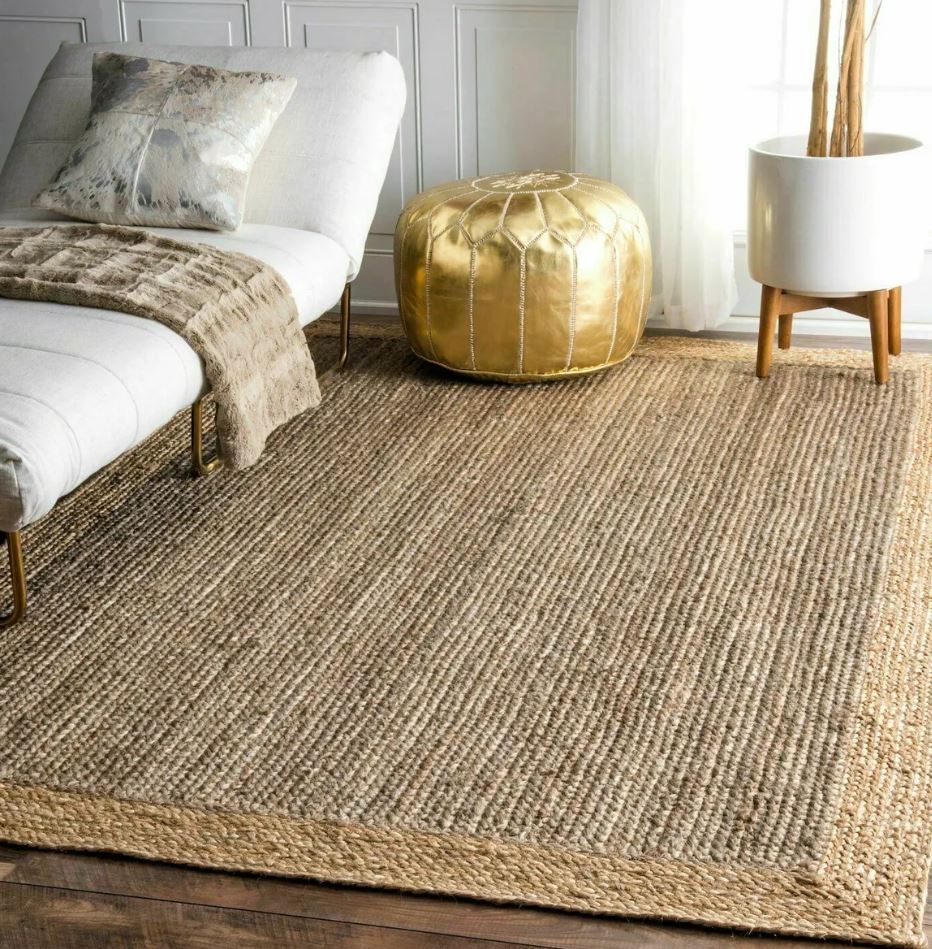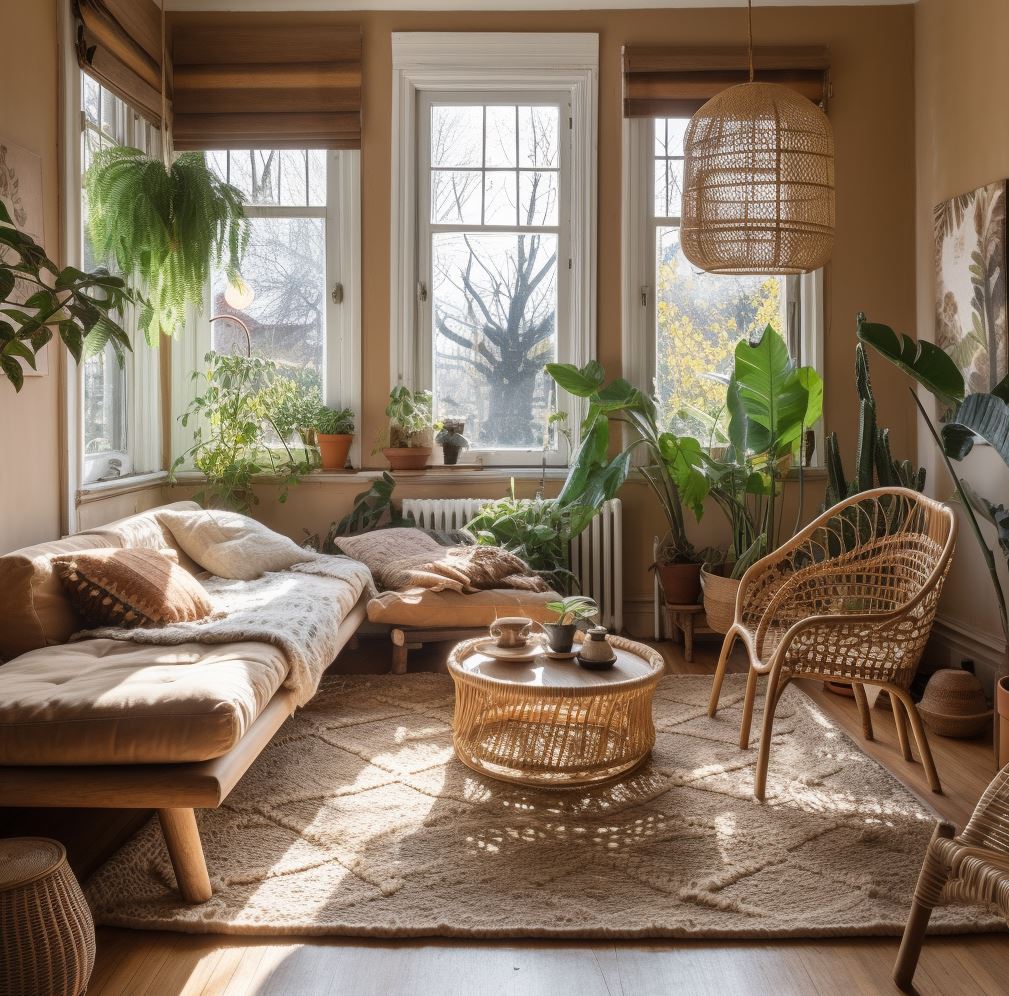 36. Choose an Arabic Sofa
When it comes to the sitting arrangements, and Arabic inspired sofa is a great addition to any boho-themed living room.
They tend to be large and often sectional, and in most cases you only need one.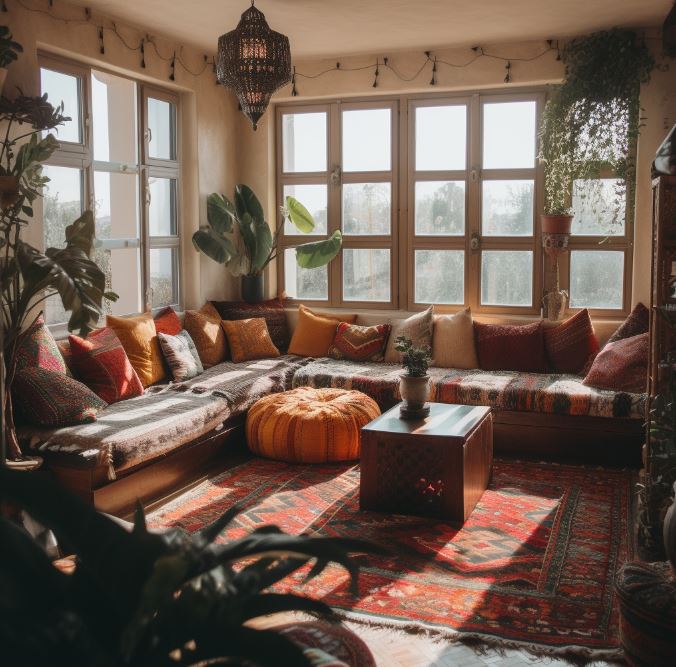 37. Hang Neon Signs
Add an eclectic touch to your boho decor, by hanging some neon signs.
They bring some fun and playful energy, especially when combined with a message.
Instead of buying off the shelf neon signs, consider ordering a custom-made one, which ensures that the message aligns with your wishes.
Neon signs can by themselves serve as the focal point of the room, especially at night. This means the best placement is above the bed or couch.
You should also install a dimmer switch for those times when you want a cozy atmosphere.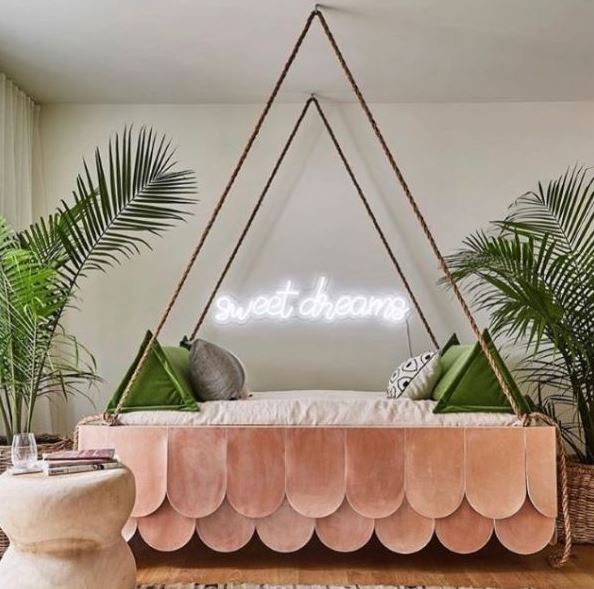 38. Boho Fridge Wrap on a Vintage Fridge
There are also plenty of opportunities to introduce the boho decor inside your small kitchen. The most obvious one is of course the fridge wrap.
If you can be able to snap up one of those timeless, vintage fridges, you can completely transform it using a boho wrap.
This is one of the easiest ways to adopt boho decor in your kitchen, without breaking bank.
These wraps cost under $50 on sites like Etsy.
Check these beautiful ones we found.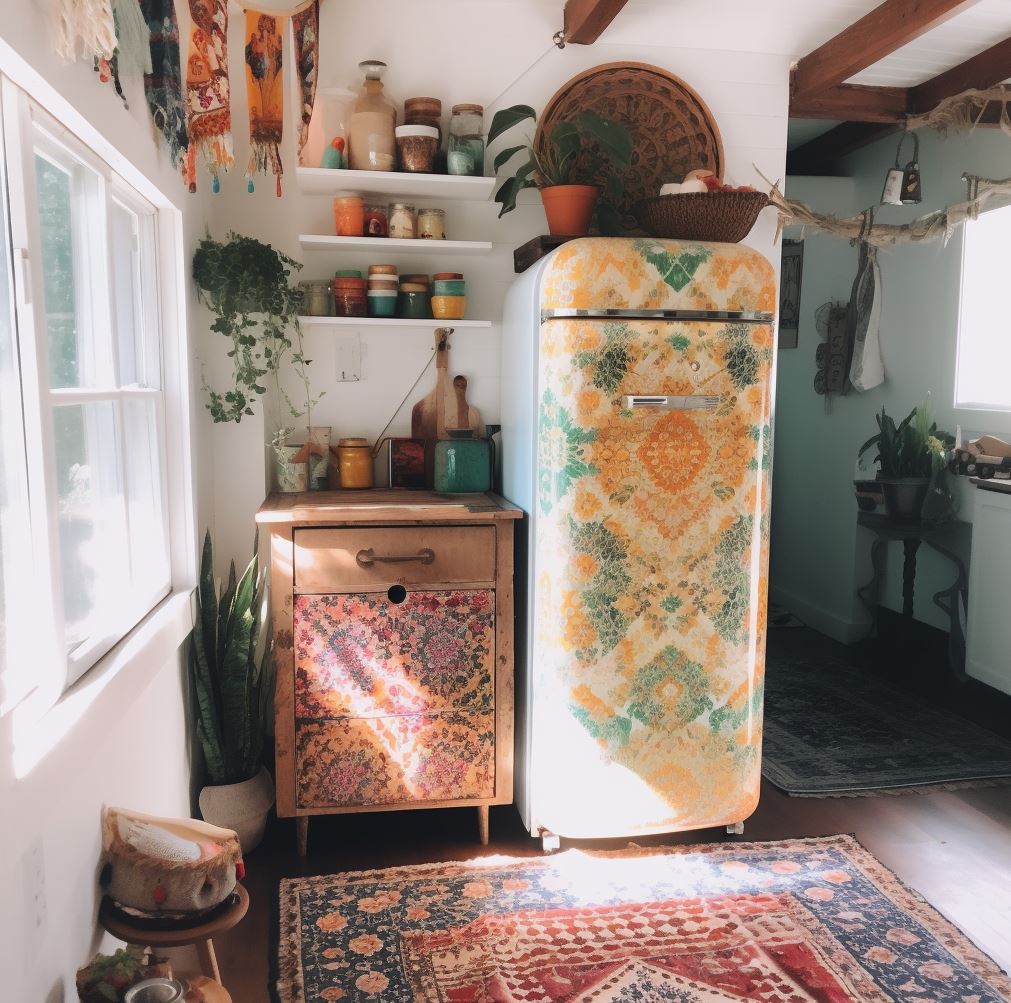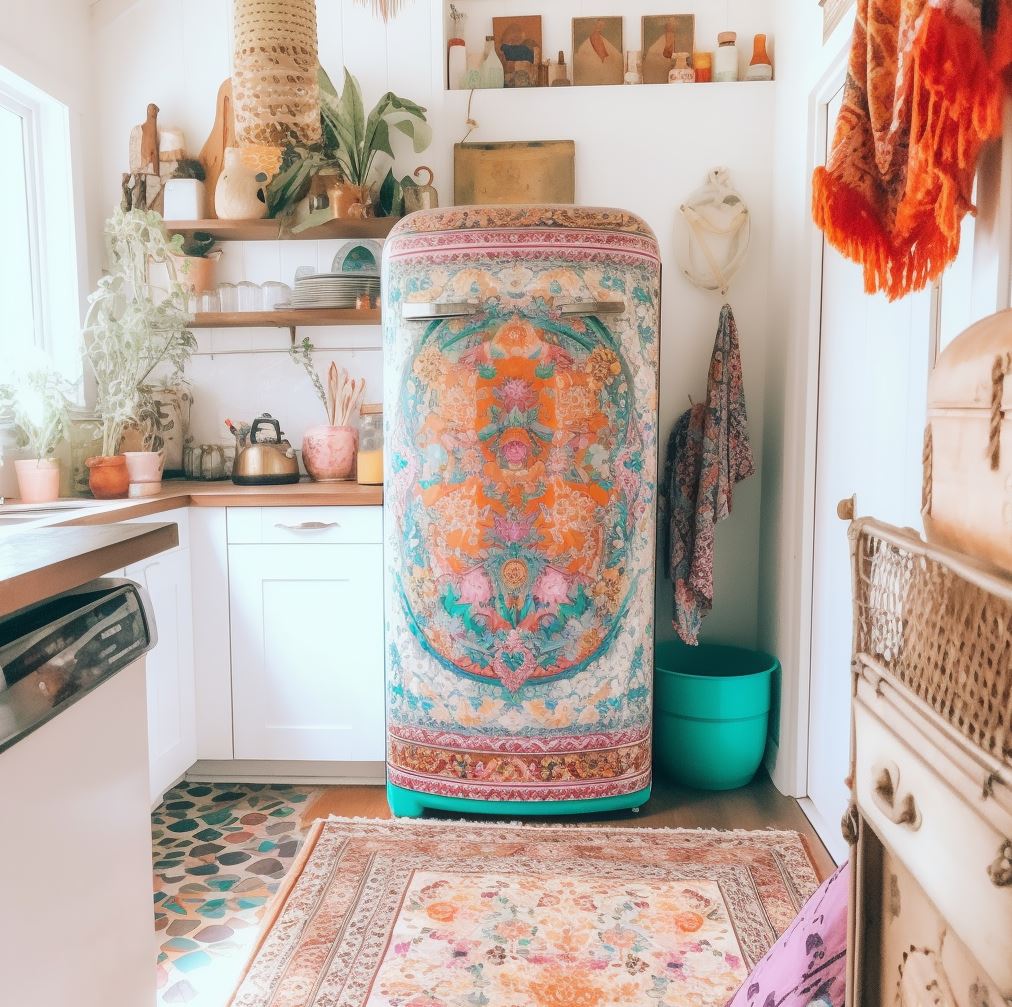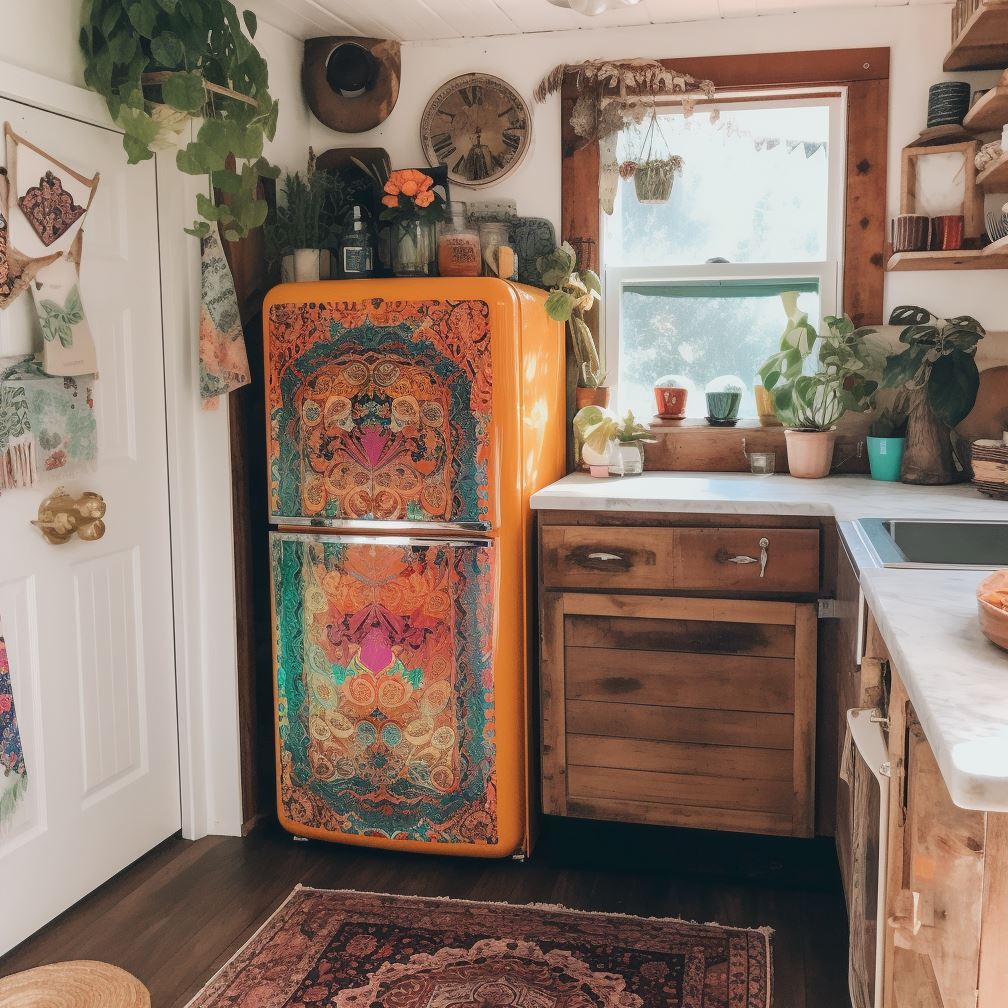 39. Make Use of Throw Blankets
Throw blankets are a cozy and stylish addition to any living space, but more so a bohemian-inspired living space.
They come in a variety of patterns, colors and textures, and they should complement your pillows, poufs and cushions very well.
Here are some examples you can borrow.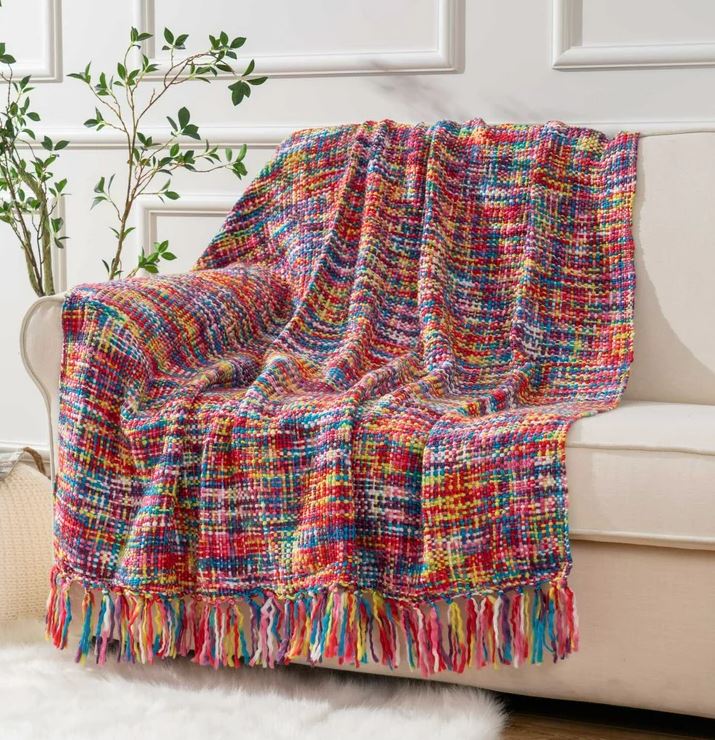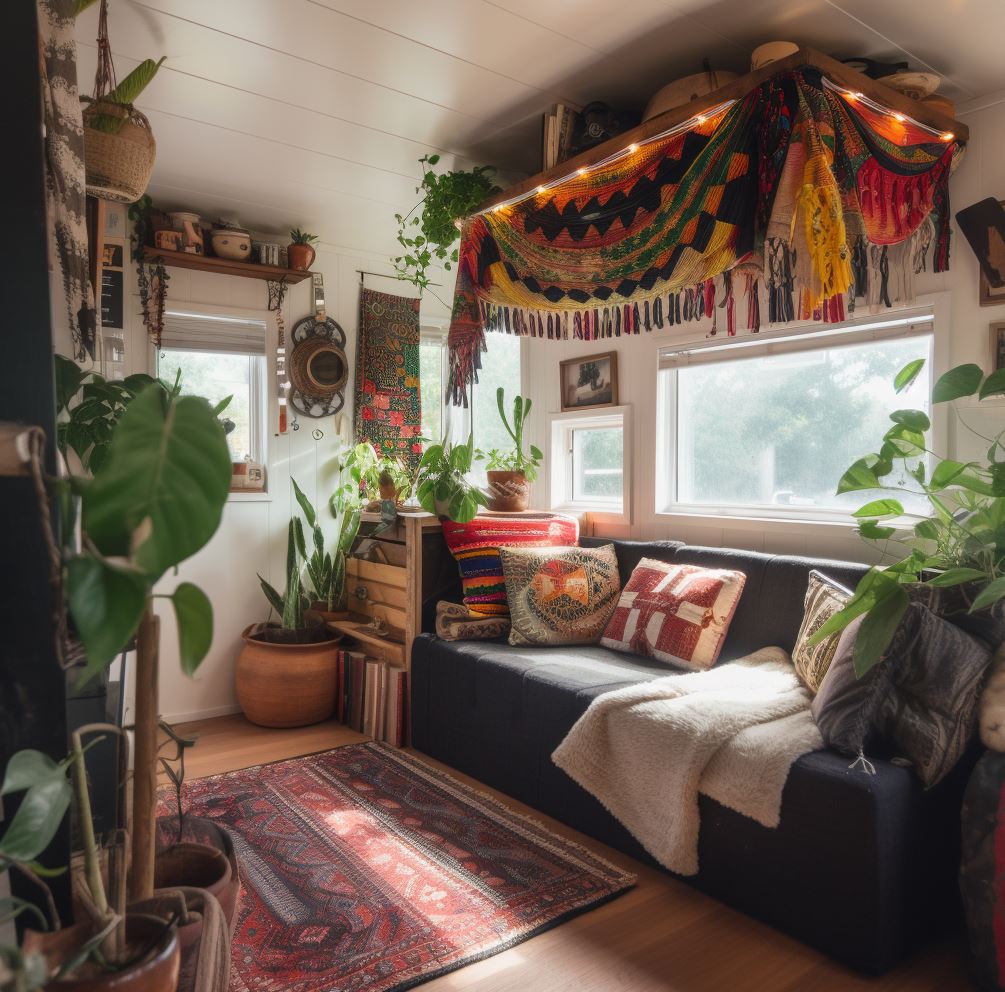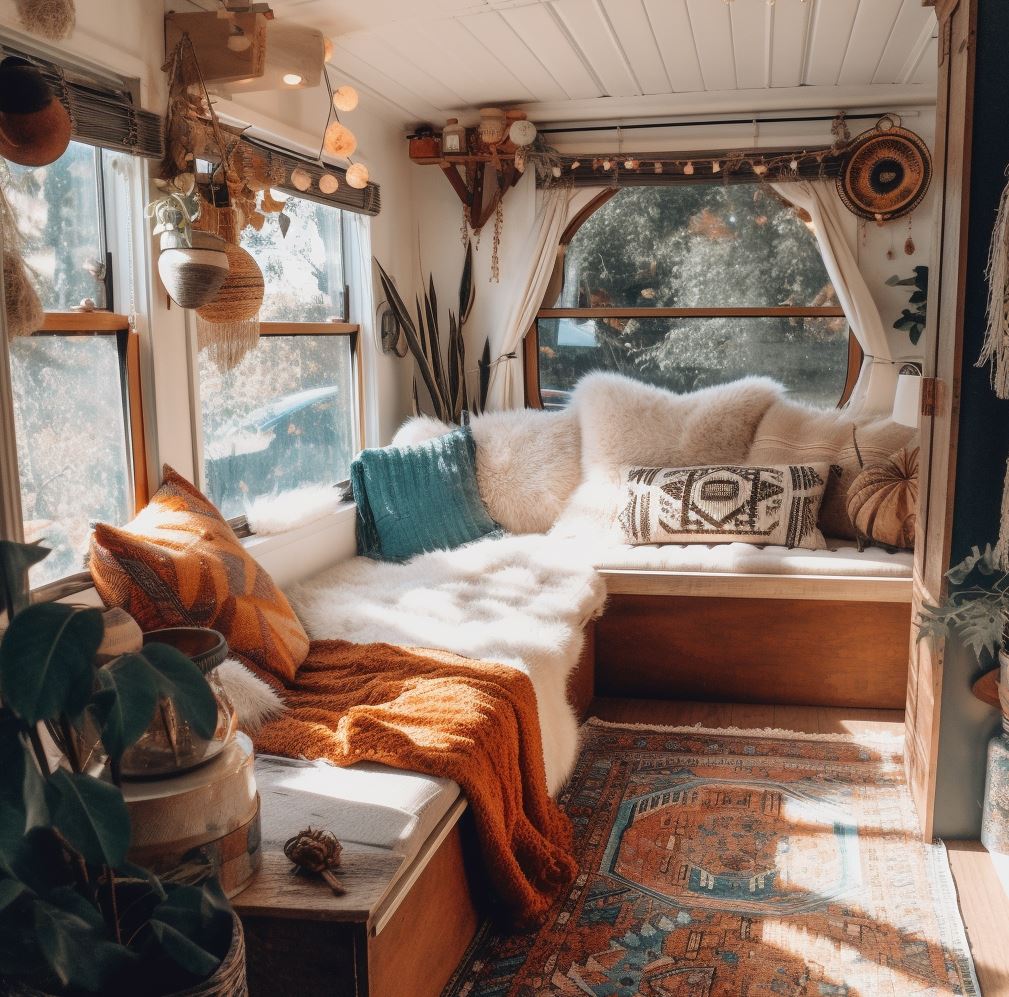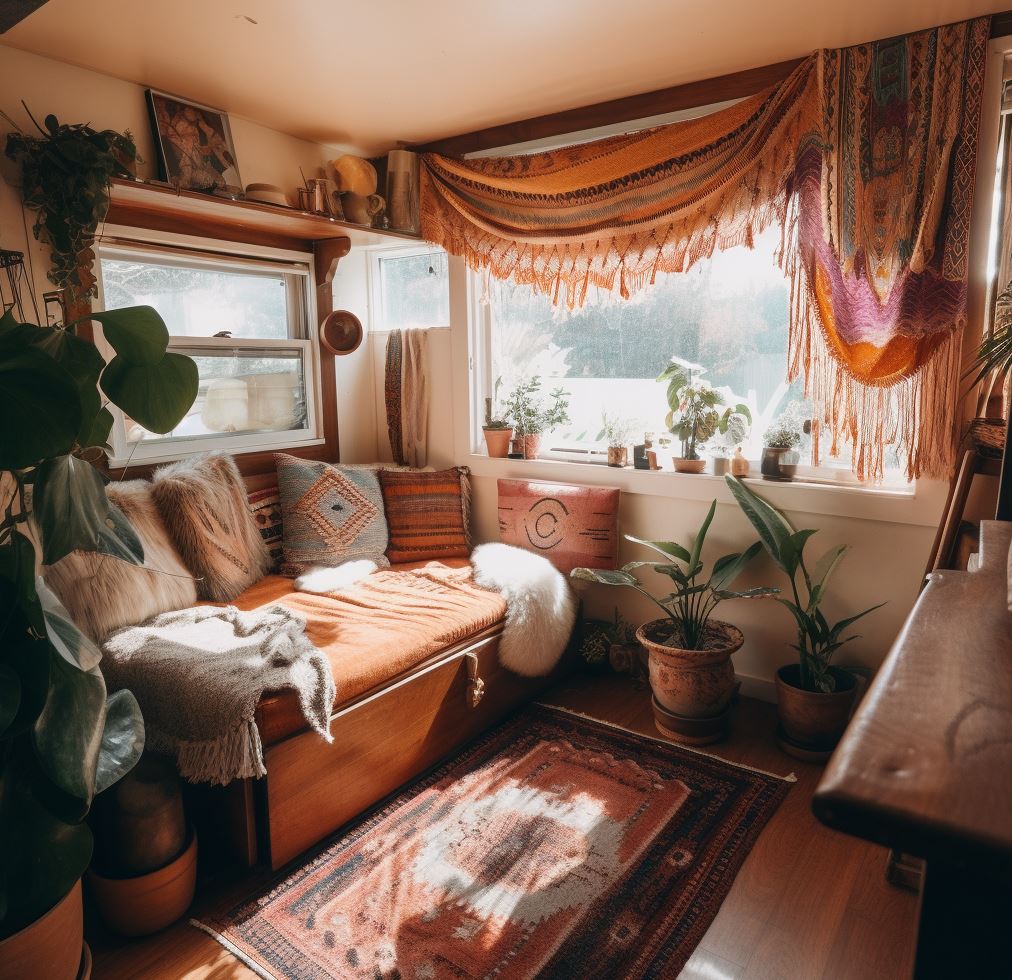 If you found this guide helpful, please consider sharing it on your social media.
It's also highly likely that you'll enjoy these 8 tips to make your tiny house cozy.