Organizing your small bathroom doesn't have to be a headache. In this guide, we explore different small bathroom wall storage and shelving ideas.
These are perfect for your tiny house.
---
Tiny Bathroom hanging storage Ideas
When space is limited, we always look up. This is true for office space, housing etc. If it works so well, there is no reason the same cannot be applied in the bathroom.
Having a hanging shelf, basket or rack in your tiny house bathroom can immediately add tons of new space to store your items.
Hanging storage is versatile. Whether they're for towels, or tissue, or soap, they always seem to work out.
Bathroom hanging shelves and racks also bring some character to the room. Staring at blank soulless wall is not many people's ideas of relaxing.
On top of providing functional storage, hanging shelves, baskets or racks can serve a decorative purpose, in that plants and flowers look natural on top of them.
Before deciding on the best storage solution, perhaps you need some inspiration for your small bathroom shower designs.
Now, here are some great hanging storage ideas for your tiny house or small bathroom.
---
1. This rustic hanging bathroom shelf organizer
If you are into rustic themes, this hanging shelf organizer will be a great addition to your bathroom.
It is handmade and minimalist. I love the rope hanging feature at the top. It complements the wood for some country vibe.
This shelf would be great for potted plants, scented candles, towels and even tissue rolls.
At around $50, it is cheap and functional. The best part is its simplicity, which would make it a nice DIY project.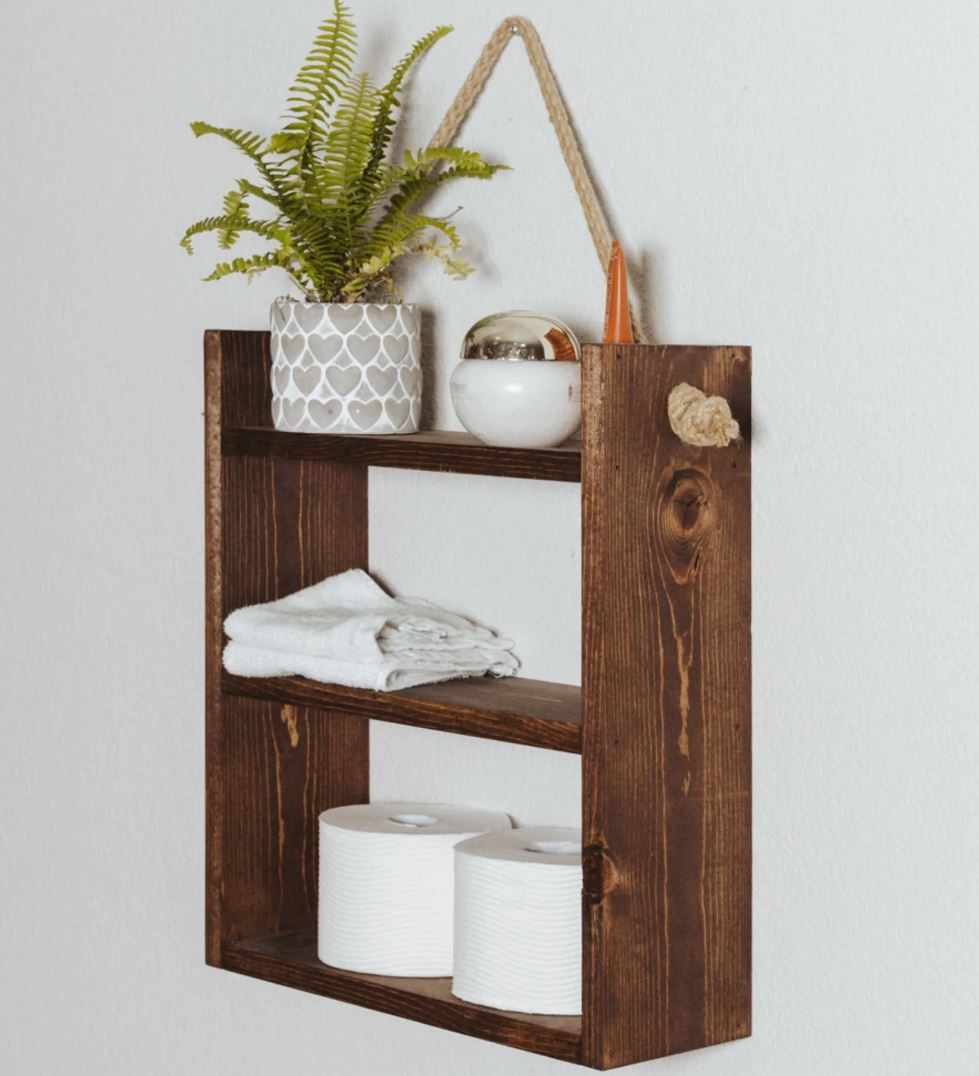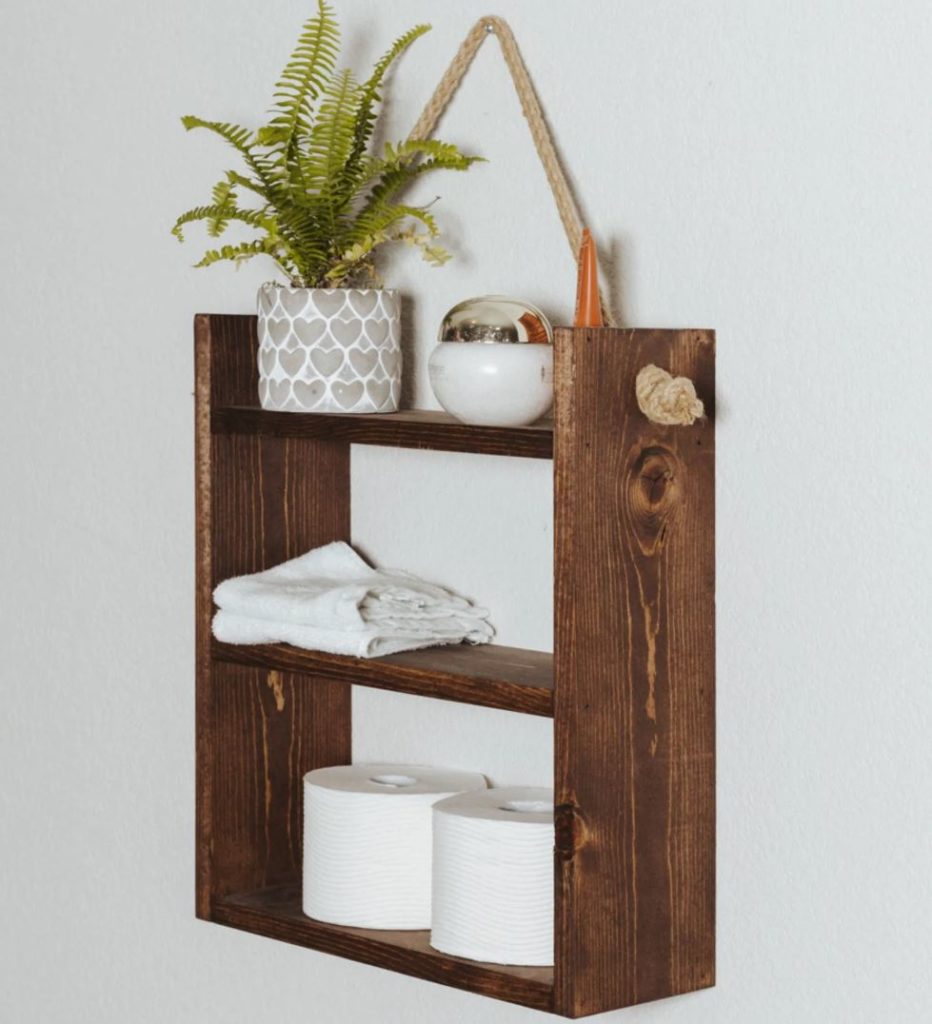 ---
2. This rope supported hanging shelf
We totally love the simplicity in this one. Who knew that two pieces of wood and strand rope could combine to make such a unique wall shelf.
This would be a perfect addition to any bathroom, not just a tiny one. It will however look particularly great in a small bathroom because it brings out that cozy feeling.
This hanging shelf is without a doubt one of the best and easiest DIY project you can carry out for your bathroom.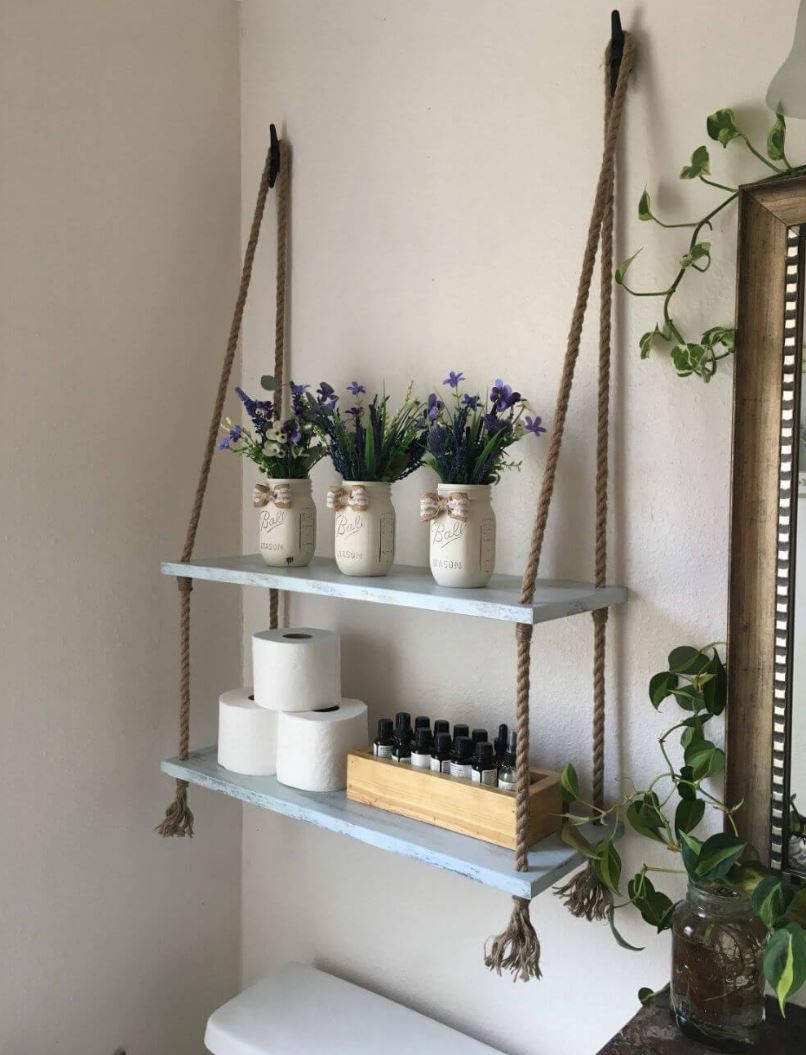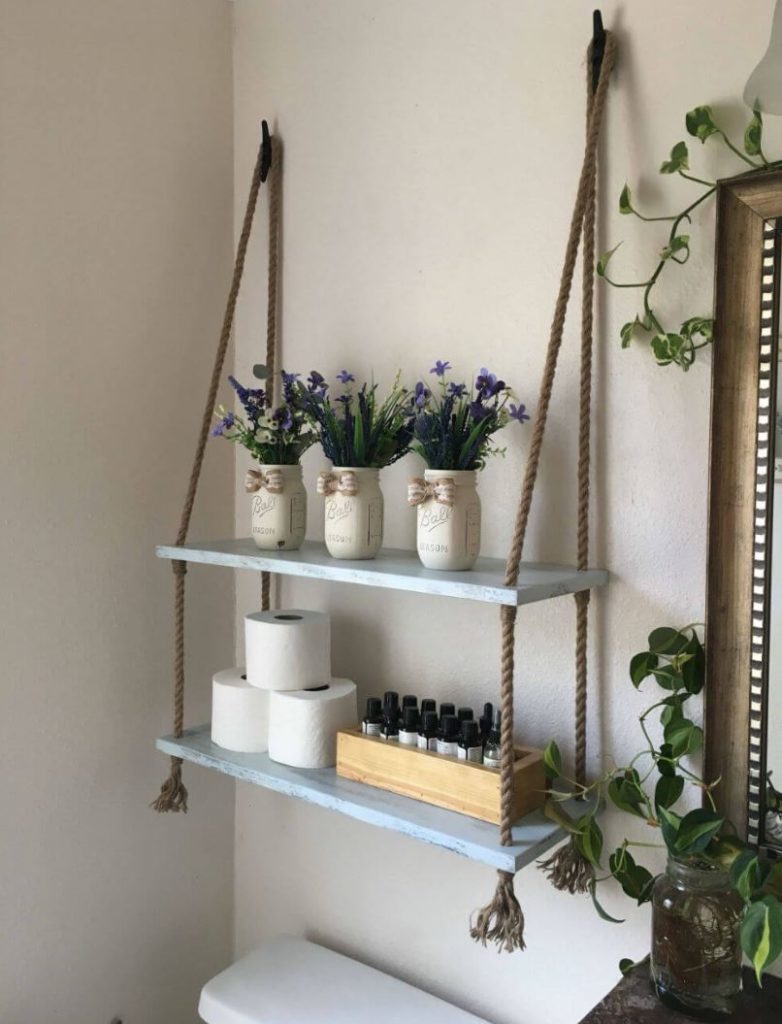 ---
3. This lovely wall hanging organizer
This was a DIY project, but you would be forgiven to think it was bought in a store.
According to its builder, it took only $40 to make, and less than 9 hours of work.
He went with a 'weathered' look, but of course you can choose any color that suit you. I can already picture it as rustic, or baby blue.
The hanging shelf is perfect for tissue rolls, and also towels.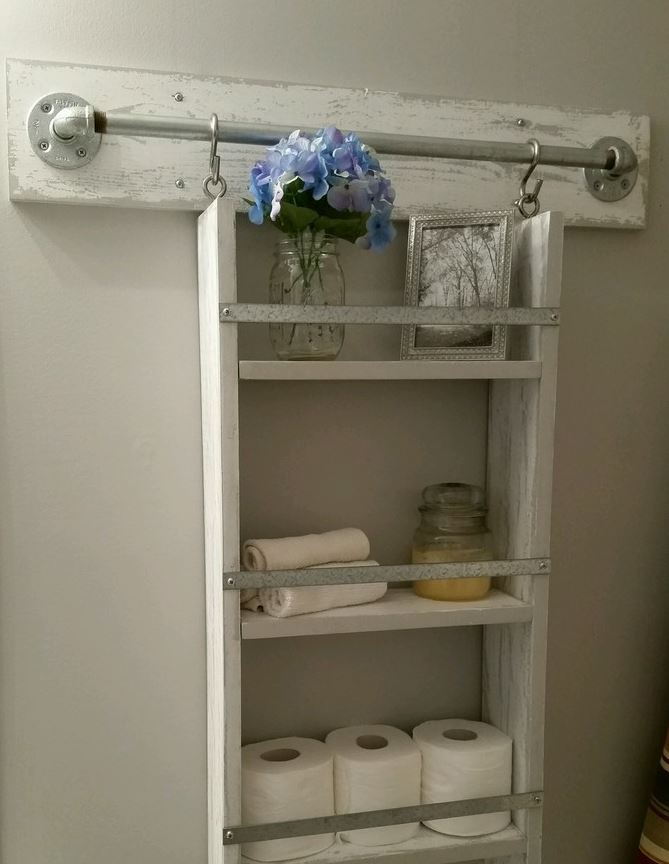 ---
4. The hanging 'fruit basket' bathroom storage concept
This may come as a shocker, but a fruit basket can find its role in the bathroom. Ideally, it should be hang at the corner, so as not to be obstructive.
In small bathrooms, corners tend to be the most under utilized spaces. This hanging basket is not only functional but also very beautiful.
It is one of those features you'll always receive compliments for.
The fruit basket storage concept may not be great for tissue rolls, but towels, shower gels and oils can be great items to store here.
Scented candles are also great for this.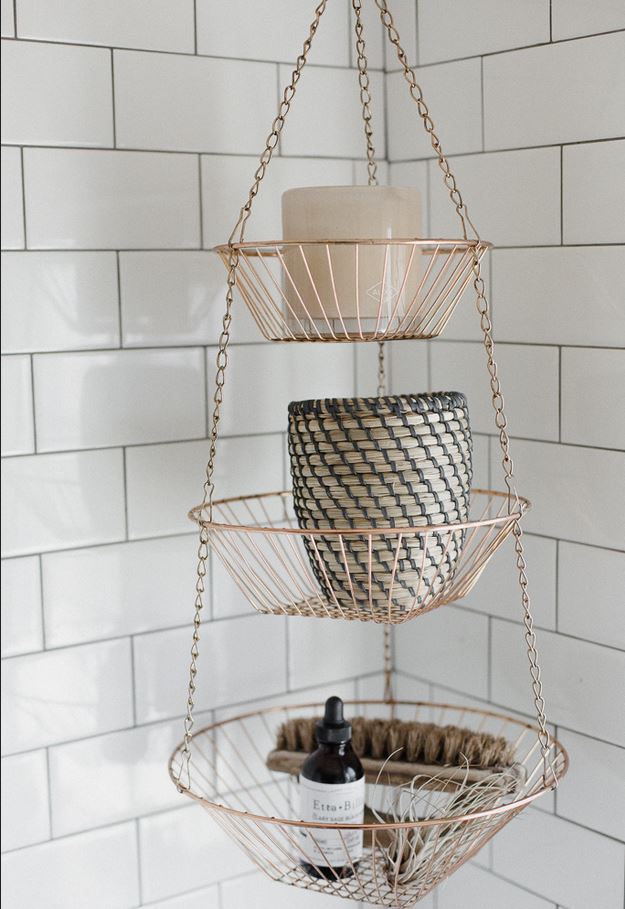 ---
5. These hanging seagrass wall baskets
Seagrass baskets are commonly used for closet and under-bed storage, where items like pillows and beddings are kept.
The same can be re-purposed for storage in a small bathroom.
Using a wall attachment like this one, several seagrass baskets can be accommodated in a relatively small space.
Since they are quite deep, the baskets can be used to store a lot of things. Tissue rolls, towels, soap etc.
They are not however ideal for candles and potted plants.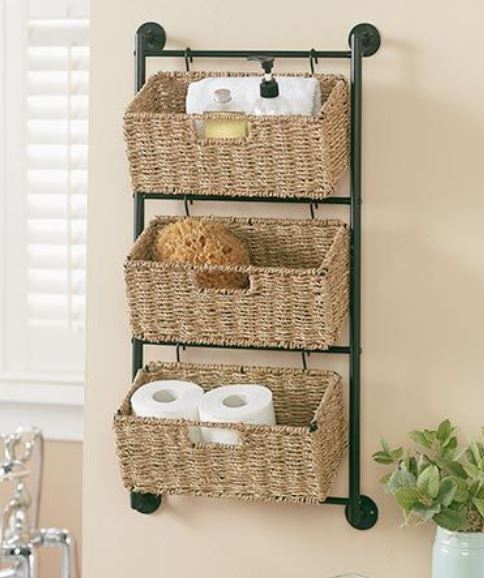 ---
6. This ceiling-suspended rope shelving perfect for a small bathroom
This is yet another rope suspended shelving that we absolutely love. This example has 3 tiers, but you can add as many tiers are you ceiling height can support.
Above the toilet bowl would be a great place to hang this one as it will not obstruct anything.
A small bathroom would benefit a lot from such a shelf, since it is versatile in what it can hold.
Whether it's candles, potted plants, towels, shower gel or tissue.. there is nothing that will look out of place on this one.
Best part is that it would make a great DIY project.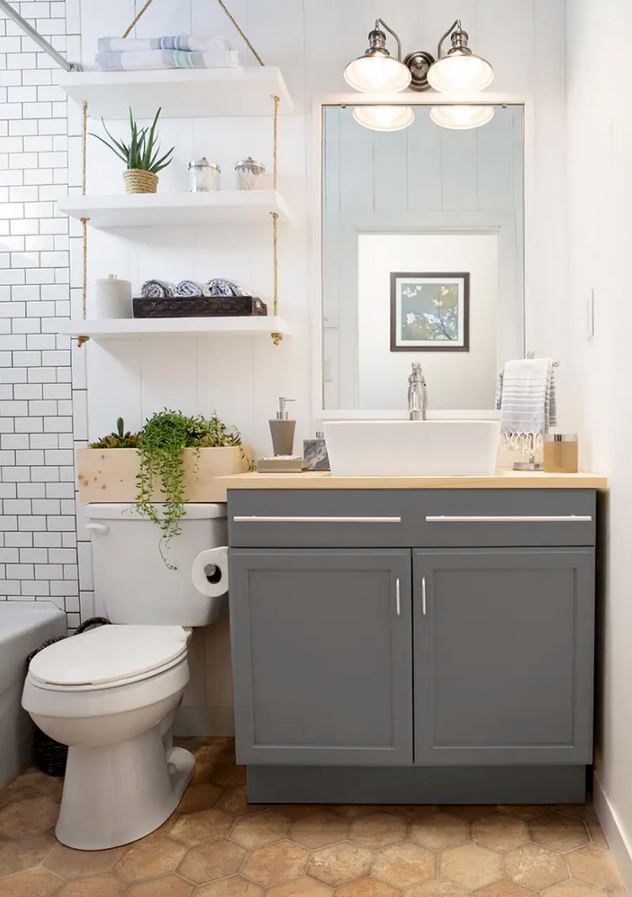 ---
7. This unique metal rod setup
With a few metal rods, ideas for a wall storage concept are virtually unlimited. This one we found on Pinterest is unlike anything we've seen before.
It looks like pieces of different storage solutions, pieced together. For instance, we have a hard time believing that those white hanging buckets came with the package. But they work.
This would be great if you are going for an industrial theme.
Totally unique, and easily replicable. All you need is 2 metal rods, some hooks and the buckets.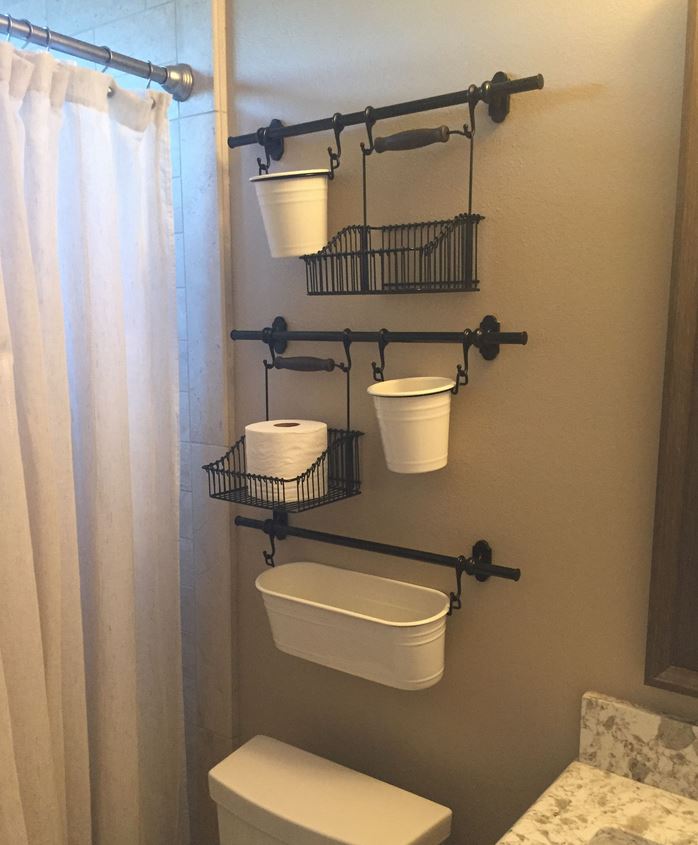 ---
8. DIY ladder and basket wall storage combo
Ladders tend to be very functional in any space, but even more so in a small space.
Be inspired by this example for your small bathroom. It is a ladder with two levels, with two basket attachments – one on each level.
The good thing with a ladder wall storage is that it can be positioned right above the toilet bowl, a space that was already vacant. This therefore frees up the rest of your tiny bathroom for other items.
This example is only 2 levels, but you can have as many as 4.
The concept is very DIY friendly. All you need is some pieces of wood, hooks and the baskets.
10/10, would recommend.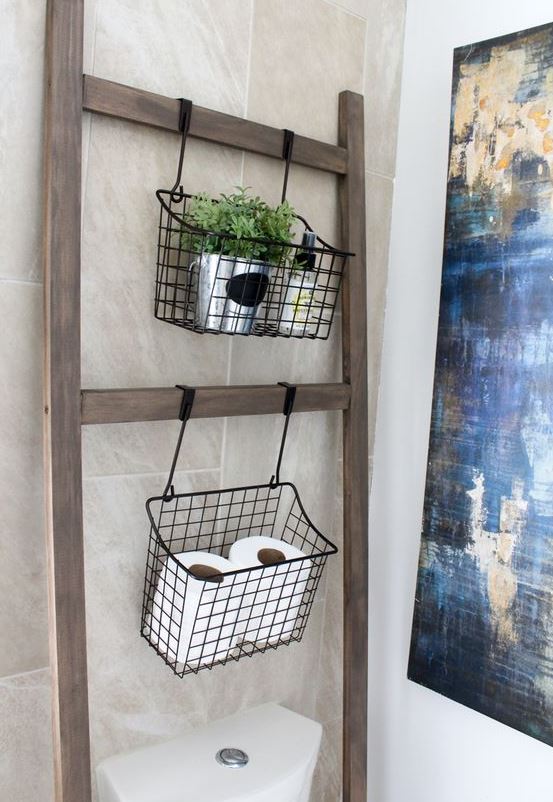 ---
9. Décor shelf organizer and towel rack
This is yet another great example of a rope shelf. It just shows you how many ideas and designs can come out of simple rope and wood.
Hanging rope-style shelves are becoming quite popular, and this trendy one is no exception.
On Etsy, it has a perfect 5 star rating from over 25,000 sales.
Other than its attractive looks, this handmade shelf is functional. No bathroom item will look out of place on top of it.
It is rated for 50lbs max.
For only $60, I think it's totally worth it.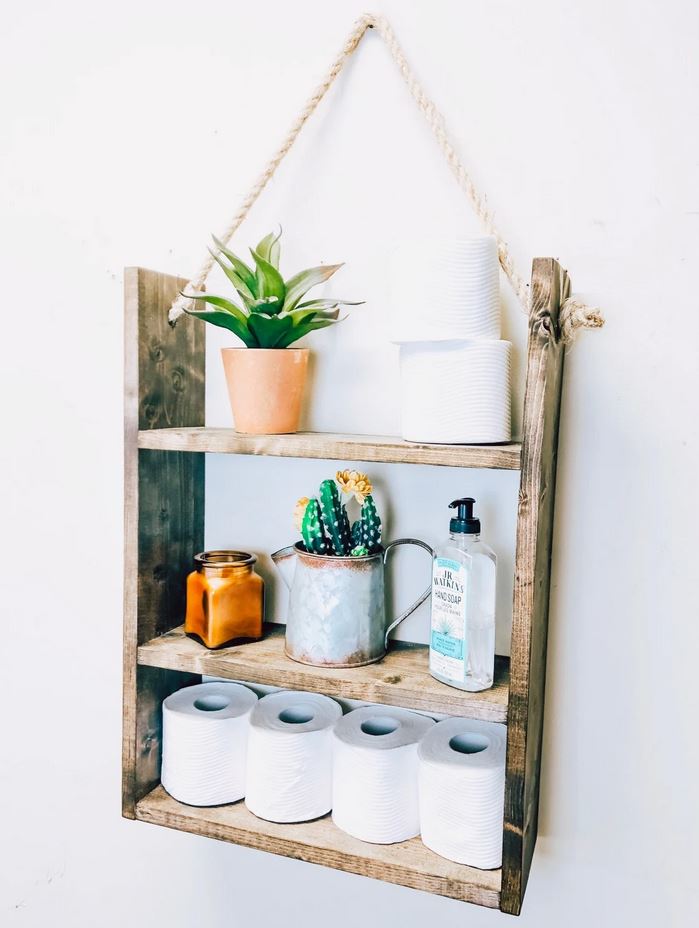 ---
10. This ceiling mounted metal hanging shelf
This wall/ceiling shelf installation will look great in any bathroom, not only a tiny bathroom.
Its design is so simple, you wonder why others are not doing this.
The kit is made up of 12 foot long C hooks, and 24 eye bolts. They come in black, but you can always spray paint them to your desired color. I would personally love to see them in white.
The hanging shelf is great for any room in your house, but works wonders in either the kitchen or the bathroom.
Installation is as easy as screwing the bolts to the ceiling, and attaching the hooks. Shouldn't be more than 20 minutes of work.
If your ceiling is strong enough, this wall shelf will support some crazy amount of weight. Your heaviest potted plants will sit on it with no problem.
This will also fit great just above the toilet bowl, and you can add as many tiers as your ceiling height allows.
The hanging shelf is available on Etsy, but unfortunately it only ships with the metal parts.
You'll have to source the wooden board elsewhere.
That could actually be a good thing, because then you decide how long you want it to be. For example, the board can be twice as long as the one displayed below and still work perfectly.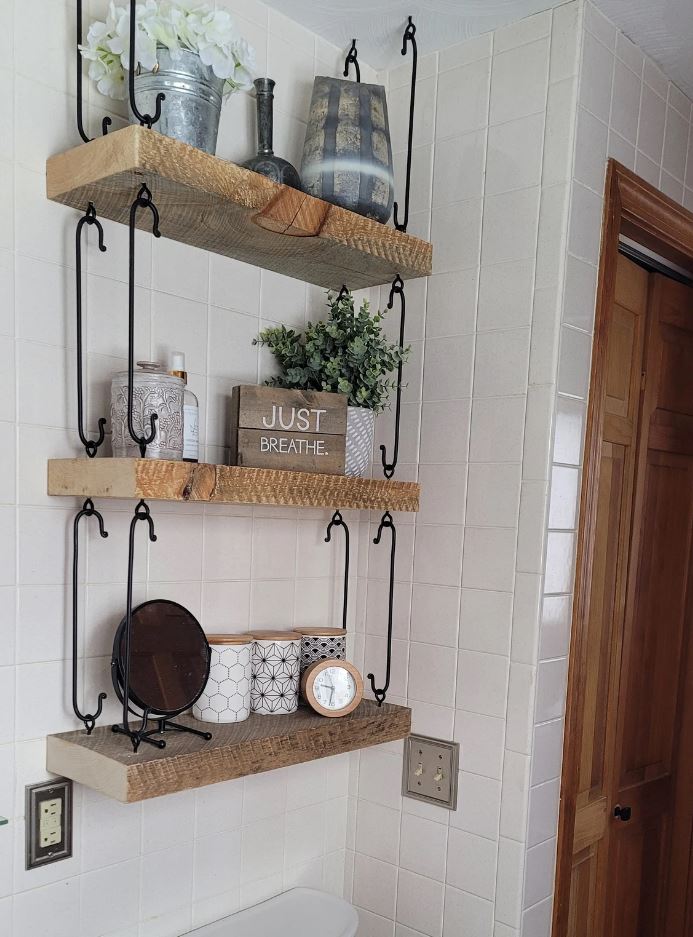 ---
11. This cute single hanging basket
What is there not to love about this wall basket storage idea. It is simple, yet functional.
I can already visualize this hanging behind the door of your tiny house bathroom.
You may need other complimentary forms of storage, but if you are a minimalist, as we encourage on this blog, this may just be everything you need and more.
The basket is suitable for tissue rolls, shower gels and even one or two rolled up towels.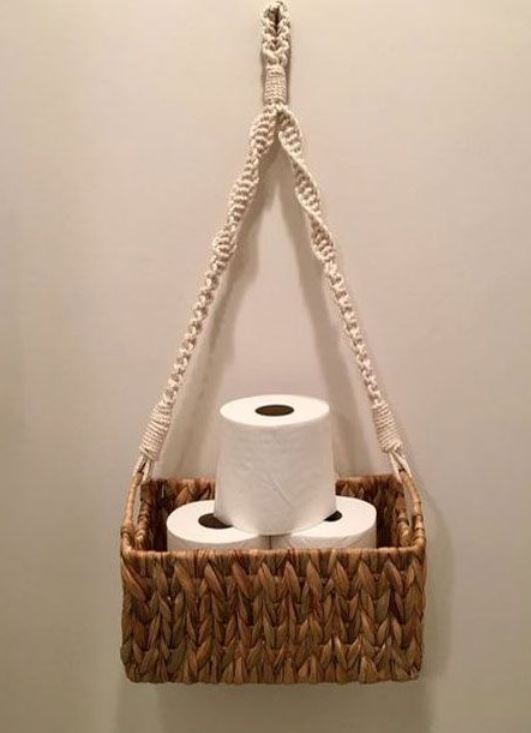 ---
12. Repurposed toolbox as bathroom hanging storage
This cute storage concept will certainly turn a few heads.
It looks like an old-fashioned toolbox, repurposed to be a hanging bathroom storage. To say the idea is unique would be an understatement.
The hanging attachment compliments its weathered look well.
This would be a very easy DIY project. An unused toolbox, hooks and a strap are everything you need.
As you can see, towels and shower gels look great in it.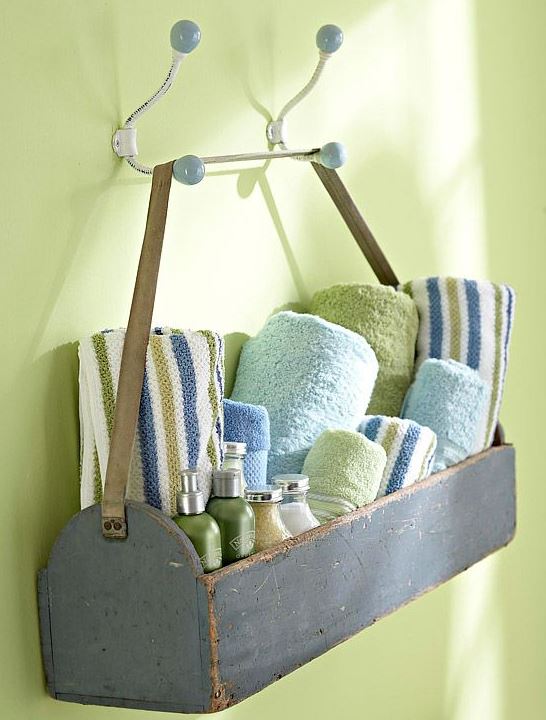 ---
13. These wall hanging crochet baskets
This is one of the most minimalistic bathroom storage solutions we have seen.
The baskets are hand crocheted from recycled eco-friendly cotton yarn. They may be soft and flexible to the touch, but are sturdy enough all bathroom essentials.
They are both functional and decorative. I'm particularly in love with this Scandinavian decor, but they are available in many other colors.
They can be hang from any hooks, but you might want to keep them out of direct line of moisture.
At only $25 for a small one, I think they are a bargain.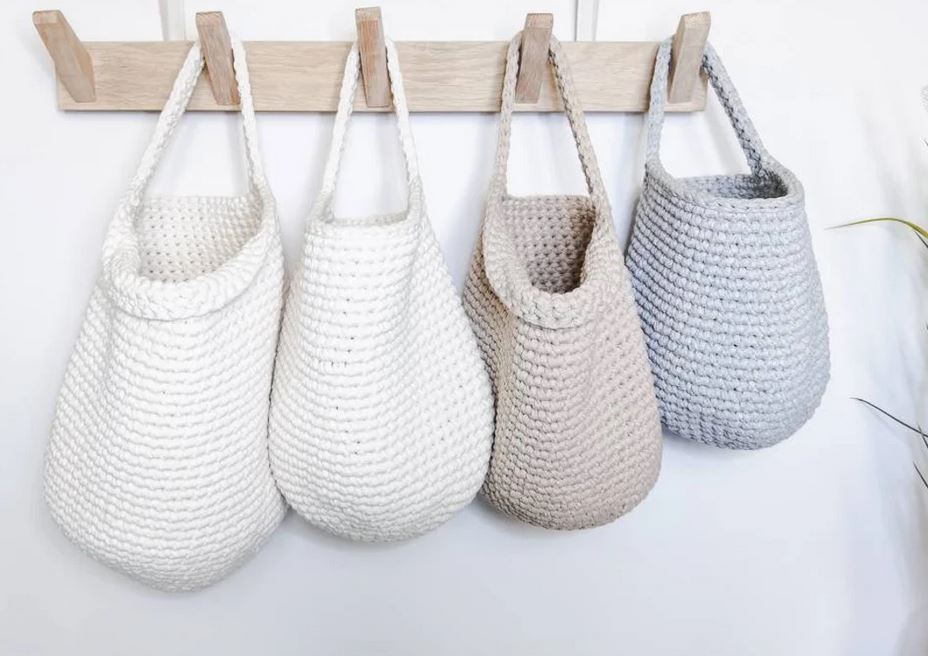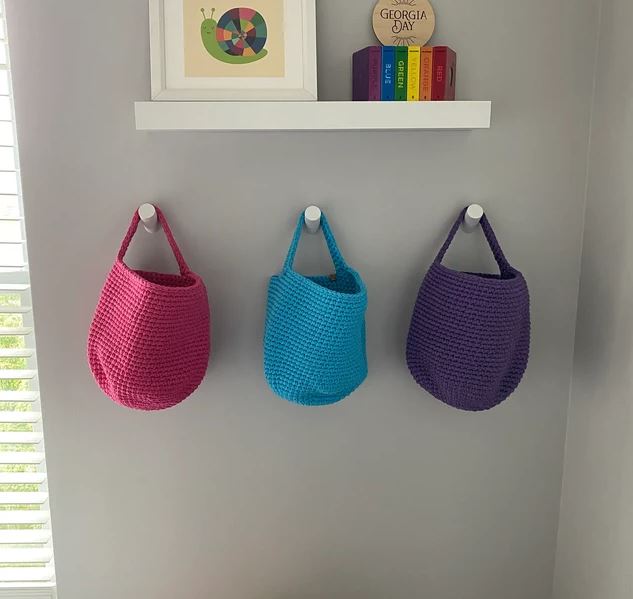 ---
14. This simple over-the-door hook shelf organizer
In a tiny house bathroom, every space is valuable. One of the most unobstructed spaces is behind the door.
It would be a shame to be short on storage when your door is completely free.
This cheap over the door basket hook organizer will give you tons of space for your shower gel, hand wash, and skincare products.
It also comes with hooks perfect for both hand and bath towels.
One con is that you'll need to be mindful of how strongly you open your door, but other than that, this is one organizer that a small bathroom could really use.
This particular one is made of a steel alloy, and is rated for 50 pounds.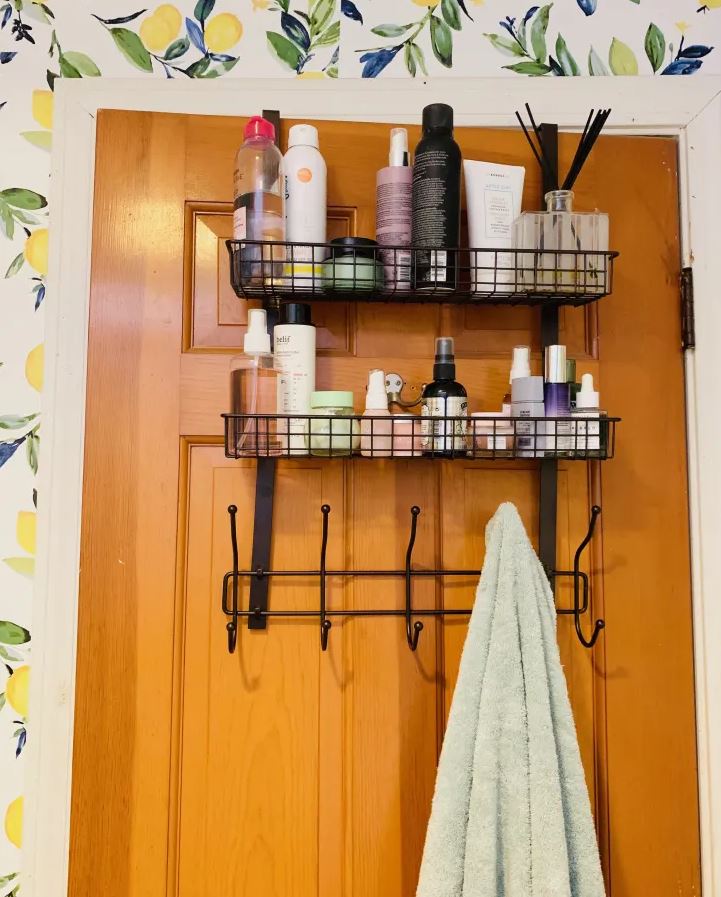 ---
15. This other over-the-door towel rack
This is another very practical over-the-door storage solution. In this case, it is meant for towels only.
Made by Winson Porter, the rack can be a very essential accessory for your tiny bathroom. It can hold 3 bath towels, and even more hand towels.
It is as simple as as it gets. No screws, no hooks.
It is made of durable steel and chrome with a nickel finish.
As you can see, you can hang it on the door or even on your shower cubicle.
At just under $30 on Wayfair, we think this is a good deal.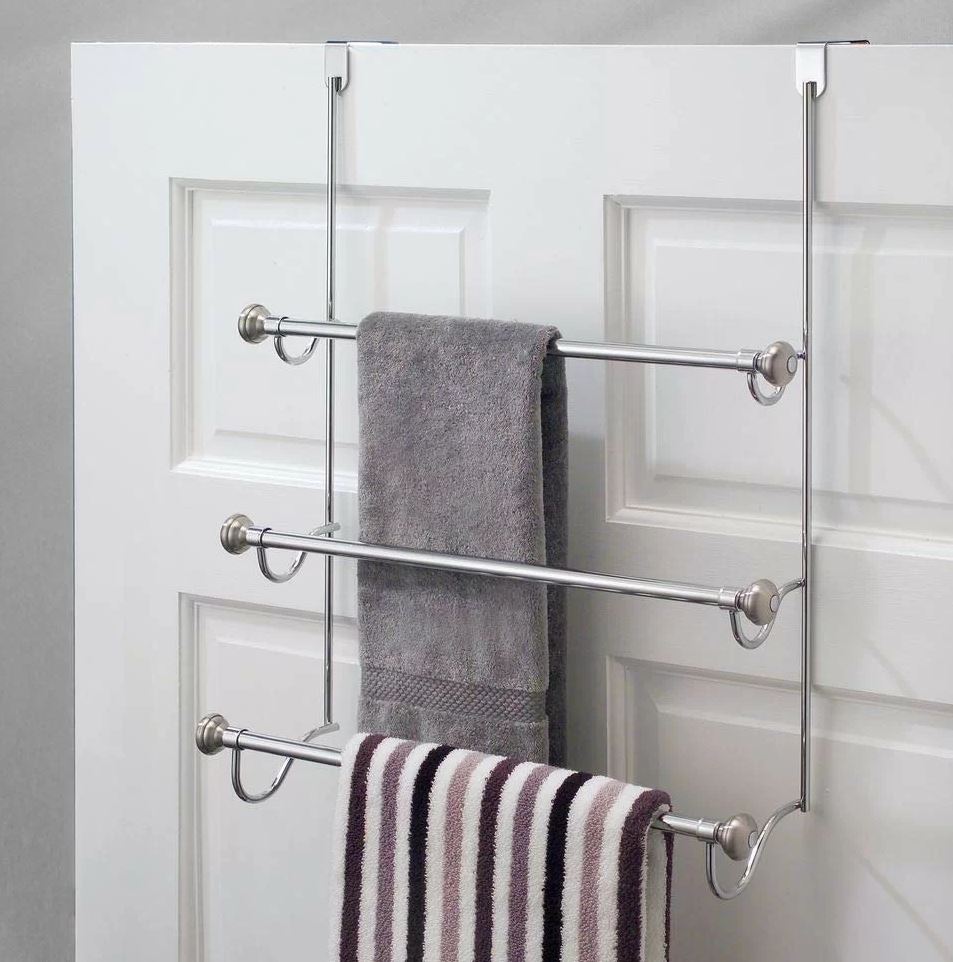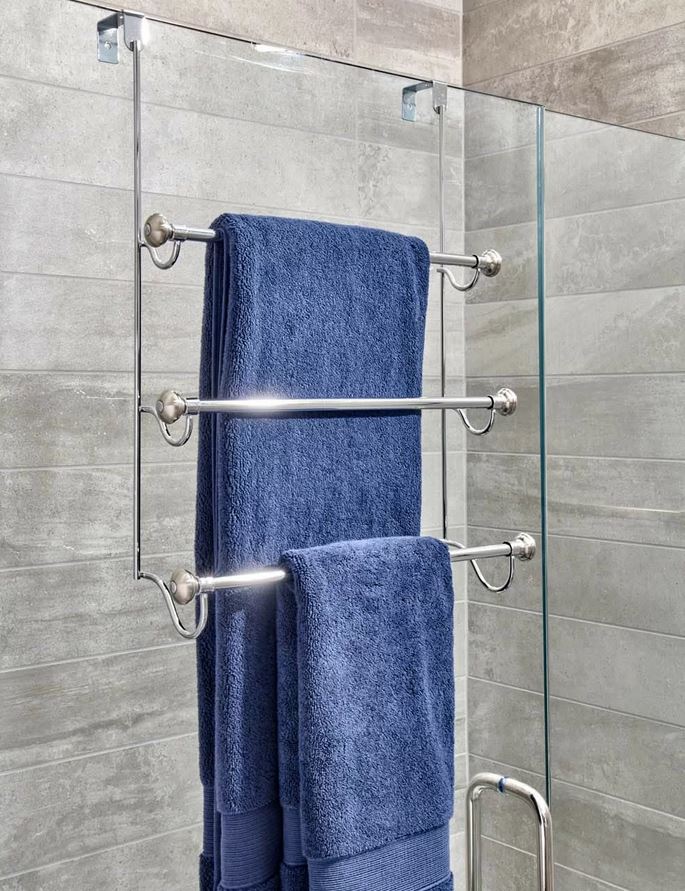 ---
16. Another cute crochet décor basket
Close in design to the crochet basket we had above, this one will also be a great addition to your small bathroom.
It is handmade with 100% cotton cord, making it sturdy enough to hold most bathroom essentials.
This one is rather unique because of the wooden dowel on which straps wrap around. It's a cute little feature, but it likely adds to the price, which is $65 on Etsy.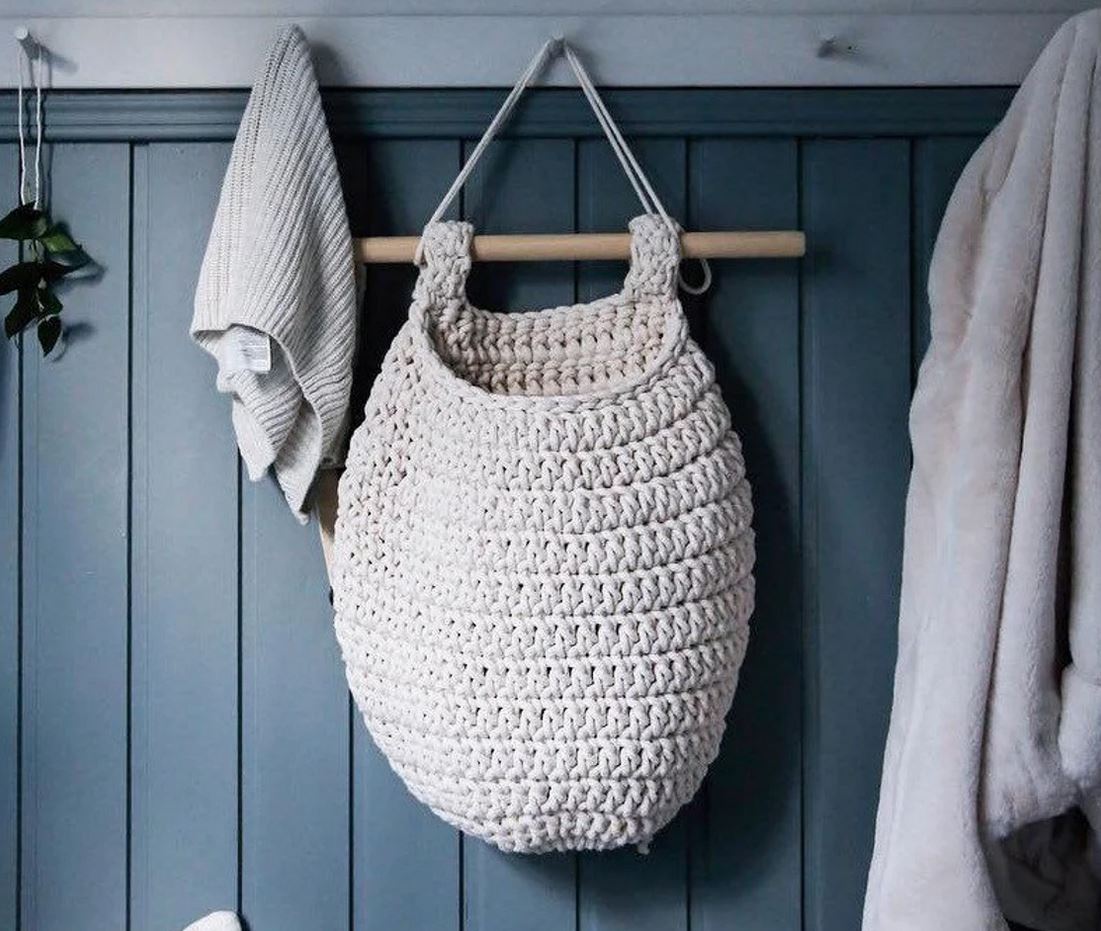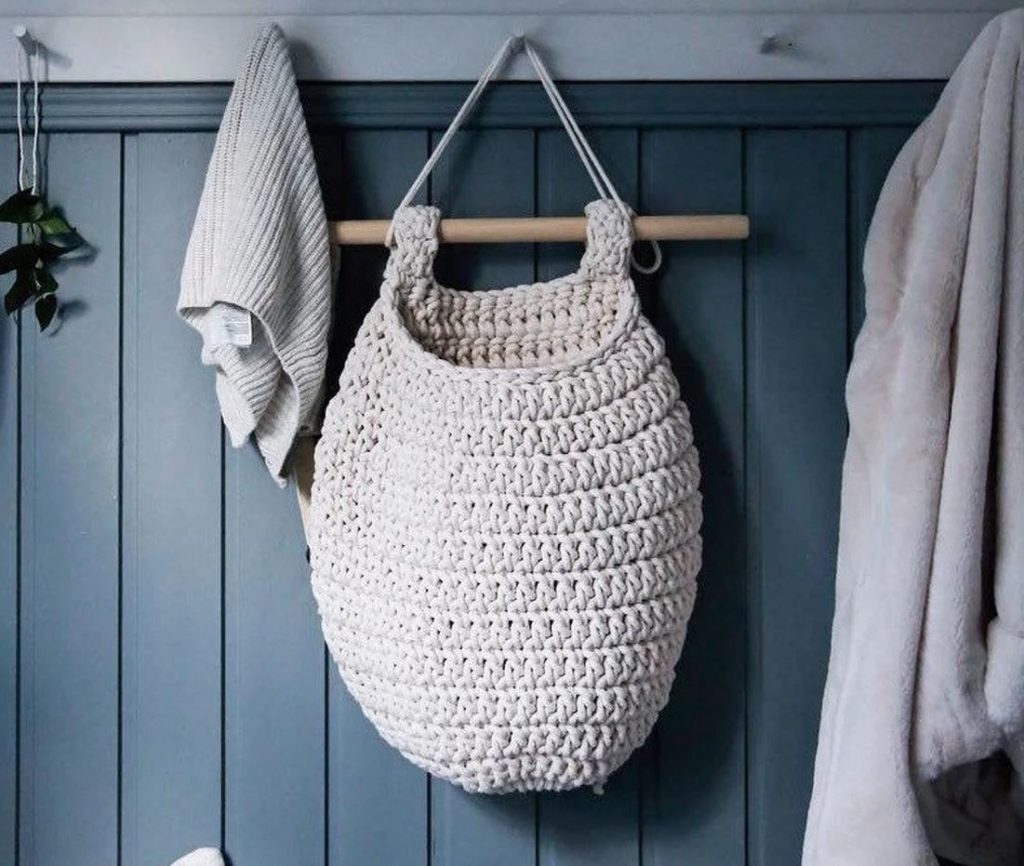 ---
17. These rustic hanging storage bags
As you've probably noticed, bags and baskets can play a big role in your small bathroom storage.
They take very little space, can be moved around easily, and are versatile in what you can put in them.
These rustic hanging bags are great for your shower gels, skincare products, towels and even tissue rolls.
On top of that, they will look amazing hanging from any part of your bathroom.
100% would recommend.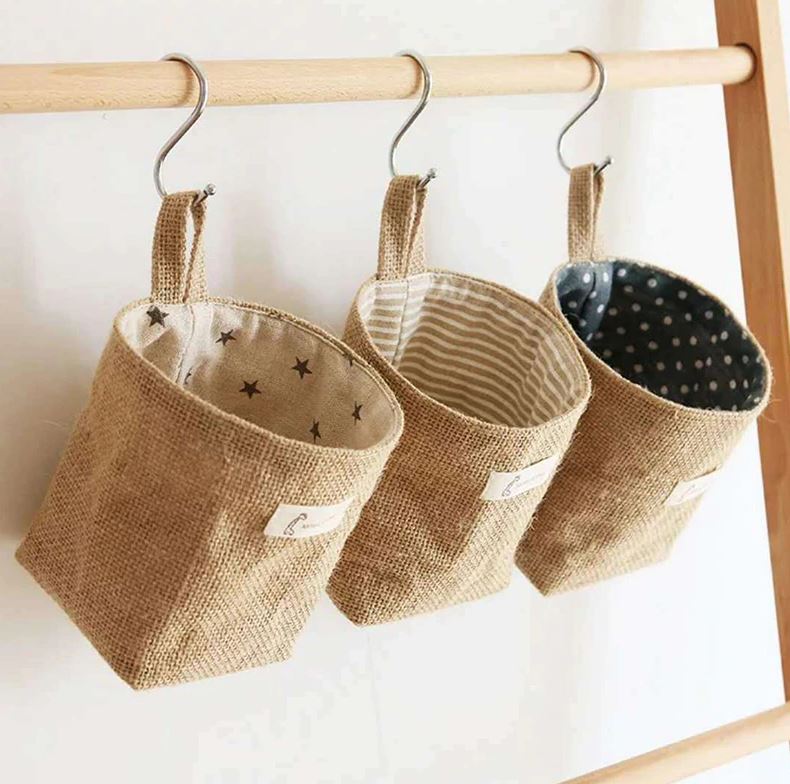 ---
18. This hanging iron towel rack with basket
Just by the look of it, you can tell this is a heavy duty solution.
It is also eye-catching and functional. However, it is quite limited on what it can hold. It comes with 3 tiers of towel rack and a basket.
The basket at the bottom is also pretty limited on the contents it can hold… another towel maybe, or maybe a roll or two of tissue.
At over $160, this hanging rack does not come cheap.
We can only recommend it for people only interested in a towel rack and nothing else, and also looking to make a statement.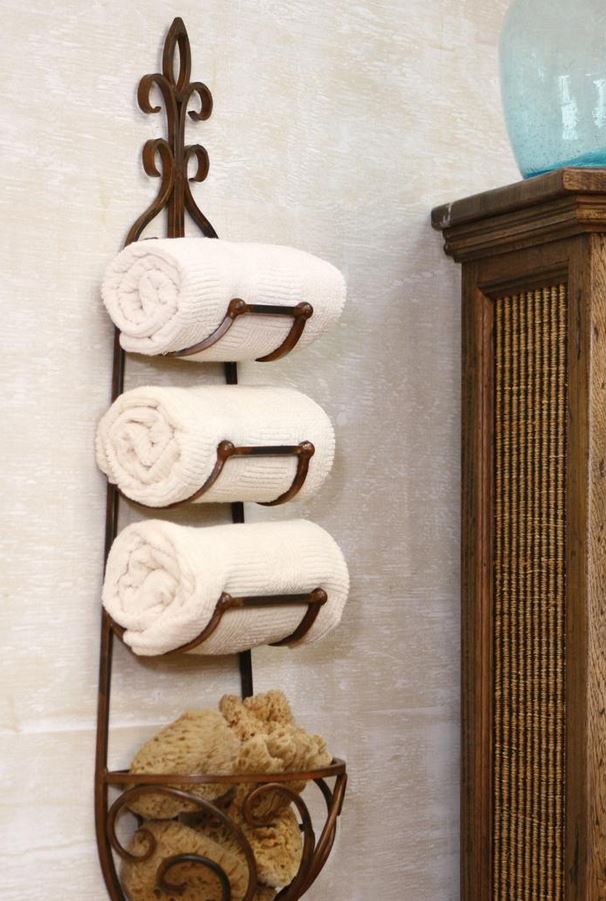 ---
19. This functional towel ladder with basket
This is another version of the ladder storage we saw above.
It can fit perfectly next/above the toilet bowl, which is a space rarely utilized. At only 5lbs, the ladder is quite lightweight.
Assembly is pretty easy, but on Etsy where we found it, the basket is not included.
If the Dark Walnut stained finish is not your cup of tea, custom colors are available.
For your tiny house bathroom, ladders are something we will never stop recommending.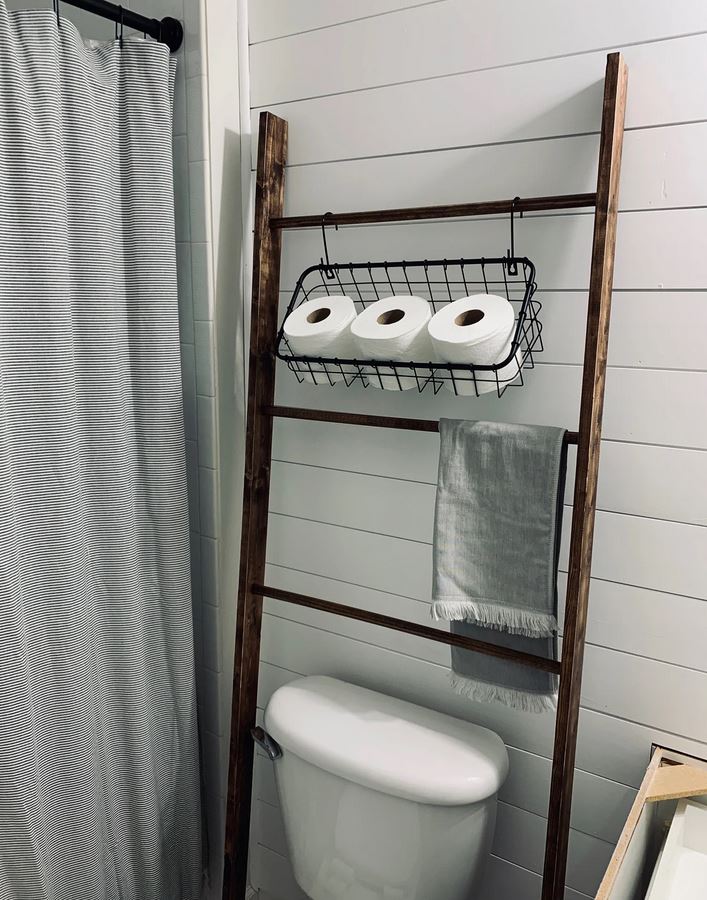 ---
20. This minimalistic towel holder
There are DIY projects, then there is this very simple DIY project. I still find it hard to believe that this uncomplicated setup actually looks this good.
You literally need only 3 materials: wooden dowel rods, a belt or leather strap (an old one will work) and nails/screws.
This is a cheap way to make a hanging towel holder. By being this minimalistic, it is very friendly for a tiny house bathroom.
Depending on how well you screw the straps to the wall, this solution will hold weight very well.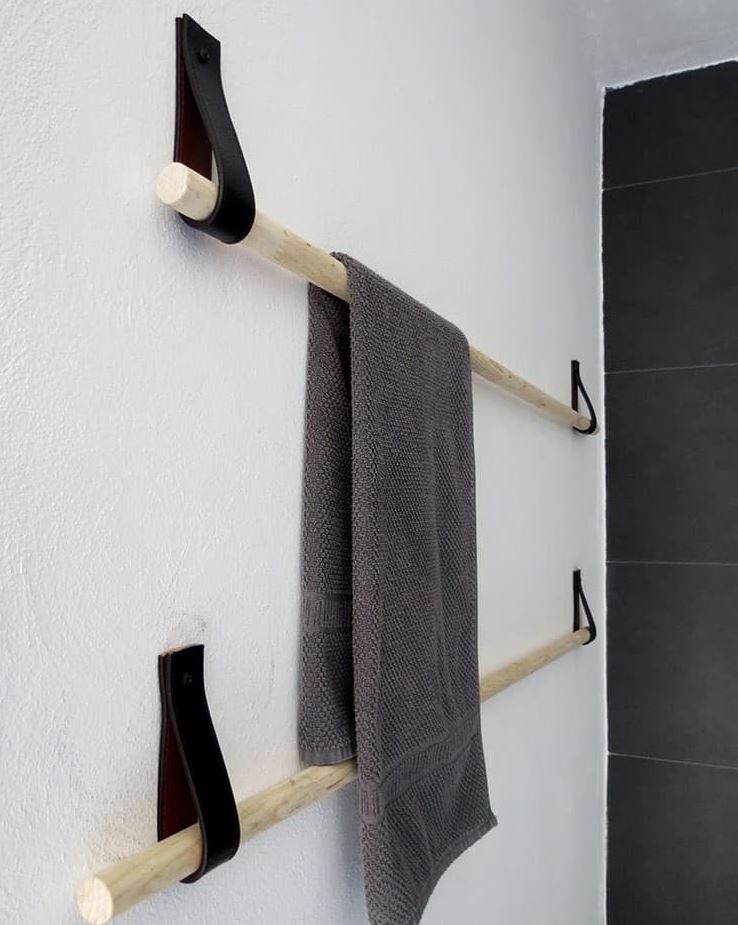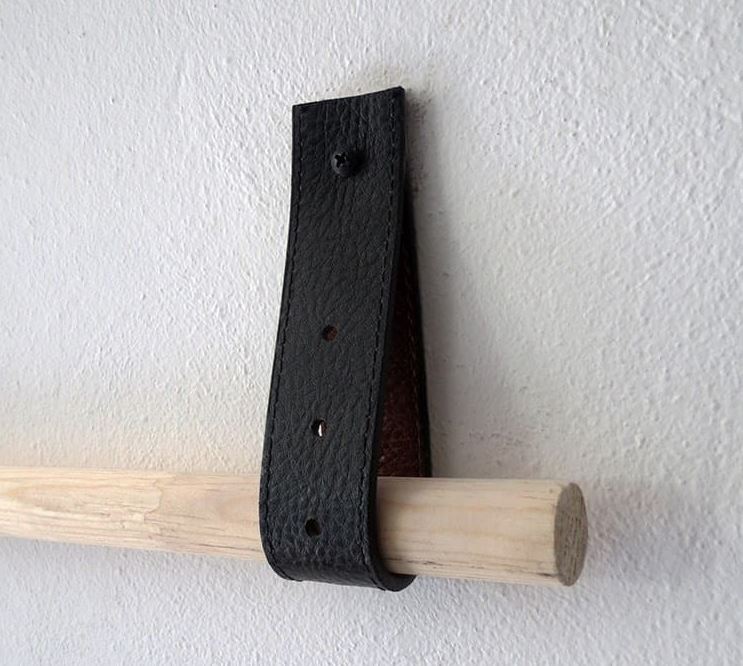 ---
21. Décor shelf with hanging towel holder
This is truly one of the most impressively simple design I have seen.
At the top, it is a normal shelf made out of a simple wooden board. This part can hold lots of things, from your bathroom essentials like soap, gel, skincare products etc. to tissue rolls and potted plants.
The real creativity happens at the bottom part, which would ordinarily be left as is.
In this design, two vertical hoops are hang parallel to each other, giving you extra space to store up to 5 rolled up towels.
100% would recommend for your small bathroom.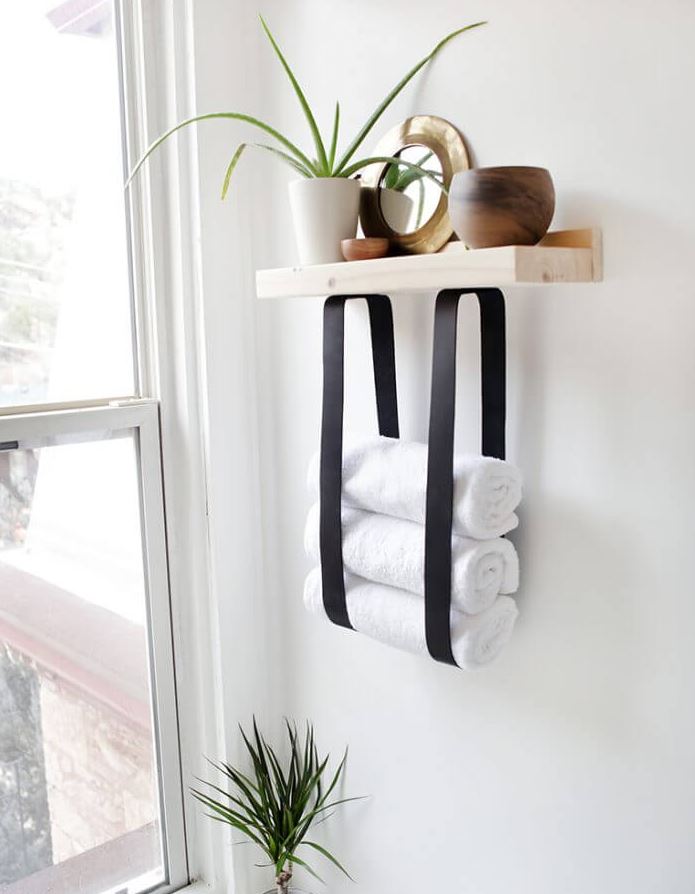 The good thing is that you can make this shelf and towel holder very easily. In fact, the creator documents how she did it in this YouTube video.
---
22. This upcycled hanging washtub bucket
We have seen many re-purposed washtubs, but this is one of the most unique uses we have encountered.
Literally the only additions to the tub are the two wooden boards that provide shelf space.
This would be great to store tissue rolls, towels and other bathroom essentials.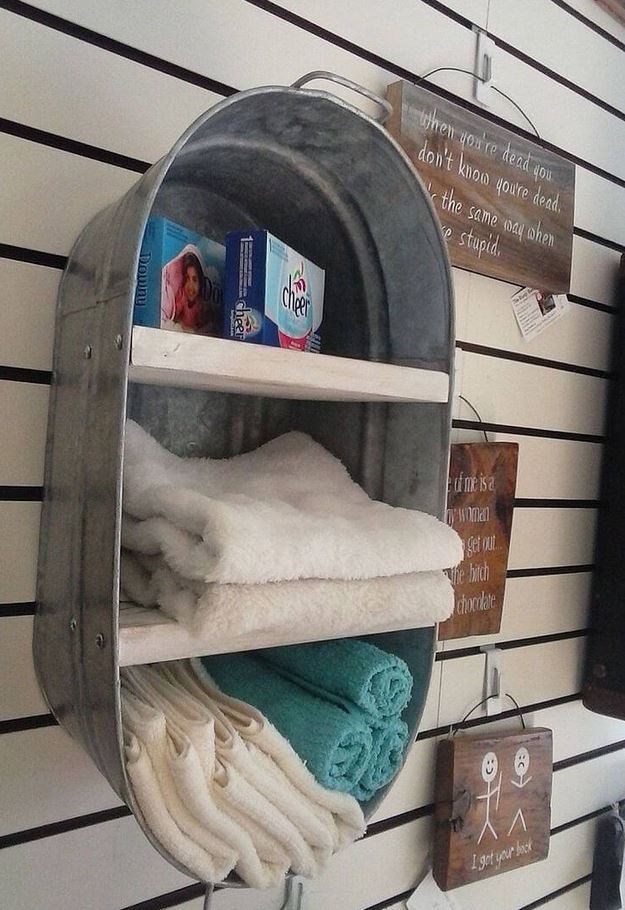 ---
23. This hanging basket towel holder
Closely related to the washtub is this basket. Same shape, but it is a basket without wooden boards creating additional shelf space.
Ideally, this one is only good for towels.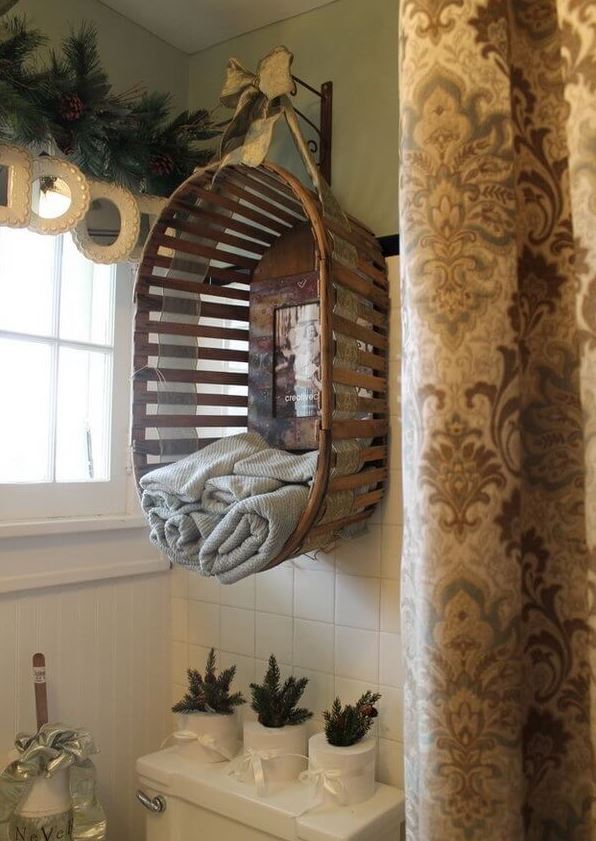 ---
24. This simple towel hanging ladder
This treehouse ladder is perfect for hanging towels. This particular one comes with 5 levels, but the levels will only be limited by your ceiling height.
It is lightweight, functional and will look great on the wall or the door.
The hanging ladder would make a great addition to your tiny bathroom, and though we could not get a shop stocking them, it would make a simple and fun DIY project.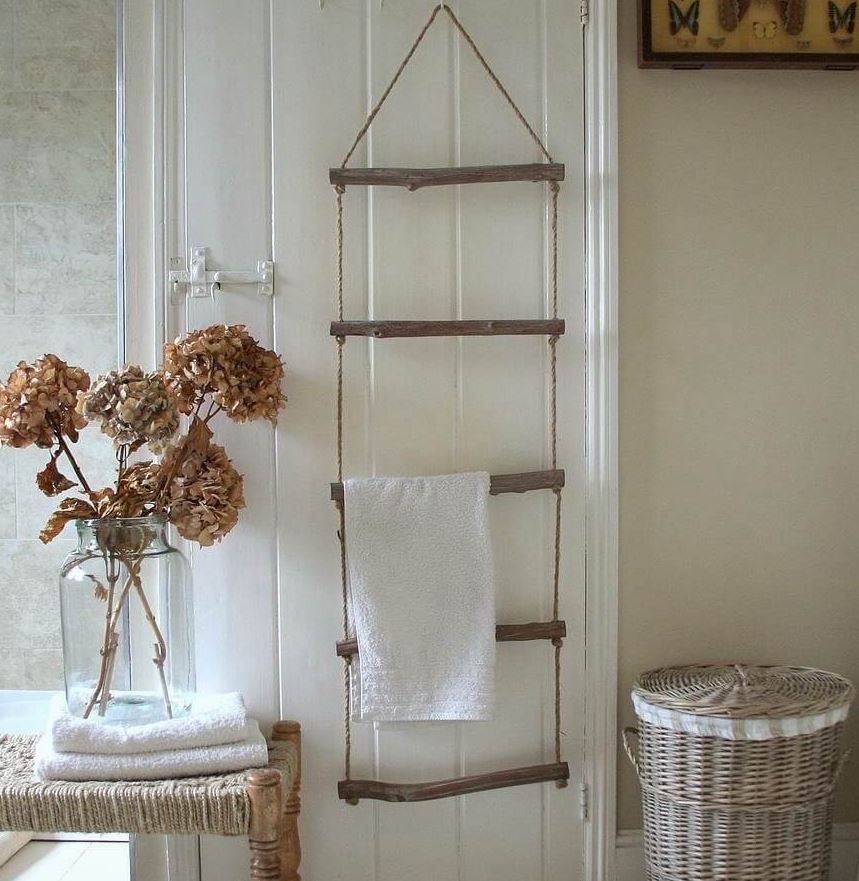 ---
25. Simple, straightforward, minimalist towel holder
If your have a minimalist theme going in your tiny bathroom, this leather strap and ring will compliment it beautifuly.
The Nordic-style is just so pleasing to the eye.
This is one of the simplest, yet functional wall hanging storage ideas we have come across. It is perfect for a hand towel.
Another option would be to purchase two of them, space them out and have a dowel between them to hang larger towels.
10/10, would recommend.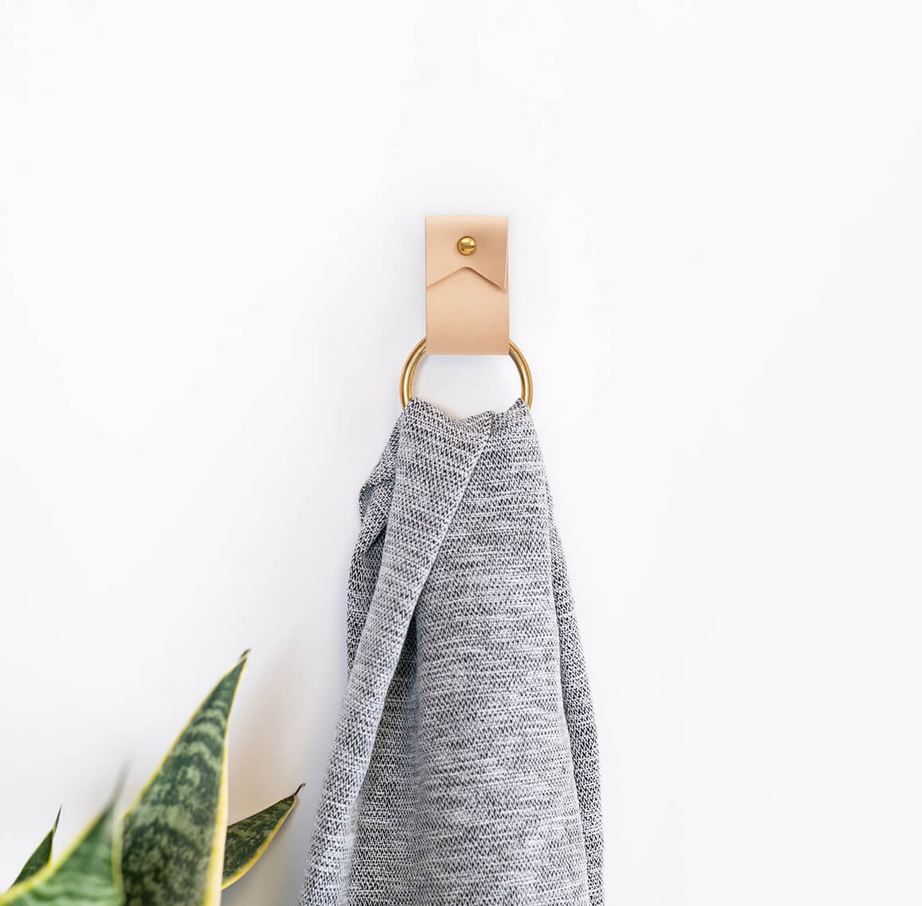 ---
26. Hanging Boho macramé toilet paper holder
There is no reason you should not bring some style to your tiny bathroom.
This toilet paper holder in boho macramé style will look great, and will certainly impress your guests.
I love the simplicity and the character it brings. This particular one can hold 3 large or 4 small tissue rolls.
The tissue holder can be hang on a simple screw or nail on the wall or bathroom door.
As a minimalist, this should be a top buy for you.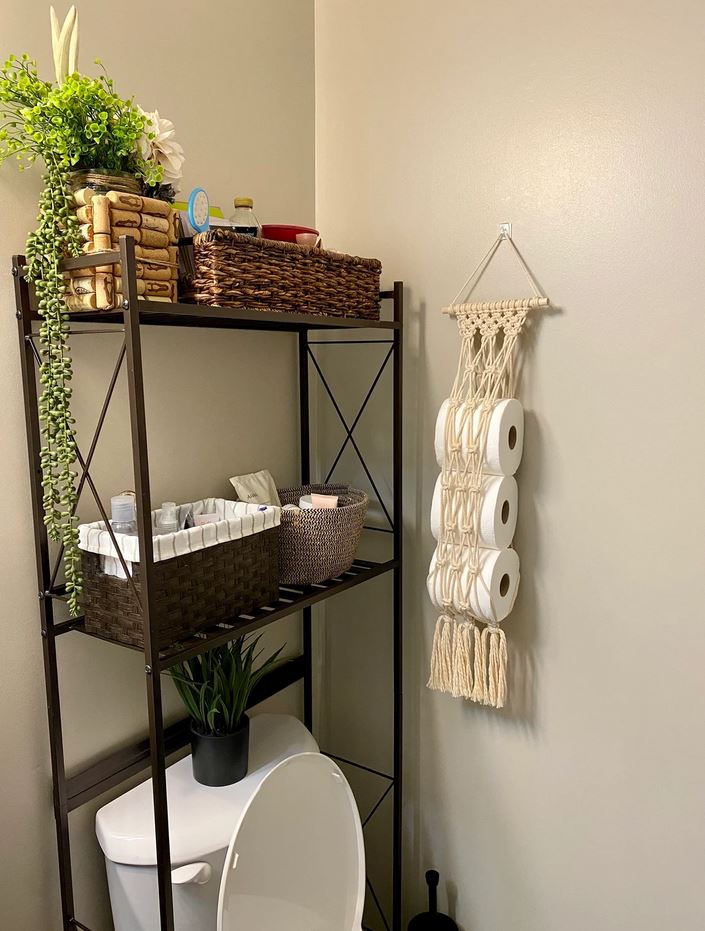 ---
27. This mDesign over-the-door organizer
Here's yet another design for an over-the-door organizer.
This one is made of strong steel wire with a bronze finish. The two shelf baskets are great for shower gels, and other bathroom soap products.
This organizer is great if you have an industrial theme going.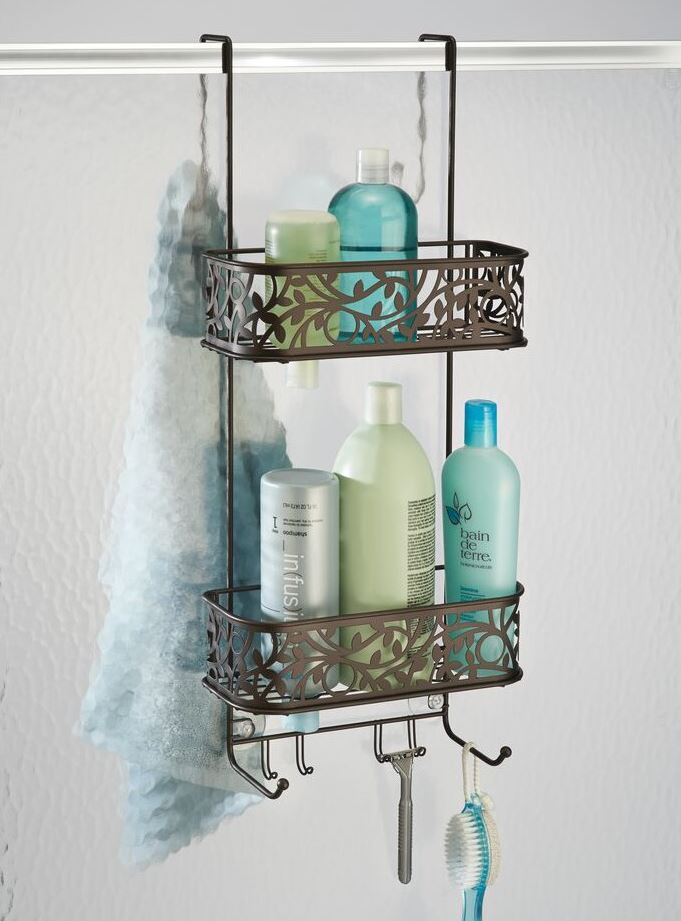 ---
28. This 3 tier shower caddy
If you tend to have many shower products, this 3 tier shower caddy can be very useful in a small bathroom.
The top 2 levels offer deep storage that can hold all your shower gels, body wash, hand wash, shampoo, lotion and skincare products, while the bottom tier is made for your solid soap.
The caddie is sleek and will not look out of place in a modern bathroom.
Hanging a caddy on the door can sometimes be problematic due to the swaying. This one however solves that by having 2 strong suction cups that grip the door or wall.
The material is 100% iron, and we would 100% recommend for your small bathroom.
On Walmart, the price is under $22.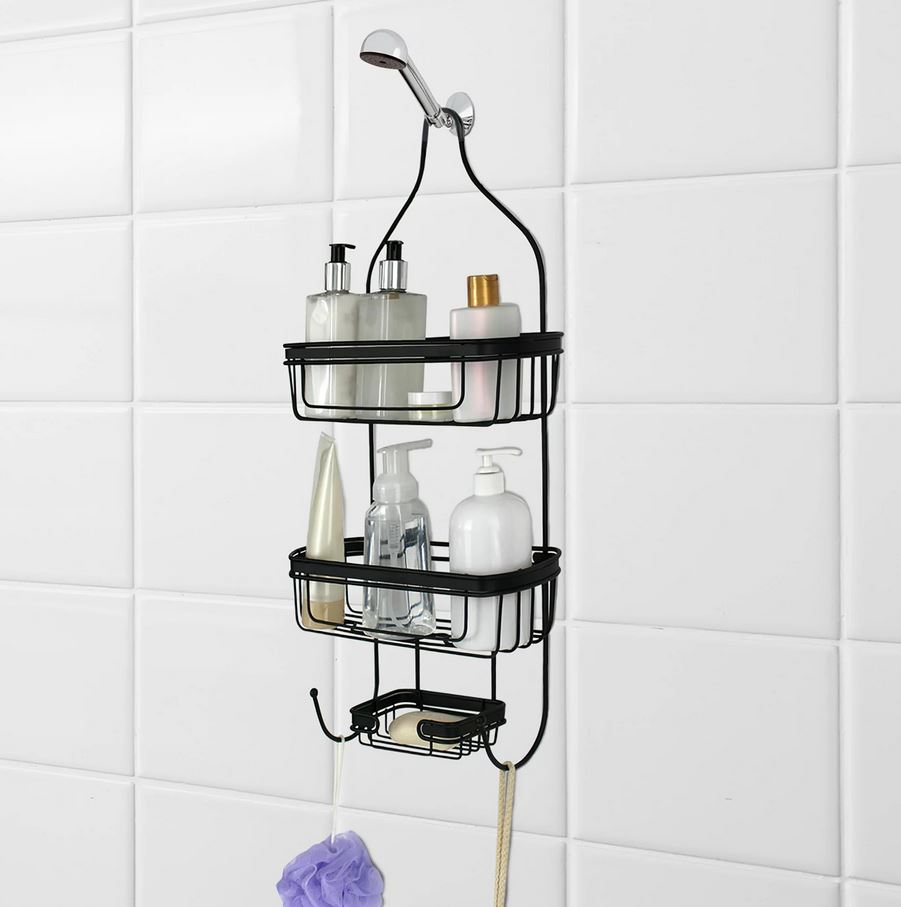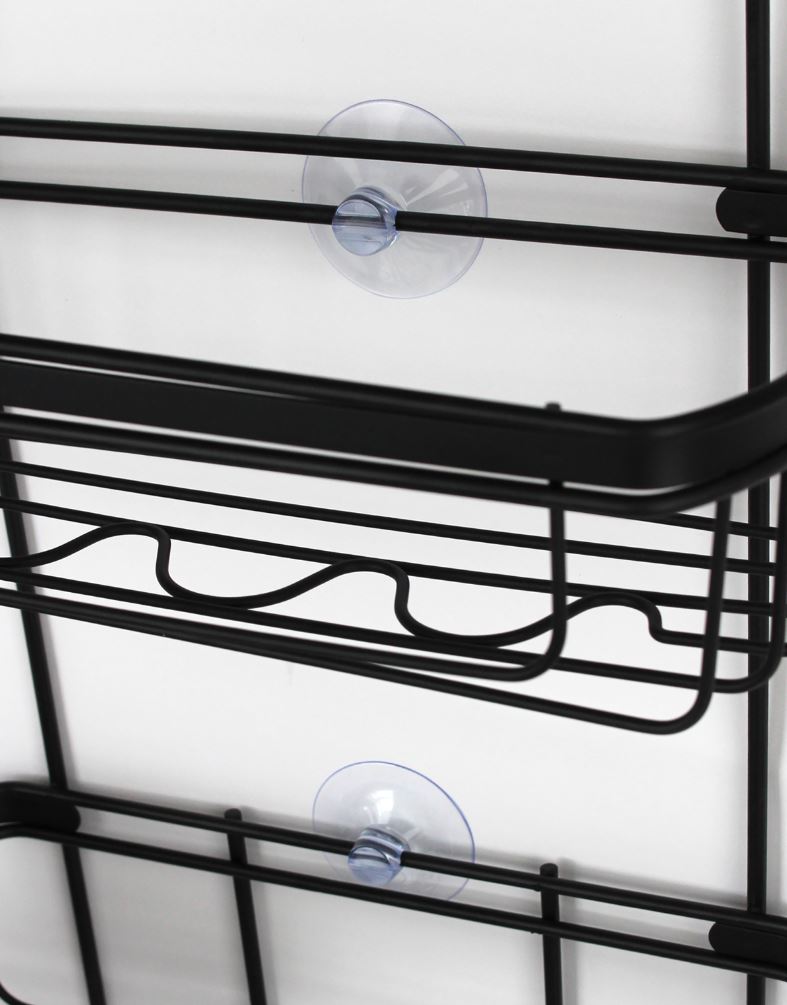 ---
29. This wall-mounted towel holder with hooks
The large letters that spell 'Towels' perhaps give away the intended use of this bathroom storage solution.
It's a small rack and organizer, that can fit in any bathroom size. Actually, you can fit several of these in your small bathroom if you want to.
The towel holder is a simple carbon iron design screwed on the wall. It has an upper storage compartment, which can hold up to 3 bath towels and up to 12 face towels. This part can also hold bathroom products like shower gels.
The bottom part has 5 hooks where more towels can be hang.
So, if you are looking for a solution that can hold many towels, but is small in size, this is an obvious choice.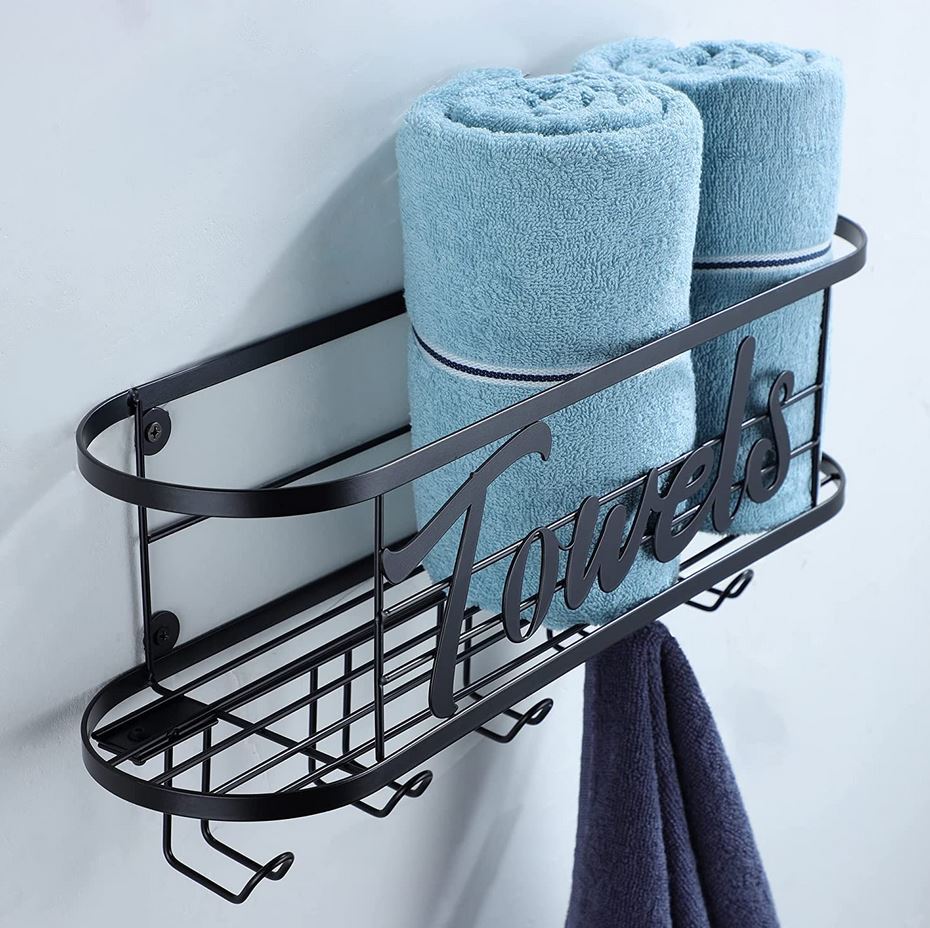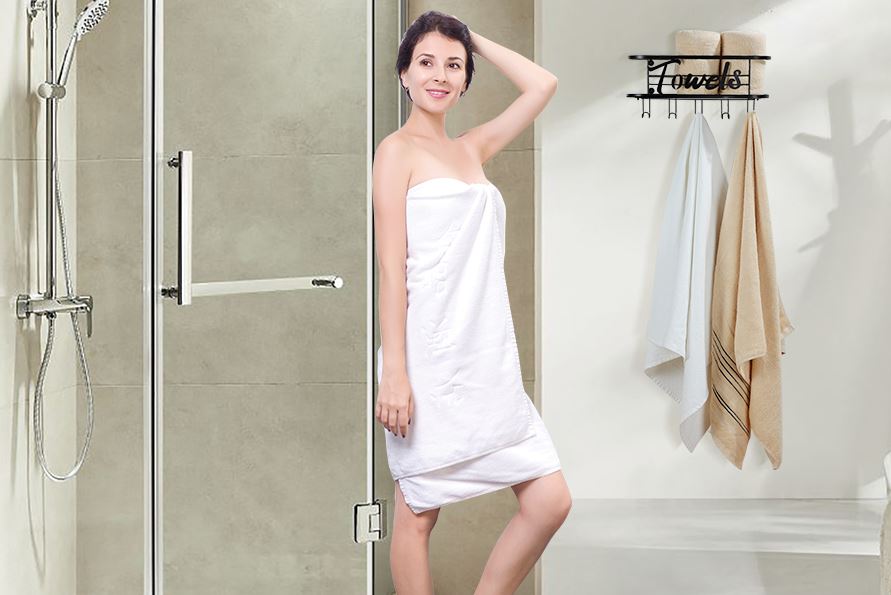 ---
30. This hanging ladder towel rack
We'll never get tired of talking about ladders in small bathroom spaces.
This rustic example is unique in that it is not free-standing, but rather hanging. I particularly like its whitewashed vintage look that will give your home a farmhouse décor.
This is perfect for hand towels, but can hold bath towels too. Where space is precious, it can also serve as a cloth hanging rack.
With no installation required, we love it and would recommend.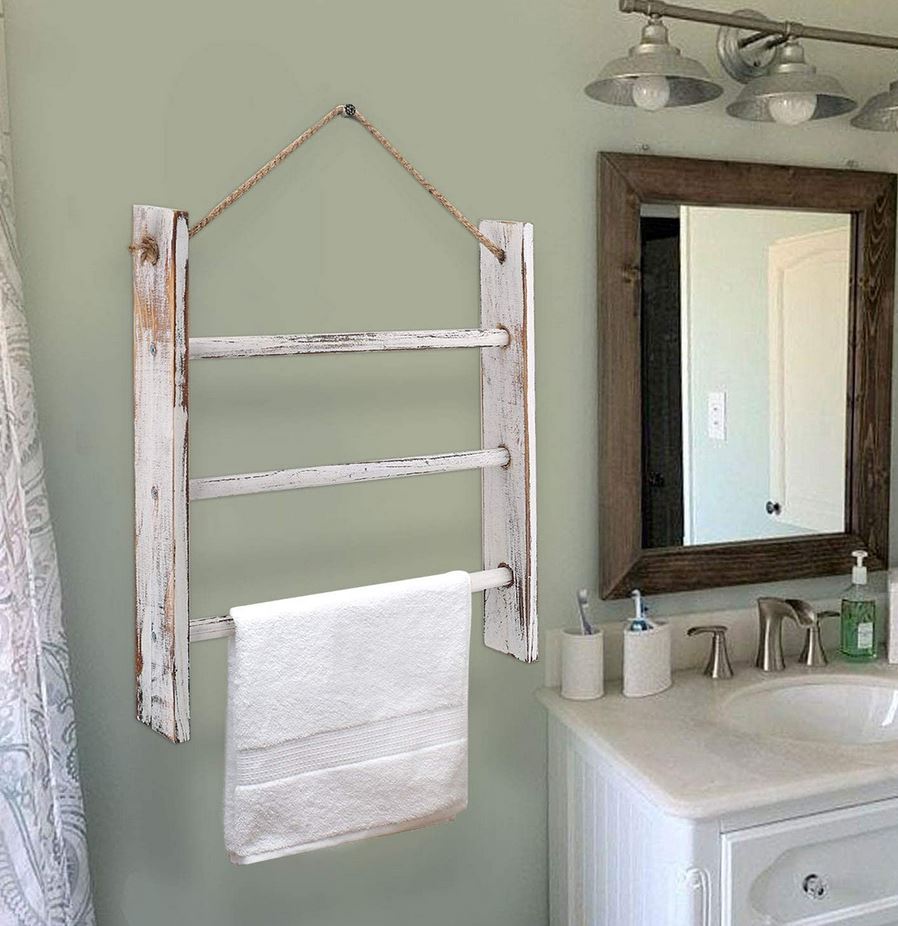 ---
31. This fabric wall hanging storage
Here's another creative bathroom storage solution we saw and loved.
It is made from 100% natural linen, and is great for storing a wide range of bathroom products, while saving a lot of space.
Since the whole concept is fabric, the possibilities of where you can hang it are unlimited.
And I love that it comes in pastel colors, which will blend well in most bathroom environments. Best part, they are washable.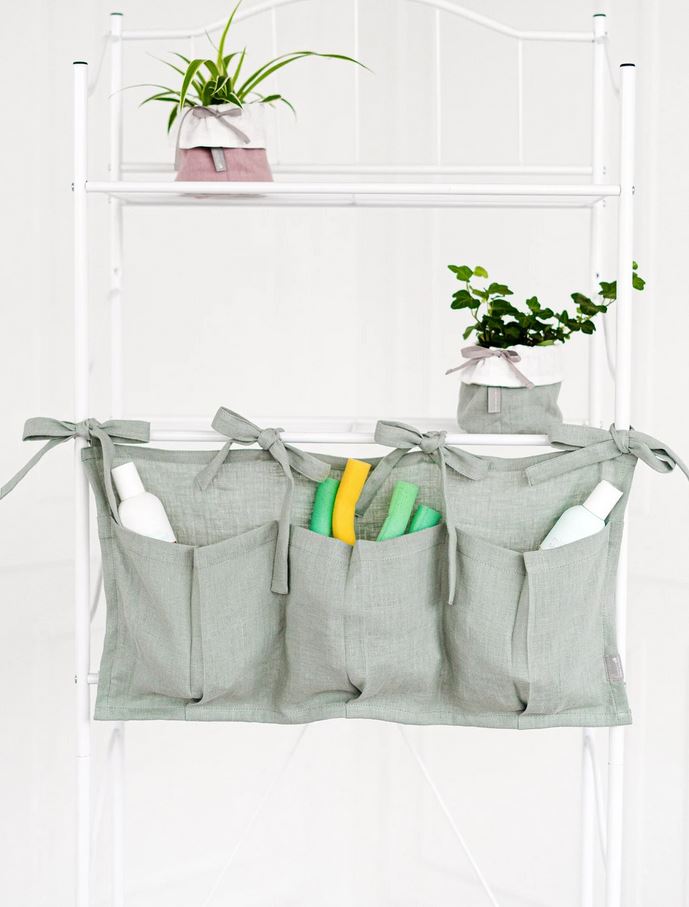 ---
Small bathroom wall shelf ideas
Perhaps hanging storage are not your thing, and you are instead interested in a sturdy wall-mounted shelf.
You can be sure that there are lots of options out there. While many wall shelves tend to be big and bulky, we have curated a few that are just ideal for your tiny house bathroom.
---
32. This sleek bathroom shelf with towel bar
Functional, simple and elegant. Those are words you can use to describe this $60 setup.
These wooden floating shelves will look beautiful in your tiny bathroom. They are perfect for essentials such as toiletries, makeup, shampoo, conditioner and shower gel.
I like their minimalist appearance and their wood texture that goes well with the bathroom whites.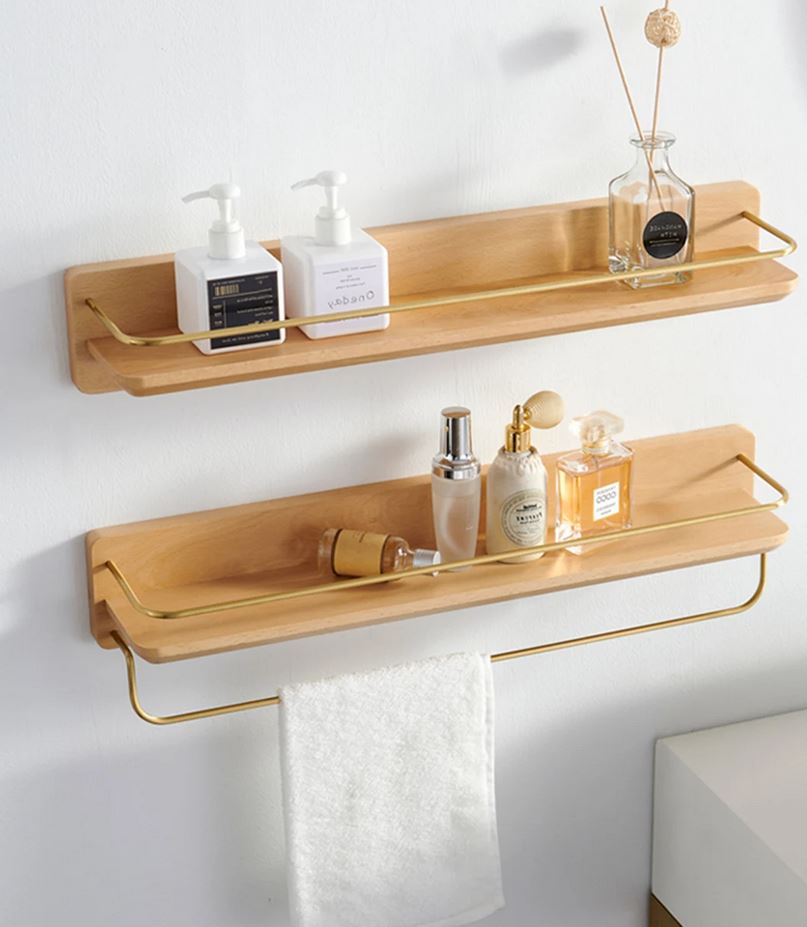 ---
33. This unique rattan arc bathroom wall shelf
I am completely in love with this arc design. The wall shelf is made of bamboo/rattan and features a back panel made from concentric arches and a half-circle shelf with slatted ledge.
The shelf will completely transform your small bathroom space with a modern but fun finish.
To bring out the best of the shelf, use it for a potted plant, and some shower gel or other bathroom essentials.
Totally would recommend.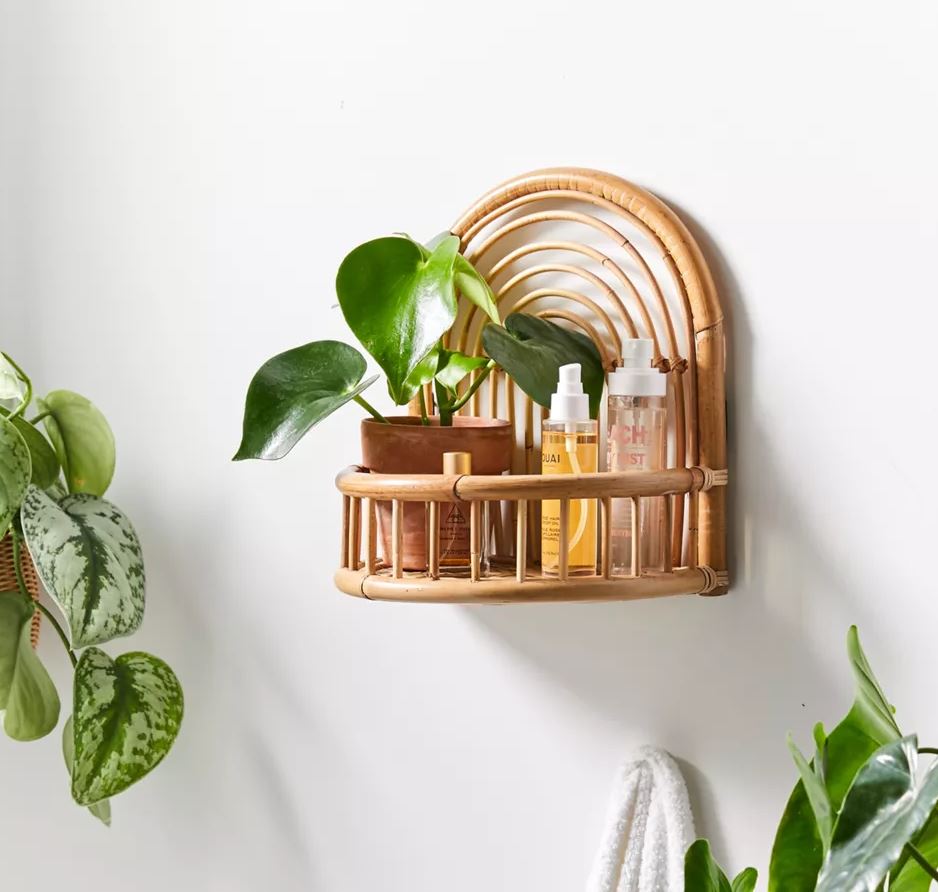 ---
34. This handcrafted double tier marble shelf
When we're so used of seeing shelves made of wooden boards, it's always a pleasant surprise when you find one made of a marble.
This Linden double tier shelf is sleek and modern, as well as luxurious. It is handcrafted of brass, marble and iron.
Your bathroom may be small, but there is no reason it can't be luxurious.
The shelf is perfect for potted plants, toiletries, towels and candles. As you can see, it will occupy very little real estate on your wall.
However, at close to $140, it is not the cheapest option. It is sold by Potterybarn.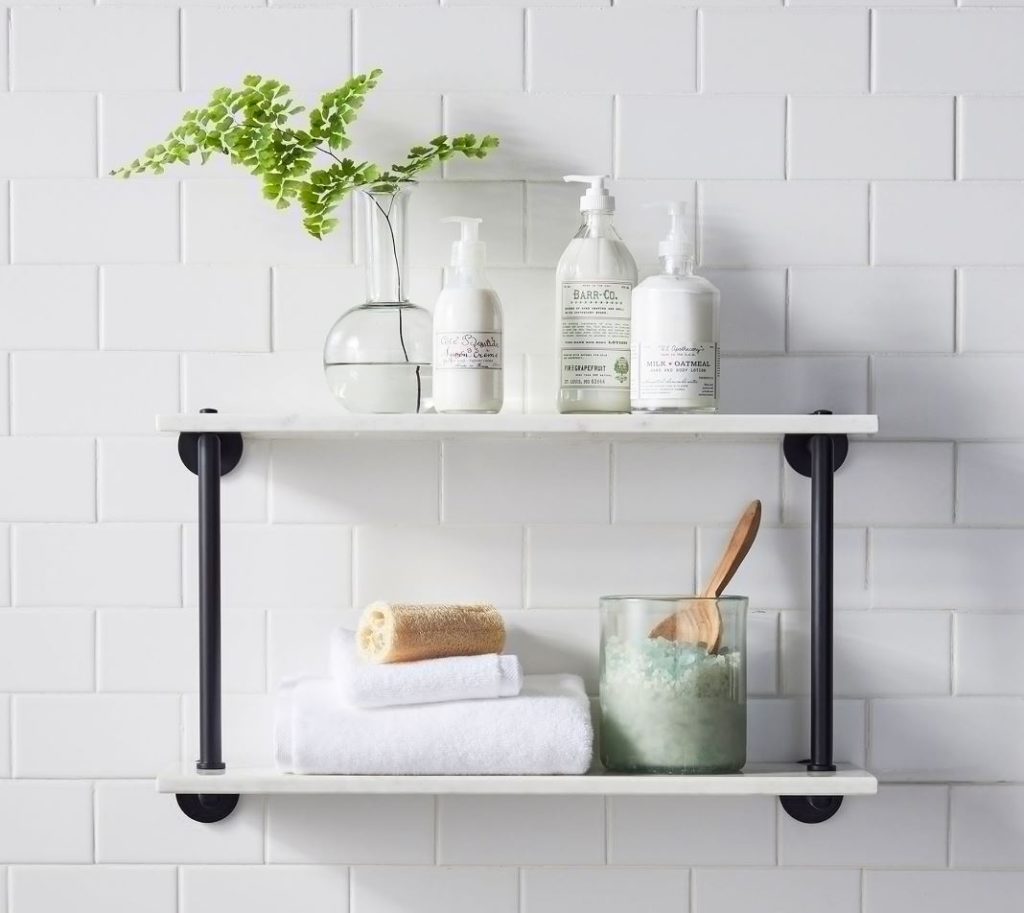 35. Handcrafted double tier glass shelf
Also sold by the same company, this one is the exact same design as the shelf above.
However, glass is used instead of marble.
The finish on this one is brass, but you have a choice of chrome, matte black or tumbled brass. This would be an awesome addition to any bathroom.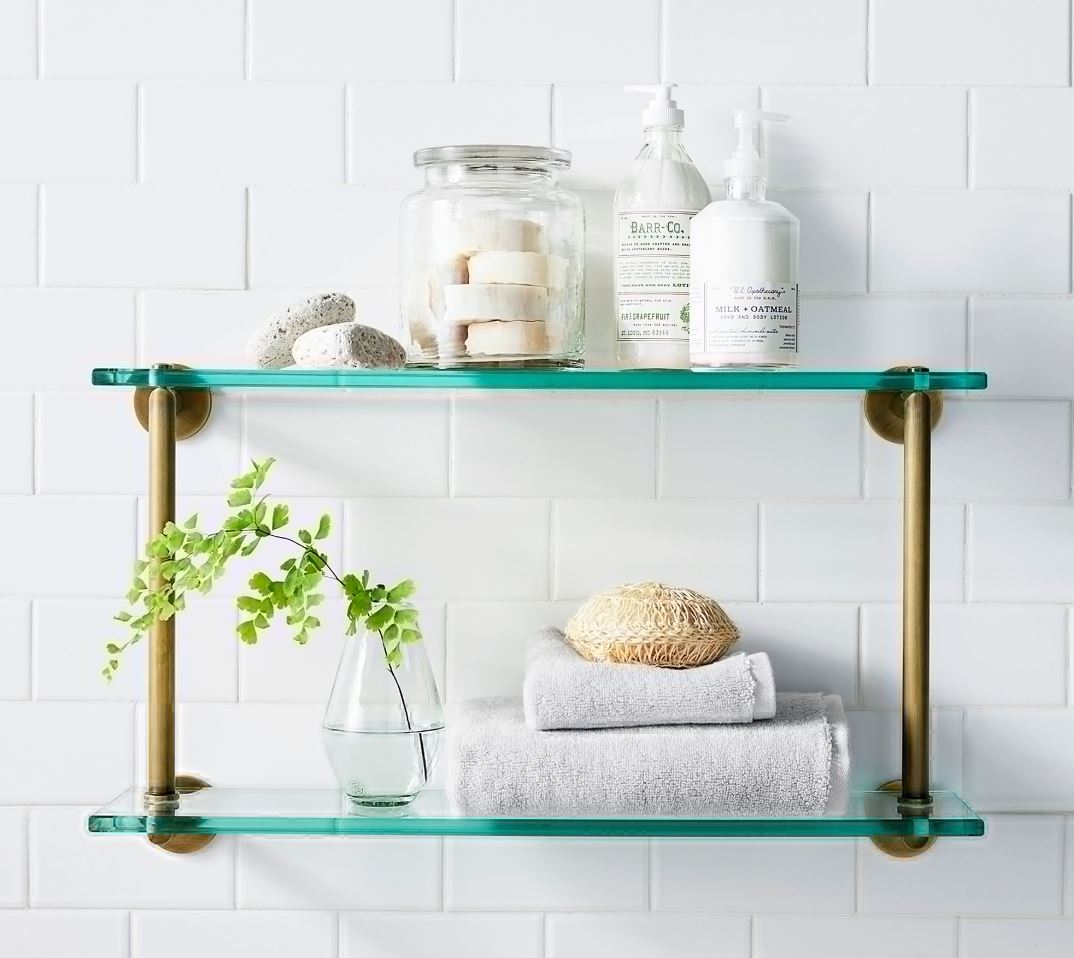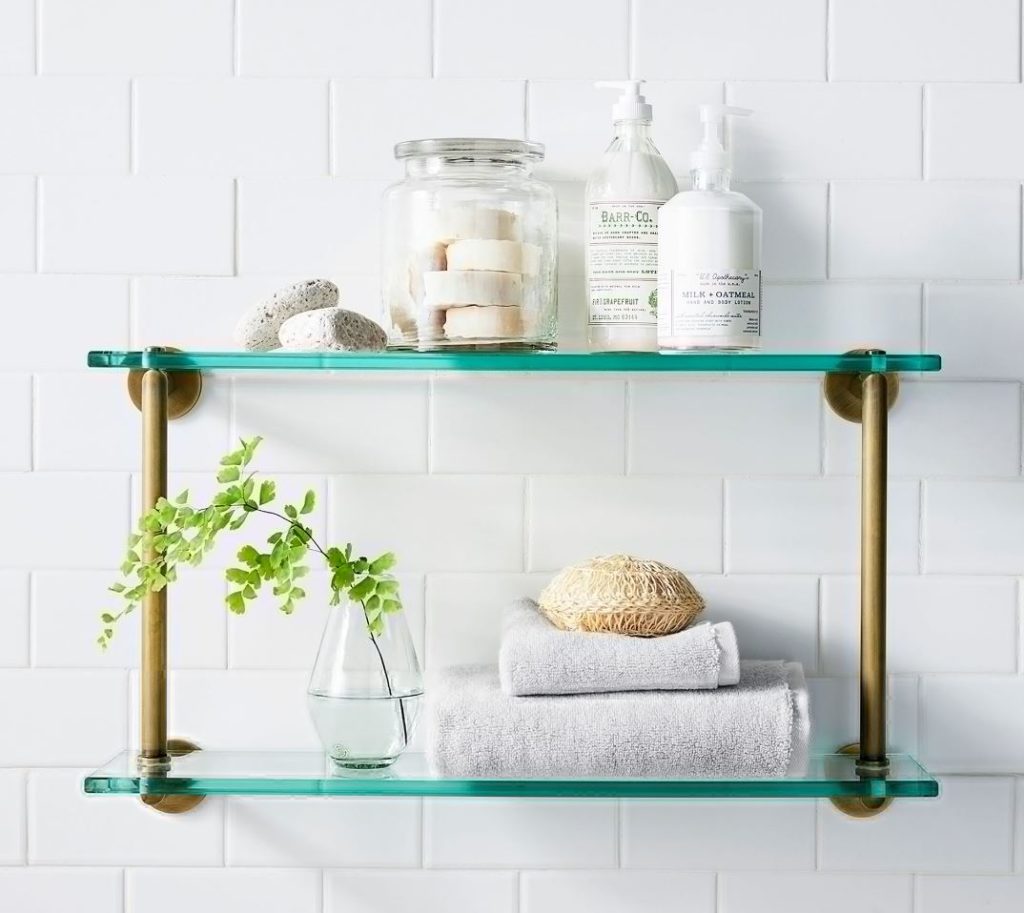 ---
36. This simple and sleek floating shelf
Shelving rarely gets any simpler than this. Made of aluminum, these bathroom shelves are both modern and minimalistic.
They are easy to install, and perfect for bathroom essentials, candles and even potted plants. However, they may not be the best for tissue rolls.
The shelves come in either white or black, and at under $20, I 100% recommend.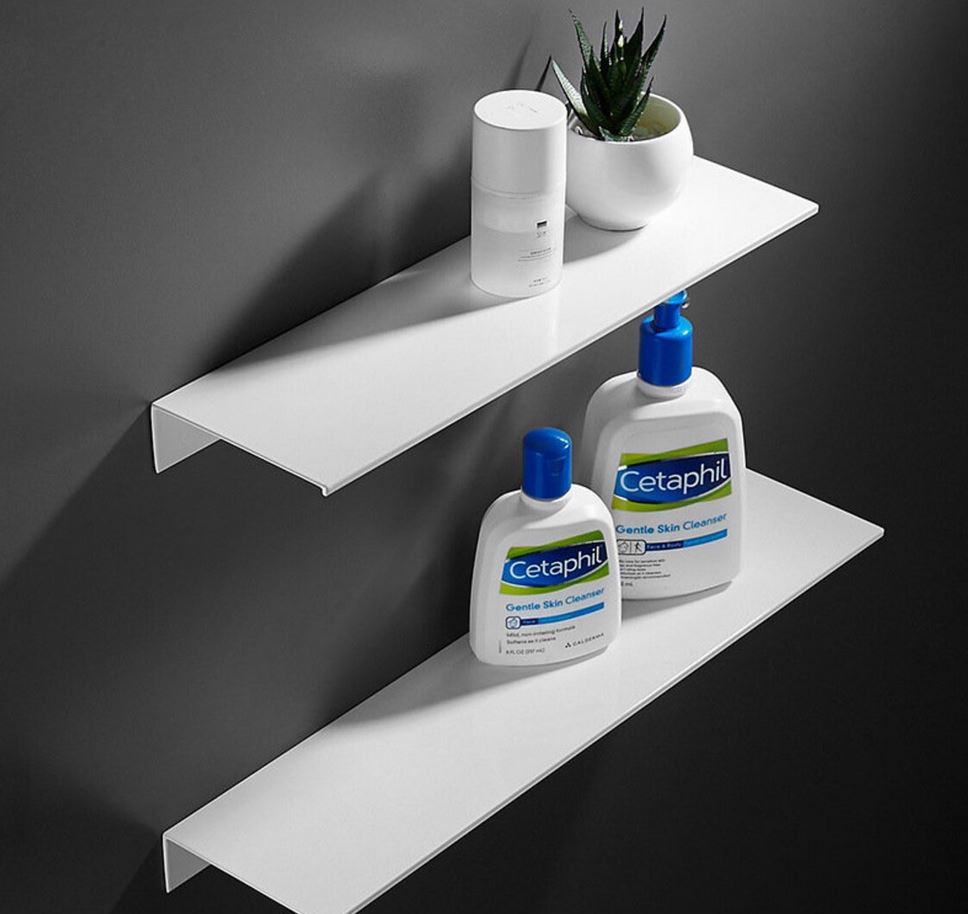 ---
37. This décor bathroom shelf organizer
Modern and super chic; that's the best way to describe this bathroom organizer.
It is made of aluminum and is completely rustproof. Extremely durable. The protective coating can either come in black or silver.
The organizer is great for all your cosmetics, and the manufacturer rates it for over 50 pounds, as long as it is screwed properly on the wall.
For the price of $25, I'm inclined to believe this is worth it.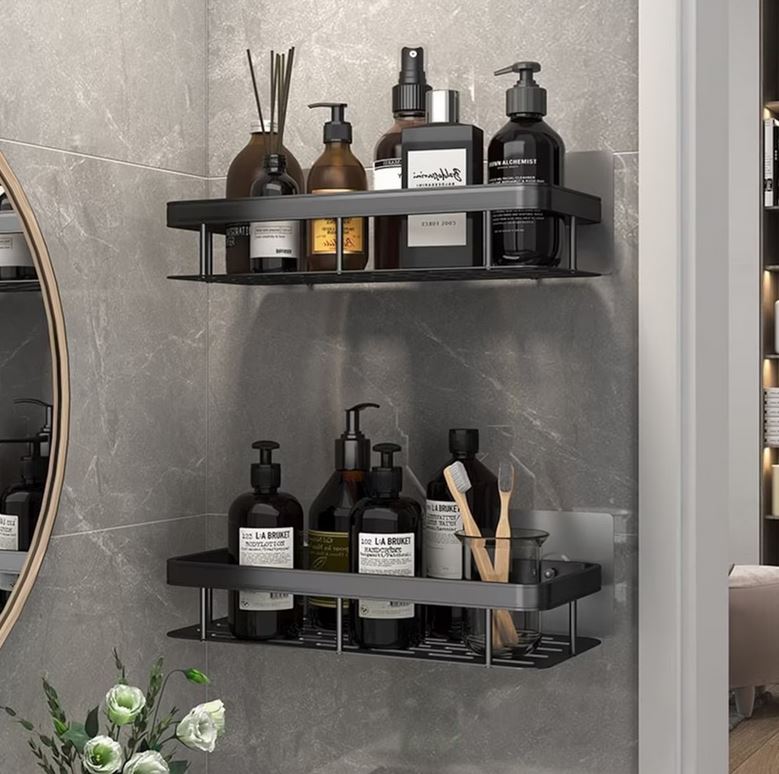 38. This decorative wooden and metal shelf
Now we are starting to get into fun and creative territory. If you're the type to be 'extra', why settle for a simple design when you can go all out and impress your guests?
This bathroom shelf is both decorative and functional. I love the golden finishes.
The top is perfect for your bathroom essentials, while the bottom arched rod will hold your towel.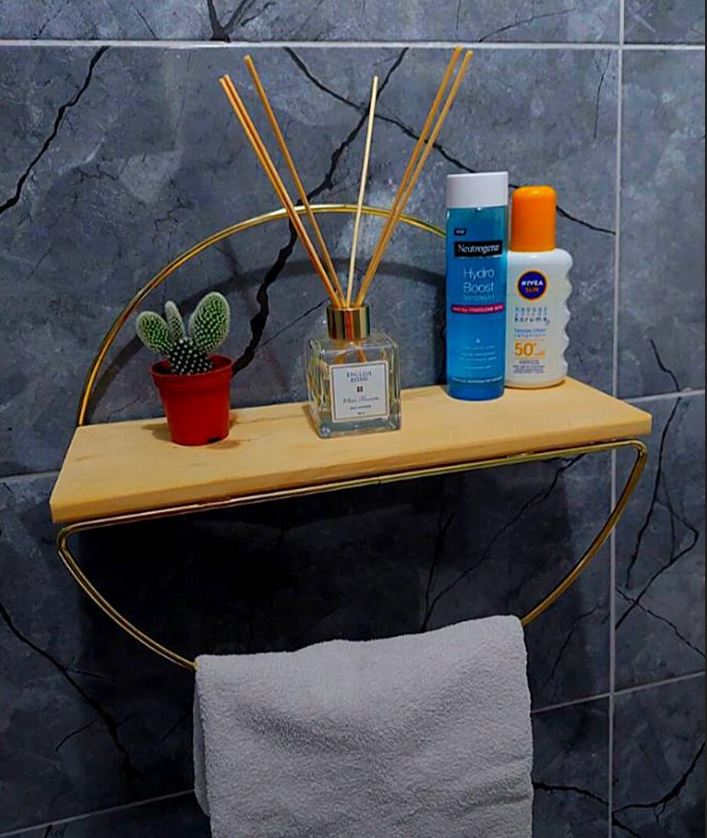 ---
39. These floating, round glass shelves
Your small bathroom doesn't have to be boring.
These elegant rounded glass shelves come with an iron frame, but plated in gold. There are 7 individual shelves, each of increasing size.
The items they can hold are obviously limited, but hand wash, body wash, or candles will look great on them.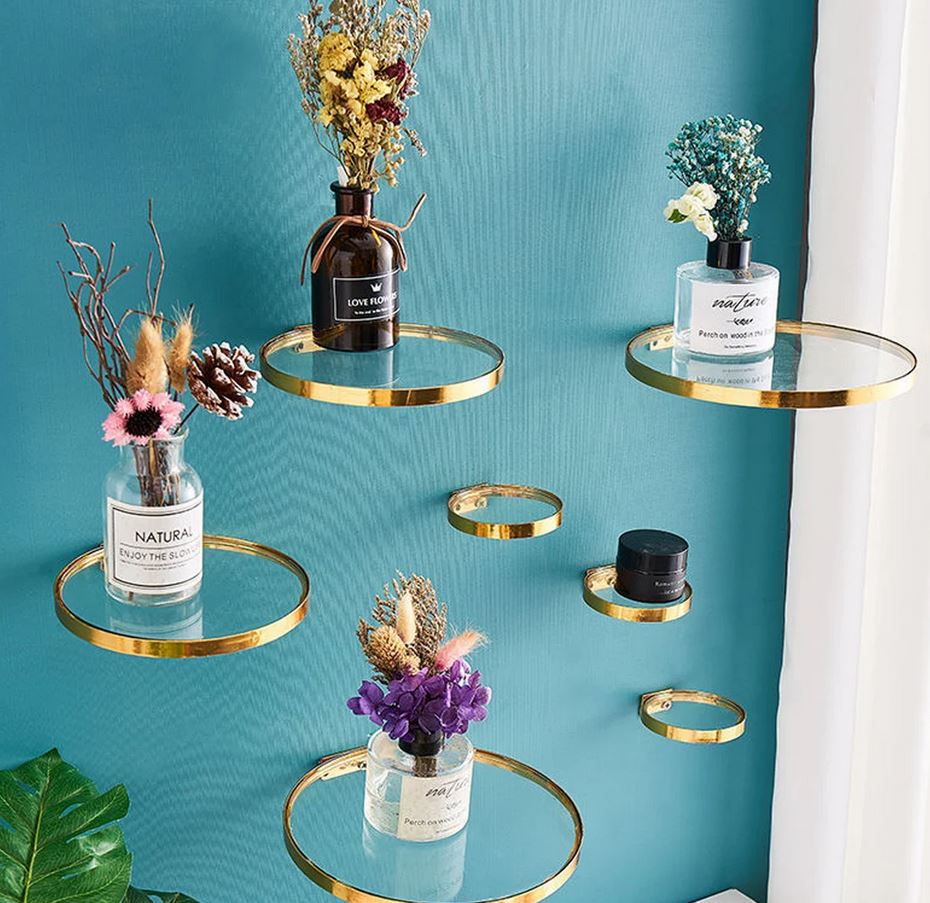 ---
40. This wooded towel rack
If you're only looking for a towel storage solution, this sturdy and durable wooden rack can come in handy.
It is made of 100% Canadian knotty pine, stained to the color of your choice.
This shelf comfortably hold about 4 bath towels, and even more hand towels.
Instead of forking out 120 bucks, you can make this your weekend DIY project. It doesn't seem that complicated.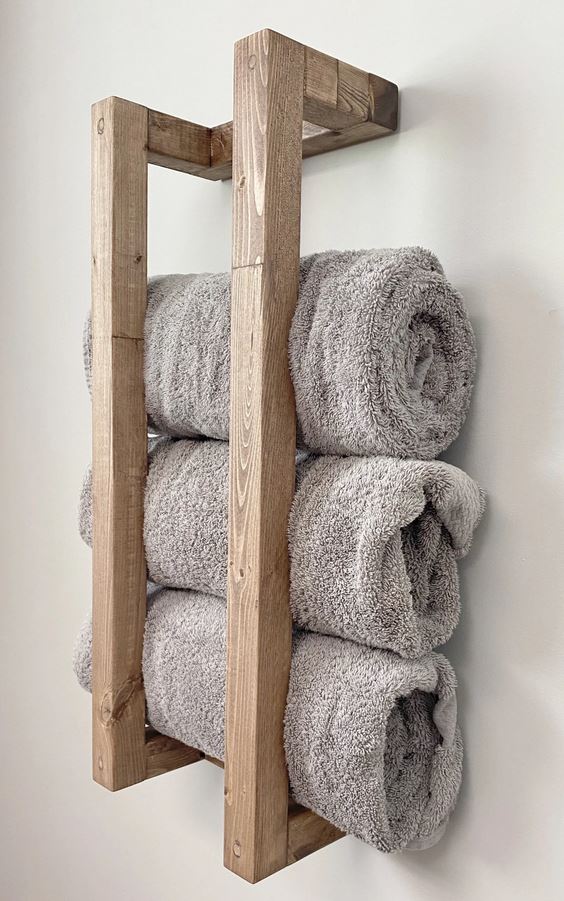 ---
41. This floating storage rack
This uncomplicated design is another that caught my eyes. It's a good-old wall shelf, imagined for a modern bathroom.
The rack is sturdy and easy to install, and will add adequate storage space to your tiy bathroom.
It is urban and chic, and I love it. Great for your bathroom essentials, potted plants and hand towels.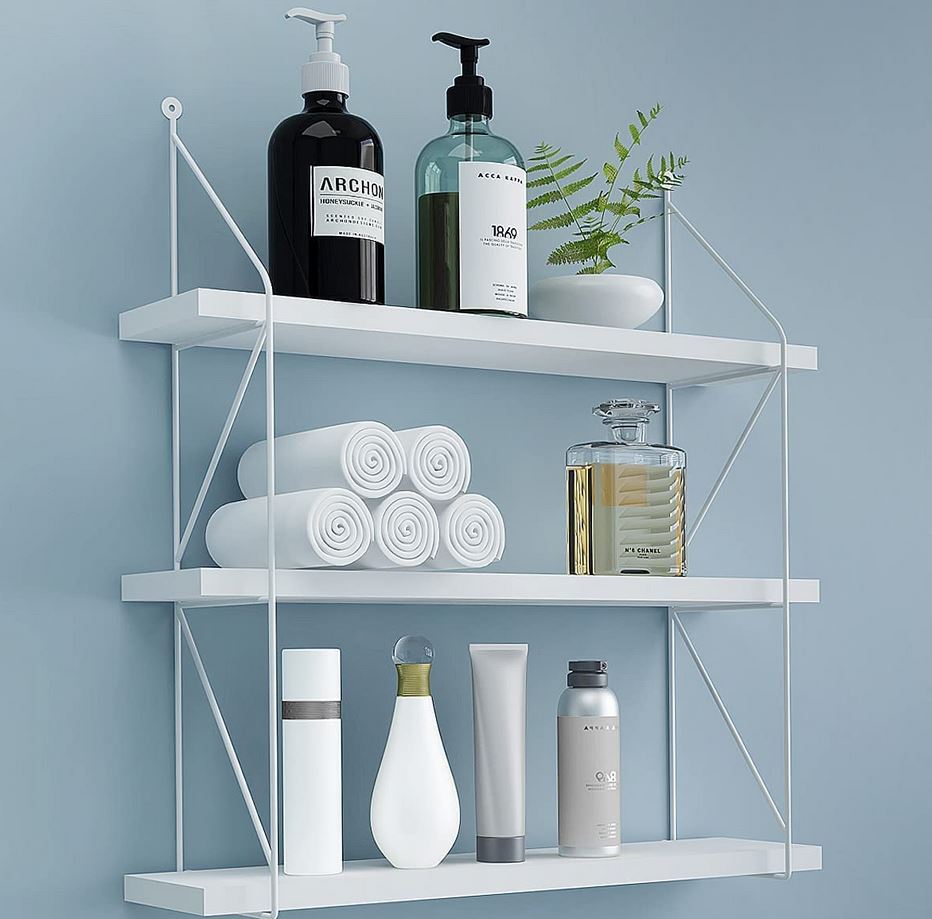 ---
42. Straightforward storage and towel rack
This rack is both practical and decorative. The brass finish on the rails is a nice feature.
Store your bathroom oils, shower gels, hand wash, shampoo etc. on the top rack, and your towel on the bottom rack.
Simple and functional, and very easy to install. Highly recommend.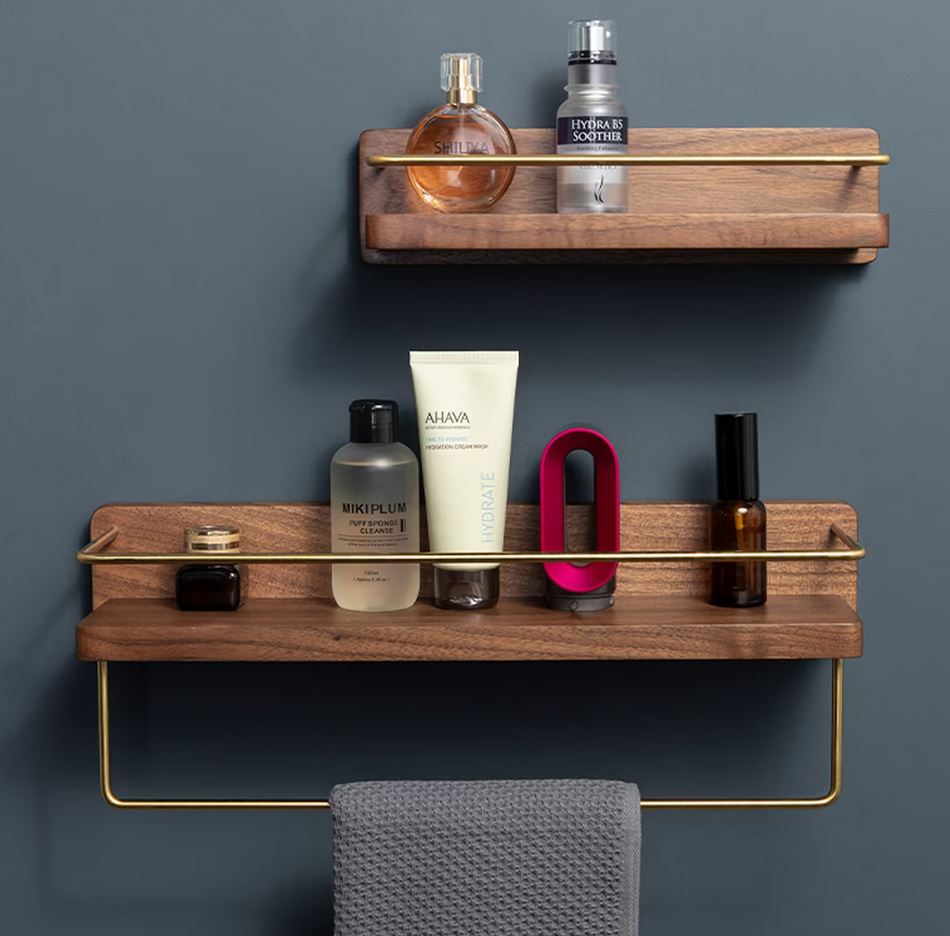 ---
43. This effortless floating box shelf
While you can find this one on Etsy, I think it would make a good DIY project.
It is a simple box design, installed in such a way that it appears floating. The shelves can be great for your plants, toiletries, and other decorative knick knacks.
I love the vintage stain on the second one. This will look amazing in your tiny house bathroom.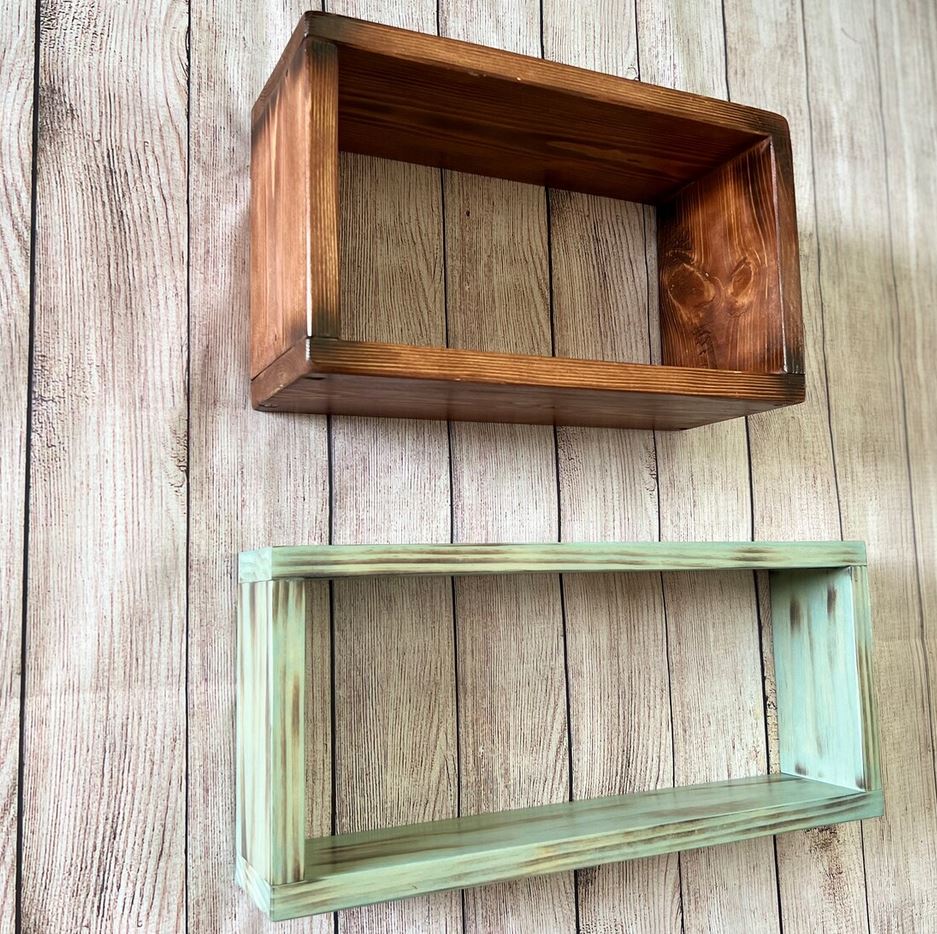 ---
44. This bamboo bathroom shelf
Made of 100% natural bamboo, this rack and storage shelf comes with 3 tiers.
Mount it on your bathroom wall and it will instantaly transofrm the space. The shelf is versatile in what it can hold.
By design, it can also be a free-standing shelf, which can be convenient if tools are unavailable.
At only $40, I highly recommend.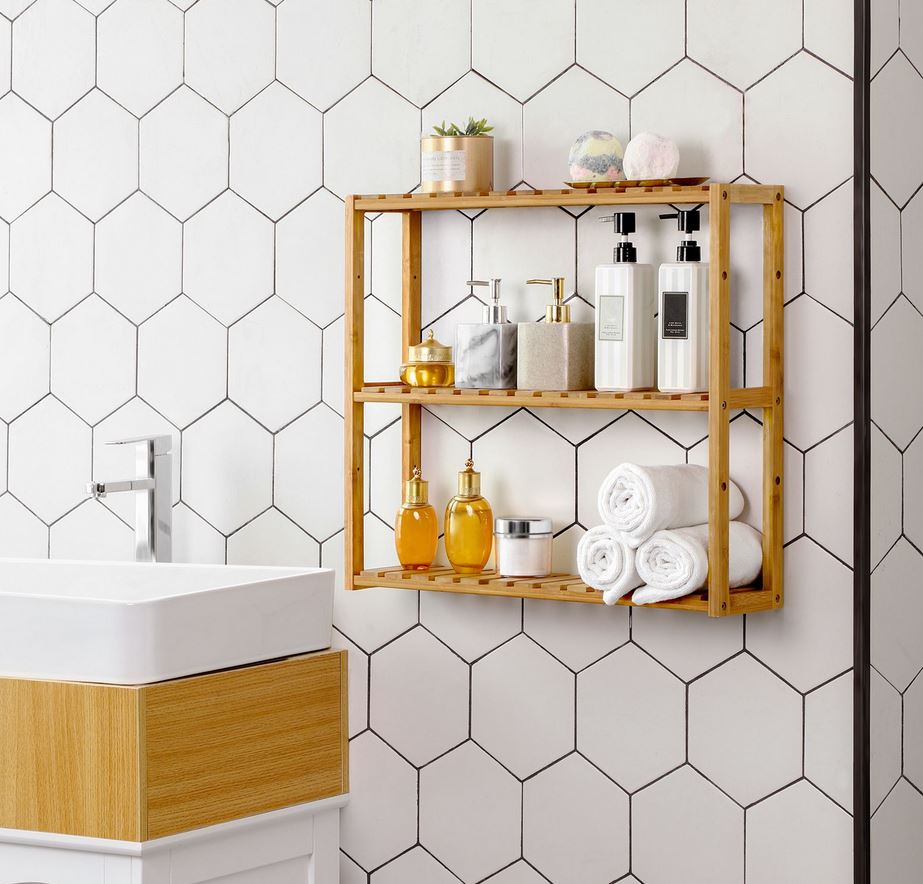 ---
45. This playful round rattan shelf
We always love a playful design. This shelf made of rattan, is designed to be both round and tree-shaped.
It does not provide you with the most shelf space, but it is a true show-stopper.
Mount it in your tiny bathroom and wait for the compliments from your guests. It's entirely handmade and at $180, does not come cheap.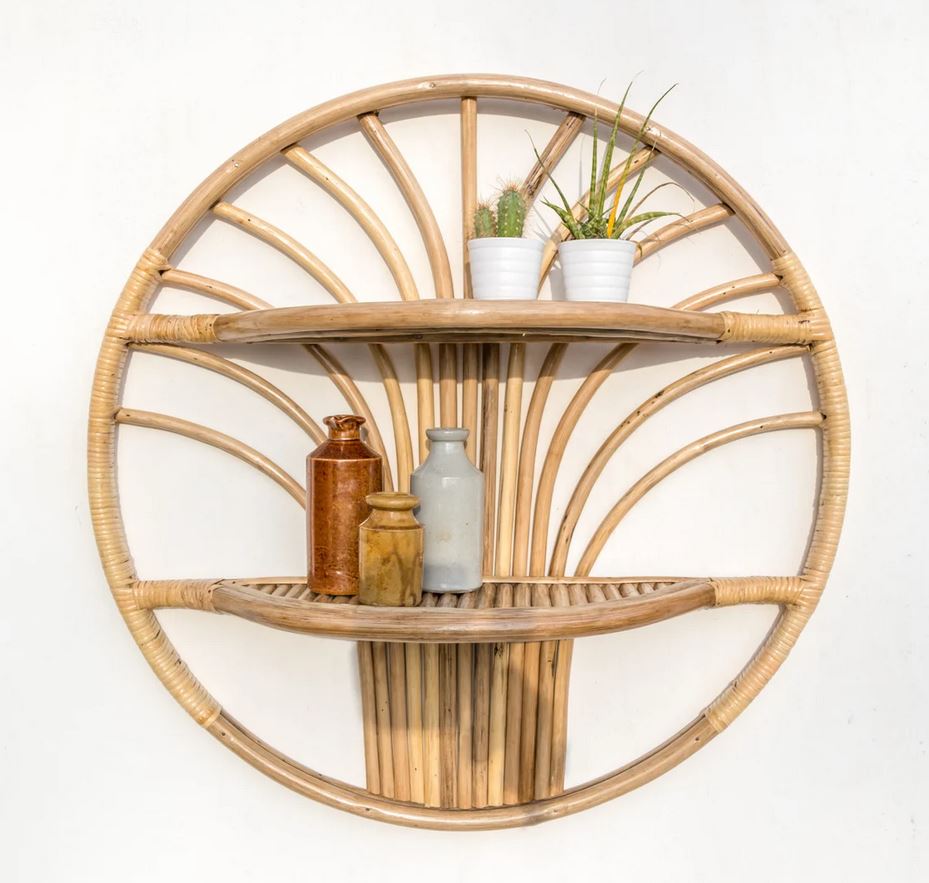 ---
Sink shelves ideas for your small bathroom
Every space in a small bathroom matters, and one of the least utilized places is the sink area.
There are many creative ways you can double or even tripple your bathroom storage space by making some changes to your sink area.
Every square inch of this area is usable space. We're talking under, over and even sideways.
Here are some of the most creative ways we have seen that people are using their sink area for storage.
---
46. These bamboo shelves from IKEA
This setup is made up of 2 separate corner shelves. They are part of the RÅGRUND bathroom series from IKEA.
The company says they are suited for humid areas, which means they have no problem finding a home under your sink.
As you can see, you can store virtually every bathroom item on them. From toiletries, to towels and even tissue rolls.
Instead of having several storage solutions, you can go with this one and fulfill all your tiny bathroom storage needs in one fell swoop.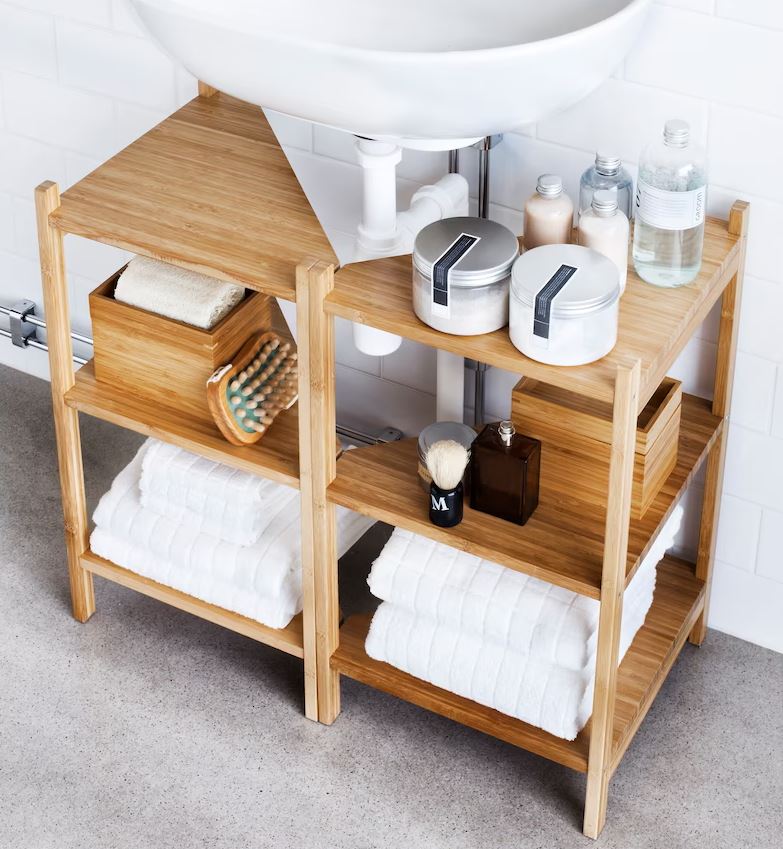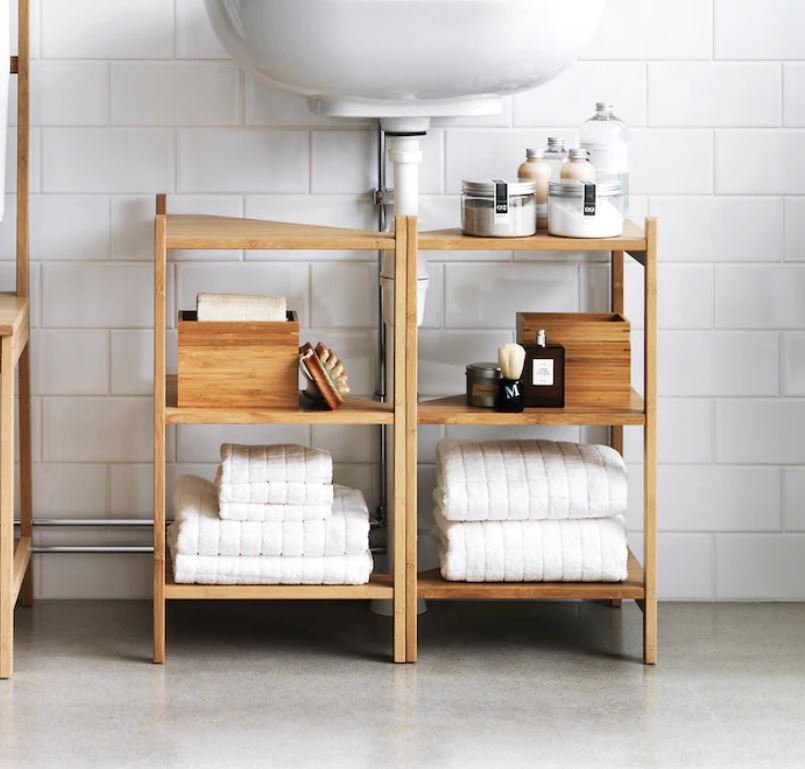 ---
47. This over the stove spice rack
It doesn't provide the most storage space, but this rack will transform the look of your bathroom vanity.
It is both practical and decorative. Items that can placed on top include candles, small potted plants, hand wash, shampoo etc.
I love the rustic, farmhouse finish.
The shelves are available on Etsy, and are cusom made to the measurements of your sink/vanity.
However, I don't see why this cannot be a fun DIY project. Nothing complicated in replicating this.
---
48. This farmhouse bathroom vanity storage shelf
Instead of buying additional shelves, why don't you transform your entire vanity into this beautiful farmhouse storage.
This one is made from reclaimed wood, and having it in your bathroom is a guarantee to be a conversation starter.
However, at over 700 bucks, it is not cheap.
The vanity is perfect for all your bathroom storage needs with no exception. Tissue rolls and towels at the bottom, toiletries at the top.. it will be your last bathroom shelf or organizer.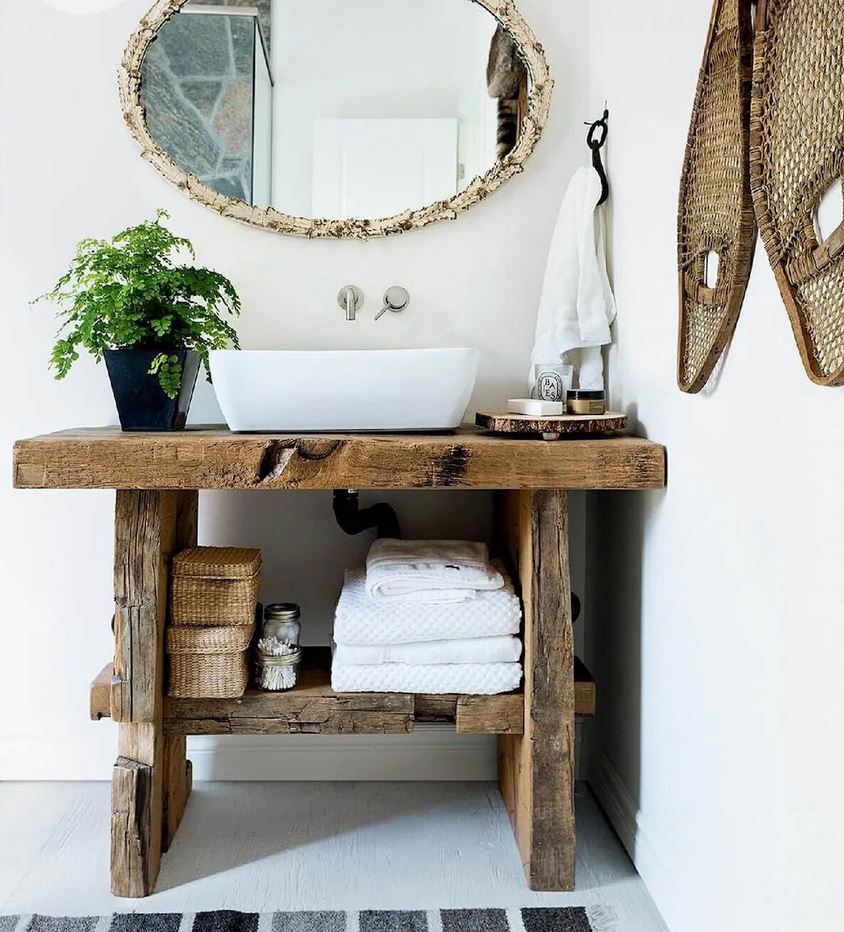 ---
49. This rustic washstand sink unit
Keeping with the rustic theme, this is another under-sink storage concept we found and loved.
It is handcrafed in solid and thick beams, and attached with heady duty brackets.
This makes it extremely sturdy and durable. Of course it is not a plug and play solution. You will need a bit of installation know-how to get going.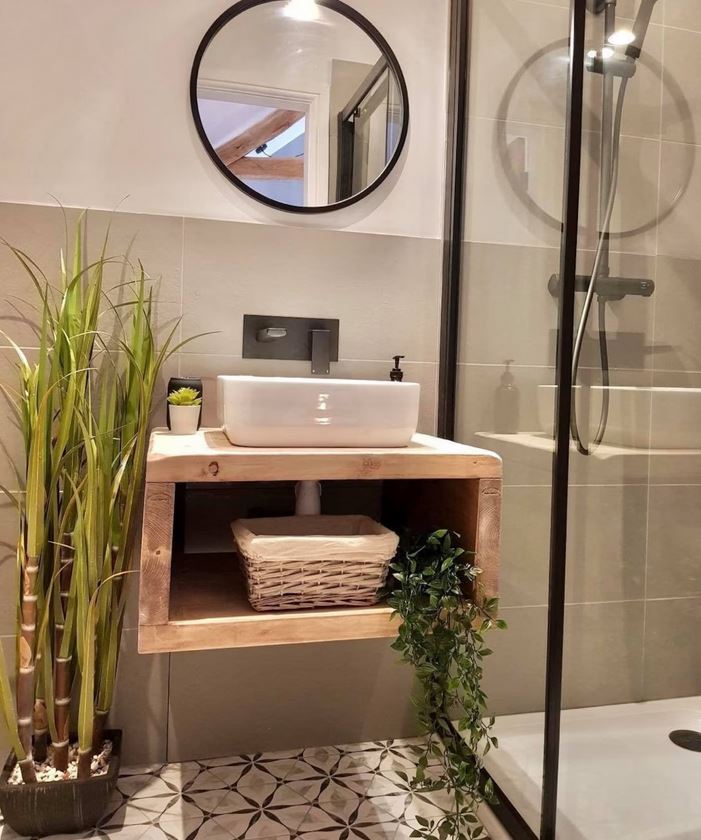 ---
50. This slidable bathroom shelf organizer
This cheap and lightweight organizer will look perfect next to your sink, or under it. It is great for toiletries, and we love that the bottom shelf slides out for easy access.
The frame is made from carbon steel pipes, with the baskets made of high quality plastic. It is extemely easy to assemble.
For a quick bathroom storage solution, we highly recommend.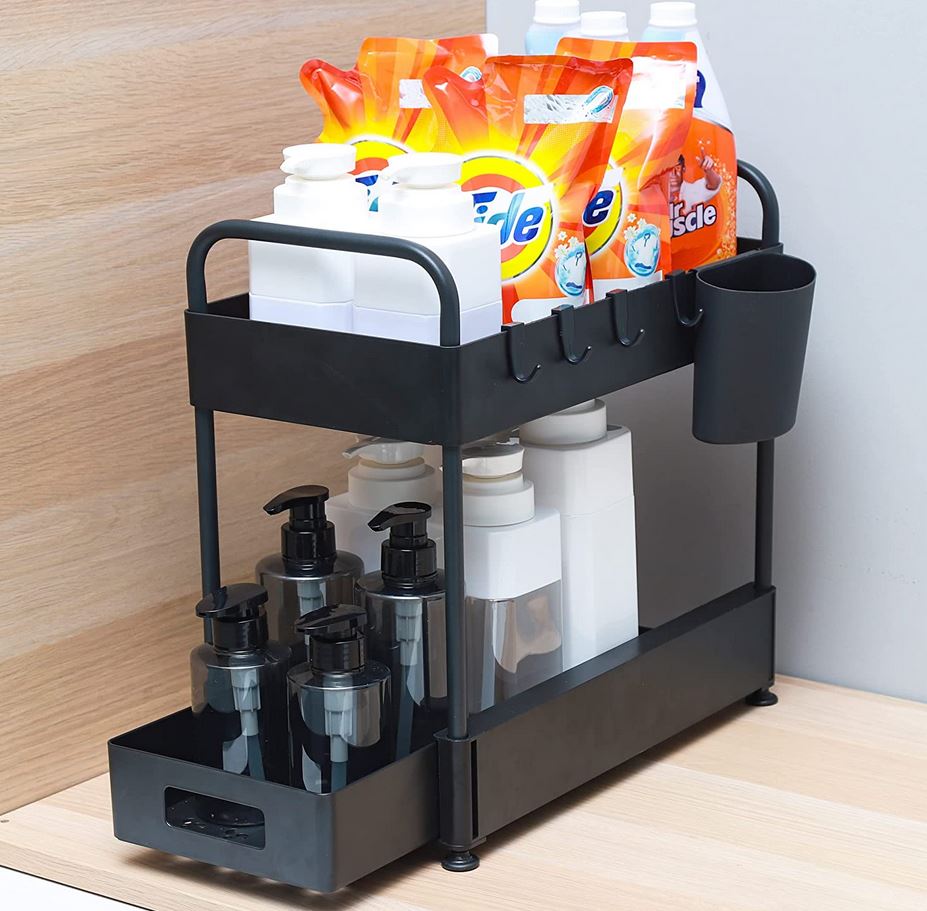 ---
51. This floating bathroom vanity
Instead of doing the sink and storage separately, why not use this tiny sink that already comes with a shelf compartment.
The floating vanity is contemporary and simple, and will sure add a modern flair to small bathroom.
It is one of the best looking tiny sink and vanity combo we've seen, and due to its size, it will not look out of place in your small bathroom space.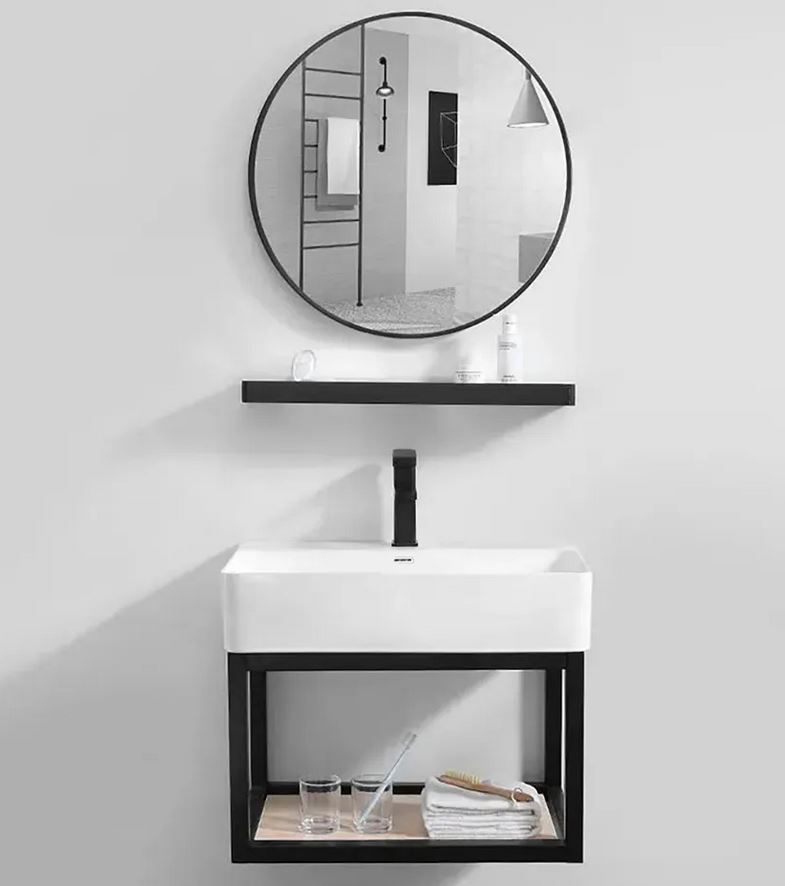 ---
52. This round bathroom tray
Sitting beside your sink, this round wooden tray will add some character to your bathroom.
It is a fun little thing to place your handwash and I love it.
You could save the 30 bucks it cost by making it a DIY project.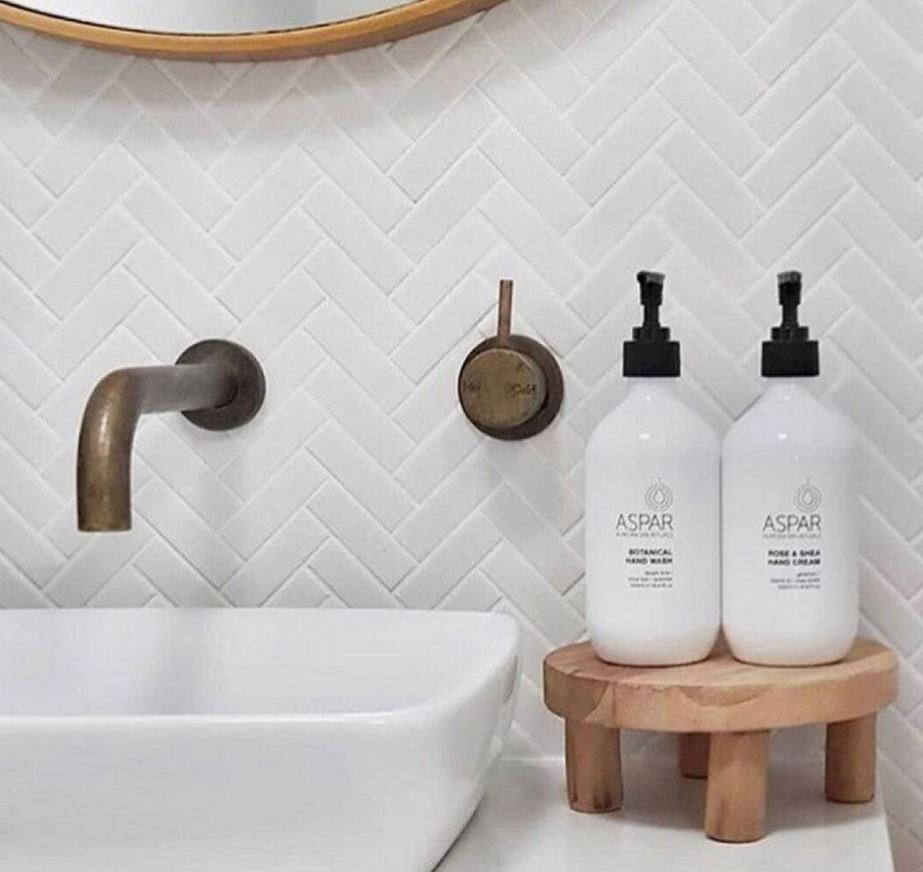 ---
53. This chunky bathroom washtand
If you are looking for something chunky and heavy duty, this rustic washstand is a great choice.
Made from solid Quebec pine, the vanity will certainly make a statement.
Of course installation will require some skill and pre-planning, but once you have it in place, you can bet all your bathroom storage needs are solved.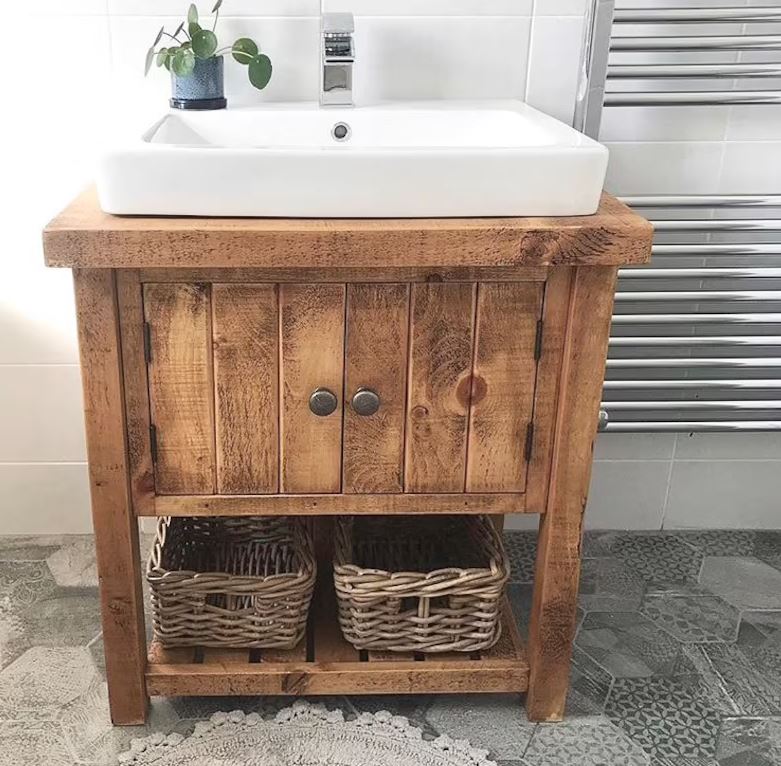 ---
7 Narrow Bathroom Shelf Ideas
Some bathrooms are not just tiny, but also narrow. This presents specific problems unique to such a room design.
This is becasue you're forced to play more with the vertical alignment, and less with the horizontal one. In other words, height.
Let's look at a few shelf ideas suitable for a narrow bathroom.
---
54. This multi-level floating shelf
I can see this tall and narrow shelf fitting perfectly at the corner of your tiny bathroom.
I love it because it shows that even an uncomplicated design can look great, when made of wood.
With 5 compartments, all your bathroom storage requirements will be met in one fell swoop.
You can adjust its width to suit your space.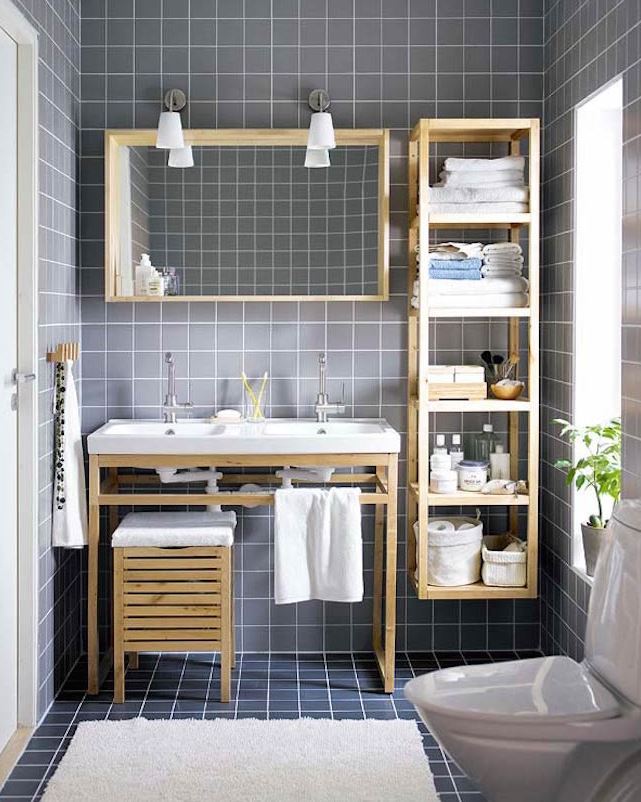 ---
55. This corner shelving unit
Almost exactly like the previous one, but instead of floating, this one is free standing.
They share all the aspects and just differ on the looks. Personally I like this one better.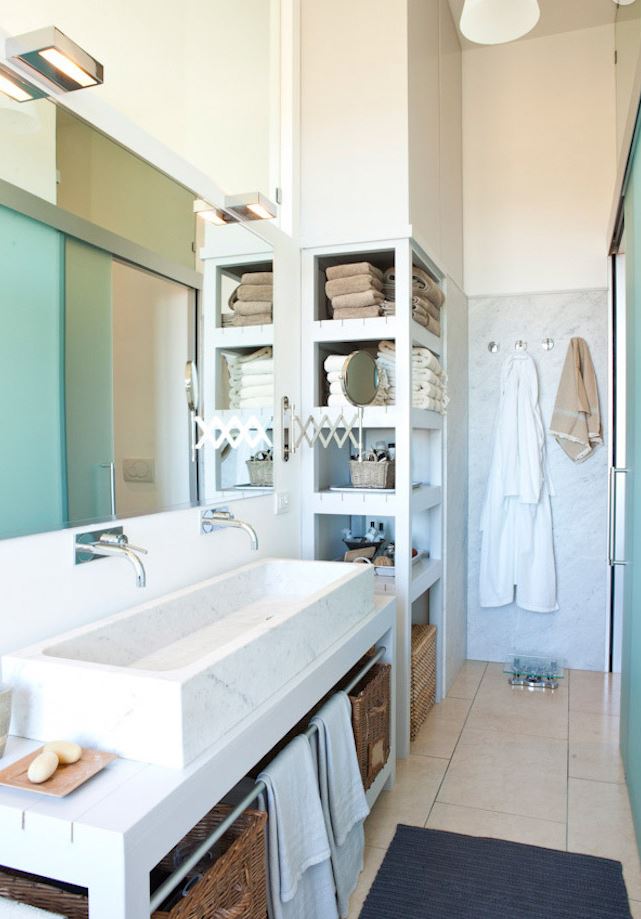 ---
56. This unique shower corner storage idea
Who could have guessed that the corner of your shower cubicle can make such a wonderful storage area.
It looks so natural, I don't believe I've never thought of it. It is a great place to store your gels, shampoo and other toiletries.
At the risk of sounding obvious, do not store your towels here.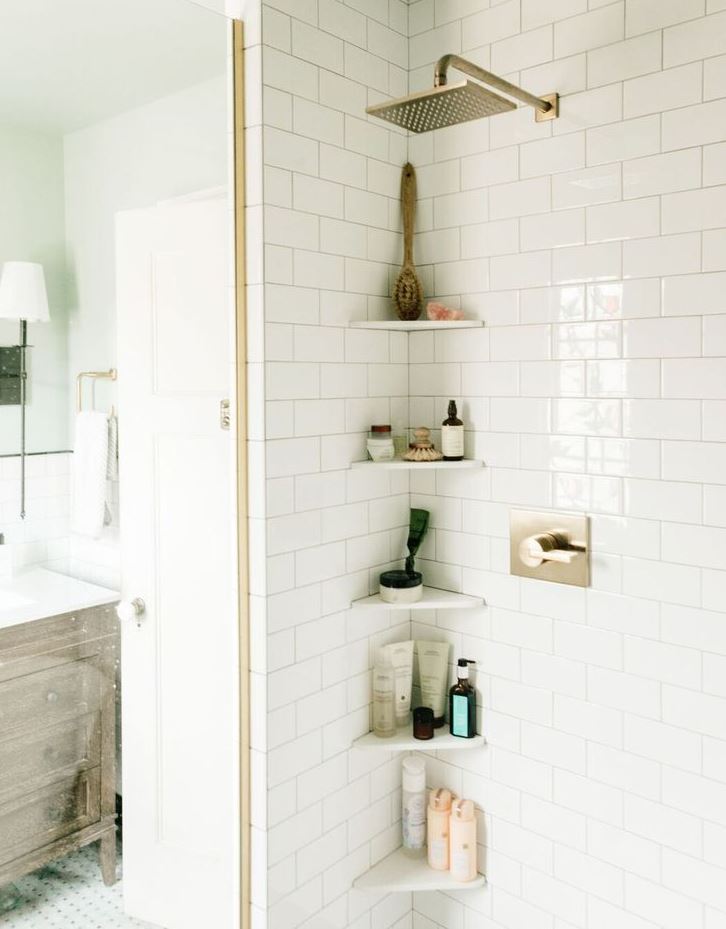 ---
57. This hanging bathroom teak shelf
Here's a cute little thing that will store your hand towels, soap and toiletries, and look good while doing it.
The teak used is perfect for the damp, which ensures its durability.
However at $150, I don't think it's worth it. Especially because it's so easy to DIY.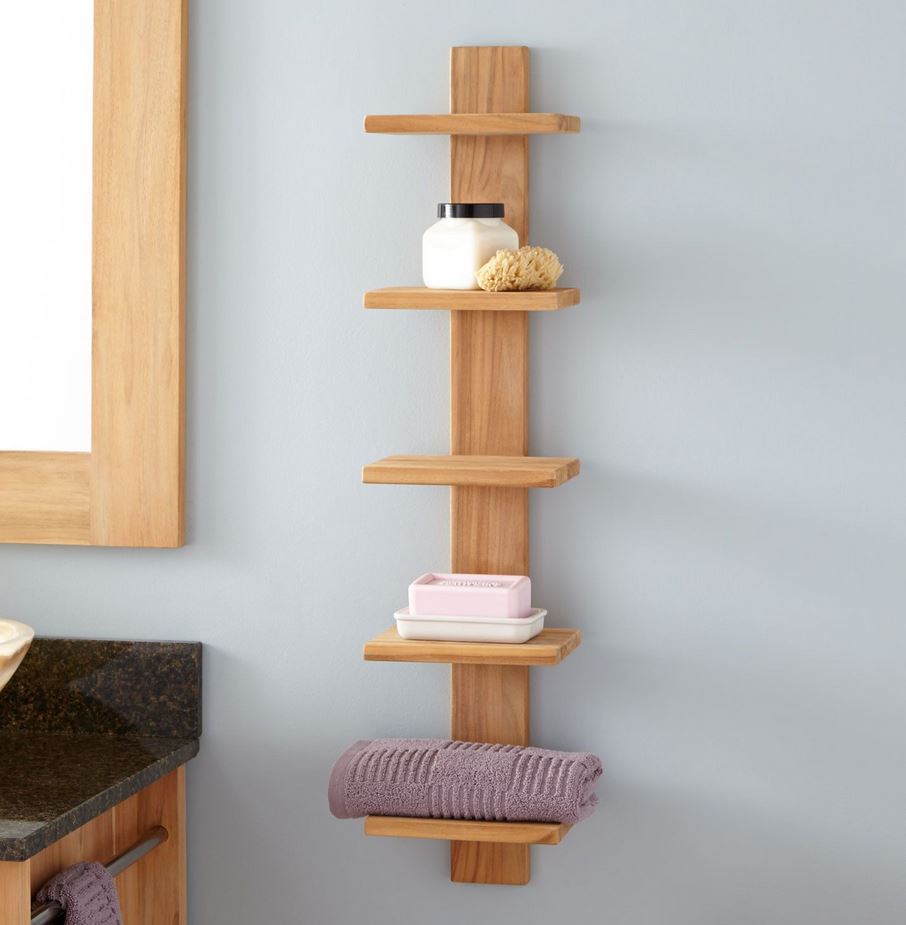 ---
58. Corner tissue roll storage
This is one of the most innovative ways to store your tissue rolls, not just in a small bathroom, but any bathroom.
Not only are the rolls stacked conveniently close to the business area, but the unit gives you a live update of when you are running out.
I love it and would 100% recommend.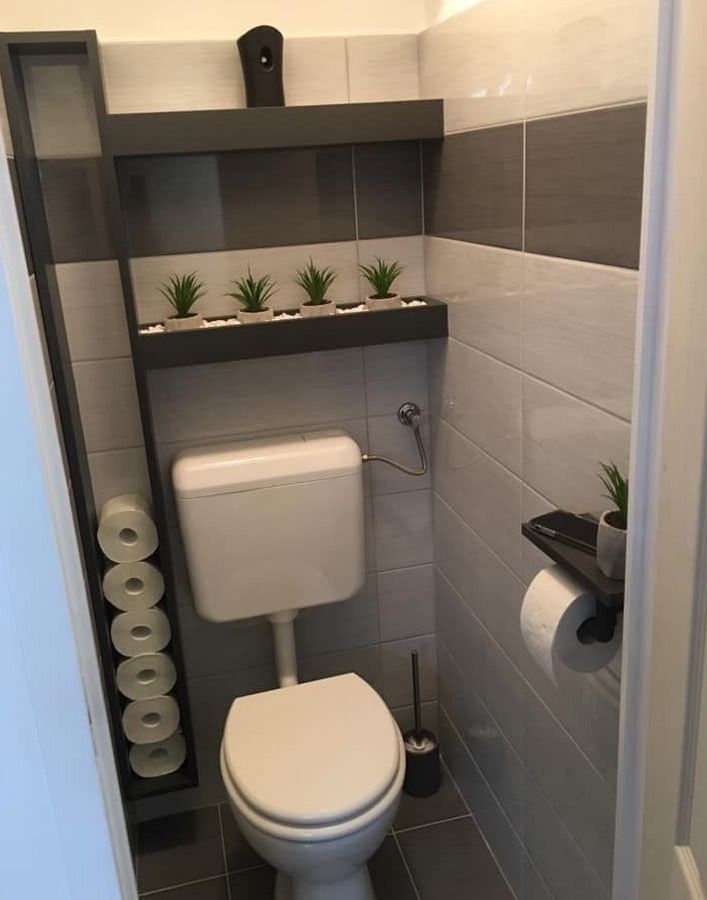 ---
59. This shelf takeover
Well, instead of using just one side of the toilet bowl for storage, why not the whole area.
As DIY as this one looks, it works and that's what we love to see.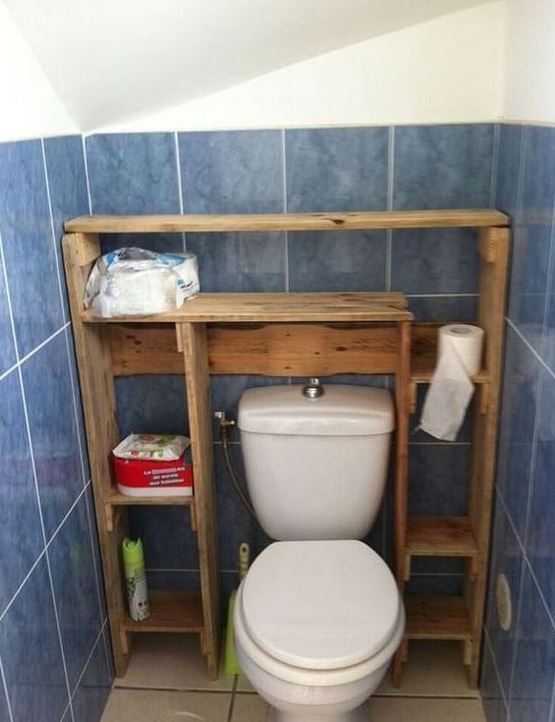 ---
60. Sleek and Modern over-the-toilet storage
If you are not into DIY projects like the above, this sleek and modern shelf can accomplish the same thing, and even arguably looks better.
We love it and highly recommend.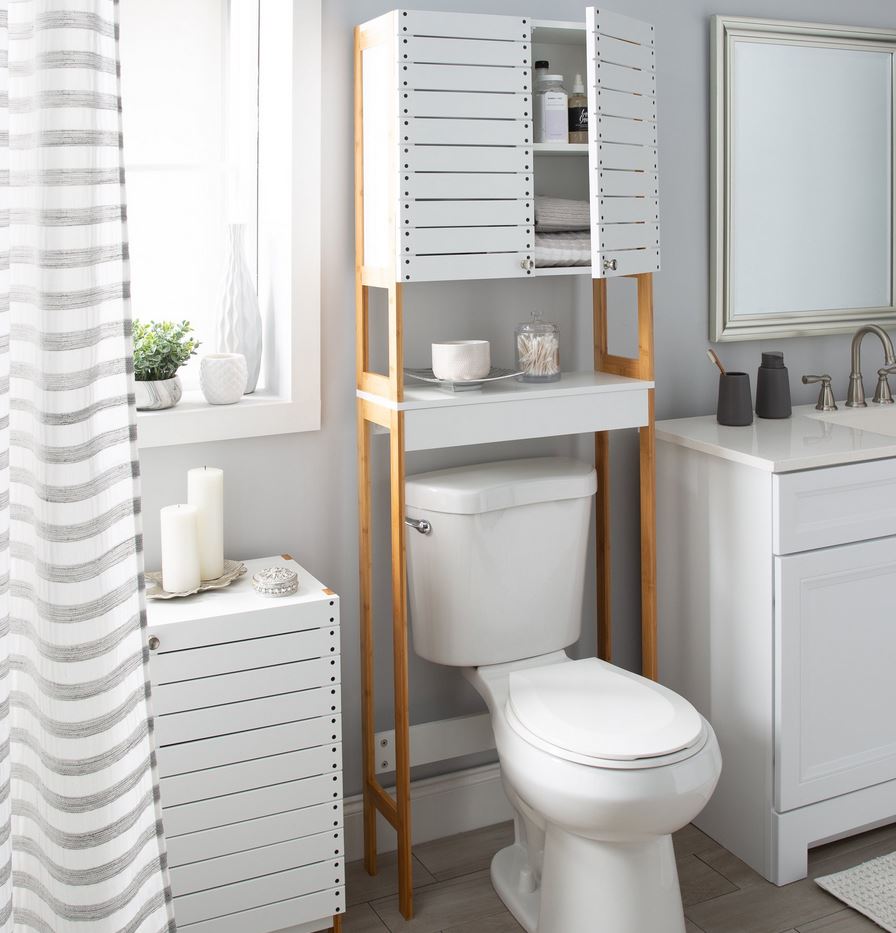 ---
Now read: 8 Tips To Make Your Tiny House Cozy