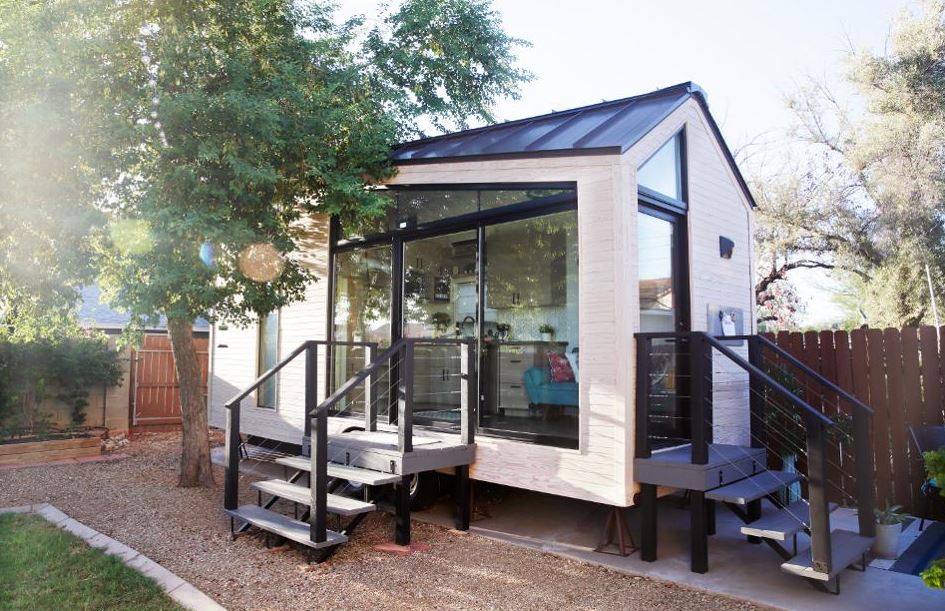 Have you been toying with the idea of downsizing into a tiny house but haven't pulled the trigger yet? Don't worry, there are thousands just like you.
Committing to change your lifestyle completely into one of ultra minimalism is not a light decision by any measure. It is something that requires a very long thought process.
Of course moving into a tiny house comes with lots of benefits, mostly financial, but that cannot be the only reason one decides to downsize. Failure to understand what the new lifestyle entails may be more costly to you than continuing to live in a big house.
In this day and age however, there are countless stories on social media and blogs like this one, where people share their downsizing stories. You can therefore take the leap informed.
The tiny living lifestyle has created many top social media influencers. They share their journey and experiences, and we have compiled 6 reasons why they are happy to have made the decision to downsize.
Reasons to downsize into a tiny house
1. To simplify your life
Nathalie of Cedar Stream believes downsizing has helped her live an ultra simple life.
For 3 years, she has been living out of a 1969 Airstream Globetrotter together with her husband Louis and their pet dog. They were recently joined by their first child. The couple has been able to live the dream life, traveling all the time adding over 40,000 miles to their vintage car that doubles as a 125 square foot home.
https://www.instagram.com/p/B-2kXInp_W0/
2. To live mortgage-free
This is a no-brainer. A tiny house costs orders of magnitude less than a normal house. This makes it more affordable for most people to build it or buy it out of pocket.
Which is a great thing for your monthly bills.
"I spent $30,000 on a home. That costs what I was paying for in less than two years of rent for a room in a shared apartment," says Jenna from Tiny House Giant Journey.
3. To save the environment
Tiny houses have a much less impact on the environment than normal houses. The building and construction industry is one of the sectors of our economy that does the most harm to the environment.
We're talking of everything in the whole construction process; from extracting raw materials, to manufacturing the various chemicals to the actual construction. The construction sector is estimated to contribute 23% of air pollution, 50% of the climatic change, 40% of drinking water pollution, and 50% of landfill wastes. It also contributes to about 40% of the worldwide energy usage.
Reducing the footprint of your habitat, as well as using sustainable building materials plays a huge role in the overall environment equation. If enough people in the world would downsize, a noticeable improvement in the environment would without a doubt be observed.
"I appreciate the inherently more sustainable nature of small spaces," says Whitney of whitneyleighmorris from her Cottage in Venice Beach, California.
View this post on Instagram
4. For the adventure
There is no denying that millenials are free-spirited.
Unlike older generations, they are willing to spend their years not conforming to what life has been made to be. They are willing to live off-grid in far away lands, isolated from most of humanity.
Thy are willing to live on the road. And more importantly, they are willing to delay having kids, or not even have them at all.
To understand this free spirit, Jenna explained it very well in this Instagram post.
View this post on Instagram
It has been awhile since I introduced myself and recapped my story… so here goes. I'm Jenna! I downsized, quit my 9-5, and built a Tiny House (with help from so many people) in 2014. I then traveled with my tiny for a year, covering over 25,000 miles around the USA and Canada.
I even made it to the arctic circle in Alaska! In 2016, I settled down in a Tiny House Village in Oregon, and became their camp host. Then, in 2018, I moved my Tiny House to Whidbey Island in Washington, where it became an AirBNB. No longer a full time tiny houser, I moved into 500 square foot cottage with my husband. We use the Tiny House as a vacation home and rental. I still considering it my inspiration haven. 
I've been documenting my journey, and many others like it, through this Instagram account, my blog, and my YouTube channel for over 6 years. I often give talks at Tiny House events, I've been featured on HGTV several times, and I've been interviewed by countless media outlets.
I like to think of myself as a tiny house advocate. I'm a believer that changing your life drastically, and defying some unhealthy social norms, can lead to a better life!
❤️🙏 Thanks for following my journey.
5. For financial responsibility
Other than mortgage, houses come with so many other bills. The bigger the house the bigger the bill.
We are talking of water, gas, electricity… even groceries like detergent and towels and trash bags tend to be much more in bigger houses.
Moving into a smaller space not only saves you on rent or mortgage, but also the maintenance costs. This therefore leaves you with more in your pocket. And as if it can't get any better, less mantenance means more time on your hand. Whatever you do with all that time you save is upto you.
"We've just found that when you have a big house with lots of things, you spend a lot of time maintaining and having to work more to make more money to afford it all," Nathalie added.
View this post on Instagram
6. To learn a new skill
The prospect of living in a tiny house tends to attract people who are willing to work with their hands.
There are commercially made tiny houses out there, but the tiny movement is made up of people who want to infuse their own touch. From what we've seen, many tiny home owners took part in the building of their house in bigger ways than they would have for a normal house.
Some built their homes from scratch, with little or no construction experience. They learnt on the job.
https://www.instagram.com/p/BjAV8wJDEc3/
Jenna was one of those, writing on Instagram, "I wanted to learn to build something for myself and then live in it."
Now Read: What To Know When Preparing to Move into a Tiny House